One of the things doctors or nurse practitioners or any other health care providers talk about when at a visit is your BMI. It's in the same part of your chart as all your vitals. Intermingled along with your heart rate and blood pressure and height and temperature is your weight and BMI.
And if your BMI is above 25 then you're now considered overweight and the computer system turns your BMI from black to red….meaning, "look at the BMI because it's concerning because it's out of range." Which is dumb.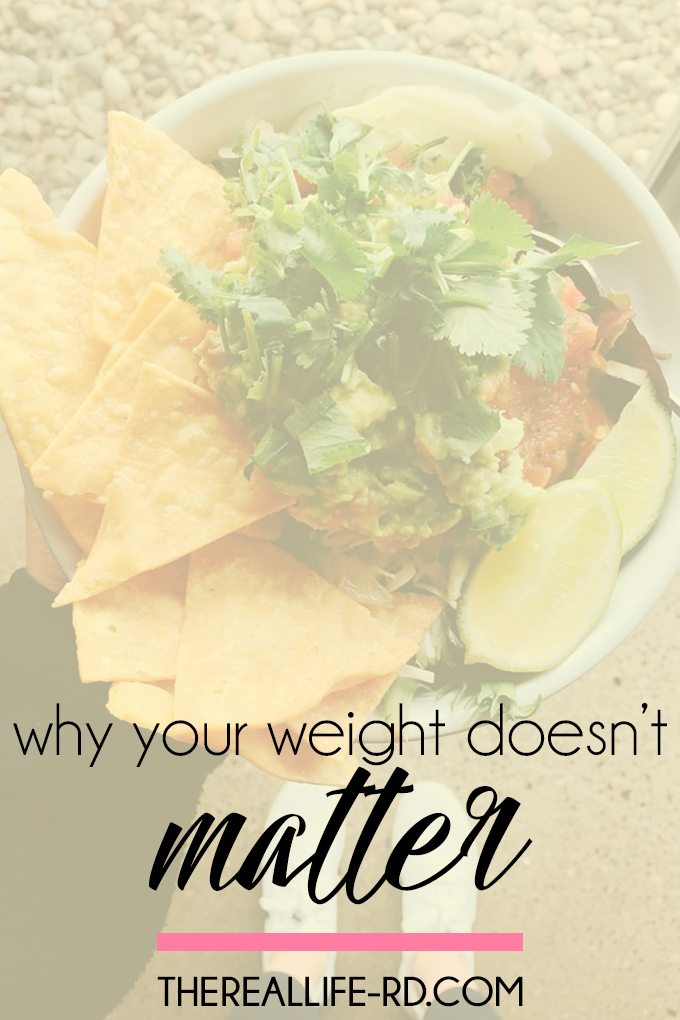 I hate this about the electronic medical record. And I hate how we, as health care providers, are taught to pay attention to this in school. Here is a really great article on the nothingness of BMI.
And I wholly agree with that article. BMI is pointless. Even though we are taught to pay attention to BMI in nursing or medical or dietetics schooling, I think a lot of health care professionals would agree with me in that BMI is a crappy measure of health. So that's not really my biggest frustration, it's that we pay so much attention to weight. A side note for a second: if you have an eating disorder or restrictive eating behaviors and find yourself either trying to get thinner and maintain a low weight or you are recovering from an eating disorder….please know that an upward weight trend very much does matter. Not so much a "goal weight" in your recovery because that is arbitrary and the true "goal" is your body's natural set point, but I want to emphasize that it is very important and critical to initially recover from a low weight that puts your body in a medically unstable condition. I say that because I want to protect and be sensitive to all my readers the best I can 🙂
Back to my soap box on how weight doesn't matter… there is such a focus on "your weight" when you go to the doctor that it keeps people from actually going to the doctor. You go in, you get weighed, you get your vitals taken and then the doctor (or NP or PA) coms in. And 90% of the time, your weight will come up. Maybe it's a simple, "your weight looks the same as last time you were here so that's good." or maybe it's a little more harsh such as, "well, Mr or Mrs so and so….I see you put on a few pounds since the last time you were here, let's talk about your weight."
All I can think when I hear or see this happening is "WHY IS THAT THE FOCUS RIGHT NOW? WHY have we not asked one question about how they feel their eating or exercise behaviors are going?" Because weight shaming someone actually does nothing for helping them to make positive lifestyle changes to better care for themselves – mentally, physically, emotionally and spiritually.
Even more important than not weight shaming people is that people don't die from being overweight or obese. This is a controversial topic…the questioning if obesity cause diabetes or heart disease or insulin resistance or inflammation. I'd be a liar if I said I've read all the research there is on this, because while I've read a lot, I haven't read it all. But I am pretty confident in saying that we can't make general statements like "overweight or obesity are the cause of such and such disease" Because it's so much more complicated than that.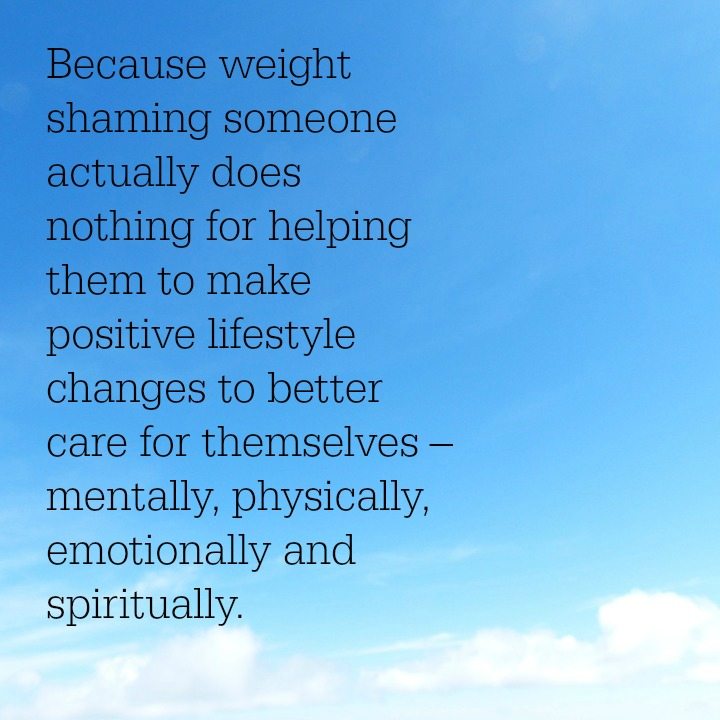 One, inflammation is what causes chronic disease. Not one particular food, not one health habit and not weight or BMI alone. Just like eating all the clean green things doesn't save you from cancer or illness, "excess" weight does not get you a one way ticket to chronic disease. (The argument of what the hell is excess weight is a whole other blog post…) Yes, fat accumulation in the body can cause insulin resistance which leads to diabetes and metabolic syndrome and contributes to PCOS, but not all adipose (aka fat) tissue is the same. There are studies showing subcutaneous fat (the kind we find all over our body that insulates us) can actually be protective versus visceral fat (the kind that accumulates around the belly) which increases insulin resistance.
Without going down a science rabbit hole, my point here is that the focus in evaluating anyone's health should not be on weight. What I think matters from an objective standpoint is your lipid levels and your A1C (your average blood sugar over 3 months) and your liver enzymes and your thyroid levels and your blood count and other lab values….I don't really care about your overall weight. When we are take the Health at Every Size approach (which has tons of scientific backing) then weight because neutral and it's no longer an area of focus.
I've seen people who are in a "normal" weight range with abnormal lab results. And I've seen people who are "overweight" with stellar lab results. I think we have a responsibility as health care professionals to dialogue with patients in a way that promotes health at every size and that empowers people to take care of themselves – body, mind, soul – in a unique way that harnesses their strengths and acknowledges their challenges rather than simply trying to manipulate the number on their scale. Micromanaging people's weight certainly doesn't accomplish that.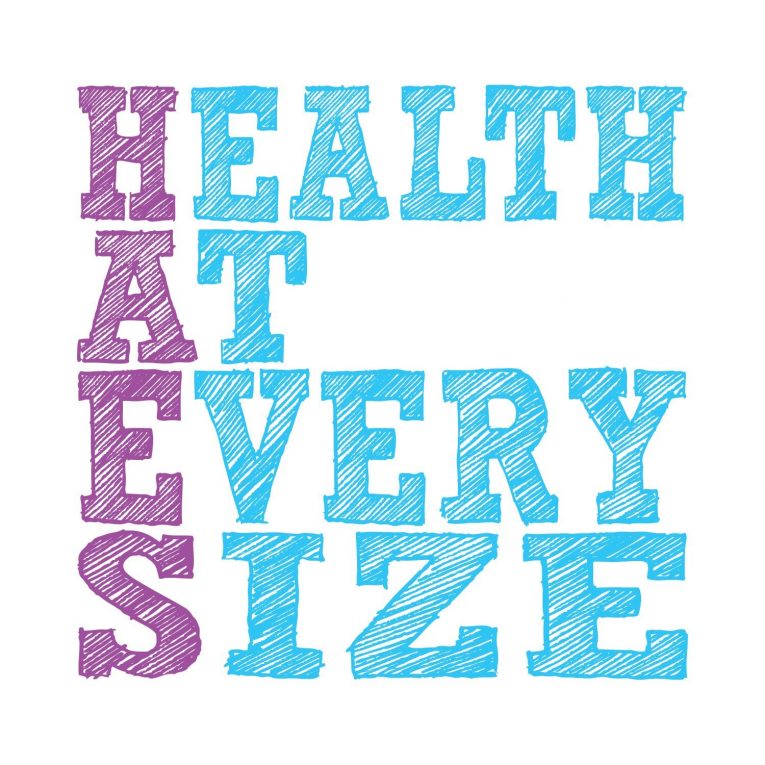 I think it's a shame that insurance companies charge people more money if they have a high BMI.
I think it's a shame that we are more concerned with lab values and objectives than listening and understanding people that come through those clinic doors so we can help motivate and encourage and walk alongside them to make realistic and sustainable changes to better their overall health, which is SO MUCH more than weight. I think we'd have a hell of a lot less chronic disease and eating disorders and metabolic issues and anxiety and stress to manage.
Because really, true health is not about weight. Yes it includes your lab levels and your blood pressure and your heart rate.
But what we should really be focusing on – whether as patients and people or as doctors and nurses – isn't a number on the scale.
But rather a person's relationship with them selves. How they think and feel about their body. How they feel physically. How they are doing emotionally. How they think and treat food. How they are sleeping and taking care of themselves. Because if we think about and focus on those things, all the other objective things will follow