I've recorded a few videos (here here and here) and written several posts about amenorrhea (aka the absence of a period) but what if you are in fact getting your period…what does that tell you about your health?
I talk about periods and hormones and menstrual cycles all day long in my full time NP job. A good percentage of my patient load is women with either active or past eating disorders, women with PCOS or thyroid issues, or women who have anxiety/depression. At some point I start asking about their menstrual cycle. One, because I think as women we aren't educated enough about this really huge thing that happens in our body called reproduction. Two, because we often are led into believing birth control is the answer to our hormonal problems (birth control is for contraception, not to slap a band aid on hormonal issues) and three, because I think the more we know about our health, the more empowered we become to tune into our bodies in order to best care for ourselves.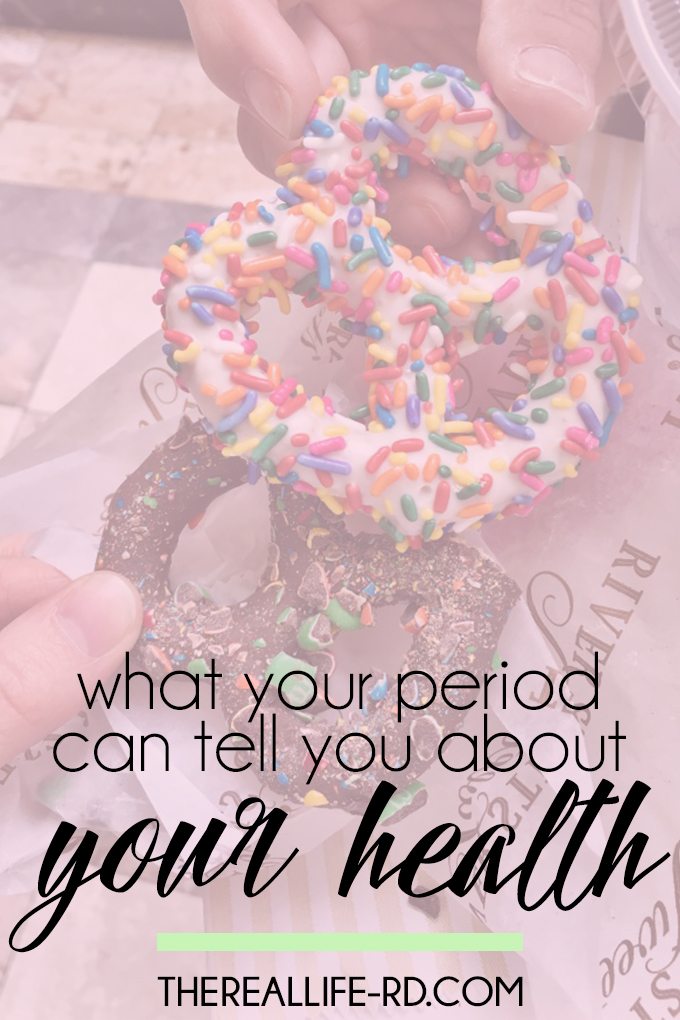 If you aren't getting your period, circle back to the links above for previous posts on not getting your period. If you're on birth control for any reason, your period won't tell you much about your health since having a period on birth control isn't a true period. I think birth control can play a beneficial role (like preventing pregnancy) in someone's health at the right time, for the right reasons and with the right form of birth control. But birth control unfortunately masks a true, natural menstrual cycle. Birth control pills, patches or rings contain hormones, usually both estrogen and progestin. There is also a shot called Depo Provera, "the mini pill" (aka progestin only pill) and an implant that contain only progestin, which is a synthetic form of progesterone. All these methods work in essentially the same way by releasing synthetic hormones into your body in order to…
stop ovulation (meaning an egg does not get released from the ovary)
thicken the cervical mucous so it's harder for sperm to pass through into the uterus
thin the uterine lining so it's difficult for a fertilized egg to implant
Hormonal IUDs (Mirena, Skyla, Liletta, etc) work similarly as above. The exception is the copper IUD called Paraguard which is non hormonal. The copper on the IUD is basically a natural spermicide so it kills off sperm and prevents them from reaching the egg.
Except for Paraguard, any other form of birth control is overriding your natural period and preventing the natural ebb and flow of hormones. Paraguard, even though it's non hormonal, may alter your period to be heavier and longer (especially in the first few months after insertion) so keep that in mind. Also, some forms of birth control affect your "period" so you don't get in monthly, but most birth control pills work cyclically so you get a "period" every month. But that period is simply because during the last week of the pill pack, you take the non hormonal white placebo pills vs the hormone pills. This drop in hormones mimics the same drop in hormones during a natural cycle and so you bleed. It's not a real period though because it's artificially versus biologically induced.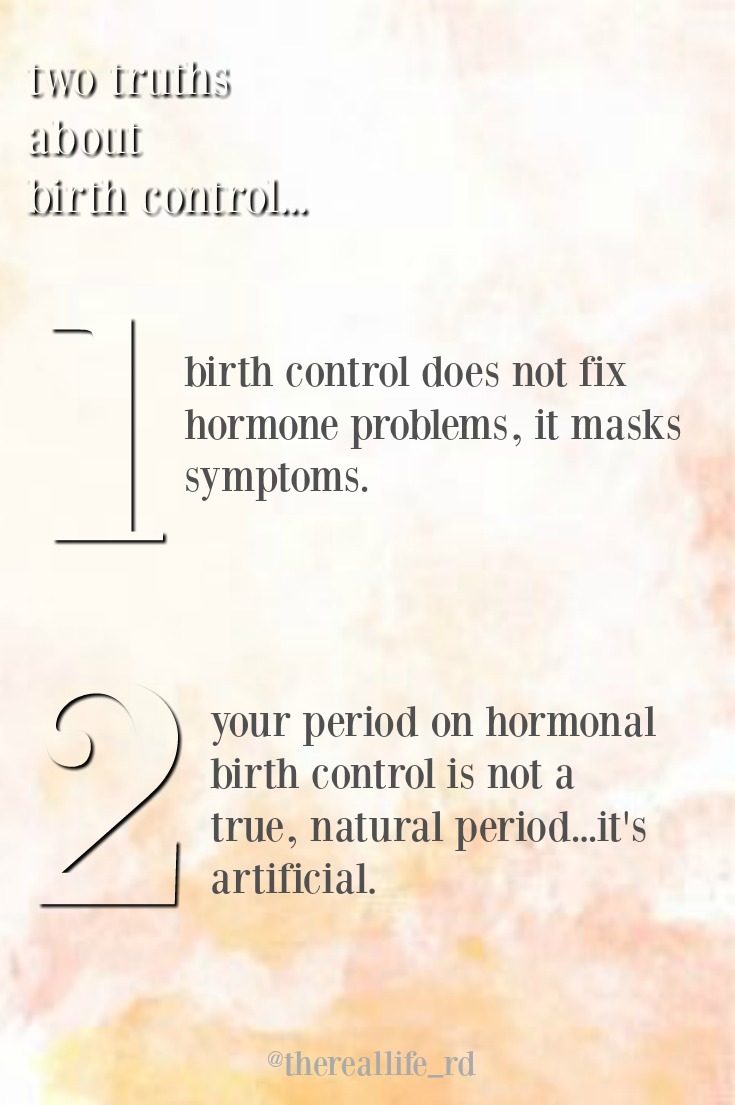 So if you are not taking birth control and you are getting a period, no matter how regular, here's what your period can tell you:
WHAT IS A NORMAL PERIOD ANYWAYS?
Ideally, your cycle lasts five to seven days. When you first notice bleeding, it's a bright cranberry red color and stays that color throughout your entire period. The blood has the consistency of real maple syrup (like that analogy? :)) meaning medium viscosity, not too thin and not too thick. There are a few small clots, if any at all. You can wear a regular absorbency tampon or pad for about four hours without leaking. And you do not experience PMS. This could be a entire other post..but PMS is not normal. PMS is a sign of hormonal imbalance between progesterone and estrogen.
WHAT ABOUT A HEAVY FLOW OR CLOTTING?
I've been there, a lot of women have been there, and maybe this is you. If you find you are changing your tampon every hour or couple of hours and/or find dark, purple colored clots this typically means your estrogen levels are elevated. Estrogen builds the lining of your uterus, so if your body can't break down this hormone it builds up and affects your cycle. High levels of estrogen can also cause endometriosis, ovarian cysts, fibroids or polyps. Beyond estrogen, an under functioning thyroid could cause heavy flow and/or painful periods. It's also important to make sure you aren't developing anemia if you do have heavy cycles, so check with your health care provider about that.
WHAT ABOUT BROWN SPOTTING?
What if you have brown spotting that comes before you see red blood? This is oxidized blood leftover from your last period. Low levels of progesterone are typically the cause here. Progesterone is what thickens your uterine lining so a fertilized egg can implant into the endometrium (aka your uterine lining). Decreased levels of progesterone can also make is difficult to ovulate regularly, have a regular cycle and can be a factor in developing PCOS (polycystic ovarian syndrome). Other problems related to your period can also be caused by low progesterone.
WHAT ABOUT SKIPPED PERIODS, SHORT PERIODS OR A LIGHTER FLOW?
A period shorter than 3 days with a light flow can indicate low estrogen levels. An over functioning thyroid can also cause irregular and light periods. What's considered a light flow? Typically, if four or so hours pass and your regular pad or tampon is barely red or if you only need a panty liner…that's considered light. Low estrogen levels can be caused by inadequate calorie and nutrient intake and high levels of stress which can be caused by too much exercise for your body, emotional and mental stress and lack of sleep.
WHAT ABOUT SHORT CYCLES OR HAVING TWO PERIODS IN ONE MONTH?
A short cycle is different than a short period. A short cycle means less than about 21 days or two periods within a 4-5 week cycle. When this happens there can be problems with your thyroid – meaning it's under functioning and you should ask your health care provider about getting some blood work done to check your thyroid. Your eating and exercise habits can directly affect your thyroid so that's something to explore too.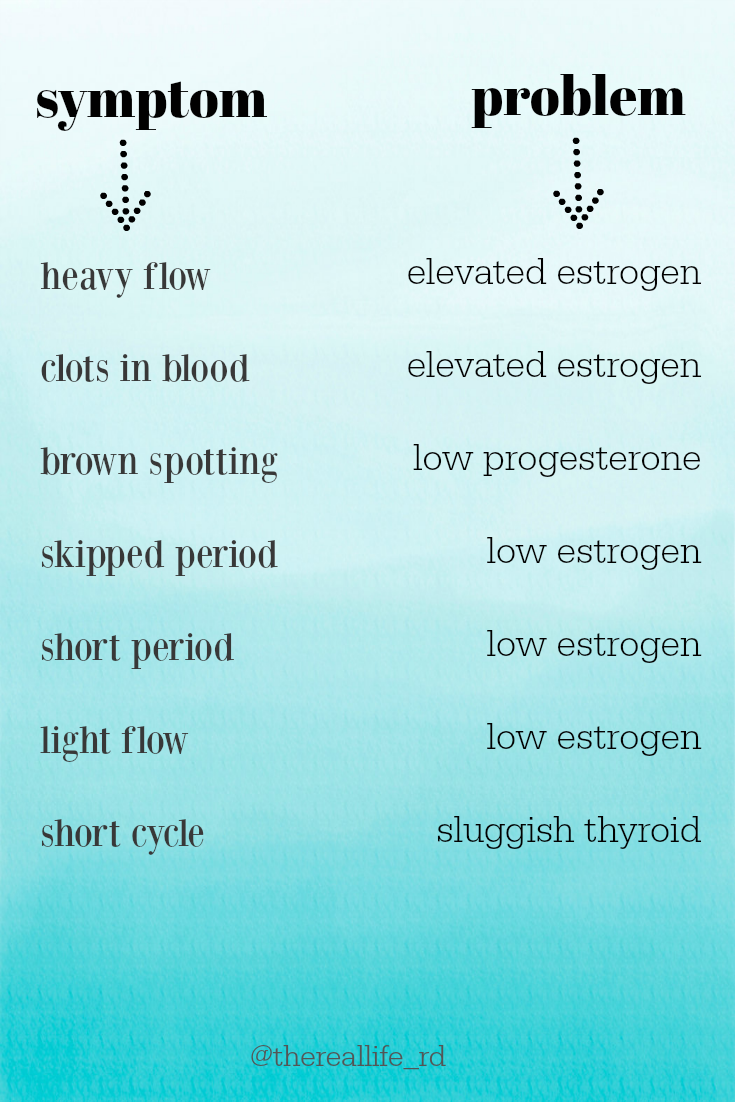 Often with these abnormal variations in your period, birth control is prescribed for a quick fix to "balance out hormones" when really, that's not doing anything at all. When you get off the birth control those same problems are still there. Which is so frustrating! You have everything within you to balance out your hormones without medication. Taking a look at your eating, exercise habits, stressors and sleep habits usually reveals where the real problem lies, and then you can work towards healing to get things back in sync. We work with women all the time in doing that and more often than not, your body is no different.
Share in the comments (if you'd like :)) if you've experienced any of the above. Or ask questions! I feel like we don't talk about this lady stuff enough…so beyond your friends, consider this the space to do just that 🙂
SaveSaveSaveSaveSaveSave