If you're a male reader and don't care about periods and PMS, come back Friday for more fun posting. But also…if you hang out with women, this is good for you too…so keep reading 🙂
PMS (premenstrual syndrome) has come to be expected. It's suppose to be normal to feel cranky, irritable, and tired. Have chocolate cravings, headaches, and cramps and maybe even insomnia. And feel just blahhhh during the days leading up to and throughout your period. Right?
Women usually come to believing these symptoms surrounding their period are just life. Ibuprofen, a heating pad and respectable stash of chocolate make getting through your period possible. Right?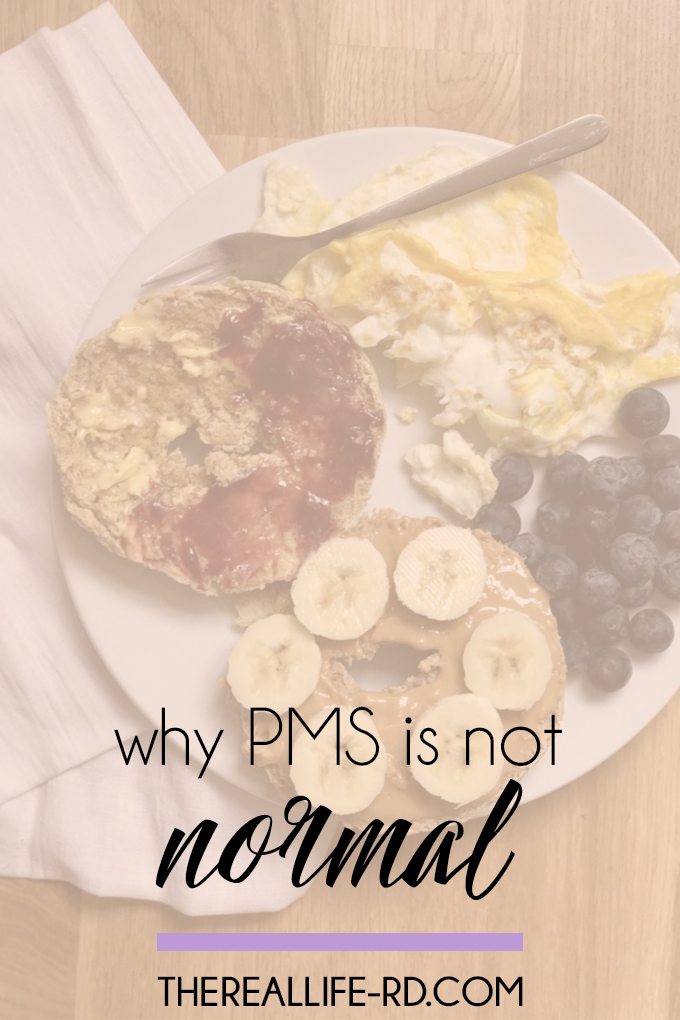 PMS is not just something we as women have to deal with. These symptoms are not normal. These symptoms are our bodies telling us something is off kilter. Something — primarily nutrition and/or stress — need some tweaking so we can best take care of ourselves and work with our bodies, not against them.
I find that more and more women struggle with PMS because of the diet obsessed, fast paced world we live in. Life has only gotten busier and we always need more time in the day. We rarely take time out to simply be – to do things we enjoy versus things that lead to productivity. And we're told to eat this and not that and so there is so much stress and expectation around food that we've tuned out to what our bodies actually need and instead eaten what we've been told to eat by some external source. Often it's either one way or the other – super clean eating with zero room for fun or the hell with it mentality because the super clean detox your life and being uber healthy way of eating is unsustainable. Where is the middle ground?
Instead of getting to the root of the problem, taking a step back and looking at what's going on, it's easier and quick to take a pain reliever like Tylenol or Advil, take birth control to "fix" the problem (often following the advice of a health care provider), or maybe we even get antidepressants prescribed to level out our mood. Sometimes these symptoms get so severe, impacting our lives significantly, that they are diagnosed as a condition called PMDD or premenstrual dysphoric disorder. We are often led to believe this is how our bodies are and that dealing with PMS or PMDD is just part of being a woman.
PMS isn't an Advil deficiency. Or a hormone deficiency that calls for birth control. Or a Prozac deficiency.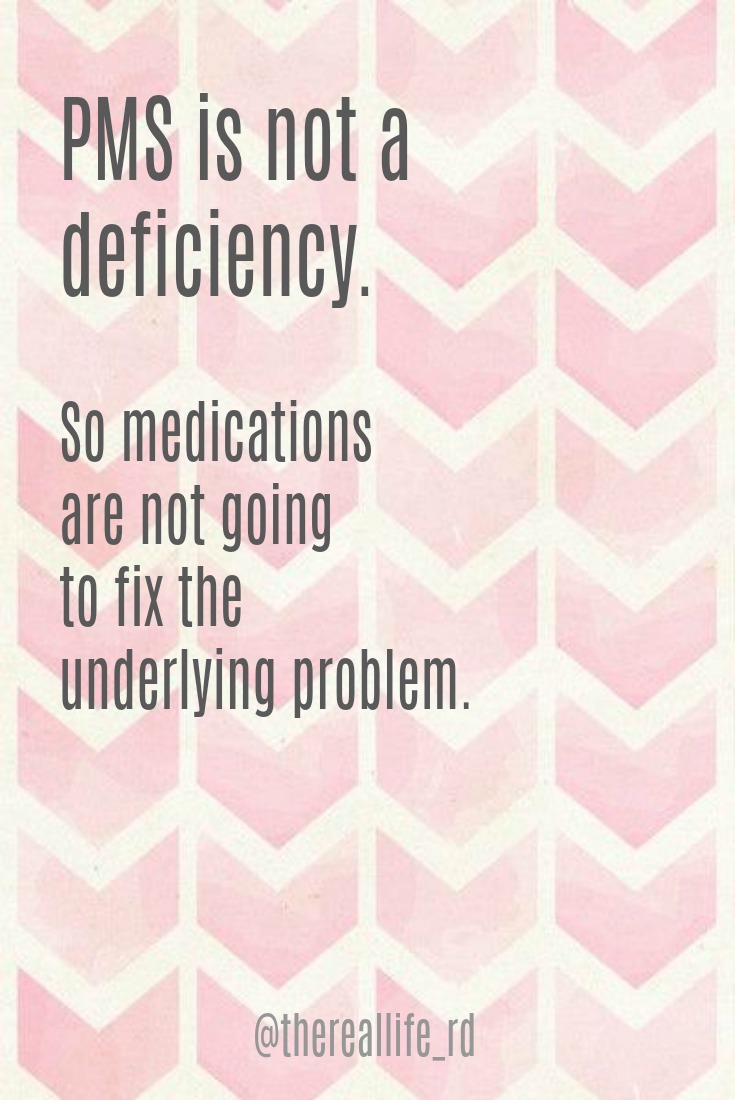 NOTE: I realize that there are underlying medical pathologies that can cause severe PMS, please see your doctor before minimizing your symptoms to ensure nothing more serious is the cause. ALSO, I realize there is a time and a place for antidepressants and mental health should not be taken lightly. I see women everyday with anxiety/depression/suicidality so I empathize deeply. I'm simply saying these medications can be inappropriately prescribed as a band aid rather than a solution. 
PMS is not a deficiency. PMS seems to be correlated increased reproductive hormones. Studies show higher levels of estrogen in women who experience PMS. So why does this imbalance occur?
Most of the time, it all circles back to the four key areas I talk about over and over – nutrition, sleep, exercise and stress.
NUTRITION
Keeping your blood sugar stable by nourishing your body well (eating carbs, proteins and fats and not skipping meals) alleviates mood swings. And a steady blood sugar eliminates unnecessary stress on your liver so it can do what is does best – wash out waste from your body so you don't end up with excess hormones and toxins. –> Another reason why detox diets are dumb. A healthy liver does an incredible job at "detoxifying" your body, it's why we each have a liver in the first place.
All foods are nourishing in their own way. Dark leafy greens and sweet potatoes and flaxseeds and almonds and chickpeas primarily nourish us physically while other foods like chocolate chip cookies or french fries primarily nourish us mentally/emotionally. Pleasure and experience are part of a healthy relationship with food. Nourishing your body physically (as well as mentally so you don't stress around food) is a huge part of hormonal balance. You can eat all the green stuff in the world, but if you're stressed about what you eat, those super duper healthy foods aren't as healthy as they could be. We also can't ignore the health benefits of eating physically nourishing foods. Your body does crave physically nourishing foods in addition to the mentally nourishing foods (like cookies and wine and pizza), but you have to tune in and listen to what you body needs in any given moment. Of course there are specifics when it comes to nutrition that can be helpful, but that is based on the individual — pouring out generalized nutrition information wouldn't be helpful. (and I do always want to stay fair to Nutshell clients and not be spewing all kinds of nutrition information on the blog – thanks for understanding! :))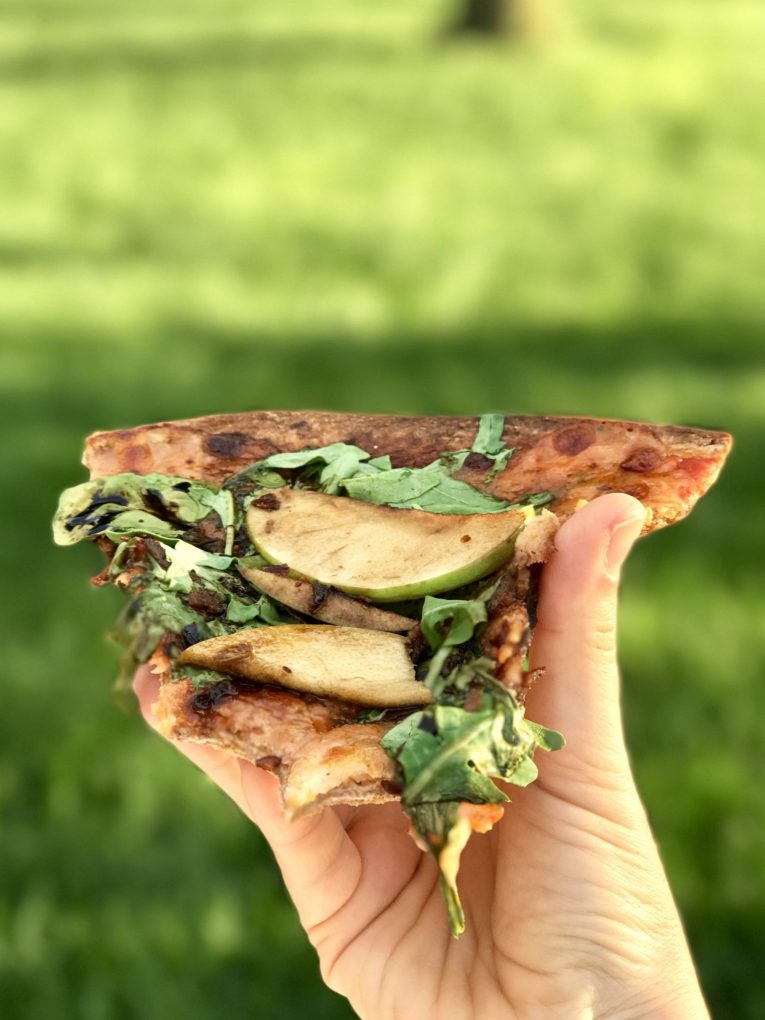 EXERCISE
Inappropriately intense exercise can get your lady hormones all off balance. I describe intense exercise that isn't healthy for your body like a frat party with too many kegs. It's unnecessary. A few less kegs would have made for an equally fun party with a lot less hangovers.
At the same time, moving our bodies is part of being all around healthy. We know that. It's just figuring out what type and intensity of movement is best for your body. Because exercise is a stressor. Based on other things going on in your life, it can be a productive or non productive stressor. It activates your HPA (hypothalamic pituitary adrenal) axis, releasing stress hormones. If you're unsure if your exercise is stressful or not…start with asking yourself if it actually feels good both physically and mentally. If the answer is no to either, it's a good idea to chill out for a bit.
SLEEP
Poor sleep is one of the biggest disrupters to your hormones. I struggled with sleep anxiety and insomnia on and off for years so I get it. During sleep your body repairs, detoxifies, adjust blood sugar levels, balances hormones, and lots more. If you aren't getting 7-8 hours of restful sleep, cortisol levels not only get messed up…but you're body can't restore itself.
Before anything else, focus on sleep. This is often overlooked but in my opinion the most important health habit to nail down. Some things that helped me that I recommend include getting in bed at the same time every night and not bringing your phone into the bedroom. No doing work or scrolling through anything on your phone. I tell all my patients and clients the bed is just for sleep and sex. It will make a world of a difference. Nowadays I fall asleep within 10 minutes and I am SO GRATEFUL for that.
STRESS
Nutrition, exercise and sleep can all be sources of stress. Perceived stress can also cause trouble with hormone health. How do you handle stress? You can't always change your circumstances, but you can change how you respond to them. How do you move through life? Do you have a self care routine? Kylie wrote a great post on creating a self care box which I think is genius!
I'm a highly emotional person so rushing and chaos throughout the day leave me with little margin to deal with day to day life. One thing that's helped reduce stress for me is not looking at my phone for more than 60 seconds no more than three times per day. Other than a quick text check in, I try to resist grabbing my phone. I'm not perfect but that's my goal. For me this drastically reduces mental noise. Do things that create less chaos and more calm for you.
It's not a quick fix or a simple answer like a medication, but taking time to learn your body and what feels best mentally, physically, emotionally and spiritually can completely transform your whole health.