We are living in weird times man. Some snippets of life lately around here…

My one essential piece of baby gear right now
When it comes to baby gear, I'm a more-is-less kind of person. With home/life stuff in general, I tend towards that end of the spectrum. The only thing safe in our house is my husband and my kids (kidding…kind of) everything else has potential to be tossed, donated, etc. Less stuff makes me a more sane human. But just like with books in our house, with baby carriers I don't do the less-is-more thing. I loved wearing Cal and keeping him close and he also loved being worn. When he was little he would nap for hours upon hours while being worn, in the crib/bassinet…not so much.
I have two Wildbird ring slings (a double and single sling – both bought second hand off FB marketplace – they are much more affordable there!) which are quick to get baby into, comfortable and shockingly very supportive. My Solly wrap is so cozy for those newborn days, but I find I can't wear it for more than a couple hours or with a baby over 5ish months because my back will start to ache. My Happy! soft structured linen carrier is my go to carrier when I need more support – and it's beautiful, but it's a little too big and the fabric isn't as soft as I'd like for those newborn days. Lastly, our Happy onbuhimo carrier is great for those older baby & toddler years because the high back carry was/is so fun for Cal. We also have an Ergo 360, but rarely use it unless we are hiking – I've lended it out to other moms because we just haven't used it like I thought we would. I find it so bulky.
So all that to say, I have a lot of baby carriers, but I do use them all and they all function differently for me. I probably sound like a millennial mom whack job, but hang with me. Also to note: I could obviously 1000% do motherhood without all these baby carriers, but they do make life easier and I'm thankful for the flexibility they bring me. After Teddy was born, I quickly realized that I needed a more supportive, yet soft and snug, carrier than the Solly, Happy or ring slings could offer. He was so fussy unless he was nursing or I was wearing him upright for the first 5 weeks of his life (turns out, I had an oversupply issue and dude was so gassy/reflux-y) With chasing around a toddler all day, the wraps and slings did not offer enough neck support for him or back support for me.
Enter the Ergo Embrace carrier. I had heard about it on the Birth Hour podcast I think? Anyways, I was up late one night nursing and saw that Ergo had 20% off all carriers so I ordered it for $63 (carriers can be SPENDY, so I thought this was a steal relative to other high quality soft structured carriers) and it was hands down the best money I've spent in a long time. Navigating newborn + young toddler life became so. much. easier. with this carrier. So if you're in the market for a great, relatively affordable carrier that you can stuff in your diaper bag, this is it. Teddy will sleep for HOURS in this thing, he is insanely secure (I bend over or down and he doesn't budge) and my back and shoulders are supported. I use my Solly wrap with him also right now for shorter carries and will use the other carriers more down the road, but right now this is my ride or die carrier. Not sponsored, just obsessed with this carrier and wanted to share.
Icebox cake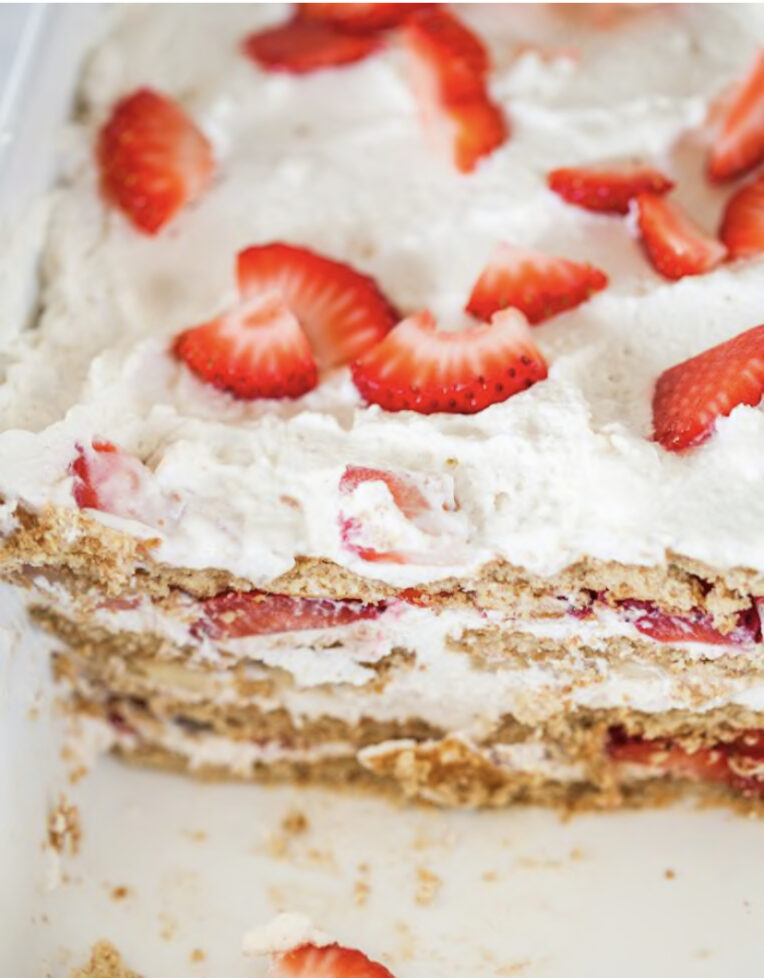 We had friends over to grill pizza a couple Fridays ago (grilling pizza on Friday has become a weekly ritual and I love it) and I made this super easy dessert. (I didn't make my own whipped cream, just bought it) How am I just now discovering the simple, yet awesome deliciousness of layering graham crackers with cool whip and fruit? It was SO GOOD. I've already made it two more times so I can eat it on a regular basis. Add this to your end of summer dessert rotation.
Getting On a Plane Again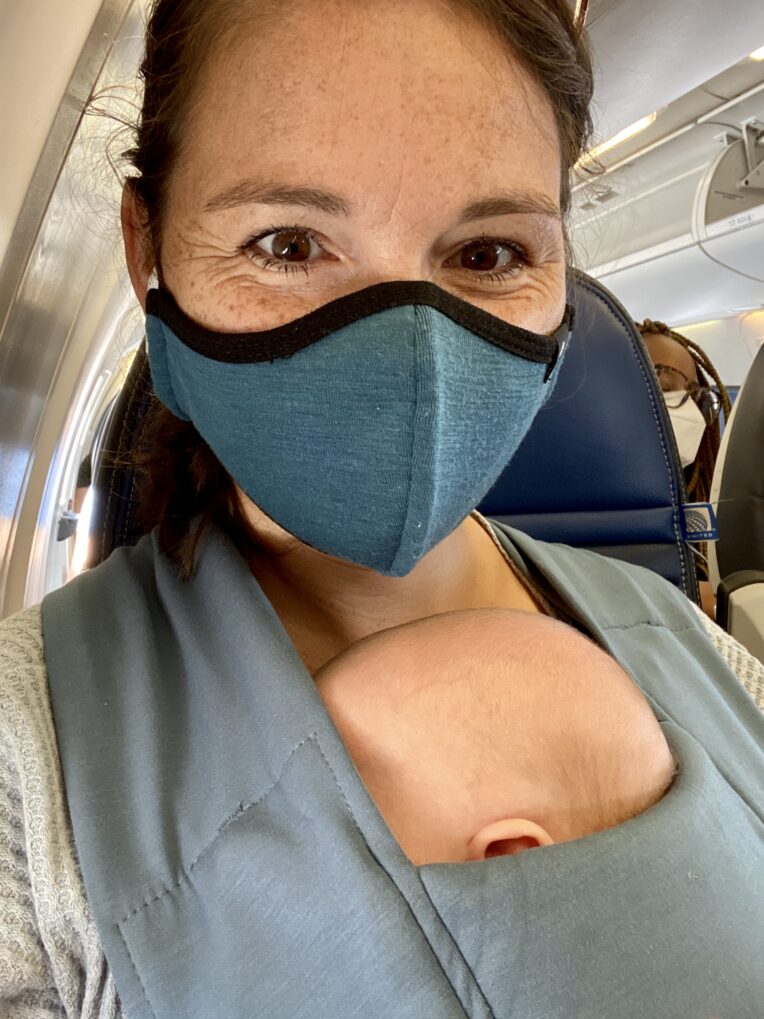 We flew home last week for my grandma's funeral and while we went back and forth over driving vs flying because of COVID, flying won out because driving felt like it would have taken a million years with a breastfeeding newborn. I haven't been on a plane in six months due to COVID, but I was so impressed at how safe I felt. Kudos to the airlines and a big thanks to all the people making that happen.
Getting back into exercise
I stopped exercising prior to conceiving Teddy so I could get my period back while still breastfeeding Cal. And then Teddy's pregnancy didn't involve much structured exercise – some walking and barre3 and MommaStrong, but overall I chasing my toddler was exercise enough. My six week postpartum visit was last week and all looked well, but I have a pelvic floor PT appointment coming up and have been waiting for that to really get the all clear on exercise and some direction for how to ease back in. I recovered well from Cal's birth, but given I've grown and birthed two babies in 2 years, I want to reallyyyyy make sure I'm caring for myself well this time around since my body might not recover as easily as it did last time.
Since about 3 weeks postpartum, I have so enjoyed doing the MommaStrong Hazy Days program which is focused on rehab and function. I'd call it physical therapy, not exercise. It's a 5 minute video per day with a focus on "waking back up" your muscle groups again and she very much emphasizes first and foremost taking care of yourself and baby first…these videos are if you feel up for it. I'd say I usually do the 5 minute video 4-5 days a week and the stretches as often as I can (my neck/shoulders/back feel SO MUCH better when I do) and that has been really great for me to feel like I have some intention and direction with how to care for my body between birth and the 6 week postpartum appointment.
So all that to say, I am really, really excited about learning to run again (it's been over a year) – even 10-15 minutes outside by myself in the fresh air sounds so amazing. I'm grateful for what a lot of time off from structured movement has given me in terms of excitement and joy at the idea of running and exercising again.
Adventure Group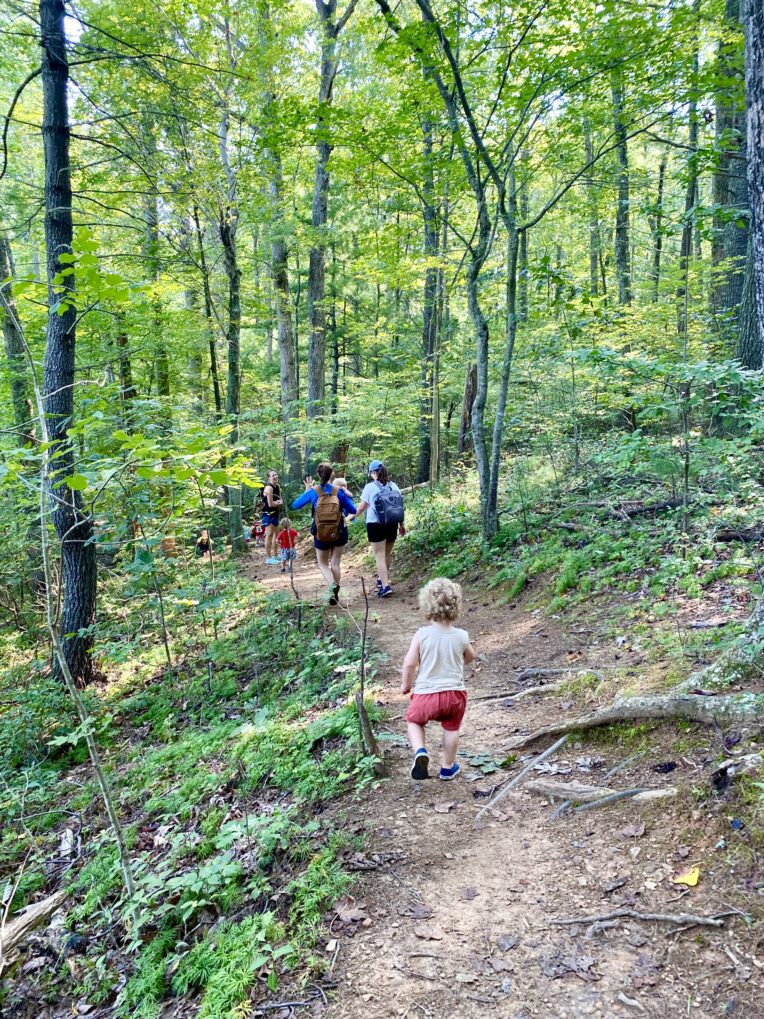 A couple weeks ago I was listening to this podcast and knew I needed what the guest called "adventure group" in my life. As a mostly SAHM, I find that I mother best outside of the house and when we have a few social activities and some novelty planned into our weeks. Not everyday, since I have found toddlers need some quiet, slower days at home to balance out the social times away from the house, but I need to get out and be with other moms. I think most SAHMs feel that way. COVID and the lack of travel that has brought, coupled with the slower postpartum period had me itching for adventure. So I texted my group of mom friends and told them to invite any mom friends they knew and we started an adventure group where every Thursday morning we pick a spot within an hour drive (because most of the kiddos nap at lunch time and nap = sanity time) of Charlottesville and we go there. We've been at it for 3 weeks now and it's my favorite weekday rhythm. With other moms around to help me wrangle my toddler, it's made getting out and about with a newborn feel way less overwhelming. It takes a village. The guest in the podcast had been doing it for ELEVEN years. I so hope we keep at this and see it change and transform for years to come. Hopeful thinking, but I'm going to be hopeful!
Okay, that's what I got. How are you doing during these semi-quarantined days? Socializing outside has been so lifesaving for me during these weird times.