My mind has been completely tuned out to new ideas and the desire to write. It's like, "nope, not happening. try again later." So I've waited and waited. And then as I was walking home with Cal on my back today after walking to work with Nick, I felt like I wanted to write once he went down for his first nap. That never happens. So here we are in the new year.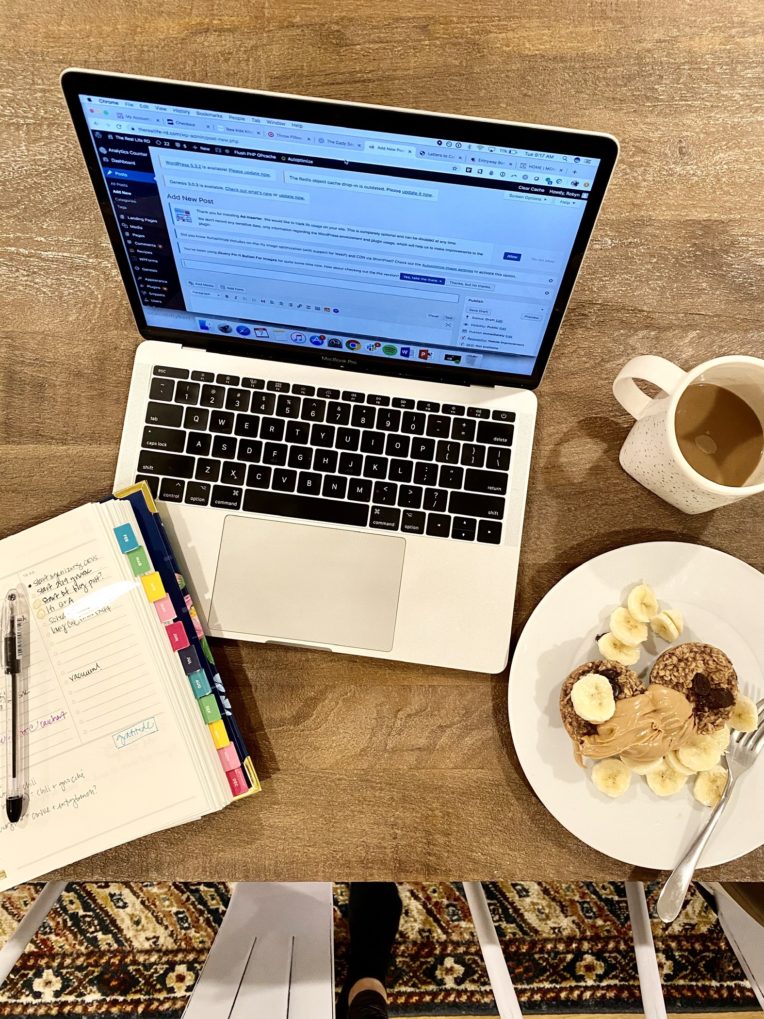 The idea that came to me isn't anything special. I just thought I'd share some things that are adding to my life as we begin a new year. Really, a new decade. The last couple months of 2019 felt like a blur. Life felt flipped upside down and I couldn't get my feet steady. We moved and left a really awesome and life giving community of friends and city we loved. We moved into a house that feels like a mansion to me after living in tiny city apartments for the past six years – although my version of mansion is skewed because the people who own this house have 2 kids and had to move out for more space lol. While more space has been great, it's been an identity shift of sorts going from tiny apartment urban living in New York and Boston to house living in a small college town here in Charlottesville. Good, just different. And then I went back to work after being mostly at home with Cal for the first year of his life. I'm just working 2 days a week, and that is the perfect amount for me, but that still feels like a huge shift.
And finding childcare felt so anxiety producing for me. After enrolling him in an awesome childcare center, we pulled out of that for many reasons before I even began work because we found a nanny I didn't even know existed. She starts this week and although I'm nervous (Nick has taken vacation days the past few weeks I've worked and been home) to leave him in the care of a non family member, this is truly the next best thing. This sweet woman is like what would happen if Sally Clarkson and a Montessori teacher were combined into one. I'm grateful to have found her.
So what I am saying, is the fog is lifted. PRAISE freaking BE. These are all good problems to have. We are so lucky. But change is just hard and this has certainly been the hardest transition of my life so far. But I'm hopeful and excited for what is to come this year. As I sat down and thought about this next year at the end of 2020, I knew things had to shift. I needed more simplicity, some rhythms set into place and just to get my ducks in a row. Nothing major, more back to basics kind of stuff. The last couple months were like a hot mess of late nights (which for me is like 10:30pm lol), sleeping in later than I like to start my day, too much social media scrolling, and a big mental/emotional funk. There's grace in all of that, considering everything on ….but still. Something had to give because life just felt like it was happening to me. And so here we are, fresh start!
Ok, so onto a few simple things that are making life more simple, calm and intentional for me this year. I love hearing about what helps other people live a better life, so I hope this is helpful. And if not, come back later…I'm not offended.
An organized pantry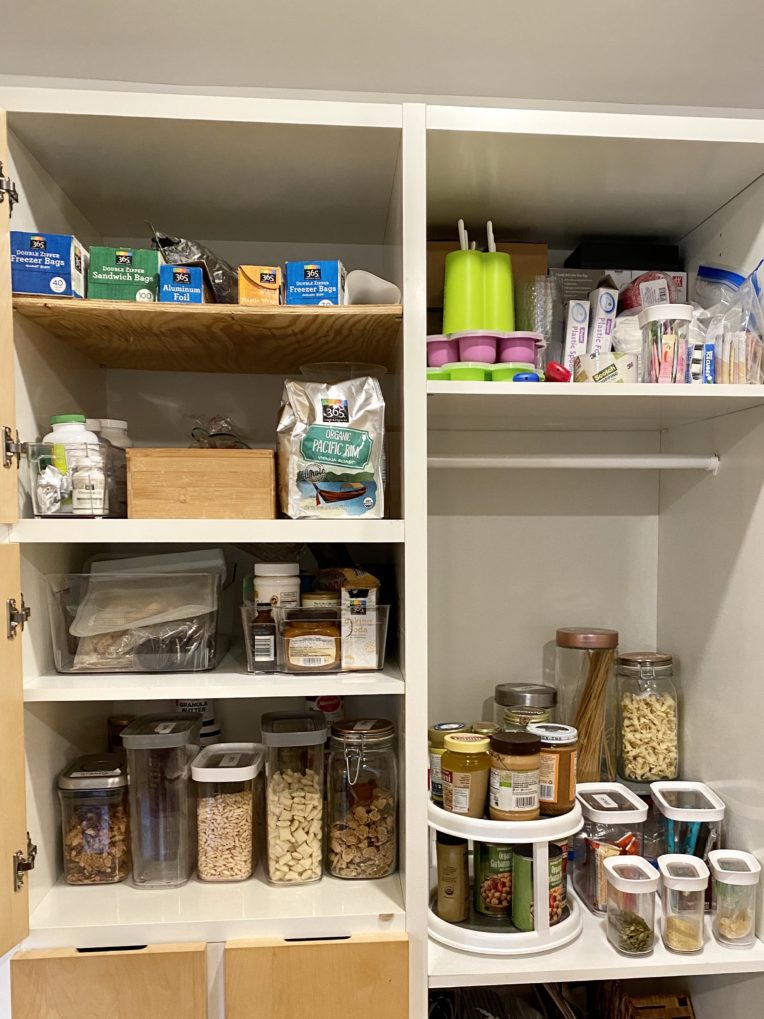 Am I a boring mom or what? I'm not sure, but I don't care because organization brings me so much life. It's a long, deep exhale. As someone who isn't naturally organized, having my house be relatively clean and tidy makes me feel a little more in charge of my life. I discovered The Faux Martha on IG over the holidays (a positive that came out of all my mindless scrolling) and couldn't get enough of all her posts on minimalism. I didn't go all in and buy a bunch of containers and do all the planning because this isn't our forever home so I'm not investing $$ right now, but I bought a couple things from HomeGoods for less than $20 and our pantry now feels very functional. Far less pretty than hers, but that's not the point. This post was my inspiration.
A new backpack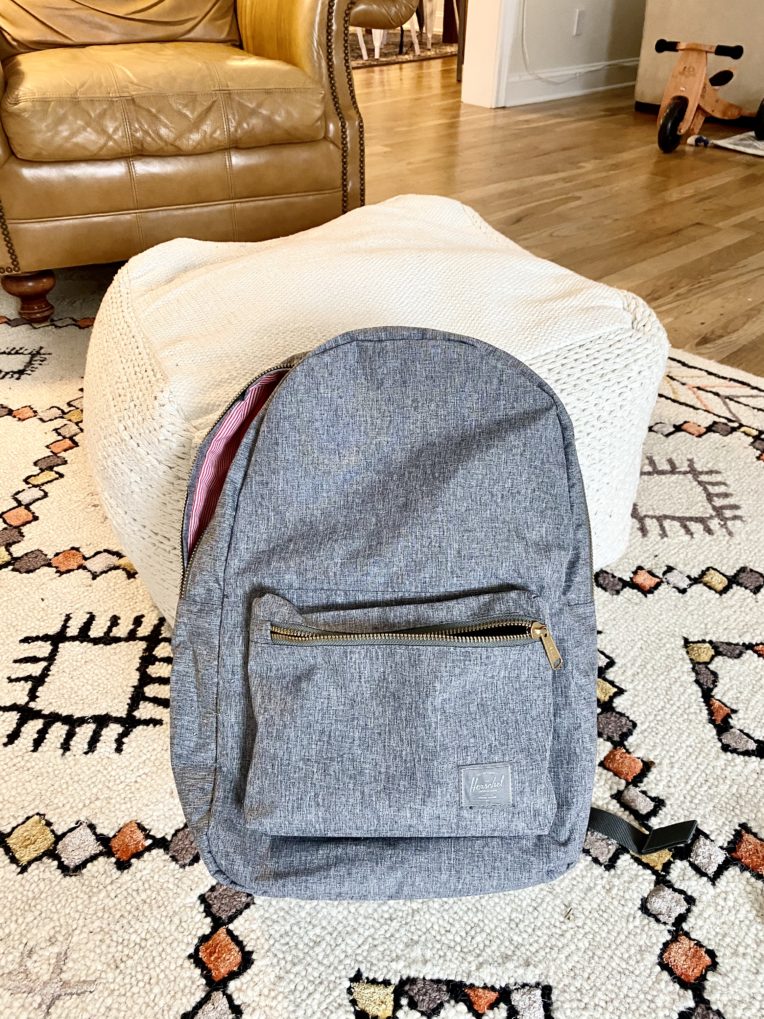 My first day of work I was carrying two totes – one for my computer, stethoscope, etc and the other with my pumping stuff – and it was not working. I walk to work, about a mile, and carrying two totes was clunky and heavy. I have a basic black Patagonia backpack I bought for nursing school back in 2014 that is still holding up, but it had way too many pockets so I was losing stuff (yes, I just said losing stuff in my backpack) and it didn't look very professional. I didn't need a new backpack, but I added it to my Christmas list and my mom gifted me this Hershel Supply one that I love. It's super functional, sturdy, only has a few pockets and doesn't look like I'm walking to class. And it can fit my 15″ computer, breast pump + parts and my lunchbox…which I was shocked it could since it doesn't look that big. Plus, it's very comfortable.
A new planner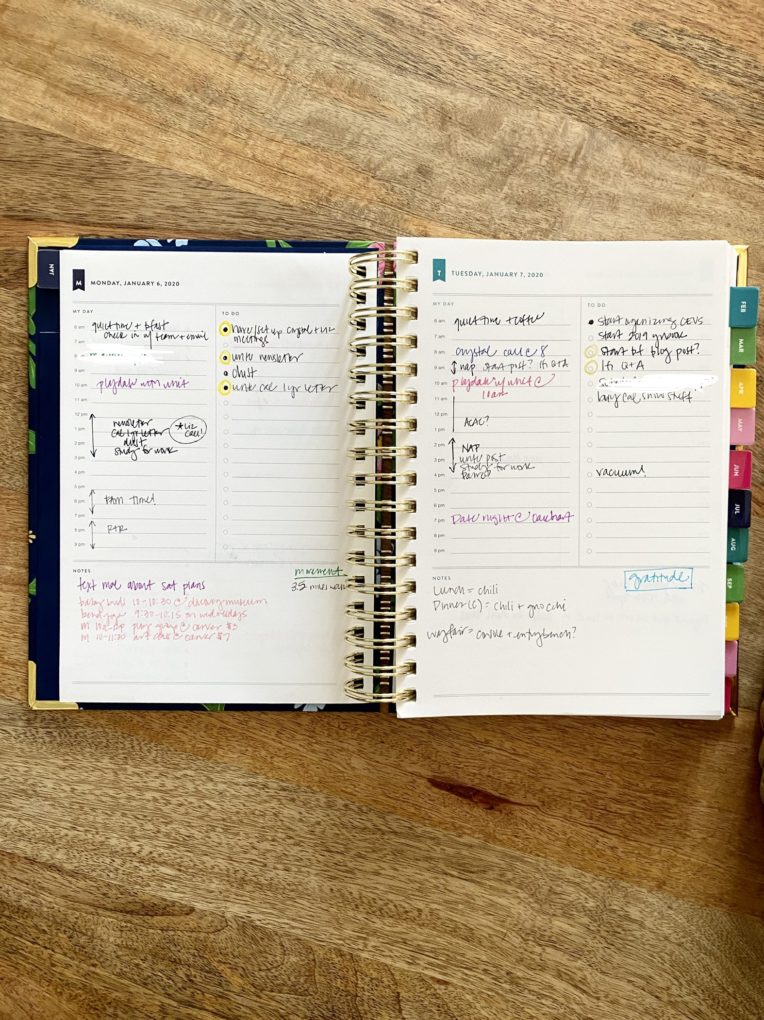 I'm a paper + pen gal. I use my Google calendar for appointments and trips since often those change so it's easy to edit and also sync with Nick, but I need to write stuff down. I've tried Trello and Asana and Wunderlist and other apps but it just doesn't work for me. I've eyed the Simplified planner for years, but never bought it because it is pricey. But then I saw a 20% off coupon at the end of the year and went for it. And so far, I love it! It's nothing crazy, actually what is crazy is how many people love this planner because it is nothing groundbreaking. But what makes is awesome, is actually everything that isn't included. Because there aren't areas to meal plan and set goals and check boxes for how much water I drank – that feels distracting to me and like another thing I need to do. This is something I'm actually going to use. And it's a beautiful, well made planner. I like it.
An programmable coffee maker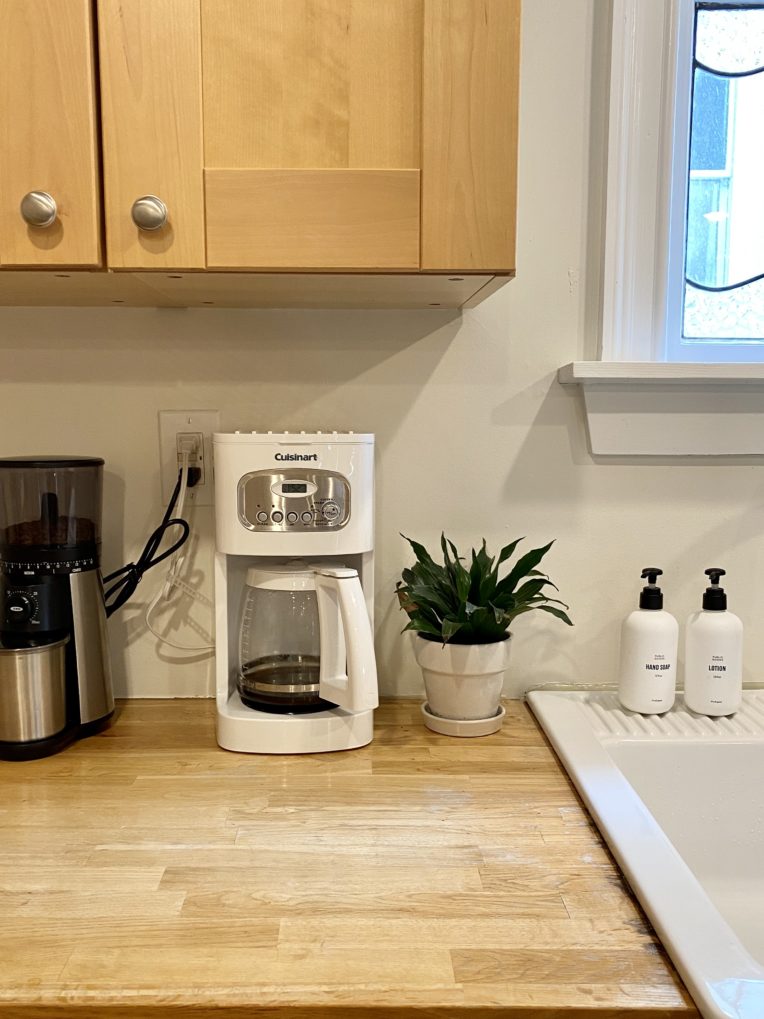 I remember the days when I used to wake up before Cal and have at least 30 minutes (sometimes 90 minutes if I got up by 5/5:30am) …and then around 9/10 months his sleep imploded and I started going to bed late. I remember sharing how I got up early and did work before he woke on a podcast with Heather Caplan and now I lol. That was then! I hope we get back there soon. What does this have to do with coffee? Well, when I would wake before Cal, it was hard to get out of bed when I knew I had to grind coffee, boil water and wait 10 minutes because we used a french press (FIRST WORLD PROBLEMS, but stick with me) Nick is a coffee purist so was against automated coffee makers. I appreciate his appreciation for good beans, drinking it black and having the patience for pour over. But I'm happy with a semi-good bean (an organic variety from TJs or Whole Foods works just fine) made delicious with lots of creamer and poured out of the coffee pot. Even better if it's brewed before I roll out of bed.
So he got me this coffee maker for Christmas and let me tell you, the joy on my face. Now, next step is to get Cal out of our bed for the latter half of the night and back in his crib so I can wake early again. I'm holding out hope. But until then, at least we are headed in the right direction with an automated coffee maker. Bless.
Intentional evenings
I've learned that with a baby, now toddler, you have to use your time wisely when they are sleeping. What was happening is he would go to bed around 7 and we'd have about 2ish hours until ideally, we want to be in bed (again, work in progress) but what was happening is I would want to do xyz thing, but then end up doing xyz other thing because I didn't really put much thought into how I wanted to spend my time. Example: I wanted to organize November's photos and get then off my phone and onto Google photos. Instead I'm scrolling through Target.com for hours looking at throw pillows for our bed. Time suck. So now, even if it is doing some online shopping in the evening, we're trying to just loosely plan how we want to spend those hours and put a time cap on things like online shopping. So instead of an hour, I'm on Target.com for 15 minutes and then I go open a book.
Ok, that's what I got for now. I'm so glad it's a new year and we've got a semi-clean slate in front of us. Share with me some things making your life better. And all the automated coffee maker lovers out there, raise yer hand!