This morning's yoga was amazing. I couldn't get to Opal Yoga where I've been going. The times just weren't working with my schedule today, so I slept in a bit until 6:45 and then did a 60 minute Dave Farmar podcast.
By the end of the 60 minutes I was dripping sweat, literally dripping and now as I sit at work my legs and arms are still feeling like jello! If you need a good at-home-yoga podcast, Dave is the man. Just subscribe to his podcasts on iTunes for FREE here! I started doing his podcasts four years ago and he's always my go-to if I want a tougher practice. Lots of chatarungas, half moon to standing splits, and long bridge holds.
I'm not going to lie though, I'm really want to start running again. Other than a 2 mile run and the marathon I haven't run in five weeks, which is the longest I've ever gone without running. So while it's been much needed and really refreshing, I'm really really itching to get back out there. But I'm holding back for at least another 10 days and will just keep yogaing. The Rest and Reset Challenge has been a very good thing!
I'm always in awe of what the body can do to repair itself if we just let it. Since I've stopped marathon training , sleeping more, and simply resting often, I can feel my body resetting. My mind is calmer, I feel even more energy than before, and my body just feels less uptight and more relaxed..if that makes sense?
And I've been much hungrier than I expected. Typically you'd think once someone stops running they wouldn't be as hungry. But since I've been resting and I don't have the added stress of marathon training and other life things I think my cortisol levels have come down and my body is using energy more efficiently. I always tell my Nutshell clients to always eat when your hungry and as hormones begin to balance out, appetite will increase and that's exactly what's happening with the decreased stress from no running and more resting. So to tame the hunger beast I've been eating lots of good food. Starting with breakfast today after yoga!
I showered and then made a green smoothie and some coffee [decaf!] to drink while I got ready and made breakfast number two to eat at work…pumpkin blueberry oatmeal with almond butter!
Once I got two work I saw a couple new patients and then broke into the lunchbox for a snack. Cucumbers with a avocado lemon dressing I made yesterday afternoon. My momma was at my grandparents condo in Naples, Florida last week and shipped me 9 massive avocados from their tree! These babies are huge and ripening fast so I've been plowing through at least one a day.
Avocado lemon dressing
2 scallions
3 tablespoons lemon juice
4 tablespoons hemp oil [or you can use extra virgin olive oil!]  
2 tablespoons ripe avocado
1 teaspoon honey
sea salt to taste  
Add all the ingredients to your blender and blend away! This will keep in the fridge for up to a week!
Around 1:30 I was hungry for lunch.
Kale salad "massaged" with the avocado dressing, broccoli slaw, diced red bell pepper, carrots, and more avocado. Plus some leftover tomato soup, crackers for dipping and an apple. Filled me right up!
Afternoons snacks included half an avocado rolled up in some romaine around 4, and then two chocolate coconut banana muffins around 5:30. I made these yesterday while baking 10 dozen cookies for our Christmas party and they are SO good. Super chocolately and moist from the coconut oil and bananas.
Dinner was quick and easy! I had some leftover roasted eggplant, so I sauteed up some mushrooms and zucchini and cooked some spaghetti squash. To cook the squash, all I do is cut the squash in half, scoop out the seeds, rub with coconut oil and sea salt and bake at 400 for about 35-40 minutes. You'll want to be able to poke it with a fork, but it should still be a bit firm…you don't want to overcook it because then it gets sweet and mushy.
When the squash was cooked I scraped a fork up and down to create strands, combined it with the sauteed veggies and eggplant, sprinkled on ~2-3 tablespoons nutritional yeast and about 1/2 cup of this leftover vegan gravy from Oh She Glows. It might sound strange, the the "gravy" was more of a brown stroganoff sauce and was really good! I ate that with more avocado..kale massaged with lemon juice, olive oil and sea salt and topped with another half an avocado.
I've noticed my body is craving lots of fats lately too so good thing I've got lots of avocado! Banana + Justin's maple AB and dark chocolate post dinner have been smashing that craving too.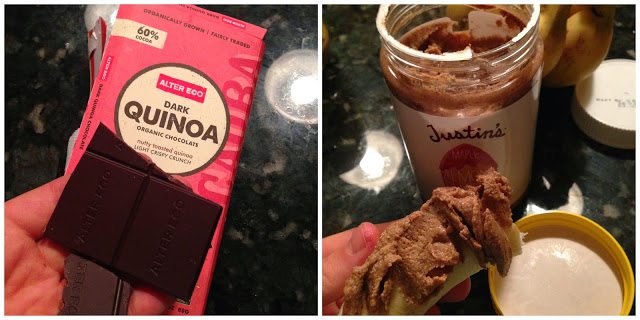 Tonight I'm headed over to church to help with PACEM. Every December for 2 weeks Portico takes in homeless men around Charlottesville so they have somewhere to sleep and a hot meal to eat. I'll be bringing some snacks, hanging out with the men, and helping where I can. Should be fun!
And then I'm going to try to get to bed extra early, tomorrow's a crazy day.
Hope your day is filled with yummy food and one thing that relaxes you, even if that's just eating your lunch with zero distractions. Have a good one friends!