Only being up at Columbia two days a week and working from home 2 to 3 days a week has been quite an adjustment. As someone who isn't internally structured, I need all the external structure I can get. But I'm learning and although I wouldn't want to work for myself forever, I realize and appreciate the immense amount of flexibility and freedom it allows me and I'm super grateful for that.
So when I'm not in class or clinical, here's a little day in the life when it comes to working for yourself.
7:00am | alarm goes off and I hit snooze – I'm really trying to break this habit but I love to snooze.
7:09am | actually get out of bed, brush teeth, put on my glasses and head straight to the coffee pot (automated coffee pots are unreal.)
7:21am | sit on the couch with Brit and do a quiet time. Right now I'm doing this study in Ephesians and usually we go back and forth between reading the bible and journaling and then chatting about whatever's on our heart. Quiet time in the morning on that comfy leather couch is why I will rarely be a morning worker outer. Is that a word?
8:06am | start making breakfast while Anne, Brit and I chat about life before they both head out the door.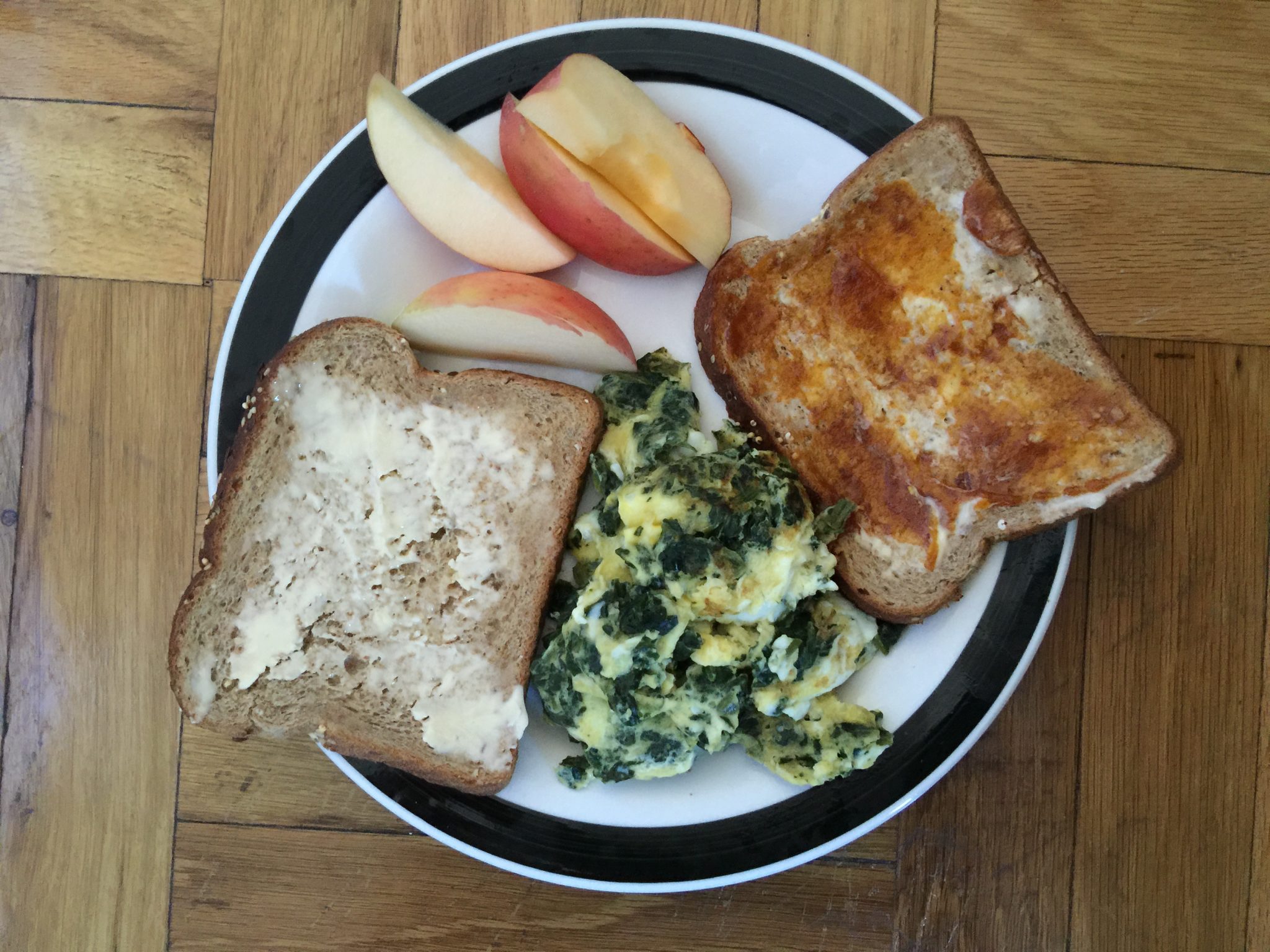 eggs scrambled with spinach, two pieces of toast with earth balance and pumpkin butter and a honeycrisp
8:15am | eat breakfast and drink a second cup of coffee while scrolling through social media and catching up on any blog posts or articles I want to read – I wish I had more time to read blogs and comment, so I read what I can, what's life giving, and what I can get through in 15 or so minutes.
8:30am | Nutshell, Nutshell, Nutshell. I typically work from home at a super small desk in my room in the morning and then change scenery and move to a coffee shop in the afternoon on most days unless I have afternoon clients. Really my only reasoning is because I hate packing lunches so I wait till after lunch so I don't have to come home to eat lunch. I would eat out every day if my wallet wouldn't hate me. I answer email for about an hour and a half in the morning – mostly current clients follow ups and questions, new clients emails, and any emails from companies/brands or freelance stuff.
10am | get side tracked and go bake banana bread – THIS is the problem with working at home is that I get distracted with baking often…black bananas cannot be left alone.
10:34am | run to post office to ship out package and pick up a package — in New York, the post office can be an all day affair, so I talk to my brother and then start typing this post on my phone while I wait in line.
11:05am | throw up instagram post on my walk home
11:15am | finish answering emails, wrap up a freelance article and eat an early lunch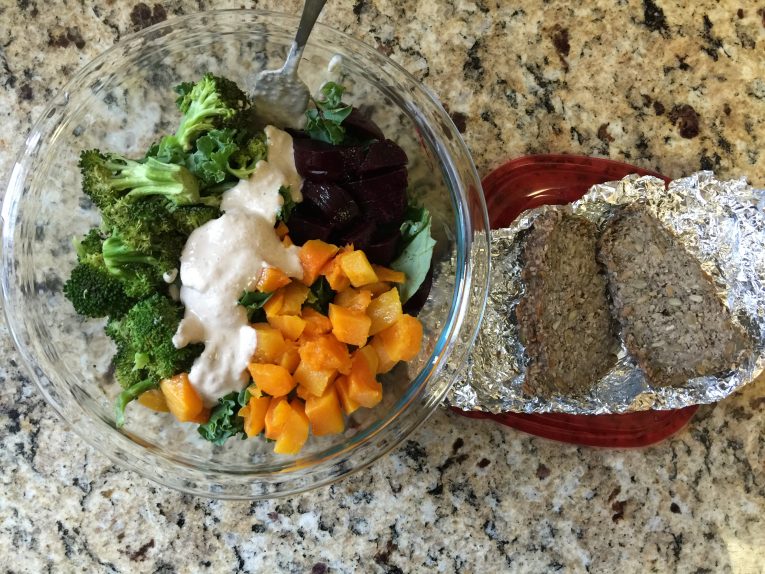 kale, roasted broccoli, beets and butternut squash topped with this maple tahini dressing  + two slices of this super seed bread and half this bar Raw Rev bar I was sent to review!
I'm not a huge fan of protein bars since they can taste chalky and are typically filled with not-so-familiar ingredients. But these Raw Rev bars I can get down with! Not only is there zero chalky texture (win!) but the ingredient list is simple and they're made with whole food plant protein – not processed soy protein isolate which you'll find in many bars. Plus the mint flavor is surprisingly refreshing and not overly sweet. I'd absolutely pick up a box of these to throw in my back pack snacks on the go.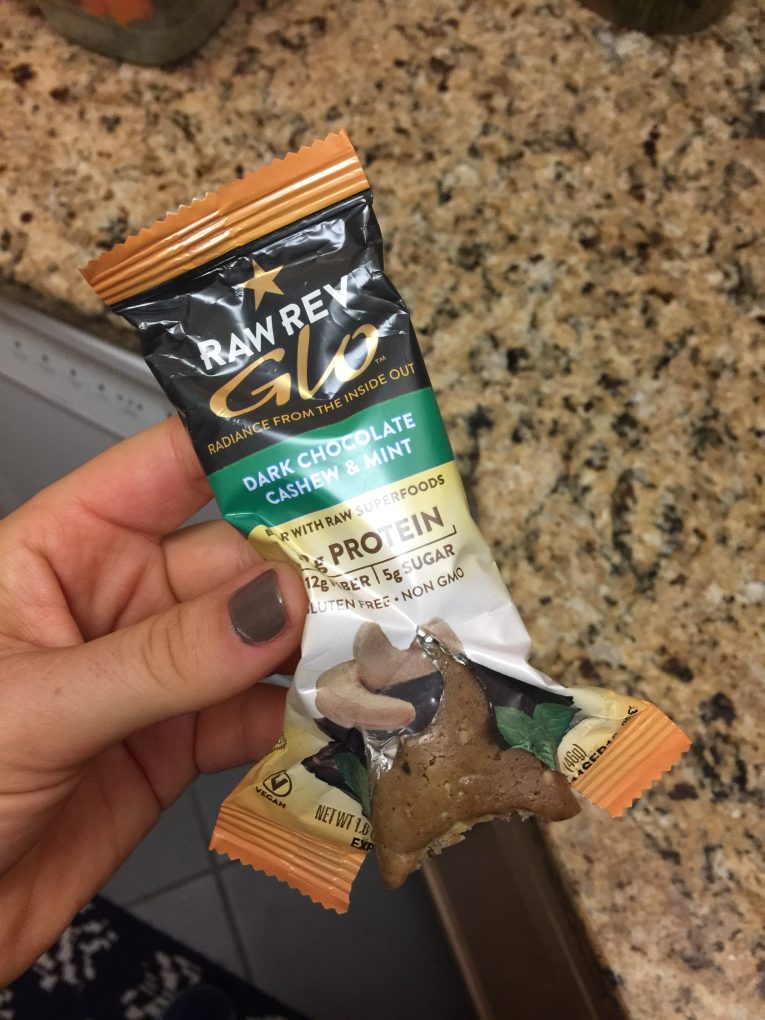 12:10pm | prep for an initial consultation
12:30pm | initial consultation Skype call with a new client
1:40pm | send out initial consult follow up email and start working on quick social media project for MODE media
2:02pm | eat a snack of banana bread with a slather of coconut oil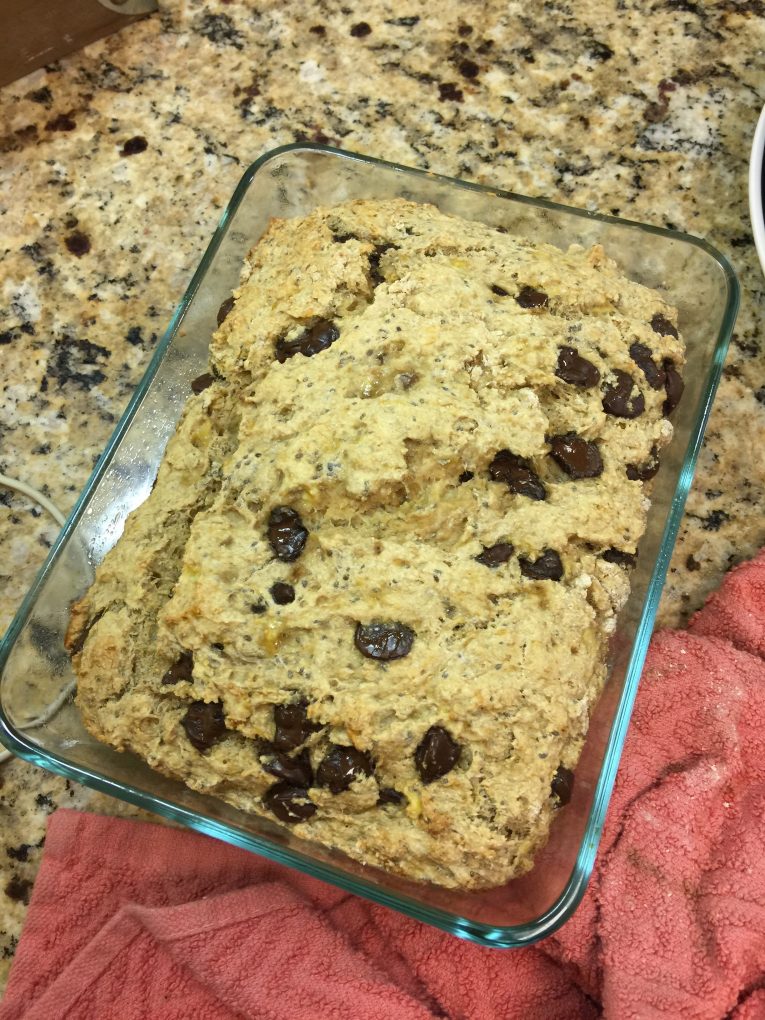 2:05pm | Nutshell client follow up phone call
2:41pm | wrap up note for that client and look over things I need to get ready for class tomorrow, send a couple emails to professors about clinicals and then give myself 20 minutes to peruse through social media
3:08pm | catch up on text messages…I try not to look at my phone for hours at a time because I could spend all day texting and get nothing done. So every few hours I'll check and reply and then not check again for a few more hours.
3:23pm | lay on my foam roller for a bit and stretch out and debate weather to go on a run outside or head to the gym. It's raining so the gym wins.
3:43pm | walk/run to the gym
3:54pm | elliptical for 45 minutes will reading Runner's World
4:51pm | stretch + foam roll, shower and then head out of the gym and talk to Momma Coale on my walk home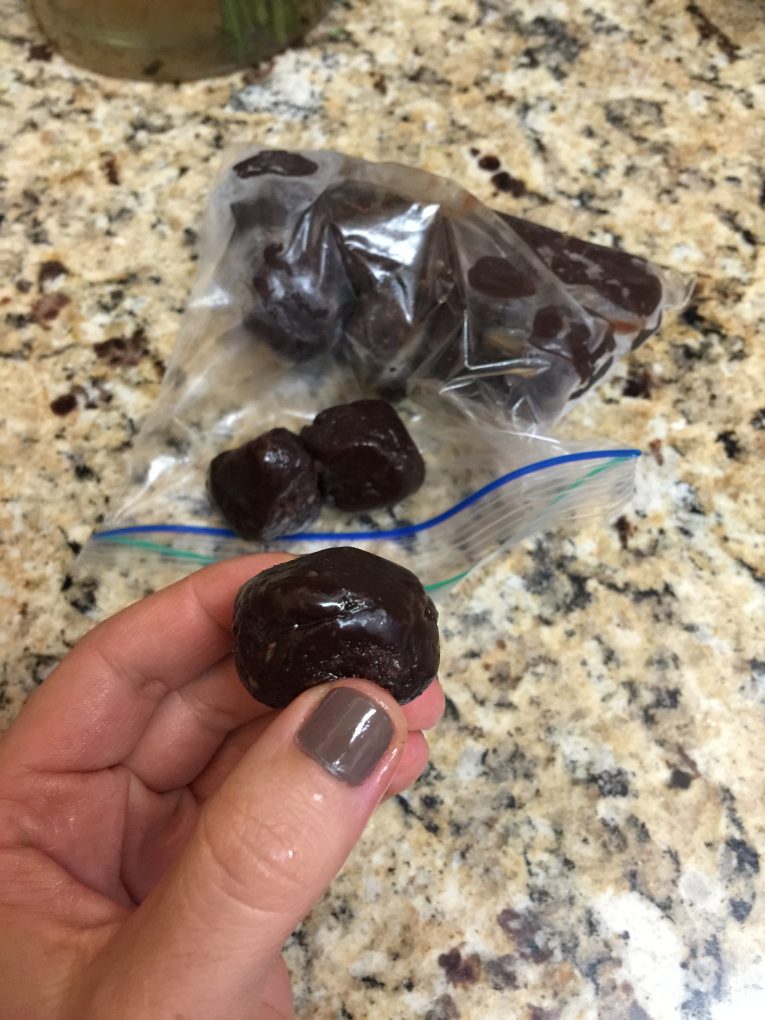 5:23pm | make and drink a green smoothie [1 cup almond milk, frozen blueberries, frozen spinach, 1/2 scoop Vega Sport and ice +  a  raw brownie bites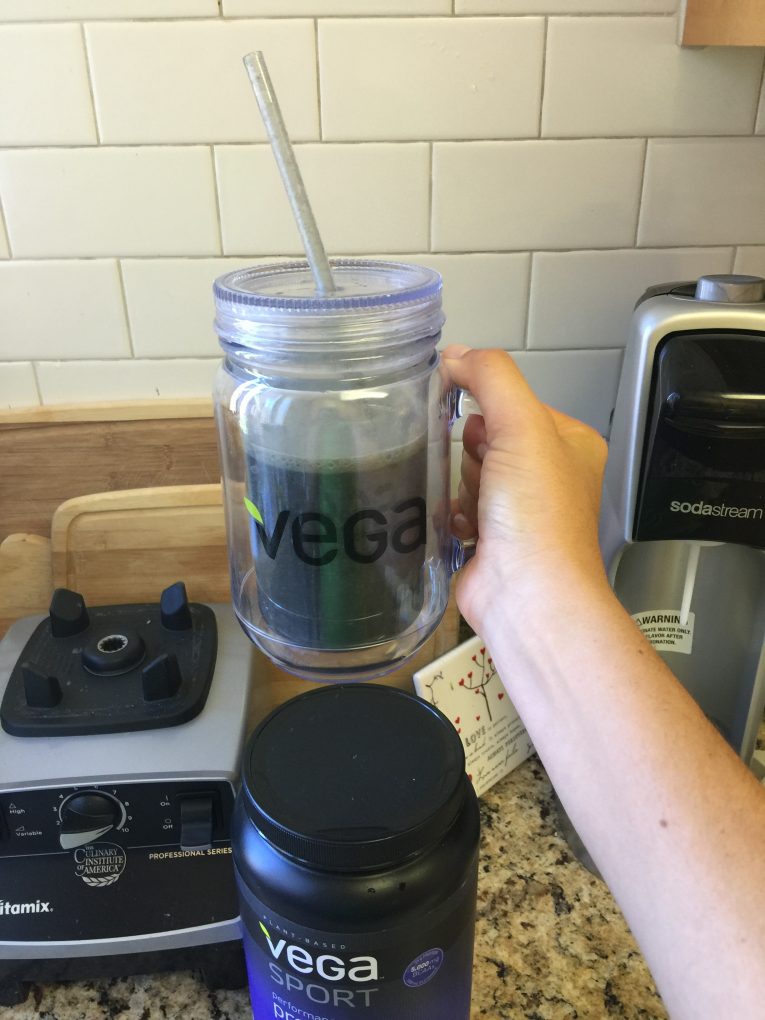 5:40pm | look over past emails to prep for one of my weekly Nutshell clients
5:48pm | Skype Nutshell call
6:39pm | wrap up call and quickly prepare for another follow up weekly Nutshell client
6:42pm | Nutshell client call
7:19pm | wrap up client call and send out follow up email, finish up the last bit of a freelance project and throw potatoes in the oven to start roasting for dinner
7:42pm | one of my girlfriend's comes over for dinner to hang on the couch, drink a bottle of wine and chat about all the things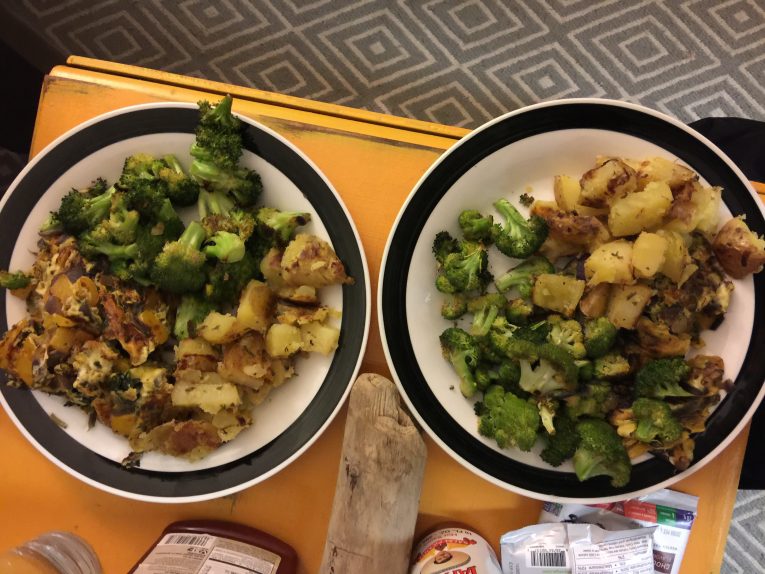 potatoes roasted with olive oil + salt and pepper, scrambled eggs with red onion, mushroom and spinach and some roasted broccoli 
10:32pm | pack lunch since I'll be at school tomorrow  and eat the last bit of leftover apple crisp + vanilla ice cream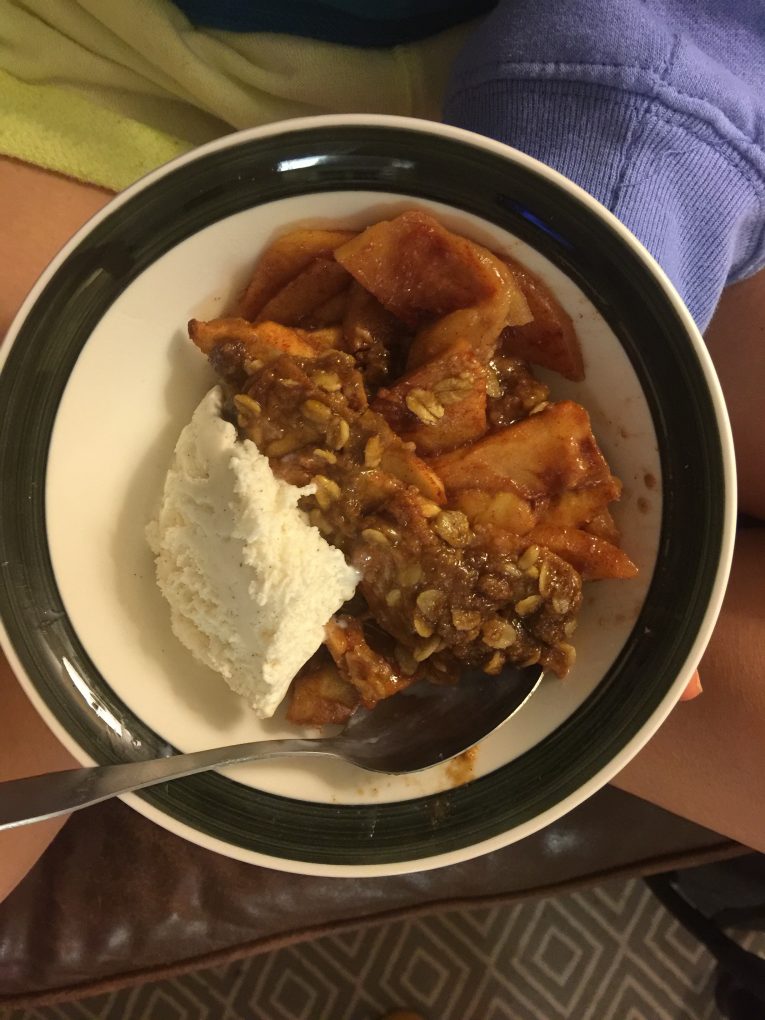 10:59 | brush teeth and sit down to check for any urgent emails that need to be replied to (I try to not answer email after 6pm unless it's urgent) and finish up this blog post
11:28pm | Brit and Anne get home, catch up for like 2 seconds, say goodnight and put on my nightmask (yes, I love it pitch black) and crawl into bed.
11:42 | lights out!