I've been dying to get back into the kitchen. Last week before taking boards I ate Chipotle burrito bowls for dinner and Just Salad for lunch for 7 days in a row. Because Chipotle is one block to the right of my apartment and Just Salad is 1 block to the left. Last week I was super into Chipotle but now I'm super not. Burnt out.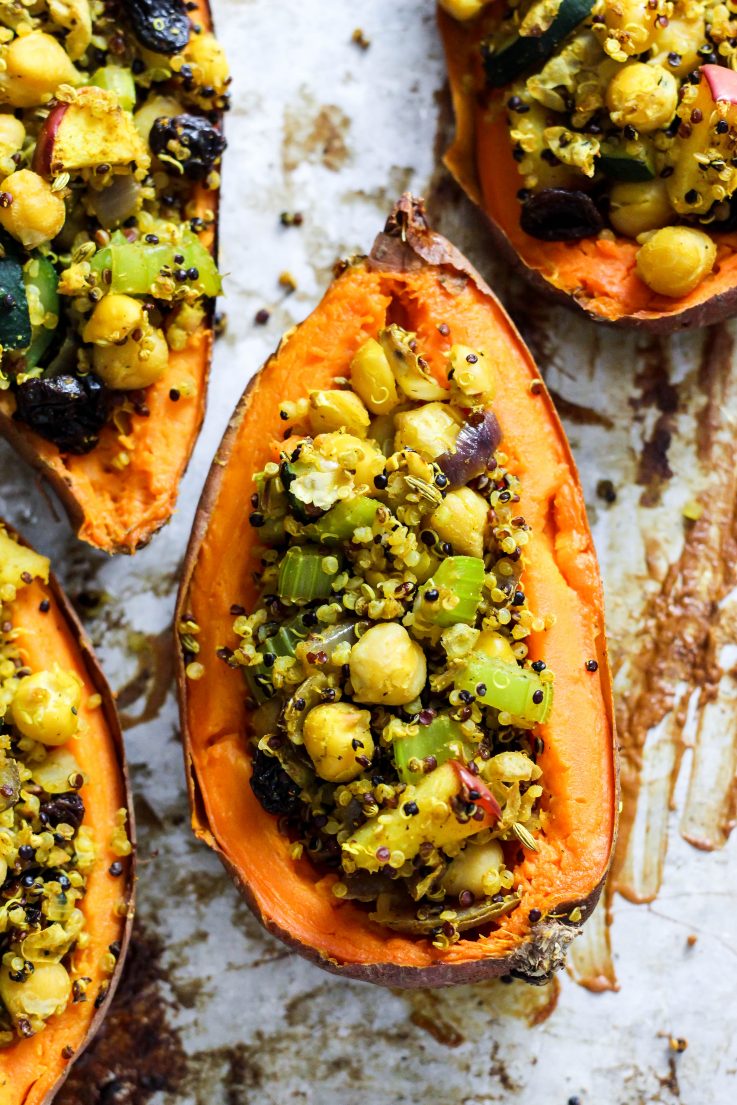 So back to the kitchen I go…because that means more dollar billzzz in my wallet and variety on my tastebuds.
I do enjoy cooking, but when life is busy I don't like cooking at all. It feels like another thing on the to do list and it stresses me out. But when there's more margin in my life…cooking actually slows me down.
When I do cook, it can't be super complicated. Even when I meal prep it typically goes like this:
While I'm walking the 3 blocks to Whole Foods from my apartment, I peruse pinterest for a quick lunch/dinner idea. If nothing strikes me, I resort to something I've made before – like this week for dinner I made "egg roll in a bowl" again. When I'm at at the store I pick up my usual fruits/veggies (like greens, baby carrots, apples and bananas or any other fruit on sale, and frozen spinach) along with almond milk, whole milk greek yogurt, half and half, oatmeal and coffee….nut butter if I'm running low or just because I need another jar…which is often. Then I pick up anything I need for the lunch and dinner recipes
It's really that simple. And some weeks I just walk in and wing it…that's when I usually eat eggs + toast for dinner and that's not as fun, but it works! Sometimes I might grab a bag of chips on sale, something fun out of the bulk bins, or something else like that, but I try to get in and out in 30ish minutes. Before I moved to New York, grocery shopping was more leisurely but now it's about efficiency. I dream of open aisles and no lines one day again. Ahhhh.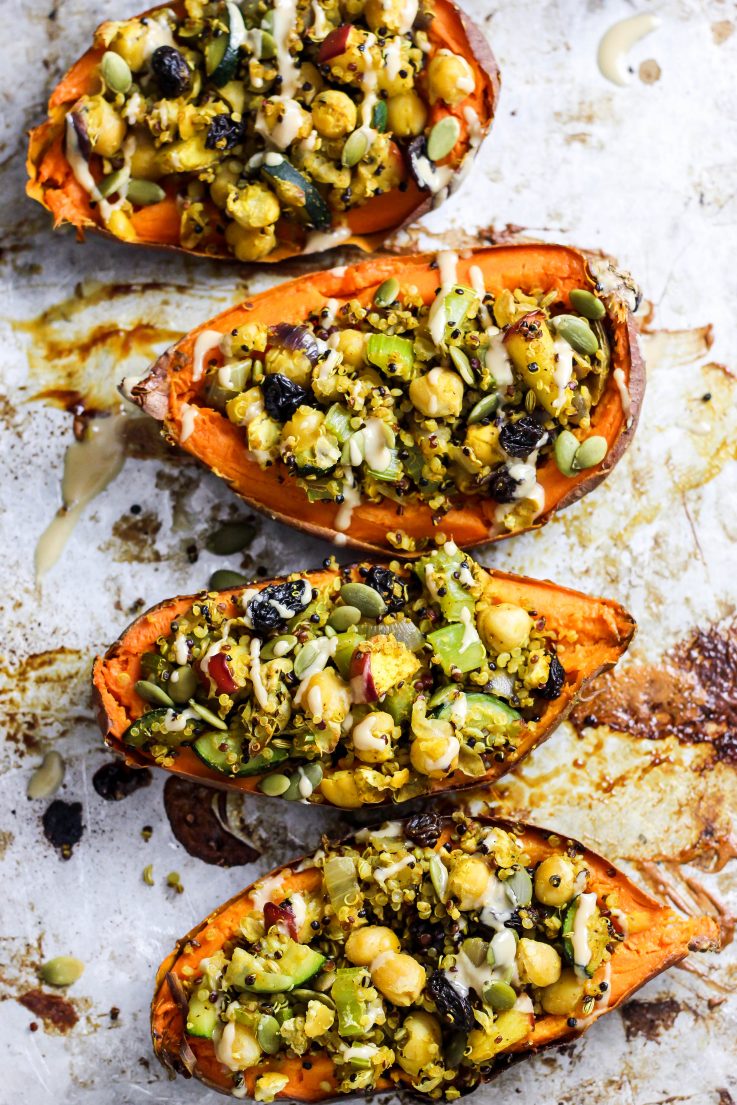 So these stuffed sweet potatoes look like they have several ingredients, but they really don't, and most items are simple every day ingredients you might already have or already buy. They're rather simple to put together, if you want a shortcut buy frozen quinoa. I know Trader Joe's and Whole Foods sell it in the frozen section. I'm all about shortcuts when it comes to cooking.
If I have goat cheese on hand or remember to buy it, topping these with goat cheese brings it to a whole other level. So I highly recommend that. Or feta! Or whatever cheese you like. I actually made a rendition of this recipe back in 2013 when I first started blogging and used acorn squash, so use whatever starchy orange veggie you like. I'm partial to the sweet potato because it feels heartier and potatoes just trump all things. Potatoes for president.
Sometimes these stuffed potatoes fill me up for lunch along with a piece of fruit…sometimes they definitely do not so I always pack a Larabar, chocolate, banana bread, or something like that to go with it. Do what feels good to you. Regardless, extra snacks are always a good thing because hunger is not a good thing.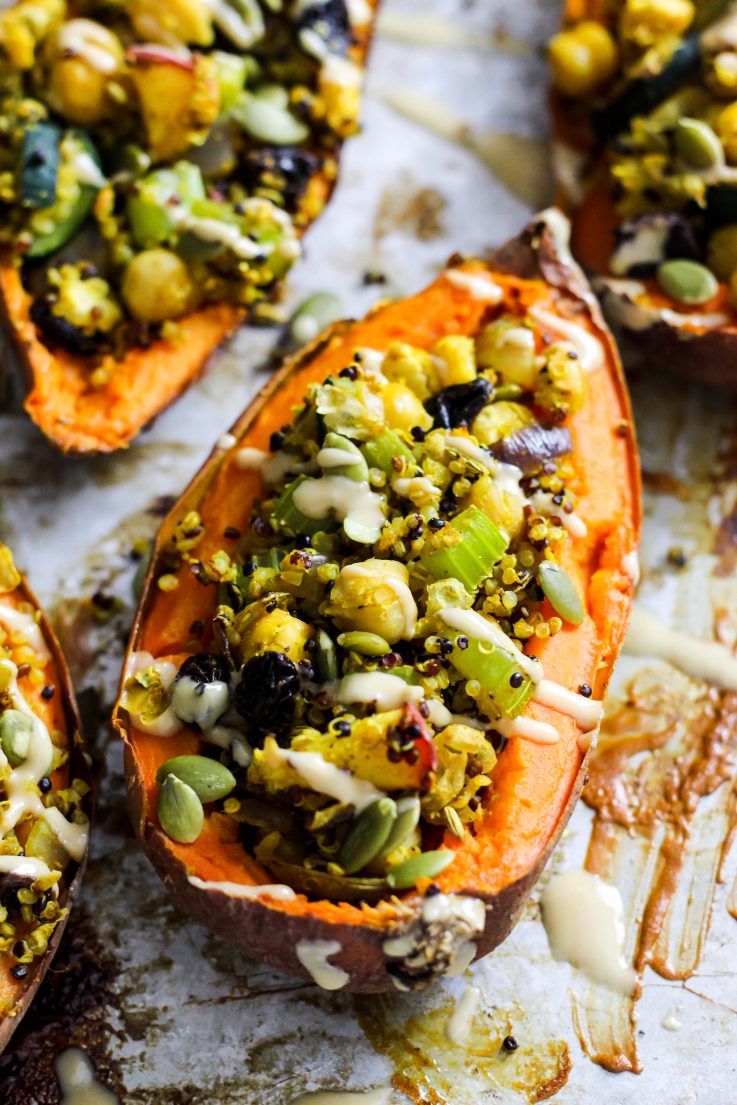 Quinoa Stuffed Sweet Potatoes
Serves 2ish
3 medium sweet potatoes
1/4 cup dried quinoa
1/2 cup water
1/2 tablespoon extra virgin olive oil
1/4 red onion, chopped
1/2 medium zucchini, chopped
1/4 apple chopped
1 stalk celery, chopped
2 tablespoons raisins, dried cherries, or dried cranberries
1/2 teaspoon dried sage
1/2 teaspoon curry powder
Sea salt to taste
1 15-ounce can chickpeas, drained and rinsed
1 tablespoon white balsamic vinegar
Toasted pumpkin seeds
Tahini
Directions
Preheat oven to 350F. Place sweet potatoes on a baking sheet.
Bake for 45-50 minutes, until fork tender.
While the sweet potatoes are cooking, prepare filling. Add quinoa and water to a small saucepan; bring to a boil, cover, and reduce heat to low. Simmer for 15 minutes. Transfer to a bowl when cooked.
In the same saucepan over medium heat, add oil. Add onion, zucchini, apple, and celery; cook for 5-7 minutes, until tender. Add raisins, sage, curry powder, and salt; stir.
Add chickpeas and balsamic vinegar. Cook until heated through.
When sweet potatoes are done, remove from the oven. Slice in half. Scoop out a little from each half; set aside the scooped sweet potato to enjoy later.
Scoop some filling into the center of each sweet potato half. Bake for 10 more minutes.
Top with pumpkin seeds and drizzle with tahini. Serve with veggies and enjoy!