Do you like really simple recipes that you can make when a craving strikes and you're like I need that? Yea, me too. What I don't like is when I get a craving and then realize there's like 12 steps and more than one bowl involved and I'm like nahhhh. I'll dip chocolate in a jar of peanut butter and call it a night.
These bars adhere to the former. Something you can whip up on a whim so your mouth is happy. I'm all about satisfying foods.
I used Trader Joe's semi sweet chocolate chips in these the first time, but then used mini chocolate chips the second time and loved them even more. Something about mini chocolate chips just elevates things to the next level. It's more chocolate in every nook and cranny.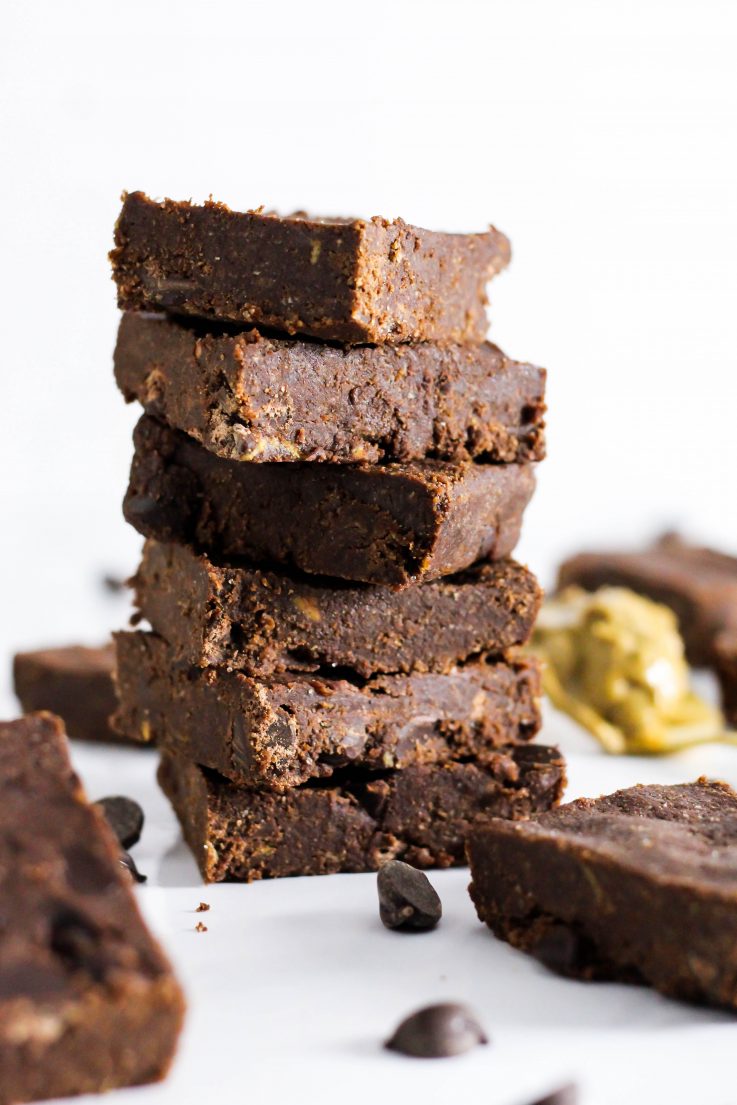 These bars can really be anything you want them to be. Snack? Yes. Dessert? Yes. Breakfast? Absolutely.
My favorite is a couple with a glass of chilly almond milk at nighttime.  I almost always crave chocolate or something sweet at nighttime. It's normal. What's not normal is if you're constantly craving sweet things. Often, that can be a sign your body isn't getting either enough energy aka calories, or you're not getting enough carbohydrates…so your body needs quick energy which is sugar. If that's you, get curious and ask yourself if you're eating enough or getting a good balance of carbs, proteins, and fats.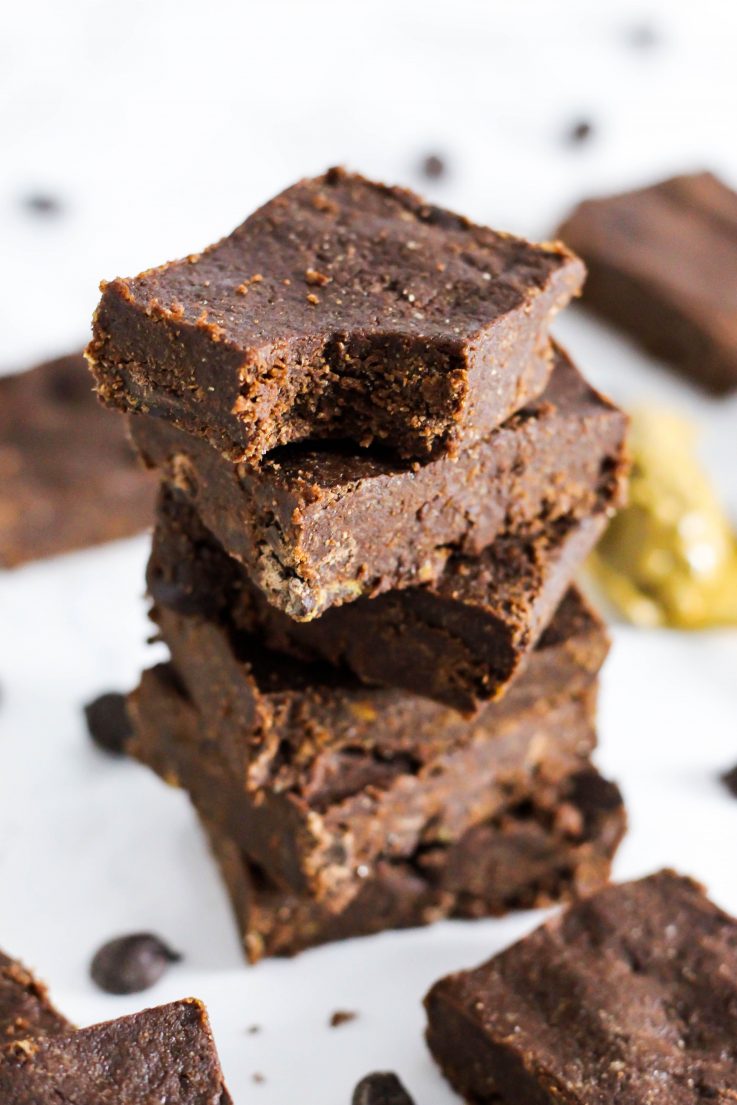 But craving something sweet after meals or at night I think is totally normal. Sometimes, that sweet thing is some fruit, or dark chocolate, or ice cream. And sometimes it's these bars.
They're doughy, super chocolatey, almost fudge like and full of fats so they'll keep you nice and satiated. I'm a big fan of fats…you should be too because our hormones love fats.
Back to the bars…feel free to sub any flour like all purpose, whole wheat, or spelt for the oat flour. I personally adore oat flour because it's slightly sweet and almost chewy if that makes sense? If I'm making zero sense, just go make the bars because they make all the sense in the world.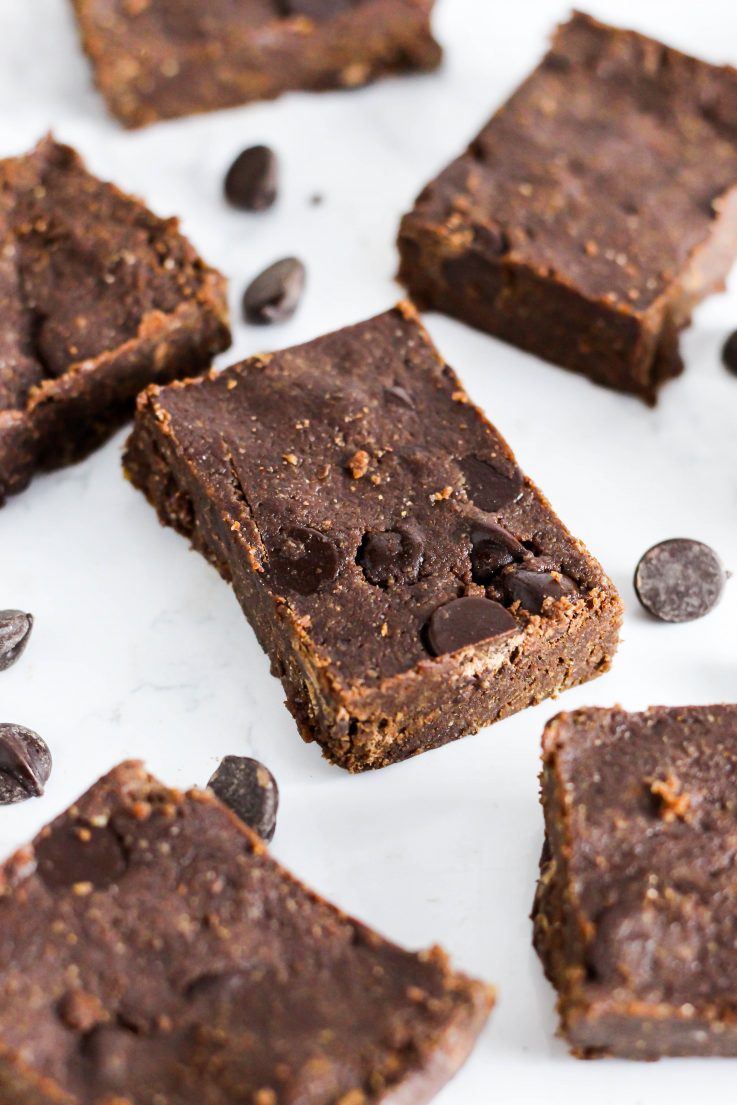 Double Chocolate Chip Cookie Dough Bars

Print recipe
Ingredients
1 cup oat flour
1/2 cup almond flour
1/2 cup cocoa powder
1/2 cup coconut sugar (or brown sugar or cane sugar)
1/4 cup coconut flour
1/3 cup peanut butter
1/4 cup coconut oil (melted)
1 teaspoon vanilla extract
1/4 cup milk
1/2 cup chocolate chips
Directions
Step 1
To make oat flour, simply blend rolled oats in a blender or food processor until a fine flour forms. Then, measure 1 cup of the flour.

Step 2
In a large bowl, add oat flour, almond flour, cocoa powder, sugar, and coconut flour. Stir to combine.

Step 3
In a medium bowl, add nut butter, melted coconut oil, and vanilla. Whisk until smooth.

Step 4
Pour wet ingredients into dry ingredients. Stir to combine, forming a dough. Slowly add almond milk 1 tablespoon at a time until a firm cookie dough texture is formed.

Step 5
Add chocolate chips; use your hands to knead into the dough.

Step 6
In an 8x8 pan lined with foil or parchment paper, add the dough. Press firmly into the pan into a single layer. Place in the freezer for at least 1 hour.

Step 7
When ready to serve, remove from the freezer and let sit for 5 minutes. Cut into 8-12 pieces. Store in the freezer or fridge.