I don't really have any pictures from this weekend. The food pictures I've snapped have gone up on Instagram. And I don't really have an excuse for why I didn't take any pictures. I just straight up forgot.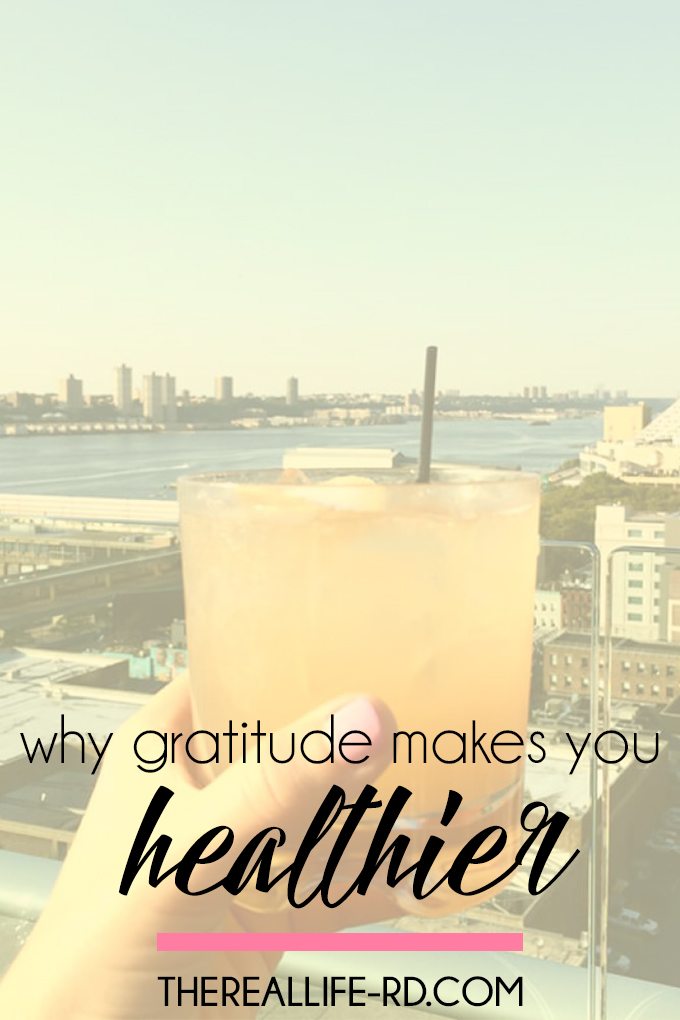 As I was thinking about what to post for today, and realized I didn't have any pictures, I knew why I forgot. On the weekends I just want to shut off from "work," and when that happens I take zero pictures. It's a weird thing when your job is your life. And as much as I totally love and adore that, some times you want to not snap a picture of everything you do.
One of the two photos I did take – me and momma coale on our back deck last night.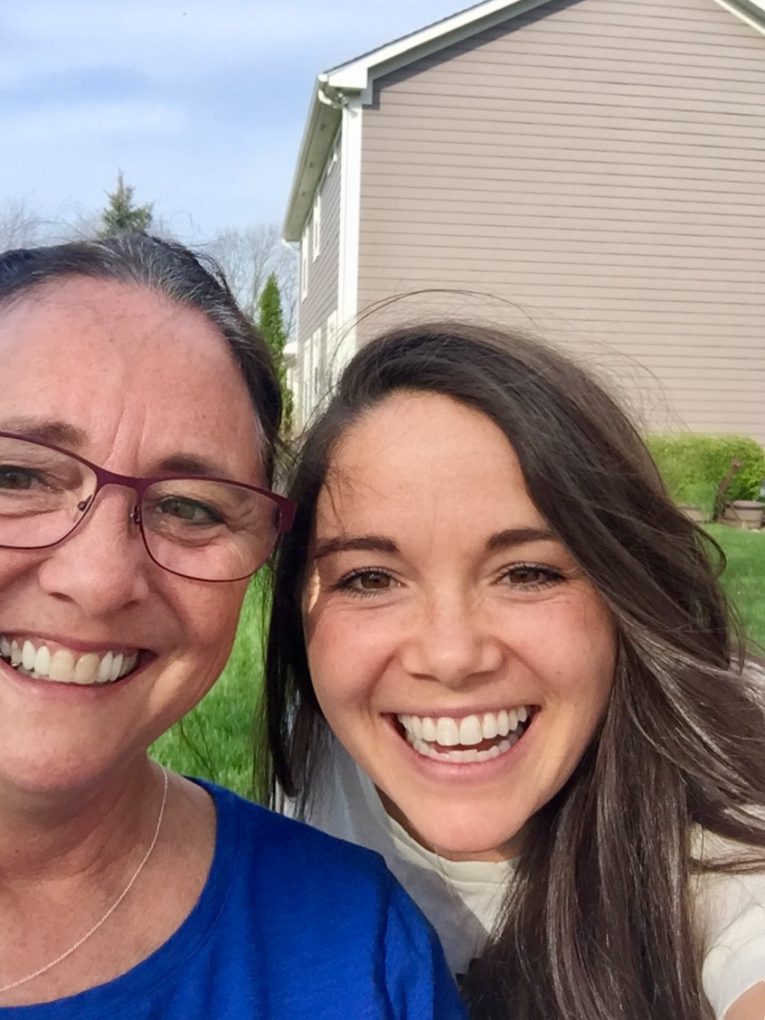 It was a weekend of being present with my family, eating really good food, seeing my cousins and high school friends, enjoying home and just being.
So because practicing gratitude leads to a happier, joyful and healthier life – here are some things I'm really grateful for coming out of the weekend and into a busy week.
Being able to spend Saturday morning with my mom, aunt and grandma during my hair and makeup trial. I've shared all the special "bridal" things (like buying my dress) with these three and it means so much to me. I'm the last of four granddaughters to get married and my gma is just over the moon. Seeing the joy she gets out of sharing in the littlest of moments with me just makes my heart explode. And if people get wittier and less filtered as they age, my grandma is the poster child. She's hilarious at 86 years young and I adore her.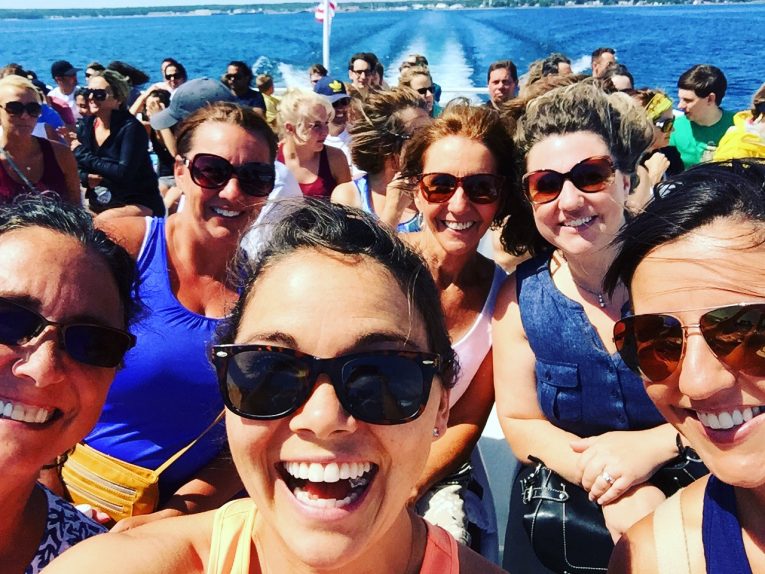 My three older girl cousins. We don't get to see each other often, I may have seen them once since our girl's trip to Michigan last summer, but I'm super thankful for them. They helped throw such a beautiful bridal shower on Sunday and made me feel so, so loved. Plus all three have been married for like 7, 8, and 11 years and it's fun to follow in their footsteps. If I start to worry about something, they're like….it doesn't even matter. And I'm like YES, okay you're right.
SUNSHINE. You guys. It was clear skies and sunshine all weekend and by Sunday it was 77. Glorious. We all sat out on the back deck last night in the breezy, shorts and t-shirt weather and it was all the happies.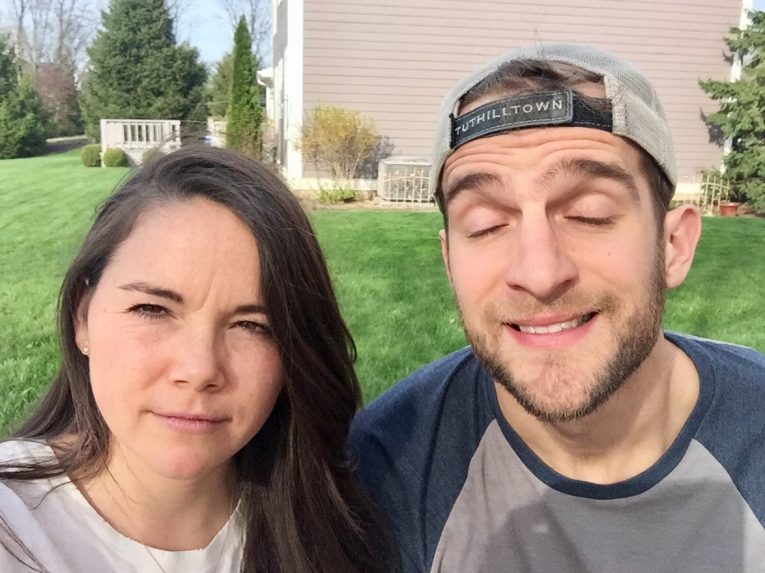 Nick's affirmation (we take great selfies like the above) and my momma's patience + grace. I'm not losing weight for my wedding and I do feel really beautiful in this wedding dress, but I got fitted for final alterations and knowing that my body can't really change over the next few weeks elicited anxiety in me. I've been in the same pants for 3+ years now, so my body is not going to significantly change over the next three weeks, but feeling like my body can't go whichever way it pleases whenever it feels like didn't feel freeing at all. After talking with some friends and my aunt + momma, I know that if my body shifts a bit in either direction, the dress will still fit.
Before the dress fitting, I had the hair and makeup trial which overall went well, but I was so not into the wet foundation that went on my face Saturday and it that made me worry. My daily makeup routine is like….mascara. So I want to feel totally like myself with very natural makeup. Well, airbrushing and wet foundation and fake eyelashes do not make me feel like myself and I felt like I had a mask on – cue all the worry that on my wedding day I'd end up with a made up face and feel like another person. On my wedding day I just want to feel like myself. Thankfully, the makeup artist was super sweet and accommodating and was like "yes, we won't do that, we will do this, and I want you to be 100% happy." All this to say, I'm human. And I'm thankful for my people and you guys listening. And I spent Saturday after all this napping, deep breathing and doing some yoga stretches. All this stuff freaking exhausts me.
A few other things I'm grateful for – slow mornings on the couch with my momma that include lots of coffee.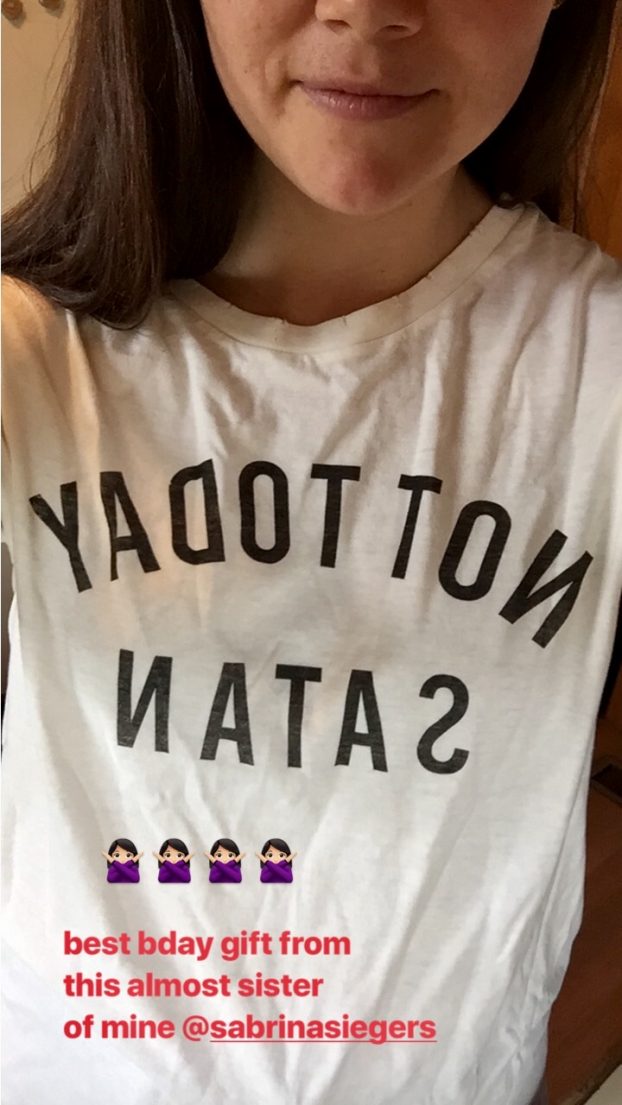 Jesus. Thank you Lordddddd for Jesus. Nick's sister bought me this shirt for my birthday and gave it to me yesterday and the timing was perfect. I've been wearing it ever since and I'm wearing it right now as I type this post. I want to soak up + enjoy these final nineteen (what?) days engaged and have zero time or energy for lies about who I am or what this life and wedding is about. It's the comfiest thing ever and I'll be sleeping in it for the next three weeks.
Have a grateful and happy Monday 🙂
SaveSave