I've had so. much. fun. doing the weekly live Q&As on Instagram. If you're like….what you talking about? …Every Thursday I bop onto Instagram at 5pm EST (give or take a few minutes because timeliness is hard for me..) and answer your questions about anything. Really, you can ask anything! If I don't know the answer, I just tell you that. Or if it's too personal or too detailed/individual where I would need to know you better…I'll let you know that too. But I'd say, 90% of the time I'm happy to give an answer. I love engaging with you guys and knew this would be a blast, but I didn't realize how much I would look forward to Thursday evenings. So thanks for hanging out 🙂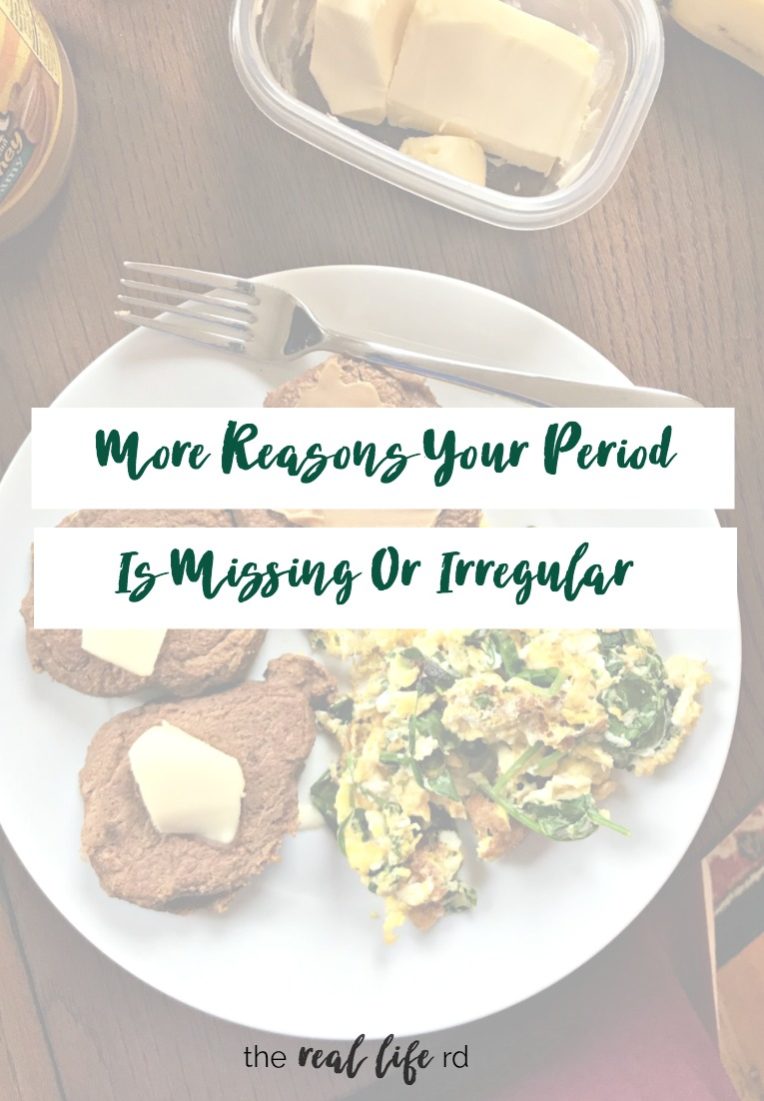 We talk about a variety of topics – women's health to eating disorders to changing careers to RD education to life in general – but I've noticed that overall, women's health and eating disorder questions are the most frequent. Which makes sense given the theme of this space. I would love to only talk to you guys all day and get to all your questions (wouldn't that be fun?) but since there are so many that come in (such a good thing that I'm excited about) I thought I would answer a handful of the most common questions here in a post. Shall we?

The short answer is yes, it can be. The pill introduces different synthetic hormones into your body and different types of pills have varying amounts of hormones which affect your menstrual cycle. First make sure you're not pregnant. Second, make sure you've been taking the pill as prescribed — even one missed pill can cause irregular bleeding. Continuous birth control can also prevent a monthly bleed — which is the point of taking that type of birth control and an expected side effect. Since birth control was first introduced, the amount of estrogen in the pill has decreased to make the pill safer and reduce side effects. Progestin levels have also decreased. There are now all kinds of pills with varying levels of estrogen and progestin. If you're taking a low dose birth control, that may result in not enough buildup of your uterine lining to produce a full bleed. So you might experience spotting or no bleeding at all because there isn't much uterine lining to shed so you don't experience a full withdrawal bleed.
Of course it's always helpful to take inventory on your lifestyle. I have found the research on this to be lacking, but there is some suggesting that although birth control might blunt some effects that lifestyle has on your menstrual cycles, how we eat and sleep and exercise and care for ourselves still affects our cycles – birth control or not. Underlying stress affecting your period could be from inadequate nutrition, lack of sleep, high emotional stress, or too much exercise for your body.

It's not as likely, but yes you can. PCOS stands for polycystic ovary syndrome and is essentially a hormonal imbalance (I hate calling it a disorder) that causes irregular menstruation among other symptoms. Hypothalamic amenorrhea (or HA for short) is when your period stops because your hypothalamus in your brain stops firing a hormone called GnRH like it should. GnRH is the hormones that says "go" for your reproduction system. HA and PCOS can manifest similarly and there is overlap in the diagnostic criteria so they sometimes are confused in the diagnosis process. And less commonly, they can both exist at the same time.
The main physiological difference is that hormonal imbalances seen in PCOS don't begin in the hypothalamus like they do with HA. That means that you can have PCOS hormonal imbalances while simultaneously having inadequate GnRH signaling from your hypothalamus. GnRH doesn't work like it because of many factors including not eating enough, inadequate macronutrients, stress and overexercising – read more on that here. If you do have PCOS and HA though, physical and hormonal symptoms will look most like HA. Think missed periods, low sex drive, vaginal dryness, low energy, feeling cold often, dry hair/nails and others. And your LH and estrogen lab levels will likely be low. Once the HA is healed, then your PCOS symptoms will become more pronounced – irregular periods, facial hair, acne, fatigue, mood swings etc. Your labs might shift too where LH is now higher than FSH and your testosterone and/or DHEAS levels might be high. If you do have both PCOS and HA, even after healing from HA you still might not be getting a regular period because of persisting PCOS. I hope I've made that as easy to understand as possible. Here's a good summary of distinguishing the two that might be helpful. Leave a comment below and I'll do my best to clarify!

You may have heard of something called "post-pill amenorrhea syndrome" which alludes to the idea that you don't get your period within 3 months after stopping birth control because of the birth control itself. Amenorrhea (a-men-o-ree-ah) just means you don't get your period. "Post-pill amenorrhea" is not a diagnosis supported by research. There is not a cause and effect phenomenon between stopping birth control and not getting your period. Typically, women regain their cycle after stopping birth control within 2-4 weeks, sometimes a bit longer. But if you haven't gotten your period and it's been more than a couple months, that should be looked into further. Often when this occurs, there was an underlying issue that the birth control was masking. What can be helpful is seeing your health care provider to figure out the underlying issue and then working to heal that – which is often the same healing process as women who aren't getting their period and didn't just stop birth control.

This will totally vary from woman to woman. There's not a black and white time frame. From my experience (which isn't the gold standard) over the past several years working with women both as an RD and Nurse Practitioner I will say I've seen a period return in as quick as 3 weeks and as long as about 13 months. On average, women regain their cycles within about 3-5 months with most women regaining within 6 months. Most women who regain quicker have gone "all in" with the healing process. I think we underestimate the healing power of the human body. I was just talking to a client yesterday morning who went from no period in years to conceiving a baby in less than 3 months. I never ever want to sugar coat conception, I know it's a very sensitive and vulnerable topic – but I say that to illustrate the power of giving your body what it needs to heal and function optimally.
If any of the above resonates with you I'd love for you to check out my e-course that walks you through the healing process, step by step. I compiled all the work I do with clients into a self paced, visual and engaging course that is more affordable than 1:1 counseling. The course covers the same information I usually cover with clients over about 8-10 sessions –  but for a quarter of the cost. I'll walk you through why you're not getting regular periods or no period at all, the healing process, accepting body changes and learning supreme self care. Another good place to start is with my free mini course, you can sign up up for where I take you through steps to begin healing your hormones.
I'll leave you with a little sneak peak into the course, Heal Your Hormones, Get Your Period Back.