I touched on the topic of bone health and estrogen in this post several weeks ago. Since, I've had several follow up reader questions and so I thought it would be important to address this topic in further detail. I went over a decade without getting a normal, healthy period and it never really occurred to me that low estrogen (which is a contributing factors to missing or irregular periods) can have devastating impacts on bone health.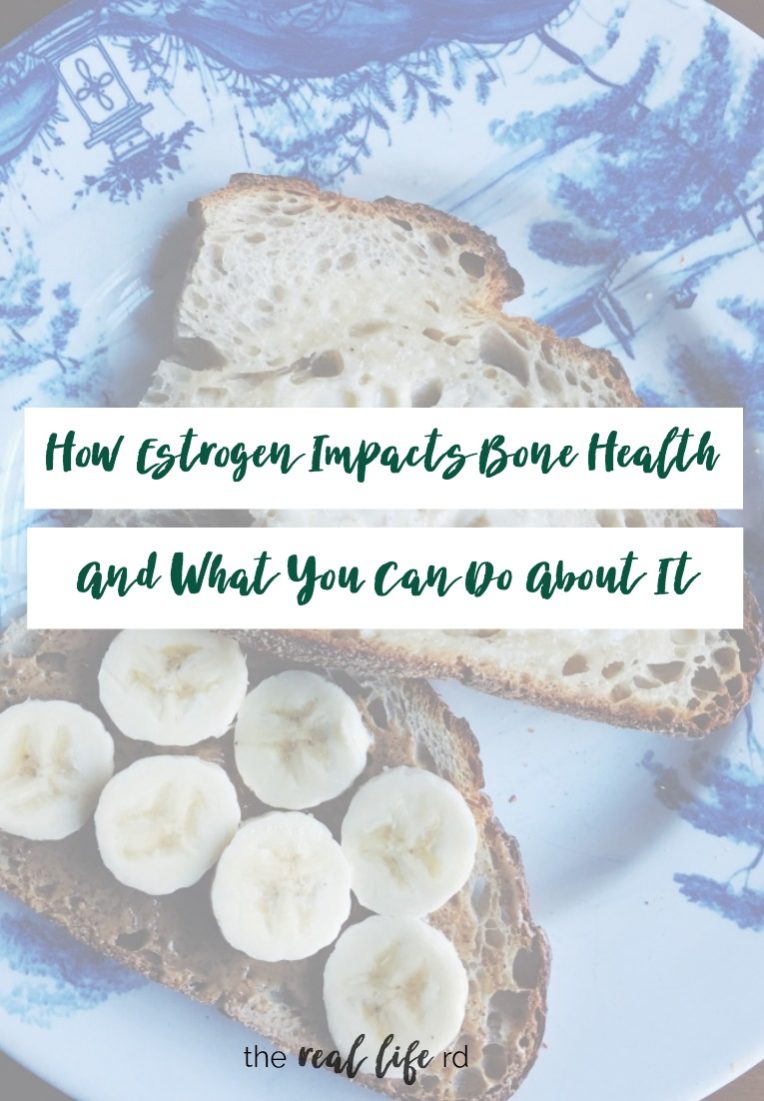 So today we're going to talk about a few things…
how estrogen and your bone health are related
how long of having low estrogen does it take for your bone health to be negatively impacted
if and how much of bone loss can be reversed
what you can do to improve your bone health
Growing up, my doctor or OB/GYN didn't talk to me much about bone health. Very likely not intentionally and maybe there were time limitations or maybe the topic didn't cross their mind. I'm not sure. I was continually prescribed birth control to "protect my bones" and "regulate my period" (which is ironic in and of itself because a period on birth control isn't an actual period – it's a withdrawal bleed) when I wasn't menstruating on my own. Side note for clarity –> the purpose of me being prescribed birth control and many other women being prescribed birth control was not solely for contraception…it was to "fix" an underlying hormonal issue. If you are taking hormonal birth control only for contraception, that's not the lens I'm speaking through in this post. I've also taken birth control solely for contraception – which is the purpose of birth control.
So how does estrogen (or lack thereof) affect your bone health?
Think about your bones like house renovations. Your bones are always being broken down to provide calcium to your body. Estrogen is a hormone that helps slow the breakdown of your bones and and encourage bone formation instead. You have two types of cells that are involved with your bones.
The cells involved in breaking down portions of your bones are called osteoclasts (I remember it because clast sounds like crash and crashes result in breaking something….these analogies are how I got through nursing school so bear with me :))
The cells that help slow the breakdown of bone building cells are called osteoblasts (blast and BUILD both start with the letter b)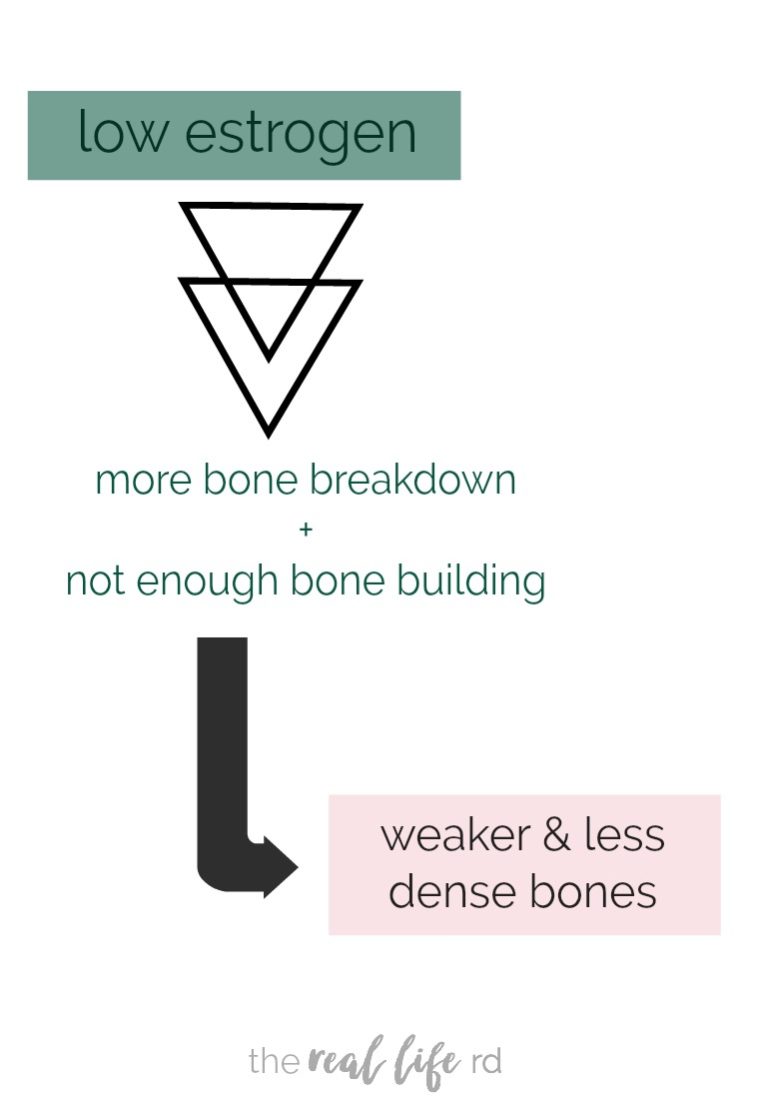 When you have sufficient levels of estrogen, that estrogen helps kill off the breakdown cells (the osteoclasts) so you have less cells breaking down bone in your body. That estrogen also helps protect the cells that build your bone (osteoblasts) so they don't die off. Think about it as less demolition guys tearing down the house and more construction guys building onto the house. What you end up with is bones that stay denser for a longer period of time. This is a good thing!
When your body doesn't have enough estrogen you end up with more bone breakdown and not enough bone building which results in weaker, less dense bones. What we call your bone mineral density decreases. If you've ever had a DEXA scan from your doctor, PA or nurse practitioner, that is an x-ray that measures your bone mineral density and can tell your health care provider if you have healthy bones, osteopenia (meaning decreased bone density) or osteoporosis, which is a disease that thins and weakens the bones. If you don't develop any new risk factors, your health care provider usually orders a DEXA scan every 2 years.
How long after a missing period does it take for your bone health to be affected?
There are many factors that go into the effect a missing or irregular period will have on your bone health. The timing and onset of your missing periods plays an important role in determining the impact on your bone density. If you developed disordered eating, an eating disorder, you exercised a lot or any other reason caused your first period to be late (age 16 or older) or never come at all…..that can have a greater impact on your both health than perhaps if your period went missing for the first time in your late teens or twenties. I got my period late because I ran cross country in high school and then had irregular periods all throughout my teens and into my twenties due to excessive exercise and under eating and then it went missing for good. As females, we develop the majority of our peak bone mass by age 18 and by our early to mid twenties our bones have reached their maximum strength and density.
Genetics play a huge role in our bone health. Unfortunately, the women in my family are prone to osteoporosis – so there are things both me and you simply cannot control. And nutrition, how we exercise & move our bodies and other lifestyle factors like smoking also impact our bone health. Also, being at a low body weight in addition to not having your period compounds the issue. So there are a lot of factors at play here which make it hard to define a specific time at which your bones are affected by a lack of estrogen. What we do know though is that early intervention is key. Even if you haven't had a regular, healthy period for decades…it's ALWAYS better to be late than never in order to preserve the bone density you do have!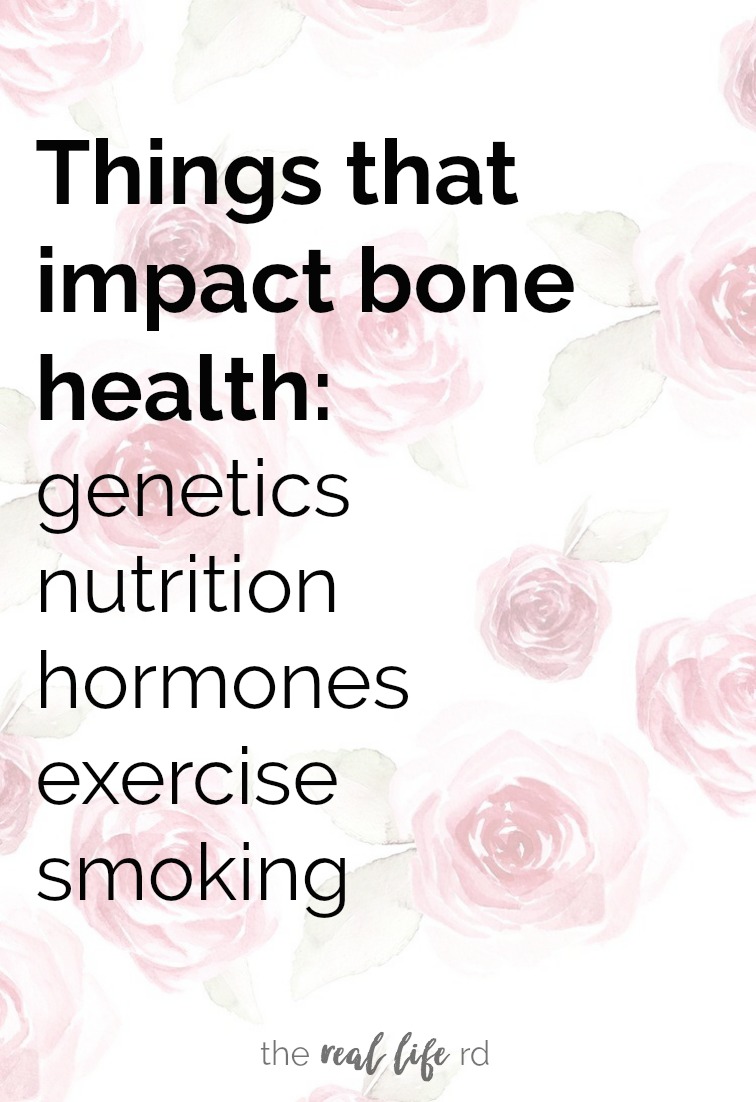 What we do know is that the loss of bone mineral density can be quick (within months) coupled with low body weight and inadequate nutritional intake. Missing your period during adolescence when the majority of our peak bone mass occurs can contribute to more significant loss. We also know that postmenopausal women lose most of their bone mass and density within the first four to six years after menopause and on average, a healthy post menopausal women loses about 1-2% of bone mass per year. When you don't have enough estrogen in your body, you're essentially in a post menopausal, low estrogen state so it's not unreasonable to think about this data when thinking about our bone health when we aren't menopausal, but we aren't getting a normal healthy period.
Okay, I know some of this information might have been overwhelming but take a deep breath. I didn't have a period for a long time and I have a family history of osteoporosis so this is not to scare you or instill fear or more stress. Rather, let's use this information to empower us to make decisions today that can better our health. The past is the past, the only thing we can do is move forward and care for our bodies the best we know how today.
Can bone loss be reversed and what can you do to better your bone health?
Although you won't be able to reverse the bone loss completely, you can replace significant amounts of lost bone and I think that's encouraging news!
What happens more often than not, is women are prescribed birth control to help "protect their bones" – but the research isn't very conclusive. Some studies showed birth control might help prevent further bone loss, and some showed some small increases in bone density over various time frames. Overall though, the evidence for birth control's role in bone protection is pretty underwhelming. In fact, the majority of studies founds no benefit of hormonal medications on bone mineral density and actually are not recommended to protect bone health in the presence of anorexia nervosa and amenorrhea (which means not getting a period). And also know that yes, birth control can slow the rate of bone breakdown (which is good) but it also slows the rate of bone formation which isn't helpful.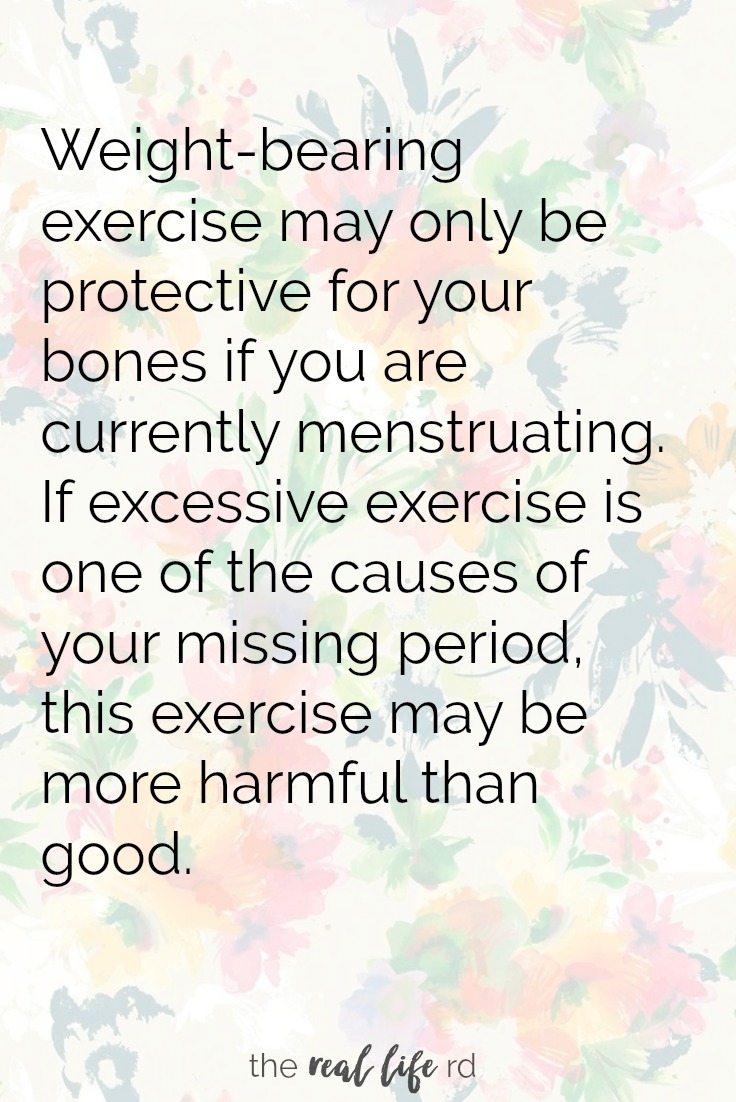 Also, it's really important to know that weight-bearing exercise may only be protective for your bones if you are currently menstruating. If excessive exercise is one of the causes of your missing period, this exercise may be more harmful than good.
Biphosphonates are a class of medications that are commonly used in post menopausal women to preserve bone density. I get asked about these medications often from women with decreased bone mineral density who are premenopausal. What we know is that the potential benefits and risks of biphosphonates are very different in premenopausal women who have a different kind of osteoporosis vs postmenopausal women. The osteoporosis seen in premenopausal women often has to do with an underlying cause of bone fragility or bone loss and treating that underlying cause should be the focus to improve bone health. Data is lacking on the long term effects and safety of these medications in young women and so they are not recommended as a go-to treatment.
Okay, now you're like…I get it. I hear you with what won't help… but what WILL HELP?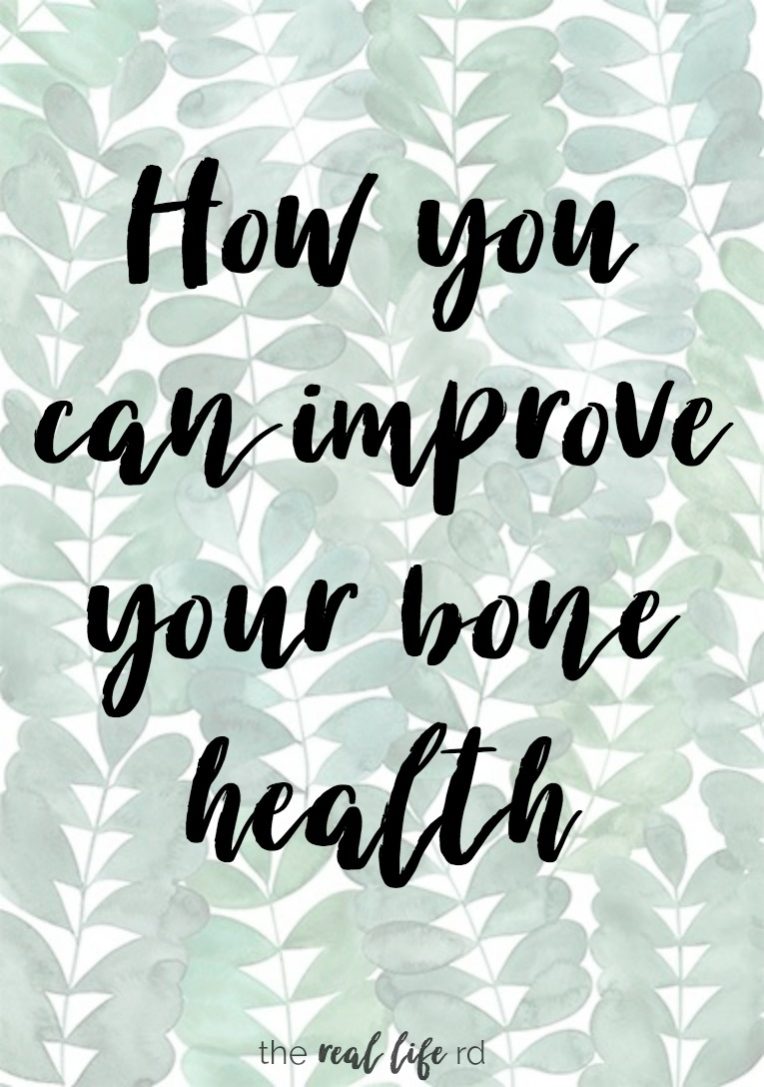 Weight restoration, supporting your body in finding it's healthy set point weight and restoring your natural period all do wonders for your bone health. WONDERS.
Adequate energy (aka calorie) intake is key too. It might take some extra 1:1 support from a dietitian you trust to ensure you are eating to support your body's needs. Also keep in mind that unless you have the skills and knowledge to be able to meet your body's energy needs, intuitive eating might not be an appropriate place to start just yet.
These alone can often reverse a lot of the bone loss. You won't have the bone density of someone who has never had low estrogen, but you can see great improvements to your both health. The body's healing capacity is awesome.
Getting adequate calcium through your diet is also important. Dairy products, fortified OJ, dark leafy greens, beans and lentils and some nuts and seeds are good sources. I don't focus a lot on the nutritional minutiae of food, it's stressful and not as important as the overarching big picture. Think of these as ones you can ADD TO what you already eat. You can also take 800-1000 IUs of Vitamin D3 per day as well – BUT go talk to your doctor first so he/she can guide you in supplementation based on your own individual needs.
I hope this was informative and empowering for you. I personally have walked this path with not getting a period on my own for over a decade and have then also struggled with irregular periods and had to navigate learning to care for my body so I can have regular, natural periods. Know that you are not alone. Know that your body is not broken and that there is nothing wrong with you. I know these conversations can be scary and maybe cause anxiety and worry. We are going to face challenges in life and maybe do things we wish we didn't..but all these experiences are learning opportunities and shape us into who we are today. Be gentle and compassionate with yourself – you're doing the best you can and all you can do today is take steps forward to better care for yourself.
If this post resonated with you or you found it helpful, I talk more about these types of things in my online course on healing hormones and getting a healthy period. You can also sign up for my free mini email course on healing hormones where I share more tips and tools to help you best care for yourself. I'm in this journey with you!