My momma is in town this weekend! YESSSSS!
It's her first time in Boston and I can't wait to explore the city with her – it's new to both of us! We will be eating and drinking our way through this place over the next 48 hours. I'll be back with a recap on Monday.
She flew in yesterday evening and we took her to a wine tasting at Urban Grape and then cooked salmon at the house. Nick heads to a bachelor party this weekend so it was perfect timing for some momma/daughter time. Nick will be home Sunday and she doesn't leave till Monday so he'll get his Momma Coale fill.
Let's round up the eats from this week! I hope this inspires you to eat satisfying food. Whether that's cooking or ordering takeout or heating up a frozen meal. Intuitive eating can look a lot of different ways.
Breakfasts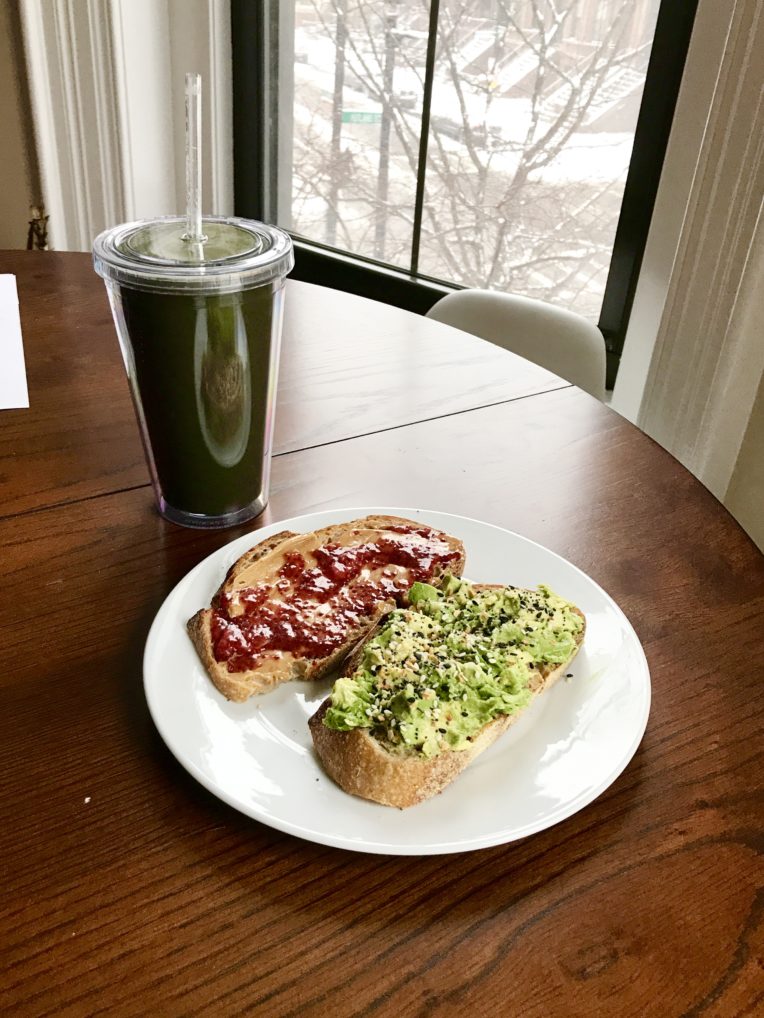 I've eaten toast in various forms for 90% of the past month and I'm nowhere sick of it. TOAST FOR DAYZZZ! Paired one morning with a green smoothie (frozen banana and blueberries, almond milk, Vega protein powder, frozen spinach and some flax) and topped with avocado + everything seasoning and pb + j. Favorite bread is Iggy's sourdough that I pay too much $$ for but it makes me so happy. Maybe I'll try to make my own loaf one day.
More toast! this time with whole milk greek yogurt (fav brand is Fage) topped with granola from the bulk bins and peanut butter + banana and pb + j toast.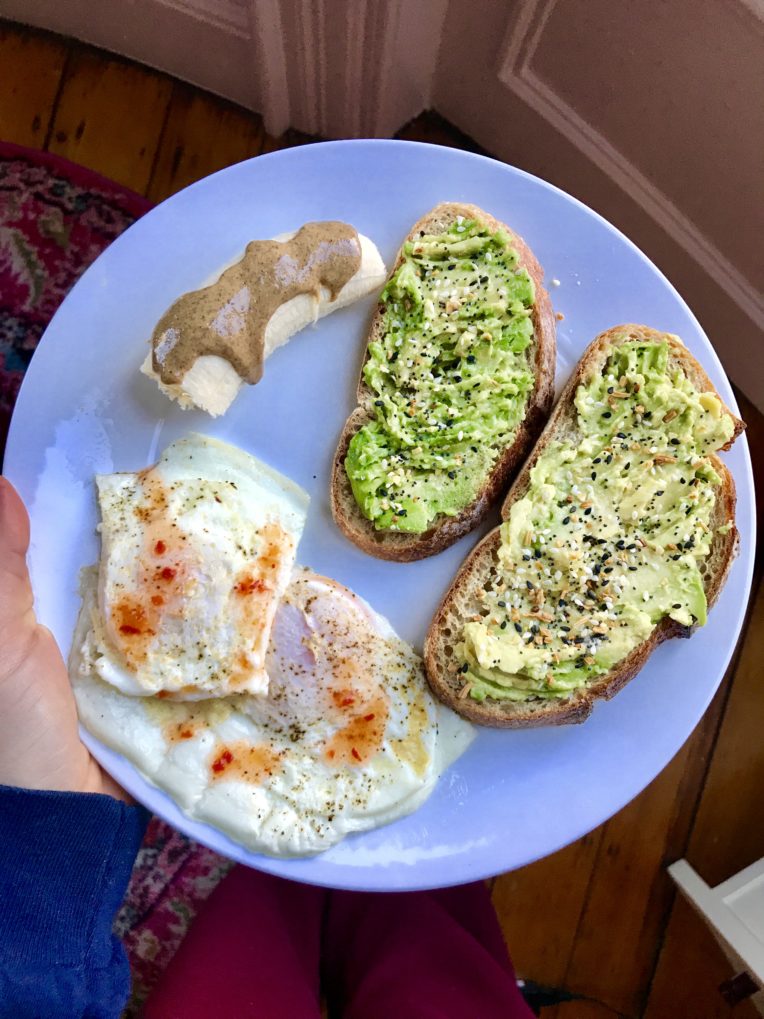 Obviously…more toast. Topped with avocado + everything seasoning from TJs plus two fried eggs with hot sauce and the other half of the banana I ate earlier with almond butter. What else can I do with toast?? Share ideas in the comments!
Lunches
Leftover bean dip from Super Bowl Sunday with tortilla chips and I had an apple and some dark chocolate after this. I actually made some lentil soup for lunch this week..but I have not been craving it for lunch so we've been eating it for dinner (see below) and instead I've been throwing together random lunches. That feels intuitive this week for me.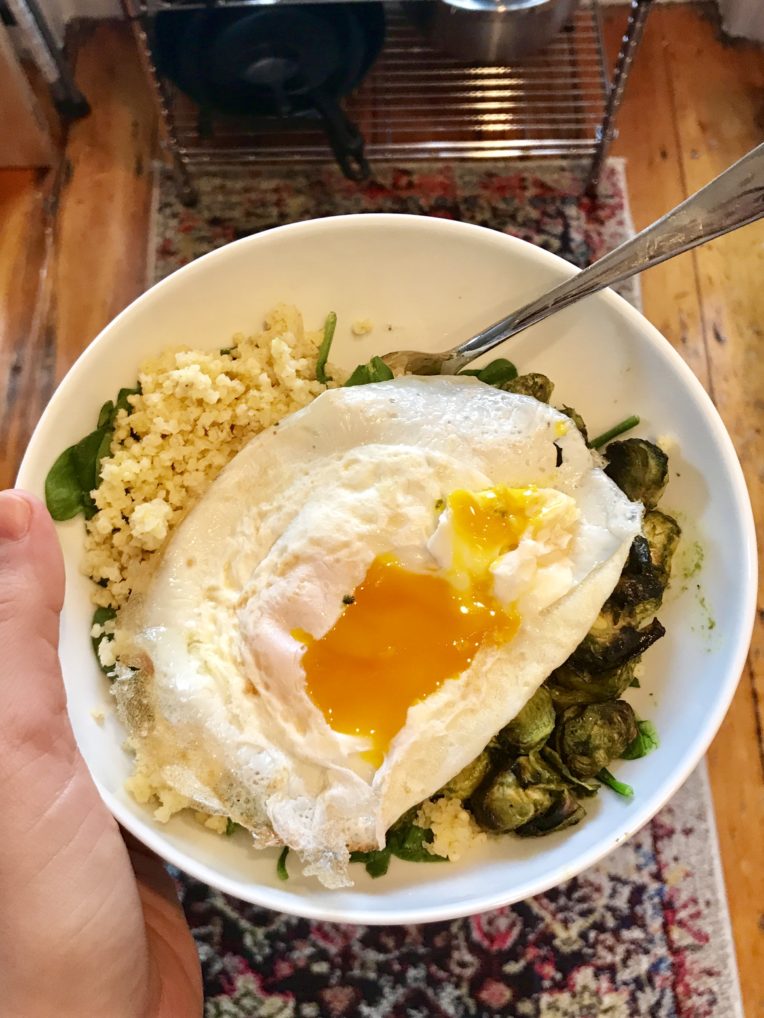 We had leftover millet from last week so I put some spinach and leftover veggies from Friday night's dinner with the millet and heated it up in the microwave. Then drizzled olive oil and sea salt over that and topped with a fried egg. Some goat cheese on top would have been even better on this.
Dinners
For dinner this week I made what I call enchilada lasagna because I'm too lazy to roll the filling inside a tortilla. The basic idea is to sautée veggies (I like peppers, onions and zucchini…sometimes corn too) and then add in a couple cans of black beans. You could add chicken/beef to this veg mix too. Then use a store-bought sauce or make this 5 minute blender sauce. Use whatever tortillas you like – I like the toasted flavor of corn ones. Put sauce on the bottom of a casserole dish, then layer tortillas, some refried beans (I used canned and they make this so creamy!), your veg/bean mixture, some sauce and some cheese. Then repeat until you use everything up. I get about 3 layers. Bake at 350 for 30-35 minutes. I top with more cheese before serving because I think leftover baked cheese on top doesn't taste good. But do whatever you want! Serve with more chips, guac, sour cream etc.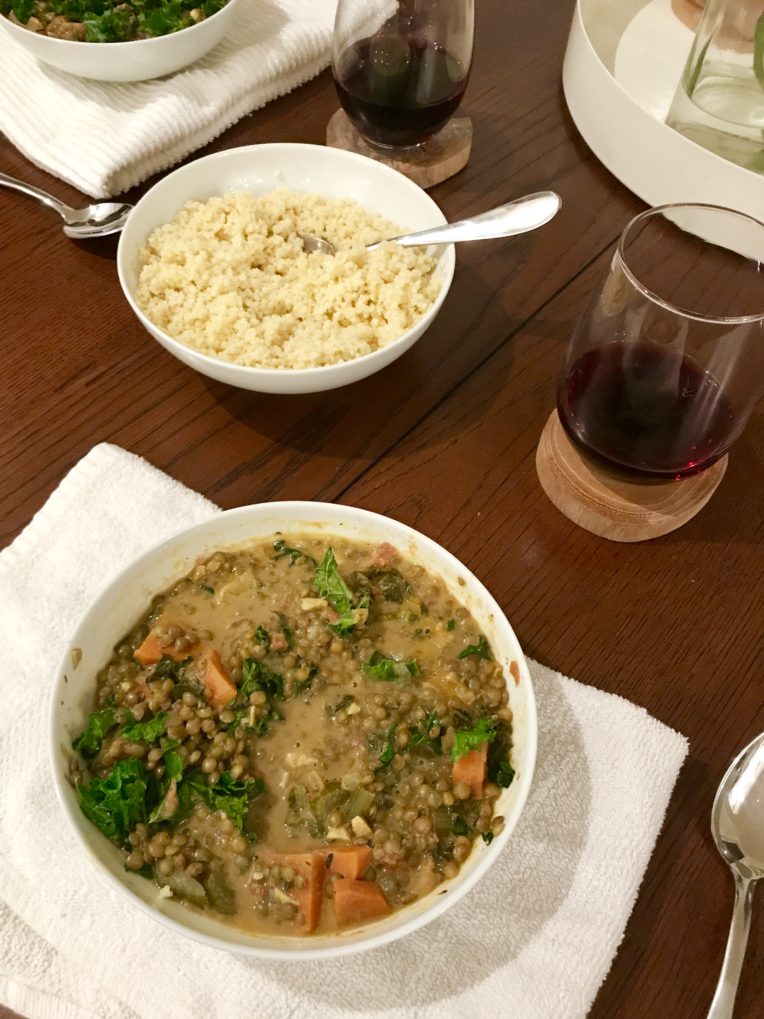 We ate the lentil soup I didn't want for lunch a couple nights too. Along with leftover millet with butter + salt. I don't like how many lentils are in this soup so next time I would half the amount of lentils and add a couple sweet potatoes to the soup.
Snacks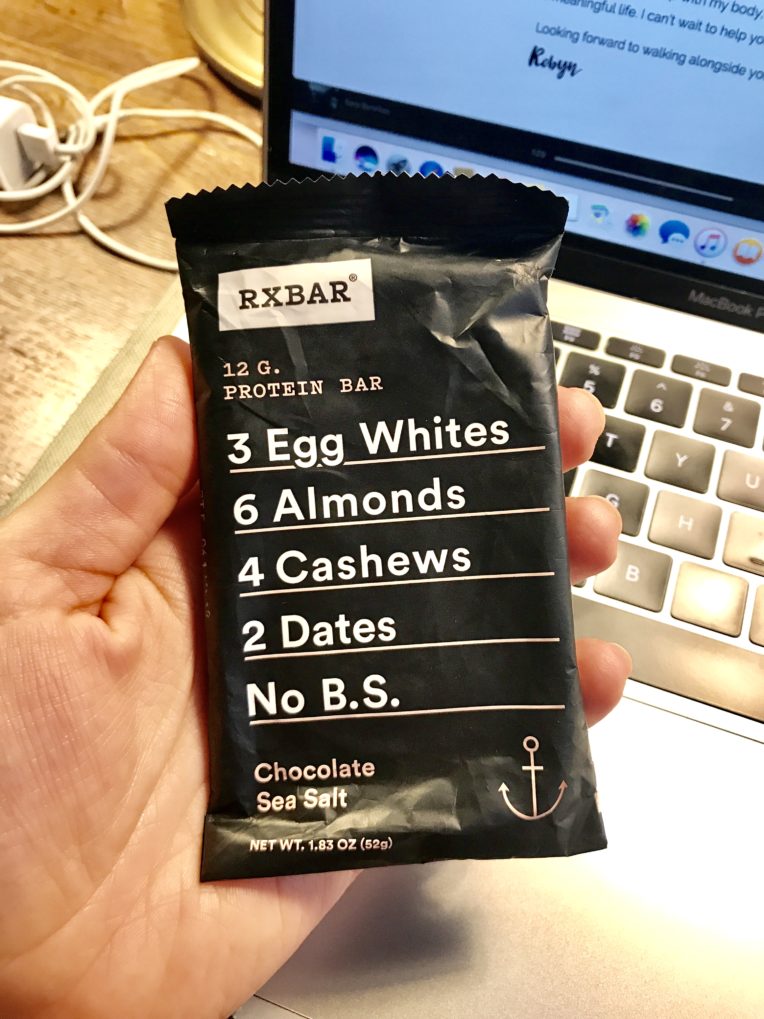 Bars are what I take to the coffee shop. Right now I've got Rx bars and KIND bars on hand.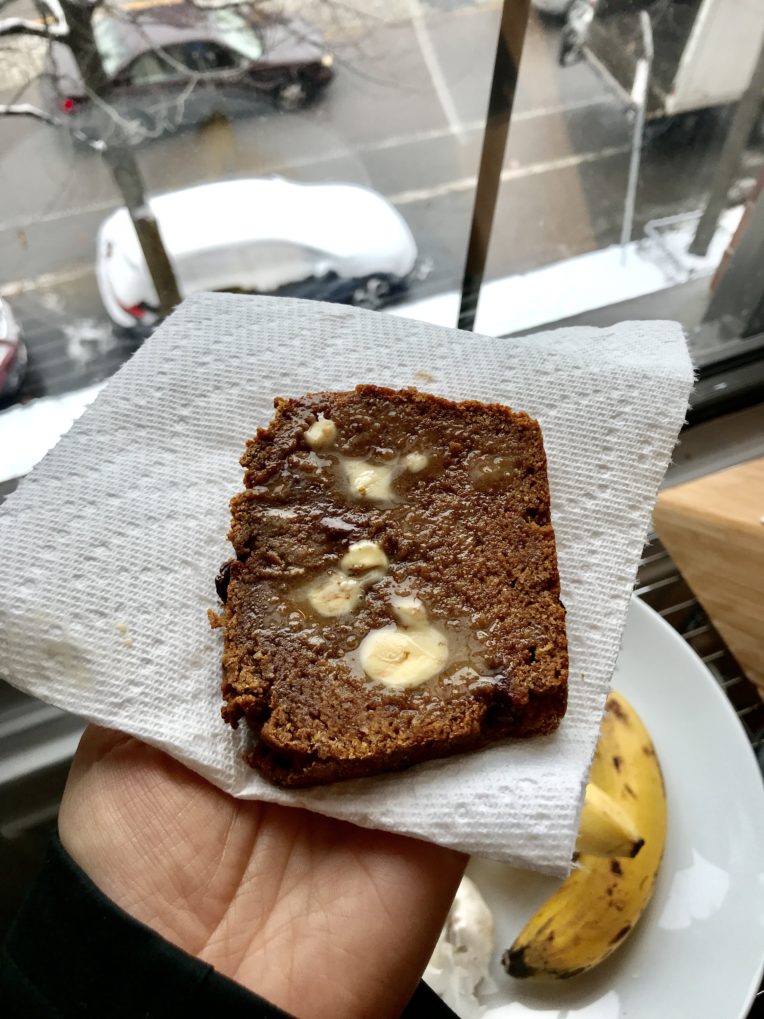 Pumpkin bread with butter. I added chocolate chips to this recipe.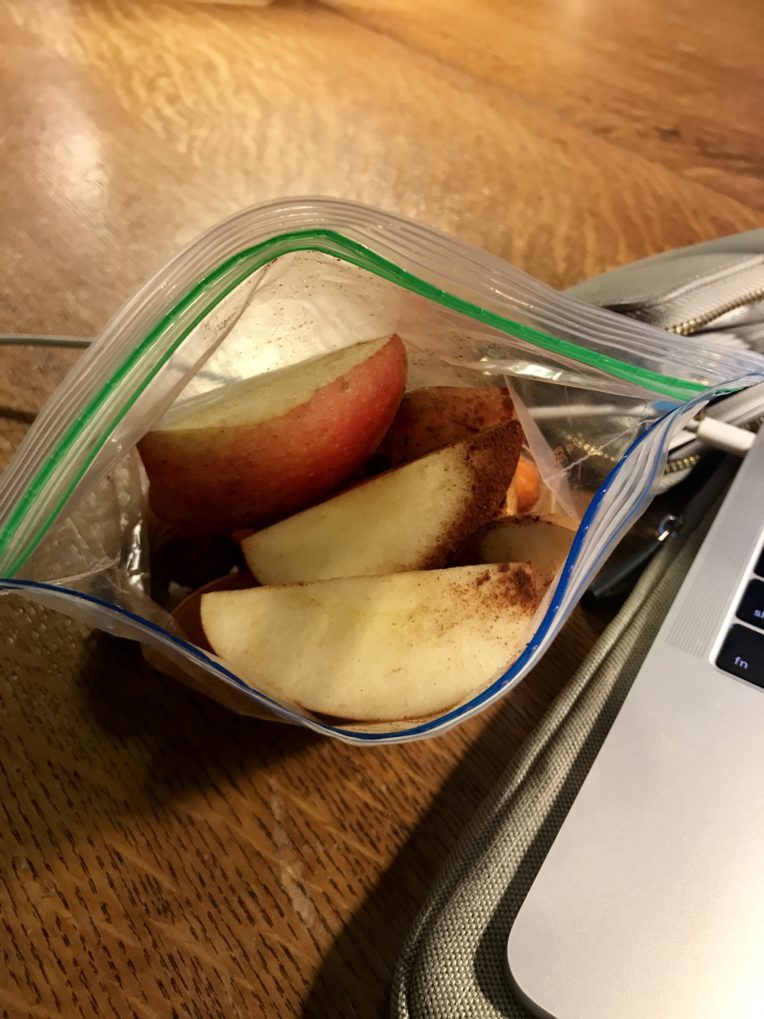 Sliced apples and cinnamon eaten in the library while doing some blog and e-course writing.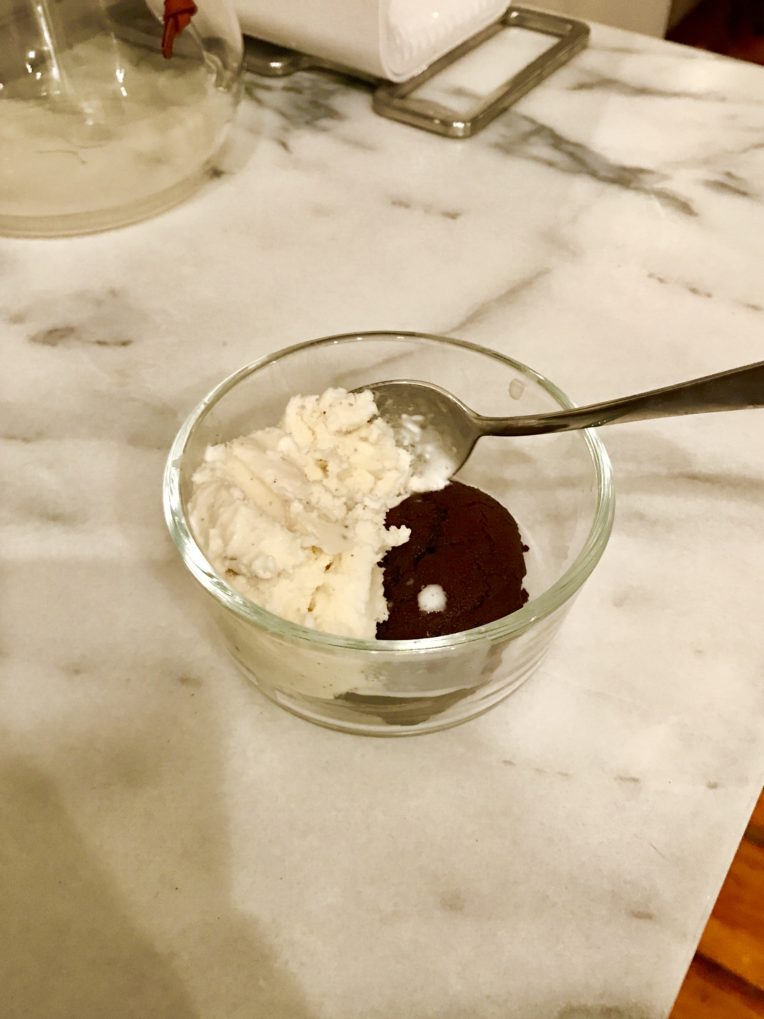 And the regular ice cream nighttime snack routine that happens probably 5/7 nights during the week. This is a staple. This was Breyer's vanilla – which tastes so amazingly fresh – with TJs sea salt brownie bites.
MOMMA COALE IN THE HOUSE!!!!! Off to go eat and drink my way through Boston with my favorite lady. Have a fab weekend!