Instead of proclaiming you cannot love your body at this weight, maybe it's actually an unrealistic expectation to love your body at this weight? Maybe instead…can you ask yourself if you can tolerate your body at this size so you can cultivate a fulfilling life outside of your body?
When I think about positive body image I don't think about loving my body at it's natural size. To be completely honest, although I was 9000x more miserable and neurotic when I was many pant sizes smaller, I actually liked the physical appearance of my body better than I do now, BUT I would never in sixty billion years want that body again because I would never want to feel so regimented around exercise and food like that again. That is 100% not worth it in my mind.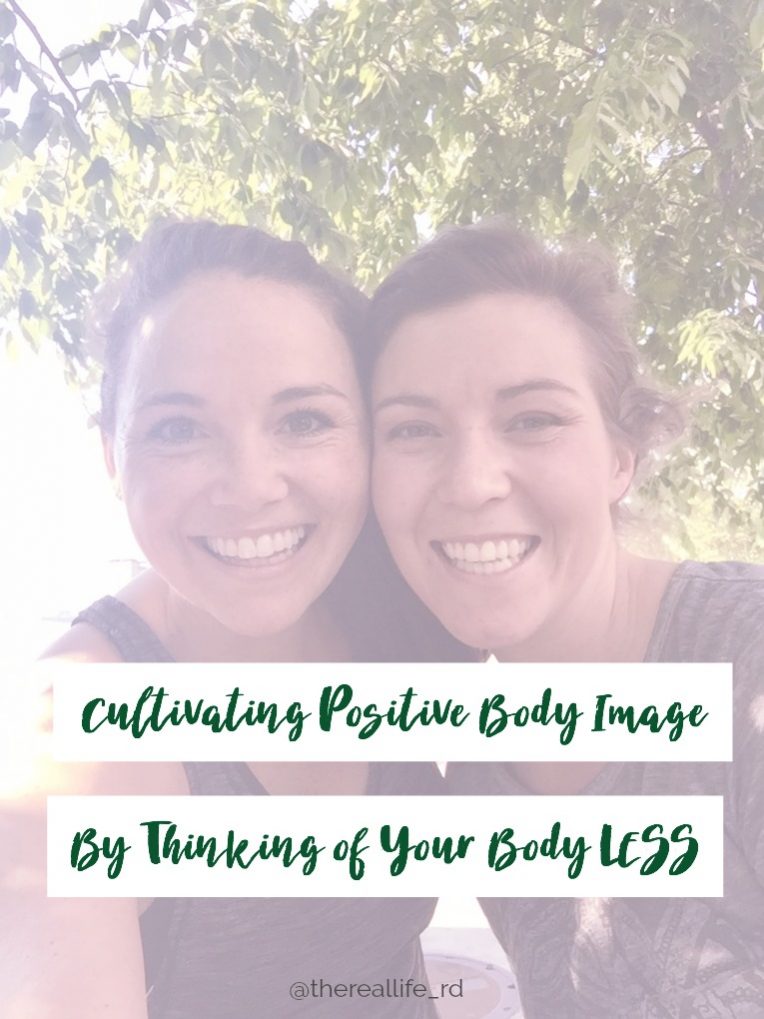 And when I look back on my life 5 or 6 years ago and my life now, my days and months and years are so much richer in this body of mine than they ever were in my teenage and early twenties body. The reason they are richer is because I don't think about my body much at all anymore. Do I have days where I feel bloated and crappy and my jeans feel snug or I look at a photo and think…"maybe not the most flattering piece of clothing I own.." YES. And I say yes because I'm human and we live in a diet obsessed culture that values thinness and very little body fat. Therefore, having the expectation that I will never have a bad body image day is unrealistic and will leave me frustrated and shameful if I do.
But are those days very few and far between. YES. And thank God. I'm really grateful for that.
I think positive body can mean loving your body. That's wonderful. But at risk of being offensive, I do think we can put so much emphasis on loving our bodies, that it can perpetuate this preoccupation with body shape and size. I think positive body image means thinking about your body less. And in order to think about your body less it takes building a fulfilling life outside of your food and exercise habits. Outside of your pant size. And then over time you realize the life you have built means so much more than micromanaging or focusing on your body size.
The smallest or most toned body in the world will never compare to a life spent living out your values and engaging in authentic and meaningful relationships. It never ever will, I promise you that. As humans, we were made for connection. We were made to love and care for people and to be loved and cared for. If we spend our days focused on micromanaging our body size, we dampen our ability to love and to be loved. That doesn't mean we are unlovable – we are lovable no matter what – but we have a hard time receiving that love.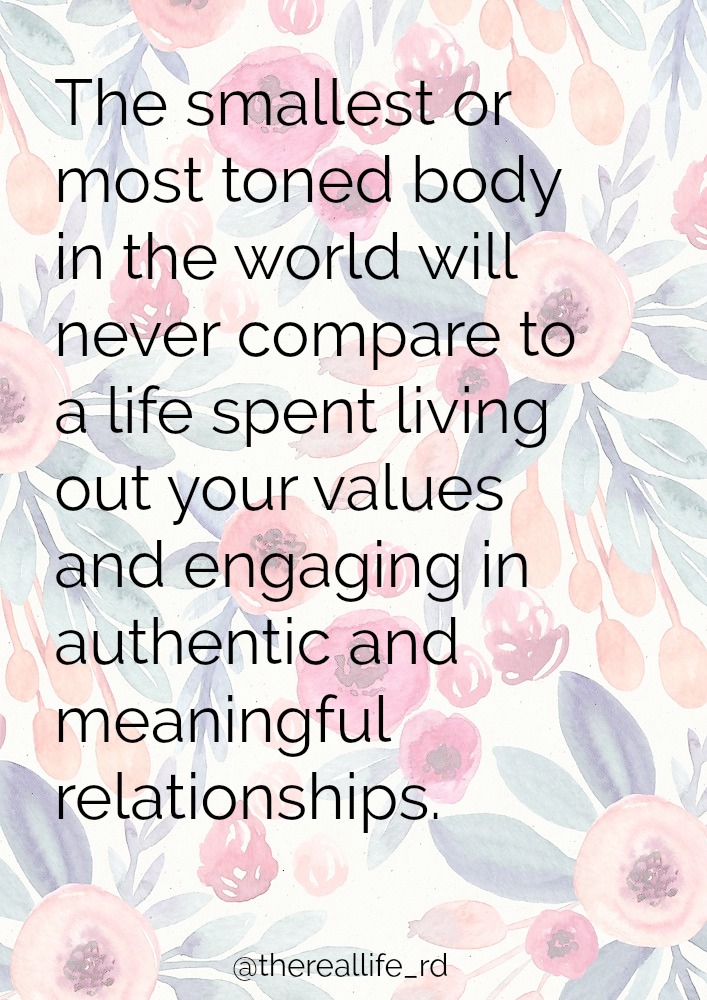 Something I have clients do quite often is to write out their values. Their values then become their barometer. They take their thoughts and behaviors to trial and ask, "Does this align with my values?"
As you begin to think about building a fulfilling life, you will feel fulfilled when you are living in line with your values. Maybe you don't even know your values because you've been drowning in diet culture for so long. That's okay. Perhaps you can give yourself some time and space to process and discover your values?
When you begin to put more of your time and energy into things that matter to you most, things that resonate with your soul, things that nudge at the core of who you are…over time your body size becomes much less valuable and much less interesting. But it can take a lot of time. Give yourself lots of space and compassion and grace. I think we can become easily frustrated when we don't give ourself the time this journey takes. I know I felt that way. I wanted my body image issues fixed right now and didn't want to have to deal with it.
But getting to the other side takes a lot of processing and hard work and wading through the deep and painful waters that have shaped the current narrative of your relationship with your body. Getting to the other side takes sitting with the all consuming anxiety that accompanies your current body size and seeking to understand that anxiety instead of escape it.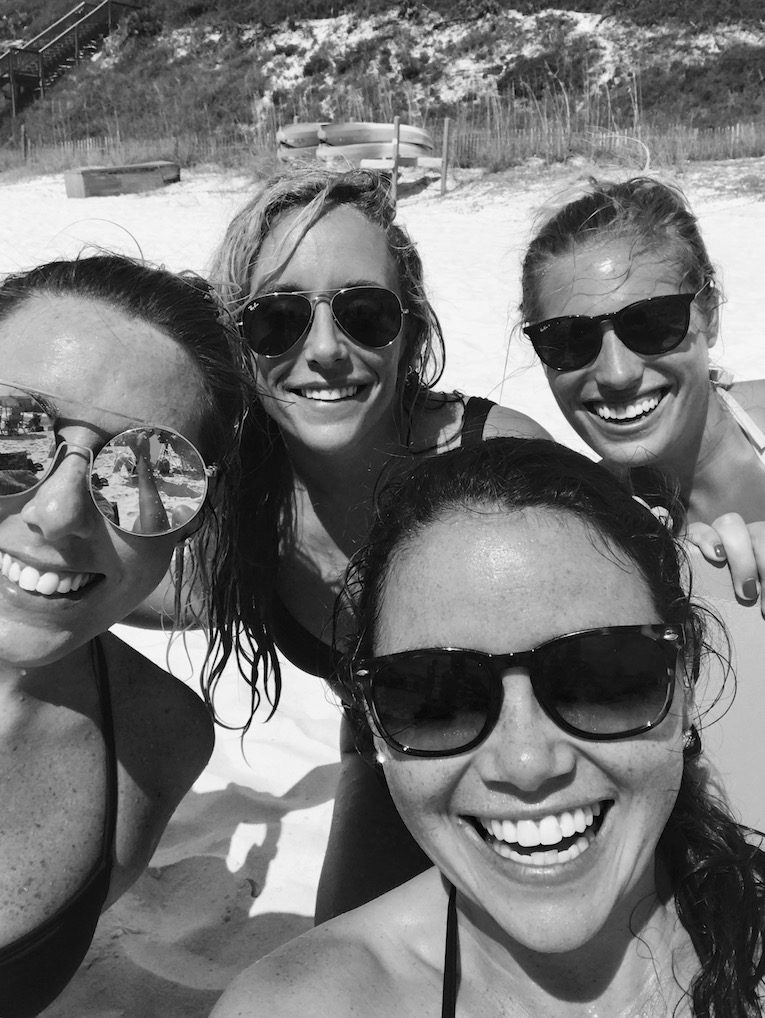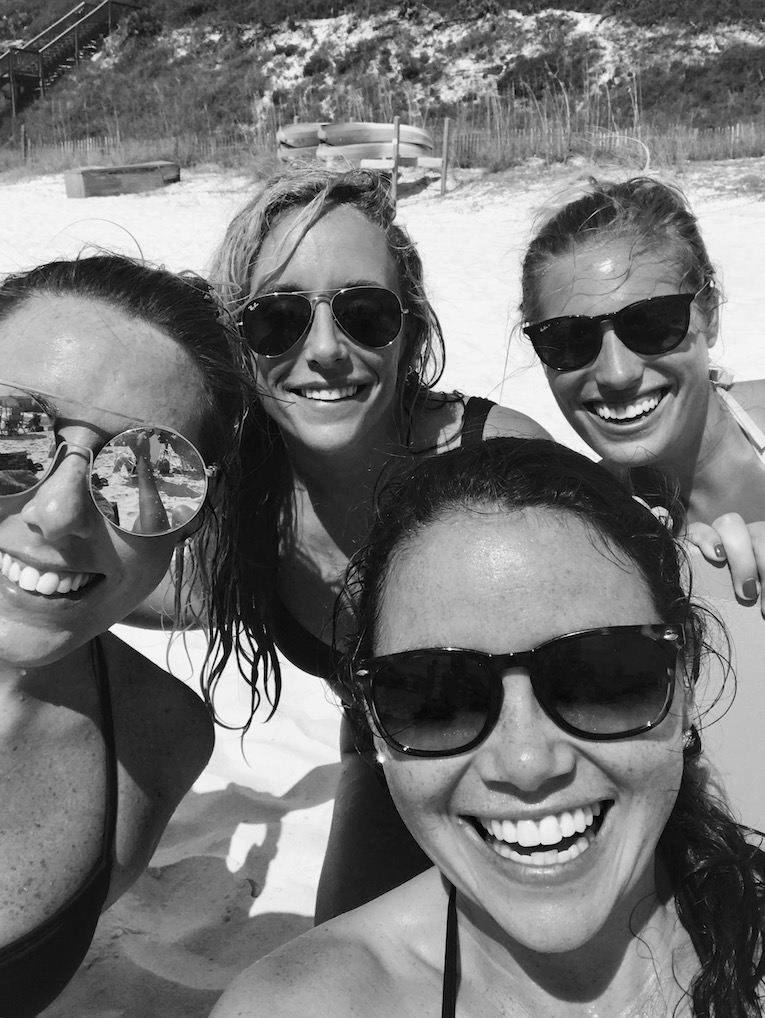 So you don't have to love your body at it's current size. You might not ever love your body at its current size. That's okay. Maybe that's too high of an expectation. But can you tolerate your body at its current size?
Can you be in your body and not actively try to change it?
Can you tolerate that new fleshy pocket on your belly?
Can you tolerate the softness of your upper arm?
Can you tolerate the fuller look of your cheeks?
Give yourself time and space and grace to tolerate. Doing that is a huge first step. To tolerate your body as it currently is and not try to actively work against it is a huge first step. And then maybe down the road, which could be months or years, can you accept your body for what it is? Can you accept it's natural size? Maybe you don't love it, but can you accept it?
Circle back to your values. How does your body allow you to live out your values? How does your body allow you to connect with others? For me, my natural body size allows me to say yes to spontaneous dinner dates with my husband or a trip to the ice cream shop with a friend. My micromanaged smaller body size wouldn't be able to tolerate those things without crazy food rules and exercise habits.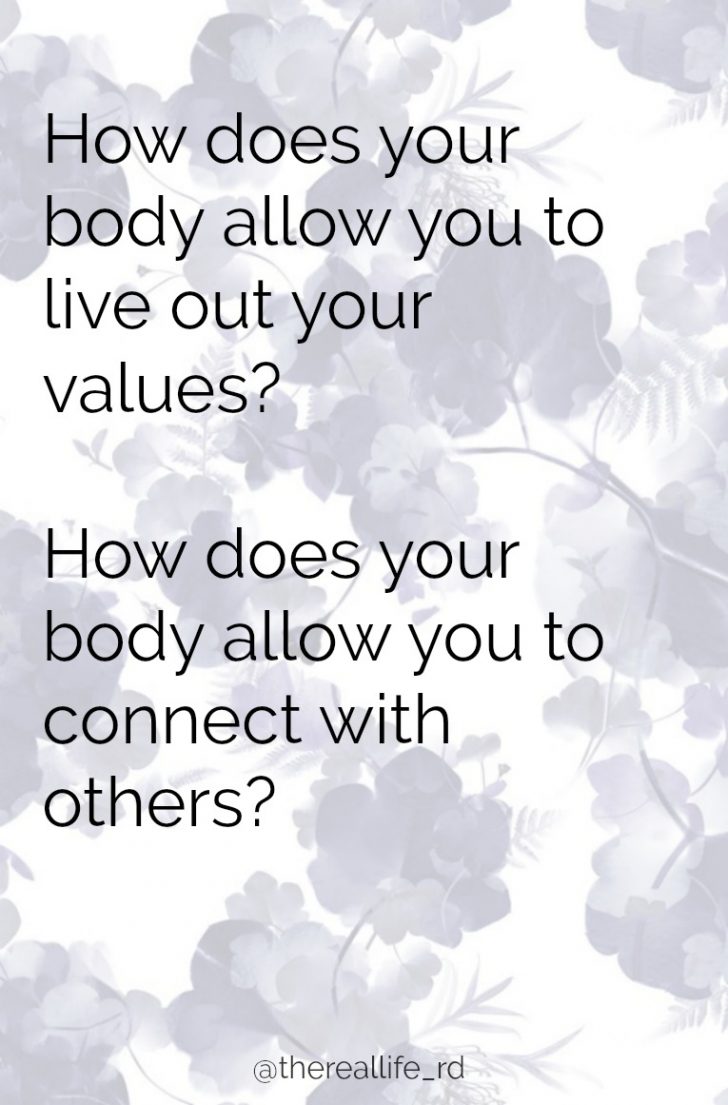 Accepting my natural body size allows me to be present in conversation. And to be present at the dinner table or at a party. Instead of trying to tally up how many calories I just consumed or wrestle down the anxious thoughts ping ponging through my brain, I'm able to immerse myself in meaningful, life giving conversations.
Laughing feels more zealous. Listening feels more refined. Conversations feel more significant.
But to get there, I had to – and you have to – build a meaningful life outside of your body.
Do you want to remember obsessing about your body or the food you use ate or the exercise you didn't do? Or do you want to remember the sights and sounds and smells and people and conversations of today?
We're all on our own journey. Just because you're here and she's there doesn't mean anything. It's okay to be where you're at. Keep putting one foot in front of the other. And if you feel like you put one foot behind the other, that's okay too. What can you learn from that? Persistence is the key to freedom and peace with your body.
I'd love to hear your thoughts on this and steps you've taken to think about your body less. I know other readers will be encouraged by your path!