Hello! It's been a very long while since I posted here. A month actually! I feel like I've had thoughts swirling around, but I'm struggling to organize them and get them written down. I feel like I'm in a creative fog with no mojo to work or produce content. I have been reading and researching a lot on various topics…but then sharing that new knowledge in written format? Nada. I'm lacking vision for the blog & business and if I'm totally honest, I just don't feel excited about it like I once did.
I took almost a week off social media last week, and while I'm feeling rejuvenated and a bit more inspired, I still feel very different about work than I did 9 months ago before motherhood profoundly shifted my priorities in the best way possible. This has nothing to do with you as a reader – I am SO thankful for you. Please hear that. I'm just in a weird place with navigating the confusing and conflicting intersection of career + motherhood.
I've had a draft for a post on birth control going for a few weeks now, but I need some more time to collect my thoughts on that one, so today I'm sharing a lighter topic – intuitive eating snacking!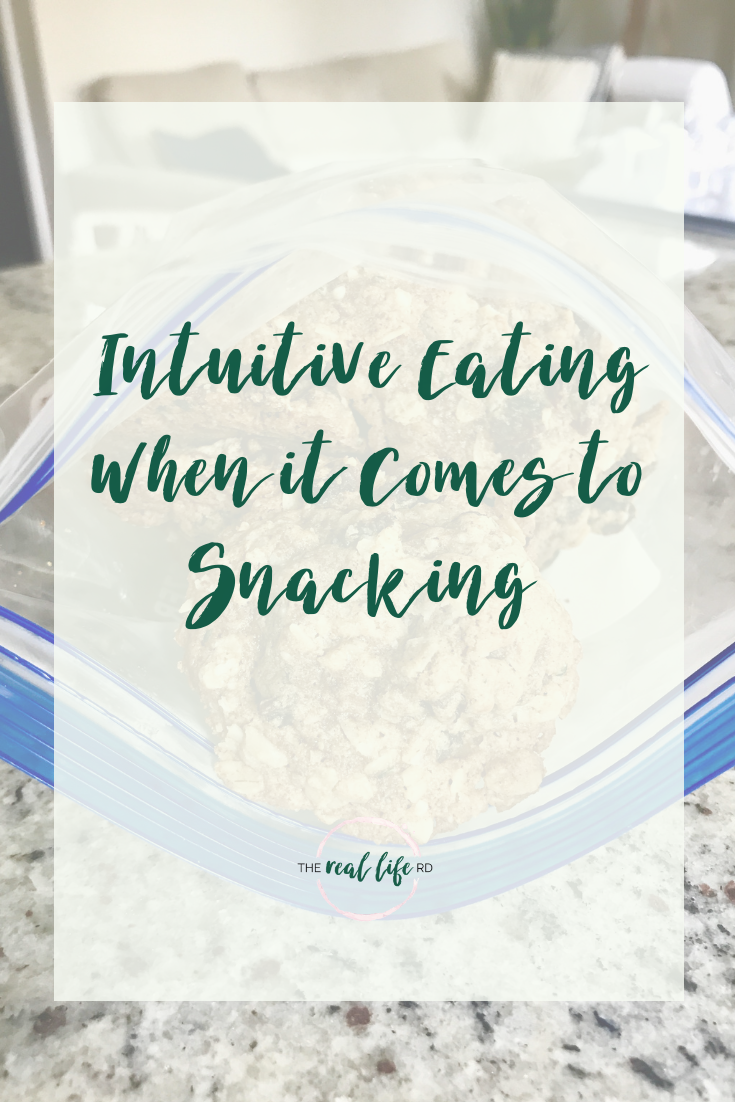 I'm a snacker. I find most people feel best when they do snack. Over my 7 years working with clients as an RD, I've come across a small handful of people who feel best with three bigger meals and no snacks. But for most, ~2 to 5 snacks a day work well. If you feel hungrier for more than 5 snacks, that is okay and normal. There is nothing wrong with you. But I would encourage you to look at your meals and experiment to see if making them more satiating (which typically means adding in carbs and fats) would help hold you over longer in between meals.
Then take a look at your snacks. Do they include at least two macronutrients – carb, fat, and/or protein? I think it's a reasonable expectation for meals to hold you over for 3-4 hours, while snacks should hold you for about 1.5-2ish hours. If it will be longer than 2 hours until you eat a meal, ramp up your snack so it's more like a mini meal. If you're hungry, but going to be eating within the hour…a smaller snack to tide over hunger but not kill your appetite can be a great option.
Ok, to the actual snacks I've been digging lately:
Packaged bars work for me when I'm traveling or on the go, but I don't find them that satisfying. But sweet stuff I bake at home…I find those kinds of snacks super satisfying. Since I've learned that, at the beginning of the week I try to whip up a couple baked goods/snacks that don't take much time.
One of my go to recipes is this chunky coconut granola. I leave out the dried fruit and usually just use all slivered almonds since I rarely have walnuts or pecans on hand. It takes all of 5 minutes to throw together. And store bought just can't hold a candle to this stuff.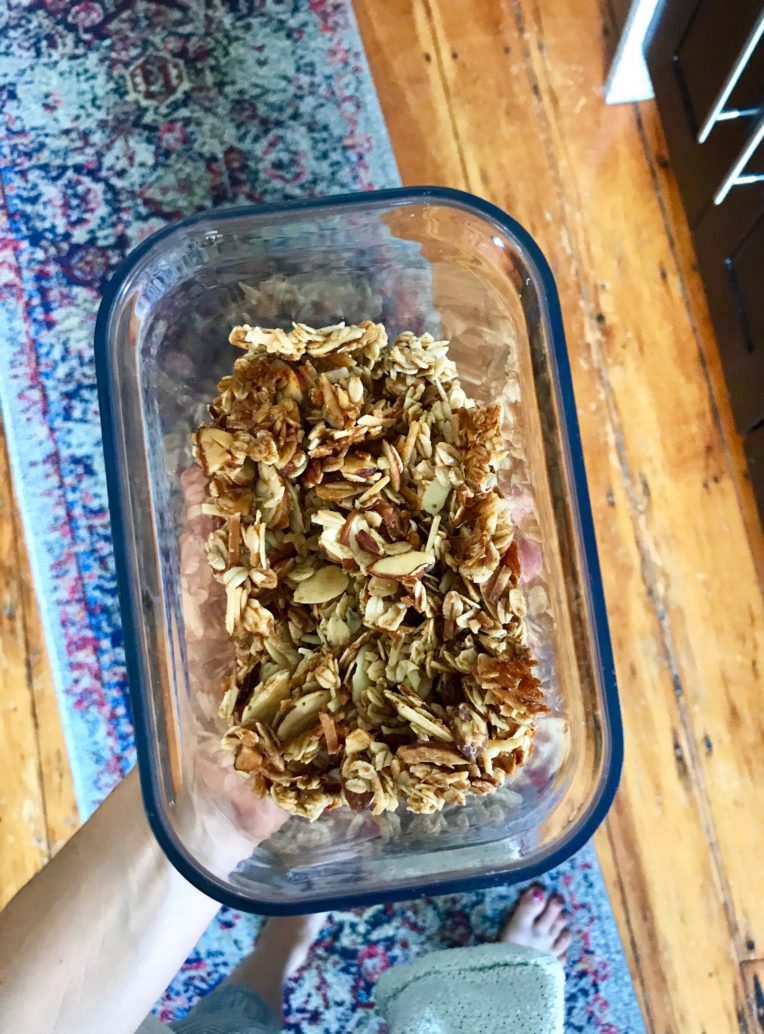 Last week I made the granola + these oatmeal raisin cookies. I added in ~1/4 cup of ground flax and a hefty spoonful of chia seeds instead of the coconut because 1) I ran out of coconut making the granola and 2) I wanted a snack that was full of ingredients that help with milk supply. If you're not breastfeeding, still make the cookies. Nick eats them all the time because they taste like delicious oatmeal raisin cookies. And for those of you needing a dairy free recipe, these are df. I'm hoping to start incorporating butter in the next few months again if Cal tolerates and will be so excited when butter is back in my life.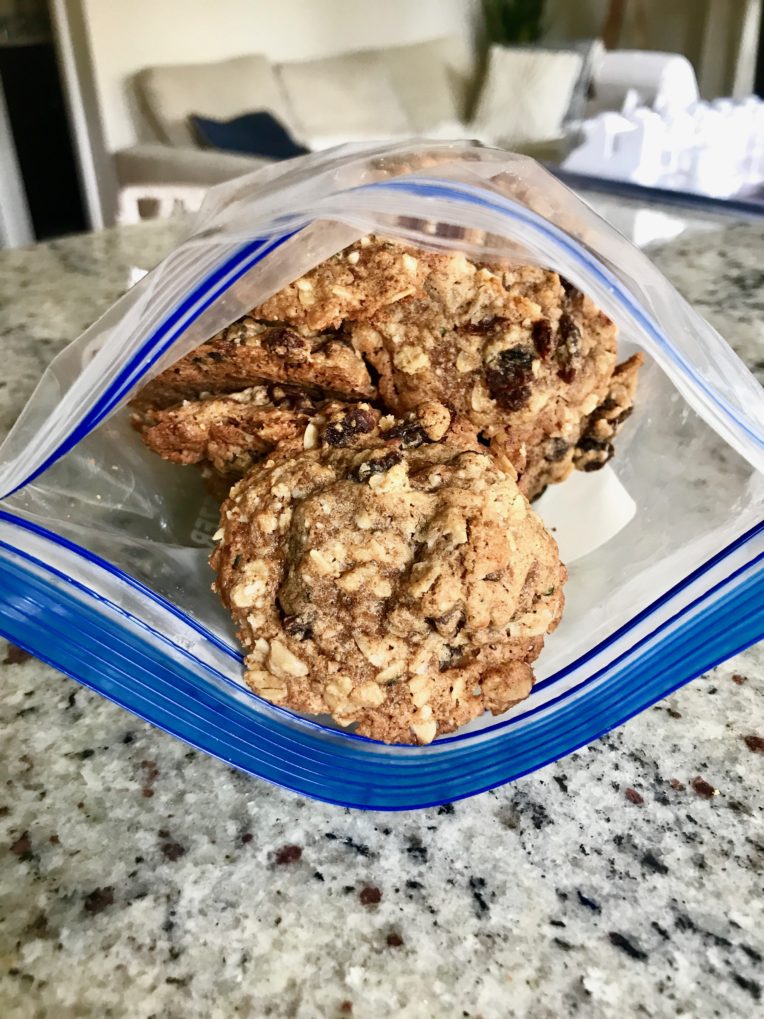 Current favorite store bought snacks:
In the morning I crave sweet snacks and in the afternoon I tend to go for savory. These chickpea puff things were on sale so I picked up a bag to try them out and I'm into them. BarkThins…you can't go wrong. This is my favorite flavor.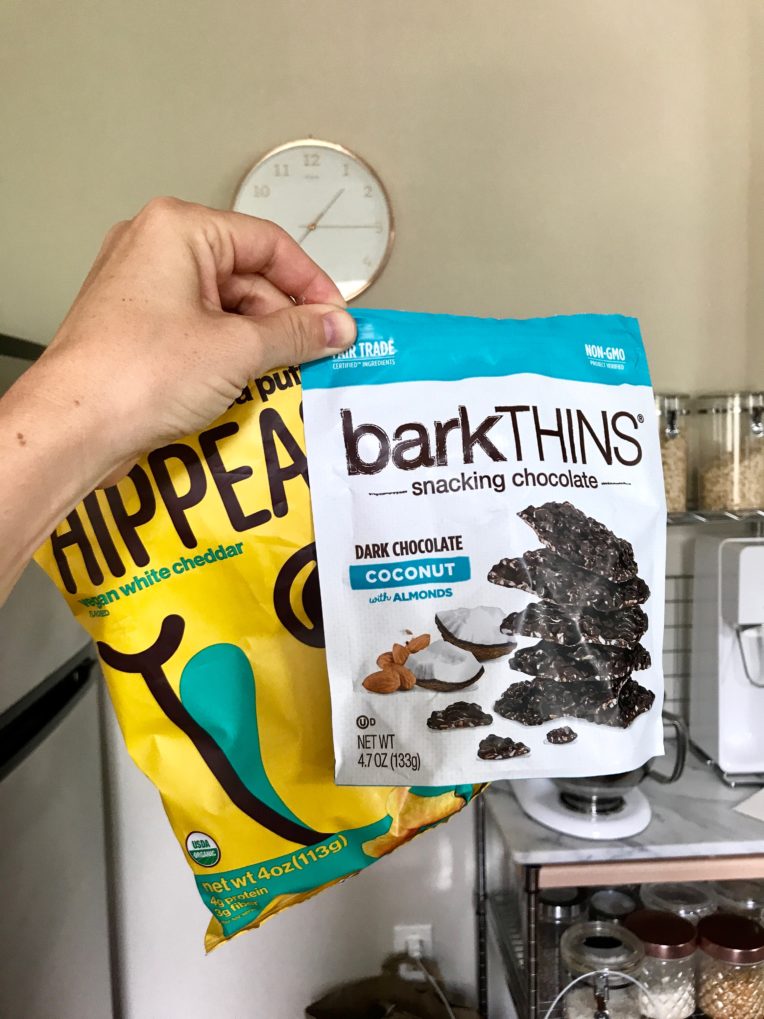 And lastly, I made some hard boiled eggs using this fool proof method for the perfect egg because I found myself really hungry one afternoon and knew I needed a snack with a good dose of protein, but didn't have anything on hand so then I ate 4 of the above cookies and ended up with a bellyache. Live and learn. So I decided I needed to find some quick protein snack options. Given Cal's dairy allergy, my go-to options of greek yogurt and cottage cheese were out. I'm making hard boiled eggs a weekly snack staple now.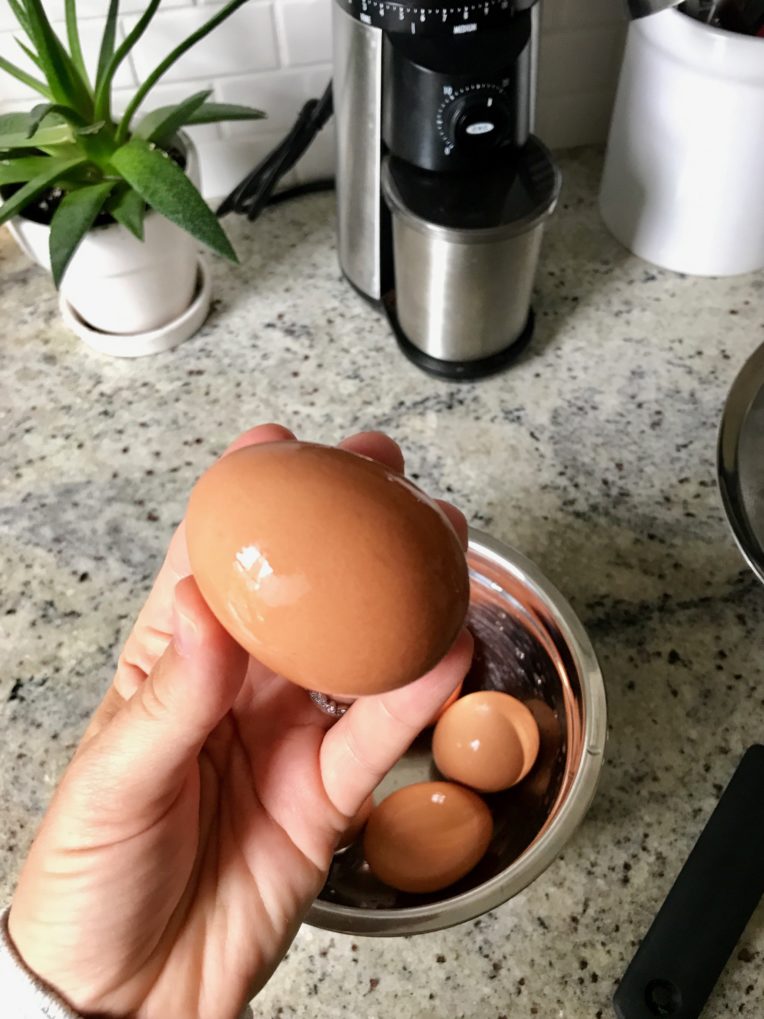 That's what I'm noshing in the snack department lately. I also wanted to share this peanut baked tempeh recipe I made for lunches this week because it is fabulous. I haven't bought tempeh since like 2011, but I needed a creative meal idea to spice things up and found this recipe. We're eating it with roasted sweet potatoes and broccoli and it's putting a little pep into lunch again. So good.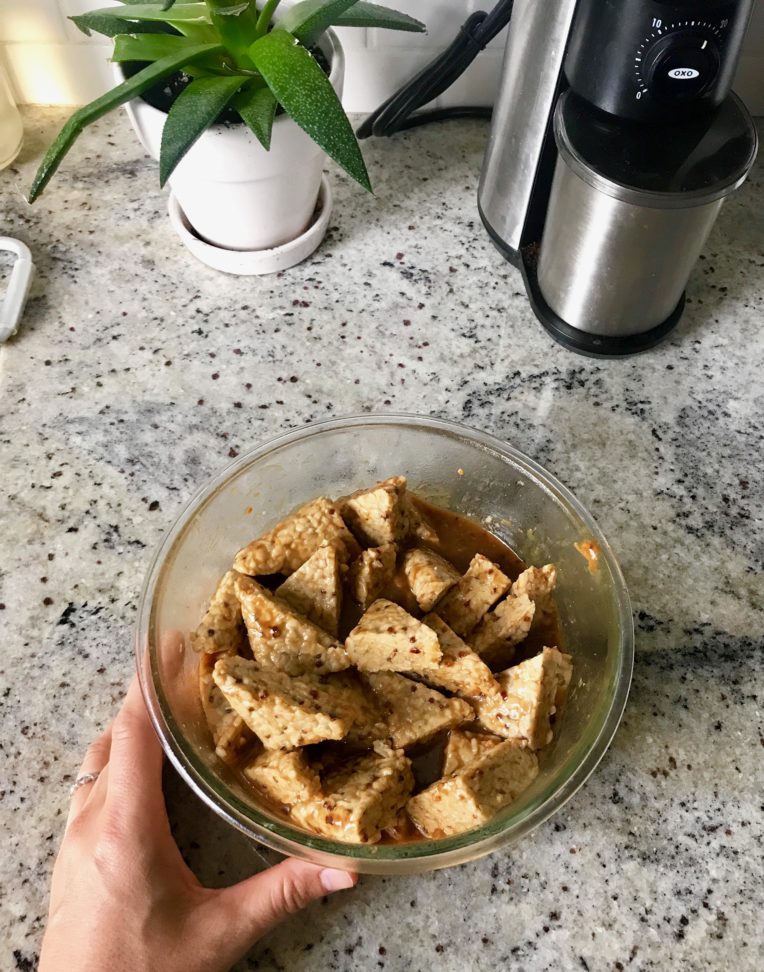 For dinner this week I made spaghetti and I forget how super delicious and quick & easy good old classic spaghetti is. I sauteéd up mushrooms, then browned up a pound of ground beef, added in two cans of pasta sauce with a teaspoon or so of oregano, garlic powder and crushed red pepper + a heaping tablespoon of brown sugar. Stirred that all up and let it simmer for a few minutes. We ate the spaghetti with garlic bread + spinach salad. And I topped everything with this super tasty vegan parmesean. And a slash of pinot noir for good measure.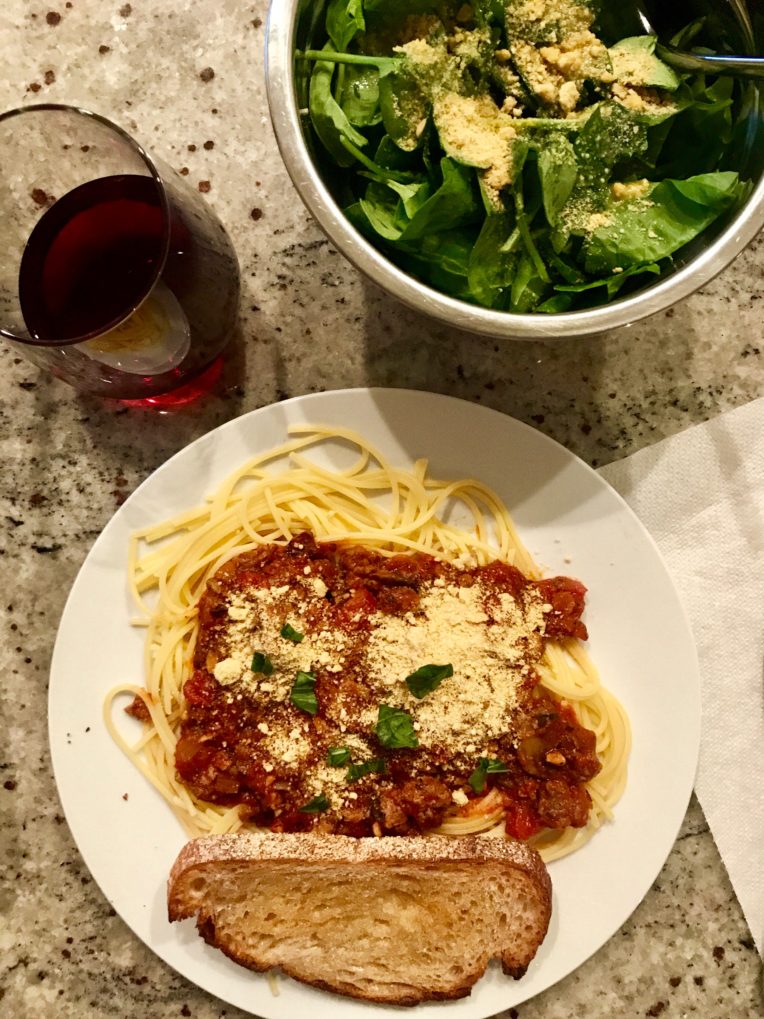 Share your favorite snacks in the comments! I'm always looking to mix up my snack game.