Here's another round of behind the scenes of intuitive eating. These posts certainly don't illustrate what you should eat, everyone is different. Rather, I hope reading the thoughts that go into a food decision helps in your own intuitive eating journey as you navigate learning to nourish yourself based on internal vs external cues.
In the beginning of your intuitive eating journey, it can feel like you're hyper focusing on food choices. And it can feel really murky and grey – like you're walking around in a dark room. If that sounds familiar, you're in a good place 
 As you learn new skills and learn your body more, the decision making shifts and becomes more subconscious and intuitive. Wherever you are, even if you're wresting with the idea of intuitive eating, know that you are right where you need to be.
After typing up this last week, I went to save the draft and it didn't save, so I lost the whole post. The combination of pregnancy hormones, costochondritis and lack of sleep due to the pain from the costochondritis sent me into an irrational emotional breakdown. I had a moment. So this is round two of the original post. Here are a few other more in depth behind the scenes of intuitive eating posts that I hope are helpful for you.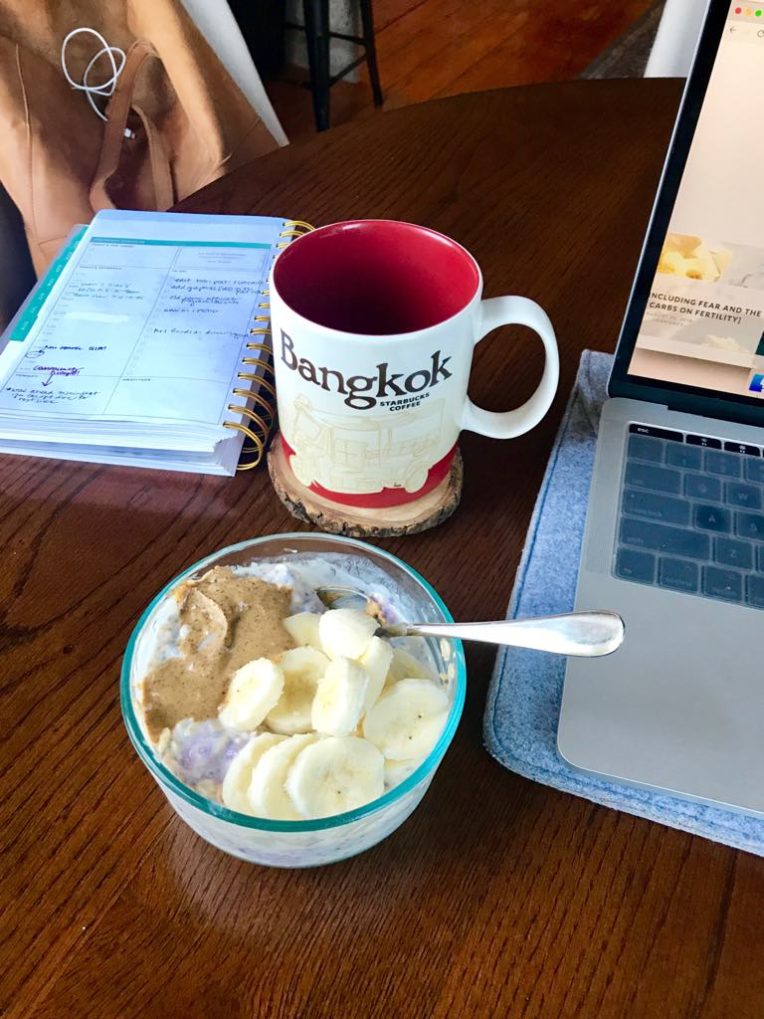 Breakfast
Overnight oats made with equal parts rolled oats, full fat yogurt and almond milk because I had back to back clients and needed something easy and fast. And with the summer hit still lingering, cool + creamy always sounds good. I use 1/2 cup portions usually because that's what I find best meets my body's hunger needs. You might need more or maybe sometimes less depending on what you put on top. I added blueberries and banana and topped with almond butter.
Breakfast isn't the most mindful meal sometimes. This day I was answering email while eating, so I was zoned out a bit, but I know from past experiences this amount of food usually satisfies my hunger + tastebuds for breakfast.
Snack
Dates stuffed with chocolate and peanut butter.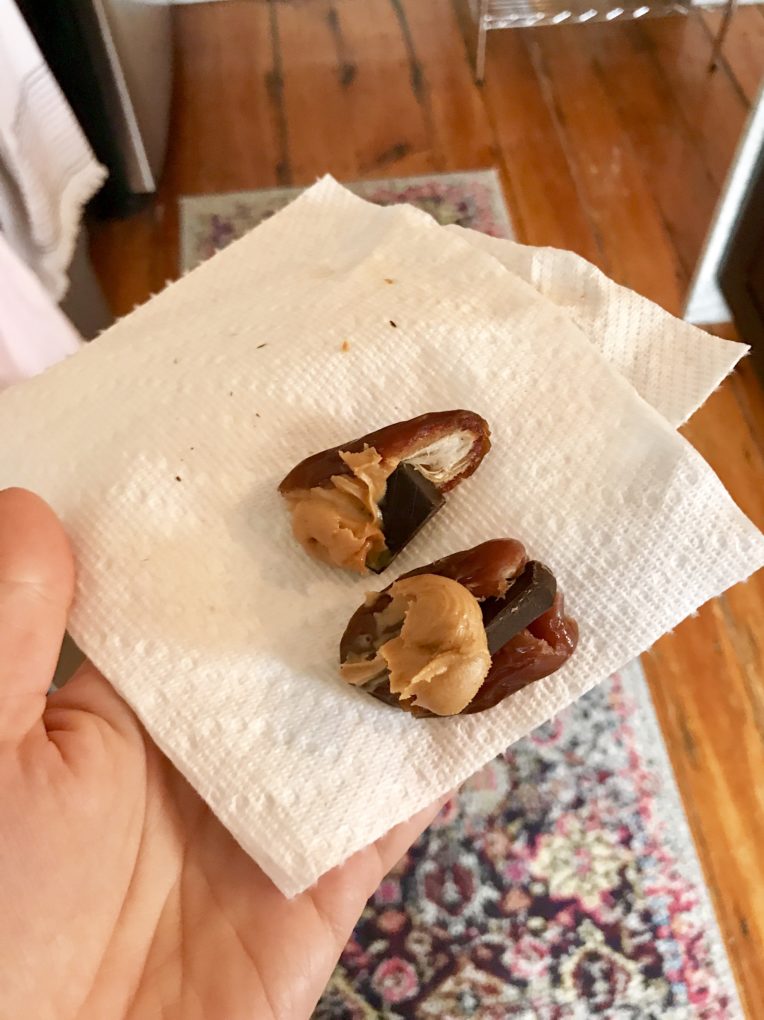 This is a go to snack if I want something sweet. Carbs + protein + fat and the cold, chewy texture (I store the dates in the freezer) always satisfies. I like to think of it as as lazy girl's Larabar. I find that usually I need 1-2 snacks between breakfast and lunch so I don't get "meal hungry" since I don't like feeling meal hungry in between meals if I can avoid it. So once I start to feel empty and I begin losing focus with what I'm working on, I know it's time for a snack.
Lunch
Salad (mixed greens, cucumber, tomato, bell pepper) with rotisserie chicken, parmesan cheese, olive oil and vinegar and salt and pepper. Plus a bag of chips left over from an earlier flight.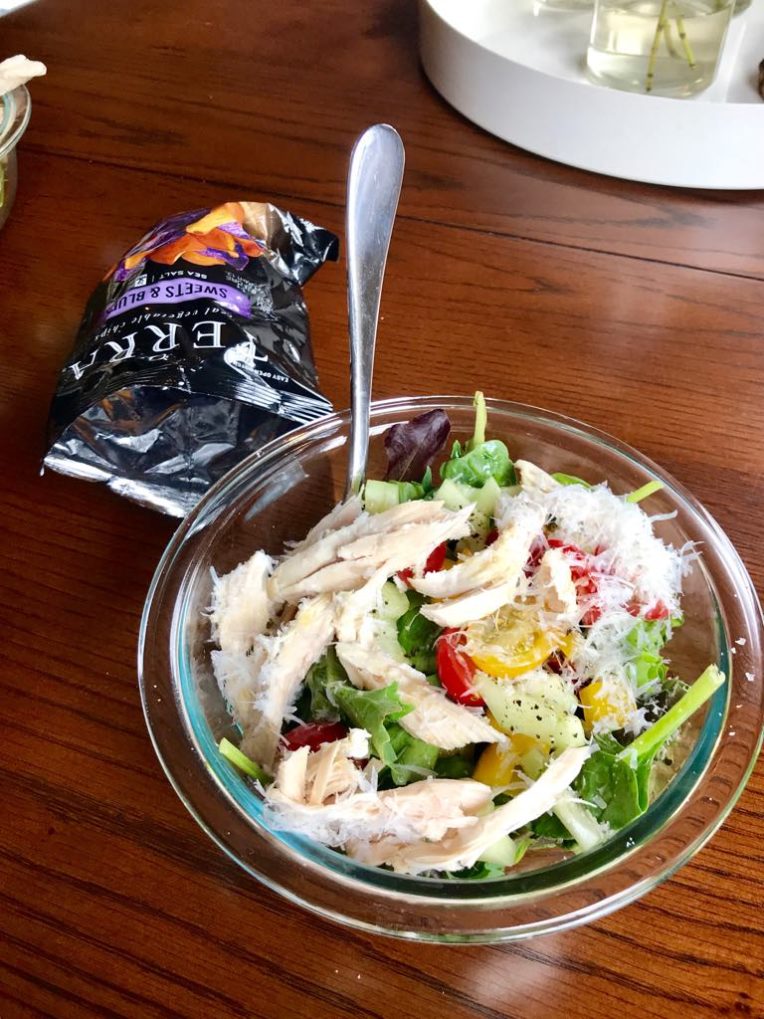 When life gets busy, salads are a default lunch because they are easy, filling and keep me energized throughout the day. Was this the most satisfying meal? No. Was I craving a salad? Not really. But it was fast, convenient and filled me up so I was able to move on to more important things in my day. Here's a really good post from Kylie about eating unexciting foods.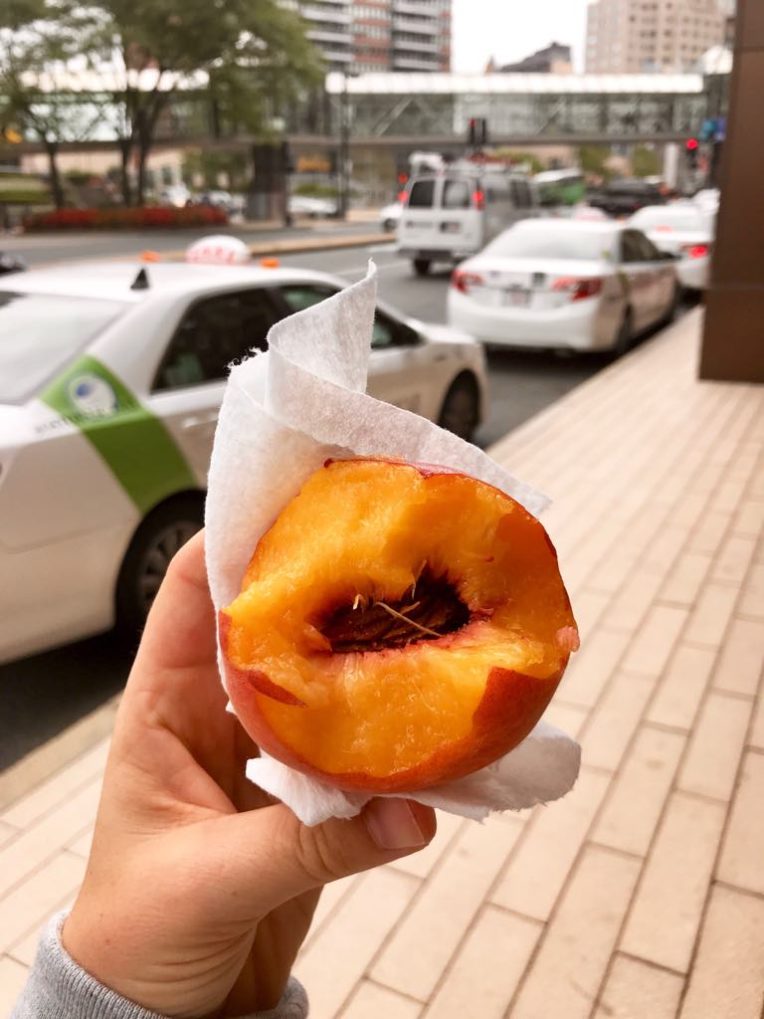 I was full after lunch but not quite satisfied and wanted something sweet so ate a peach on my walk to a coffee shop. No matter what time of day, juicy sweet fruit always hits the spot. I'm said peach season is pretty much over because they were SO GOOD this year.
Snack
Chocolate covered chickpeas and garlic roasted cashews.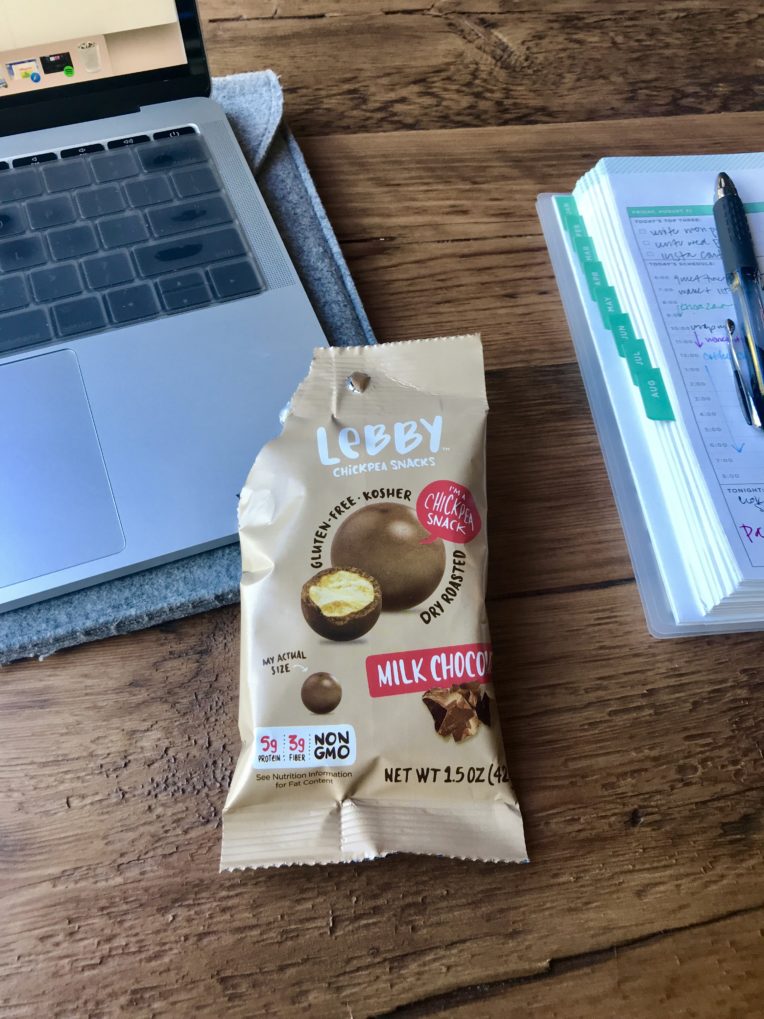 Whenever I leave the house for the afternoon to write and do other blog projects I also bring a variety of snacks…like 4 or 5 choices. Loosely planning lunches and dinners for the week makes life simpler throughout the week so that works for us, but it doesn't allow me to just "eat what I'm craving" all the time. So I find having a variety of snacks on hand is a way to bridge together intuitive eating and meal planning.
I try to pack a variety of flavors and textures – salty, sweet, crunchy, creamy, etc so there is plenty to choose from.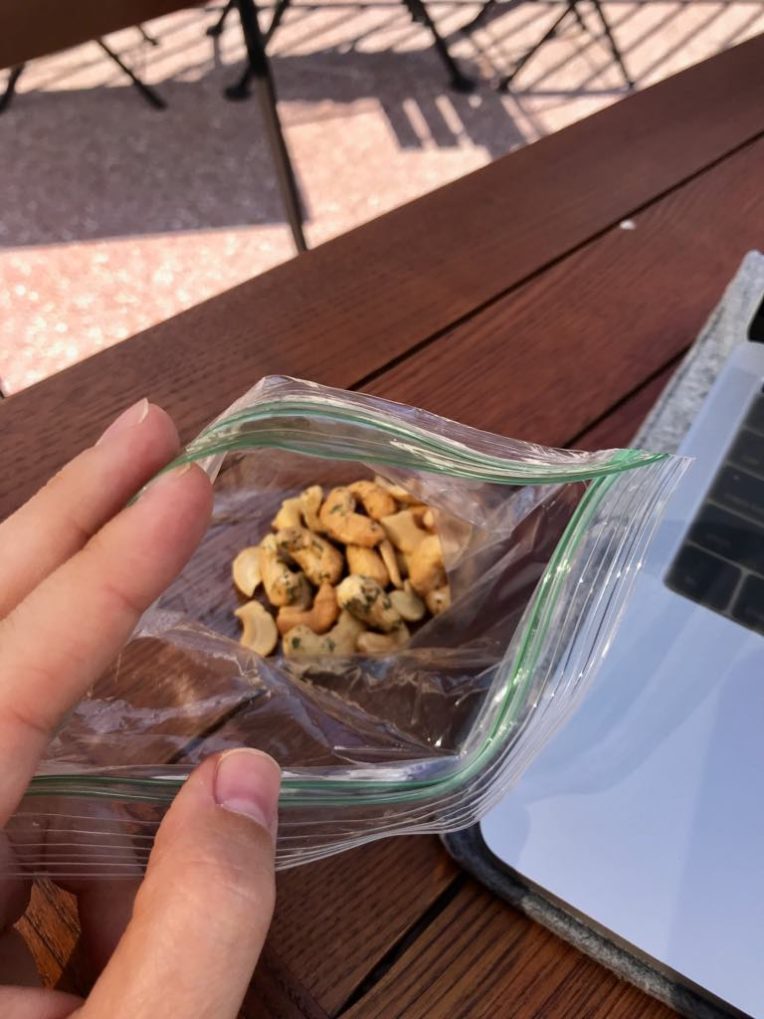 Dinner
Thai turkey meatballs I linked to in this post over short grain brown rice (I'm obsessed with the chewy texture of short grain rice) with sautéed purple cabbage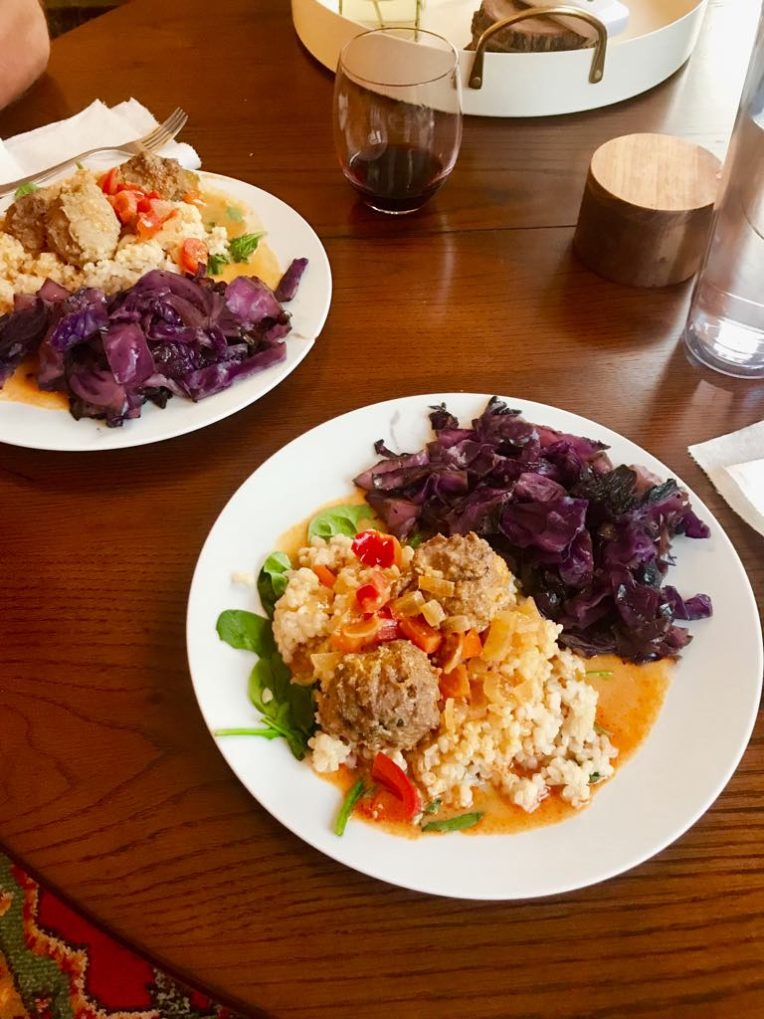 I love Thai food. This meal was satisfying, tasty, colorful….all the things! I'm finding that in pregnancy, I can sometimes get overly full even though I'm not satisfied and haven't eaten a what looks like a "normal" portion for me. Occasionally eating past fullness is part of normal eating and it can enhance a food experience. For me, that usually happens at restaurants or special occasions where there is a lot of delicious food around. Enjoying the food and the people makes those occasions memorable. But I've found that being overly full and pregnant is quite unpleasant so it never enhances the experience for me. It takes conscious effort (that to be honest, I don't like to give because I'd rather just eat without having to think too much) but pausing halfway through a meal for a few minutes has been really helpful in avoiding getting unintentionally too full.
Bedtime snack
Whacky cake! A craving hit and this cake reminds me of my Grandpa. If you haven't tasted the pure bliss of whacky cake you must. It's the easiest cake ever so don't be intimidated. The cake takes 10 minutes, the frosting 5 minutes and you don't need to wait for the cake to cool, you just pour on the dreamy caramel frosting.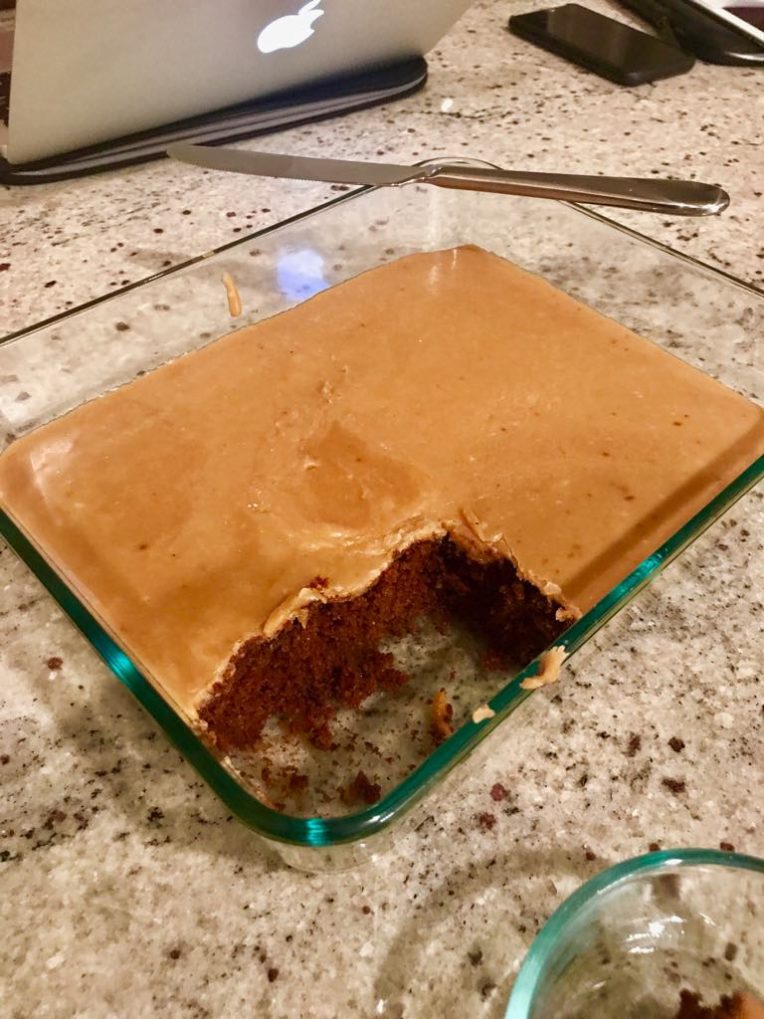 We ate it with caramel ice cream and it was everything. I didn't have my Grandpa's recipe on hand so this recipe is the one I used because it looked almost the exact same.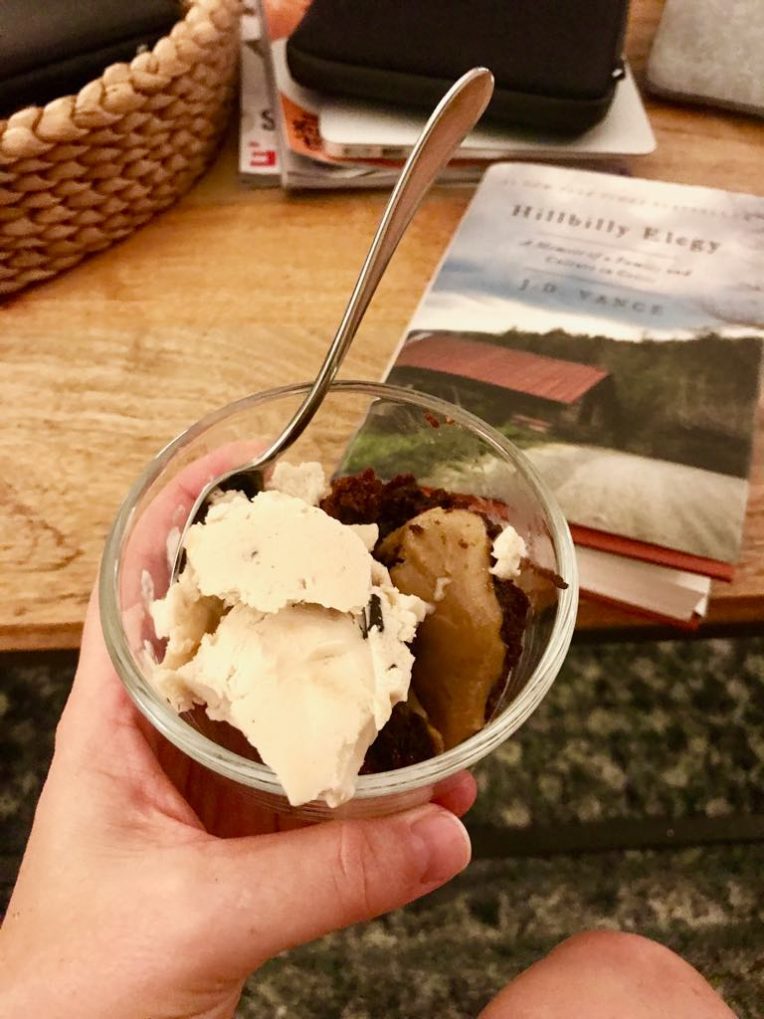 I'm pretty much never hungry when I eat a bedtime snack. But I almost always eat a bedtime snacks for a few reasons. 1) satisfaction 2) it ensures I don't wake up in the middle of the night hungry 3) for emotional reasons that feel healthy, mindful and not distressing – on weeknights, a bedtime snack is part of our evening wind down. There's nothing wrong with emotional eating, it just is. But if emotional eating feels distressing, then that might be something that you want to change. Food is an emotional experience! Helpful vs unhelpful emotional eating just depends on how you experience that food situation.
If you're feeling stuck, alone and/or frustrated in your intuitive eating journey we have two virtual intuitive eating support groups starting this fall – our final two groups for the year. These groups have limited spots and we'd love to have you! You can read more about the groups here!