On not exercising
I can count on one hand how many times I've gone out and intentionally moved my body in a structured way over the past couple months. I can't even tell you the last time I went this long without structured movement. Postpartum was my longest period at about 7 weeks. Maybe I've never gone this long? Which isn't something I'd consider as positive I don't think. Life got really busy with interviewing for jobs and traveling and then moving and it's not as if I couldn't find time to squeeze in something quick, I could have, it just wasn't a priority. I've never been a morning exerciser, and I'm certainly not now. Sleep always wins. And I don't want to spend nap time exercising when that's precious work time. And then I thought between naps would be a great time because there is childcare at the gym I belonged to in Boston, but exercising was just the last way I wanted to spend my time in between naps. And by evening time I'm done for. I want to cozy up in my soft clothes and chill.
After a few weeks of this, I started to think maybe I should get back into something because my body felt tight. But then I realized, what I needed was just a good foam rolling session and 10-15 minutes spent stretching in the evening or morning. As I was observing my mindset shift and my desire for structured movement fade, it became clear to me that exercise just isn't a priority for me right now. And that's okay. For me, getting to/from the gym and working out is just not how I want to spend my time during those few hours I have with Cal in between naps. But even beyond that, I just don't desire to move my body in a structured way on a regular basis in this season of life. I realized how much mental clutter it was causing me to find time to do that. Once I just let it go, I realized how much more mentally at ease I was. I know there's enough organic movement in my day for me to be healthy.
Our bodies can only handle so much stress. I've had a lot of life stress, sleep hasn't been stellar and I've traveled a lot of the past couple months. I think the last thing my body needed was structured movement so it makes sense my desire to do so dwindled. I have recently starting craving yoga, so when I have time (like once or twice a month, but I'll take it!) doing that is helpful for my mind and body. This is just me external processing what I've been observing in myself over the past few months and hoping maybe it resonates with one of you reading. Priorities shift and change I'm learning.
Soup on soup on soup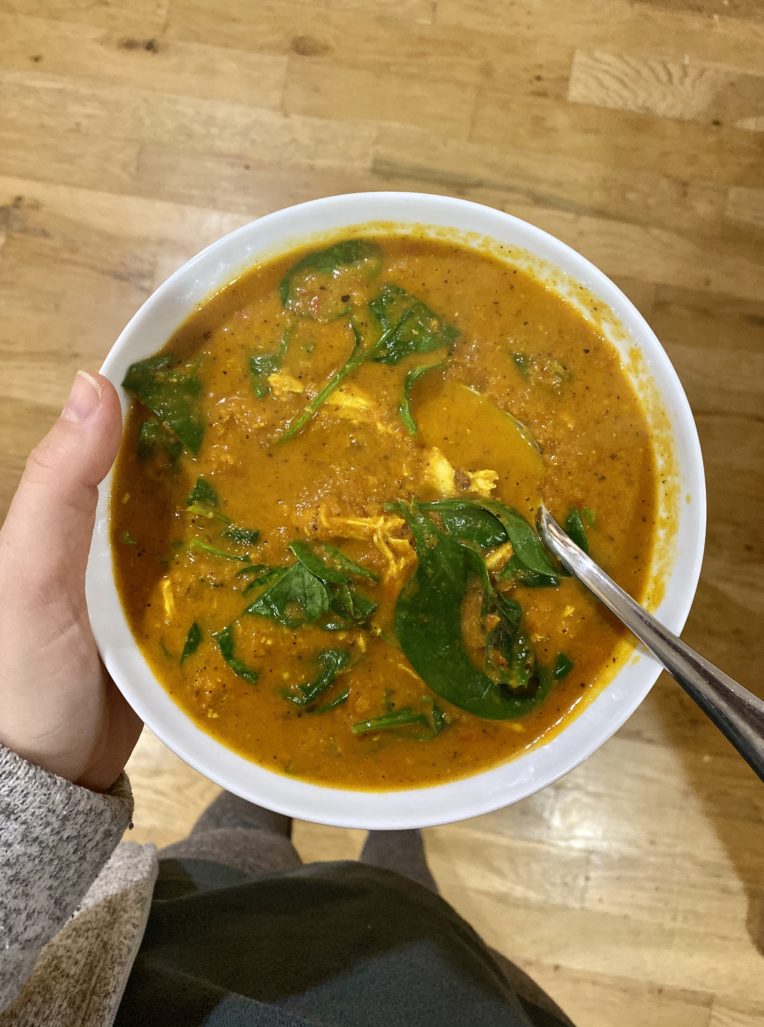 We got to VA and it was COLD. Like, colder than Boston. It warmed up for a bit, but it's back in the 20s in the morning. I love winter. It's my favorite season for many reasons, one of them being comforting food. I don't like preparing lunch or cooking lunch so if I can just make a big batch of soup at once and eat it all week that's good. So that's what we have been doing. Eating soup. Last week I made chili (which isn't soup but you get it..) and this week I made this chicken tikka masala soup that was very easy and added rice to the bowl because we need carbs over here. Later this week I've got plans for this red lentil soup that looks like comfort in a bowl. Share with me your favorite soup recipes in the comments so I can build up my stash.
Our smoothest move yet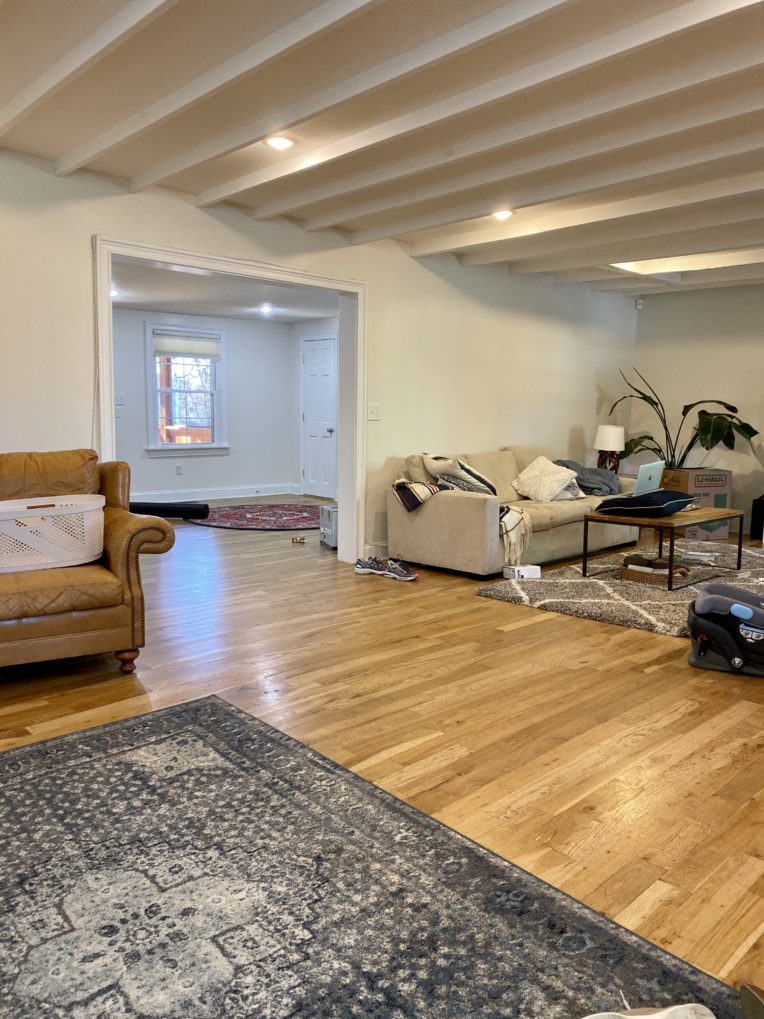 The move from Boston to Charlottesville last week went overall, very smooth. BLESS. Our move from New York to Boston didn't go horribly, but there were a lot more logistical pieces and hiccups. This move though, other than a flat tire on the drive down, went off pretty much without a hitch. Moving is expensive, so when Hire a Helper emailed me right after I wrote this post and wanted to collaborate I was like, "um, yes please." Think of them like the Hotwire for movers – you use their search engine to find the best deal in your area. It was a seamless, quick process to get a quote and find movers. They showed up ON TIME to our apartment in Boston, which I feel like never happens, and had everything moved out and packed up within a few hours. Nick drove the truck down and his dad drove our CR-V (which got the flat tire) behind him. Once they got to Charlottesville, the movers on this end had the whole truck unpacked in under an hour, but since they were hired for longer, they helped put together furniture. So helpful and so seamless. I'd use them again with my own pennies.
Baby sleep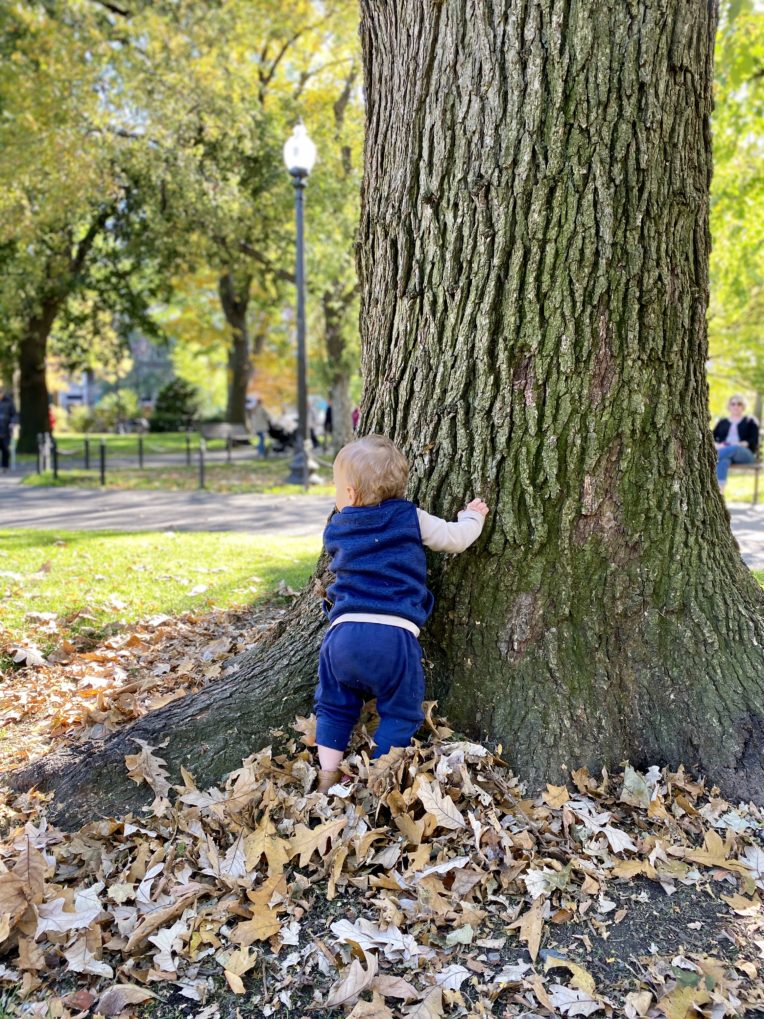 Thank you everyone for all your 1) baby sleep empathy 2) baby sleep encouragement and 3) baby sleep tips when I posted an SOS on IG stories last week. Hearing "you're not alone" and "this happened too when we moved" made me feel like… ok, nothing crazy is happening. We took Taking Cara Babies newborn class and loved it and also bought her 3-4 month workbook, but I haven't moved on to her 5-24 month class because of the price and I'm scared of the crying part lol. But many of you had great reviews so I'm keeping it on my radar! Also, many of you recommended Little Z sleep (a much more affordable option, hallelujah) and she has a podcast I've started listening to. Then there were several book recommendations, including the No Cry Sleep Solution. I liked that title (although it seems like an oxymoron) so right now, we are starting with that and making adjustments to our current situation and praying to the good lord bub's sleep improves. It will be slow moving with this "plan" but I'm hopeful. And hopeful is good! I'll report back.
Facebook Marketplace is Gold
The house we just moved into isn't our forever home. And coming from 700 sq feet and into 1900 sq feet we have a lot of space to furnish. So we've been scouring FB market place and you guys, this place is gold if you take the time to really search. Highly recommend if you're looking to furnish a room and the majority of your home without spending your whole savings or going bananas with a credit card.
Ok, those are my thoughts right now. I'd love to hear yours in the comments!