I have always been that person who wants to devour books. You know those people who curl up with a good book for hours and they enjoy it? That was wannabe me. For years and years I always thought I didn't have as much time to read as I hoped. I read a book every couple months, but I wanted to read more. Well, enter quarantine life that coincided with a month long digital detox of sorts that I recently emerged from (and am still sorting out where to go from here after learning a lot) and I have come to find out I actually have way more time to read than I though. I just have to prioritize it. EARTH SHATTERING, I KNOW.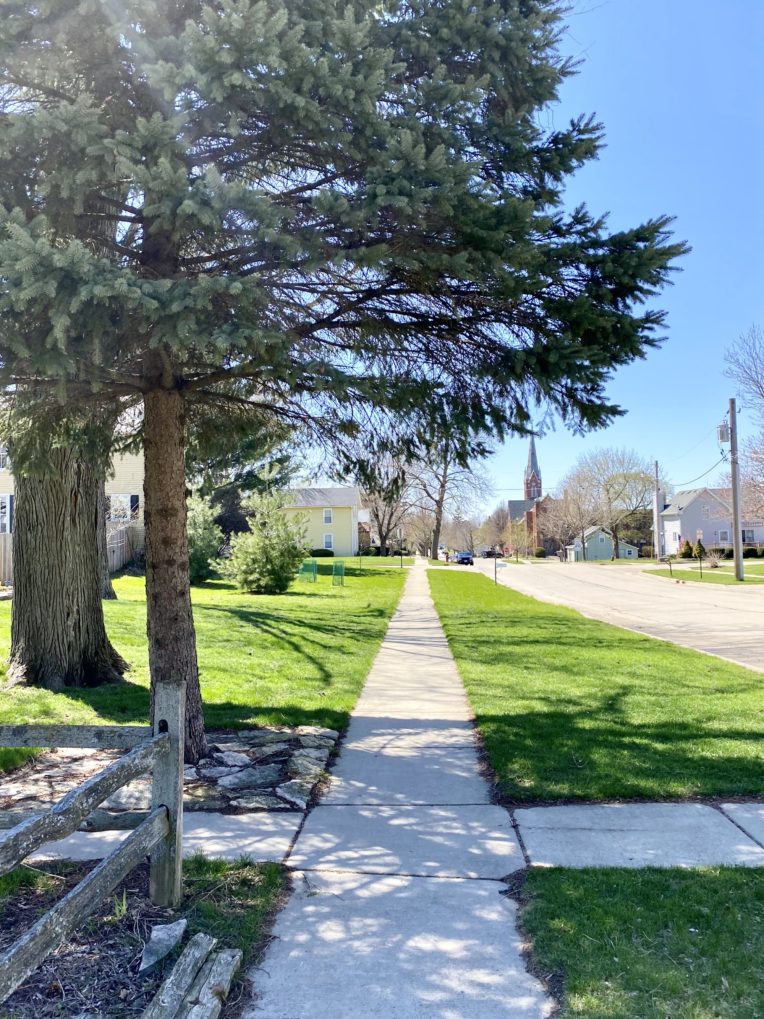 Things that get in the way of reading for me:
non urgent life tasks in the evening vs down time
instagram ….because my brain would rather default to the constant noise of a screen
a continual productivity mindset where I choose to check off a box instead of take 20-30 minutes of down time during Cal's afternoon nap (I am laughing as I type this because this "time" won't exist come July)
blog reading – I have a few life giving blogs I like to read, which is good, but they do take time away from book reading
I read the book, Digital Minimalism, in a couple days at the beginning of March. The author suggests that you come up with hobbies to fill your down time when you would usually be using technology because if you don't, the pull to bop back on social media or get online or whatever you do digitally is that much stronger. So, some things I wanted to do more of in my "down time"
cook (like in a relaxing way, not a rushed, chaotic, toddler-so-adorably-helping-but-also-making-a-massive-mess kind of way)
learn to use yeast – cinnamon rolls, bread, pizza dough….all the things I feel intimidated by but are so dang tasty
write letters to friends, you know like actual letters sent to a mailbox
journal – my last entry was like 4 months ago and before that another 4 months ago
READ
Want to know how many of the above things I've done more of? ONE. Read. But I'm calling that a win.
Nick gave me a Kindle for my birthday and it has been the best gift. There is something irreplaceable about turning the pages of a physical book. But also a Kindle, it's wildly convenient for reading on the go. I'm a fan. Most of what I'm reading lately is on Kindle. I also love getting books from the library (hi, free and the library vibes are too good) when the world isn't shut down. And some I buy to keep that I think I'll be referring back to often.
Books I've recently read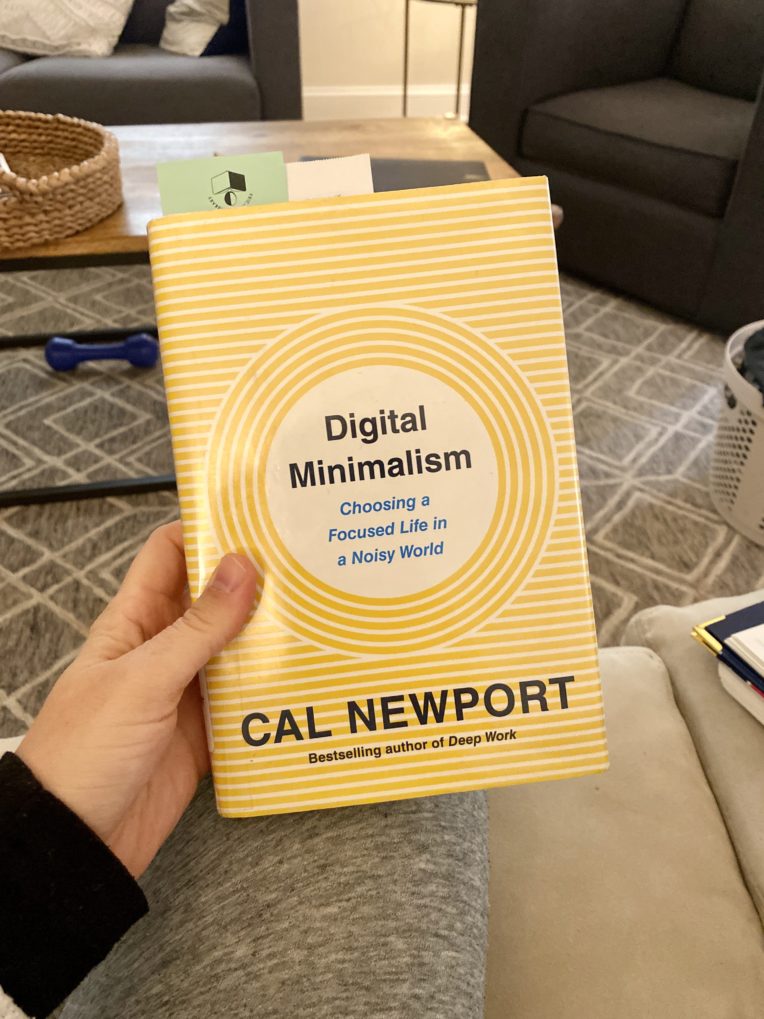 Digital Minimalism by Cal Newport
I checked this out from our library. Read it in a couple of days and it sobered me up in the best way. But it's a book that's easy to read and then forget about and not be changed by. I was SO HYPED UP about the concepts right after finishing it, but have found myself having to be pretty intentional about keeping all the info in mind and actually changing habits.
The Call of the Wild + Free by Ainsley Arment
Nick thought I went off the motherhood deep end when I was going on and on to him about what I was learning in this book. I do hang out on the weird fringes sometimes lol. Regardless of how we decide to school our kiddos, this book just made me so excited about raising humans to be curious, lifelong learners who never lose their wonder. I'm into that. It's $20 for the hardcover, but I bought it on Kindle for only $2.99!
Your Mom Walk with God by Sally Clarkson
This book was free with my free trial of Kindle Unlimited. I would like to be Sally's mentee in real life. I love her. She speaks/teaches/mentors from a Christian perspective and has been such a breath of fresh air to me as I navigate motherhood as a new mom. I've never heard of someone talk about motherhood like she does. I started with The Life Giving Home, then read The Mission of Motherhood and have so many of her books on my want to read list. Her podcast is in my ears at least a few times a week.
The Montessori Toddler by Simone Davies
I don't ascribe to any parenting philosophy, it feels better for me/us to read and learn and pull stuff from different people and sources that resonate and sound like they will be a good fit for our family. This book is super practical (vs theory) which I found really helpful and not overwhelming. I can get overwhelmed when learning about Montessori because we live in the age of Pinterest. I liked the simple, budget friendly approach to this book.
Books I'm currently reading
The Girl They Left Behind by Roxanne Veletzos
I want to read more fiction. I mostly read books that provide new knowledge/learning but I think there is so much value in a good novel. Help me out with some of your favorites in the comments! This book was also free with my trial of Kindle Unlimited and I am loving it so far. It's about a Jewish girl during World War II. If I'm going to read a novel, I like stuff like this. I've also heard great things about Lilac Girls and want to read that.
Ina May's Guide to Childbirth by Ina May Gaskin
I'm re-reading this one after finding it really helpful leading up to Cal's birth. This book & The Birth Hour podcast are what I found most helpful in preparing for the wild ride of labor & birth.
Book on my list to read
The Ministry of Motherhood by Sally Clarkson
I ordered a used copy from Amazon a few weeks ago, but then got my Kindle so haven't started this one yet.
The Tech Wise Family by Andy Crouch
I've heard this one is pretty good and very practical. And a quick read. I'll report back.
Unorthodox by Deborah Feldman
We started watching this series on Netflix that is based on the book. I am so excited to dig into this once our library opens back up and I can borrow it.
How to Talk So Kids Will Listen & Listen So Kids Will Talk by Adele Faber and Elaine Mazlish
I've heard many people, including Cal's pediatrician, recommend this so it's on my list.
Share your favorites (especially novels good for bedtime!) in the comments. And hang in there with this quarantine life, I'm hopeful we will see a positive shift over the next couple months. In the meantime, know I'm right there with you stumbling through these uncertain times.