Woah baby.
Yesterday I stood at the start line of the Richmond marathon not sure if I would run 1 mile, 6 miles, 16 miles, or 26.2 miles.
Yesterday I finished the most physically and mentally grueling 26.2 miles of my life.
Yesterday I finished the 4th and slowest 26.2 miles of my life.
But, yesterday I finished the proudest 26.2 miles of my life.
picture stolen from Anne, congrats girl!
I woke up, did my regular pre-race routine of coffee, bathroom, oatmeal, foam roll and was on the road to Richmond by 6am. I talked to my oldest brother on the way there and he calmed my nerves, reassured me and believed in me. Billy's first and only marathon was in 2005 where he was the 6th American to finish the Las Vegas marathon in 2:37. He's fast, but more importantly he's raced through A LOT of pain. Plus he does postural correction therapy and massage therapy and I knew he'd knock some sense into me about when to keep running and when to call it quits. He calmed my nerves and I made it to the start line, found my friend Jess, and the gun went off 8 minutes later.
I began running and thought, "oh my gosh, my hip doesn't hurt…this marathon is happening today."
My marathon race plan was to start the first 3 miles at 9:00, 8:40, 8:20 and then settle into an 8:10 pace for miles 4-16 before picking it up to 7:50-7:55 the final 10 miles.
All started out perfect. Mile 1 was 8:49, mile 2 was 8:34 and mile 3 was 8:26. I was feeling good and went down a hill at mile 5 where I was trying to compensate for my right hip by putting more weight on my left leg. Bad decision. It was too much and I felt my left quad start to tighten. I did some butt kicks to stretch it out over the next couple miles and kept on going. I was pacing great- on a couple downhill miles I was running 7:44 and 7:54 miles and at that point thought, "I'm BQing", this is happening. I knew if I made it to mile 16 my friend Sarah was meeting me there and she would carry me through the final 10.
Around mile 11 my left quad was getting tighter, but I mentally pushed away the pain. I was focused on getting to mile 13 where Clare and Kelli would be. At mile 12, I was averaging 8:16/mile and still feeling pretty good but I felt my right quad tightening. It also was very, very difficult to take the Vega gels- I was nauseous and choking them down. Any sips of water had me gagging and at one point I was dry heaving and trying to hold down anything I had put in my body.
Then at mile 14 things went really, really downhill. My quads kept tightening and at mile 14 they locked. I could not bend my legs and it felt like I was running with metal rods. I was cramping BAD and wondered if my body would physically be able to continue. But I knew Sarah would be at mile 16 and I just had to get there. The 3:45 pace group was starting to pass me so I focused on keeping them within sight. I got to mile 16 and Sarah was there…seriously SHE was the reason I finished this marathon yesterday. The girl is amazing. She asked me how I was and I think, "I feel like sh**" came out of my mouth. I told her I knew a BQ wasn't happening but I wanted to PR.
She was so encouraging. I've trained with Sarah for the past 5 months. She was trying to BQ at the Baltimore marathon a few weeks ago and ended up experiencing severe cramping too, but still finished in a stellar 3:45. She knew exactly how I was feeling, but she also knew my body could finish. She got me water at the water stops, carried my ipod when the armband started rubbing my arm raw, gave me Gus and water when I needed it and pulled me along for the final 10 miles. She got me to the finish line.
From miles 16-26 my pace slowed significantly and it was all I could do to hold a 9:40-9:50 pace. I was focusing on sub 10 minute miles because if I could hold that, I would finish under 4 hours. I stopped once at mile 18 to see if stretching would help the cramping. Bad decision number two. It hurt so bad to start running again. That was my first and last stop of the marathon- stopping hurt worse than running so I kept running. I shortened and quickened my stride since it was less painful. We got to mile 16 where I saw Clare and Kelli and mile 19 where I saw Andrea and that helped A LOT. Some other track club runners passed me and seeing them and hearing their support helped a ton too!
Miles 20 through 26 were terrible. But the whole marathon I never, ever thought about how many miles I still had to run. I was focused on the mile I was in. At mile 17 all I thought about was getting to 18. At mile 21 I thought about getting to 22. The final 4 miles I broke it down into 2 minute intervals…"just two more minutes." Every slight uphill grade was excruciating. We got to mile 25.5 and it was all downhill, like really downhill. We started flying towards the finish and I knew we would barely make it under 4 hours.
At this point, I couldn't even feel my legs. Sarah was leading the way and I was looking straight at her hoping I wouldn't fall. I was in a daze and while I thought I was looking at the crowd, I wasn't looking anywhere except straight forward. I crossed the finish and knew I had gone under 4 hours..3:59:10!. My legs couldn't stop in time and I couldn't feel them and was so afraid I was going to face plant into the concrete that I let my body fall to the ground. From there the wonderful volunteers scooped me up and brought me to the medical tent.
My legs couldn't hold my body weight. I couldn't feel them. But I didn't care. Sarah was there with me and I just kept telling her I couldn't believe I finished.
I still can't. A mere 48 hours prior I was in tears because I thought I wouldn't race. Five months of training and I thought I wouldn't even toe the starting line. But I did.
You learn a lot during 26.2 miles. The body is pretty resilient. And the mental warfare that goes on is exhausting. I've never experienced a marathon that painful, mentally challenging, and that emotional.
But that's the beauty of the marathon I think. You can train for months and months and you still don't know what will happen out on the course. I ran the DC Rock n Roll last year in 3:57 with minimal training….we ran 18 miles 6 weeks prior to the marathon….and felt amazing the whole time and only took a couple days to recover.
These past 5 months I've trained for a sub 3:35 marathon, had some awesome long runs where I felt freaking great and yesterday unfolded just like it was suppose to. The recovery from this marathon won't be quick. I couldn't drive home yesterday. Friends poured out so much love on me yesterday. Clare stayed for brunch even though she had so much studying to do so she could drive my car home. Right now, I can't really walk and any movement is painful. And I'm so, so grateful for Andy. She drove me to the start and after picked me up, got me into the shower and fed me snacks and water. You guys are the best!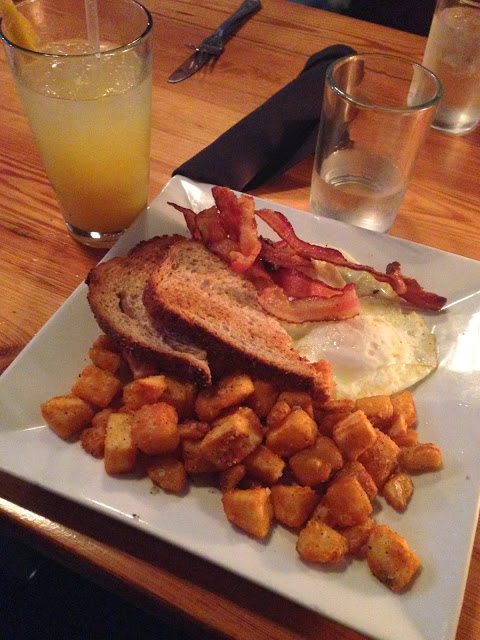 the best bacon + eggs + mimosa of my life
But hot dang, I sill can't believe I finished the marathon yesterday. Your prayers and encouragement and support were what I thought about out there. They got me through and the Lord's mercy and strength carried me to the finish line.
Am I upset about not getting the BQ? Absolutely not!
Logically, I shouldn't have even been on the starting line. Lots of people thought I was crazy to attempt and were justifiably so, concerned I would hurt myself more.
I'm ecstatic I finished and better yet, under 4 hours! And my friend Jess who battled cancer last year crushed it with a 35 minute PR, finishing in 3:45!
The BQ will come when it's suppose to. Sarah and I already have plans to go after it together at the DC Rock n Roll marathon in March. I'm filled with eagerness and excitement just thinking about it.
But for now, I'll be resting A LOT. Foam rolling, getting a massage and nursing this body back to walking normal and functioning. I put it through a lot and I've never been more proud to be in this skin. I plan on taking a running and cardio hiatus, doing lots of yoga, and then in 4-6 weeks, if my body has recovered well, plan on training for the Rock n Roll in DC on March 16th.
What a race, ya'll. I can't articulate how grateful I am for each of you and your unwavering support! I just love you guys to pieces.
And for Boston, I'm still after you.