There is a lot of reasons weight gain occurs.
Weight loss and weight maintenance can be a tricky thing, but I think it's becomes tricky because we've made it so complicated.
And it's easy to see why…there's loads of nutrition information out there and there's some really true, informative information, but there's also some very misleading information.
I imagine [although I don't know for sure!] that back before the diet industry took over the world [exaggerating, but you know what I mean] people were far less focused on adhering to a strict calorie count, eating a certain number of macros everyday, burning such-and-such calories exercising, eating carbs at this time and eliminating grains and on and on and on. And there was also a completely different ideal when it came to body shape and size.
Now it seems the smaller you are the better no matter how frail you appear. As a society, we seem to cling to an objective measure of our worth. It's a slippery slope with diet and exercise and before you know it, your "allowed" calories for the day become less and less, exercise requirements become more and more, and your "ideal" weight gets lower and lower.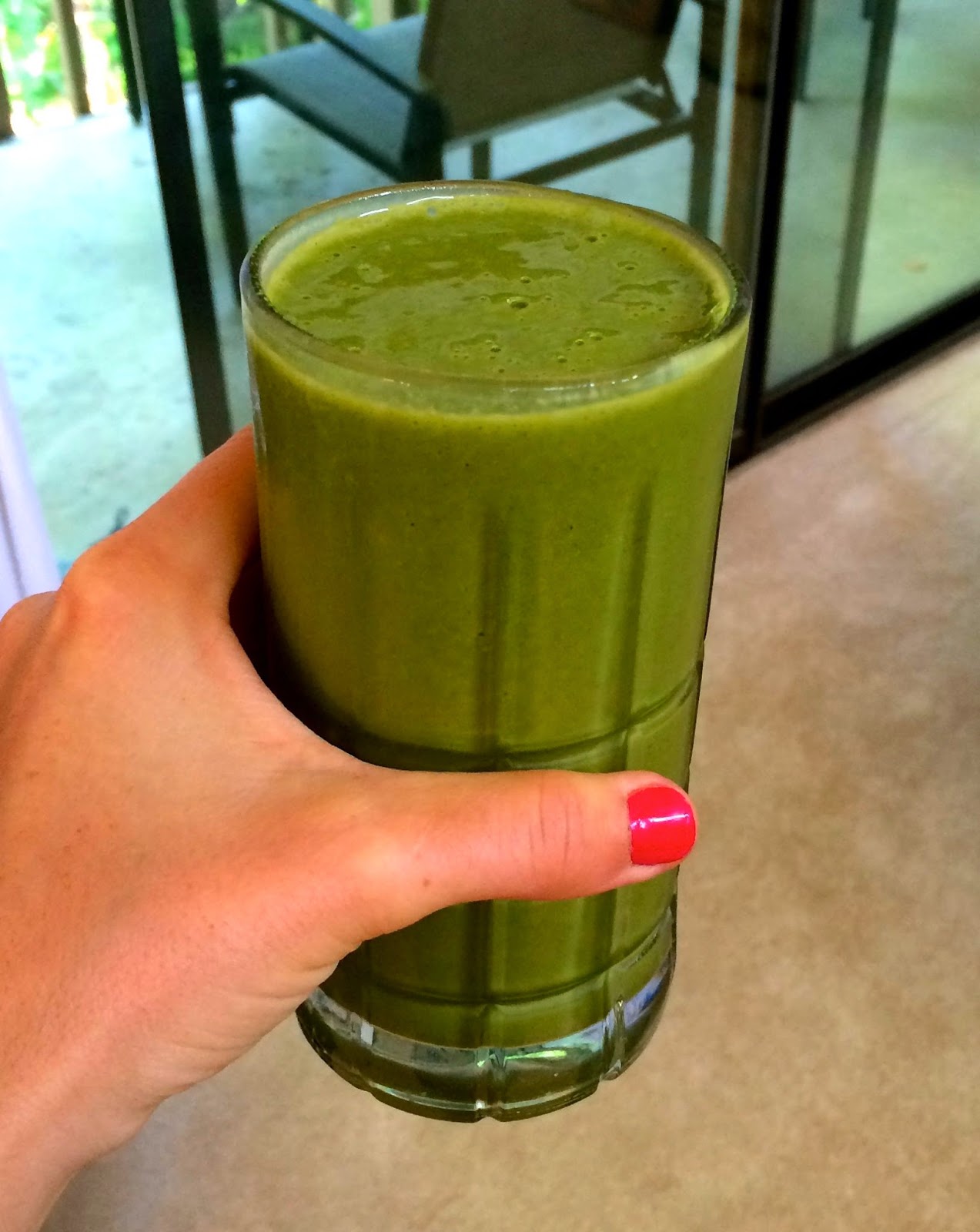 breakfast // green smoothie made with 1/2 scoop vega one, 1 cup almond milk, 1/2 frozen banana, 1 T ground flax, swiss chard and ice 
banana oatmeal in an almost empty Nutzo jar topped with strawberries and bananas
[1/3 cup oats, 1/2 T chia seeds, 1/2 cup almond milk + 1/2 cup water, cinnamon and vanilla cooked on the stovetop and then topped with 1/2 banana, strawberries and I'd say there was ~ 2 T nut butter in this jar, totally delicious!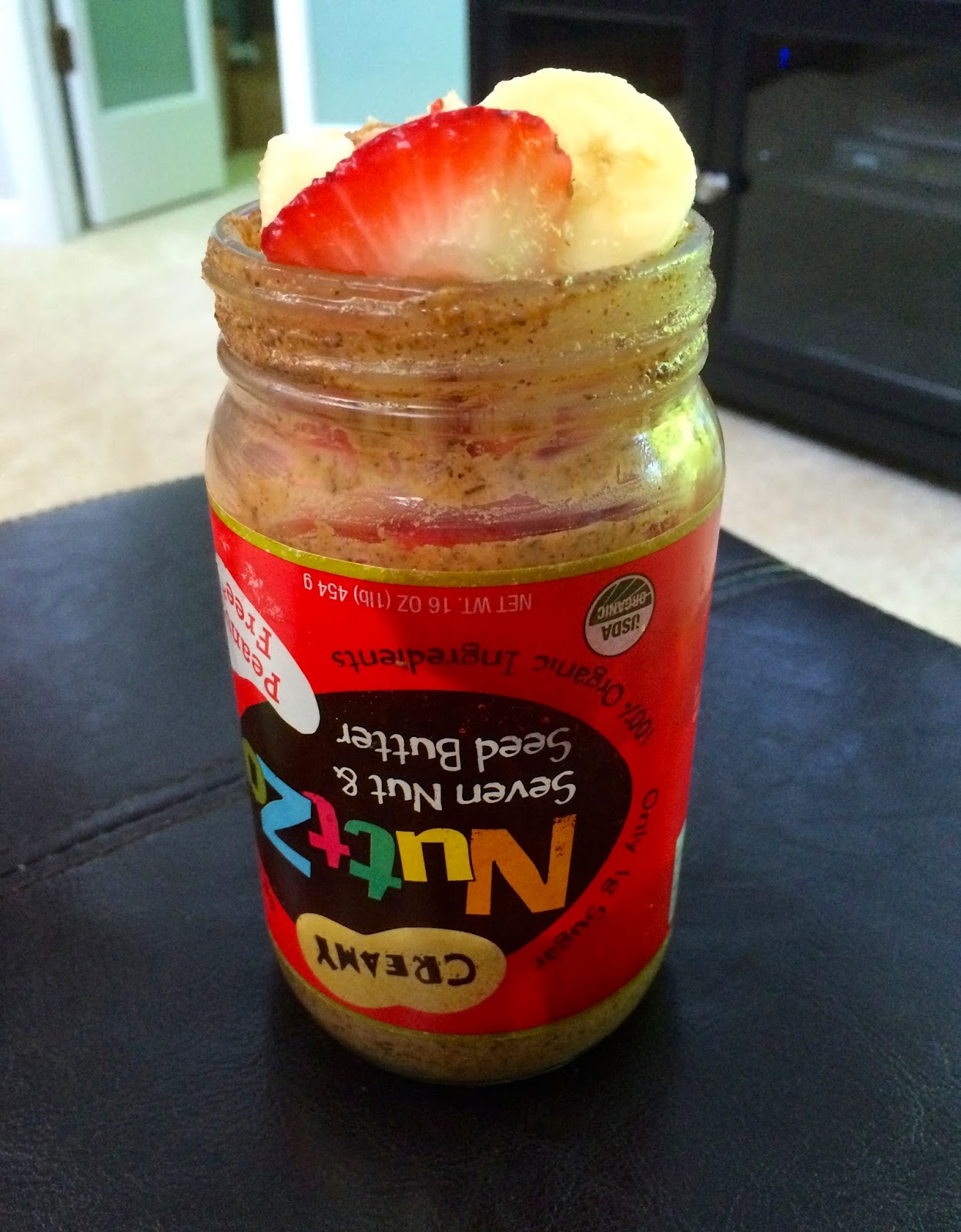 And what you often end up with is a body that's exhausted, a mind that's brainwashed, and a heart and soul that's had the life and joy sucked out of it.
And that doesn't not lead to happiness or food freedom.
Weight loss shouldn't be all consuming and weight maintenance can be rather effortless. It comes down to a balance of adequate nutrition, sensible and efficient exercise, sleep, and stress management.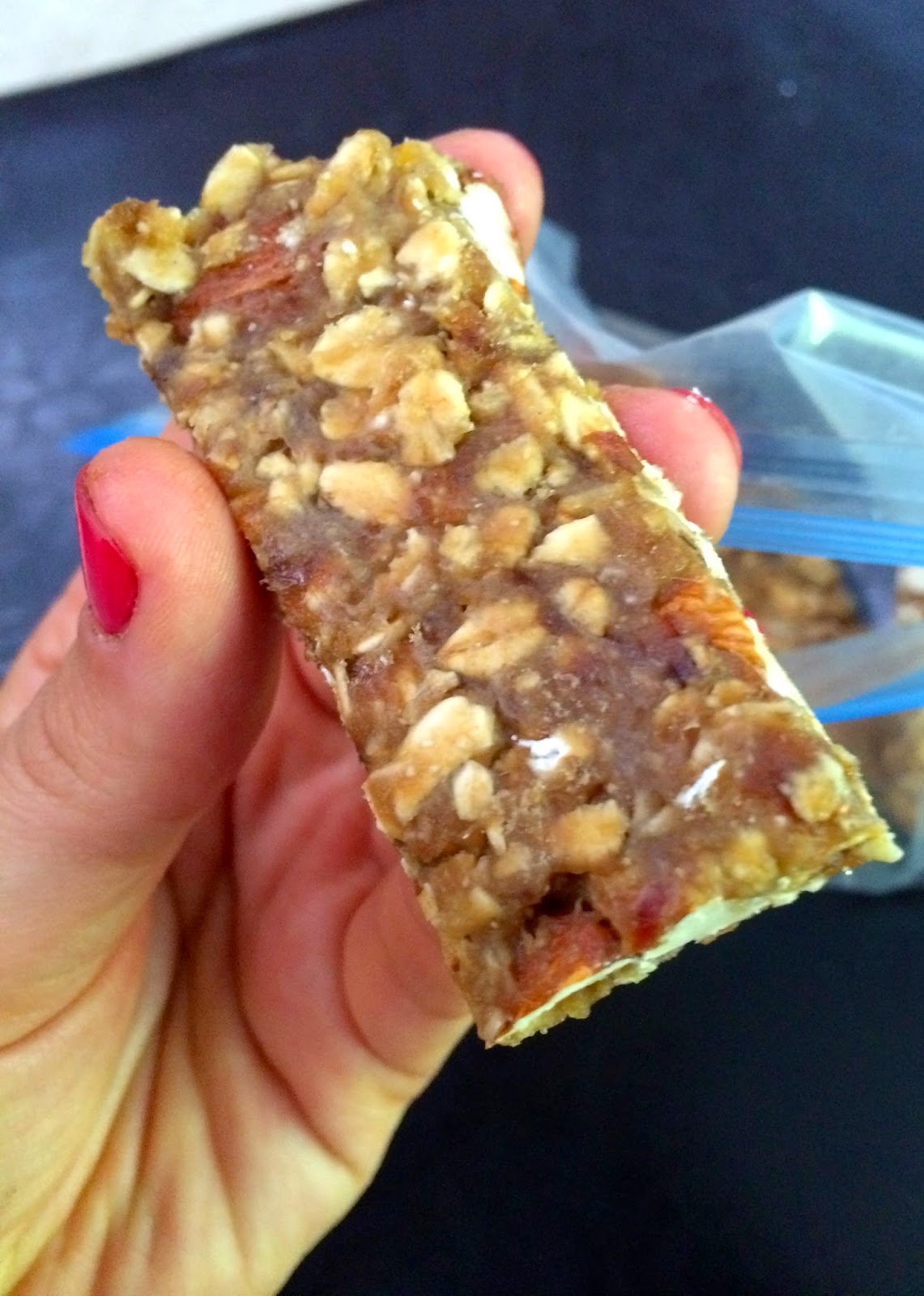 snack // these granola bars that I made mini-versions of by cutting the bars in half- perfect pre-workout snacks!
It's not necessarily a simple equation. Calories in minus calories out does not always equal weight maintenance. So if you're diligently watching what you're eating, exercising regularly and not seeing the scale budge, or rather seeing it go UP or your pants are getting tighter, then something is up and on this WIAW, let's get to the bottom of it.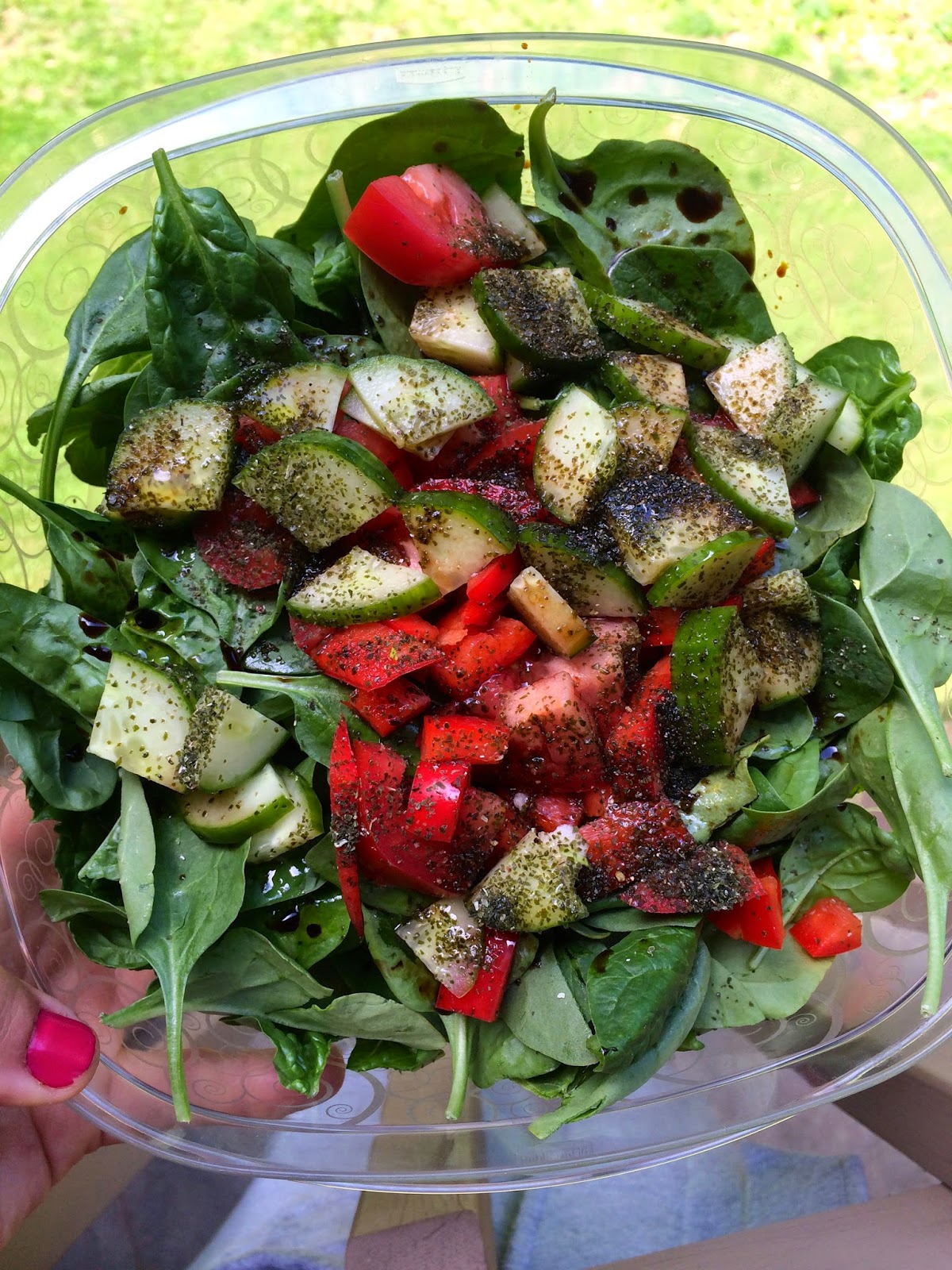 post 5 mile run/walk lunch // big salad with spinach, cucumber, tomato and bell pepper topped with kelp sprinkles and 1/2 T EVOO + 1 T balsamic vinegar
white bean hummus with pretzels, more strawbs and a chocolate banana muffin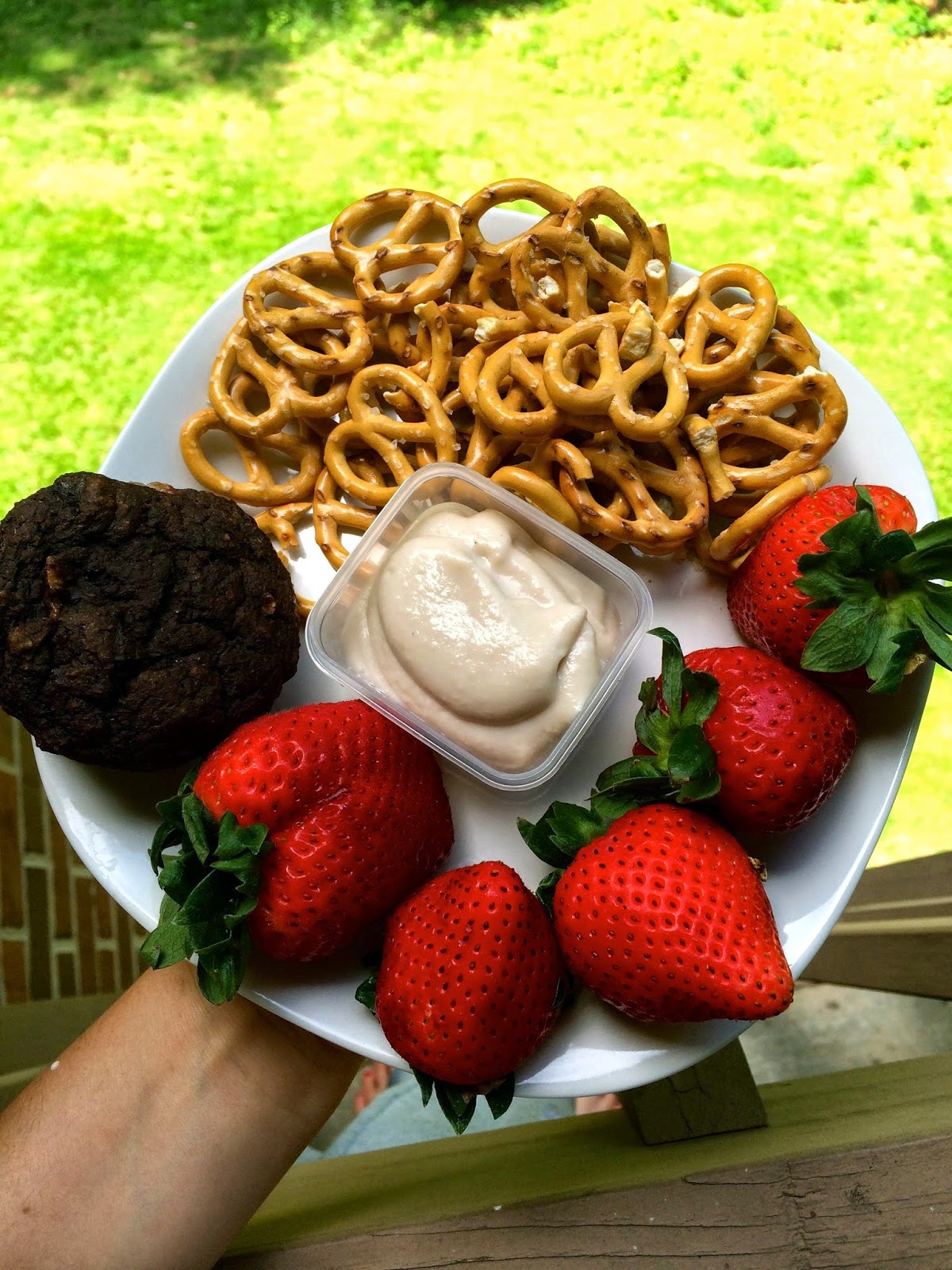 Exercise
There are two types of stress- productive stress and unproductive stress. Exercise is suppose to be productive stress, but it can quickly become unproductive and cause more harm than good. As an endurance runner and marathon lover myself, I'm a cardio junkie. But too much exercise puts a lot of stress on the body and without proper nutrition + adequate sleep for recovery, exercise can cause cortisol levels to rise and rise and our adrenals to eventually become fatigued. Both cortisol and adrenal function play a pivotal role in metabolism. So really, your exercise regime could be training your body to store fat instead of burning it.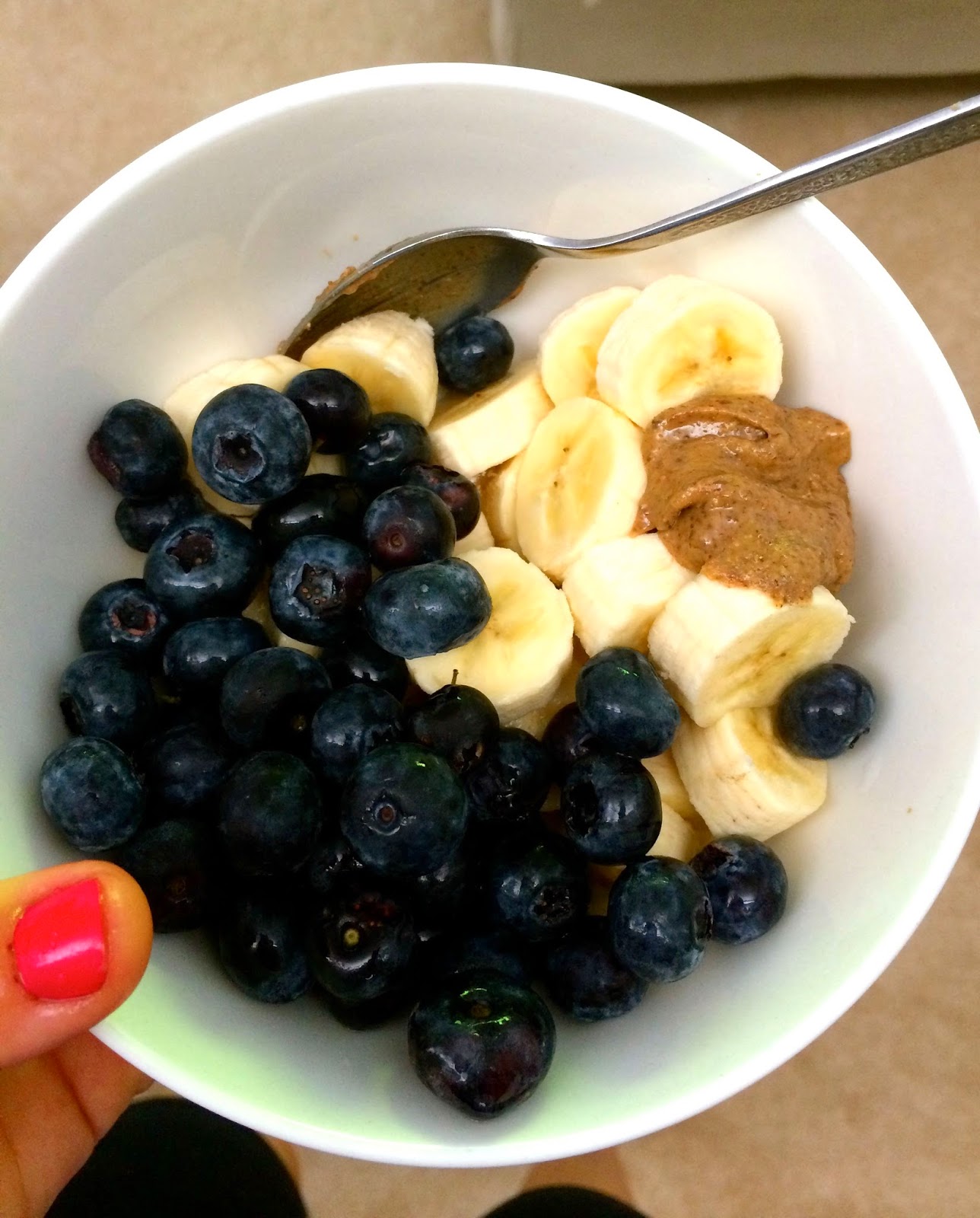 snacks // blueberries + banana with AB
sugar snap peas + carrots + cucumbers 
chocolate chia pudding with strawberries before Girls on the Run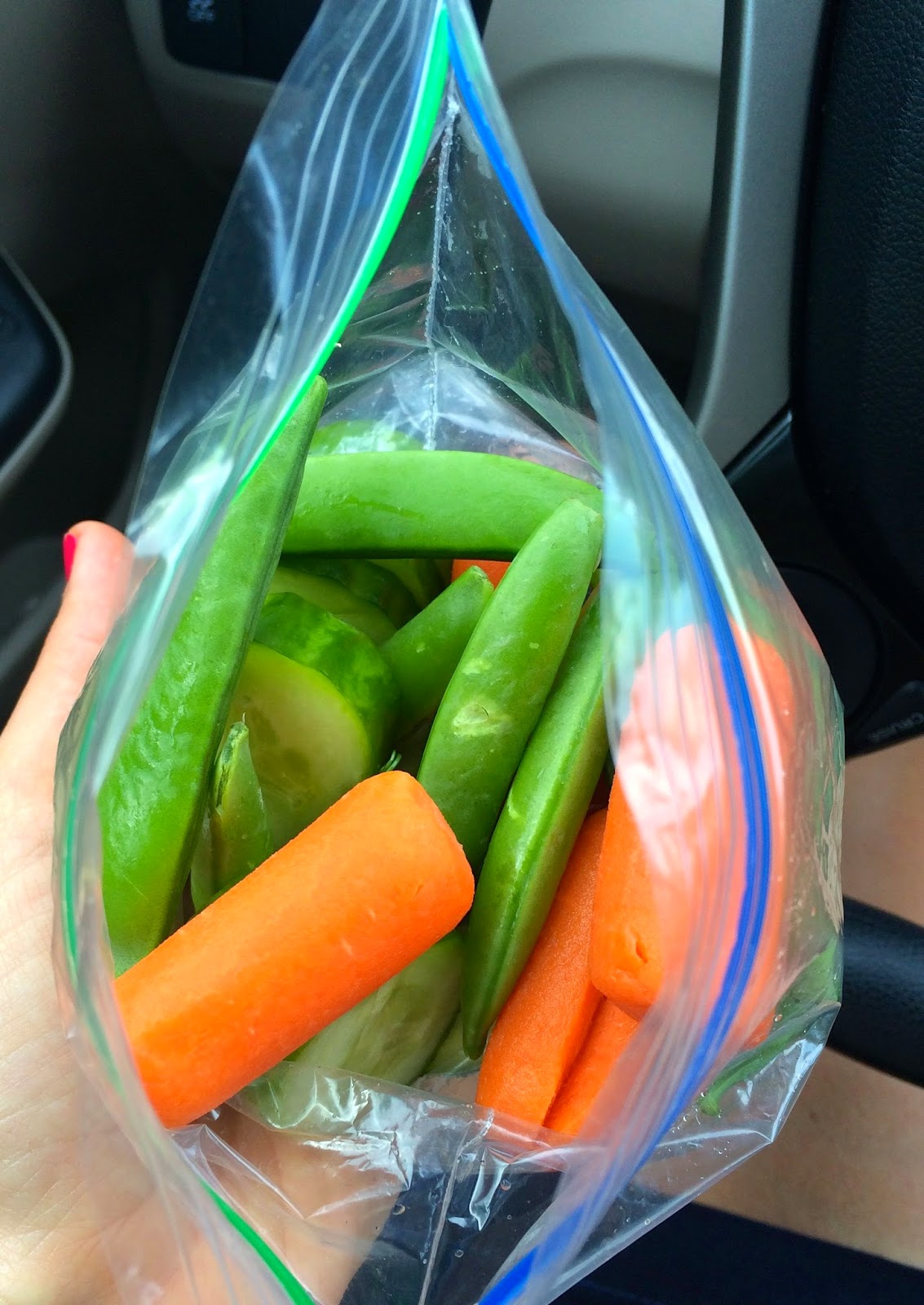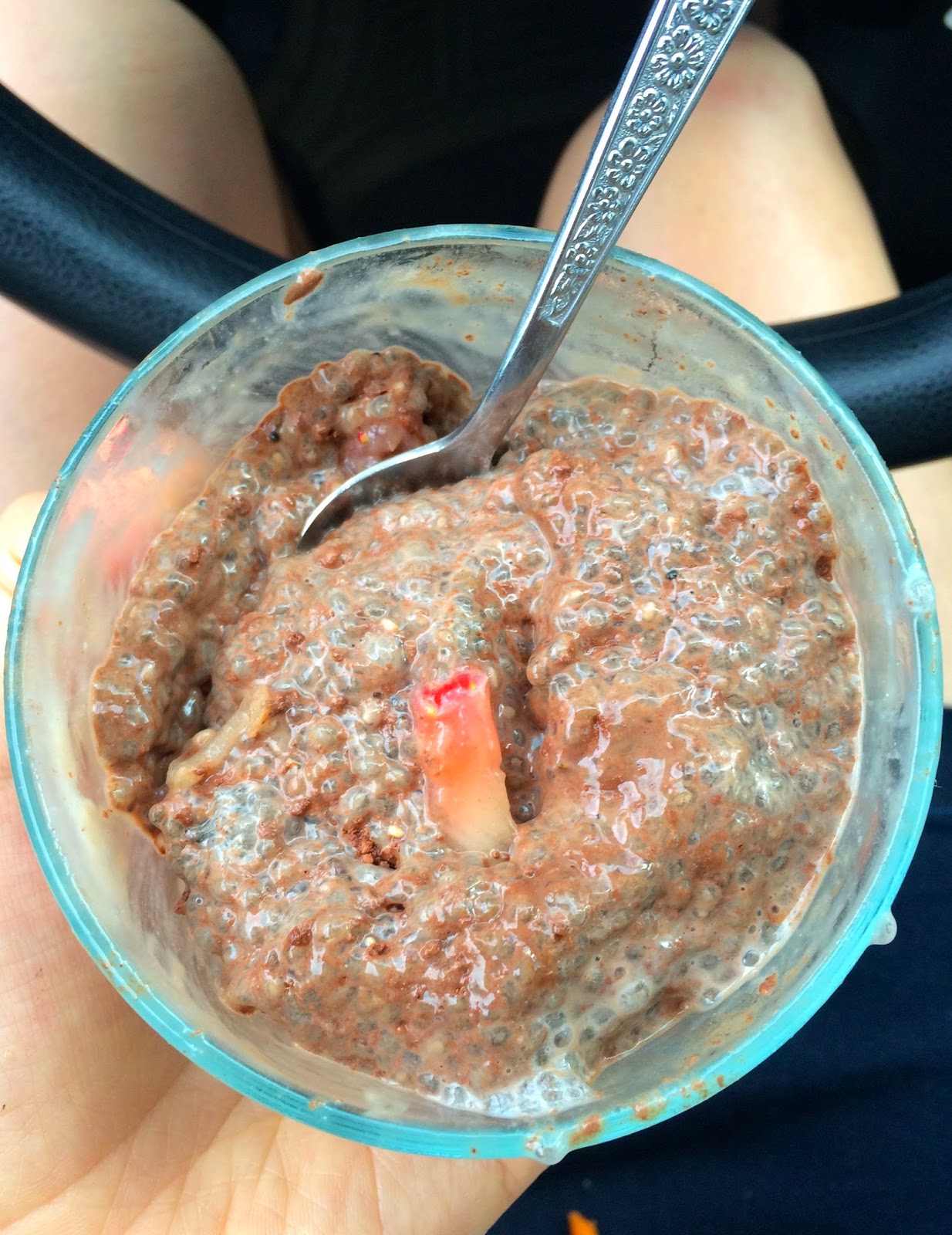 Sleep
Ohhhh sleep, it's seems so simple and easy to get enough sleep, but I know for me at least it's really difficult to make sure I'm getting enough. There was a period where I was not getting enough and trust me, it totally took a toll on my health. Sleep is absolutely essential to hormonal balance. Not getting enough sleep again, causes cortisol levels to rise and the adrenals to be overstimulated- both of which put the body in a fat storing state. Lack of sleep also causes our appetite hormones, ghrelin and leptin, to go crazy. Ghrelin, which tells us we're hungry, actually increases and leptin, which tells us we're full, becomes suppressed. Also, when we're tired we are tend to crave foods that are higher in sugar and refined carbs since the body is looking for quick energy. So sacrificing sleep for your early morning workout could be doing more damage than good.
Nutrition
I cannot stress enough the importance of eating enough when it comes to maintaining a healthy weight and maintaining a healthy menstrual cycle. Our bodies need adequate nourishment and if we're feeding our bodies right, they become very efficient at burning through everything we are eating. Chronic calorie restriction leads to slow metabolism and puts the body in fat storing mode rather than fat burning mode. So if you're eating 1200, 1400, 1600 calories a day, exercising religiously and not losing weight or seeing the scale go up, you've got some hormonal chaos going on. Our bodies are really smart and over time the body will adjust to a low calorie intake by slowing metabolism and burning energy less efficiently. This is the number one frustration I see with Nutshell clients. Less is not more, 1200 calories is so wrong, and we must be eating enough.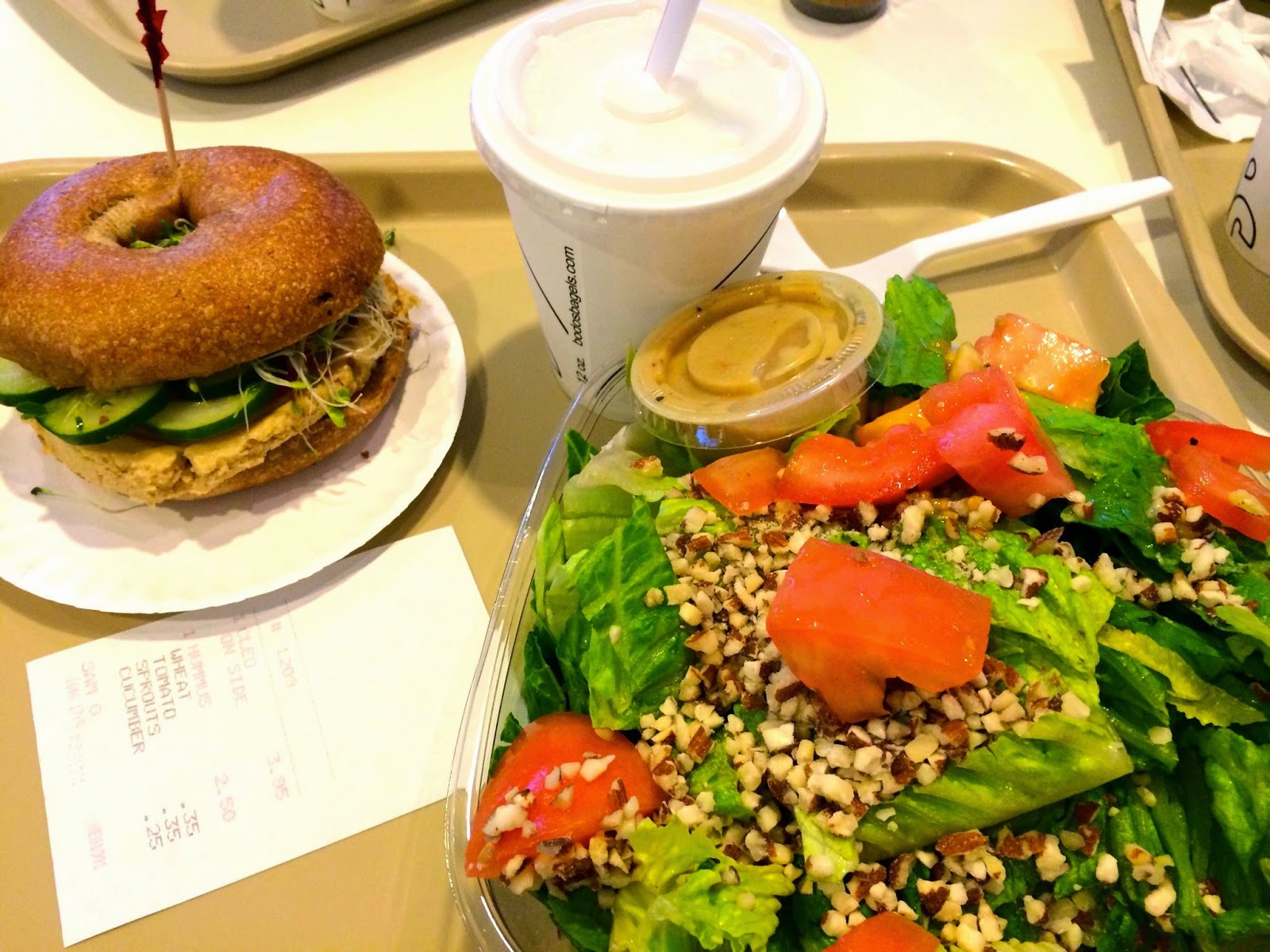 dinner at Bodo's // whole wheat bagel with hummus, cucumber, tomato and sprouts + the cleo salad which has almond, tomatoes and a honey dijon dressing- I got sick of the salad so didn't finish it, but the bagel was amazing as always. 
Stress
We live in a stress driven society. High stress levels have become the total norm. We can become stressed from so many different aspects of our lives. Financial stress, emotional stress, work stress, relationship stress, nutritional stress, stress from exercise, stress from lack of sleep and so much more. Stress is actually a good thing. The body's stress response is how our body survives. The brain perceives stress from the environment, and a chain reaction begins within the body eventually signaling your adrenal glands– these are small glands that sit above your kidneys and are responsible for producing cortisol, our stress hormone. When we are under stress, cortisol sends the body into a "fight or flight" response in an effort to help the body manage the stress it's under– it's how our body survives. Without this response, our body would not be able to manage stress. But the thing is, the body perceives stress caused by escaping from a burning fire the same as it perceives stress from lack of sleep or inadequate nutrition. And chronic stress, day in and day out, gets problematic. And this wreaks havoc on hormonal balance and metabolism.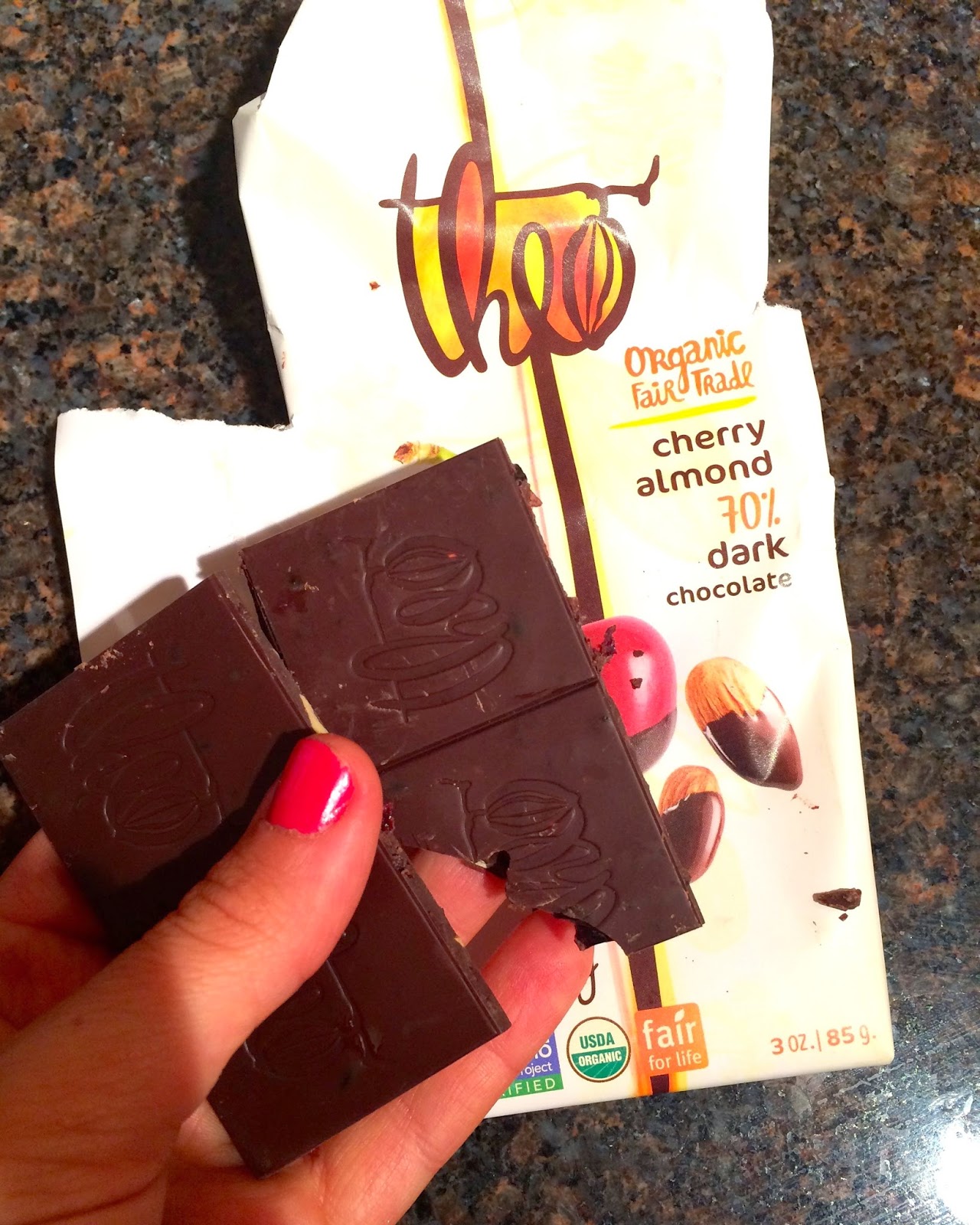 late night snacks while working on some school + nutshell things // two squares of dark chocolate + popcorn popped in coconut oil on the stovetop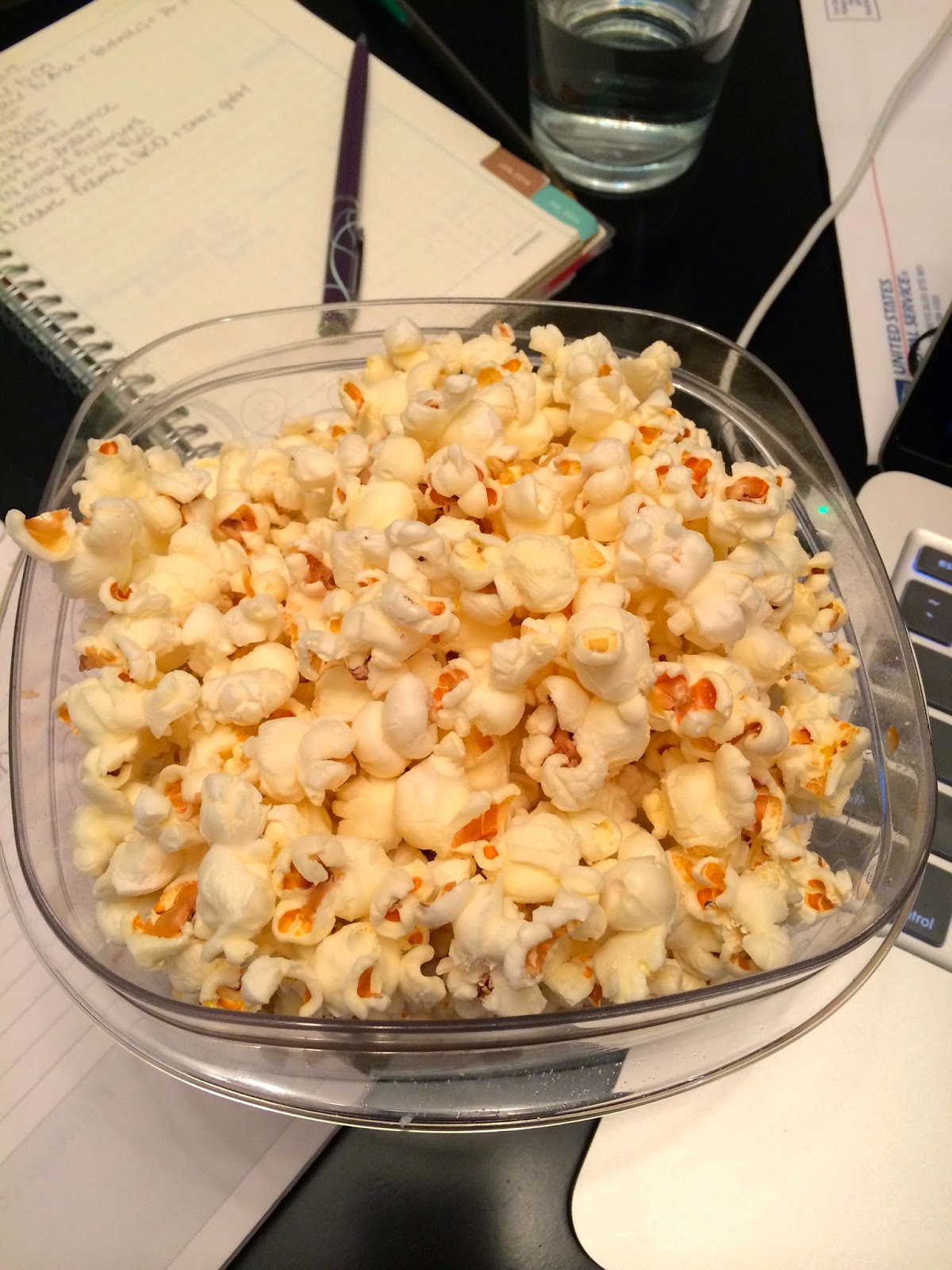 Exercise.
Nutrition.
Sleep.
Stress.
They're all so important. The beauty of this balance is that we don't have to be killing ourselves at the gym or ignoring our hunger and restricting calories to find our happy, healthy set point weight. When we rest more, eat more and shift our mindset, the body can do amazing things. So if you're gaining weight or frustrated with the scale, take a step back and look at the whole picture.
Because being exhausted and hungry only leaves us unhealthy and unhappy. And that's no way to live.