Our culture is kind of obsessed with being healthy. Actually, we are absolutely obsessed with being healthy.
Eat "clean," vegan this and gluten free that, new diets starting on Monday and detoxes are all the rage after the holiday season. Everytime I'm in the checkout line, there's a new magazine telling me how I'm going to get 6 pack abs in like 10 days…wtf?
And while it seems that we're obsessed with being healthy, I actually think we're quite unhealthy.
I like kale a lot. But I also like buttercream frosting and a good glass of Chardonnay a lot too. More than kale actually. And I think eating something that's not super-clean-gluten-free-vegan-and-raw when you feel like it is healthy.
Being 'unhealthy' is healthy.
Most of time when I post my daily eats on
WIAW
, it's from my eats on Tuesday. And Tuesdays are just a normal day. I wake up, go to class, study, probably get some movement in, have a
Nutshell
client, eat dinner, study again and go to bed. Nothing that exciting happens on Tuesdays so my eats are pretty routine. Green smoothies and veg packed lunches and all that mumbo jumbo. Like
blueberry buckwheat pancakes
with cashew butter and a green smoothie for breakfast.
But if you saw my eats on the weekend, they'd look a little different. A little less green.
Last weekend I ate nachos made with plastic-chemically cheese stuff and breadsticks on Friday night and late night french fries + pizza on Saturday and drank lots of wine. Because I'm human and anything but a 100% healthy RD. But I think that's healthy. Much healthier than stressing over not being able to eat "xyz" because it doesn't fit all your diet rules and because it's past 8pm.
Stress isn't good
and stressing over your food choices instead of just enjoying them is unhealthy. The stress is often more unhealthy than the the food itself!
I love going to happy hour and going out to bars and eating good food. Sometimes that's a kale salad or vegan sushi and sometimes that a slice of pizza or a cupcake or a Mr. Softy cone. Healthy isn't perfection, healthy is not stressing around food.
After last weekend's happenings, Monday came and all my body has wanted is a whole lotta plants, some fresh air and H2O. That doesn't mean detoxes, or restriction or eating raw for a week. That just means giving my body what it wants. Which means veg heavy packed lunches but also late night popcorn and some dark chocolate after dinner.
Lunch yesterday was a spinach salad with avocado, tomato, cucumber and tomato with balsamic + olive oil and nutritional yeast along with a hummus + veg sandwich on a TJs everything bagel thin, an apple and some dark chocolate that I always pack in my lunchbox.
I don't really get irritated that often and like to think I'm a pretty easy going person, but I'd say the one thing that can get to me is when people assume because I'm an RD, I only eating healthy green things and sip water. Heeeellllll nah. And if that was the case, I'd say RDs weren't very good examples of what healthy, balanced living was. Right?
Afternoon snacks before an evening 5 mile run included almonds + a cookie dough ball + an apple and then a banana and this amazing nut butter right before I headed out the door to run. I was hunngrrryy yesterday afternoon.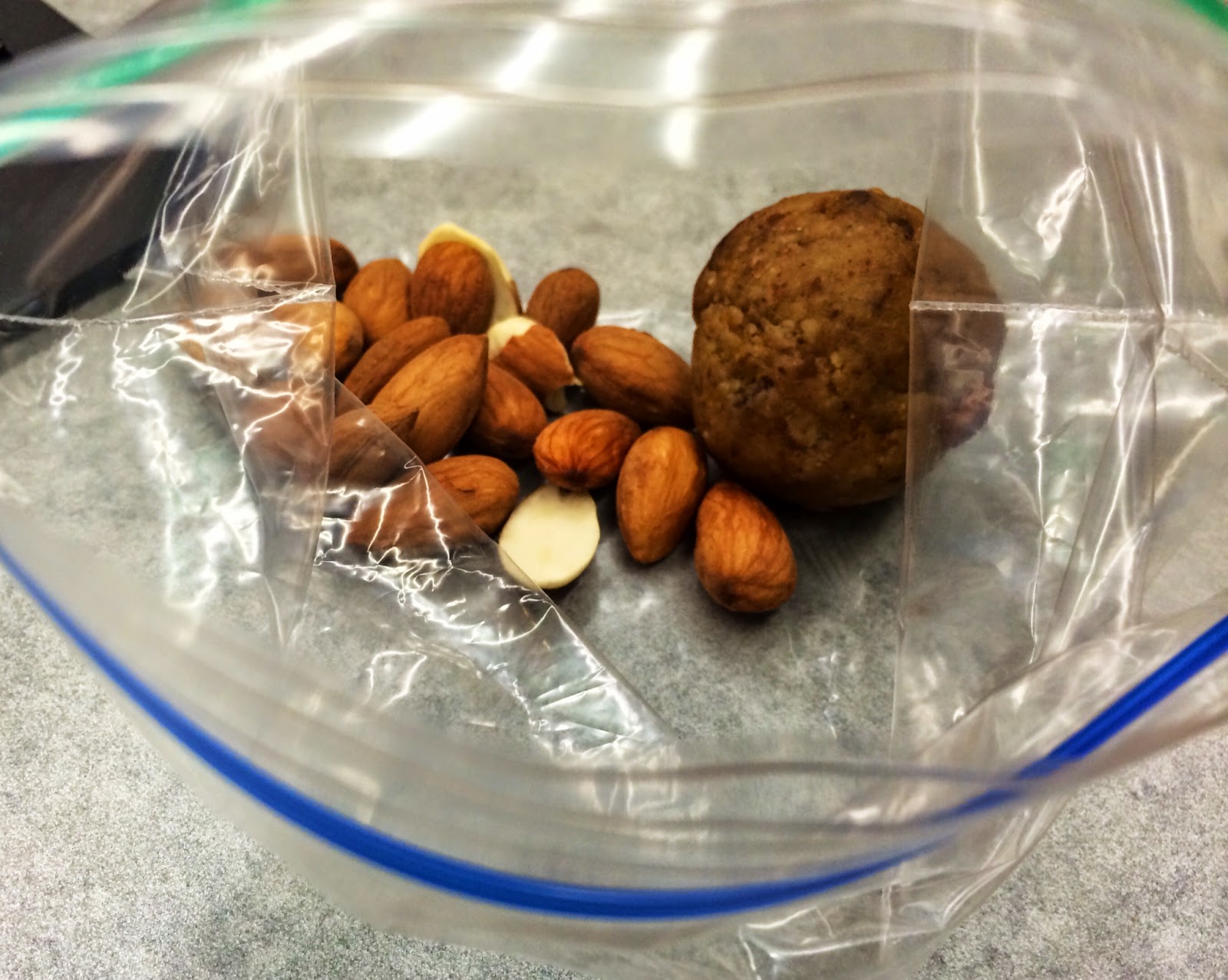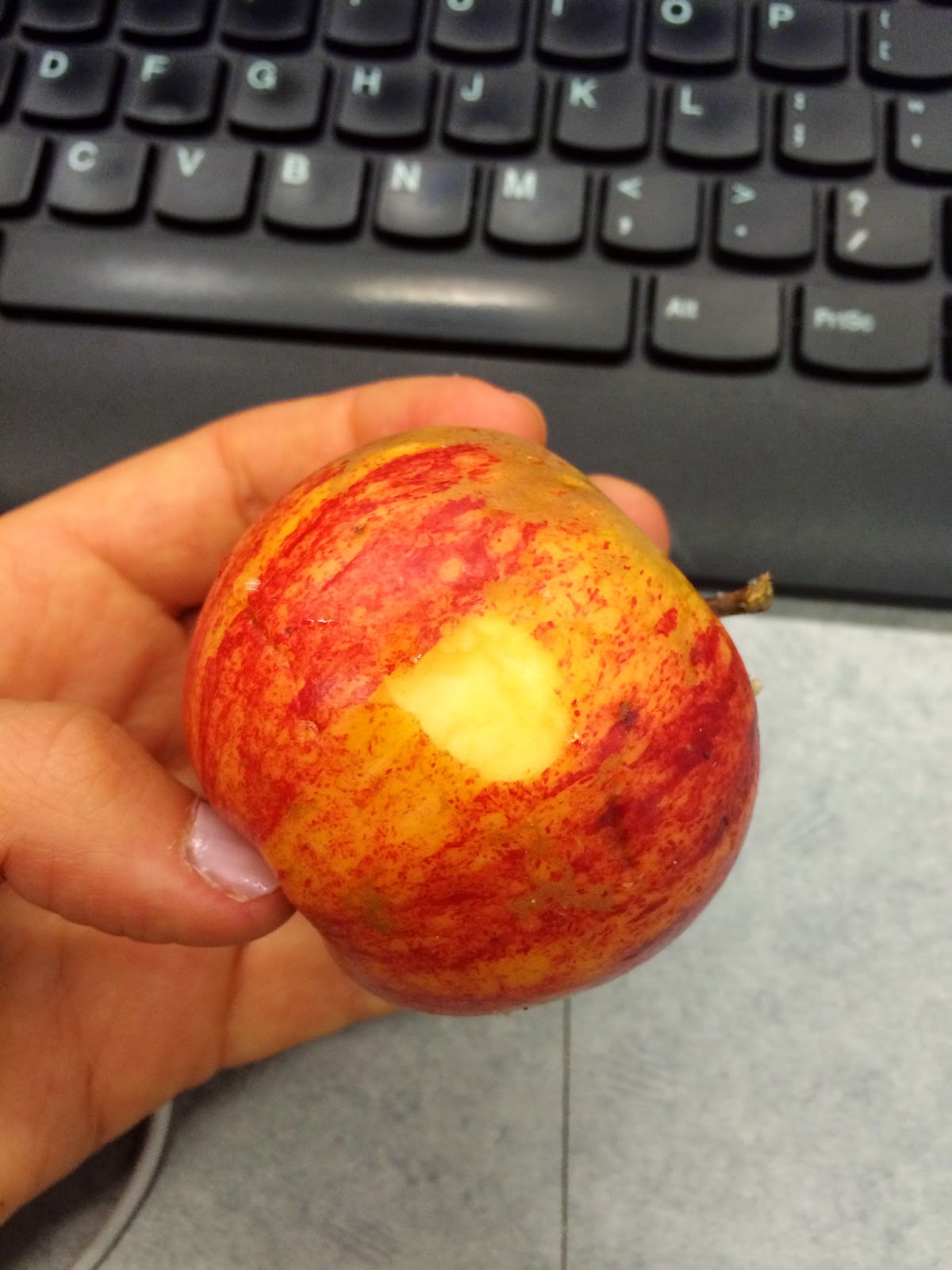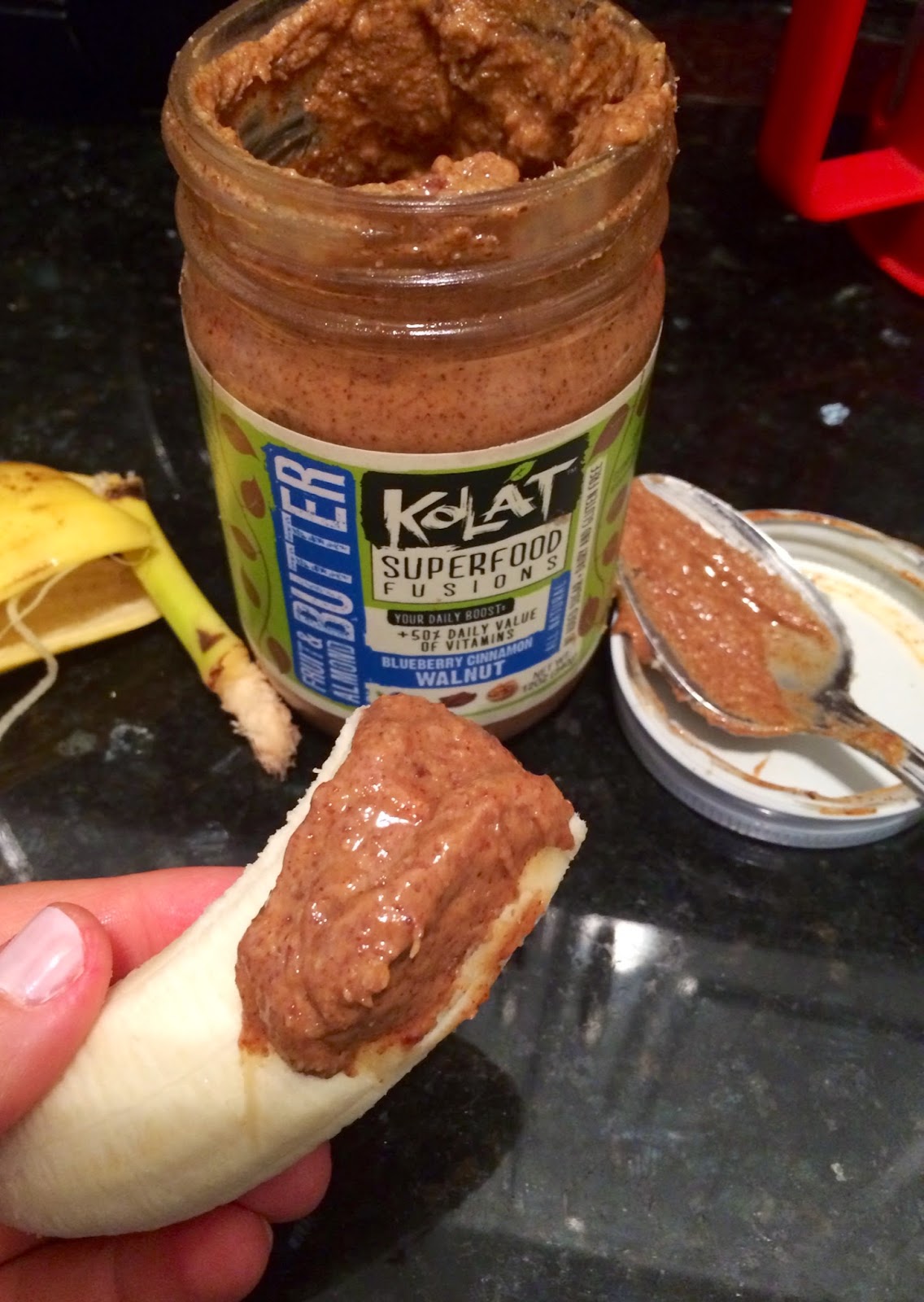 So enjoy a night out with your friends, that slice of birthday cake or the chocolate the sweet co-worker left on your desk. Those healthy choices make you appreciate your kale salads and green smoothies and veggie filled dinners.
This week, dinners at home have never tasted better. Last night was TJs butternut squash soup (it's almost fall!!!) with sauteed mushrooms, zucchini and kale with a + sweet potato and coconut oil + a homemade
flatbread
.
Followed up by
banana bread
 with cashew butter and chocolate chips…the night time snack I can't get enough of.