BMI has been a widely used traditional "indicator" of good health for years. It's a parameter to determine risk factors for a variety of chronic diseases that health professionals are taught in school.
Weight in grams divided by height squared in meters = BMI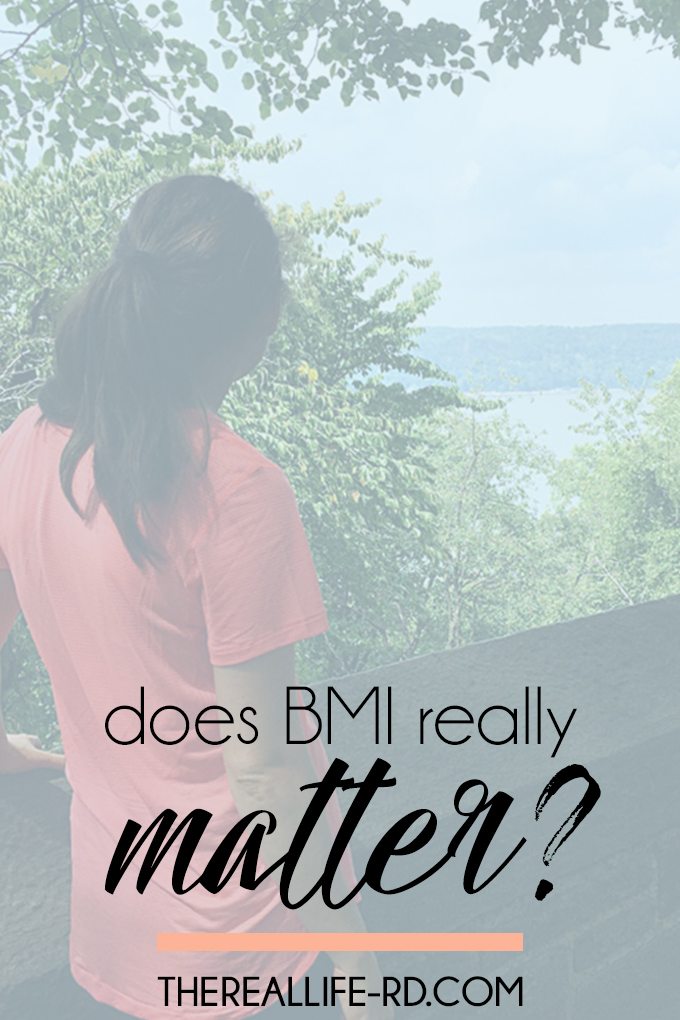 Primary care doctors use BMI often as one measure of "good health."
Dietitians use it to determine whether an individual is underweight, a healthy weight, or overweight.
And I hear all the time of personal trainers encouraging their clients to get under a certain BMI no matter the cost. Whatever it takes.
But does BMI matter?
As an RD and RN, I think BMI means absolutely nothing.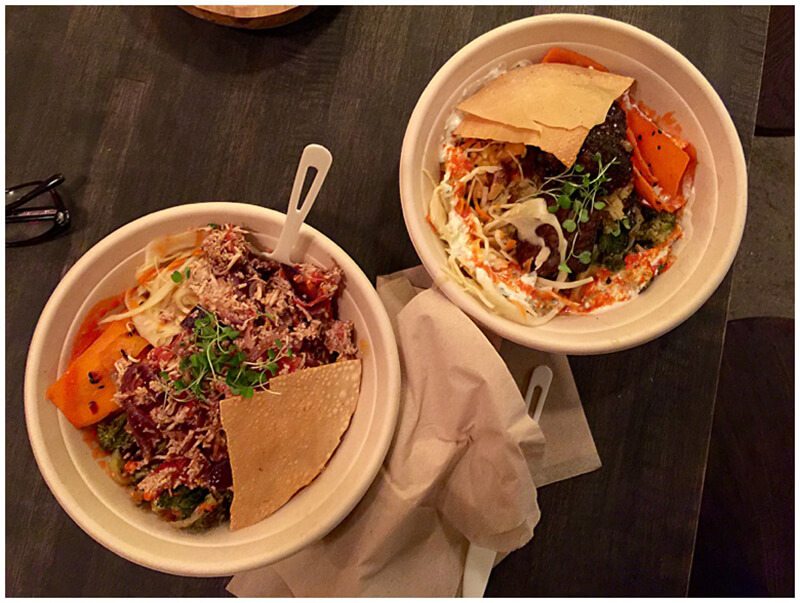 One of my favorite meals right now – cauliflower and brussels sprout rice with all kinds of Indian veggies and a little shredded organic chicken from a place called Inday, aka Indian Chipotle
It doesn't take into account waist size, muscle mass, or bone size. In esssence, it makes no physiologic sense. Bone is denser than muscle and two times as dense as fat, therefore a person with strong bones, good muscle tone and healthy body fat is going to have a higher BMI compared to someone with little muscle tone and thinner bones who might be "healthy" by BMI standards, but actually not healthy.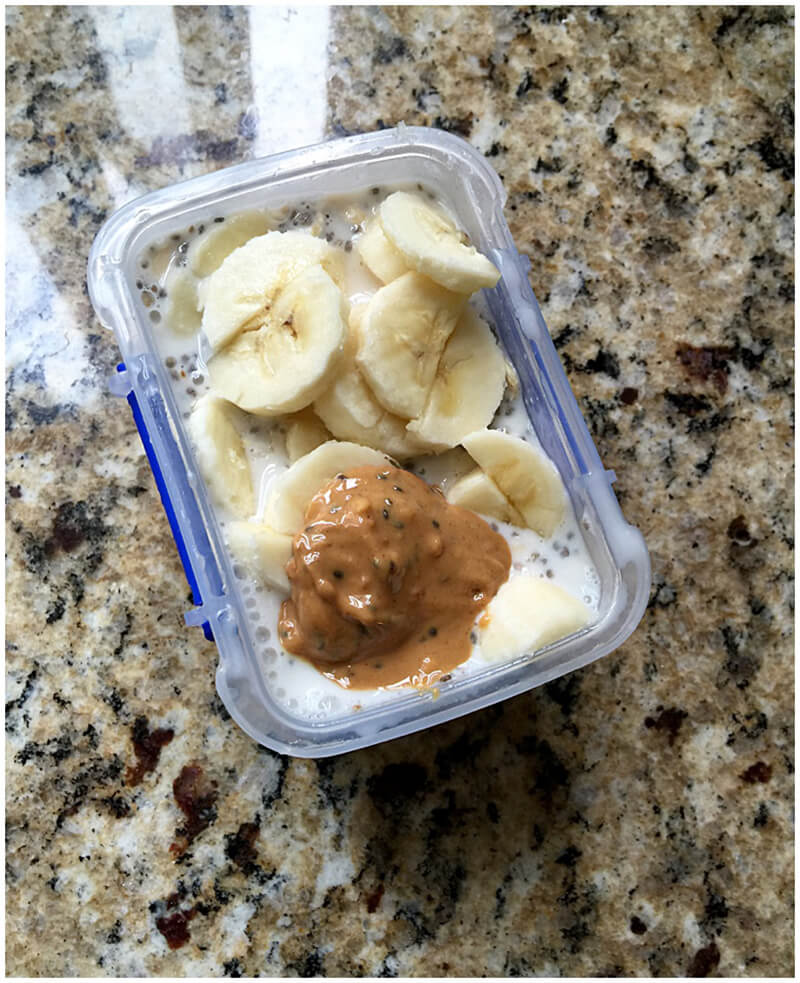 one of my favorite snacks right now – 2 T chia seeds + 1/2 cup cashew milk, topped with cashews, banana and chunky AB
This is exactly why athletes or even physically fit people find themselves with a higher BMI, but in good health from all other parameters – waist size, body fat, strength, lab values etc etc. BMI is simply unreliable.
And if health professionals are looking at BMI as one of the primary indicators of "good health" then they aren't fully assessing a patient – they could be overlooking many other health concerns with this focused view of health. Furthermore, they could be putting patient at risk in having them lose weight to get to a certain BMI, but in actuality that could be doing more harm than good. Not only because of the physiological distress and shame that comes with being told to lose weight, but pursuits of weight loss lead to decreasing calorie intake and perhaps macronutrient intake (carbs and fats especially) which can lead to poor health outcomes.
There are so many other factors that determine the quality of our health than BMI. Weight alone is a poor indicator of health! So often, I talk with women both in clinicals and through Nutshell who are on the lower end of a "normal" BMI, yet they aren't getting their menstrual cycle, their hair is thinning, and they are fighting tooth and nail to maintain that BMI. Then after working together, they regain their menstrual cycle, are eating well and freely, and have thick hair, strong nails, and more energy than ever. And although their weight is at the higher end of the BMI scale, they are the healthiest they have ever been.
BMI shouldn't even be part of patient assessment. We should look at lab markers. We should look at thyroid function and energy/nutrient intake and sleep patterns and stress levels. And that would help us assess someone's health. BMI would have no part in the equation.
I've seen patients with "overweight" and even "obese" BMI's who you could say are some of the healthiest people I've seen.
But even more than that, the most important point that I want to drive home is that being on the higher end of a "normal BMI" does not mean you are teetering on the edge of unhealthy or that you need to watch your weight. Not at all. Especially with women, our bodies are genetically programmed to be hormonally healthy (including having a healthy menstrual cycle) at a particular weight and even though you want to fight it, you cannot change that. You have a set point where your body will thrive best.
We have to stop fighting it. And instead settle into the body we were given from the very beginning. And walk freely in that. Because this life is way too short to worry about BMIs and fitting into an arbitrary numeric range.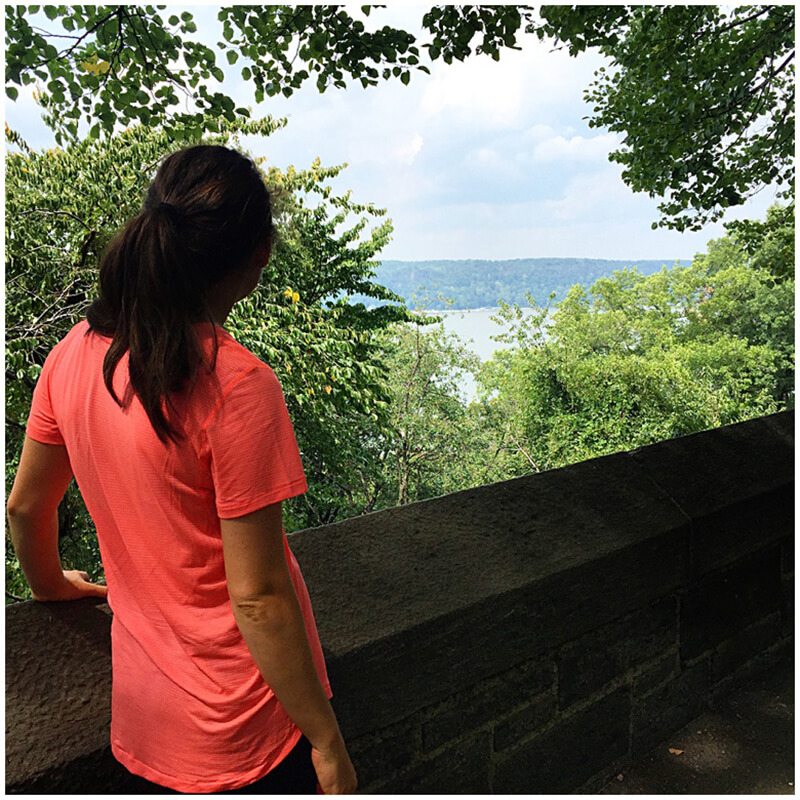 Focus on your energy, how strong you feel, and what your lab values say.
Because the Body Mass Index is bogus.
SaveSave