Intuitive eating isn't just for the woman at a "healthy weight." Or for the woman who is underweight. It isn't just for the woman who has restricted her food intake for however long or the woman who has had an eating disorder.
Intuitive eating is for women of any size. When you begin the intuitive eating journey, there are three things that can happen to your body. You will gain weight, you will lose weight, or your weight will stay the same. Intuitive eating, over time, supports your body in finding it's natural set point. But the most important thing to realize is that weight is never the cause of health problems. Weight is simply an outcome. In the same way following food rules can cause us to be below our body's natural set point, following food rules can lead to being above our body's natural set point. In the same way that dissociating from our body's physical sensations and signals can cause us to be below our body's set point, it can also cause us to be above our body's set point.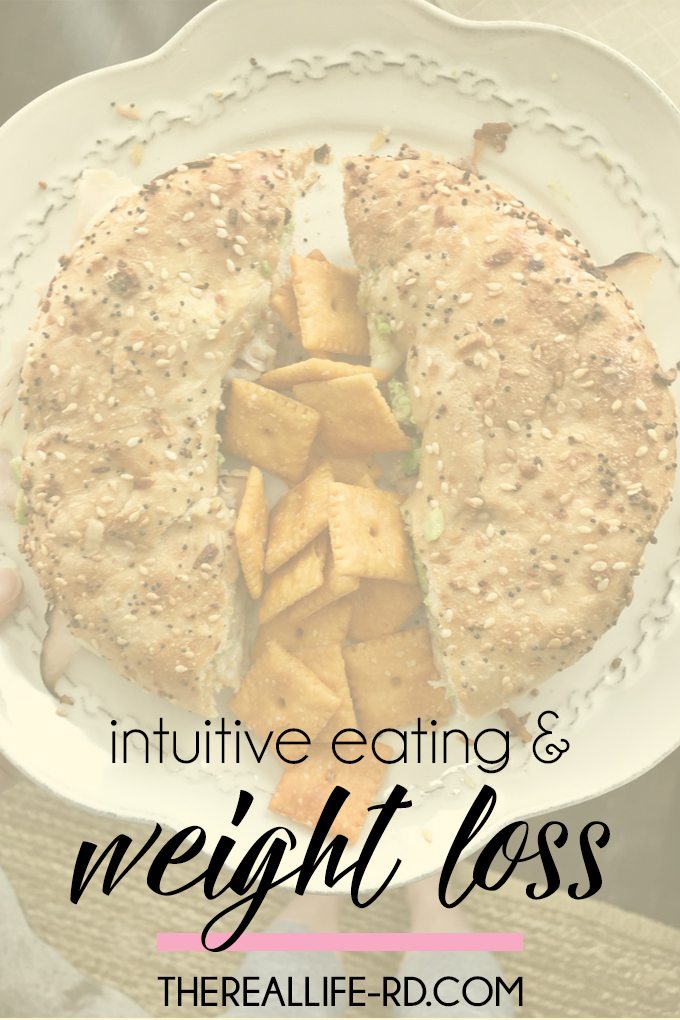 It's never about the weight. Health is never ever ever ever a manifestation of weight. Intuitive eating yes, if for the woman recovering from restrictive eating habits, but it's also for the woman wants to eat in a way that allows her body to settle into the weight it was genetically designed to be. And it's for the woman who might have health conditions that would benefit from tuning into how her body physically feels and learning to better care for herself. That does not mean she will be xyz weight by becoming an intuitive eater, there is health at every size, but it does mean she will find her healthy set point that she can easily maintain and where she feels good. Health at Every Size also doesn't mean anyone is healthy at any size, rather it's a weight neutral paradigm that focuses on health promoting behaviors.
The important thing to remember with intuitive eating and health is…
Weight loss is not the goal. Weight loss is never the goal.
Health is the goal.
And when health is the goal, the focus is on behaviors and not on numbers.
Intuitive eating is so much more than eating when you're hungry and stopping when you're full. Intuitive eating is about honing into your body's needs and eating foods that are both satisfying and physically nourishing. Intuitive eating is also about becoming aware of your needs, being able to identify those needs, and then being able to meet those needs appropriately. In our culture, often we use food to cope – whether it's restriction or binging or emotional eating or another behavior – food is used as a coping mechanism.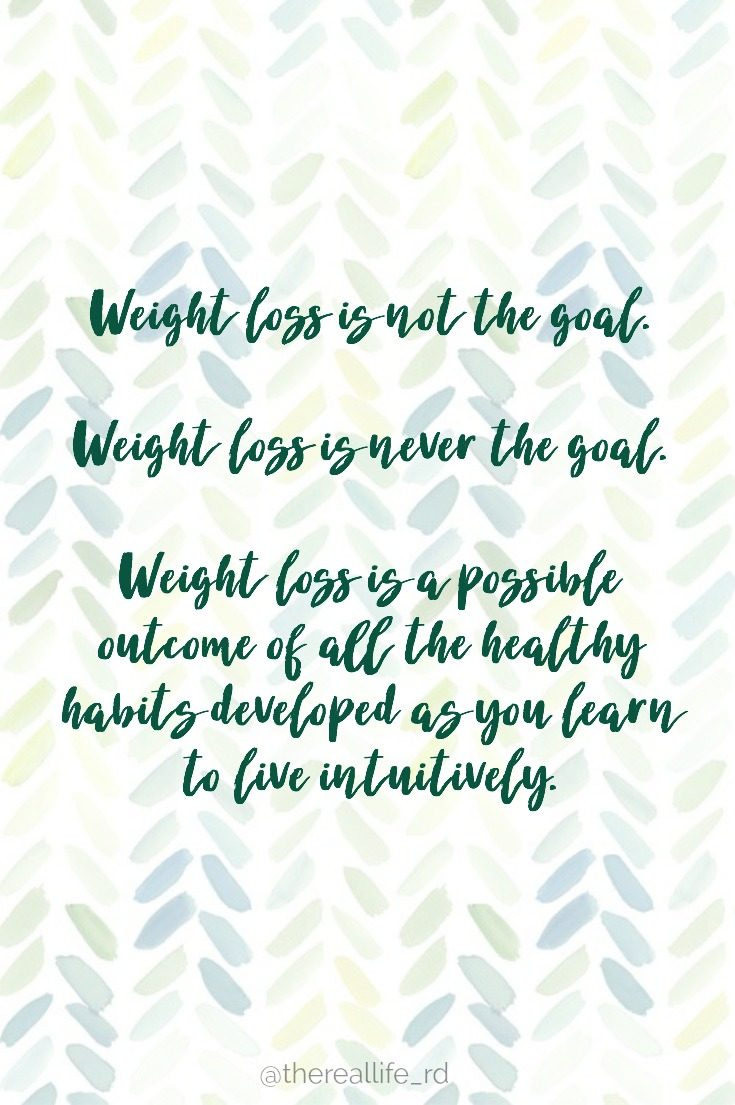 Emotional eating is normal. Sometimes it happens and that's okay. But when food is your only coping mechanism, that is when some more exploring can be helpful to determine what your body actually needs. Often it isn't food.
Other challenges that stand in the way with intuitive also include disregarding how a food makes you feel physically, therefore overriding your body's physical cues to the point of discomfort. Once in a while this will happen and that is okay. It's part of enjoying food for more than physical nourishment, but when it happens quite frequently…that might be something to explore more. Intuitive eating isn't about just eating what tastes good – of course eating satisfying foods is a huge part of becoming an intuitive eater – but learning your body and what makes it feel best is foundational to intuitive eating.
We live in a culture that expects instant gratification – it's why the diet industry makes billions of dollars per year. It's why there is a drug to "fix" anything. But just like insulin can't heal diabetes, diets don't heal food or health issues.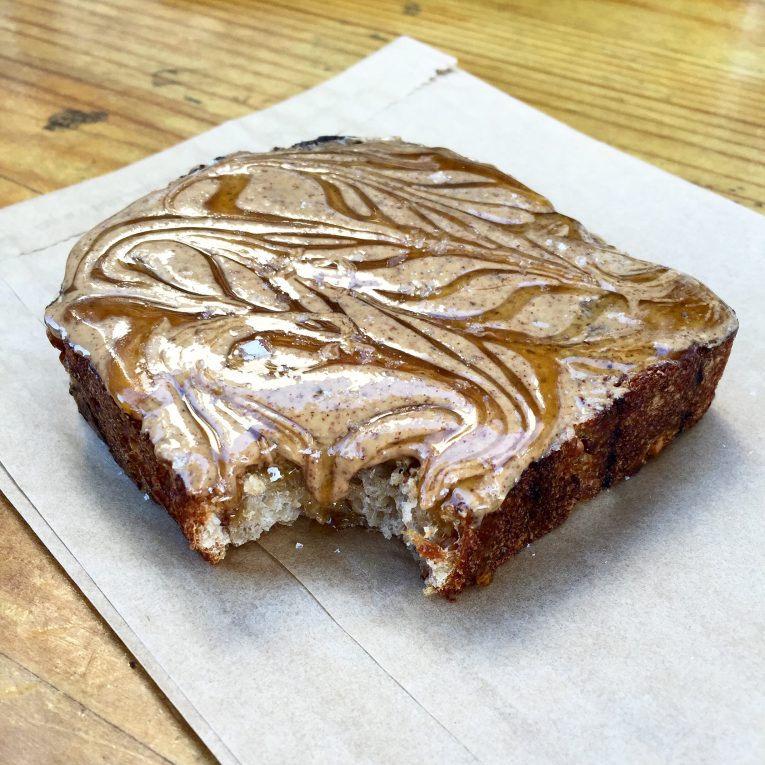 Intuitive eating is the way to long term, sustainable happiness, health and peace with food. But it takes a lot of work, there is a lot of gray area, and it's a journey of ebb and flow where you are continuously learning more about yourself and your body. Myself included. There are days I overshoot my hunger and end up too full. There are times I'm tired or stressed and eat ice cream out of the pint in an emotional way. That's okay. It's not about perfection, it's about learning. And over time, as you learn what makes your body feel best and what foods are most satisfying and you eat in a way that both nourishes and satisfies, your body will eventually find it's set point.
Because when you eat satisfying foods, the "what the hell, I'll eat whatever I want" days dwindle, because you've given yourself permission to eat all foods at all times. Binging and overeating decreases because you're not intentionally restricting calories or carbs or fats and you're not mentally restricting certain foods. Eating to numb out feelings (which neglects your body's physical needs) decreases because you're in touch with your body's actual needs and can respond to those needs appropriately. And from a physiological standpoint, stress dramatically decreases (which is a huge factor in finding your set point) when you release the pressure to adhere to xyz eating plan or exercise xyz way or not eat certain foods – and instead allow yourself to eat anything you want, whenever you want. Simply giving yourself permission to eat all foods makes previously "forbidden" foods less likely to be foods you overeat or binge on – because you know you can have them whenever you want. They can be eaten without shame or guilt. I tell clients it's the "deglorification" of food. But this process often takes support from a skilled dietitian so you can learn eating skills that support your body's physical needs first, before learning to be a competent eater around all foods. Having somewhere there to support you can help ease the distress that is bound to come in this process. It's hard work, but it's well worth it.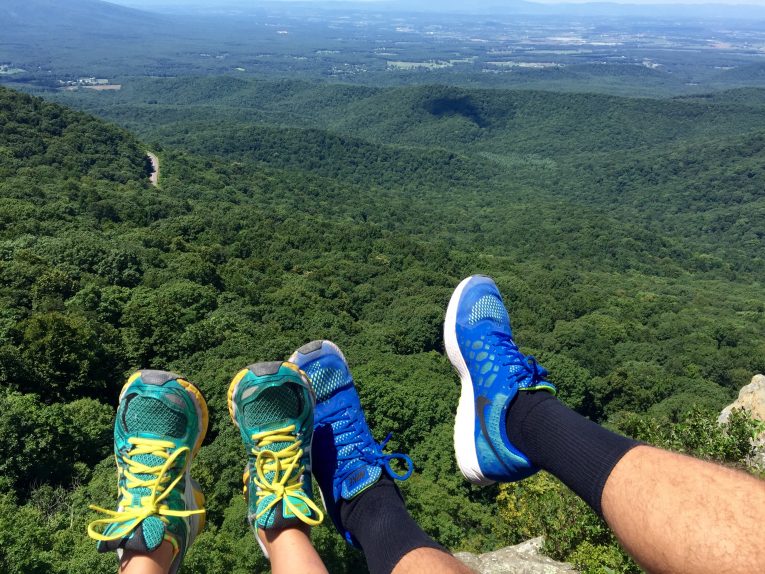 You might really want to lose weight, and that makes sense given our culture, but can you shift your focus onto your behaviors. Can you support your body in finding it's natural set point through health promoting behaviors. Health At Every Size isn't saying weight loss is never possible, but it's not the focus. HAES is about learning healthy behaviors that allow your body to find whatever size it needs to be. Weight loss is never the goal. True health, body acceptance and peace with food and exercise is the goal – and that is not contingent on a particular weight. Weight loss is a possible, yet not guaranteed, outcome of all the other healthy habits developed as you learn to live intuitively – practice self care, sleep well, move in a way that feels good, and eat foods that feel good and satisfy you. But weight loss is never the goal. Because really, weight has no direct impact on your health.
Intuitive eating is a journey and you never really "arrive" – we aren't perfect people. Instead you continue learning how to treat yourself with compassion + gentleness, withhold judgment, and take care of your body regardless of your pant size. And that is what we call healthy.
More books on this topic that I recommend are:
SaveSave