If it looks like a diet and reads like a diet….it's a diet.
We may have started to move past blatantly obvious diet language and programs like Weight Watchers, Jenny Craig and NutriSystem, but our culture is still wildly obsessed with dieting. Now…we've moved towards wrapping diets up in trendy language like protocols, solutions, IIFYM (if it fits in your macros), non-toxic lifestyle, clean eating, ketogenic and on and on and on.
If a particular way of eating involves black and white rules…it's a DIET. Any way of eating that forces you to rely mainly on external regulations versus listening to your bodies internal cues is a diet. No matter what way you spin it….it's a diet.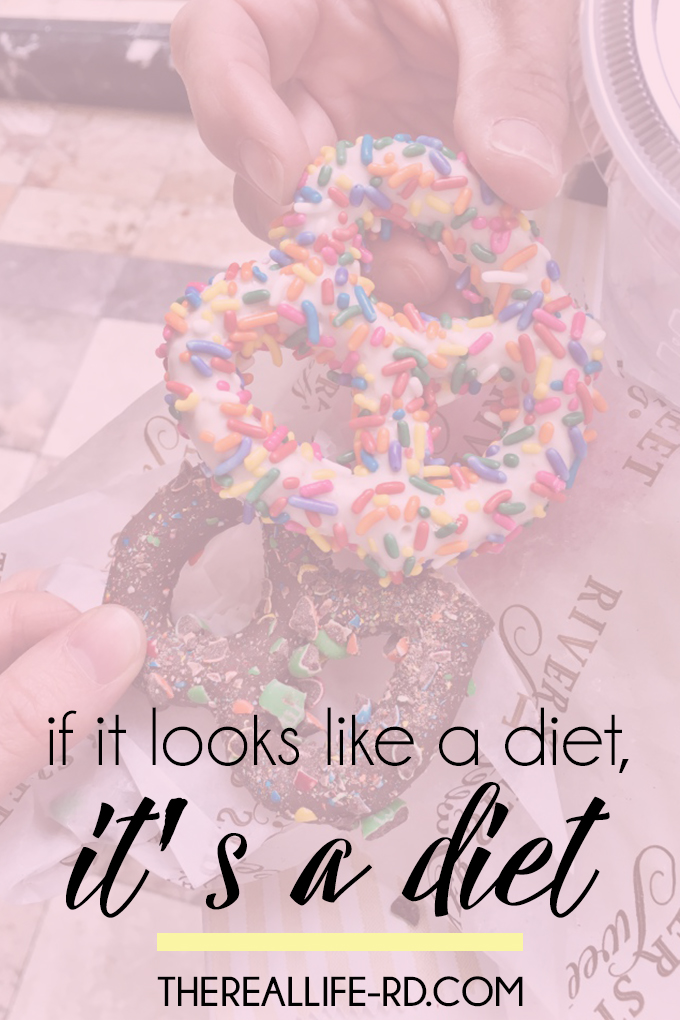 I recognize there are beneficial nutrition guidelines that can have a profound therapeutic effect when applied to certain disease states and conditions. There is a time and a place to gently apply those principles in clinical practice. But sleep and stress also have significant impact on our health. So while yes, nutrition can dramatically improve someone's health…the psychological distress that comes with following xyz protocol to heal your xyz condition has the potential to be very distressing. And it's also a false promise.
Because health is more than a meal plan. And by now, the negative impact of stress our on our overall and long term health is well established in the research. I'm actually giving a talk on this very topic tonight and you can read more about that here if you're interested in joining the conversation. BUT my point is….a protocol or solution or any other set of food rules is a diet. Some gentle nutritional guidance that take into consideration all other aspects of a person's health is very different than a laundry list of rules.
I think it can be really easy to get swept up into the culturally sexy language of diet culture. I'm human too! We have to be skeptical and very protective of the media we consume and the conversations we engage in. If not, before long you're found drinking the kool aid too. And you might not even realize you're knee deep in diet culture until you take a step back.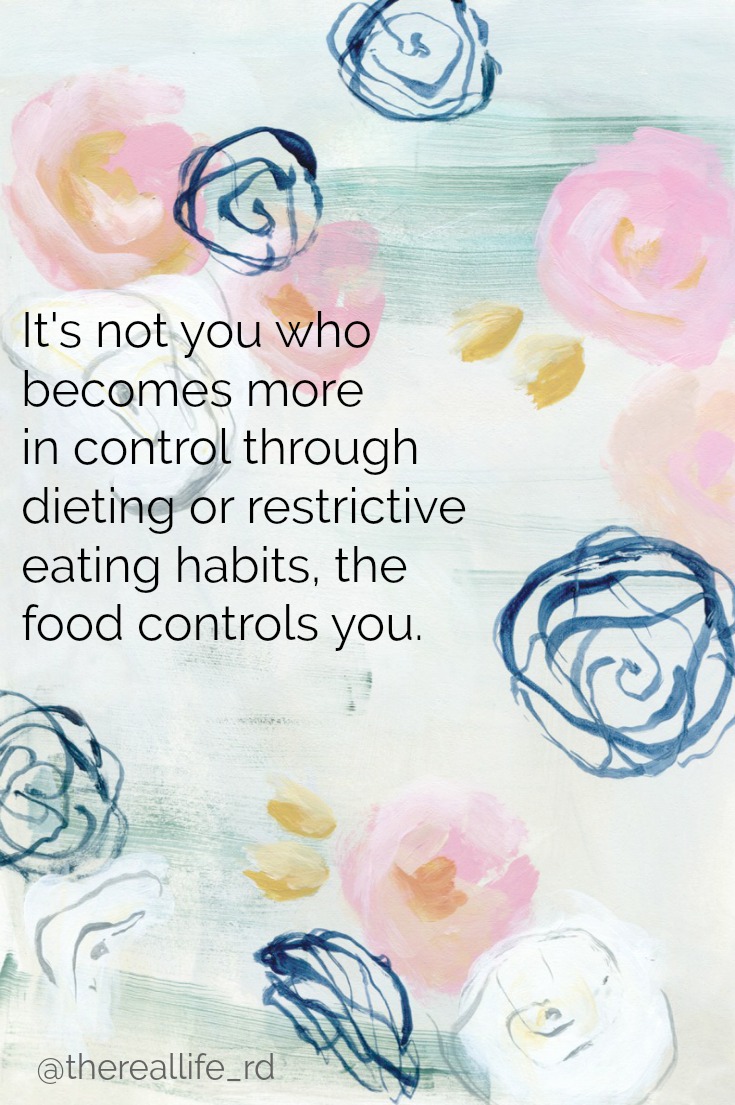 Because often, controlling food is a way to feel in control of your life. But in reality…controlling your food and exercise actually creates more chaos.  Or it's media who has the control. Like the perfectly thin and flawless looking girl on Instagram. Or the magazine that is convincing you that you do this blah blah blah thing you will have this blah blah blah life. Or perhaps it's the scale that fully dictates your mood and worth for the day. Outside influences do not control your life. YOU control your life.
You control your life.
Controlling food in an attempt to control your life will end in bad place. I've been there. Many other women have too. I never felt more in control of my life when I was controlling my food and exercise habits. If anything, I felt more crazed and anxious and distracted.
But controlling the environment I put myself in and the media I consume and the relationships I engage and invest in definitely makes me feel more in control of my life. Controlling those aspects of your life are worth pursuing. They make you less vulnerable to all the diet messages and societal pressures to look or be a certain way. And when you're less vulnerable, you're better able to ignore diet culture and instead choose things that help you live a better life.
I'd love to hear some ways you make yourself less vulnerable to diet culture. Share in the comments! And if you're like…"Robyn…I feel totally influenced by diet culture right now." share that too so we can help combat some of those messages affecting you. <3