Class is back in session. And after six weeks off, it feels soooooo good. What feels even better is being able to say I'll be done with school THIS YEAR.
Sunday was my first day of clinicals and it was….fast and at times chaotic and totally new, but I learned more in 12 hours than I have in the past 12 weeks I feel like. Learning in the classroom and learning in clinical are two different ball games. If it were up to me, we'd do 70% of our learning in clinical and 30% in class. But considering I have class from 8am to 5pm with only a couple 10 minute breaks on Wednesdays – that's not happening.
Backing up to yesterday, all day I felt a bit like a zombie. I'm usually a pretty good sleeper, but Monday night I crawled into bed at 10:45 exhausted, but then couldn't fall sleep until 2am – I'm blaming the two squares of 99% dark chocolate I had at 9:30pm. I texted my Nutshell client I had at 7am and asked her if we could reschedule since without sleep my brain is mush and I didn't want to sacrifice the quality of our session. I've been seeing her for almost two years off and on so thankfully she was very gracious. I slept till 8am and laid in bed for a bit before getting up. Not feeling awesome, I skipped my planned workout class and instead grabbed a mug of coffee and made some breakfast.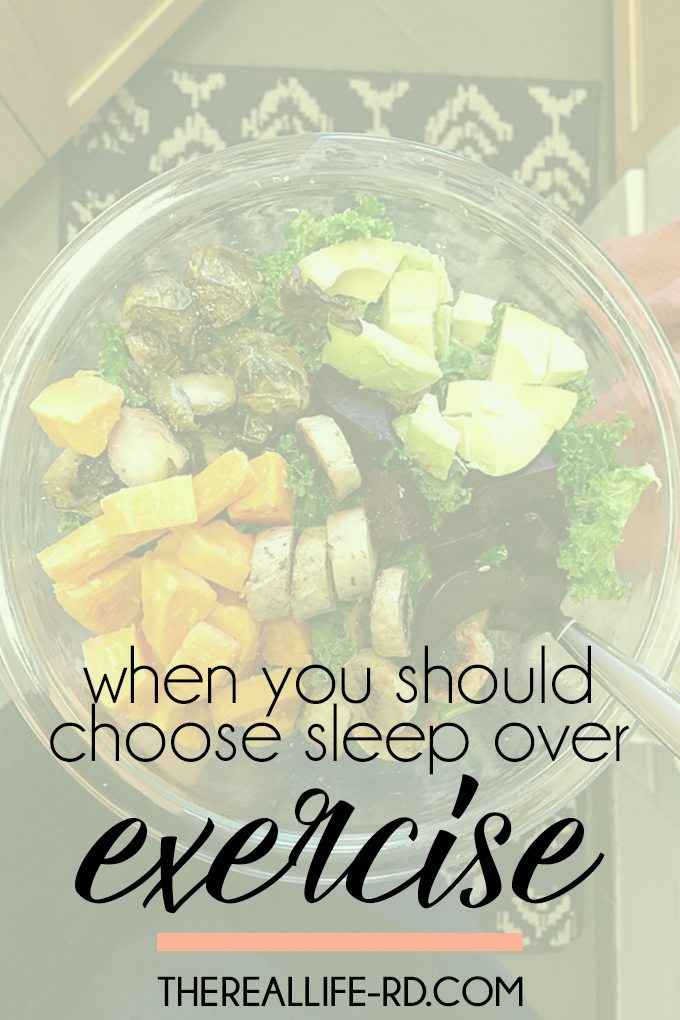 I can't stress this enough – if you have not gotten enough sleep, do not work out. Do not work out. Do not work out. You are only making matters worse. Your body is already stressed from the lack of sleep. Anything other than very low intensity movement like walking or light yoga increases your cortisol levels even more…meaning more stress. And that doesn't nothing to benefit your body mentally or physically. What you need to rest. Not exercise.
Breakfast was the usual this month of two eggs scrambled with tomatoes and spinach, roasted butternut squash topped with cinnamon + coconut butter, and banana with cashew butter. Plus two cups of coffee. I cut myself off at two since being jacked on caffeine and being a little sleep deprived is a hormonal frat party.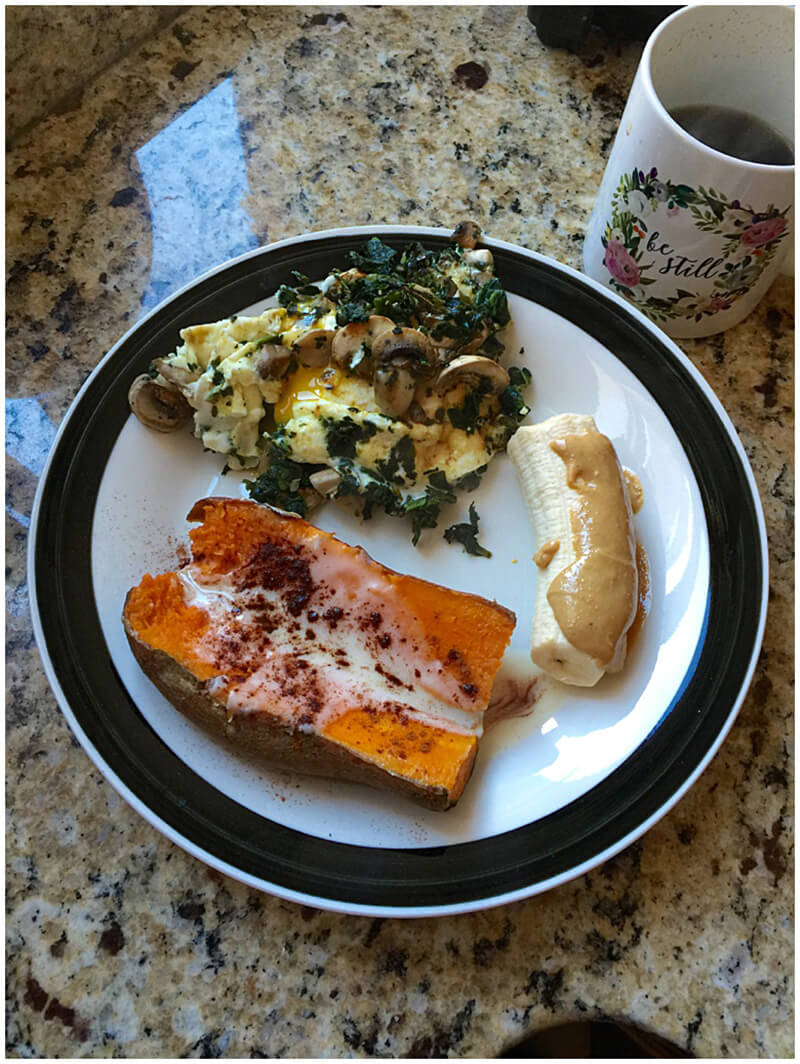 I had a Nutshell client at 9:30am and then spent the morning wrapping up errands and some freelance projects. I pondered heading to a yoga class at noon because it's my favorite instructor, but vetoed that and instead walked to the gym to sit in the steam room. Ahhhhhhh YES.
Because I posted yesterday's lunch on insta, here's Monday's lunch of kale massaged with olive oil + sea salt and topped with roasted butternut squash, brussels, beets, TJs garlic chicken sausage and avocado. Followed up by the juiciest grapefruit and a couple squares of dark chocolate with dates and sunbutter.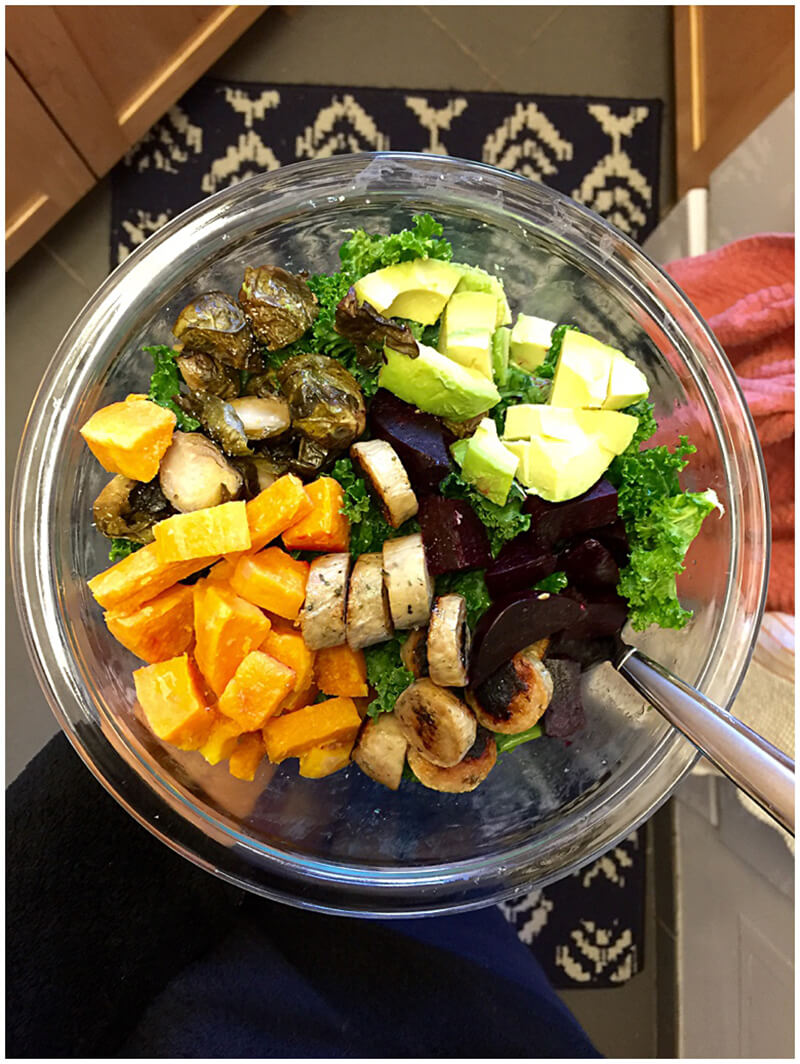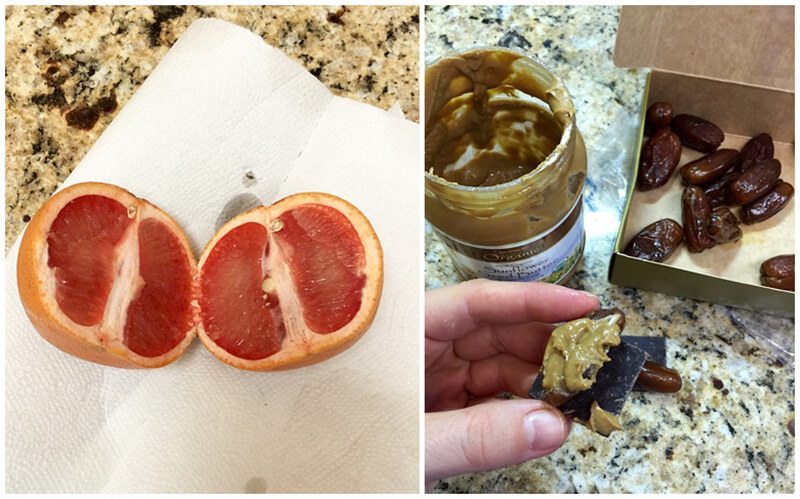 I organized some school things for the semester and returned some things to Patagonia in the afternoon before sitting down to write this post around 3pm. And before my 4pm Nutshell client, I snacked on an energy ball and some carrots with sunbutter. Plus a kombucha – heyyyy probiotics!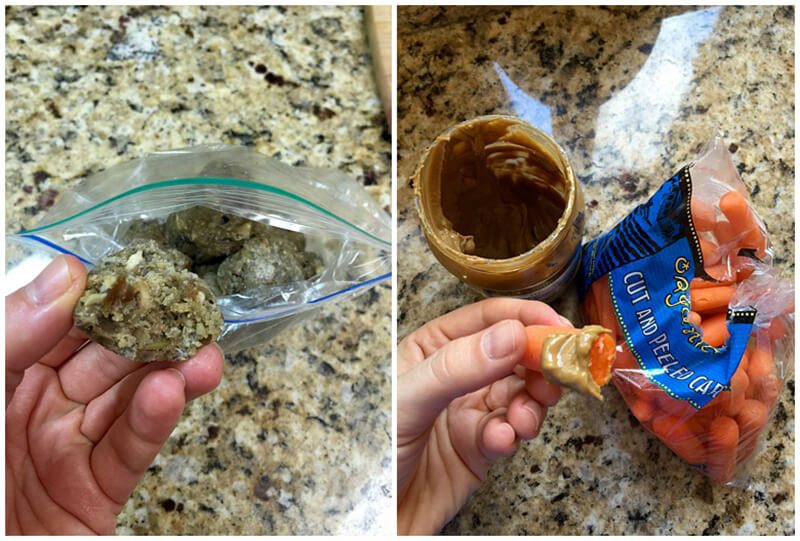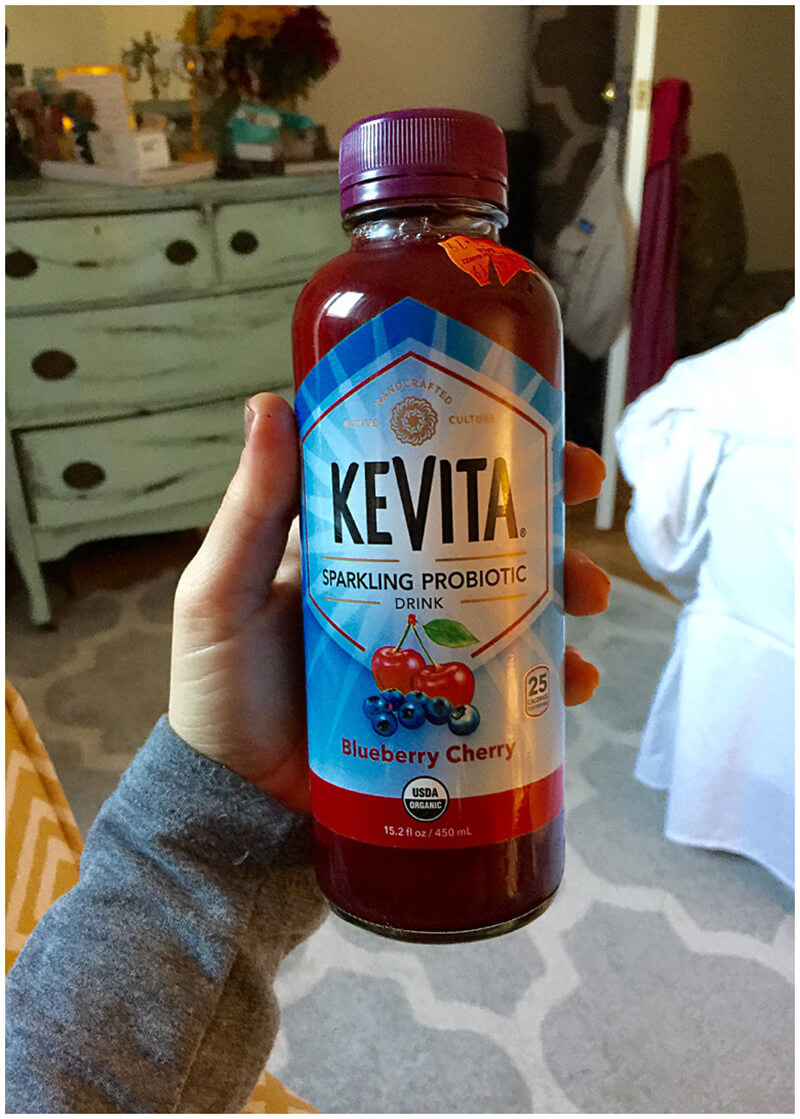 For dinner, I biked over to Nick's apartment and we walked to Inday. This place is right next door to his building and so deeern good. You choose whatever base you want – we went with the brussel + caulilflower "rice" and then they top it with some sort of slaw, beets, butternut squash and some other veggies and then you pick a protein. I went with the grilled Indian spiced salmon. All for like $12. Inday, stay around forever.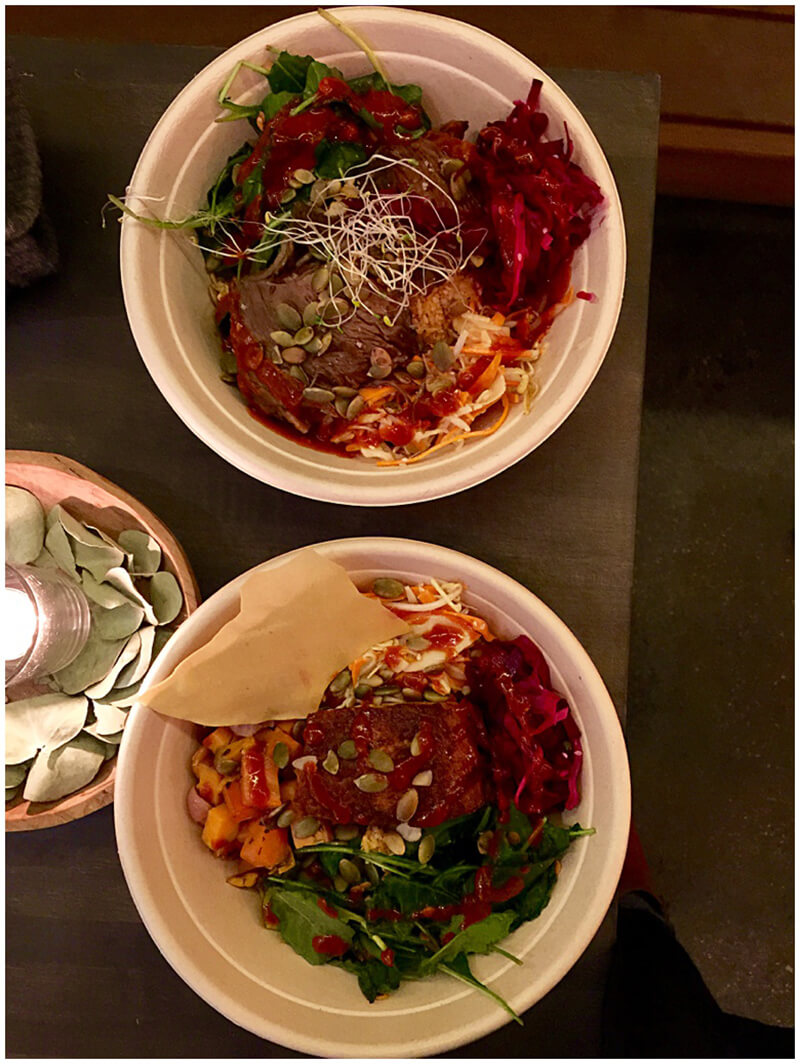 I was exhausted and Nick had a work call at 9pm so we watched an episode of The Unbreakable Kimmy Schmidt and I headed home to crawl into bed. Grabbed a handful of these sweet potato chips when I got home, drank some tea and packed my lunch and bag for class.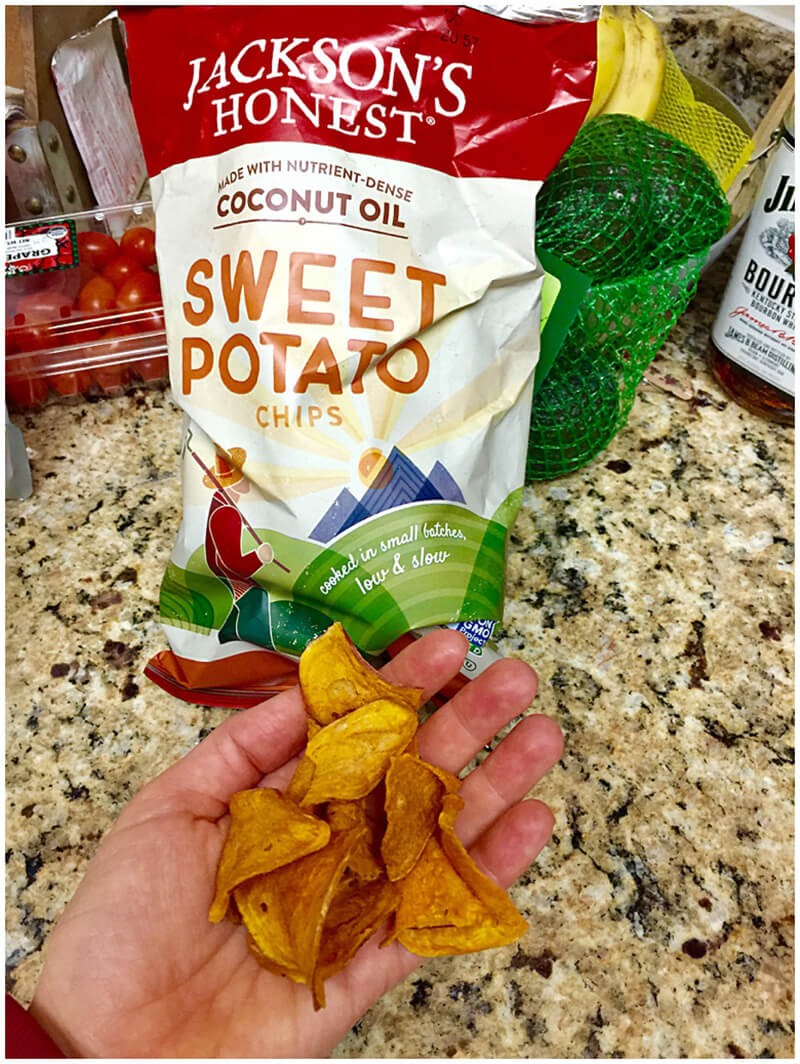 The older I get, the more I realize I do not function on less than 7 hours of sleep. So the rare days I don't get 7 hours, aren't pretty. But, that's life and if that means slower movement and a slower paced day, that's okay.
Cheers to Wednesday!
SaveSave
SaveSave