Happy Thursday and almost weekend!
You guys, I've never been so grateful for a flexible student and work schedule. I know my hours are unpredictable and I work late and a lot and have several balls in the air…but being at the mercy of a structured work schedule and a 60 minute commute will wipe you out. So I admire all you guys who do it! I know my body will adjust, but being back in school and at clinical 3 days a week is both exciting and an adjustment. I'm in class 8am-1pm on Monday and then go to my nursing job and do Nutshell in the afternoon. Tues and Wednesday I'm in clinical 8-5 and then have Nutshell in the evening or bible study/dinner plans and Thursdays I'm in clinical from 11am to 11pm and I do Nutshell in the morning. Fridays are study days where I also do a few hours at my nursing job and have Nutshell clients. And Saturday mornings are for Nutshell and my nursing job. Sundays are 100% totally off from school and work so that keeps me rested and sane. So far I'm liking this rhythm and by knowing my boundaries and getting to bed by 10pm, it's flowing nicely. And doing three back to back clinical days has been conducive to SO MUCH LEARNING.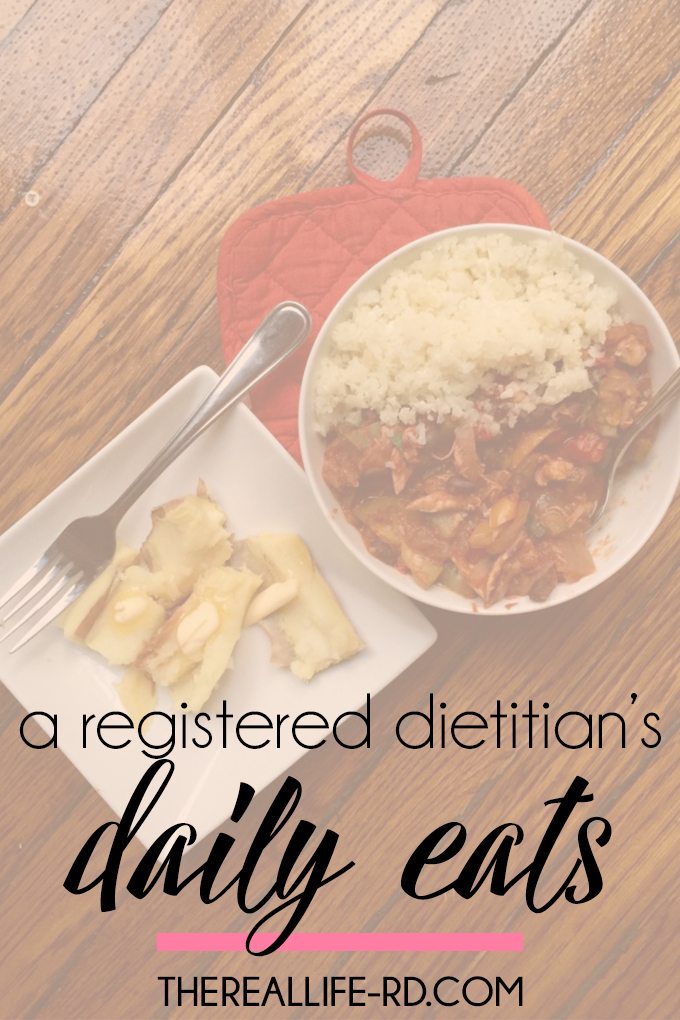 This pediatric clinic I'm at Tuesdays and Wednesdays makes my heart explode. I like, want to take all the babies home with me. It's made me question why I didn't decide to be a Pediatric Nurse Practitioner, but then I realize I can do pediatrics by being a Family Nurse Practitioner and I adore women and love women's health. So all that to say – I feel super grateful for this clinical placement.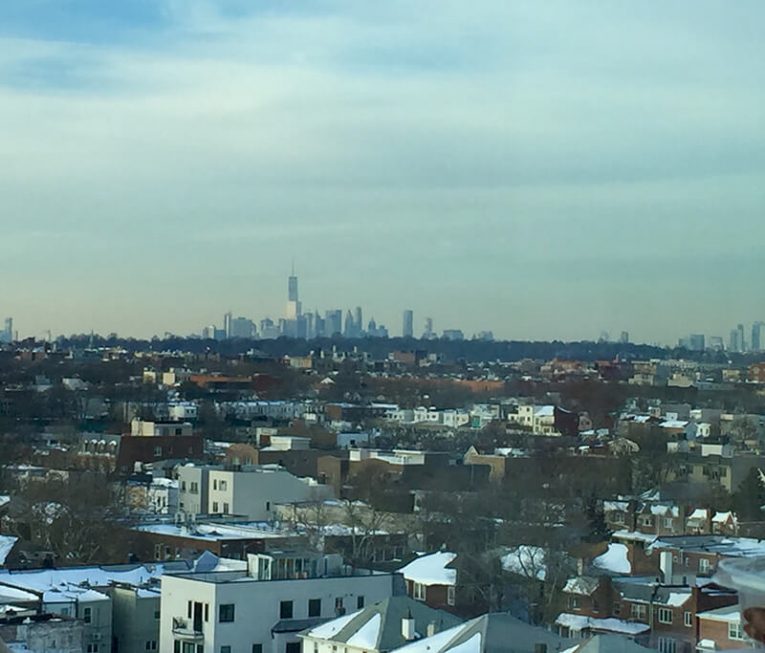 I meant for this post to go up yesterday, but after clinical till 6 and clients till 7:30 I got home from dinner with Nick at 9:15 and was exhausted. So I went straight to bed. So instead of WIAW it's Thursday alrighty?
Now onto the eats!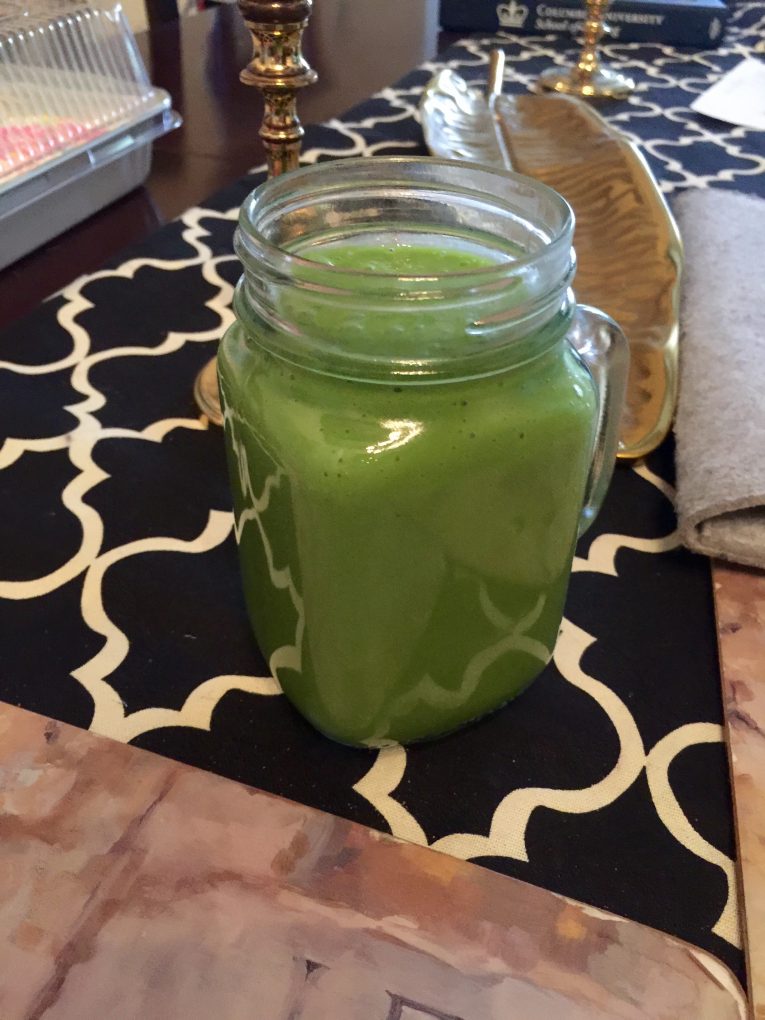 I've gotten into a semi-consistent morning routine now that I'm in bed earlier. So after a morning run I made coffee + a Vega One green smoothie along with pumpkin pancakes topped with banana and PB. I had to use up a random can of pumpkin so after this week you won't see these pancakes till fall. Bring on the berries!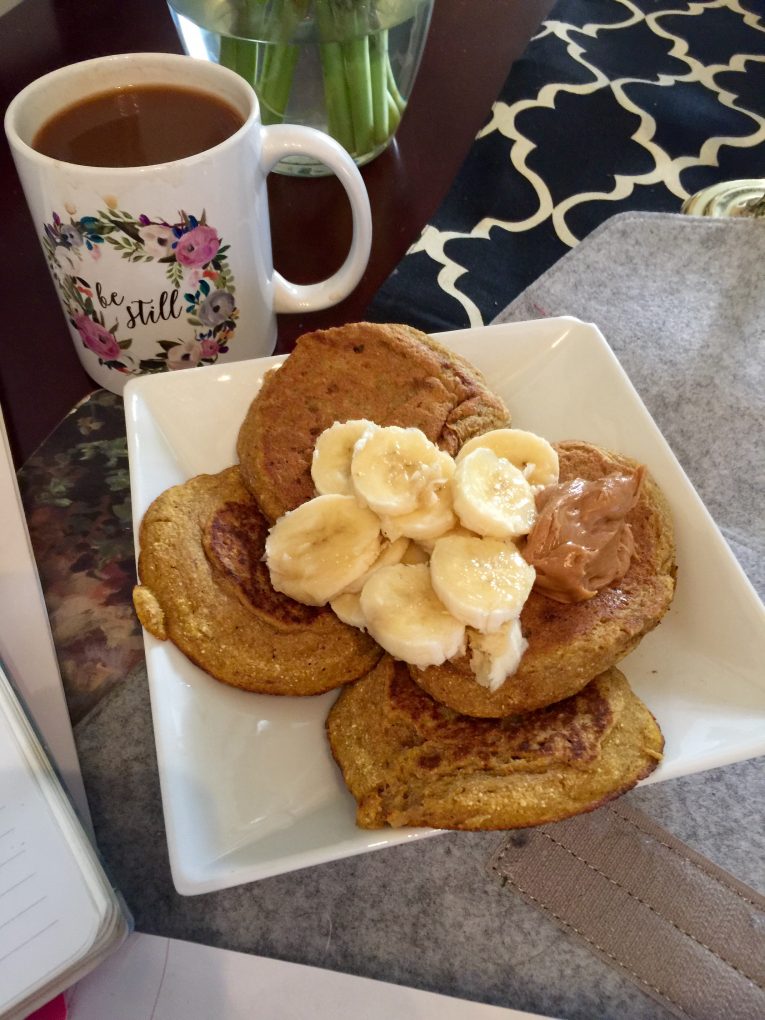 Clinical was so busy yesterday that it was 1:45 before I knew it and needed lunch ASAP. I've eaten this same lunch for the past 5 days and it's not old yet. Spinach + romaine with cucumber, tomato, peppers, two pieces of bacon and a hard-boiled egg topped with balsamic and olive oil plus avocado. Plus two pieces of Deliciously Ella superseed bread with hummus, an apple and a packet of cocoa bliss because…chocolate.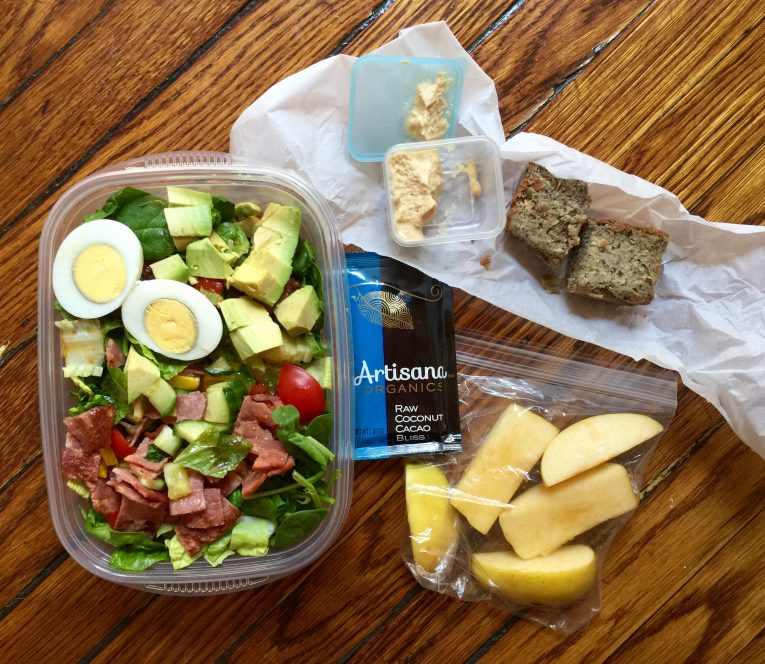 I ate a handful of chocolate covered espresso beans in the afternoon and then a KIND bar + decaf soy latte when I left clinical. Plus a chopped mango in between Nutshell clients.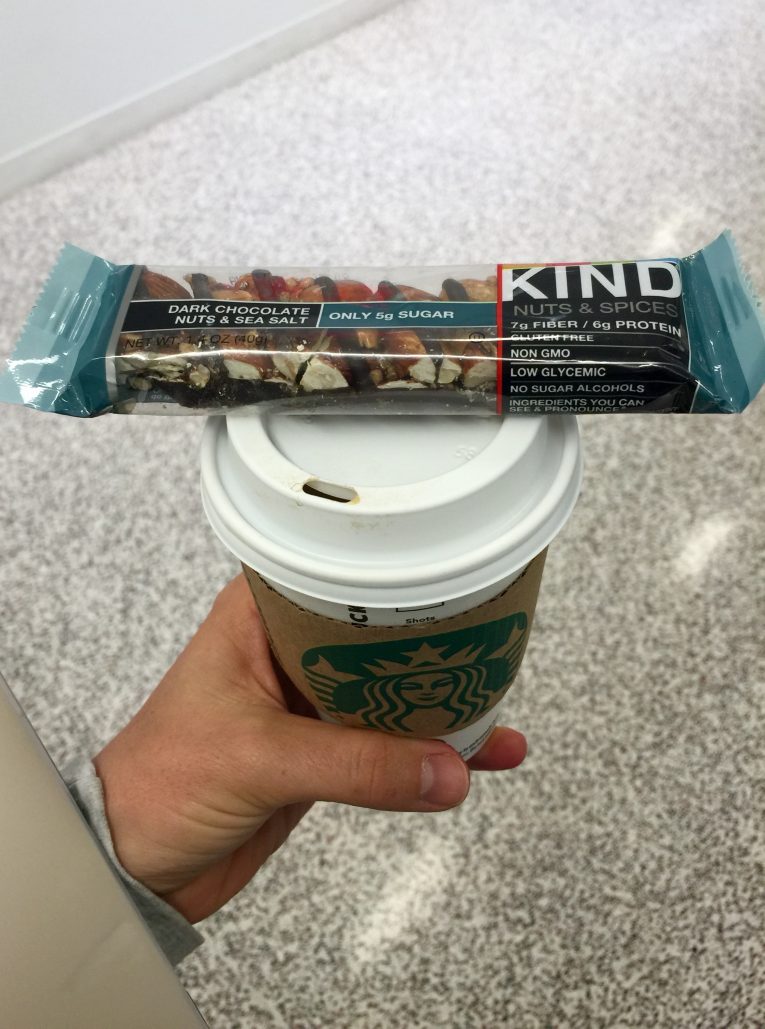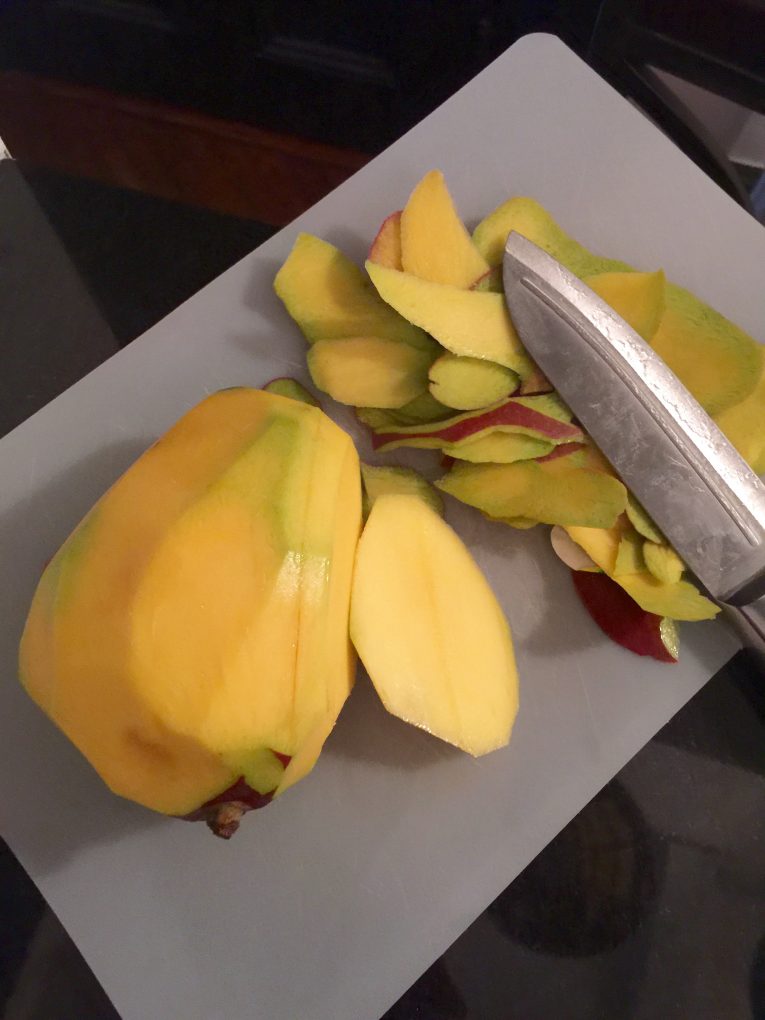 Dinner was leftover enchiladas that I made on Sunday evening. I knew enchiladas and chicken sounded good on Sunday. I had a craving and my body has been craving animal protein so I rolled with it. But I also knew I was too lazy to make entire enchiladas and it was too hot to turn on my oven. So I made up these bowls off the top of my head and I'd say they turned out well! TJs now sells cauliflower rice so I bought some to try it out…ya'll, this is NOT rice. I mean it's good, but it's not rice…it's vegetables. It's good, but whoever thinks this is a sub for rice is lying to themselves. Let's call it vegetables. So if you want to serve these with rice, do that! I ate it with sweet potatoes and that's awesome too.
Here goes the recipe!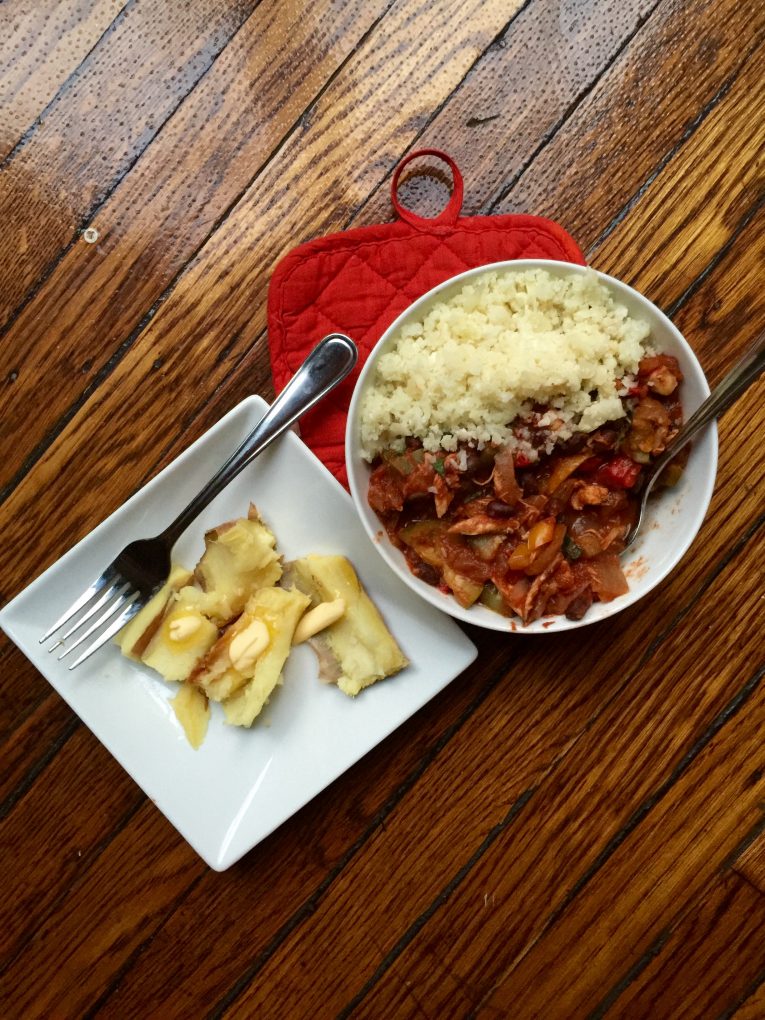 1 rotisserie chicken, shredded (I bought an organic chicken from Whole Foods)
1 can of black beans, drained
1 onion, chopped
1 bag of frozen peppers (I buy the 365 organic bag from Whole Foods)
1 zucchini, sliced
1 head of kale, chopped
two 15 oz. cans of tomato sauce
1 packet of taco seasoning
 All you do is cook the onion in ~1 tablespoon coconut oil in a large pan over medium high heat for 3-5 minutes. Then add in the frozen peppers and zucchini and let everything cook for 10 minutes or so until it's soft, stirring often. Then add in your tomato sauce, chicken, beans and taco seasoning and stir. Let that cook on medium-low heat for 5-10 minutes. Then add in the chopped kale and stir. The kale will wilt with the heat. Add hot sauce and sea salt to taste and you're done!
 This makes four hearty servings. I've been eating it with the cauliflower rice and also baked white sweet potatoes with butter for some carbs…because no meal is complete without carbs. And white sweet potatoes are AMAZING!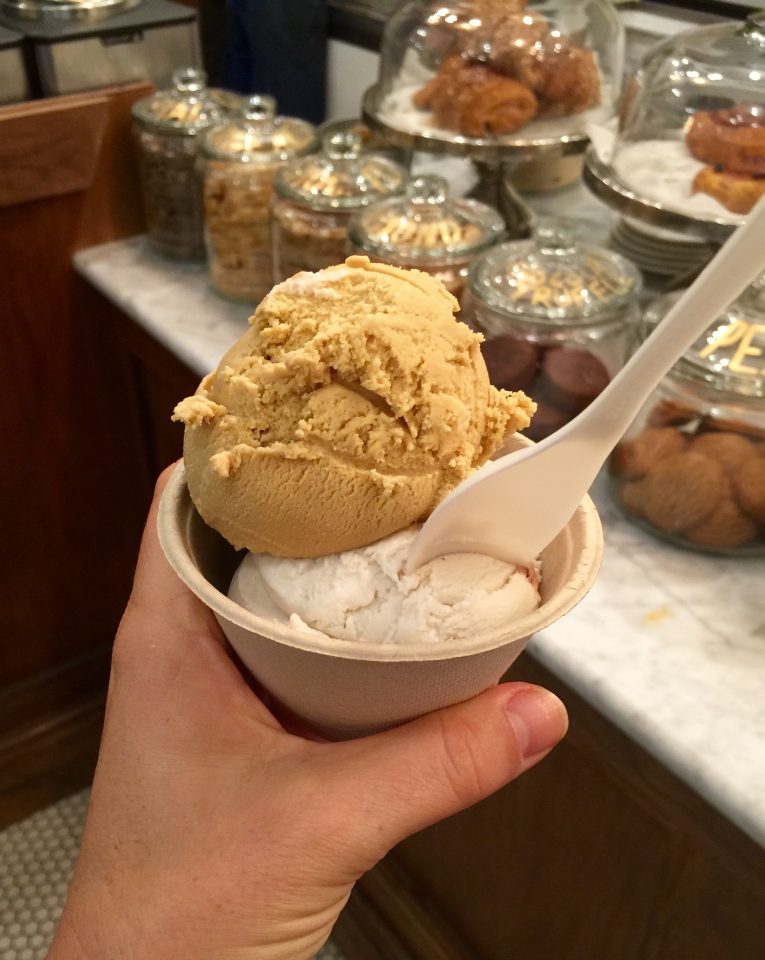 But not as amazing as spontaneous ice cream trips with your favorite friends on the walk home from bible study (we're reading through Wild and Free and it's so good if you need a book recommendation.) We bopped into Van Leeuwan's in the East Village and I went with a scoop each of the vegan sea salt caramel and cookie dough. BEST ice cream in the city.
With that, I'm off for a 12 hour shift – make it the best day!
SaveSave