I wanted to name this post, "Things I Just Couldn't Live Without" and then I thought that was really dramatic….because lezbereal, oxygen and H2O are not on this list. So instead, let's call it "Things I Would Never Want To Live Without If I Didn't Have To." You get the point. It's the every day things. These five things are part of my every day life and I lovveeeeee them. I always love hearing what people use everyday to make their life simpler or more fun or whatever, so I hope you guys enjoy! Also, just an fyi, there are zero affiliate links in this post and none of these brands even know I exist – these are just things I purchase with my own dollar and think they're worth every penny!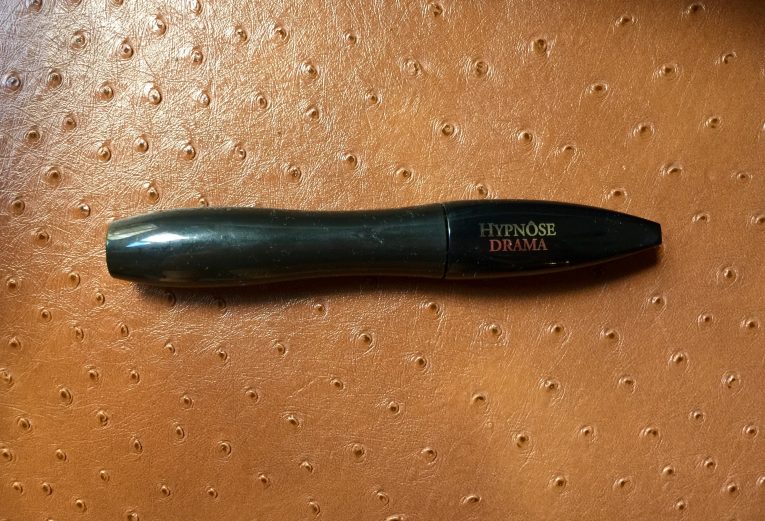 I use to never see the point in spending more than $7 on mascara and so up until a couple years ago, I never invested in my makeup. Why does it matter, right? So for all of college I would wash what felt like tar off my eyes every night. But then I was introduced to Lancome's Hypnose by a friend and realized there is a huge difference between $7 and $30 mascara. I rarely wear makeup during the week, but if I am going to wear something to clinical or class it's always mascara — it makes such a difference with minimal effort and thick eyelashes just make me feel pretty. You get a thick last in a few swipes without clumps and it washes off so easily – love it!
This Budget App
I was raised by a single momma with four brothers. And my amazing momma was a teacher, so while we never went without, I also knew money didn't grow on trees. So when I started to make money and be a real adult after college I would feel guilty about any money I spent even if it was say, on gas or groceries. And I wanted to be responsible with my money, but wasn't great at sticking to budgets. I don't like Mint because the transactions are never sorted correctly and wanted something simple. Enter this app. It's like electronic envelopes. So you can create different categories and then create a budget for each individual category — things like groceries, restaurants, coffee shops, etc etc. After I buy something I just enter it into my phone so then I'm aware of what I'm spending which alleviates any guilt. As long as I'm within budget I know it's okay. My biggest advice is to make your budget reasonable so you have boundaries, but it's not stressful to stick to the budget. I've been doing this for over 2 years now and have saved money and avoided so much stress. I feel for the most part, financially responsible and that feels pretty good.
My Google Calendar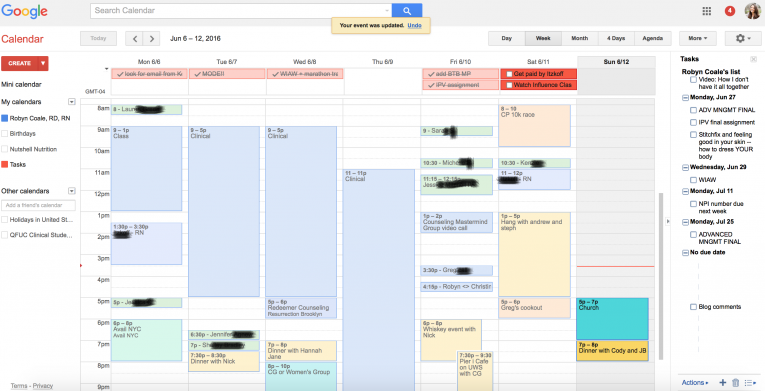 I get asked a lot about how I juggle everything going on and honestly, I only have it slightly together because of Google calendar. If it doesn't get on my calendar, I'm not going to remember. Everything from dinners with Nick to quick 10 minute phone calls I need to make — anything and everything goes on my Google calendar. I also add in any tasks that are due on the day when they're due. From school assignments to just email check ins that I need to send to clients or blog posts or freelance articles I need to write or paying Cody…everything goes on the calendar. Which makes life feel doable because I don't need to clog up my mind with remembering, I just write it down instead. Plus I love all the color coding, email reminders that get sent and I can share my calendar with other people. It's the BEST.
My Lululemon bag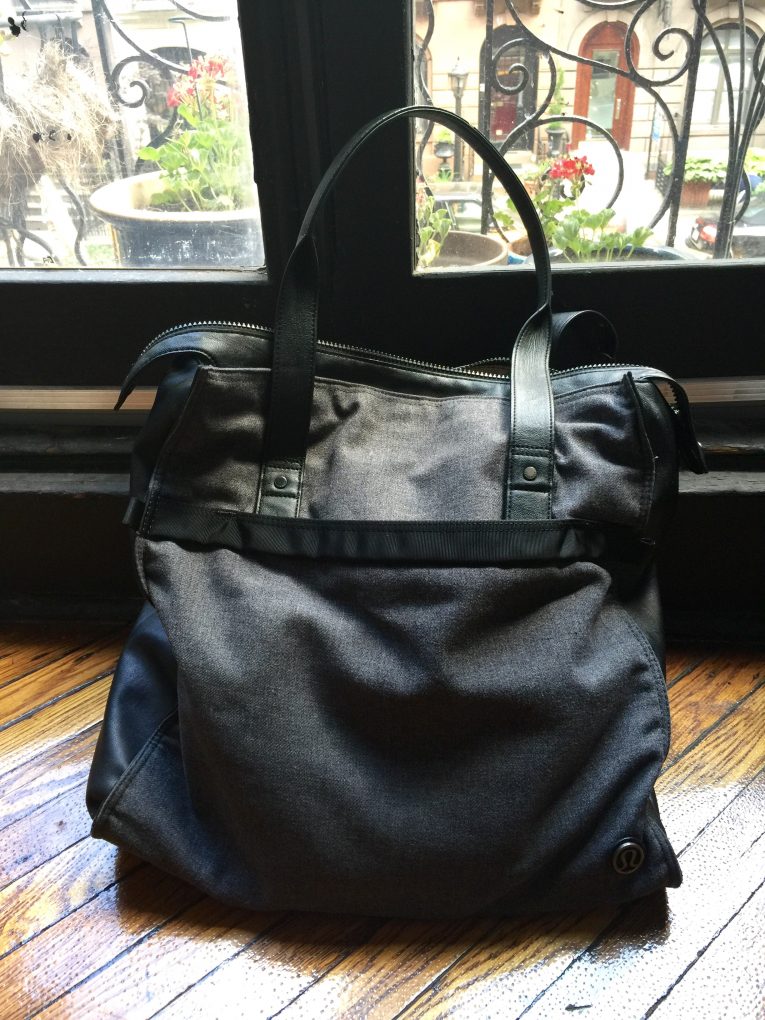 I bought this bag last fall and was iffy on whether or not to purchase it because it was pricey, Nick thought I was crazy – but I cannot tell you what a great investment this was! I love all things Lululemon (it's a big weak area) and needed a bag I could pack gym clothes in, wash when it got dirty, lug around to school and then to work and clinical and a bag that had lots of pockets. This has everything. And it's huge! I can put gym clothes, my computer, any notebooks and my lunchbox all in this one bag which makes traveling around the city so simple. Plus I love the tweed-like fabric and the black and grey combo. They don't sell this style anymore, but here's one that's similar. Considering I wear this literally every day and it's undergone the wear and tear of NYC for almost a year, I'd say it's totally worth the $120 price tag. And just the other day, Nick commented on how he's surprised how much I ended up using the bag and thinks it was worth it too. #winning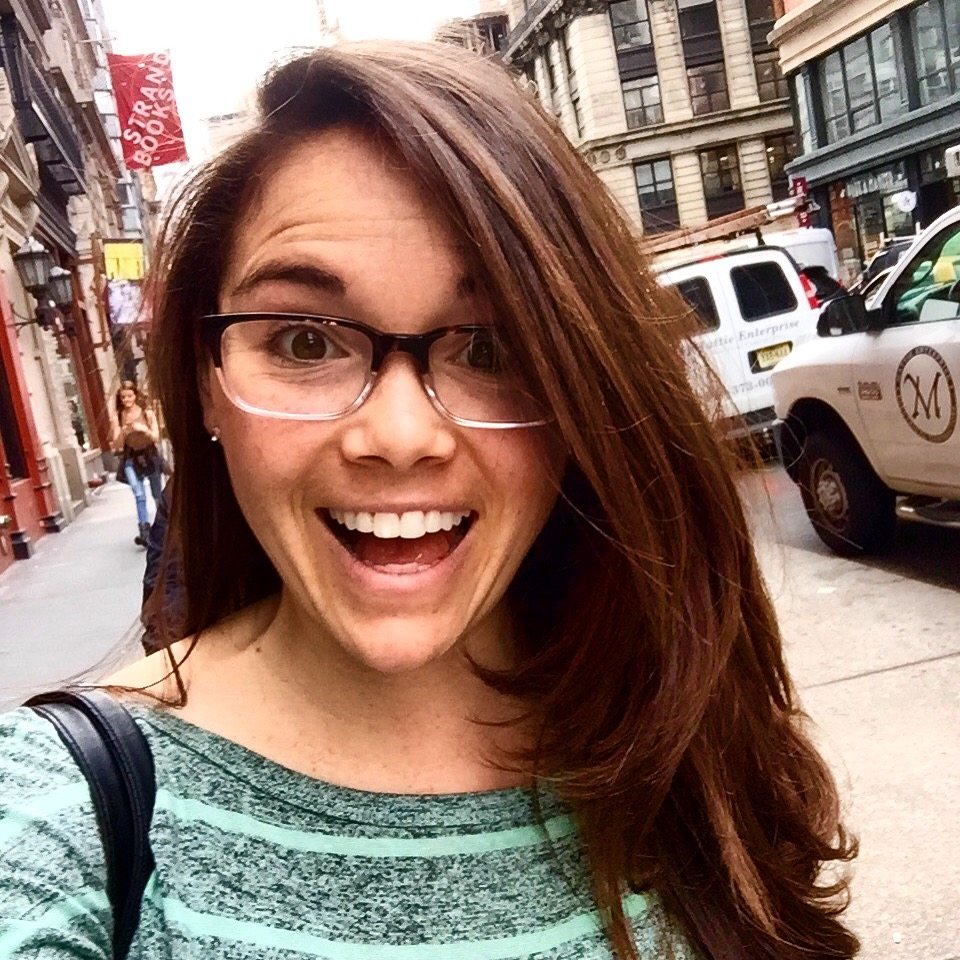 Nick got me these glasses for Christmas and it's definitely my favorite present from him. And so practical! I have contacts but they irritate my eyes so I rarely (aka never) wear them. But I also can't see far away without my glasses or contacts. So instead I wear these glasses basically everyday. The frames are SO light and I love the classic, yet funky little style. Plus I love that one, they're totally affordable (like less than $100 including your lenses) and Warby donates a pair of glasses for every pair purchased. Love love love that. I actually just went and bought another pair of frames last week because I wear them so much and wanted to change it up a bit. And don't worry, if you don't live in NYC, you can try on glasses for free – just choose 5 frames and Warby will ship you a box!
And there's that. Five things I wouldn't' live without if I didn't have to. Happy Monday!