The past few Tuesdays have been a little weird since I've been working this 8 hour shift from 3-11pm and then I typically work 2-3 other twelve hour shifts throughout the week. Totally not my favorite, but such is life.
I haven't done a day of eats post in a while so here we go. My sleep schedule is 12:30 to 7:30-8am these days with work. I'm more of a 11 to 6:30am gal but 8am is my current wake up time. When I'm not working I try to keep with that schedule too since it keeps my sleep rhythmic.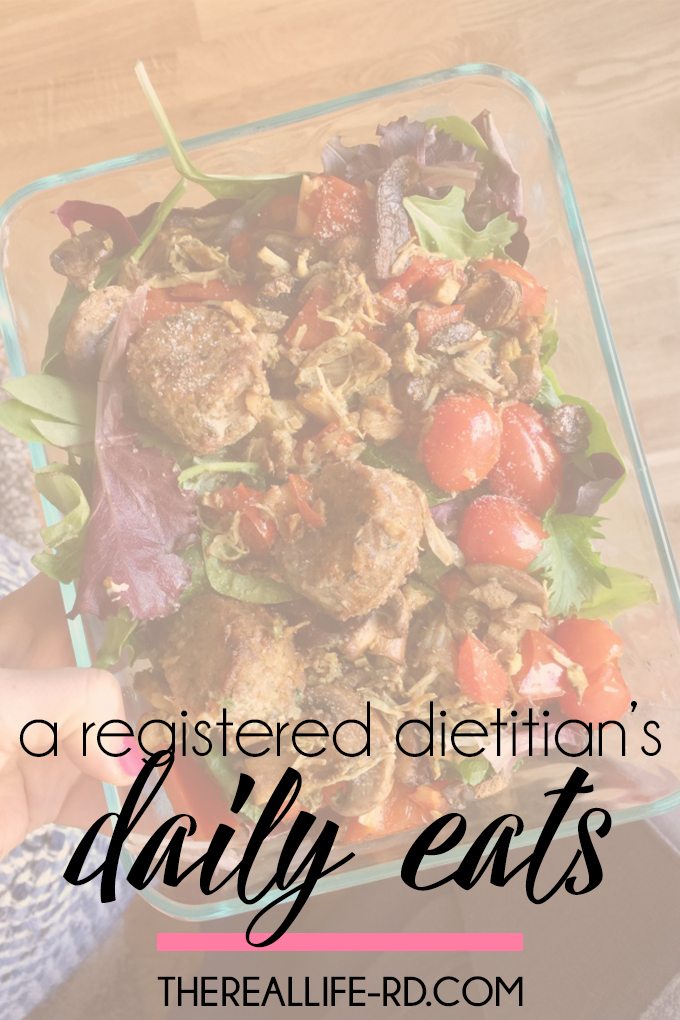 After a couple cups of coffee with whole milk I was craving some PB and J oats for breakfast. Yesterday I used a 1/2 cup portion of oats. Some days I use 1/3 if I'm going to work out within the hour so I don't vom up my breakfast –> I see 1/3 cup portions used all the time on instagram and can I make a little PSA? Unless you're eating oatmeal as a snack or are using ample toppings such as granola or something, 1/3 cup to me is a little measly of a portion. 1/2 to 2/3 of a cup usually satisfies my hunger, but if I was hungry enough for a cup I'd eat that too. Ok, PSA over.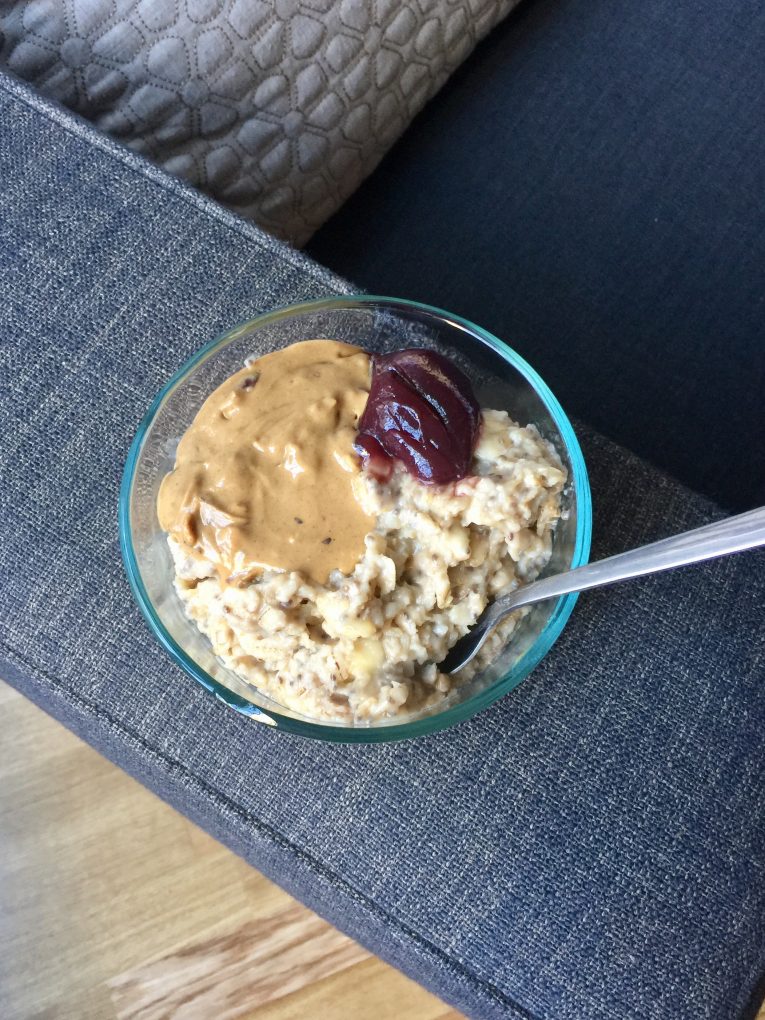 I cooked the oats in almond milk along with a spoonful of chia seeds, vanilla and a pinch of sea salt. Then stirred in a banana at the end and scooped on some WF crunchy PB and Crofter's grape jelly, two of my favorites.
I was hungry a couple hours later before leaving for zumba so I snacked on chocolate + PB.  Yep, took my first zumba class yesterday. It was awesome.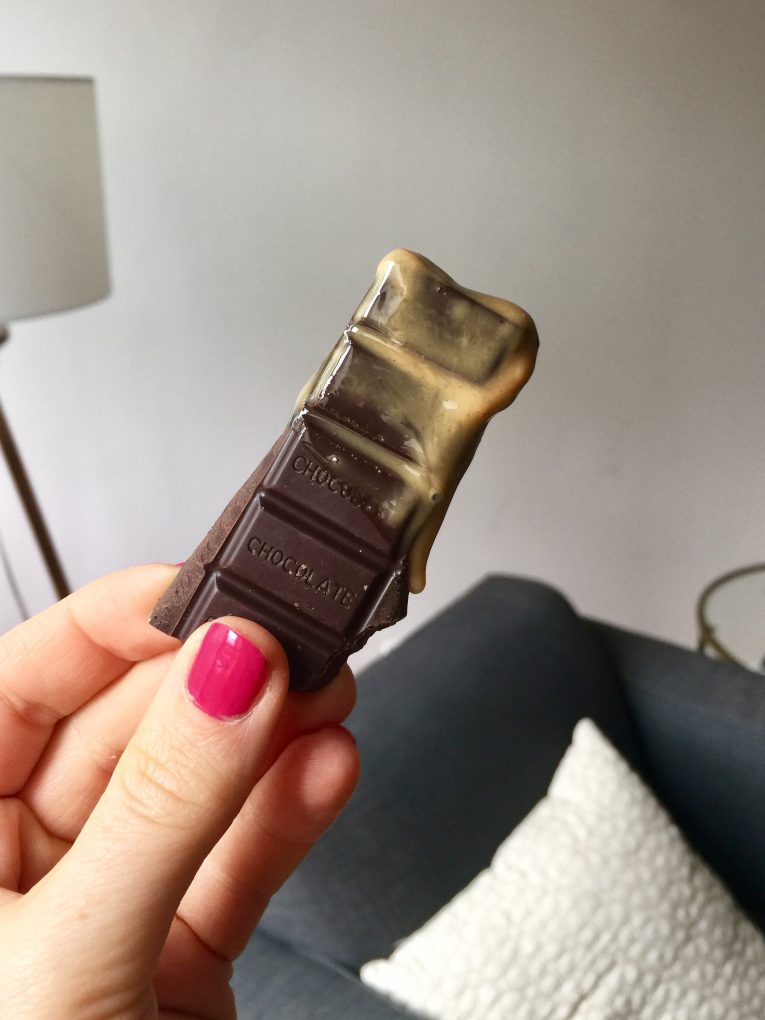 Post exercise I made a blueberry chocolate smoothie using almond milk, chocolate Vega, frozen blueberries, frozen spinach, 1 tsp of maca powder and some ice. It made enough smoothie to fill this jar up x 2.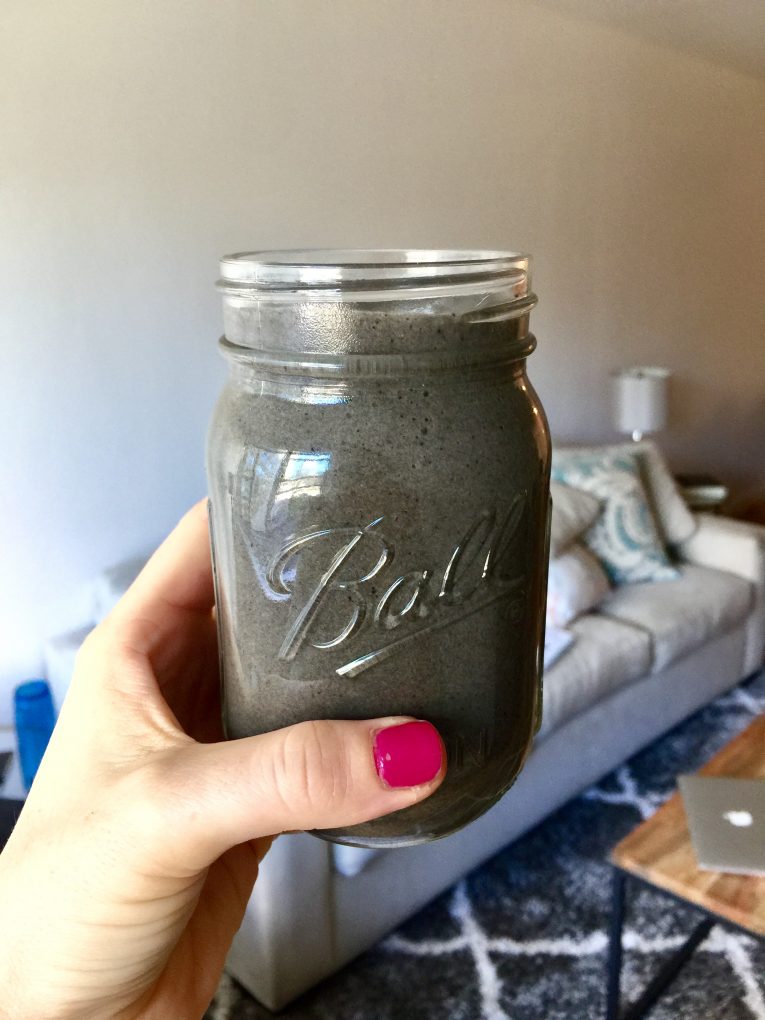 And then I threw together lunch and packed up snacks + dinner for work. I snacked on some cucumber while doing so because they were about to go bad and it was either my mouth or the trash.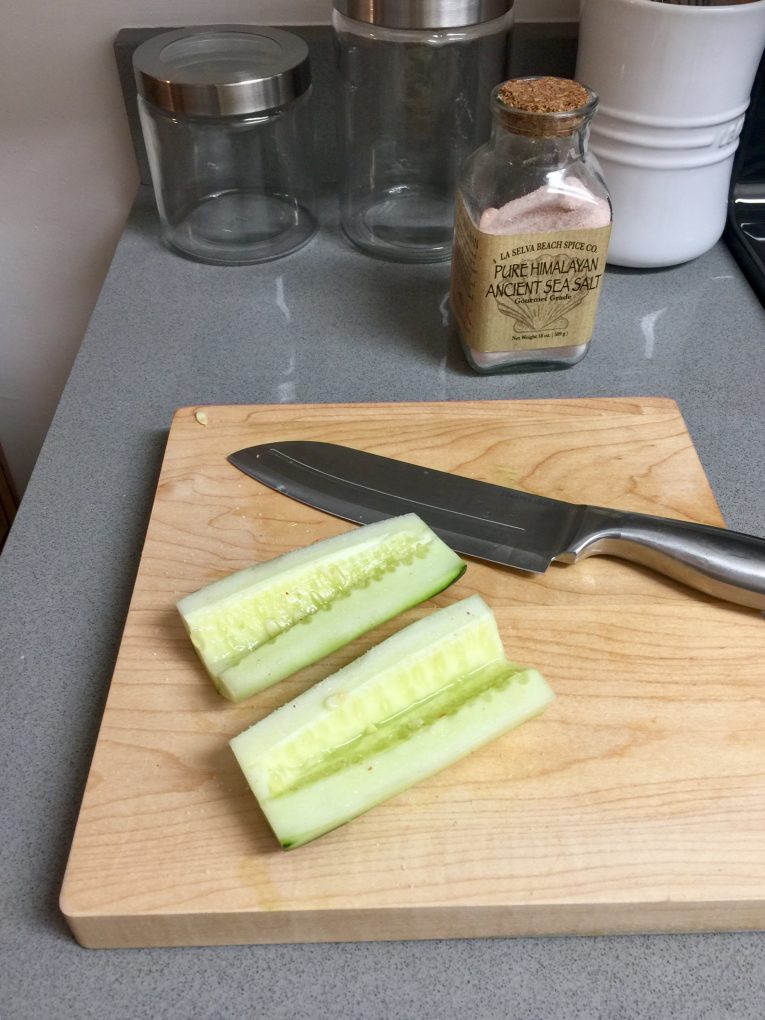 Lunch was a bunch of leftovers from Monday night's dinner thrown onto some greens. Nick and I ate a smorgasbord of mediterranean food on Monday and I took home some leftover chicken shawarma, hummus, and falafel.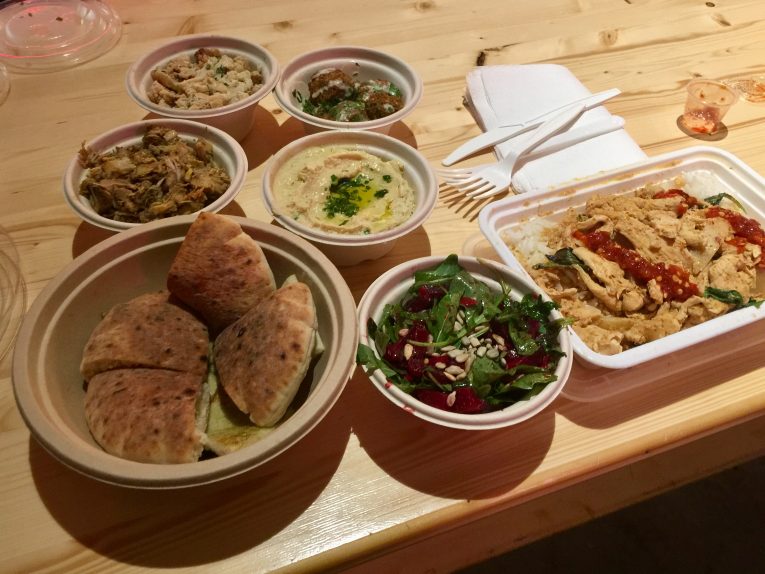 I sautéed up the falafel and chicken with bell pepper and cherry tomatoes, added it to a bed of spring mix, drizzled on some olive oil and called it lunch.
I need carbs to satisfy me at all meals so I popped some popcorn on the stovetop in coconut oil, sprinkled with sea salt and ate that while getting ready for work. By getting ready I mean swiping on mascara and throwing my hair in a ponytail.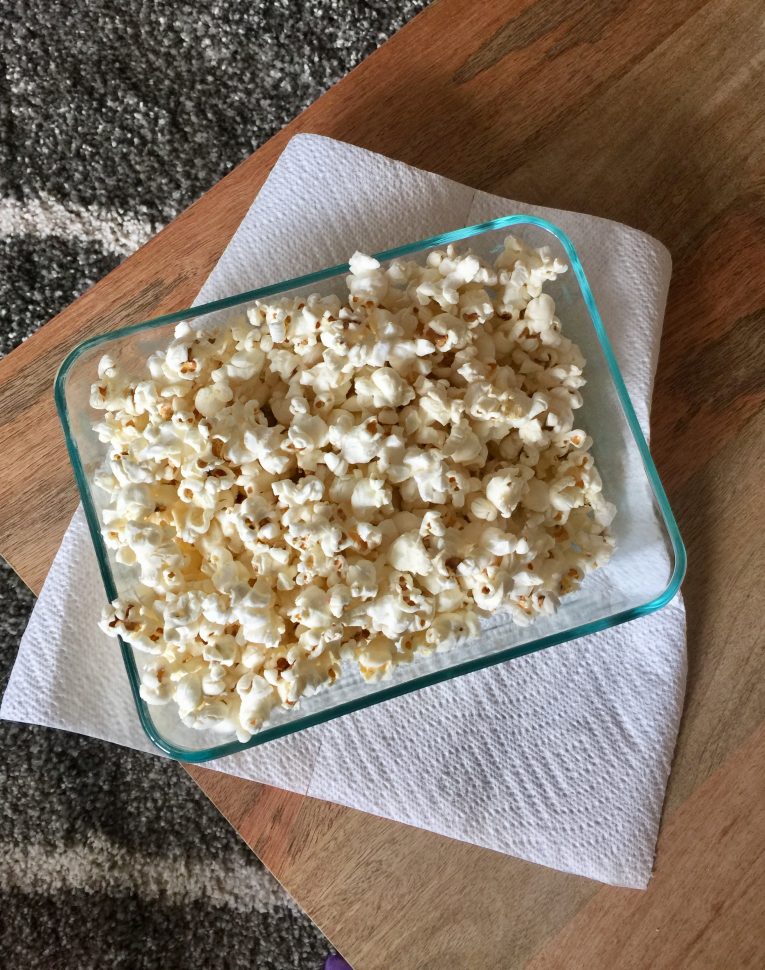 And then took a strawberry popsicle with me to go! Yes, summer…you are near.
Work was slower yesterday so I had time to snack on veg + hummus and some beef jerky I was sent from Laura's. I've been into savory > sweet snacks lately so this satisfied.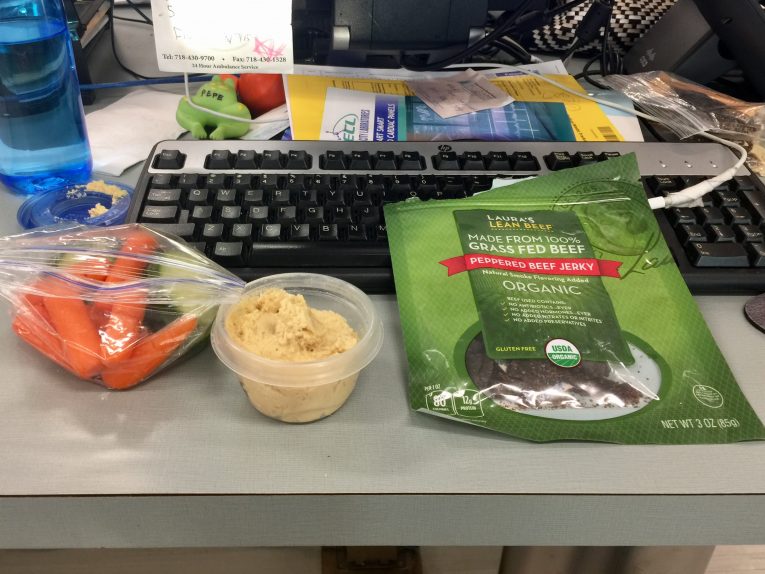 Dinner was leftover tuna cakes from last week. I know tuna cakes sound absolutely disgusting but I promise these jalapeño coconut ones were good and SO easy. I was short on groceries and had a couple cans of tuna so googled "tuna cakes" and found this recipe. I added some hot sauce and ate them with green beans and a baked potato with olive oil.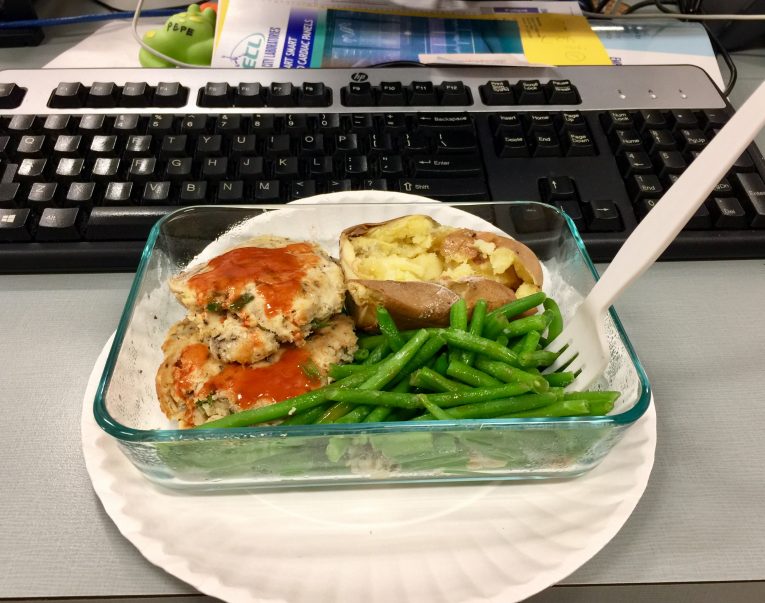 I left work around 11:20, was home an hour later and had a few spoonfuls of ice cream before hopping into bed.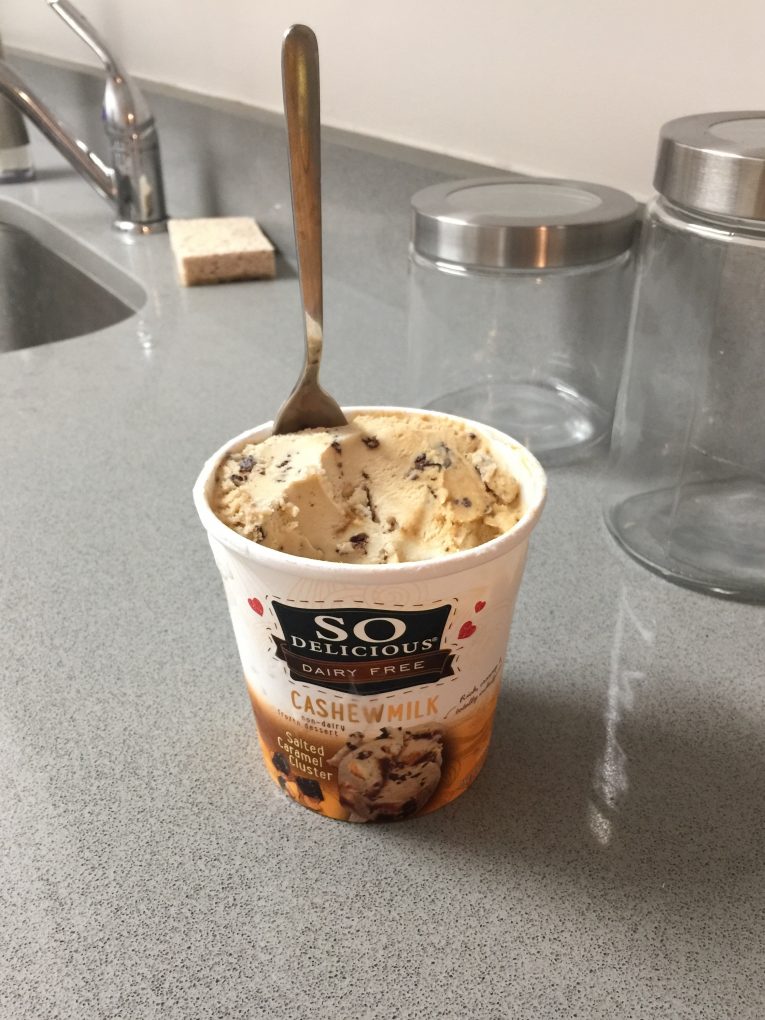 SaveSave