I don't really dislike anything sweet. I pretty much like it all. But two things I will never crave are crispy cookies and whip cream frosting – not buttercream, whip cream. They just do. not. satisfy. at. all.
Chewy, slightly under baked cookies with a semi-doughy center though….I'M ALL ABOUT YOU.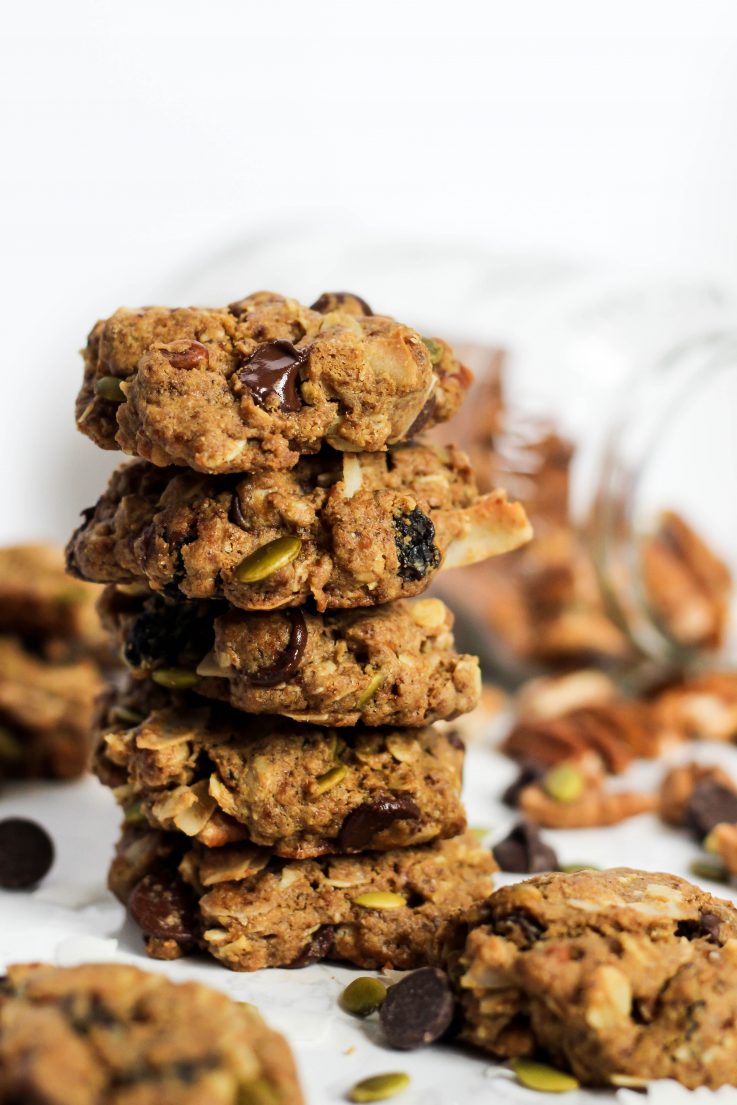 I can get really bored with snacks. You will likely never see me eating plain almonds unless they are paired with raisins and chocolate in a trail mix. I get bored with bars and a girl can only eat so many bananas and peanut butter.
But baked goods…they are my favorite snack. Almost weekly I will bake something up to make for snacks. Most times it's some rendition of banana bread. Other times it's a chocolate chia cookie or some sort of energy ball. Most recently, it's been these trail mix cookies.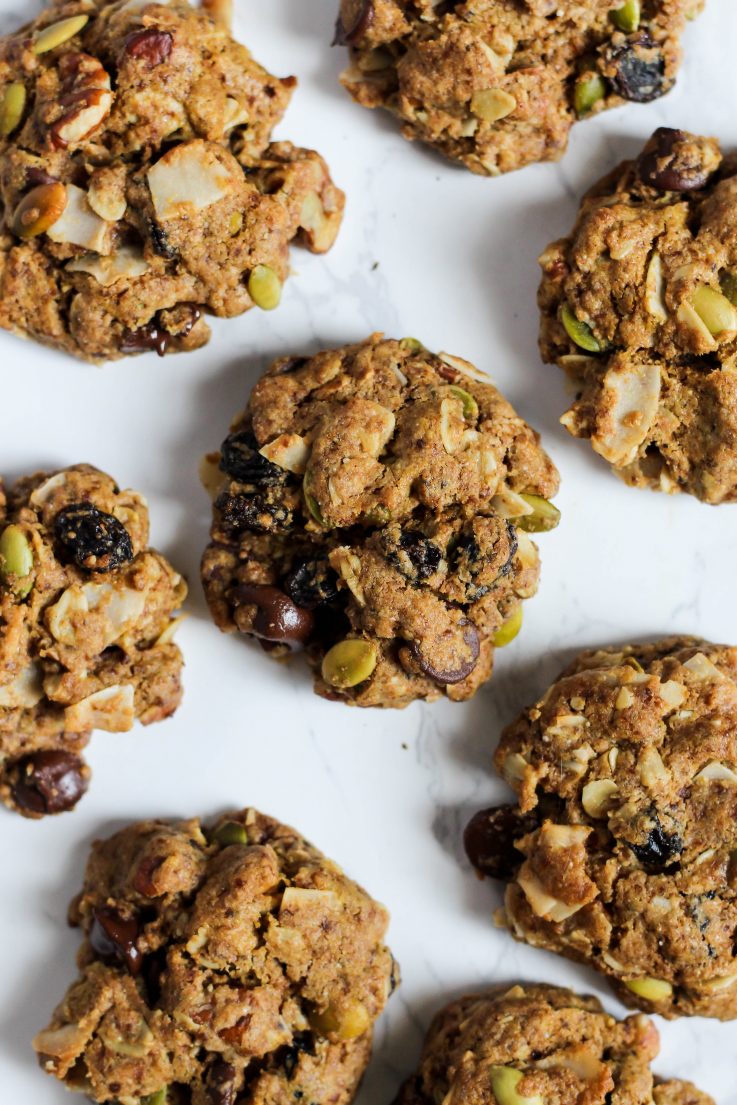 Think salty, sweet, perfectly under baked, and paired so naturally with a glass of chilly milk. I prefer unsweetened almond breeze if I'm drinking milk straight up. Whole milk in my coffee please.
And the best part about these is that they are so customizable. Use any add-ins that you have in your cabinet. Sometimes it's peanuts and chocolate chips. Sometimes apricots and almonds. Sometimes coconut and pecans and more chocolate. Use whatever you have or whatever sounds good. Mix up the nut butter, use oat flour or all purpose or spelt flour instead of whole wheat pastry flour! Just don't use any non-grain flour.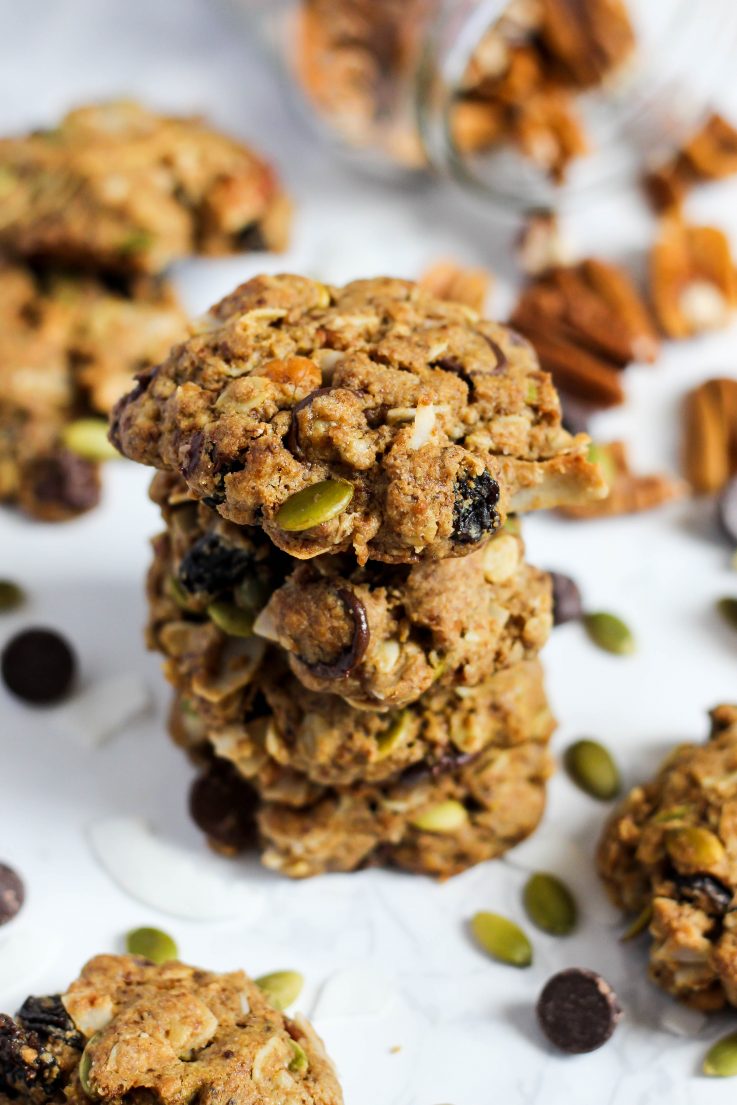 These are respectable gluten filled, sugar sweetened cookies. There's a time and a place for coconut and almond flour. This is not one of them.
My favorite thing is to make a double batch and stick half in the freezer. Nick eats as much food as like four teenage boys so I've learned to make double or triple of everything. Bless that hungry man.
However you make or eat these cookies, I hope you enjoy every salty + sweet bite.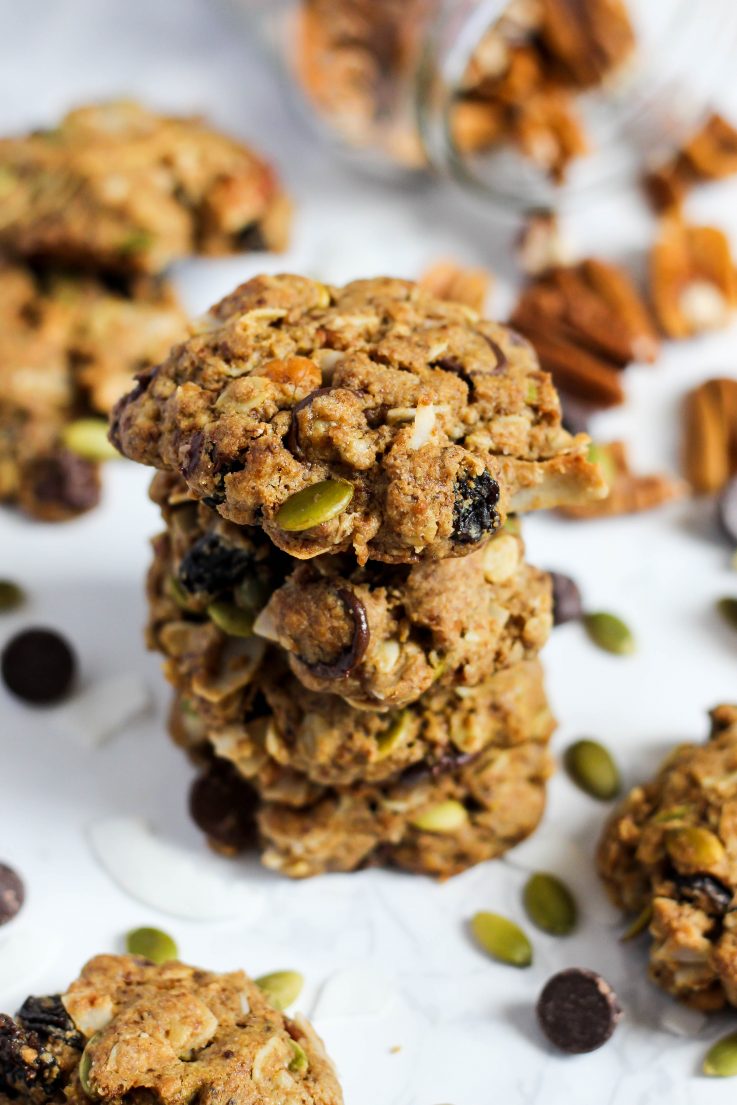 Trail Mix Cookies

Print recipe
| | |
| --- | --- |
| Serves | 12-16 cookies |
| Prep time | 10 minutes |
| Cook time | 10 minutes |
| Total time | 20 minutes |
Ingredients
1 cup whole wheat pastry flour
1/2 cup coconut flakes
1/3 cup rolled oats
1/3 cup raisins or dried cherries
1/3 cup pecans (chopped)
2 tablespoons pumpkin seeds
1/3 cup chocolate chips
1 teaspoon baking powder
1/2 teaspoon baking soda
1/4 teaspoon sea salt
1/4 cup coconut oil (melted)
1/3 cup brown sugar
2 tablespoons almond butter
1 egg (or flax egg using 1 tbsp flax meal + 3 tbsp water
1 teaspoon vanilla extract
1 tablespoon almond milk
Directions
Step 1
Preheat oven to 350F. Lightly grease a baking sheet or line with parchment paper.

Step 2
In a large bowl, add flour, coconut, oats, raisins, pecans, pumpkin seeds, chocolate chips, baking powder, baking soda, cinnamon, and salt. Stir to combine.

Step 3
In a medium bowl, add oil, sugar, almond butter, egg (or flax egg), and vanilla. Whisk to combine.

Step 4
Slowly pour wet ingredients into dry ingredients. Stir until thoroughly mixed together.

Step 5
Form 12-16 balls of dough and place onto the baking sheet (you may need to bake them in two batches). Slightly flatten each ball of dough.

Step 6
Bake for 8-10 minutes, until the edges are light brown and slightly crispy.