Olive Garden fettuccini with those breadsticks and seemingly amazing salad dressing were my jam in high school. For some reason, I thought it was the best Italian food. As in, when my mom and I took a trip to New York City when I was 18 my dinner request was Olive Garden in Times Square. wtf?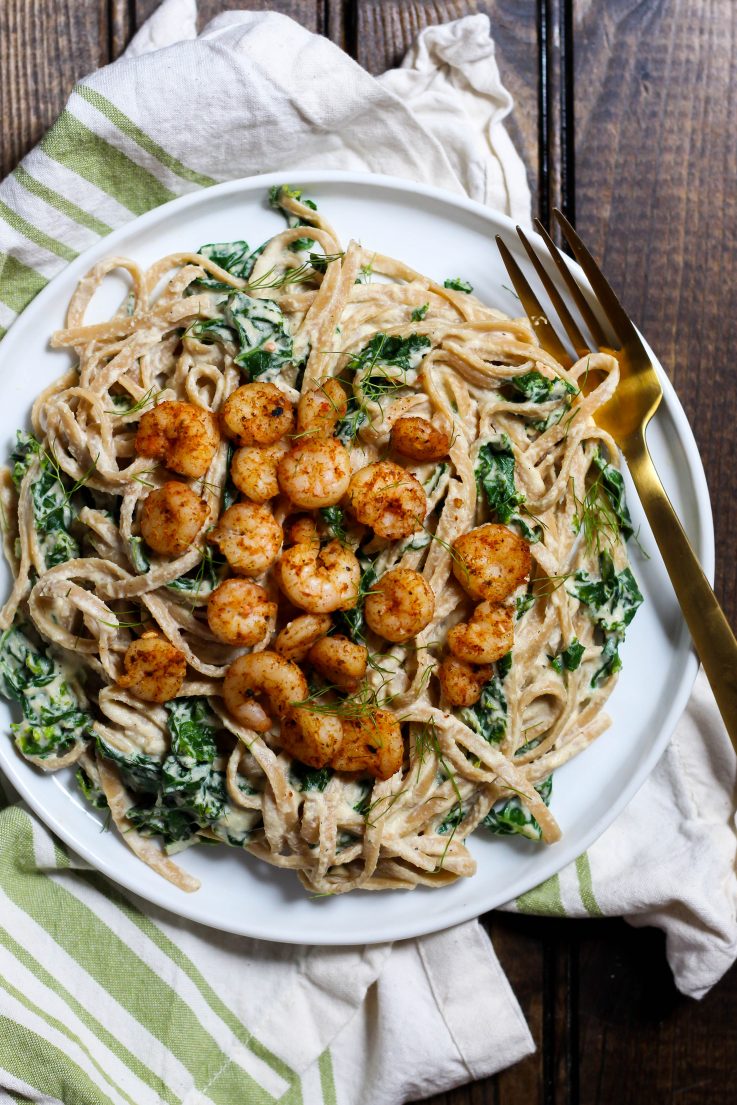 Now, not only do I live in the city and Times Square is my personal nightmare that I will avoid at all costs…but I'm not into OG alfredo like I once was. My taste buds have matured and I'm like, "ummm, only give me the from scratch creamy sauce and did you roll that pasta yourself?" If I want some classic fettuccini I want it make with the best cream and cheese and homemade pasta around. Rome, I still dream of you.
And if I want something I can eat for lunch or a dinner when I don't want something as heavy, that's where this recipe comes in. I'm all about some classic alfredo and sometimes that is the only thing that will satisfy a craving. And sometimes I eat it for the experience — hi, outside patio in Florence — which are both really important parts of intuitive eating. But sometimes I want something that sits a little lighter in my stomach and leaves me energized to see patients all afternoon. All alfredo versions are good and nourishing. This alfredo though, is the one that fits me best for a weekday lunch. But eat it absolutely anyyyyyytime. Alfredo for breakfast?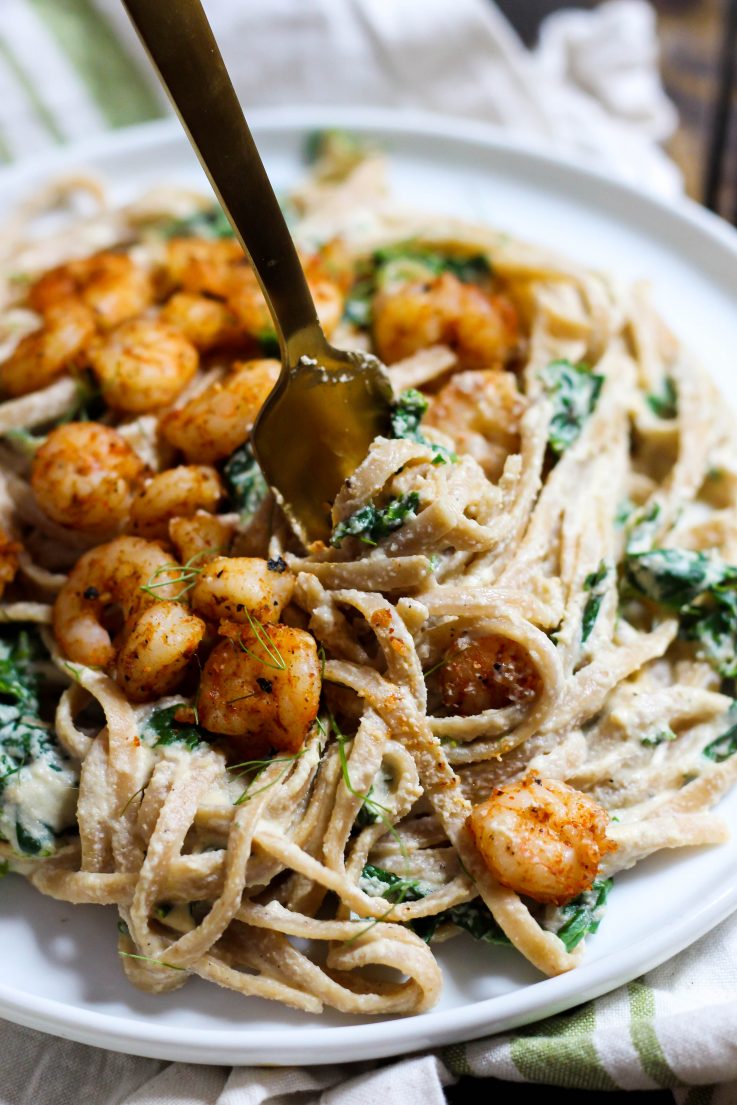 I think cashews are the most versatile ingredient ever. I mean you can make homemade cookie dough oat balls, creamy ranch dressing and "ricotta", plus frosting and so much more with this nut! My personal fav is buying the maple roasted cashews straight up out of the bulk bin at Whole Foods for snacks. —> plzzz try, snacks will never be the same.
Now add alfredo to the cashew resume. This creamy, dreamy sauce will make you want to skinny dip in it. Yes.
I like shrimp because it's summer, and shrimp to me means summer, but mix it up. Routine is bor-ing. Add chicken or chickpeas or broccoli or salmon (?) – whatever you want, you do you. Isn't that what everyone's saying these days? You do you boo boo.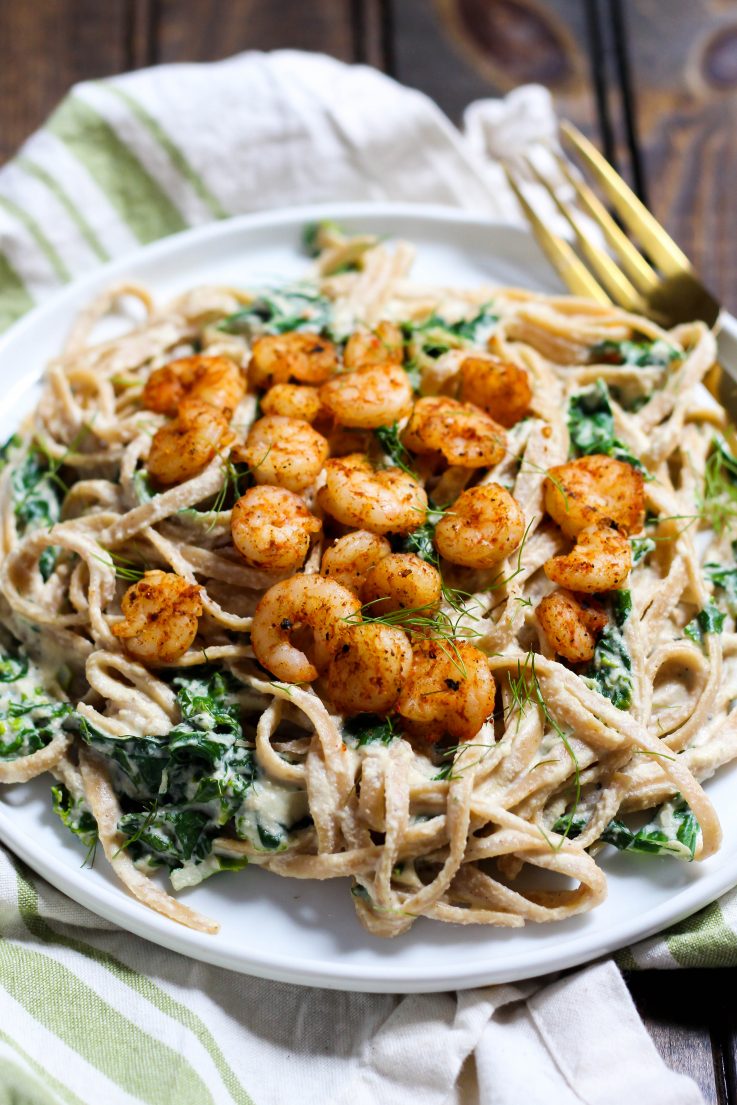 Summertime Shrimp Alfredo

Print recipe
| | |
| --- | --- |
| Serves | 4-6 (more or less depending on hunger) |
| Prep time | 8 hours |
| Cook time | 30 minutes |
| Total time | 8 hours, 30 minutes |
Ingredients
16oz whole wheat fettuccini ((or brown rice or white pasta))
oil or butter for cooking
1lb shrimp (peeled)
1/2 teaspoon paprika
2 cups kale (chopped)
1 1/2 cup raw cashews (soaked in water overnight)
3 cloves garlic (minced)
1 cup vegetable broth
2 tablespoons parmesan cheese or nutritional yeast
1/2 teaspoon sea salt (or to taste)
1/4 teaspoon pepper (or to taste)
Directions
Step 1
Cook pasta according to package directions. Drain; return to pot.

Step 2
While the pasta is cooking, prepare shrimp. In a large skillet, add oil or butter over medium heat. Add shrimp; season with paprika, salt, and pepper. Cook for 7-8 minutes, until shrimp turn pink. Add kale; cook until wilted, about 2 minutes.

Step 3
Drain cashews.
Step 4
To a food processor or blender, add cashews, garlic, broth, cheese, salt, and pepper. Blend until smooth. Add more broth for a thinner sauce, if desired.

Step 5
Add shrimp & kale mixture and cashew sauce to the pot with the pasta. Stir to combine all ingredients.

Step 6
Top with extra cheese, if desired.
SaveSave