It feels balmy at 24 degrees here this morning.
This weekend was bitter cold. As in my legs would go numb within 5 minutes of walking outside if I didn't have 2 pairs of pants on. But it was also cozy and restful. And I ate a lot of satisfying foods. So that's a win I think.
We are really lucky in that we have a close couple friend that lives in Boston. Through them we've become close to another couple. And then our good friend Emily moved from New York to Boston in December. Everyone knows each other and lives within a 10 minute walk so it's formed a small friend group for us which has made the transition so much easier. Really thankful for that.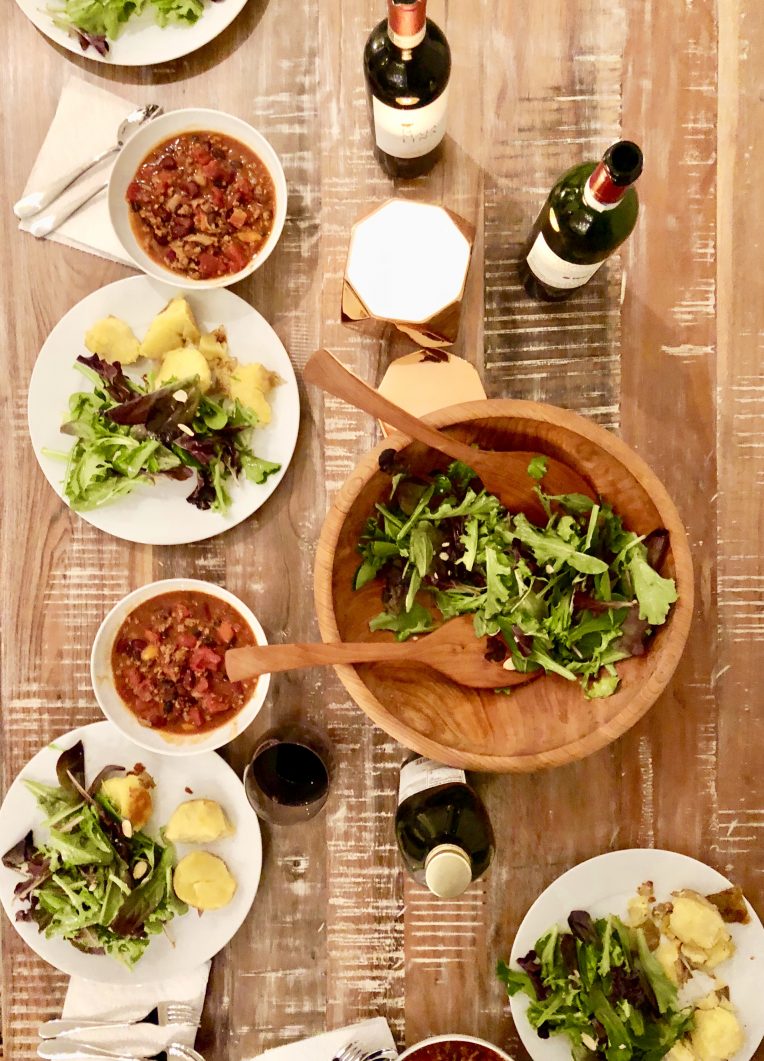 Friday night being outside was unbearable so Nick and I invited friends over for chili. We snacked on a cheese board that I forgot to photograph and drank wine. For the chili, I used this recipe made in the Instant Pot (favorite kitchen appliance as of late) along with roasted potatoes in olive oil and a simple mixed green salad – almonds, cranberries and honey dijon vinaigrette.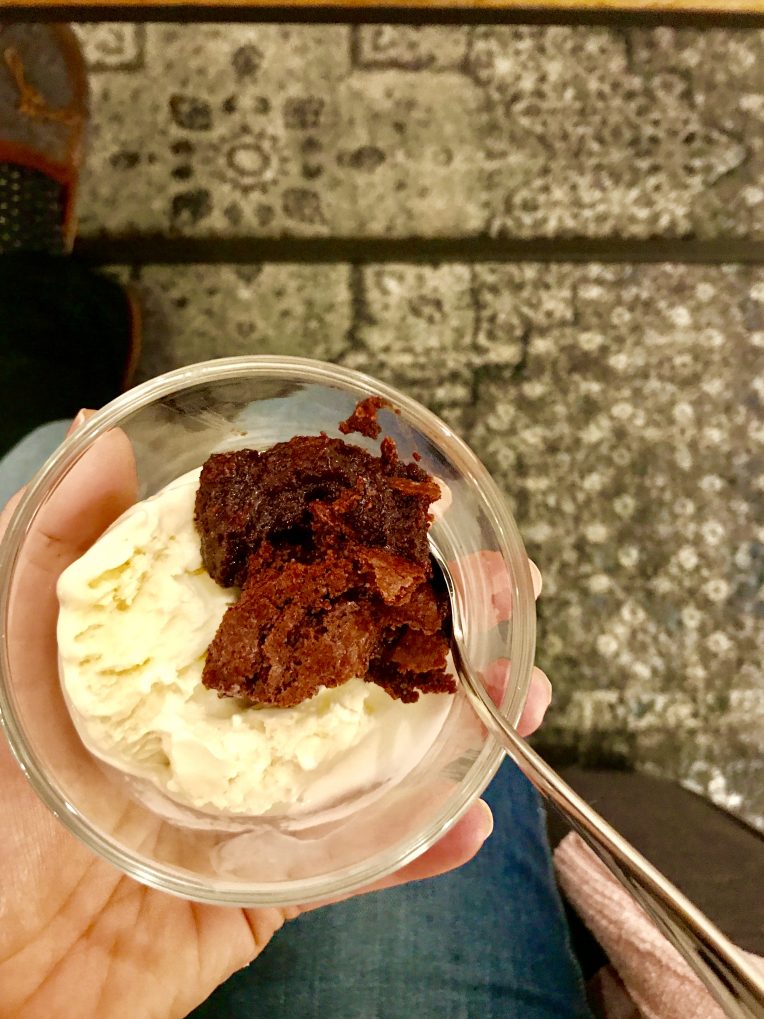 Plus brownies + ice cream for dessert.
Saturday morning I woke up and had breakfast  + coffee but forgot what I ate and didn't take a picture. I remember it kind of sucking though so maybe that's why… oatmeal maybe?
I had a client at 10am and then spent most of Saturday working on the amenorrhea e-course. I'm hoping to release this by the end of January. I'm excited about it! And I hope it's helpful for many women. I so wish I would have had a resource like this when I was going through hypothalamic amenorrhea. It's taking a little longer to develop the material and accompanying handouts because I realized I wanted to incorporate a lot on developing positive body image and cultivating self care. More details on this coming in my newsletter (sign up in the sidebar –>) and on the blog/social media in coming weeks.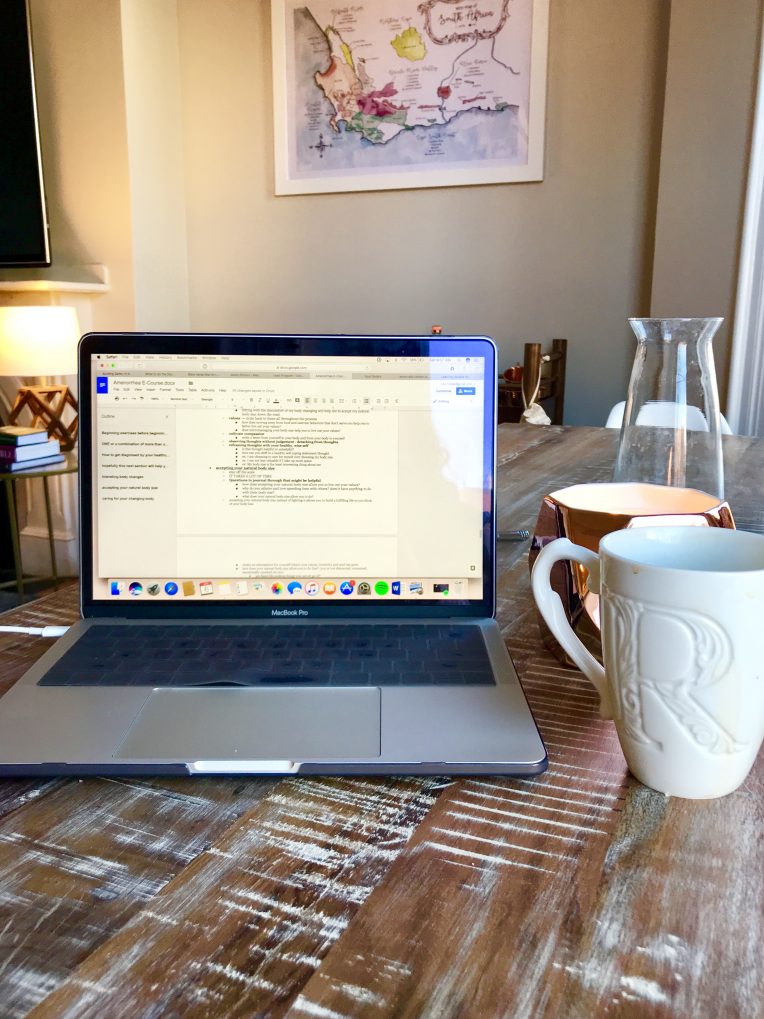 Lunched on leftover lentil soup.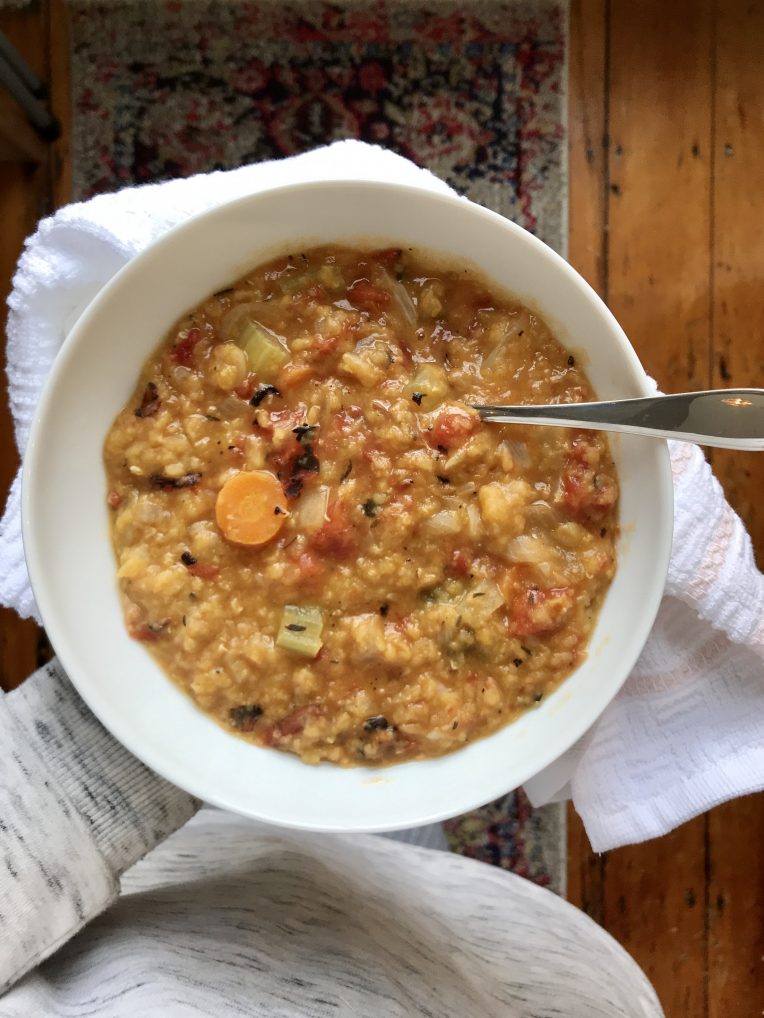 In addition to some plantain chips and chocolate.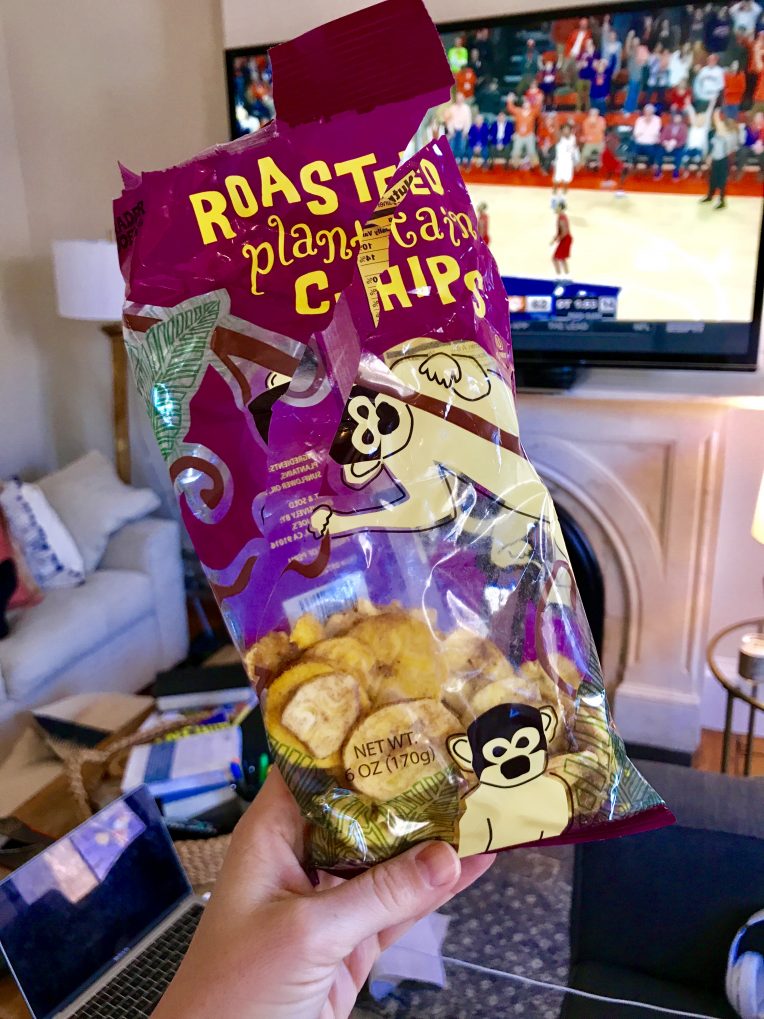 Nick watched the UNC/UVA game and I watched here and there and worked at the same time. Nick was disappointed (he's a very intense UNC fan) but I wasn't mad at the UVA win 🙂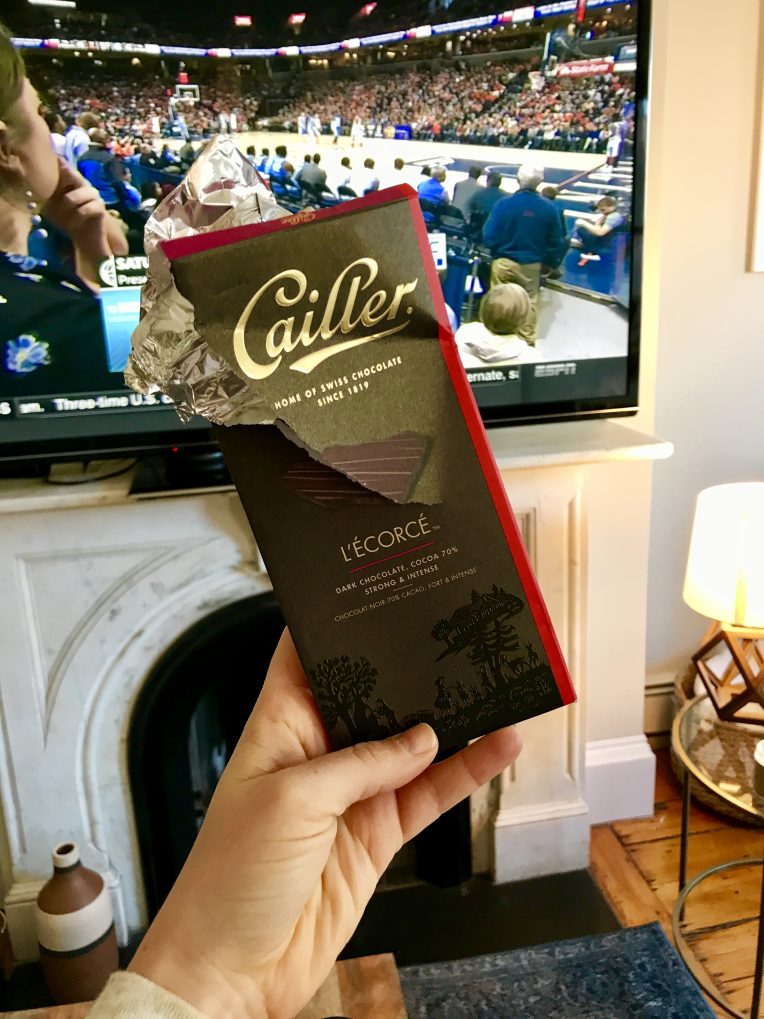 I had been inside all day so around 4:30 decided to walk over to the gym for some sort of movement. I'm trying out this new gym as a free week trial period and it's growing on me by the day. It's an all women's gym which I love because the classes are less hardcore bootcamp-ish and so far (from what I can tell) the culture and environment seem more "move your body to feel good" rather than "burn off what you did this weekend" which is nice. The classes aren't as amazing as you would find in a small studio like Barre3 or a yoga studio but they are good enough I think.
I loved the Barre3 studio when I tried it out. And I would love to belong to a barre or yoga studio, but it's hard for me to justify the price for an unlimited package (I hate paying the crazy price of an individual class) when you can only do one type of class. I need variety! (I also realize deciphering between which "gym I'll join" is a first world, luxurious decision) HealthWorks is more "affordable" and gives a small discount for health care practitioners which is nice too. Sooo all that to say, I think I'll join for the barre and yoga classes, machines when I want to do that and mostly the sauna and whirlpool. If you live in Boston and are part of HW, I'd love to hear your experience in the comments 🙂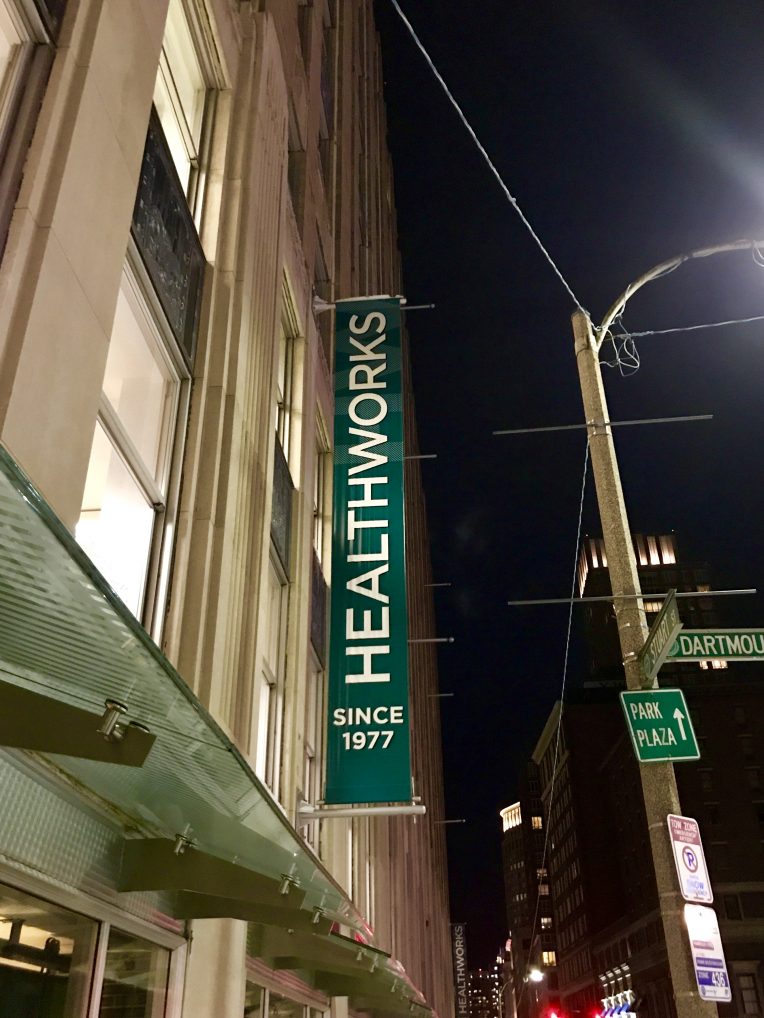 Came home. Showered. Drank a smoothie (almond milk, banana, blueberries, spinach, ice, Vega) and snacked on cheese and crackers Nick had out.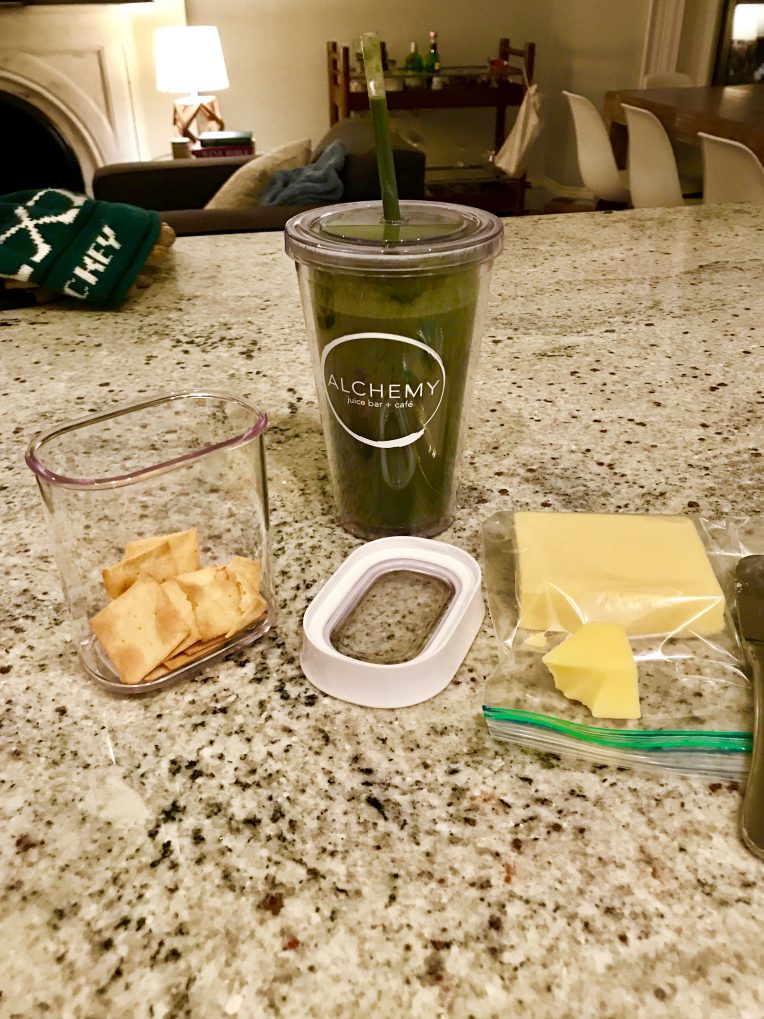 Then we braved the negative degree cold to walk to our friends for dinner. Being inside a home cozied up was the only way, in my opinion, to survive the weather..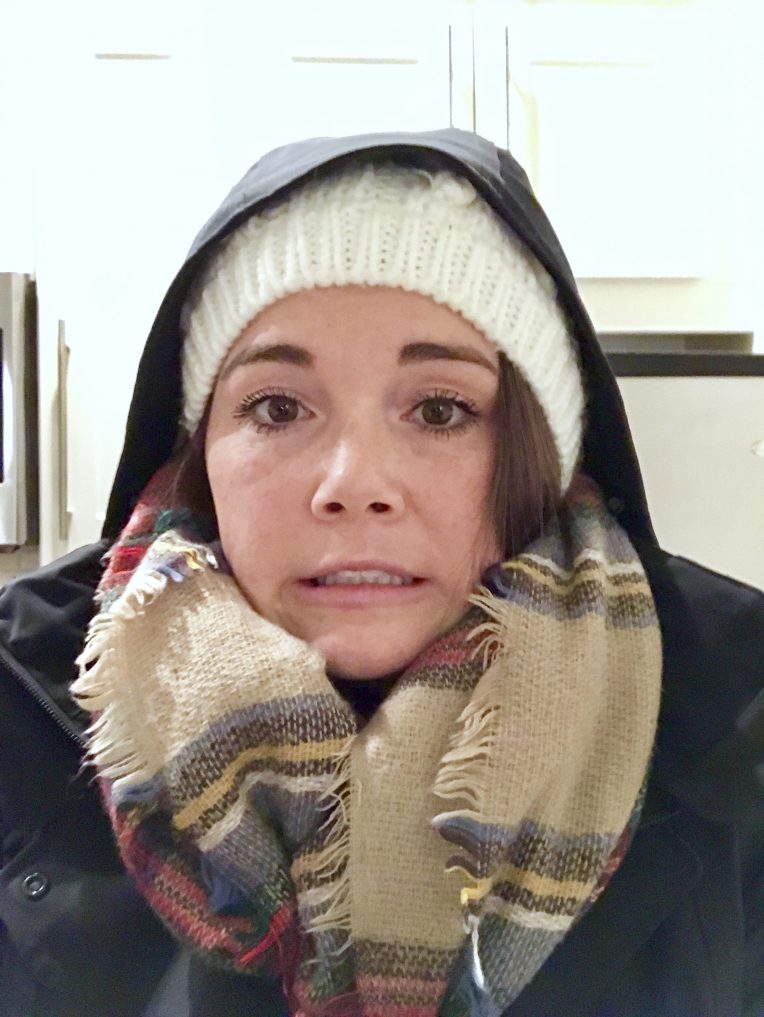 We snacked on charcuterie.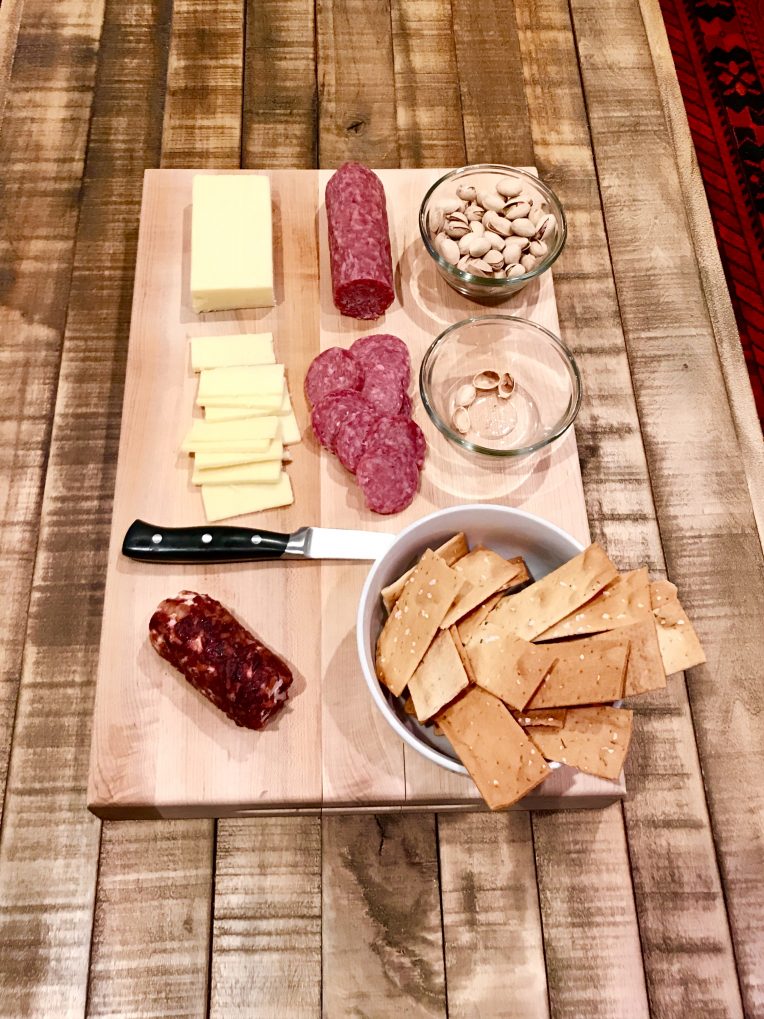 Drank red wine. And ate spaghetti carbonara that was very good. I've actually never had this, but how can you go wrong with spaghetti, bacon and cheese? You can't.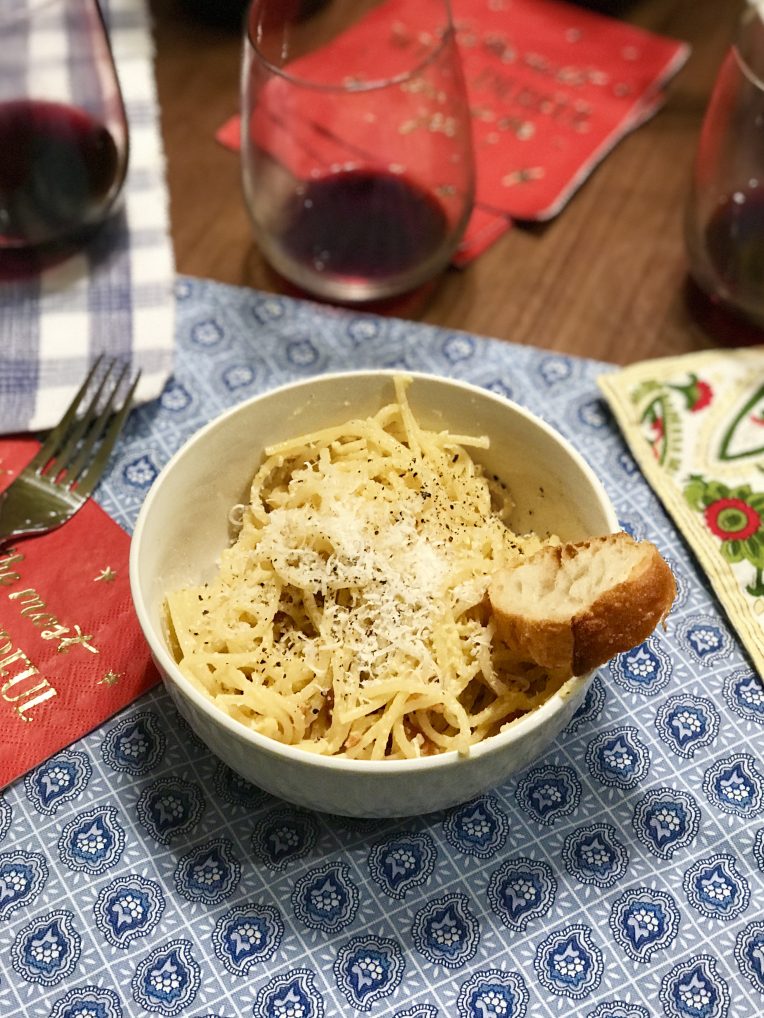 Peppermint brownies with chocolate chip ice cream were dessert, served in these adorable ramekins that I now think I need. I have no idea where they are from but I'll ask Alicia and report back.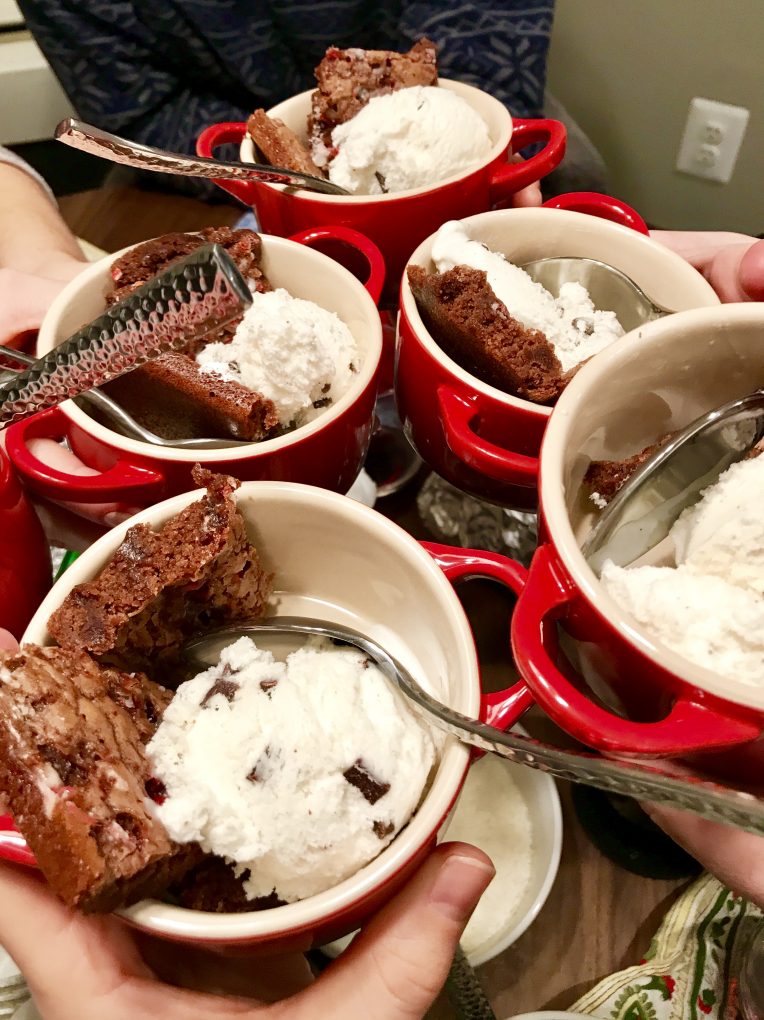 And since we stayed until 1am talking, we drank hot chocolate later on. By 1am everyone realized it was bedtime and Nick and I bundled up for the 10 minute walk home. –> I am LOVING the closer proximity of where we live and Boston as a whole compared to New York.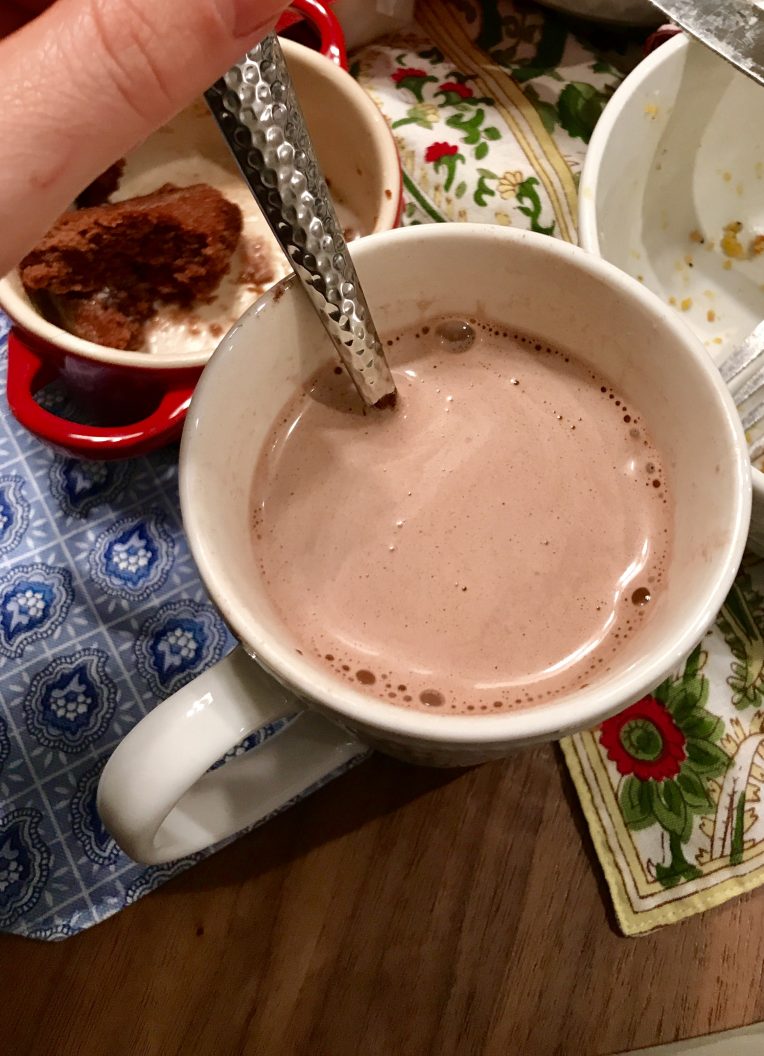 We slept till 9:30 on Sunday. I ate a smaller breakfast before church since I knew we were going out for brunch in a couple hours. Whole milk greek yogurt + maple syrup + brown rice cereal + banana + sunbutter.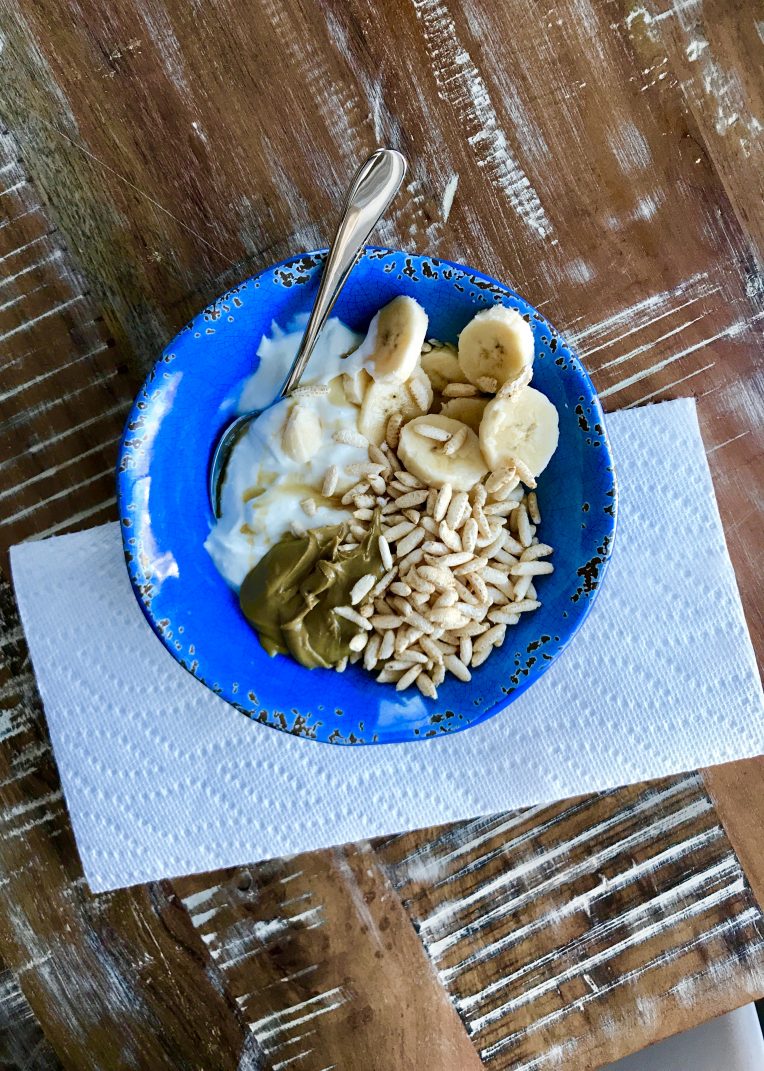 We went to the 11am service at City on a Hill church in Brookline. Finding a church can be a long process so I'm trying to be patient even though I want to find a church home, like yesterday. All in time, Robyn. I thought the worship and preaching were great and I met a blog reader (hi, Suzanne!) so that was fun. It's a little far away (15-20 minute drive) and so we'd love something more in our neighborhood, but we'll see.
Brunched at Tatte afterward which was fab. I ordered the shakshuka which was incredible and so comforting. Highly recommend! They are opening a location less than a mile from us in a week or so and I'm so happy.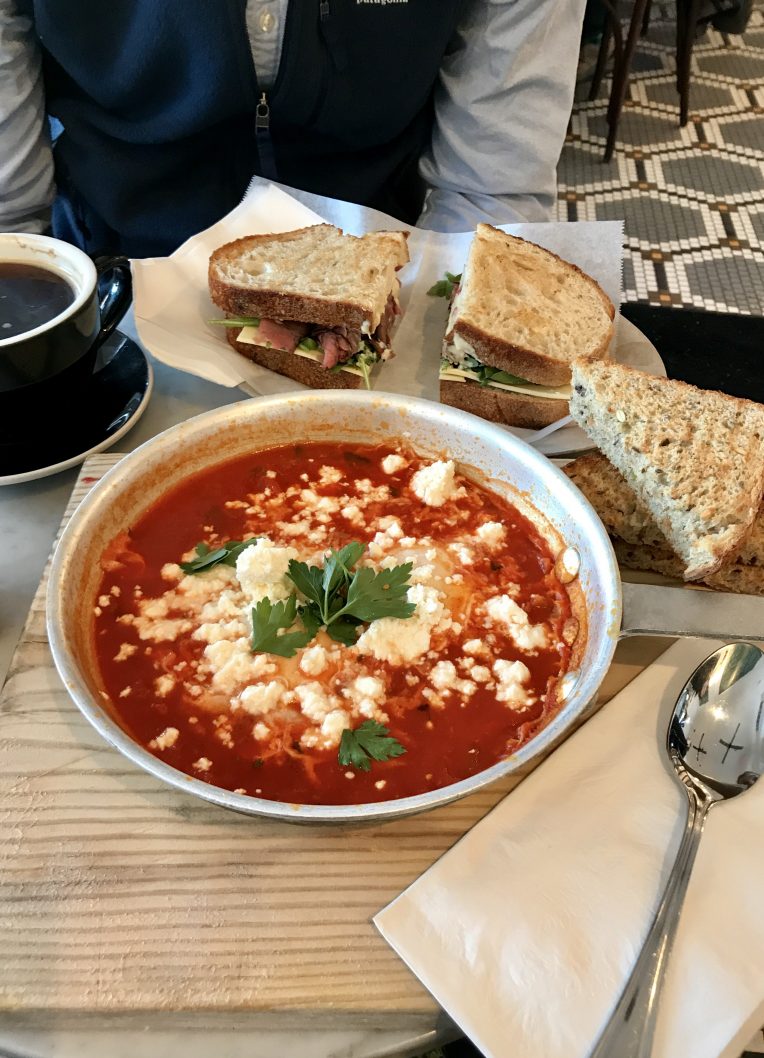 Swung by the grocery afterward to pick up things for lunch + dinner this week.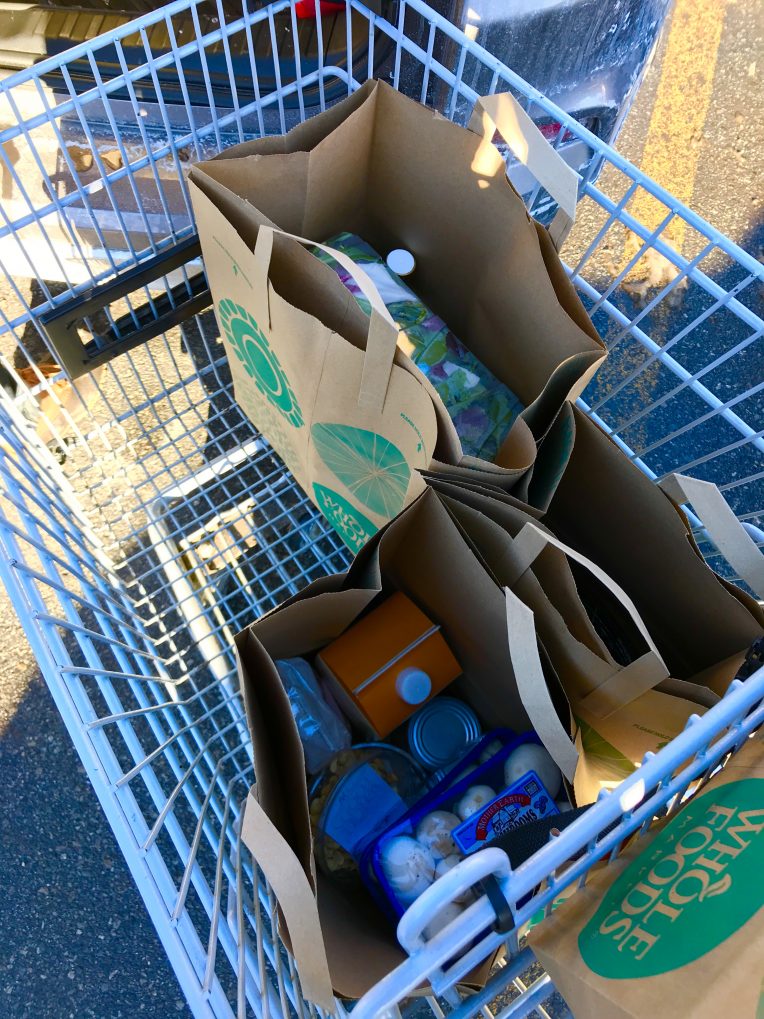 And then I ran a few errands in the afternoon, talked to a friend on the phone and sat down to do some planning with this new planner I found at Staples. I mentioned it on insta stories yesterday, but I'm loving how it's just enough detail but not too much where I feel overwhelmed with structure.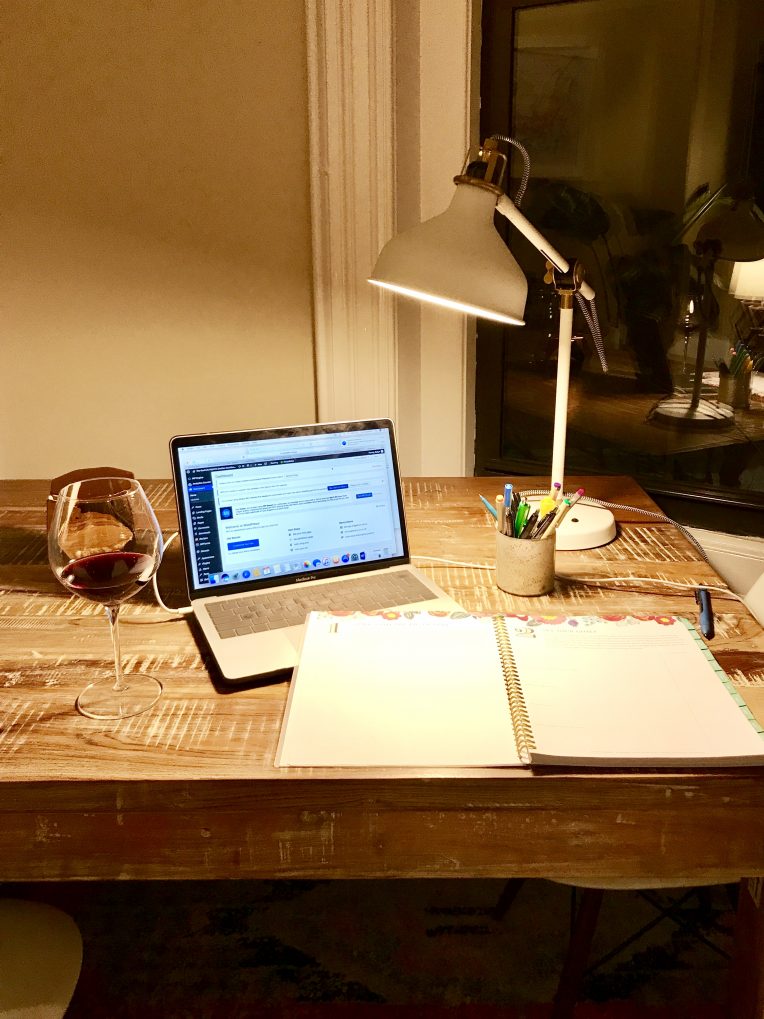 While we reheated leftovers for dinner that we needed to eat so they didn't go to waste, I made this peanut soup in about 20 minutes using, yes, the Instant Pot. Side note –> I love Pinch of Yum's blog for many reasons. But I was bummed out to see them posting about a sugar free January challenge. I still love her recipes and so I'm just tuning out that when I go to the blog, but if that is triggering for you, don't click that link.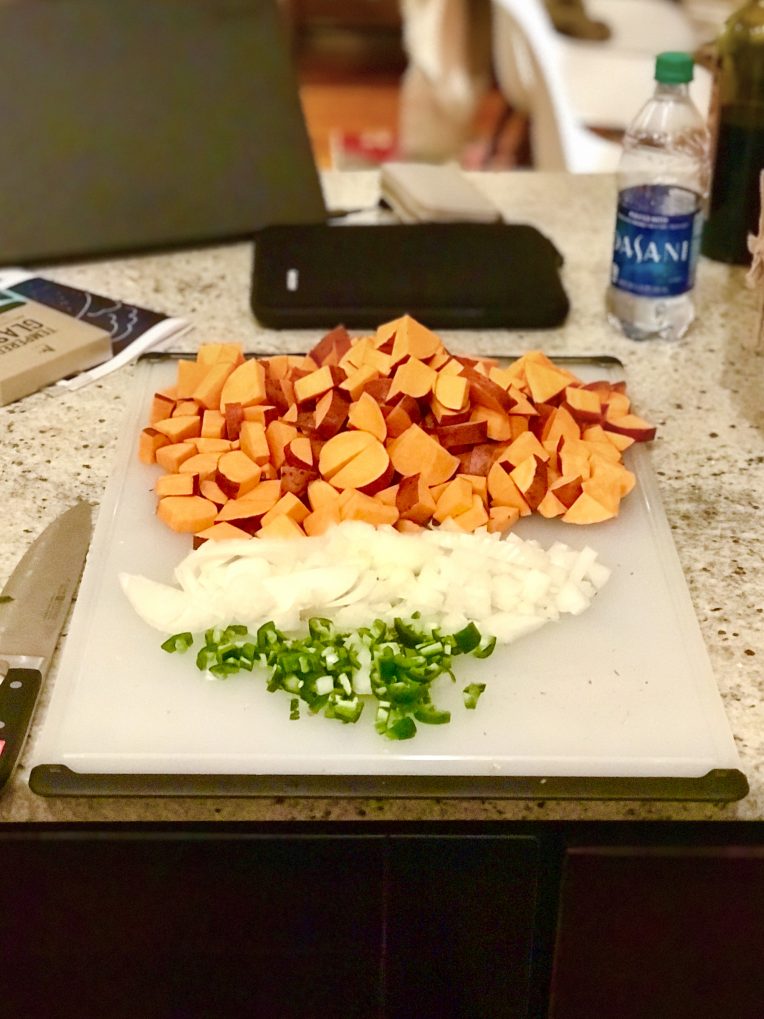 I shared this "recipe" for unstuffed cabbage rolls on stories last week – it's not really a recipe, more of an idea. Sauté 16 oz. of mushrooms, 1 onion and 2 cloves of garlic in olive oil. Brown ground beef in separate pan. Add a head of sliced green cabbage to the veggies and let it cook until soft. Then add the cooked beef and a jar of marinara. I add some oregano and crushed red pepper at the end. That's it. We cooked up some pasta last night for carbs. I also like it with rice or potatoes.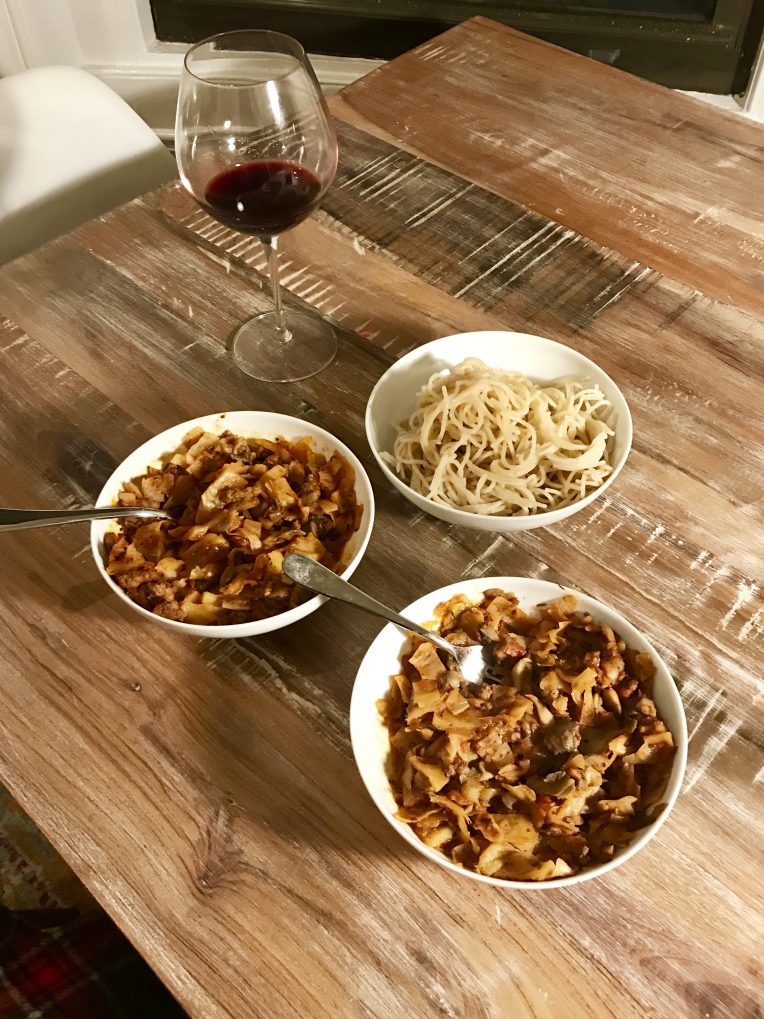 And we wrapped up the evening with This is Us and vanilla ice cream + leftover brownies. I bought this pint for our Friday dinner party at Trader Joes for $1.99. Win.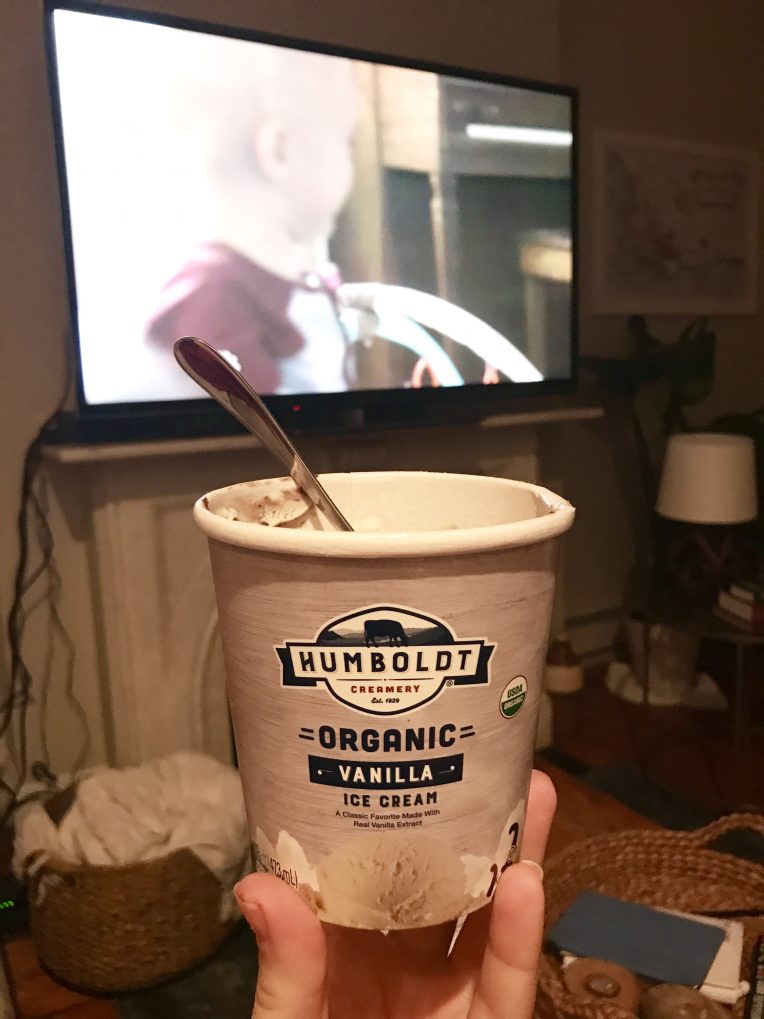 Have a great week! Share your weekend highlights in the comments – I love hearing!