Every week, for everyone is always busy. I know this is probably rude and you can tell me that, but whenever people give the excuse of, "sorry, life is crazy busy!" I want to roll my eyes. Not because life isn't busy…IT IS…but it is for everyone, almost all the time. Instead, just say, "I forgot, I'm sorry." Or, "I can't do that this week even though I want to." –> okay, I'm done now.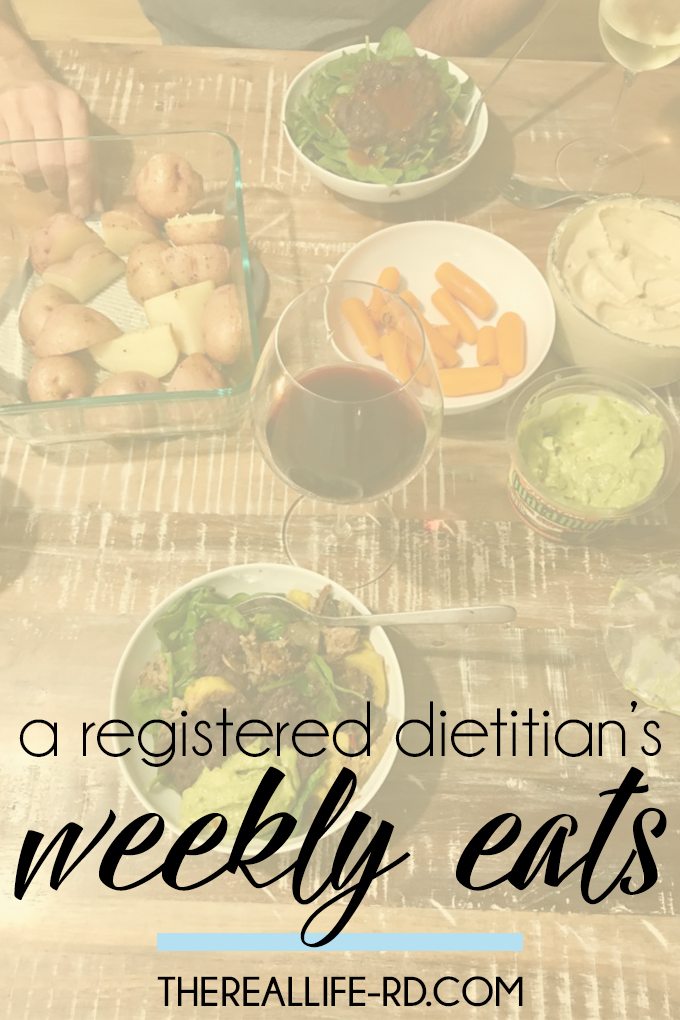 All that to say, this week was full, not busy. I think it's how we manage our time and decide to do things that matter and not do things that don't matter that determines if our weeks and days become busy instead of full. I AM NOT PERFECT AT THIS and am actually a hot azzzz mess trying to figure it out all out, but just like you….I'm trying to get there.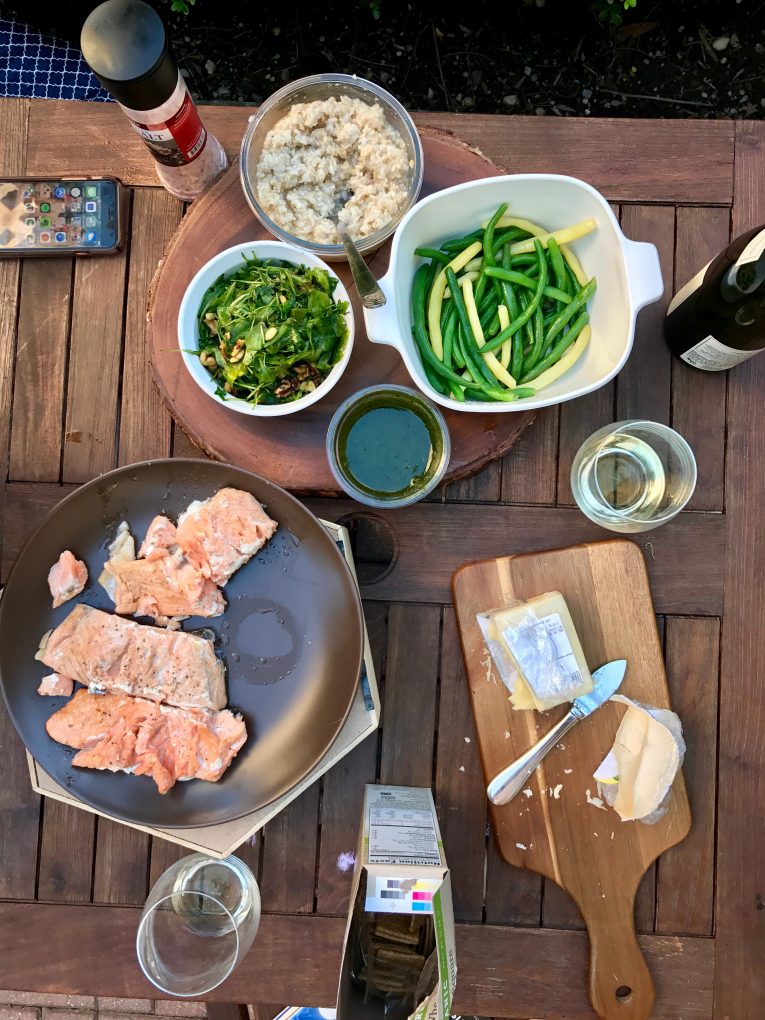 I worked M-F at my new job and then had to finish off this month's shifts at my other job, so I worked a 12 hour shift Saturday. But Friday to wind down, my friend Jena made dinner for Nick and I, we brought the wine + cheese and we got to sit outside in the breezy 80 degree evening warmth on our terrace. It was soooo relaxing.
She made salmon with homemade basil oil (I know, what?) green beans, brown rice with olive oil and an arugula salad. Plus lots of cheese and crackers because it took a while for me to get full + satisfied.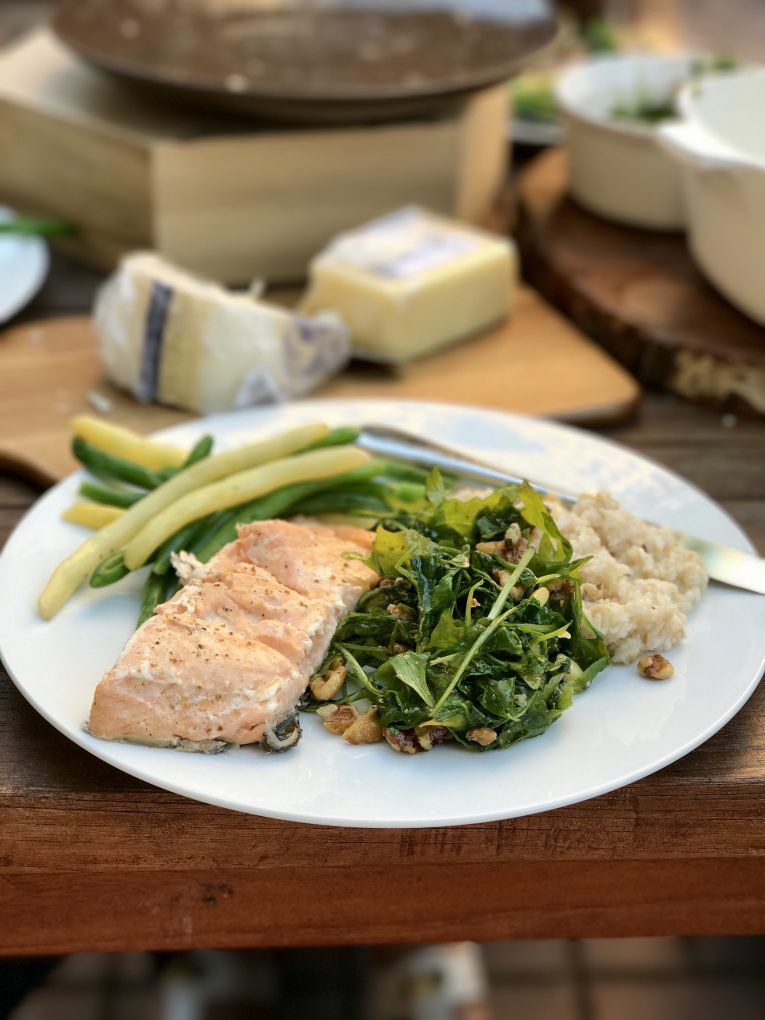 Nick and I watched a movie after dinner on Friday about OJ Simpson and the Kardashians on Netflix (so fascinating) and ate ice cream sundaes – banana wafer and dark chocolate caramel ice cream with a warm pb chocolate muffin on the bottom topped with more pb. Will definitely do that again.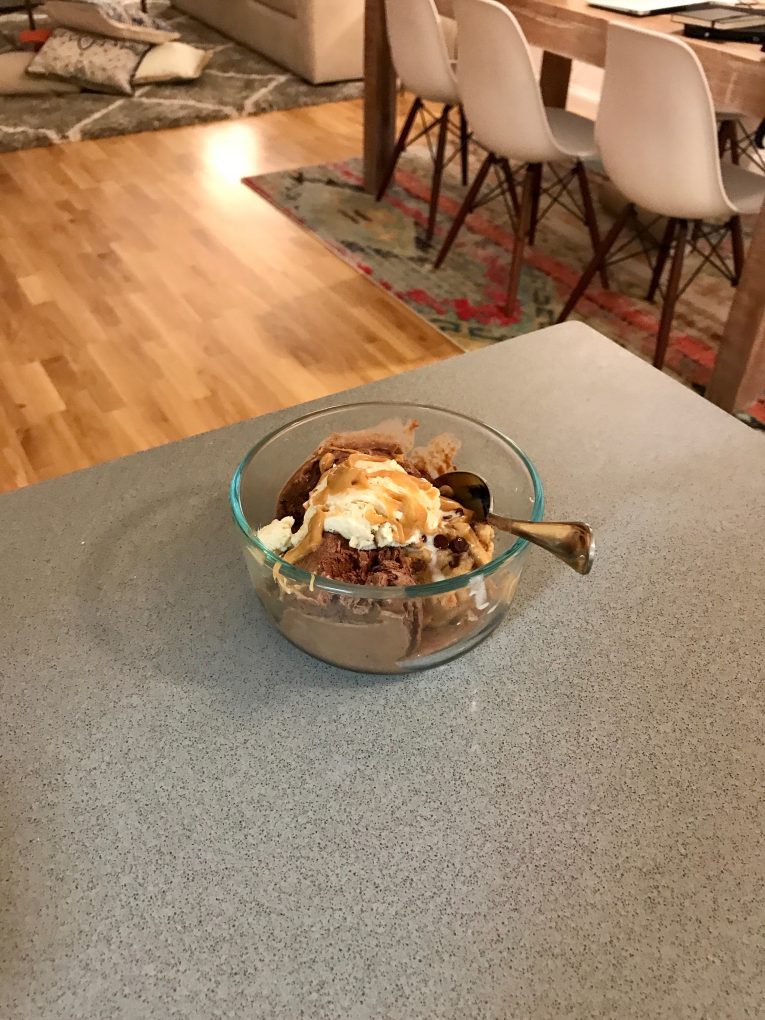 Other snacks and meals from the week included Larabars as mid morning snacks. I like the cashew cookie but this is definitely my favorite flavor.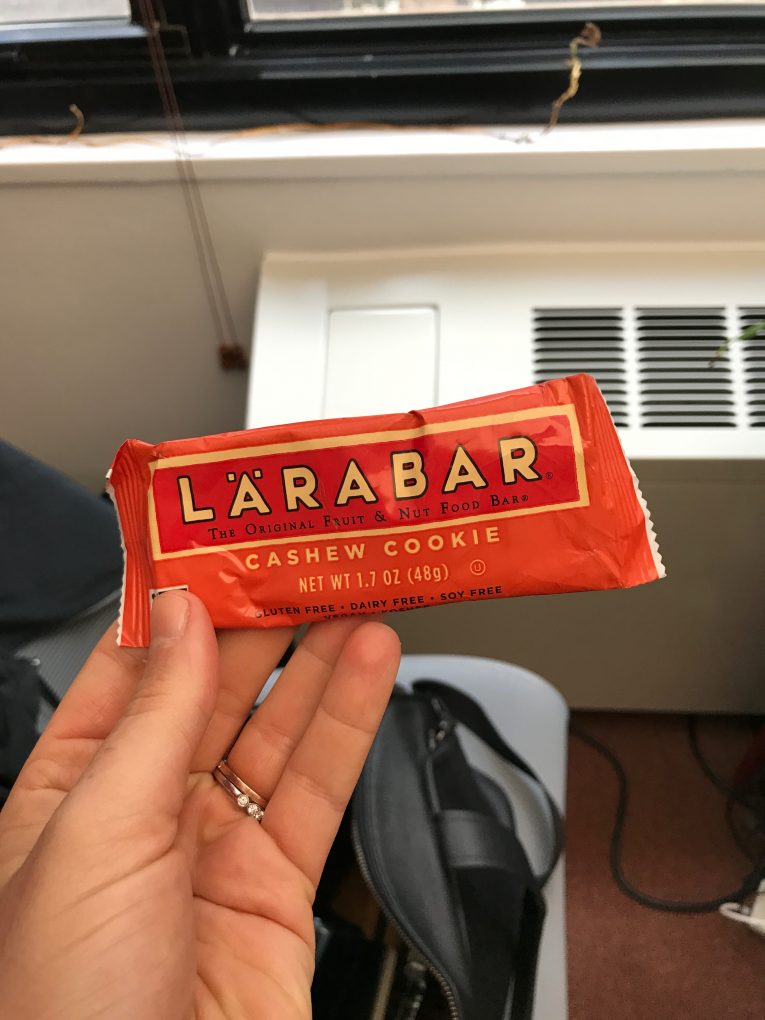 I was also really into these chocolate almond clusters (from WF bulk bins) with more chocolate + almonds in the afternoon before I biked home for dinner.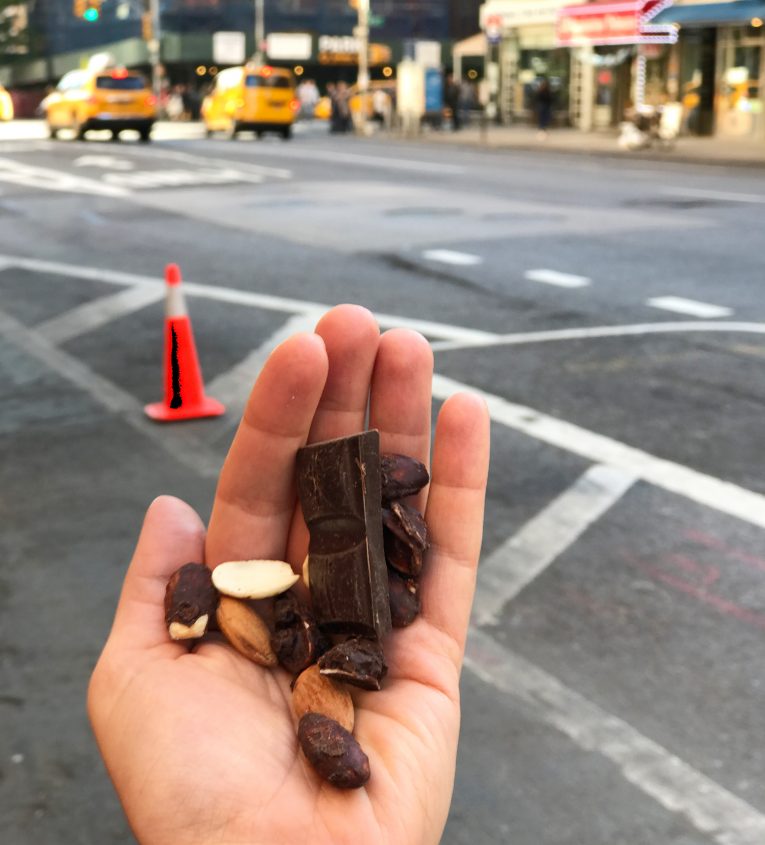 I had my first matcha latte one afternoon as a pick me up because I didn't want a lot of caffeine…and you guys….these are GROSS. I added extra milk and some honey and was still not into this at all. I really don't like tea, but thought I might like match lattes. Nahhh. Back to regular espresso filled lattes I go.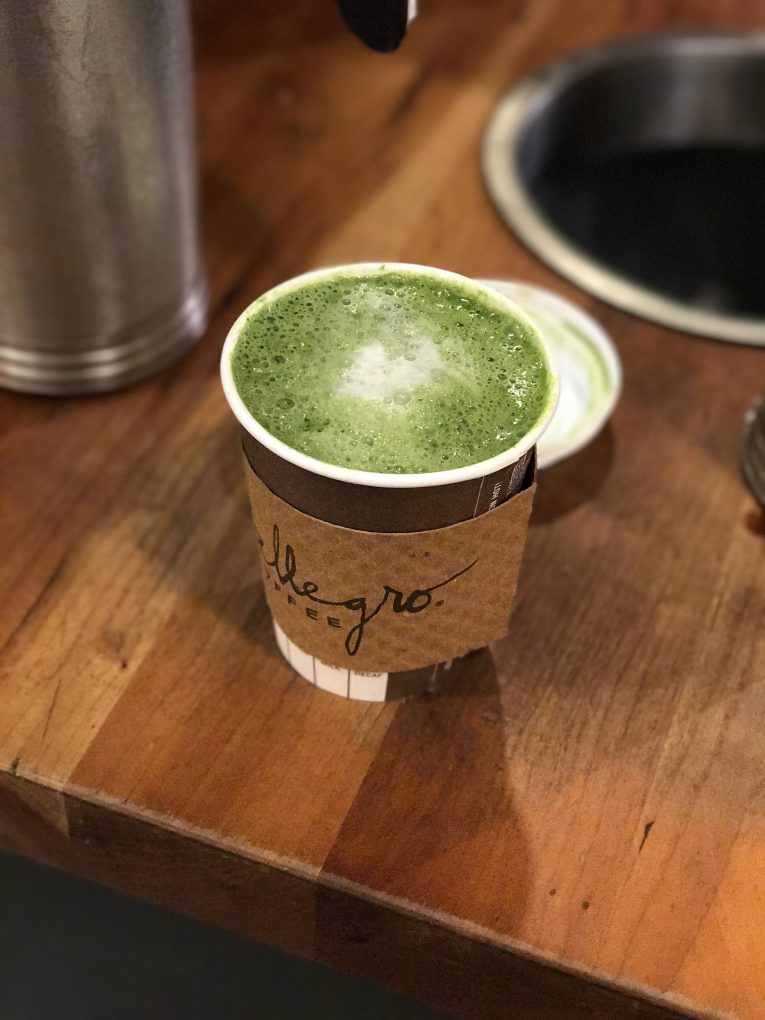 See, lots of chocolate + almonds happened this week.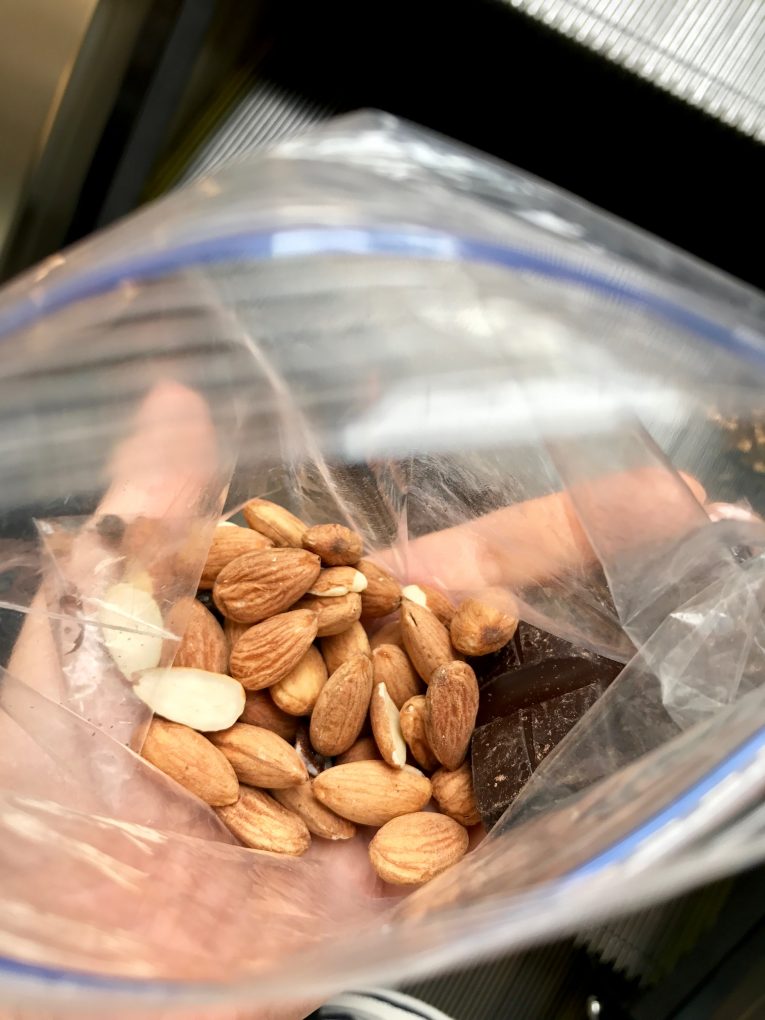 Lunches pretty much all last week were a big salad with crackers and a piece of fruit…followed up by chocolate if I was still hungry. Below is buffalo chickpeas (just cook chickpeas in a pan with a little oil and buffalo sauce for 3-5 minutes) with cucumber, carrots, bell pepper, daikon radish and ranch dressing over a bed of spring mix. This totally hit the spot.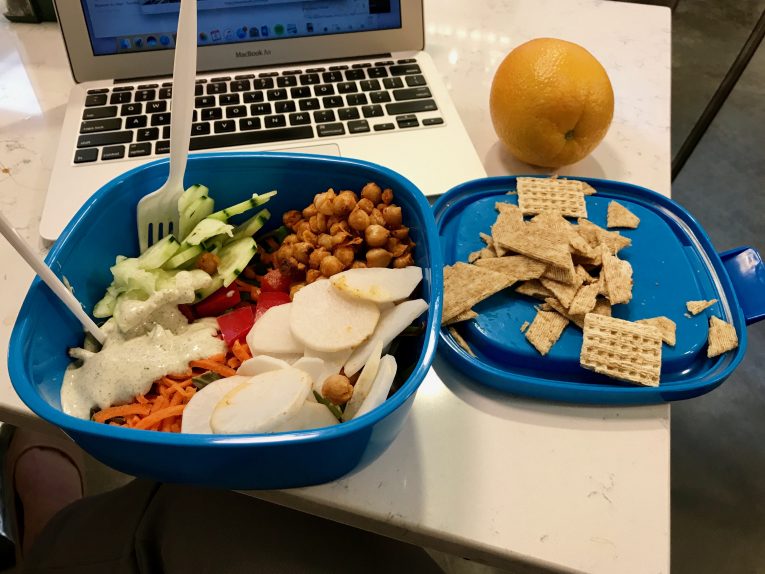 Still on that toast + egg kick. And sometimes bagels too. Sooooo into bagels right now. Half with pb + j and half with butter for yolk dipping.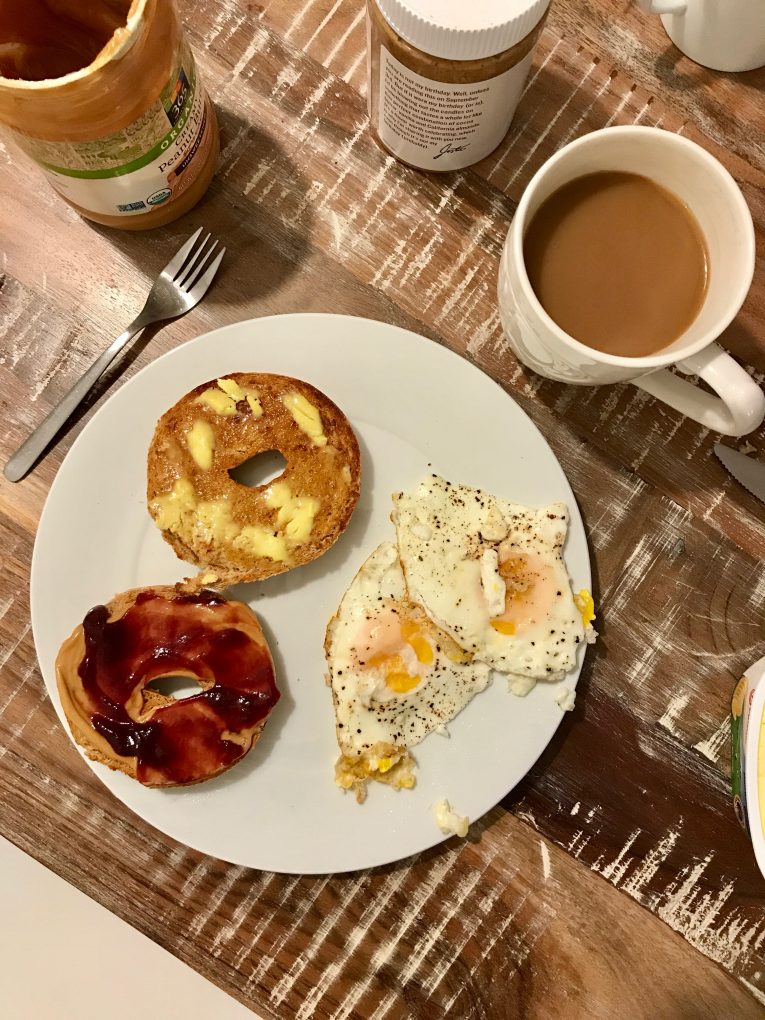 Lots of weeknights all I was craving was popcorn for dinner. But I knew that wouldn't fill me up so I made Nick eat popcorn on the side of these burrito bowls instead of roasted potatoes. In the bowls were sautéed veggies, beans, carnitas that Nick made in the Instapot (<– fav appliance), spinach, guac, cheddar cheese and salsa!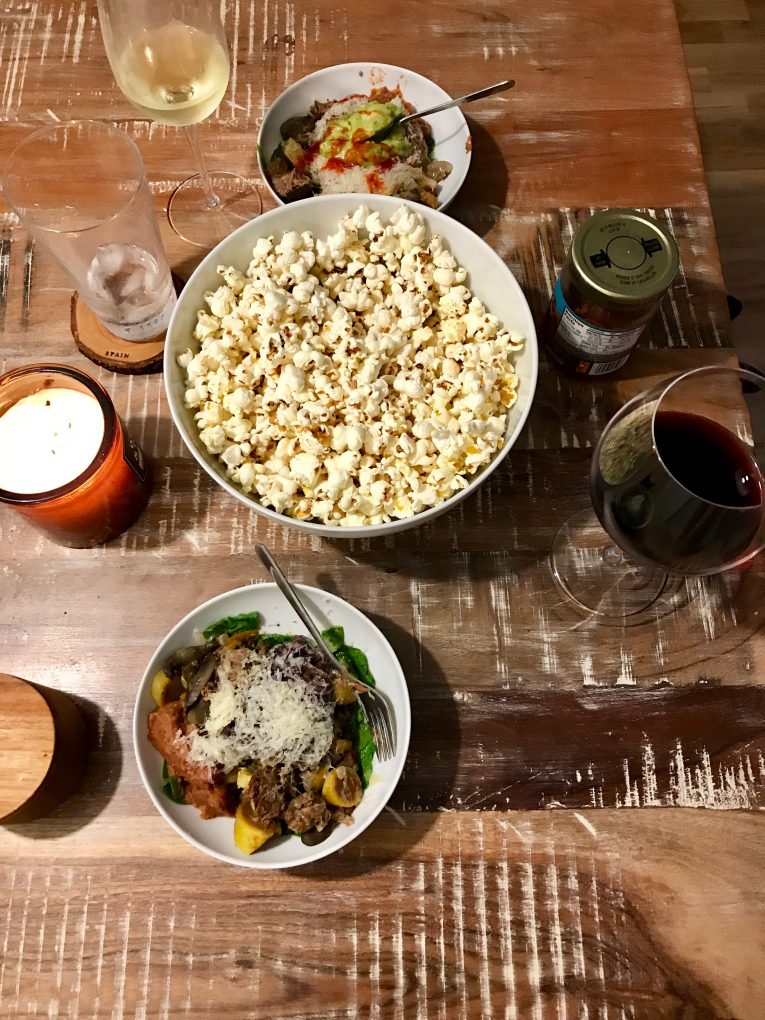 Another night we did eat them with roasted potatoes and also carrots + hummus.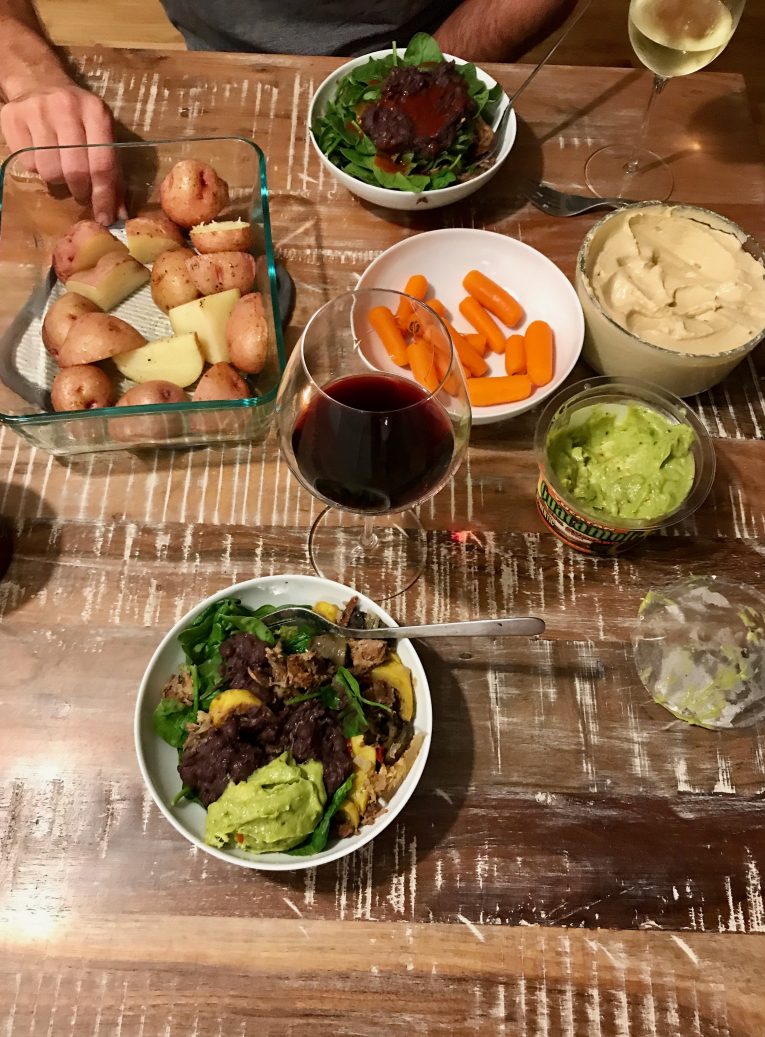 breakfast another morning was some hearty toast minus the eggs. I love the plain whole wheat loaf from the WF bakery because it's so thick and hefty so it keeps me full for hours.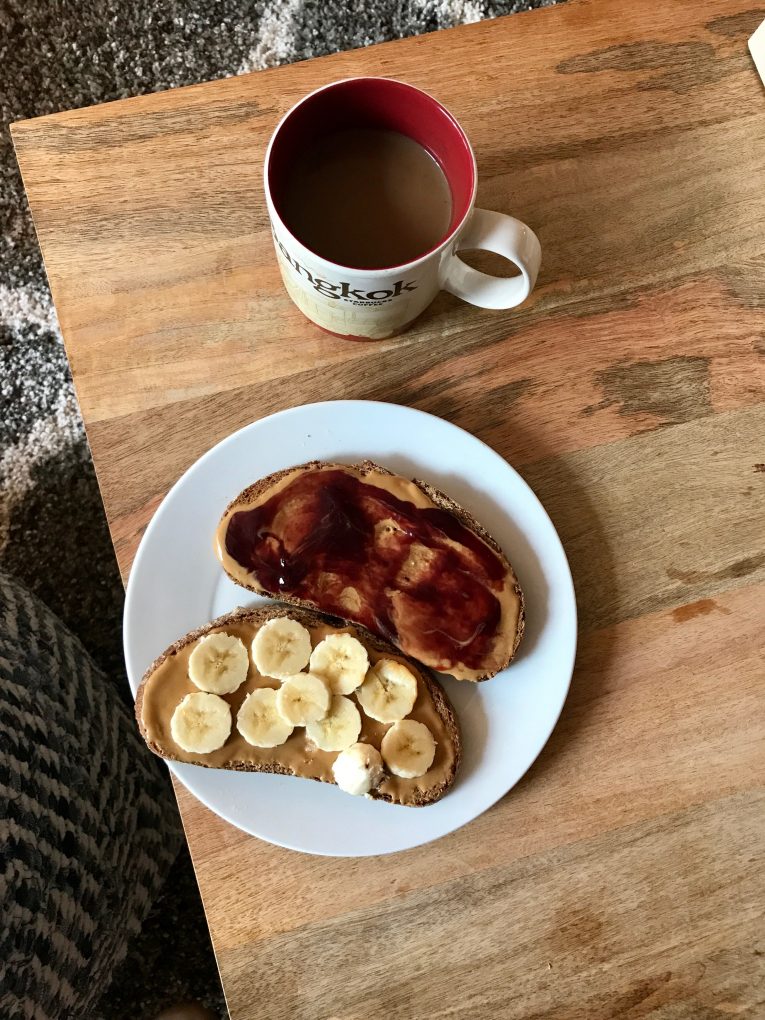 more ice cream…LOVING Nada Moo because it's so creamy and fluffy. I don't discriminate with ice cream. Sometimes I eat non dairy and sometimes dairy filled ice cream (see ice cream sundae above) — both are awesome in their own way.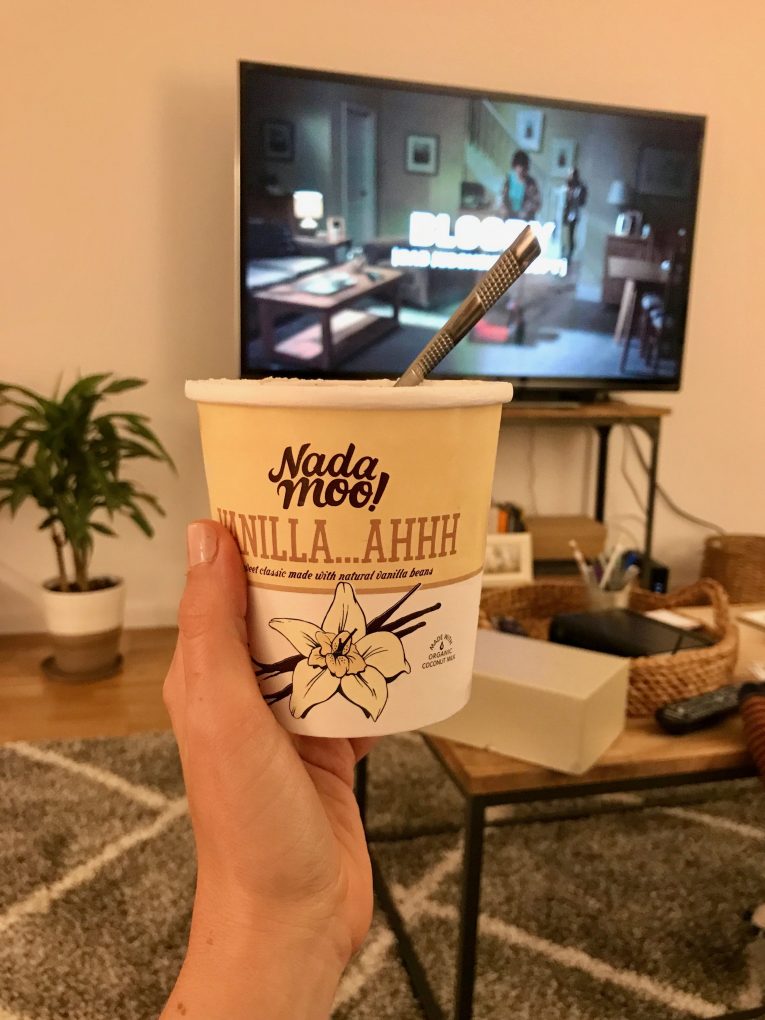 Nick was working an hour later one night so I came home and made eggs for dinner with cheddar cheese and spinach, plus potatoes with butter and roasted green beans (put frozen green beans on a sheet pan with olive oil and sea salt and roast at 400 for 15 minutes), plus a glass of cab. I was still hungry after this so ate more potatoes.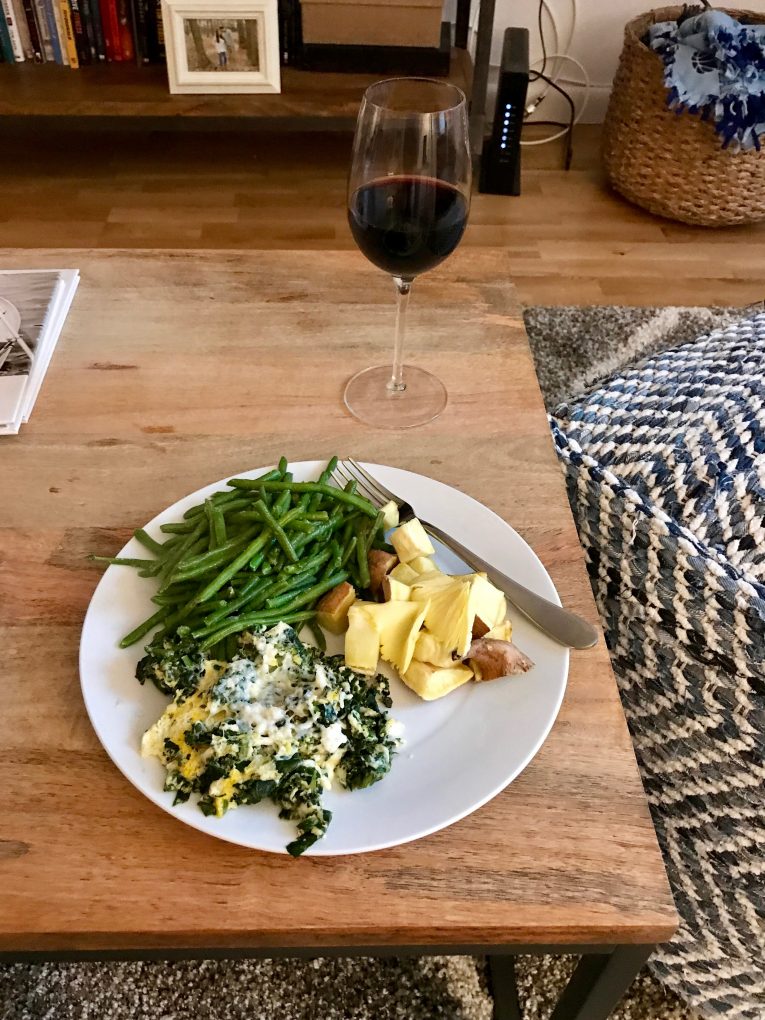 More toast for breakfast…this time cinnamon raisin topped with Justin's vanilla almond butter which is like the frosting of almond butters. On sale at WF for $10 so I snatched it up last week.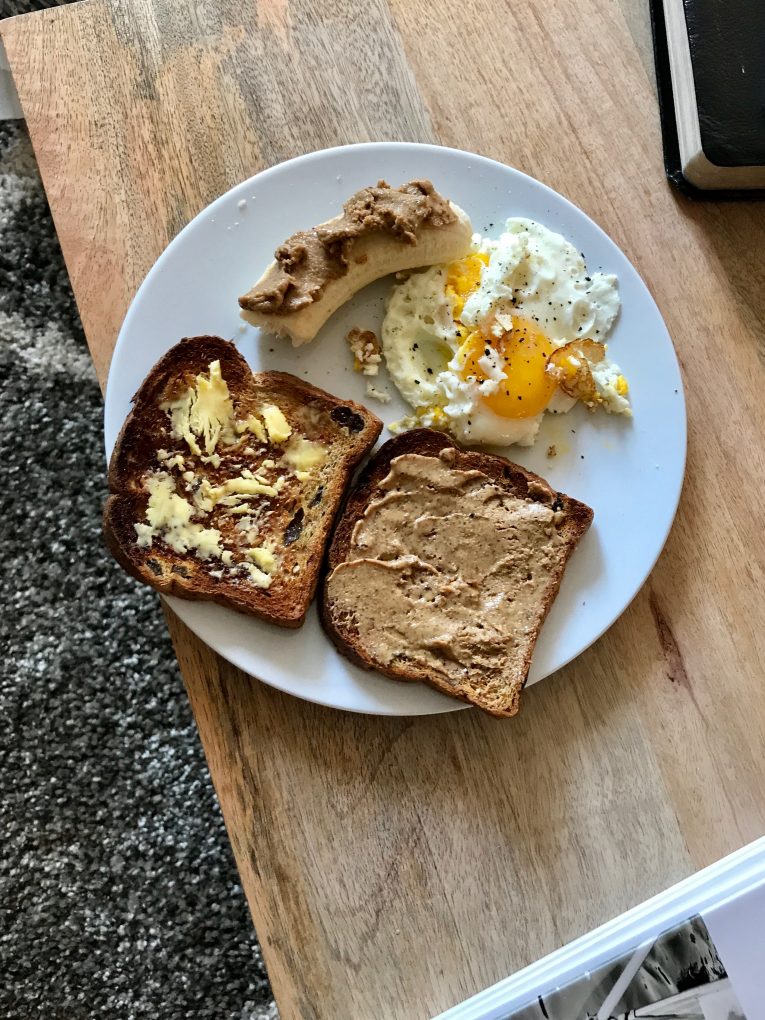 And we mixed it up a bit one morning and split the last bagel with ab + j, pairing it with a yogurt bowl – whole milk greek yogurt with blueberries, banana and granola.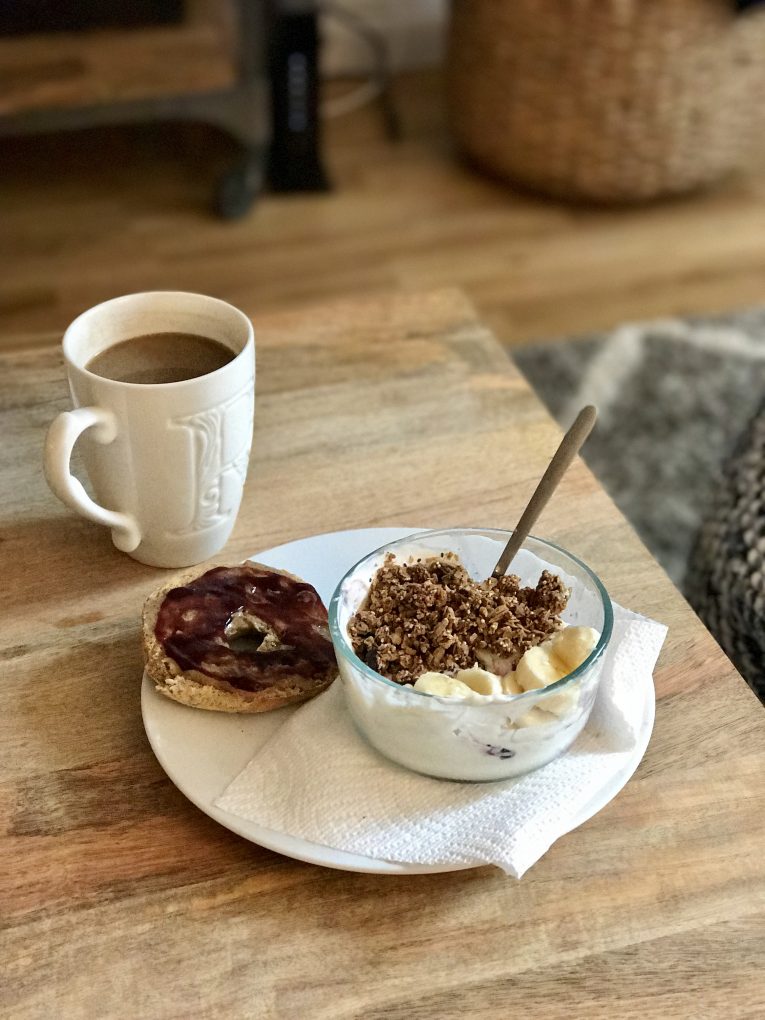 And finally, one weeknight (maybe monday?) I wrapped up the evening with a cup of sea salt chocolate + banana wafer ice cream and a small glass of red.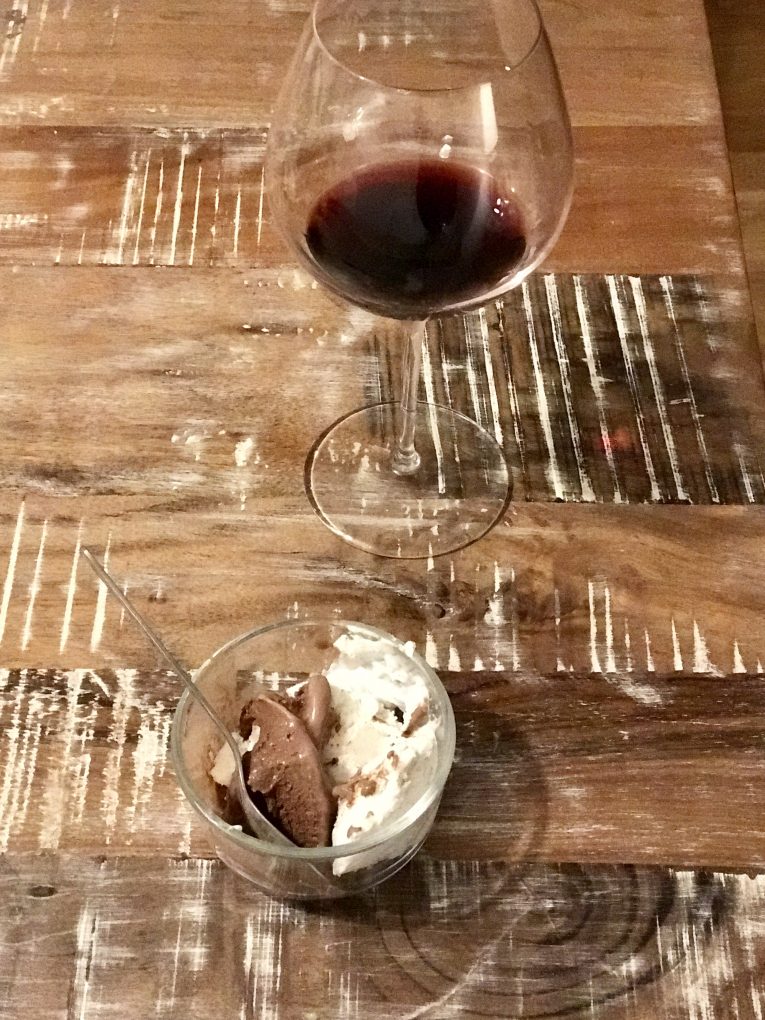 And that's that. It's Monday, yay! New week, new eats, fresh start.
Also, news news news. I'm starting a weekly newsletter at the end of this week — long time coming so cheers to that! You can sign up here. I can't wait to connect with you guys more <3
SaveSave