Hellllooooooooooooo long lost friendies! This post was suppose to go up last Monday and then I had some blog trouble and it took a while for me to find time to sort things out, but now we're back, thank goodness.
WHERE did summer go? How is it mid-August? How has it been almost a month since my last post?
I've missed you.
Over the past 10 days I've moved (yes, again but it's a long story I'll save you from) and clinical has been taking over my life with 40+ hour weeks in addition to keeping Nutshell clients a priority and working at my nursing job. After a long talk with Nick, I'm stepping back from the nursing job and will be focusing on school and building + growing Nutshell and The Real Life RD this fall. WAHOOOOOO!
Come December, I'll be graduating from Columbia with my MSN (yes yes yes yes yassssss) and ideally would love to work in emergency medicine for the first couple years doing three 12 hour shifts and focusing on Nutshell and the blog as time allows. So as I go into my last semester, I want to focus on that transition. I am the worst at letting things go and also fear disappointing people, so deciding to step back from my nursing job was hard. But it feels so right.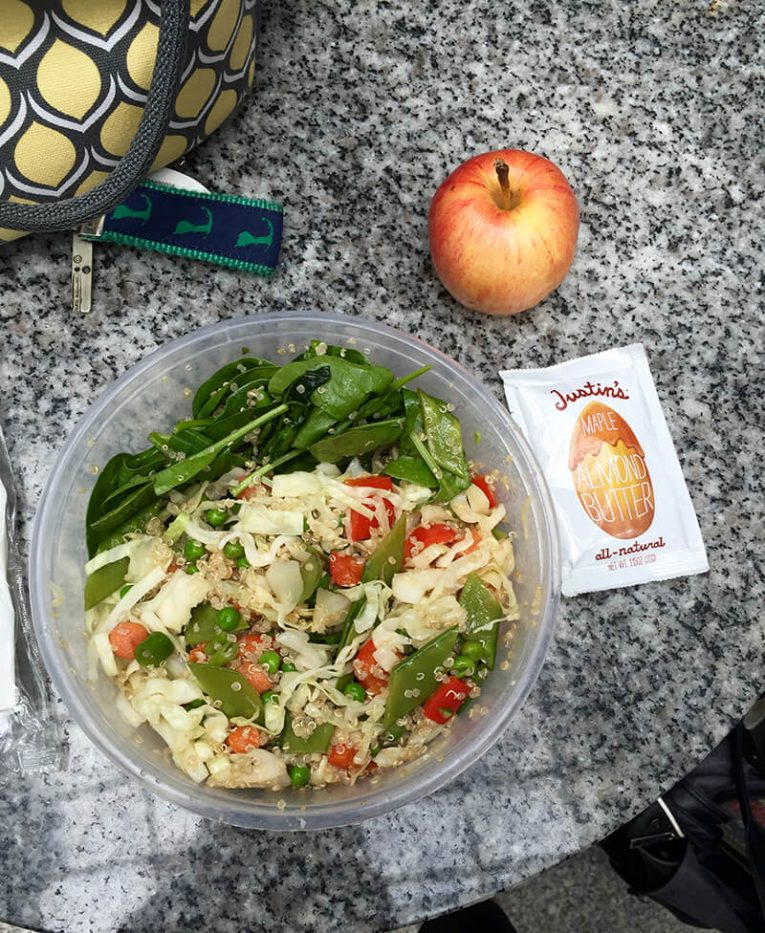 Onto some eats! In between moving and busy weeks, cooking has been minimal. But I did get back in my kitchen last night while watching the Olympics to whip up a version of this super easy Asian quinoa salad for lunch and some lazy girl enchiladas (a super old blog recipe) for dinners. Plus these PB chocolate chip oatmeal cups from the brilliant Hummuspian. Eating out is convenient, but I loveeee eating food from my kitchen.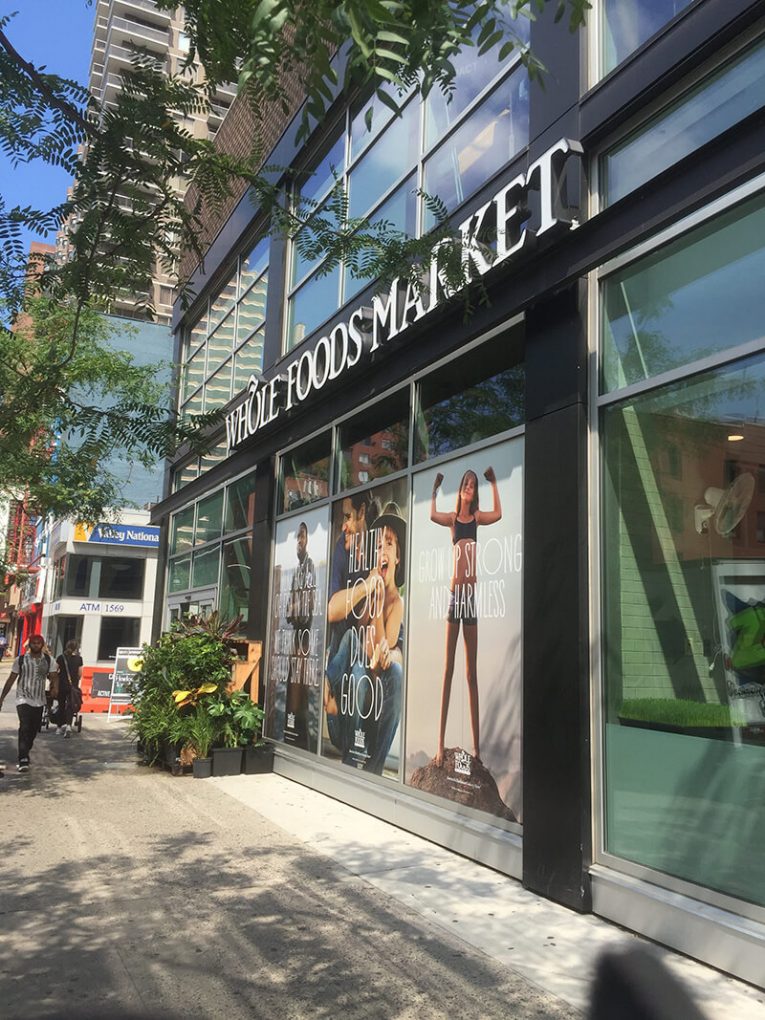 Plus, where I now live on the Upper East Side there is a Whole Foods 3 blocks from my apartment. In addition to Central Park, Chipotle, Sweetgreen, Hu Kitchen, Sephora, Barnes and Noble, H&M, Lululemon, Madewell, Shake Shack, Banana Republic, Equinox, Soul Cycle, Juice Generation and so much more all within a 5 minute walk. It's crazy amazing. I've found my city sweet spot. And it's perfect for this season of life.
After scrolling through my camera roll I realized I had taken lots of pictures of food from the past few weeks, but since I haven't been blogging you guys haven't seen them. So what better way to share than with a foodie photo dump?
And now I can delete them all so Apple can stop telling me how full my iCloud data is. YES Apple, I realize my iCould data is always full, maybe you should just make the cloud bigger okay?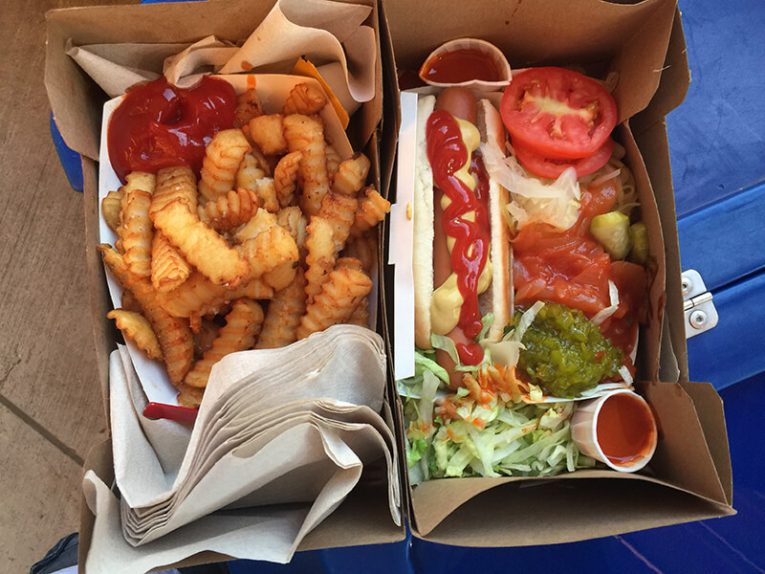 Nick and I went to a Mets game a few weeks ago and I was so impressed with the food sitch at Citi Field! I got a veggie dog with loads of toppings, Nick got a brat and we split these crinkle fries. Plus beer.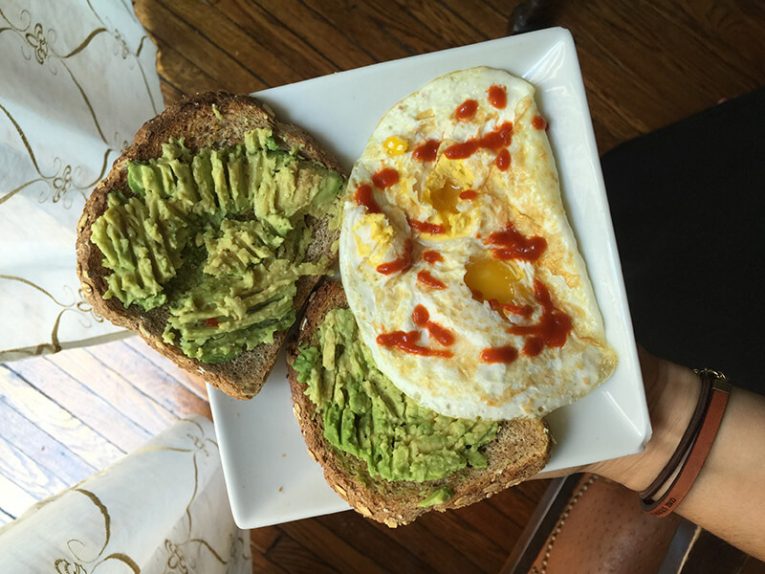 For some reason I crave savory breakfasts or pancakes on the weekend. Mostly savory though. Avo toast FTW. Two pieces of Ezekiel, two fried eggs, 1/2 mashed avocado on each slice, sea salt and lots of hot sauce. Goat cheese if I have it, which in this case, I tragically did not.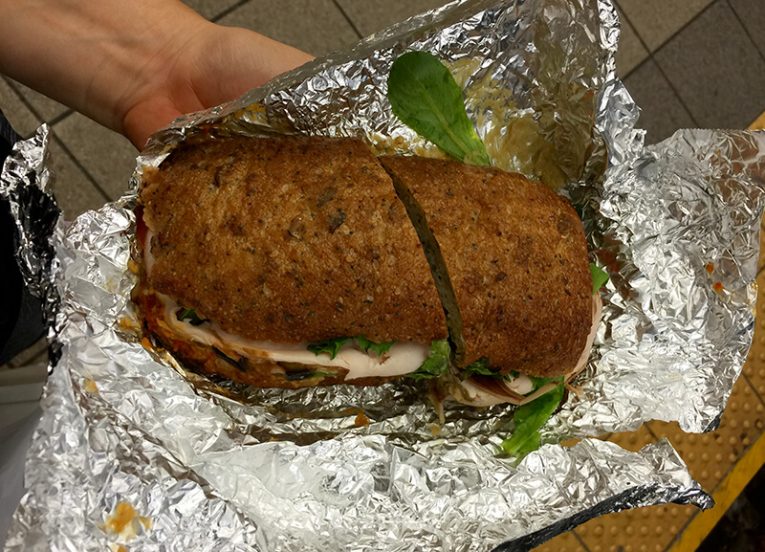 In between lots of sweaty moving last Sunday we picked up sandwiches + chips from this place called Bite. I didn't really have super high expectations because I was starving and I would have eaten anything at that point, but this sandwich was AMAZING. Tons of roasted veg including red pepper, eggplant, tomato and zucchini plus a sundried tomato pesto and turkey because I knew an all veg sandwich wasn't going to cut it. It was also the size of a small child so I ate one half first and then the other an hour later.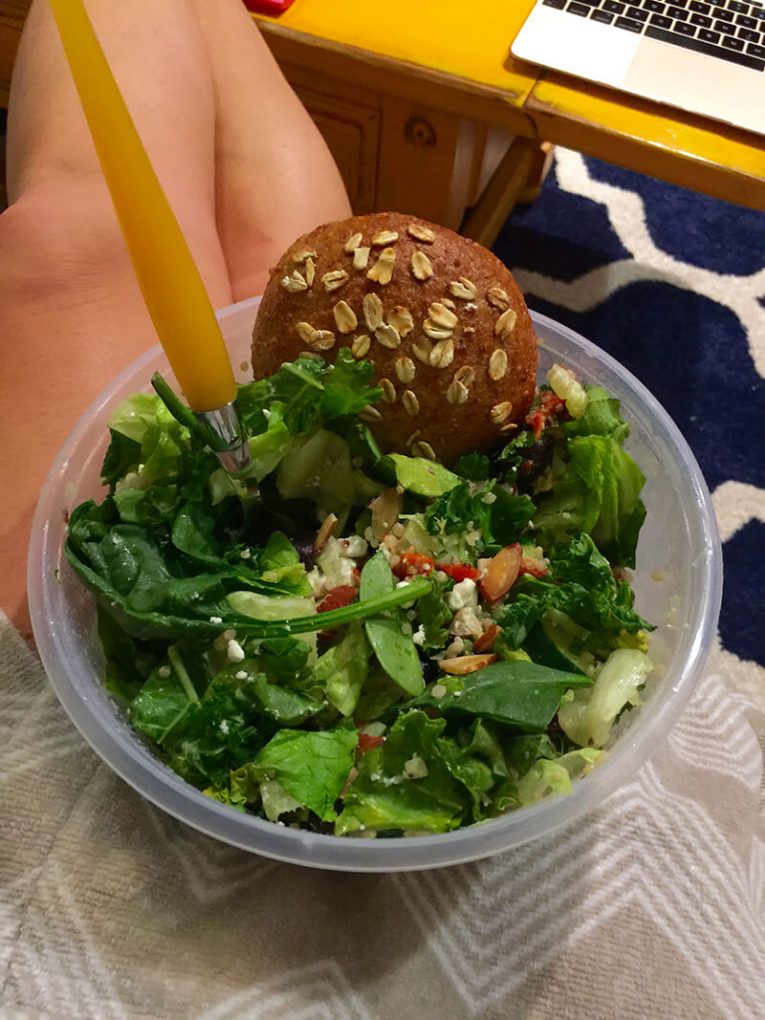 Panera quinoa salad that I had leftover because I never ate it at work. I was in a hurry on so swung by Panera right outside the train station before work for breakfast + lunch but then I ended up eating a later lunch with a friend after work. So I threw it in a tupperware and ate this on Sunday for lunch. It wasn't great, but it did the trick.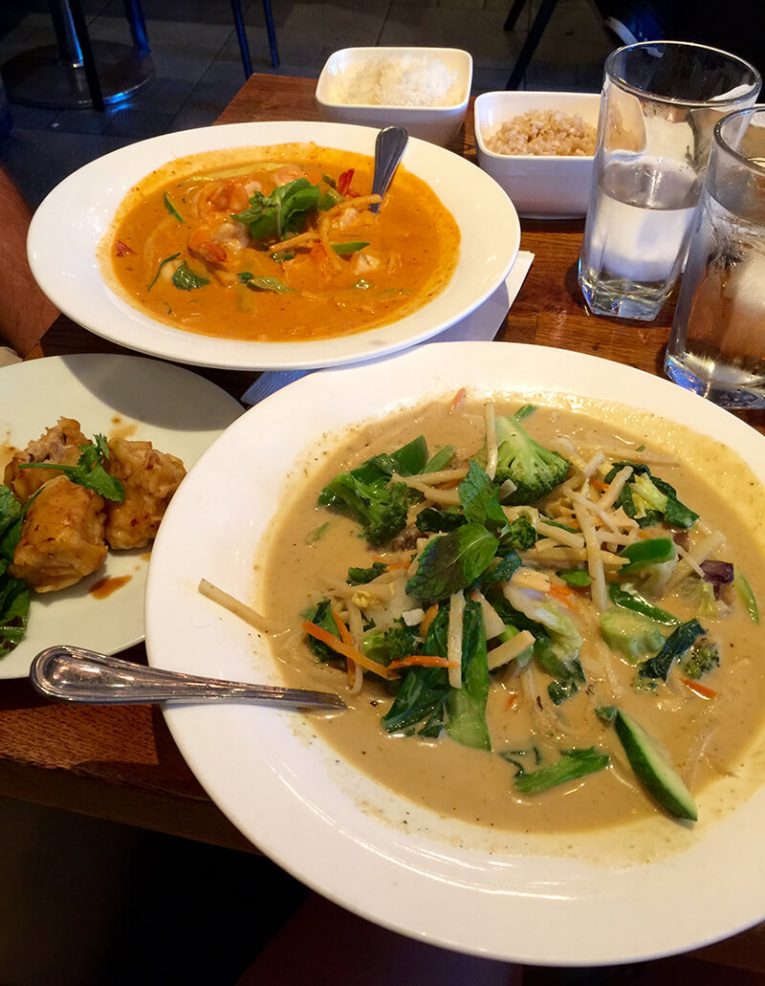 Our usual post church dinner at Lantern. Always green veggie curry for me, red shrimp or beef curry for Nick. But we switched it up with dumplings for an appetizer! This is my fav Thai in all the city. A bold statement I know.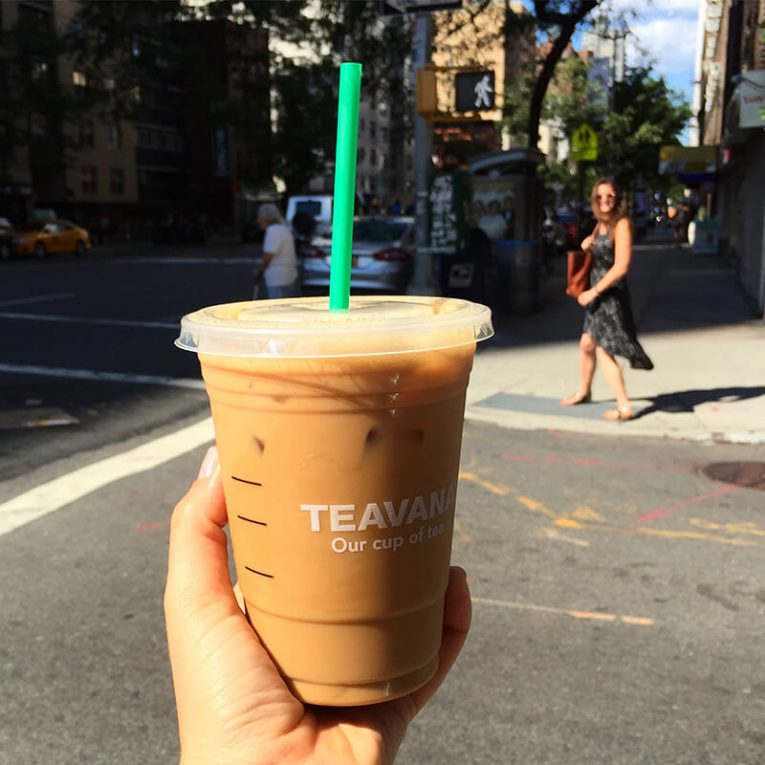 Perfectly creamed iced coffee. Like all day every day.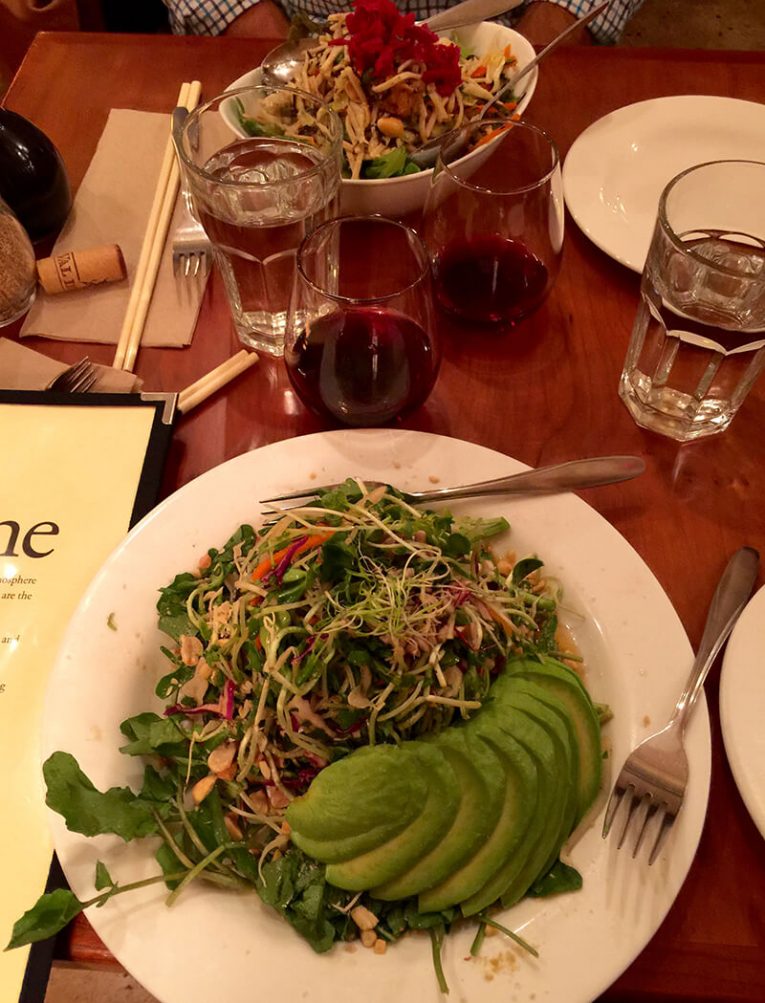 Friday night, Nick and I ate at Angelica's Kitchen – a vegan restaurant in the East Village. We started with these salads, one asian noodle type salad and one veggie + sunflower seed + avocado salad. Then we split cornbread and a tempeh rueben. It was okay, and I left still kinda hungry so we probs won't be back. But the wine was great 🙂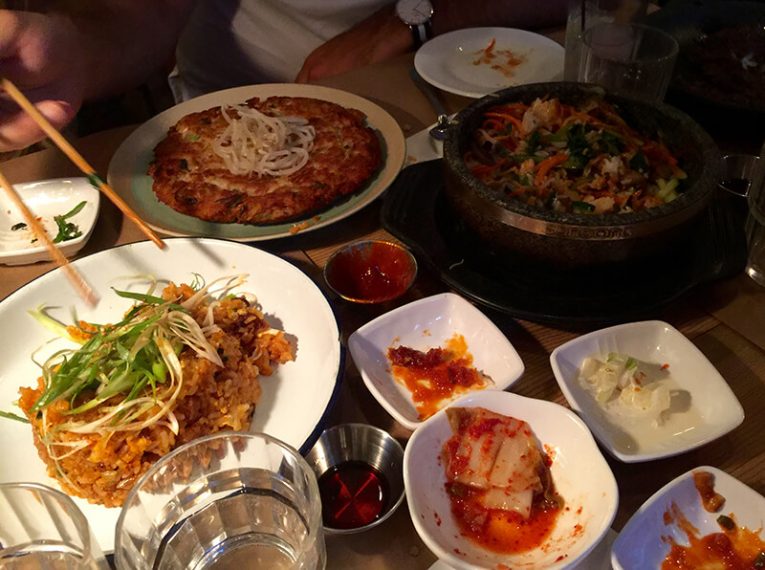 On Saturday Nick and I got dinner with our good friends Trey and Nicole at a Korean placed called, Her Name Is Han. You guys, this place was incredible. The cocktails were perfectly crafted, the food super fresh and hot, and the service was so on point. I had a lemon + rosemary drink, Nick got a "fizzy jalapeño" and we ate fried rice, potato pancakes, ribs, some beef skewers, a veggie rice dish, dumplings and so much more. All amazing.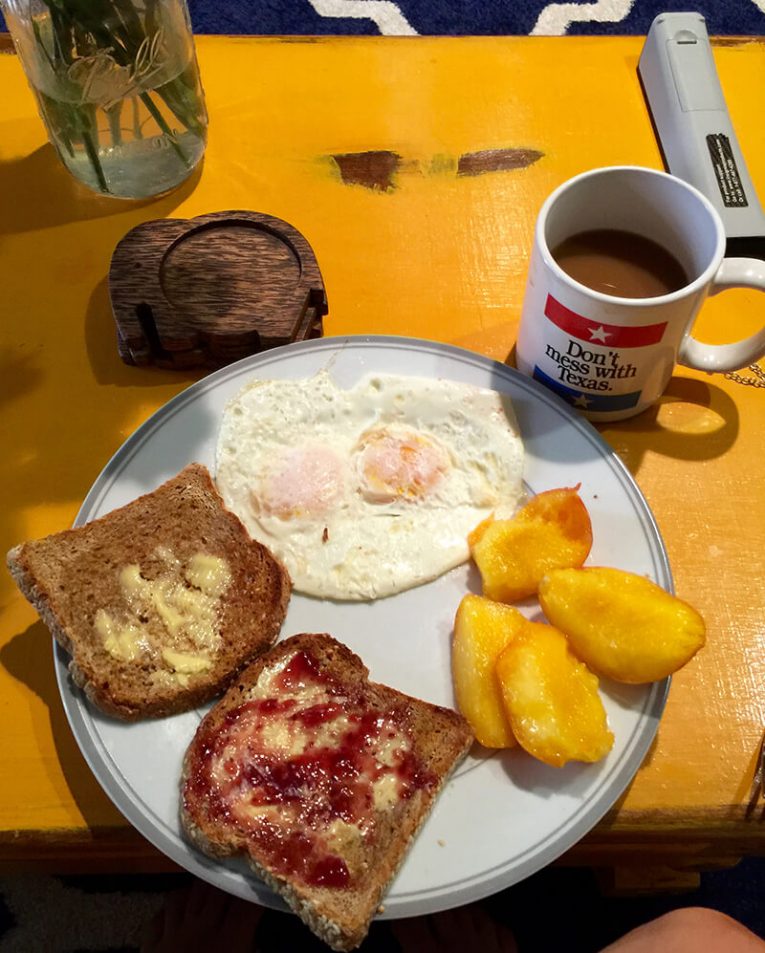 Sunday breakfast – Ezekiel toast with butter + raspberry jam, fried eggs and the juiciest peach.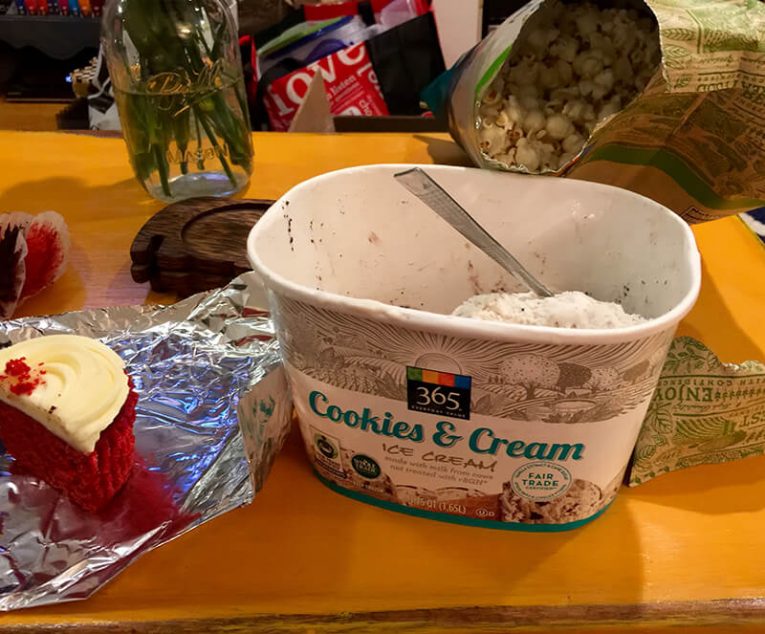 Michelle (my new roomie, yet old friend) turned 27 last week so we've had an abundance of cupcakes that I am not mad about. We finished off a red velvet and chocolate mousse from Two Little Red Hens along with WF Cookies & Cream out of the tub and popcorn while watching the Olympics one night last week.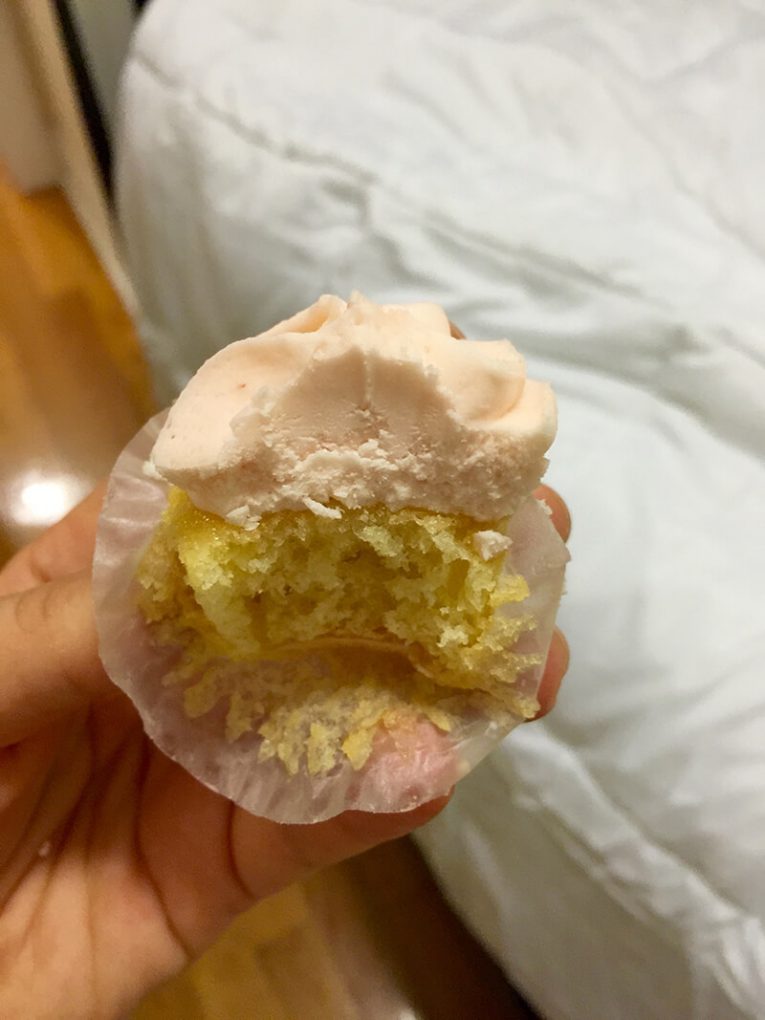 And these mini strawberry lemon cupcakes from Whole Foods have made the best post lunch dessert lately.
Lunch last Monday after grocery shopping was a tofu peanut kale salad from WF plus hummus + wasa crackers. I loveeeeee the salad station where they make salads for you, because at $7 it's super cheap and always tastes better than what I could make at the hot bar.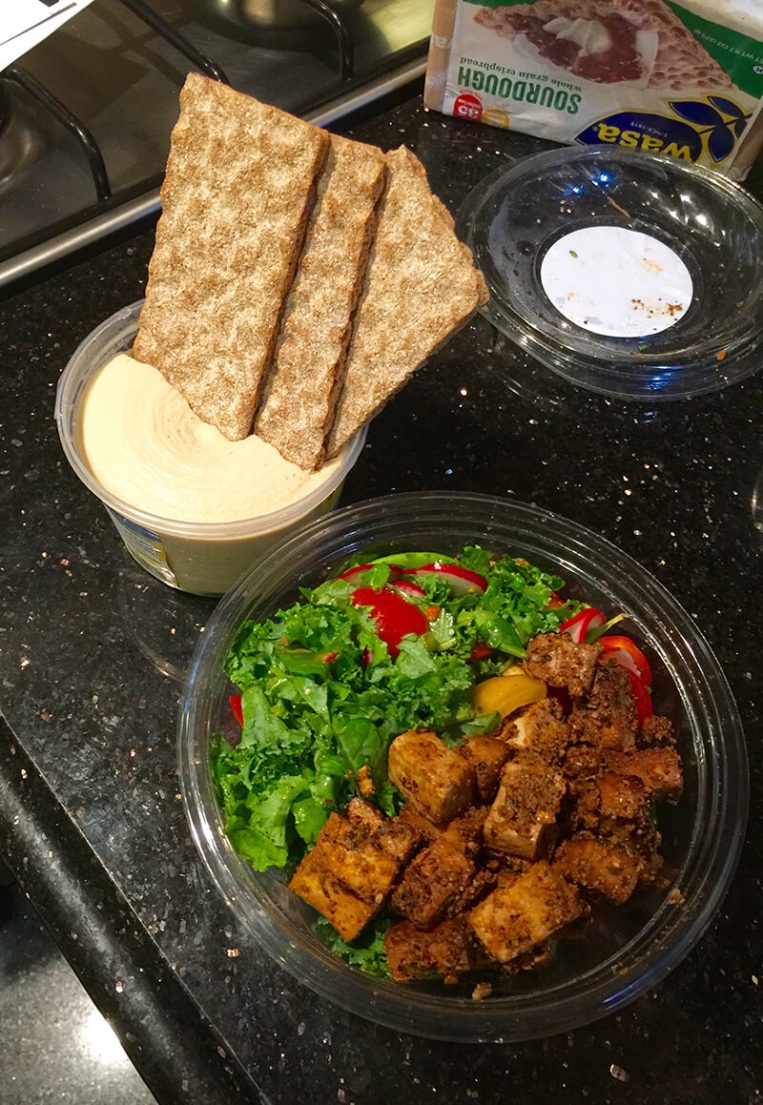 When I'm not eating out, my cooking for dinners last week was nothing more than spinach + mushrooms sautéed in coconut oil with two fried eggs + a white sweet potato with butter all zapped in the microwave and eaten within a 10 minute break during my longer, 12 hour shifts.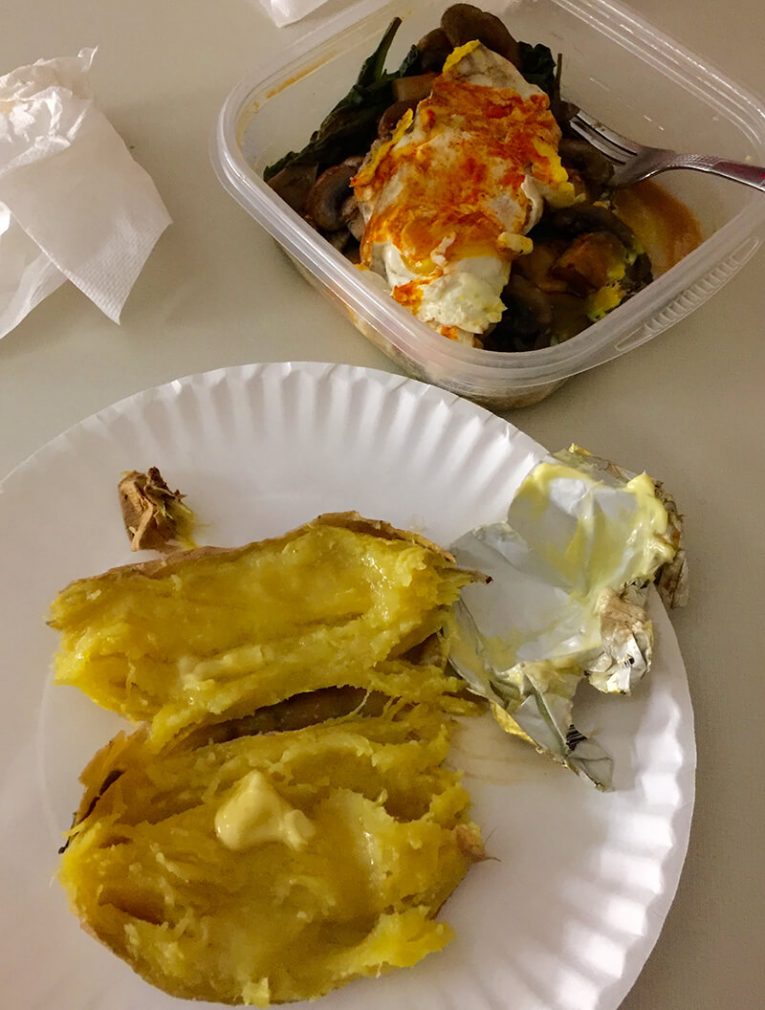 And lastly, this bounty of veg was from Dig Inn last week when I grabbed dinner with my friend (and old roommate) Anne – if you want cheap, healthy dinner in the city go get a market plate from this place. All this for under $8. Broccoli salad, root vegetable salad and tofu salad. I have no idea what was in it except it tasted awesome.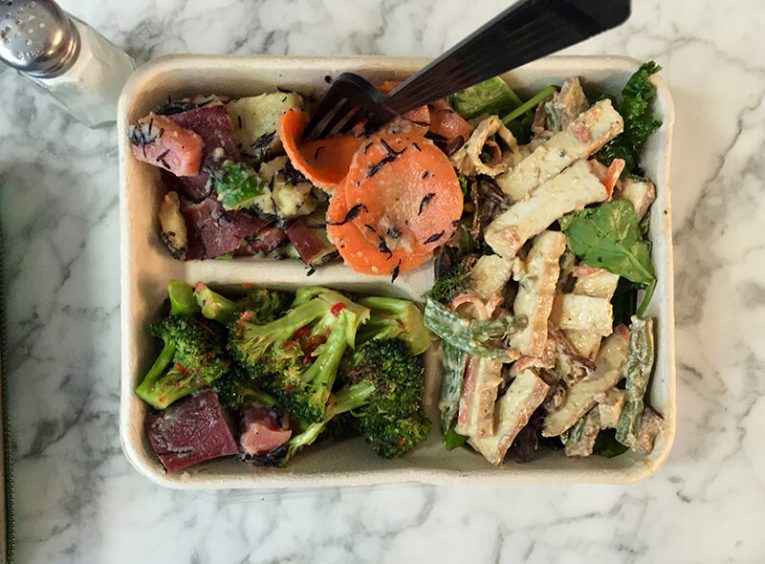 Have the best week!