I mentioned in a post last week that I wanted to start posting 4 days a week because 1) I wanted to connect with you guys more and 2) because now that school and the wedding are done done done the blog feels way more free + fun rather than another thing to do. Hope you guys enjoy!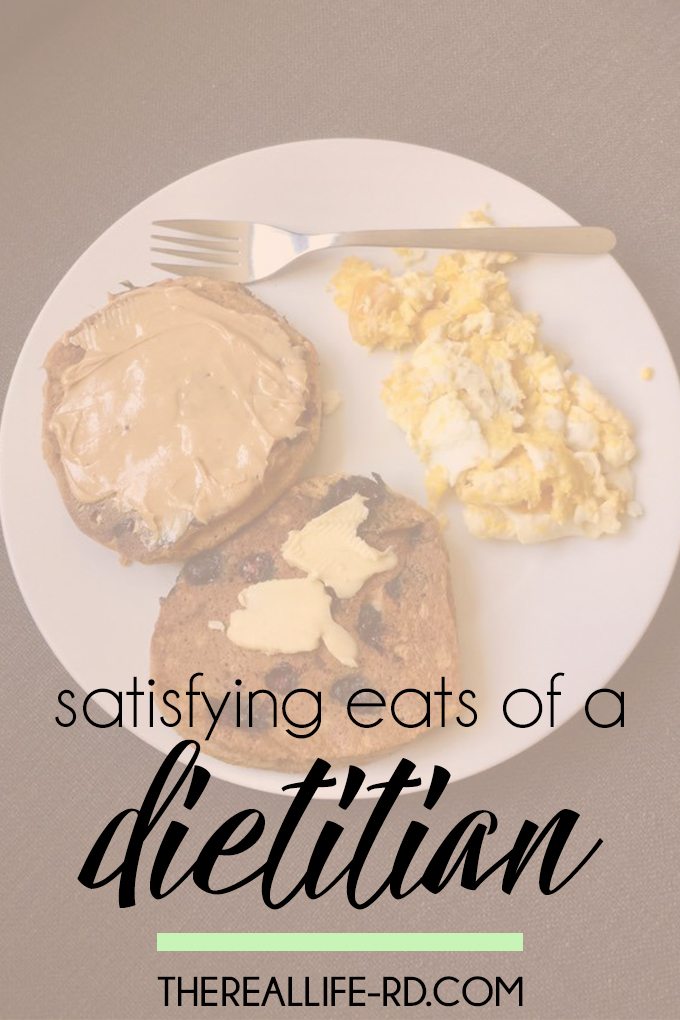 I get a lot of requests for more daily eats and food inspiration and because I'm all about helping others become normal eaters I love doing these. So here are some eats found on my camera roll since we got home from honeymooning last weekend.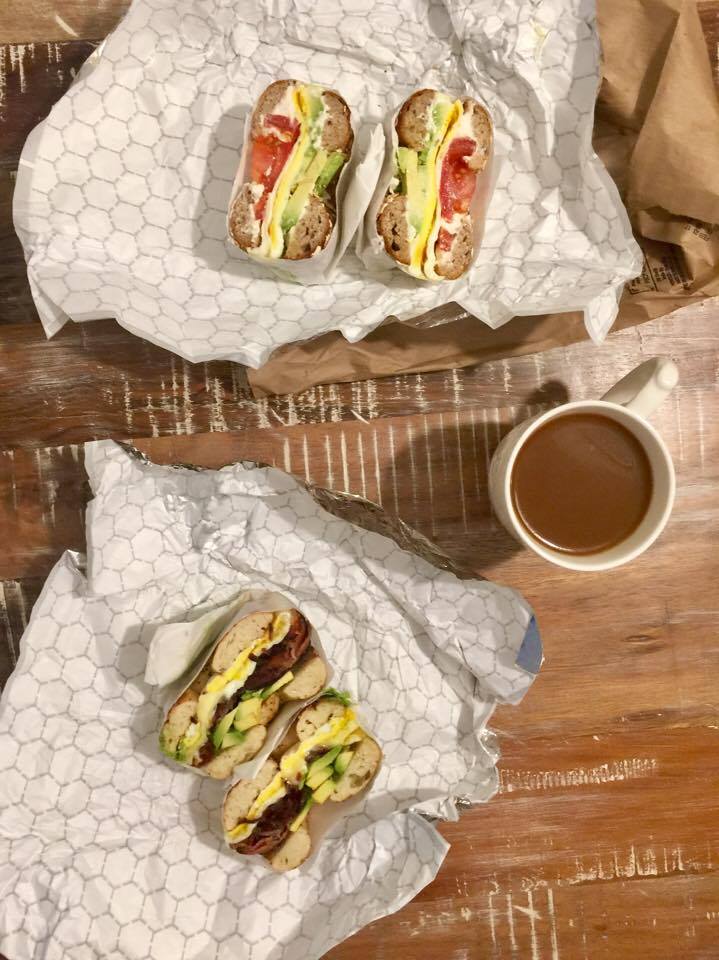 The morning we flew in from Johannesburg all I wanted was a bagel + coffee. So we walked over to Black Seed Bagel. I went with egg, tomato, avocado and cream cheese on a whole wheat everything bagel. This was good, but Tal's will forever be my favorite.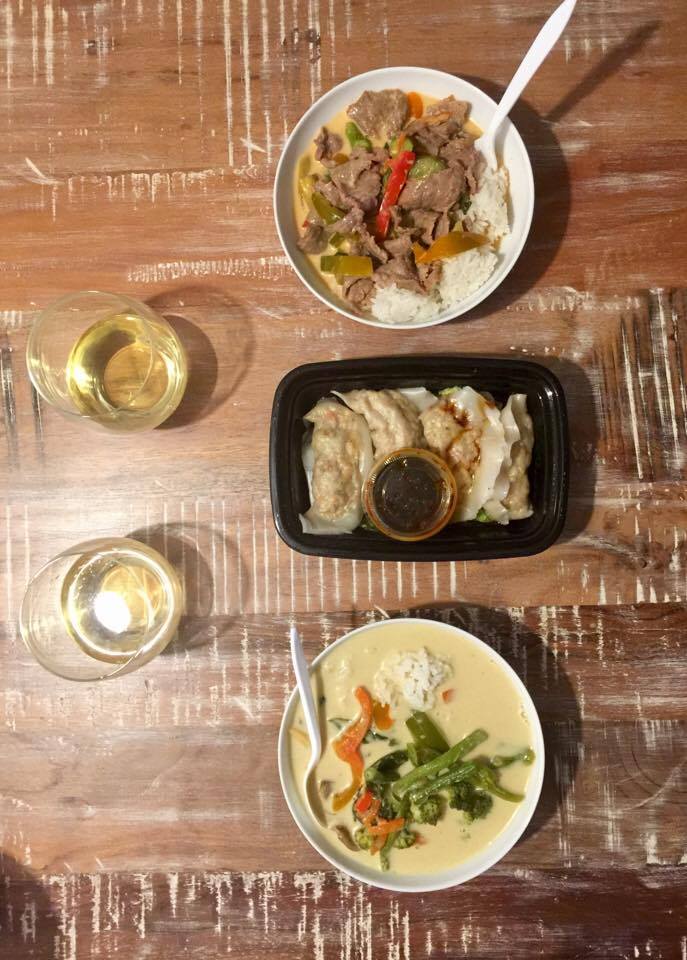 That Sunday, we ordered Thai takeout. Green veggie curry for me, red beef curry for him, and chardonnay and veggie dumplings for all. Loved the dumplings. Nick let me have three out of the four.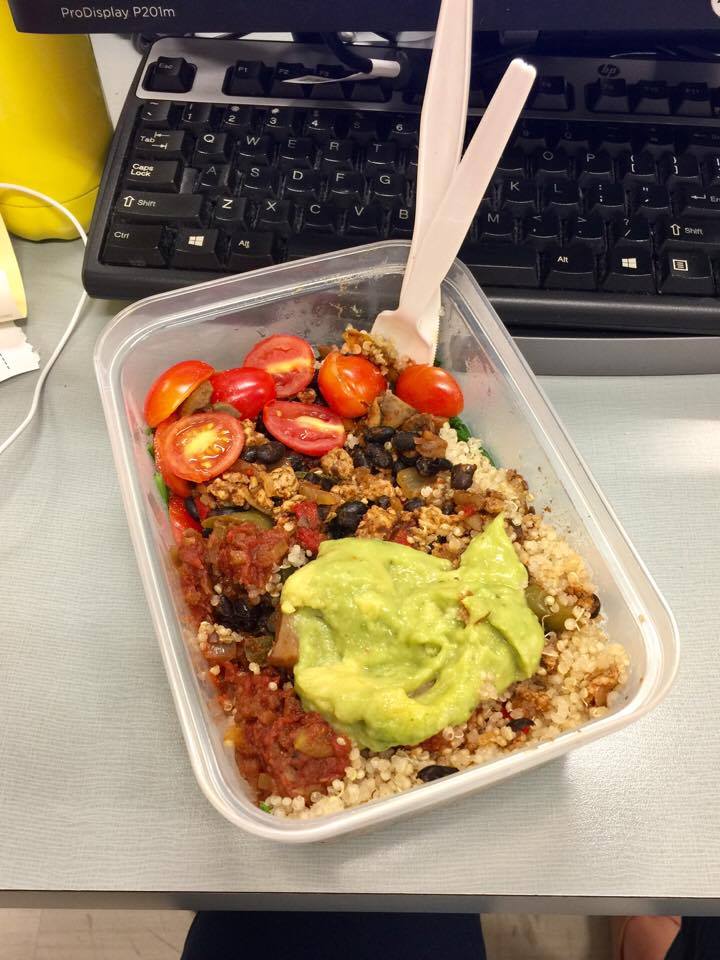 Using the leftover turkey meat from burgers we made the night before, I made a mixture of turkey, black beans, peppers, onions and taco seasoning. We ate that over spinach with quinoa, salsa and guac on Thursday night and I took leftovers to work on Friday and Saturday.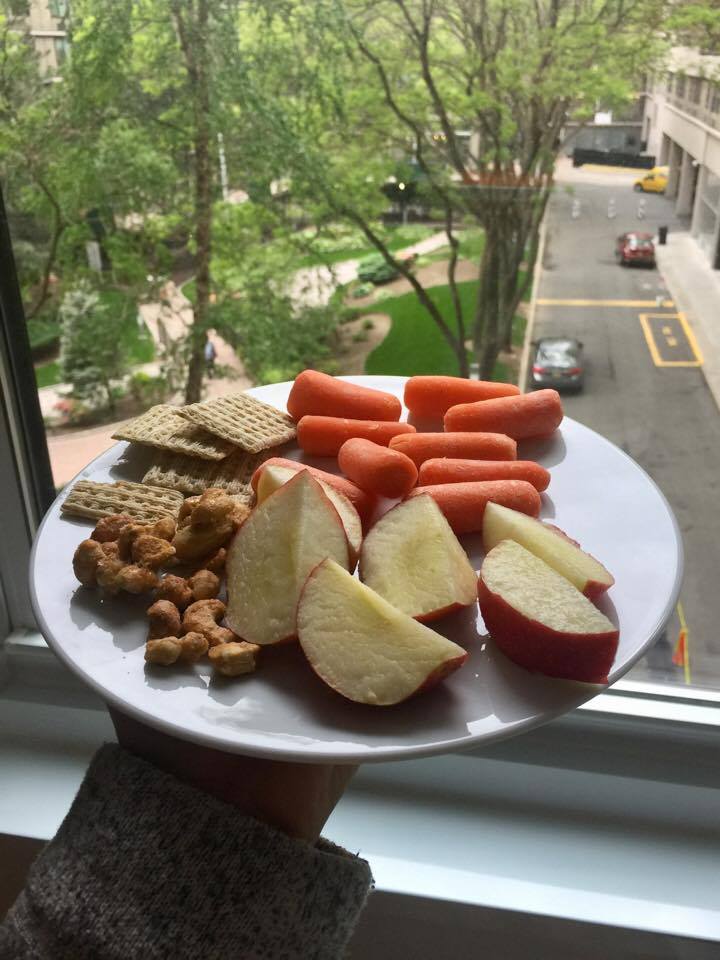 Snack plate of apples, carrots, maple roasted cashews (from the bulk bins at WF and I'm obsessed) and some triscuits…aka the WF 365 knock off version.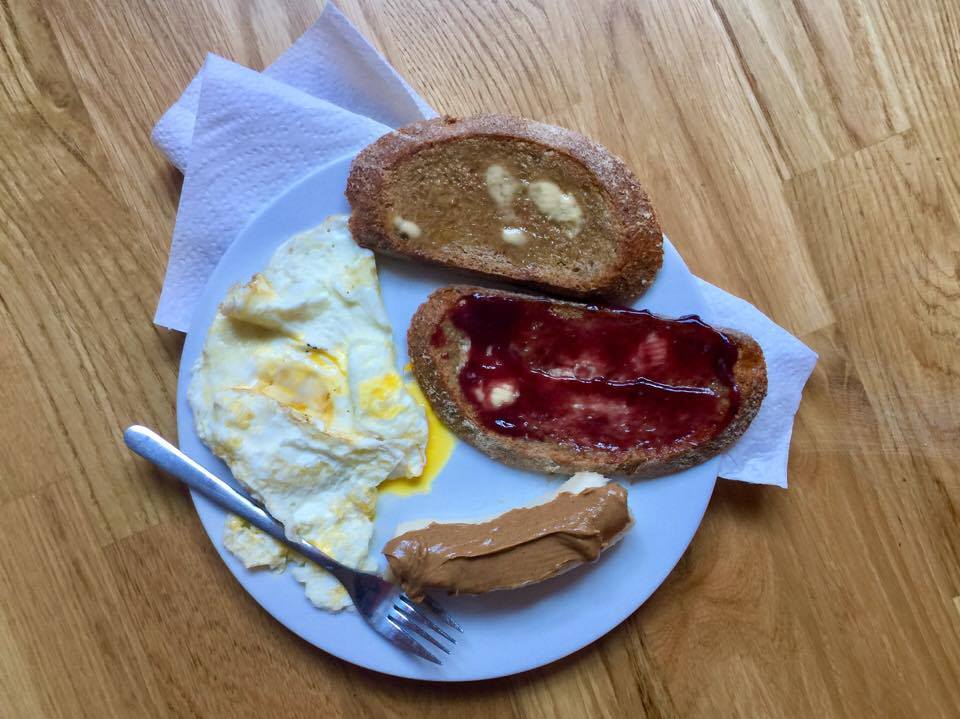 Last week I was ALL ABOUT TOAST AND EGGS. Breakfast one morning was two slices of whole wheat with butter and jam, two fried eggs and the other half of Nick's banana with pb.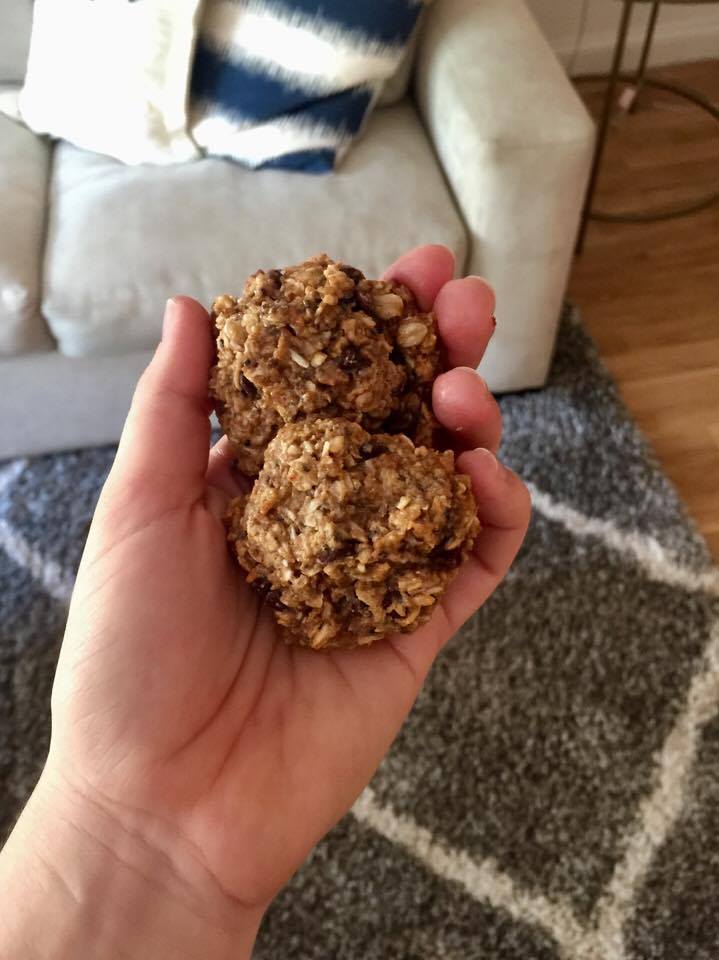 These cookies from the Oh She Glows cookbook are the epitome of satisfying snacks this week. They're way sweeter than a snack cookie but have lots of pb, coconut and oats to keep me satiated (vs a traditional chocolate chip cookie which tastes awesome, but by itself doesn't keep me full in between meals)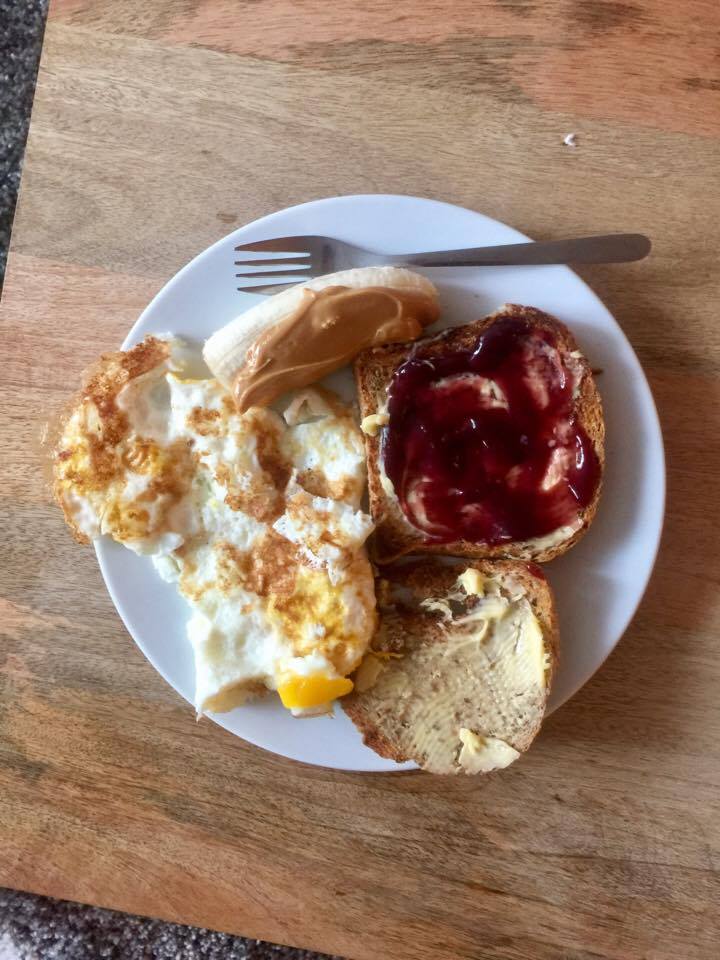 another eggs + toast breakfast…this time using up the last of a frozen loaf of bread…I forget the brand but I loved it.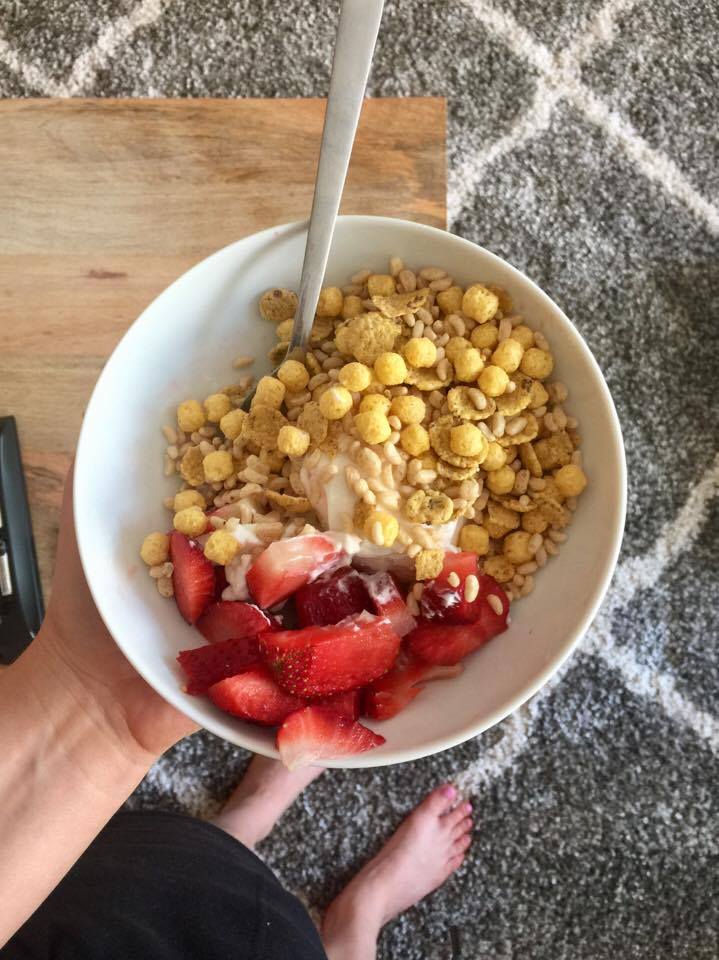 yogurt + cereal snack bowls made with siggi's 4% vanilla, strawberries and Nature's Path cereal. also very into cereal these days.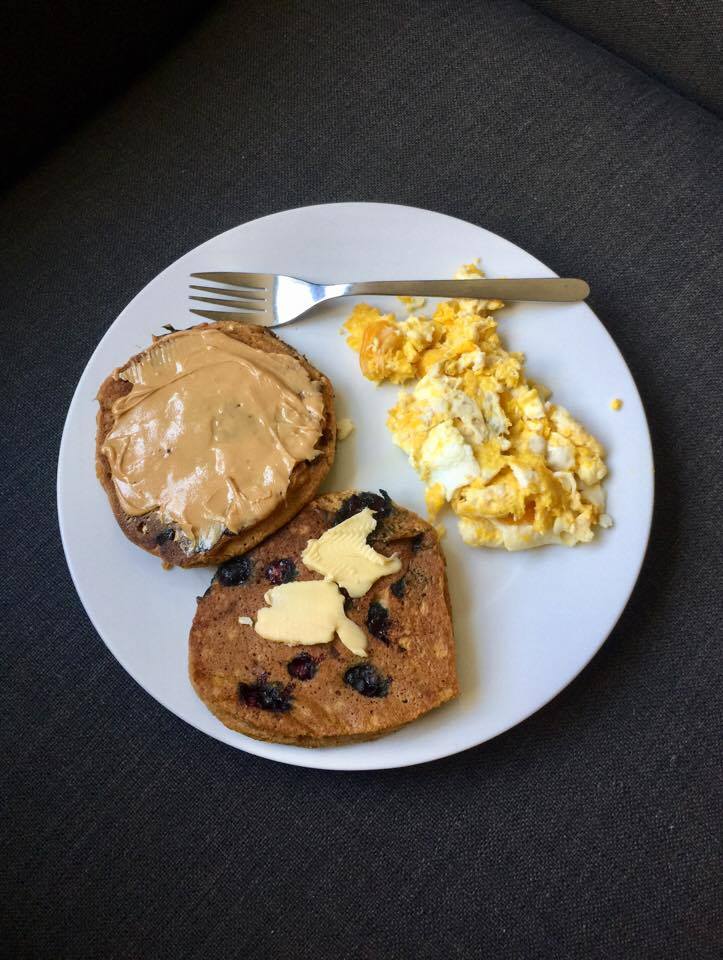 Saturday morning I made buckwheat pancakes from Cookie and Kate and threw some leftover pumpkin into the mix along with blueberries and chocolate chips.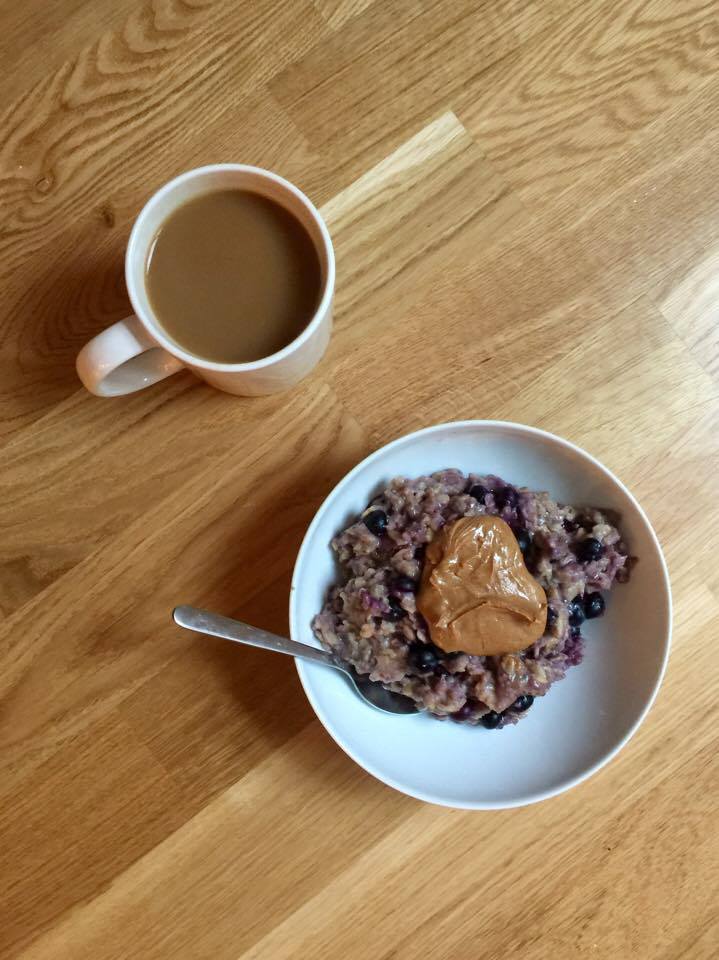 Yesterday was oatmeal for breakfast that started a super helpful instagram conversation. I <3 you guys.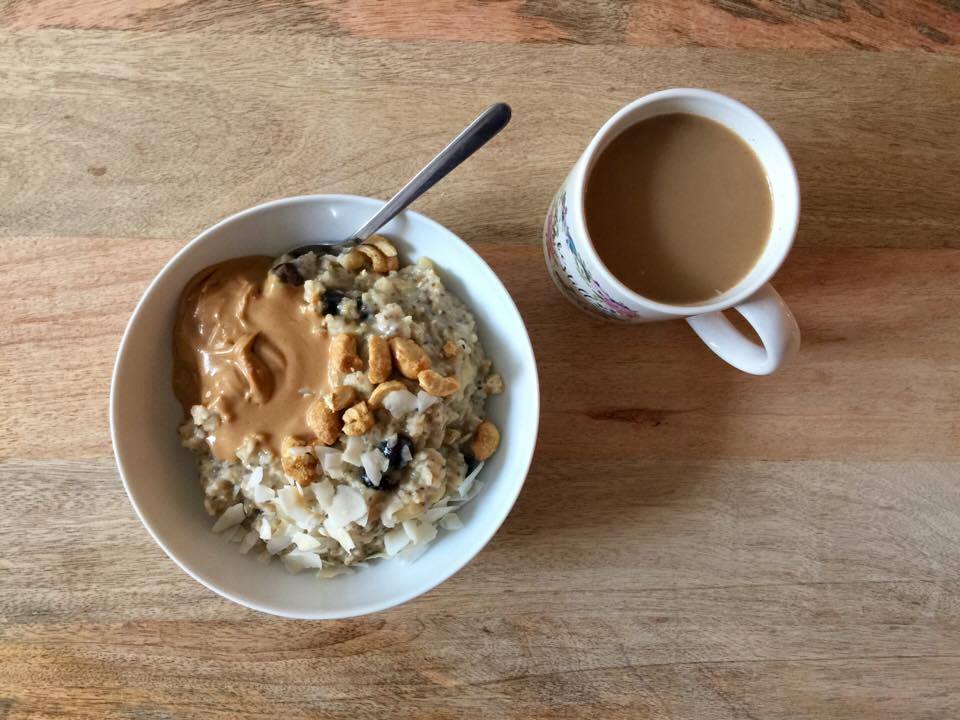 So then I made some additions to my oatmeal execution with extra fats + protein and stayed fuller longer (win) but determined I just don't think oatmeal is my fav. Eggs + toast and pancakes ftw.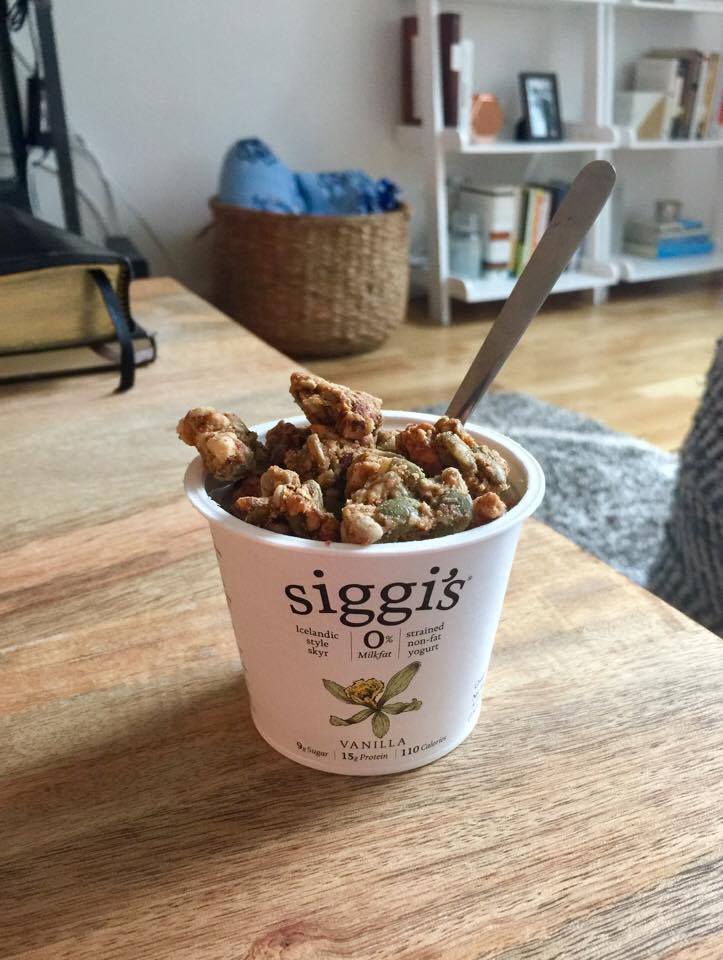 This is currently my favorite snack between breakfast and lunch – greek yogurt with granola. I'm actually loving grain free granola (above is this granola) not because it's grain free (gimme all the grains, all the time) but because all the fats from all the nuts hold me over so, so well. I eat breakfast at 7am with Nick and this snack around 10ish holds me till 12:30 or 1pm.
Also: siggi's was on major sale last week so when I went back to pick up more, all they had was 0%. Not anywhere near as good as the 4%. Full fat always, but the sale was too good to pass up.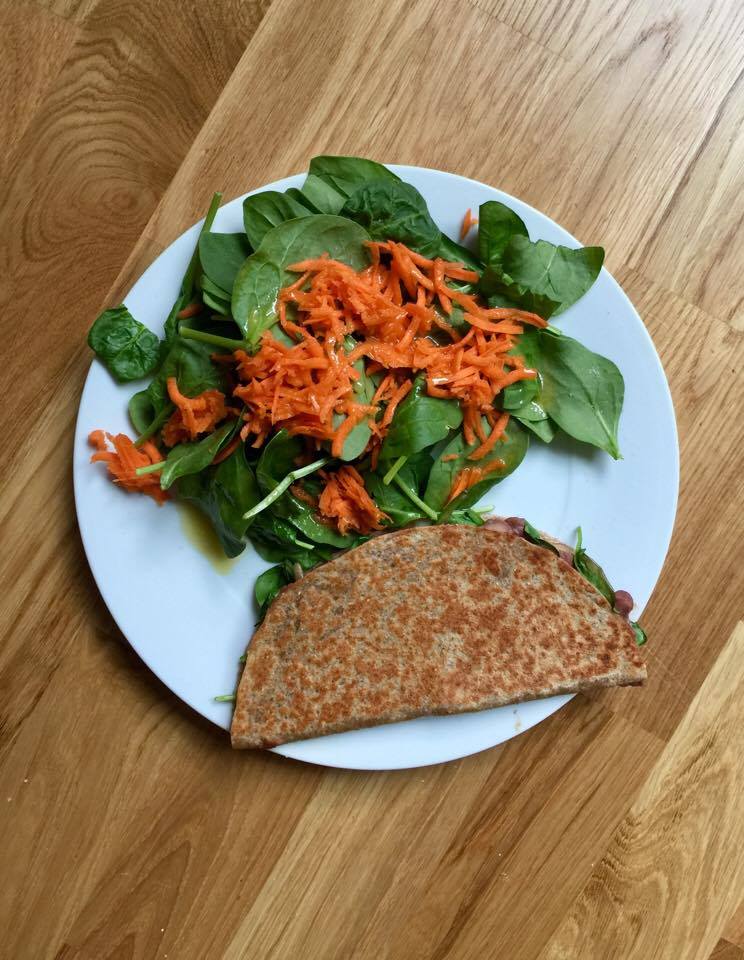 Yesterday's lunch was spinach + carrot salad with honey mustard dressing and a whole grain tortilla with cheddar, refried red beans from Better Bean Co. and spinach cooked in some butter until melty. This totally hit the spot.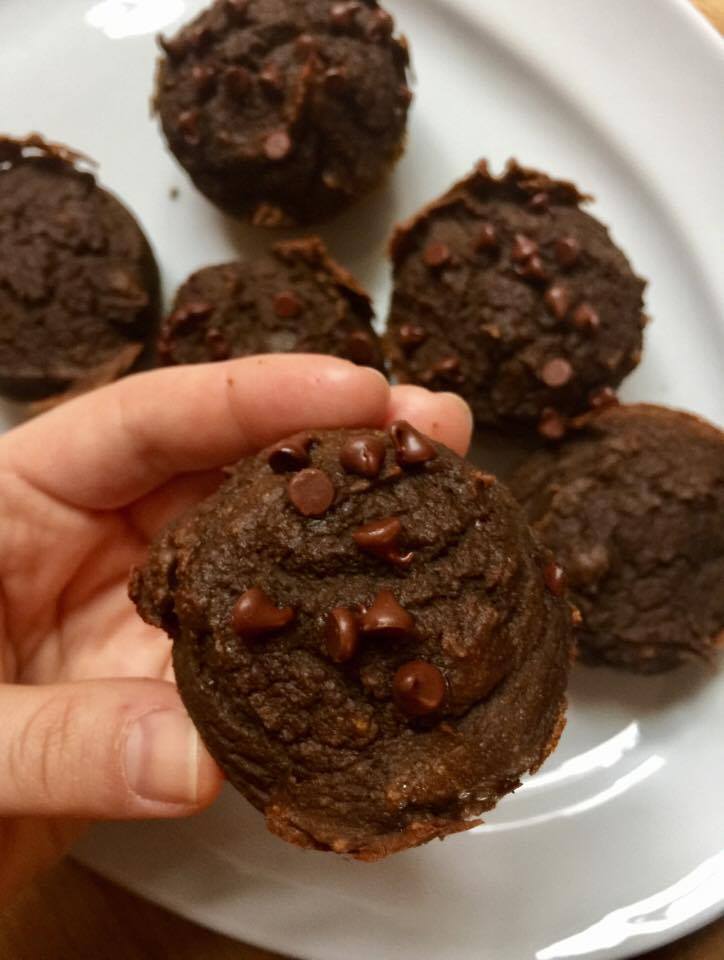 Followed up by a chocolate chocolate chip muffin (I used pumpkin, not beets since I didn't have any) since I was still a little hungry.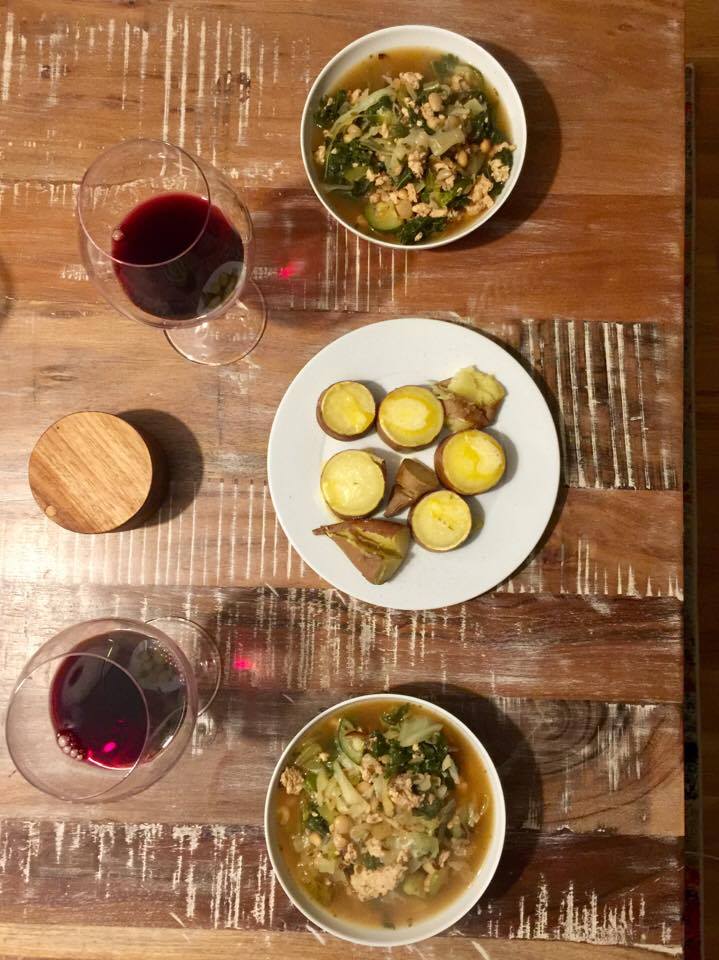 Dinner last night was chicken and white bean soup from Averie Cooks (I used ground turkey over chicken since it was cheaper at the store) with some red and white sweet potatoes + butter. Side note: Nick and I aren't becoming alcoholics, but since coming back from Stellenbosch we want to become really good at knowing wine so we crack two bottles at the beginning of the week and have half of a glass of both wines at dinner each night. Lots of wine has been showing up here, so I felt the need to explain myself 🙂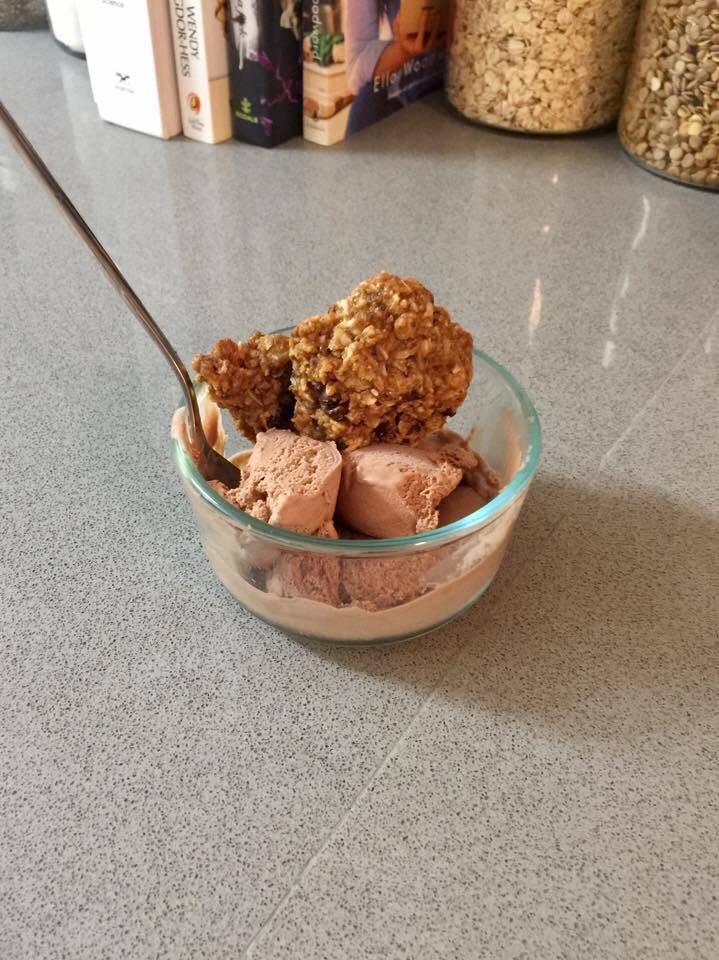 And Nada Moo chocolate ice cream (which is so fluffy and creamy and awesome btw!) with a couple pb chocolate cookies last night after dinner.
Share what you're eating and loving below. I wanna HEAR!
Interested more about intuitive eating? Read here: The Healthiest Way to Eat