Saturday was…a little brutal. I don't mind twelve hour shifts, but it's the 75 minute commute each way that kills me. I left work around 11:15 on Thursday night and after waiting 45 minutes for the Q train…I cried. And then got a $20 uber the rest of the way home.
On Friday I was like…I'm getting an uber from work all the way home even if it is $45 since I had to be back Saturday morning for work. Well, because of traffic and a not so wise uber driver that drive home was 90 minutes. I could. not. win. I cried again…because I'm a feeler not a thinker (that's where Nick comes in.) Not that you guys care at all…because seriously, commuting stories are dumb, but thanks for listening.
All that to say…the last few hours of Saturday's shift were a doozy.
I know this schedule is short term and I'm continually telling myself…just a few more weeks.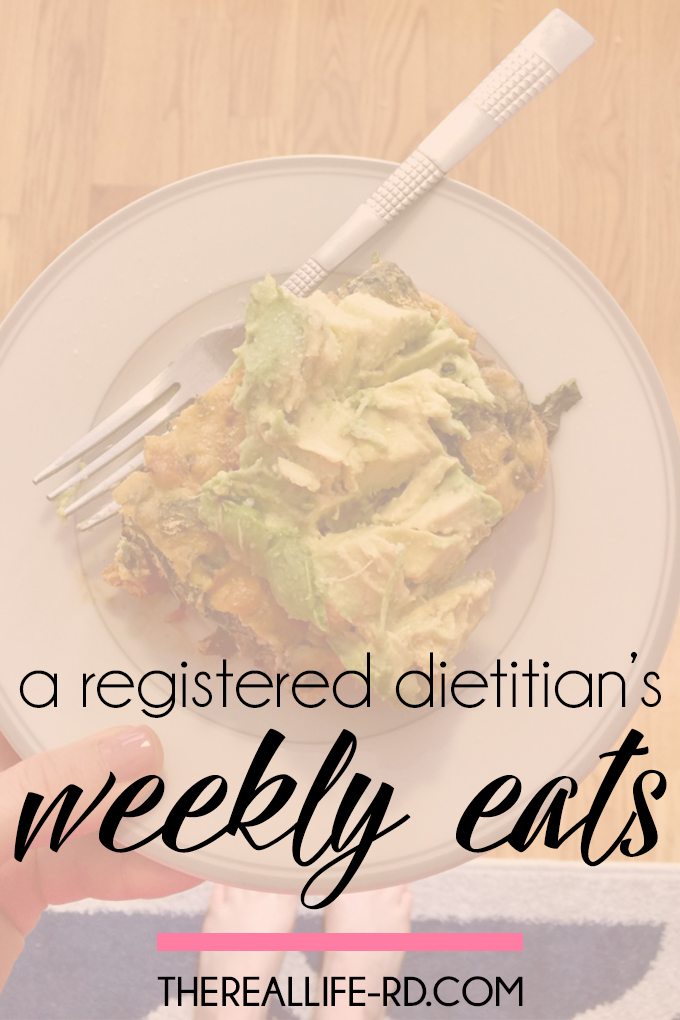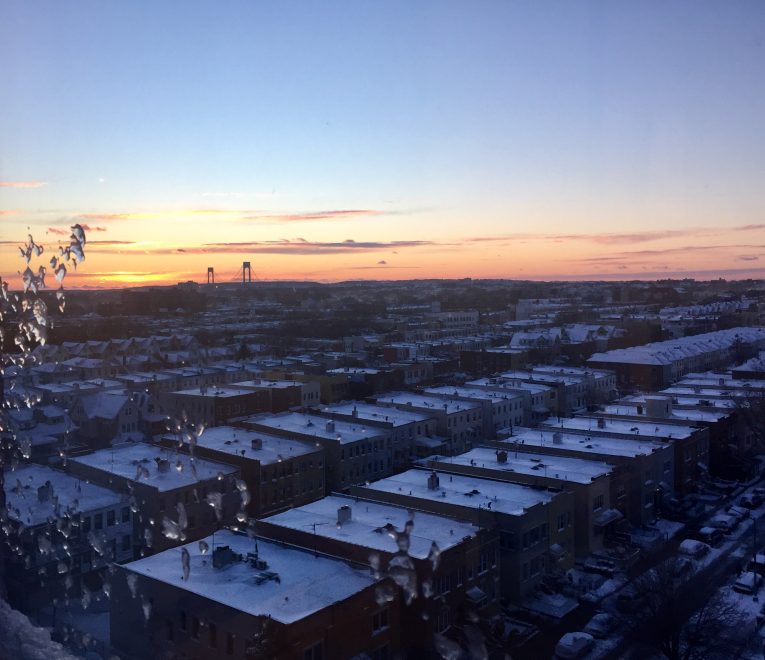 The sunsets from work always make me happy though. I stand in front of the window for a bit and I'm like ahhhhhhhh. Be still for a sec.
Sunday morning I had a couple Nutshell clients and then went to the gym for the first time in a few days…felt soooooo good…and then met Nick for brunch at Hu Kitchen.
He came straight from the airport since he had to fly home for a very unexpected funeral and I had worked four out of the past five days, so by the time we saw each other it was like, YES. It's a new week, we have today off, let's brunch and just be.
I always go with two fried eggs, plus the stir fried veggies and sautéed greens. We split the sweet potatoes and also shared a slice of banana bread –> so good and doughy. Need to recreate but I never will because I have no idea how.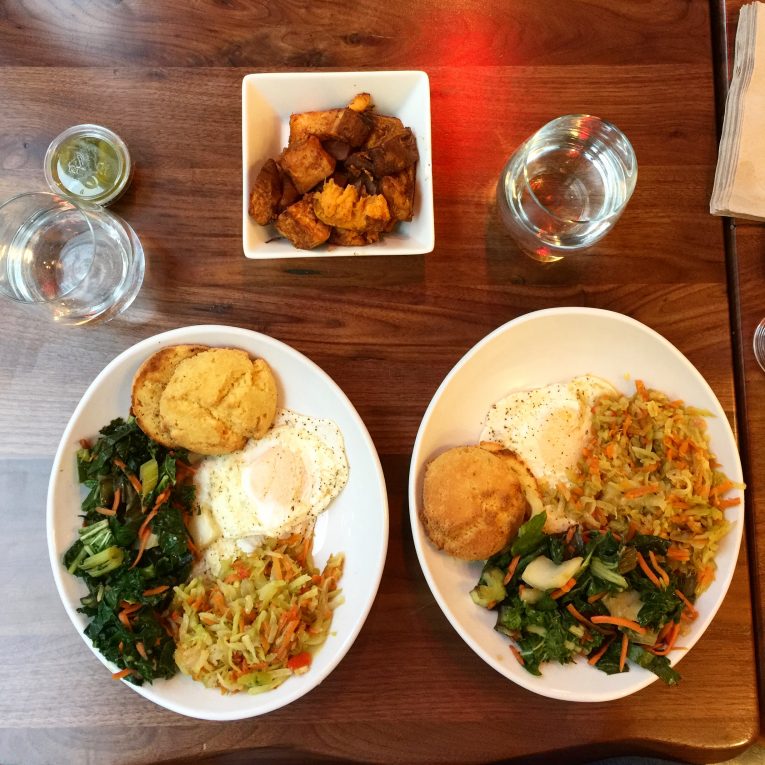 And the rest of this post is going to be lots of pictures of things I ate over the past week or so that I found on my camera roll. I take pictures of probably 60% of my food in hopes of sharing it with you guys and then I write posts that aren't always centered around what I eat. So I'm going to start doing a weekly recap of eats….would you like that? Say nahhh if you won't, you won't offend me 🙂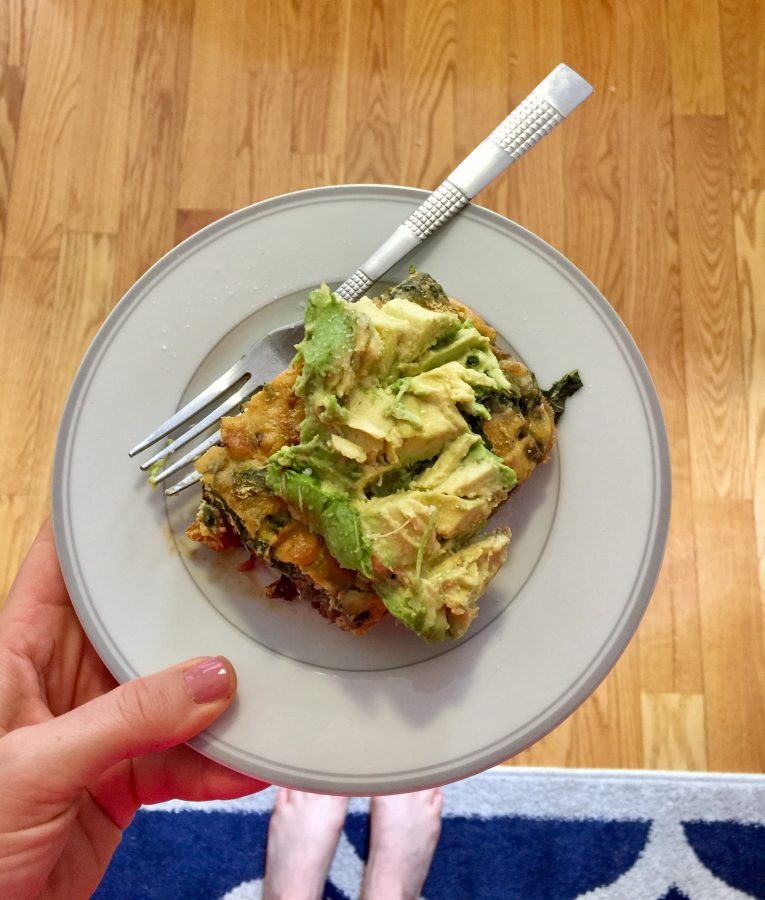 I ate this frittata bake with avocado for lunches. Plus a big bowl of popcorn on the side. All I do is sauté mushrooms, kale and tomatoes together, whisk up 8 eggs, mix in veggies, and bake in a square pyrex at 350 until the eggs are set.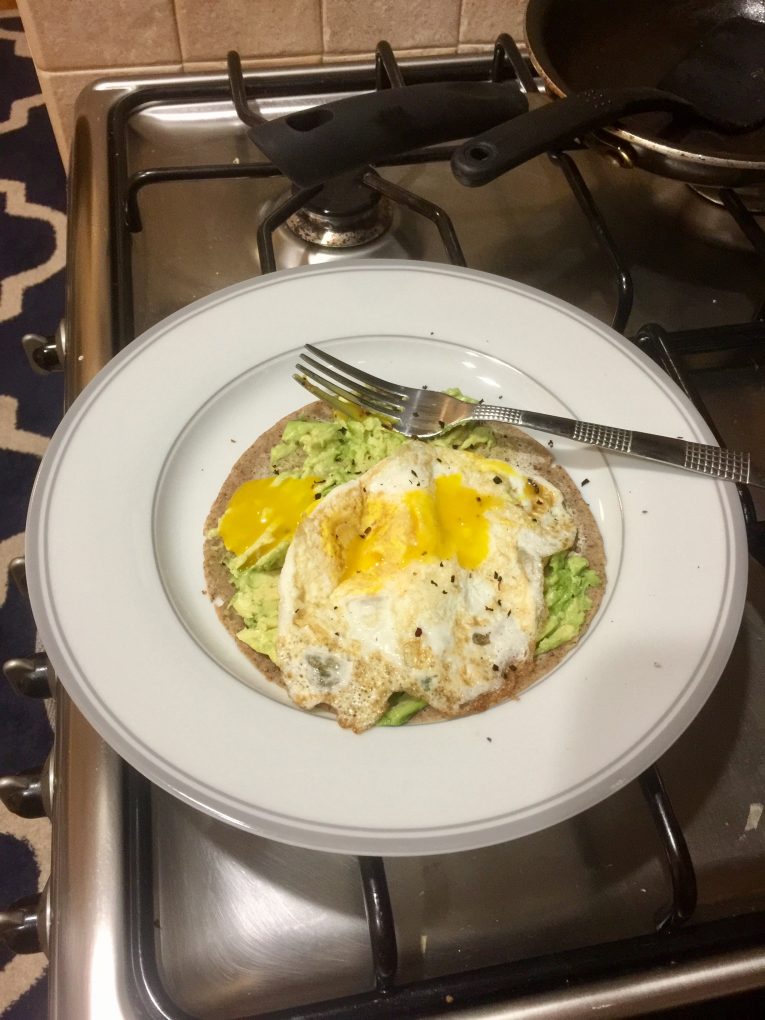 breakfast a couple days was avocado mashed on a tortilla with two fried eggs and sea salt. I know it's so basic and overdone but I am so. into. this. right. now. Just had it last night for dinner too with frozen green beans. Fancy.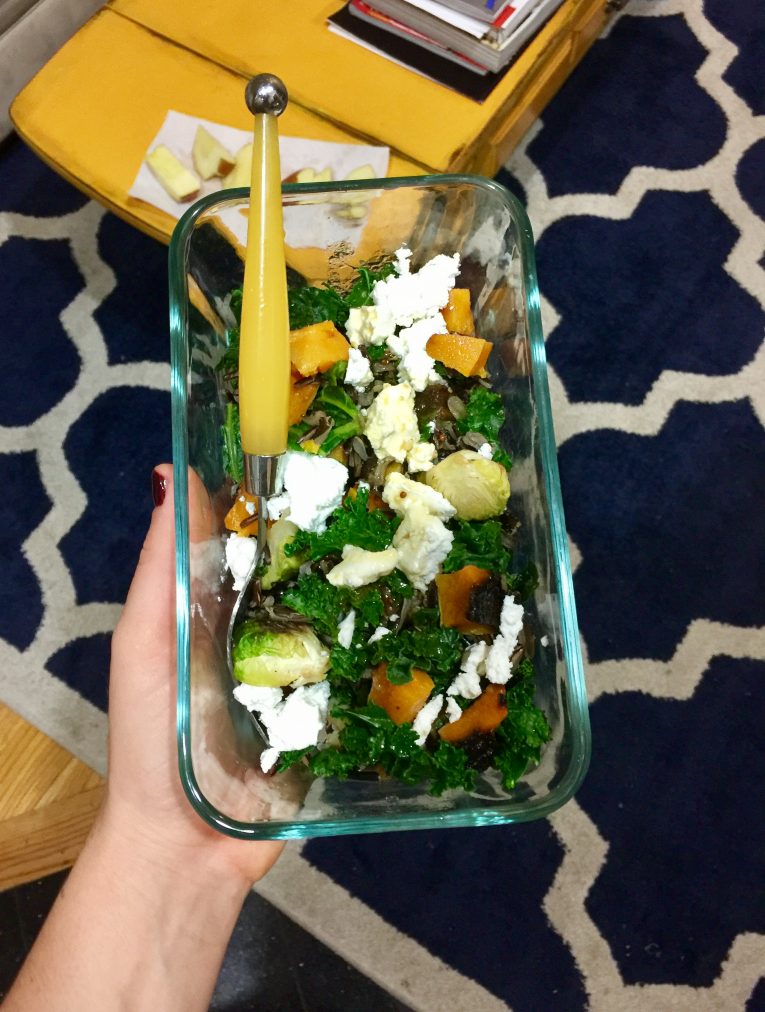 This wild rice salad with roasted butternut, brussels, kale, olive oil, sea salt and goat cheese with a sliced apple in the background.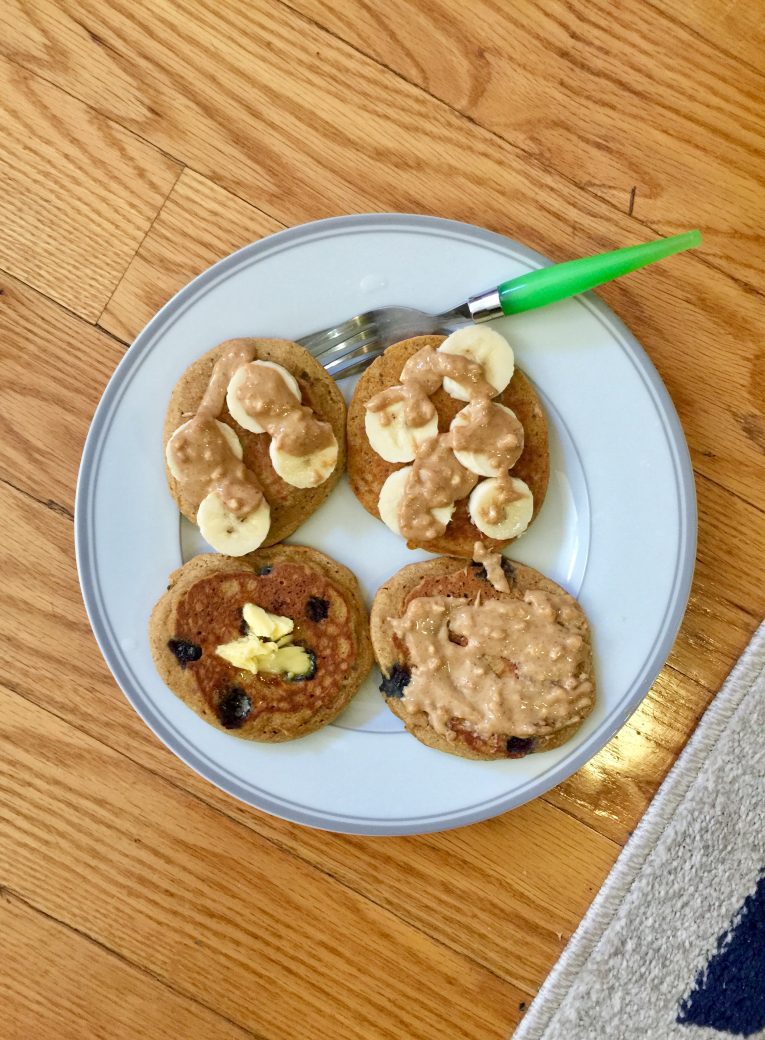 pancakes on mornings I get up 15 minutes earlier…I like variety. So half have blueberries, half with banana, three with PB and one with butter. Plus maple syrup on the side. Putting it on first leaves my pancakes soggy and I'm not into that.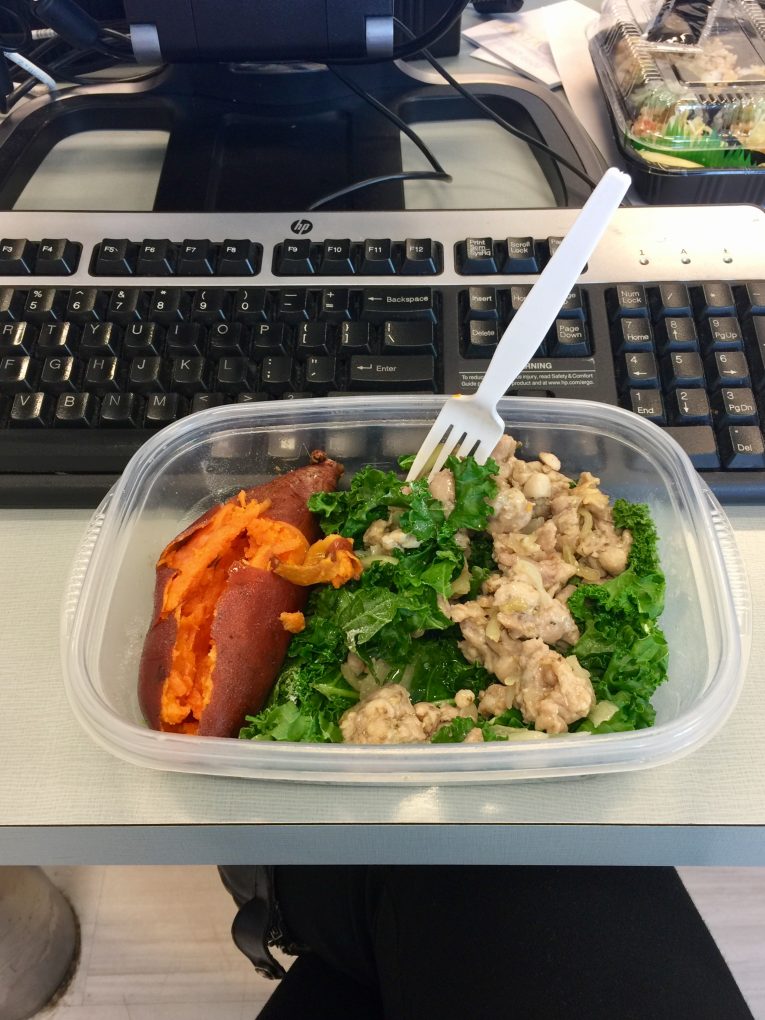 lunches last week also included kale, chicken sausage from Whole Foods and roasted sweet potato. This doesn't keep me full enough so I also eat it with a piece of fruit and a Larabar.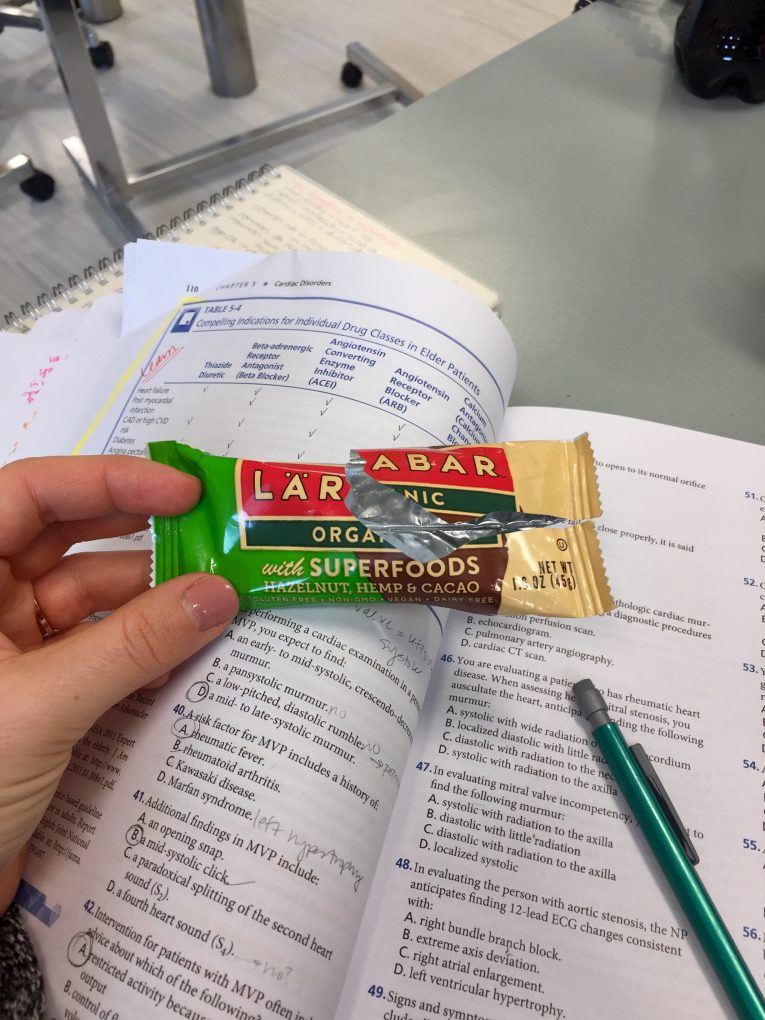 I ate it with avocado one day and the avocado got warm and I was sooooo sicked out. I learned I'll take my avocado cold and creamy, always.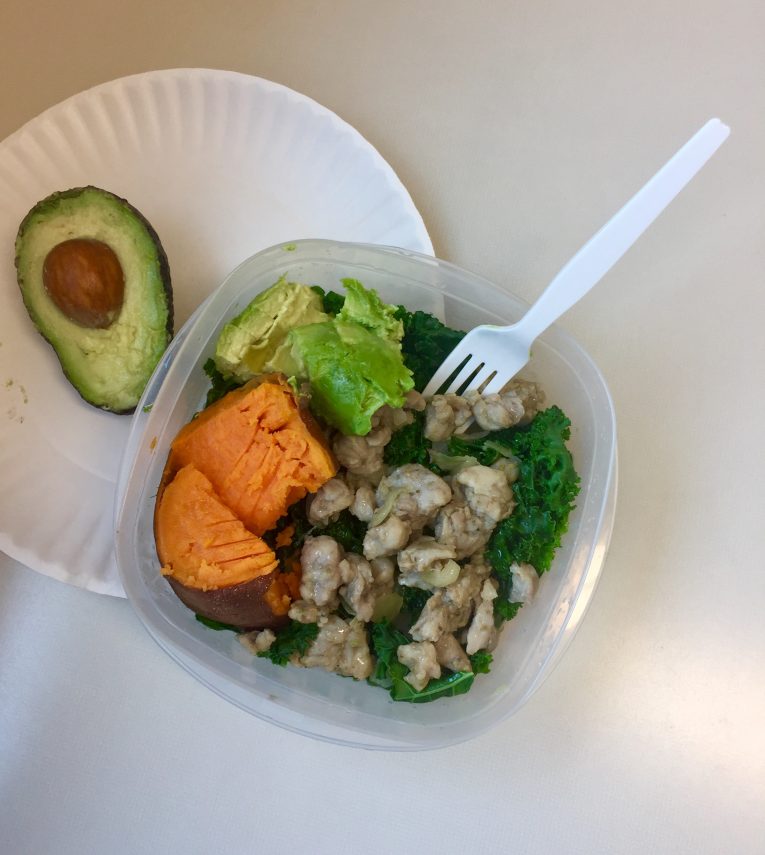 Dinners all last week at work were burgers with sautéed mushroom and onion, sweet potato and avocado (cold!)…this is the easiest thing for me to pack in a hurry. It doesn't look pretty, but I can heat it up and eat it in between patients if there's down time.
Another breakfast was overnight oats in a the dreamiest PB jar. I always use 1/2 cup portions of oats, yogurt/pumpkin and milk…plus a spoonful of chia for extra thickness. This jar was topped with banana.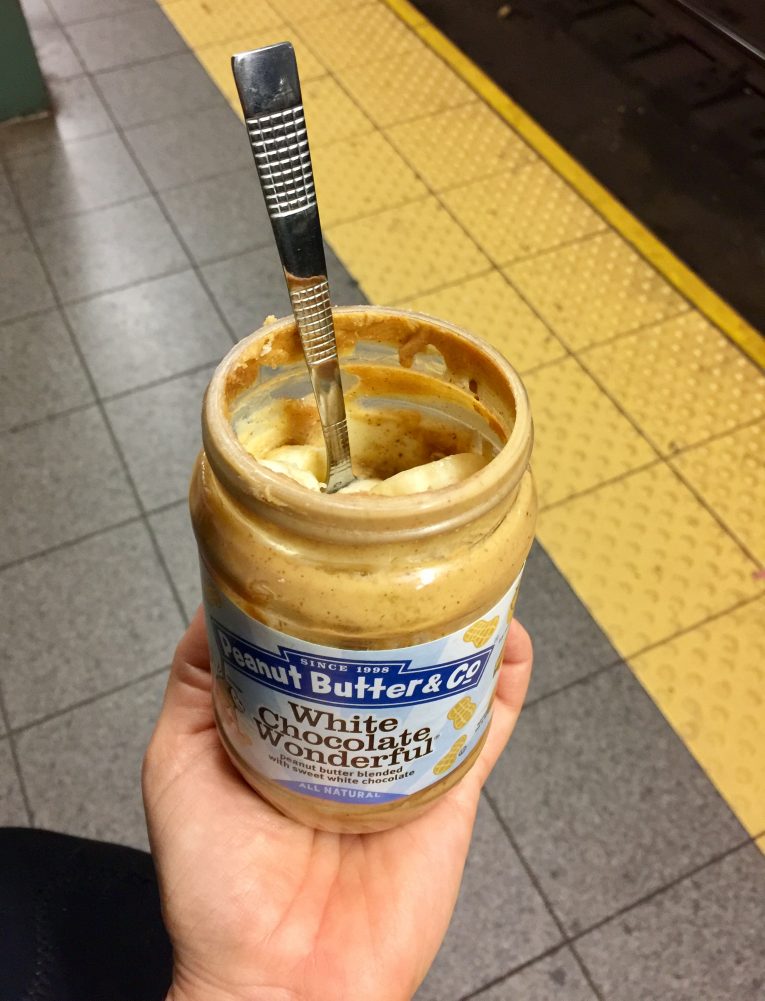 Another lunch was a tortilla with goat cheese and sundried tomatoes and mushrooms inside (SO good and satisfying) that I made in a buttered pan like a quesadilla. Along with sautéed kale and an apple.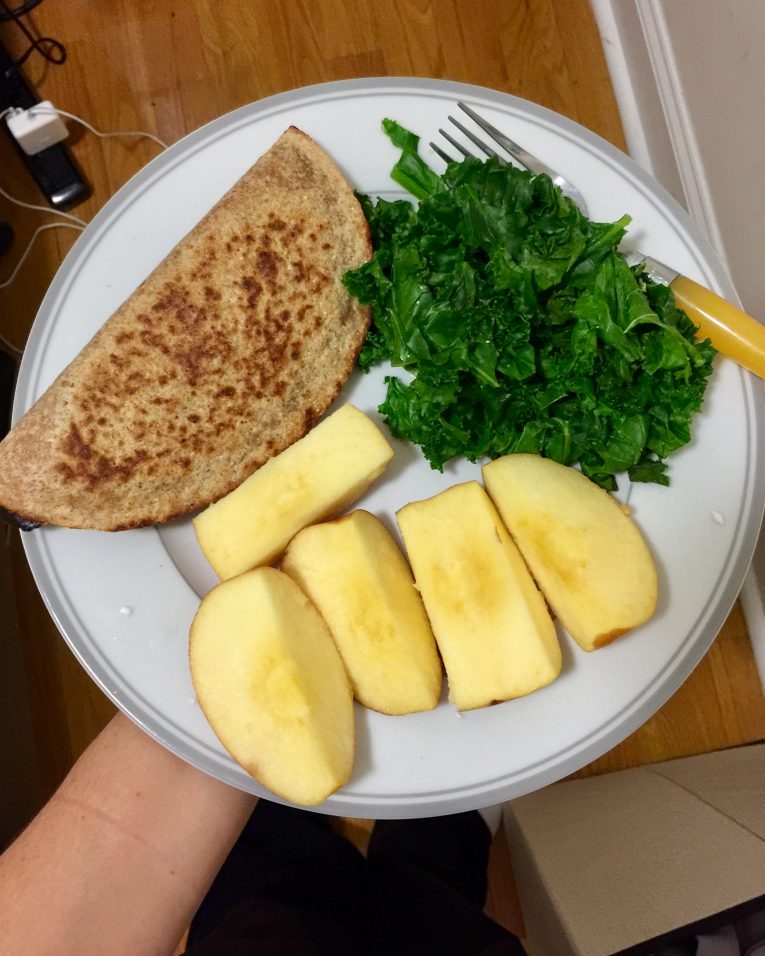 One day a week or so ago I was bare bones on food so I boiled up pasta, drizzled it generously with olive oil and sprinkled with garlic powder and sea salt and mixed it up with some leftover and heated frozen kale. Actually not too bad!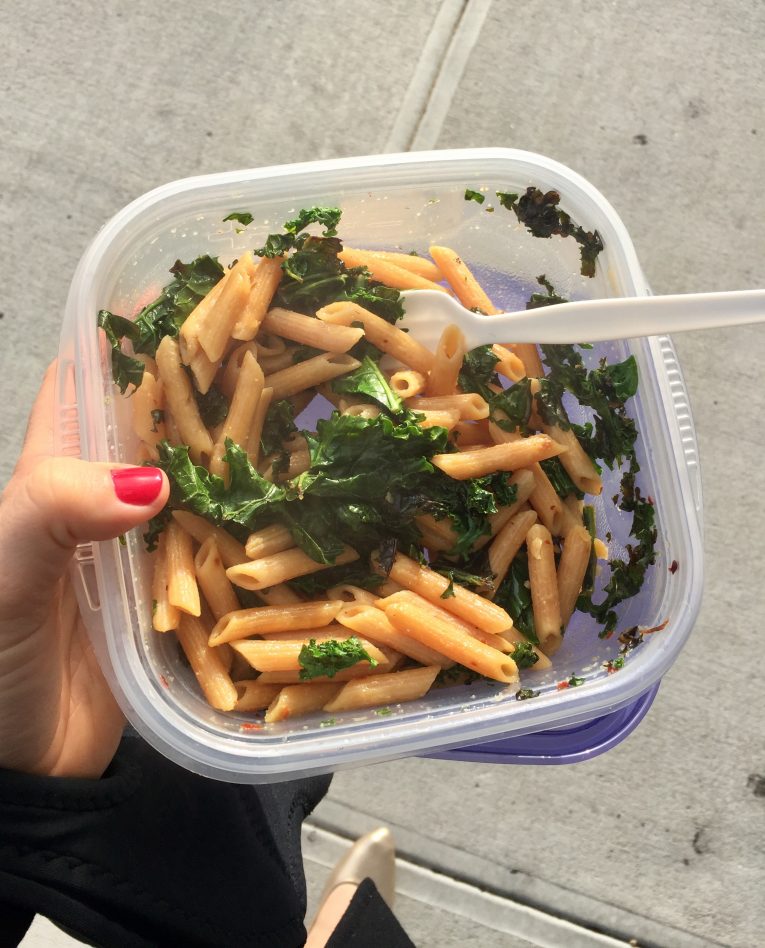 I posted this on Stories, but last week I made Nick and I this deconstructed egg roll recipe. The recipe was simple, it was super good, and I love sesame oil. I topped the bowls with fried eggs, a drizzle of sesame oil and sweet chili sauce.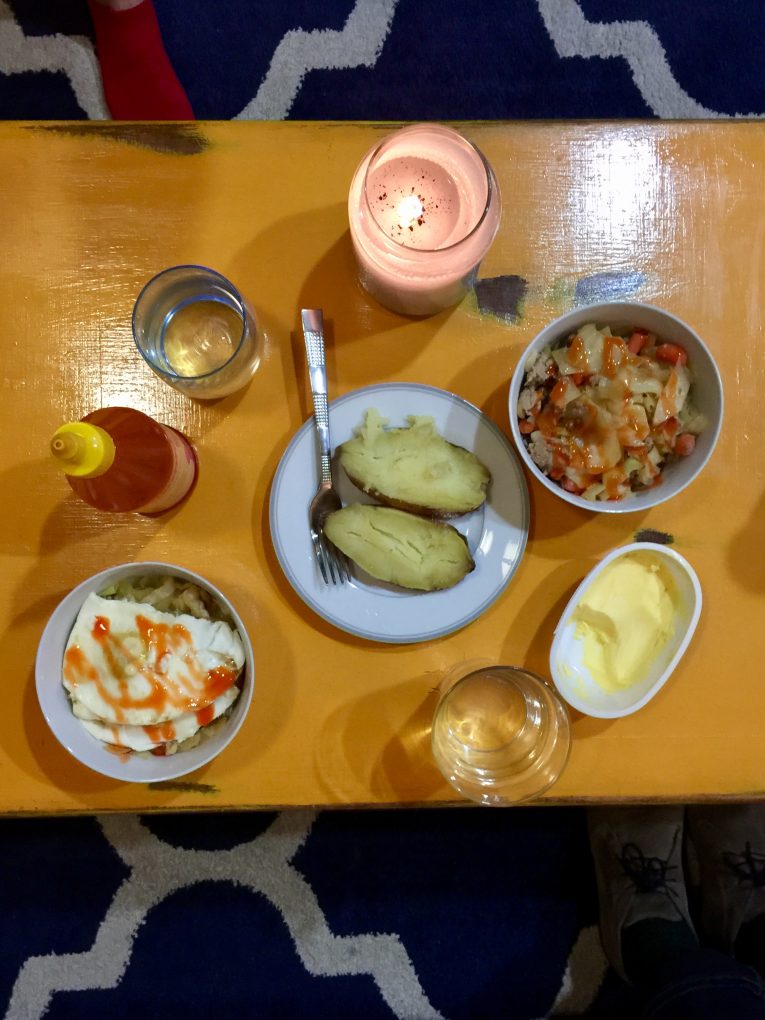 and late night snacks included banana bread all night every night with the best PB…or some Larry and Luna's or Edy's ice cream or a few spoonfuls of cashew butter straight out of the jar.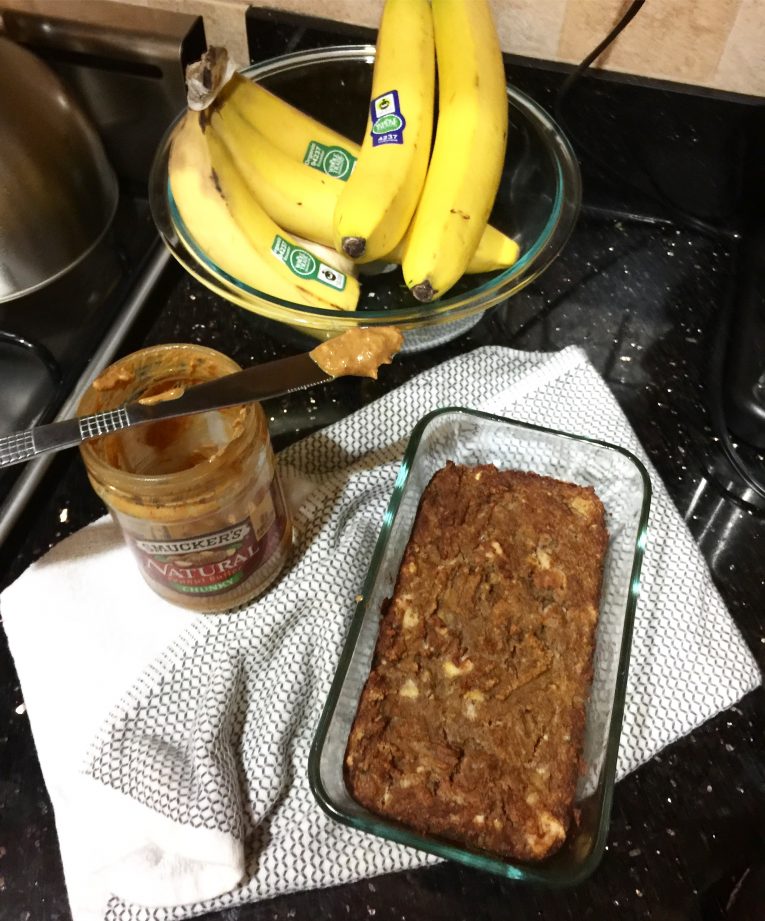 Eat something awesome this week ok?