One of the most common complaints I get at my full time NP job and in private practice as an RD has to do with GI upset…aka gastrointestinal problems. I also get several emails a week on the topic so I thought it was about time for a blog post.
Now, before I go any further I do want to say loud and clear. One, the generalized info/advice I write here does not replace the one on one relationship you have with your doctor. And two, please go get a full workup by a GI doctor to rule out any underlying pathology that could be causing a more serious issue. Once everything more serious is ruled out (celiac, colitis, gallstones, ulcer, etc etc) and you know that what you going on is not serious…..then keep reading 🙂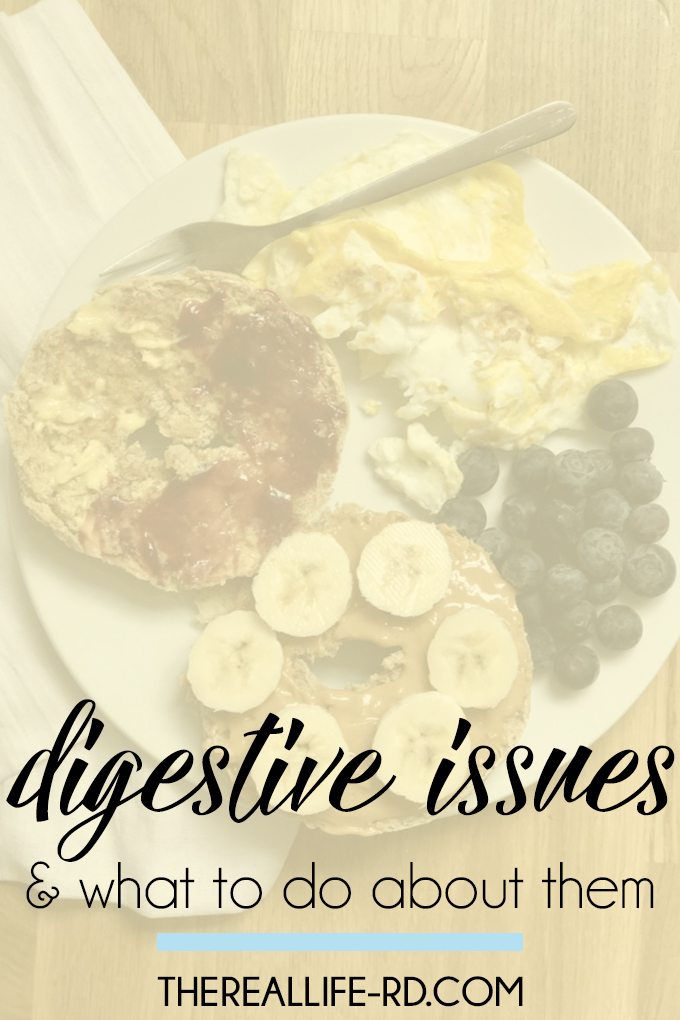 The body is very complex and dynamic. And figuring out the root cause of digestive issues can take a lot of digging and searching. I find GI issues to be the hardest to pinpoint and heal because there are so many factors that can cause digestive issues and it's really hard to isolate one factor in order to pinpoint the culprit. Typically, these issues are multifaceted. I know, annoying. Hang with me.
There are broad two categories of digestive issues (aside from medically diagnosed conditions) that I come across on a daily basis in practice. One set are those that arise when recovering from an eating disorder. The second set are those that arise in otherwise healthy women that don't have a history of an eating disorder. I'm going to try to address both in this post in the most understandable way I know.
When we don't take care of ourselves over a period of time – either through restricting calories or food groups, over exercising, laxative abuse, binging, binging/purging and other similar behaviors our bodies take a while to heal. It's not that there's something pathologically wrong, it's just that your body is trying to learn how to function properly again. I find that it takes a  lot of reassurance from me to help women realize that there isn't anything "wrong" with their body. Their body is just moving through the healing process, putting back together all the damaged pieces and learning to work properly again. And after months or years of treating your body poorly, this healing process can take a long time.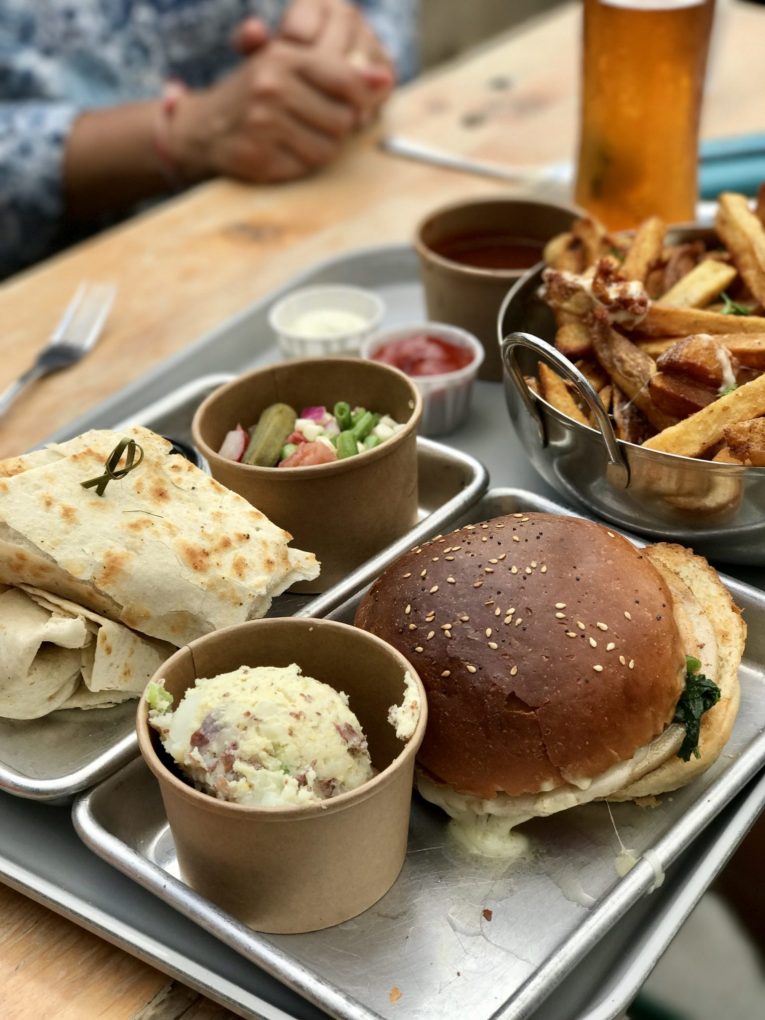 Typically (not always) what you're experiencing is a functional problem versus an anatomical issue. Some GI problems you might experience if you have or have had an eating disorder OR disordered eating include…
heartburn
bloating (which can mild or severe)
become full quickly
nausea
abdominal distension
constipation
gas/cramping
In the case of restrictive eating or other disorders behaviors, almost all of these symptoms manifest because of gastroparesis – which in essence is delayed stomach emptying caused by decreased stomach motility. This is caused when your vagus nerve (a super important nerve in your body connecting your brain to your colon) is damaged and therefore the stomach doesn't contract and move food out like it should. These symptoms also arise because the gut microflora is impacted by what you eat. Food restriction can cause intolerance to foods that were once tolerated likely due to a disruption in your flora and alterations in the production of your digestive enzymes. So when you try to increase the amount of food you are eating or the diversify the types of food you eat…you end up with a lot of discomfort. Your gut flora is shifting and trying to adapt to the altered intake and it takes some time for your GI system to learn how to digest properly again. With time, normalizing and diversifying your food intake and decreasing anxiety/stress, these symptoms typically do resolve. High emphasis on the time factor. Which is why support and reassurance on the treatment team end is so so important.
It's a double edged sword though because often there is a lot of emotional distress that comes with recovery…anxiety, OCD tendencies, worry etc and your gut is basically your second brain. It's what we call the enteric nervous system. Your gut brain isn't capable of thinking and feeling, but it does control the physiological processes of your digestive system and it is highly affected by feelings like anxiety, depression, stress etc. So while some symptoms are in fact caused by disruptions in your gut from unhealthy eating and exercise habits…they can become exacerbated (or manifested entirely) from anxiety and stress. It's not that your symptoms aren't real (they so are!) it's just that there are phycological factors vs a purely physiological cause. Make sense?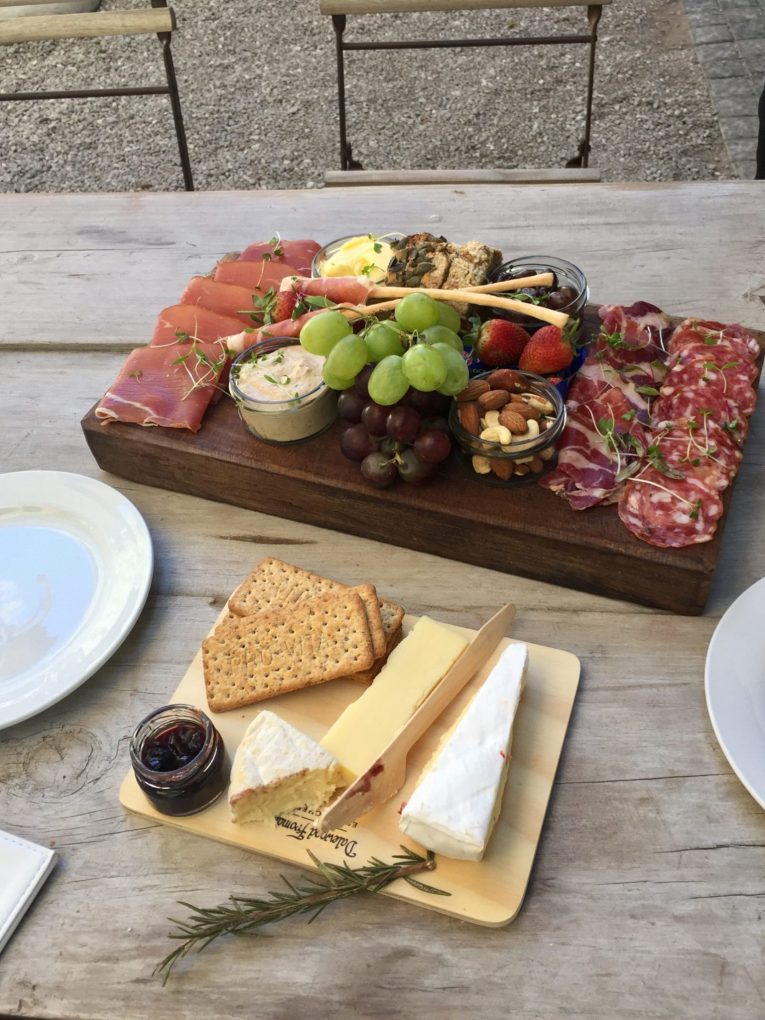 Before we go further, I think it's important to note that intermittent bloating and gas is totally normal. Its the body just doing it's thing and we will have little quirks and sensations from time to time because our body is so dynamic. Some of this is normal. I get bloated for about 15-20 minutes after I eat a salad at lunch. Then it goes away. It's my body digesting all the fiber. I get gassy (tmi? nah.) from time to time, I don't entirely know why. But it goes away. Our bodies are just doing their thing sometimes.
But what about if you haven't had an eating disorder or disordered eating? In the absence of normal nuances or circumstances related to eating disorders, there are a slew of other things that could be causing inflammation that in turn cause gastrointestinal issues. At the root of all this is inflammation. And because of that you experience the same common symptoms – bloating, gas, constipation, diarrhea etc. Usually doctors chalk it up to IBS (irritable bowel syndrome)…which often is true.
But what I find happening (and this is my observation) is that people end up eliminating a lot of foods in order to feel better. Which one, doesn't take care of the root issue (which can take some time and effort to find out) And this extreme elimination ends up being a catch 22 because when you eliminate more and more foods for longer periods of time your body forgets how to digest those foods. I'm not saying this approach isn't helpful for symptom relief – I think being in touch with your body is super important and learning what feels good and what doesn't is one of the cornerstones of intuitive eating. But that still doesn't take care of what's causing the digestive problems in the first place, because food isn't solely to blame. I think we overlook some important things to address and resort to eliminating all these foods way too quickly.
Are you eating rhythmically and overall "balanced" meals? Meaning three meals a day with some snacks and including a variety of food groups?
Are you stressed? Anxious? –> this is almost always a huge contributing factor and one I focus on the most with clients/patients. how can you take care of yourself to decrease stress and anxiety? mediation, deep breathing, yoga, going on a walk, journaling are all good things.
Are you eating a ton of high fiber, raw, "clean" foods? –> too much of a good thing isn't a good thing. you don't need to eating 15 servings of vegetables and quinoa and beans and hummus for every meal because hell yes, you will be bloated. Holy fiber overload. Especially recovering from an ED or disordered eating, you gut actually doesn't have the capacity (due to insufficient digestive enzymes and poor gut integrity) to digest all that roughage. Eating more refined foods (because they are already partially broken down before they enter your mouth) is paradoxically what your body needs right now so your gut doesn't have to do so much work. I find it's really hard for people to wrap their minds around that concept because aren't vegetables and quinoa and beans good for you? Yea they are…but perhaps they aren't what your body needs right now. Your body needs easy to digest energy and then you can move on to other foods. But that's hard work…because often these more refined, gentler foods, are anxiety inducing to eat because they have been feared for so long. Things like ice cream, white rice, white potatoes. But on the positive side, you're killing two birds with one stone….conquering food fears and your digestive system feels better. I know it's much easier said than done, but it's a win win 🙂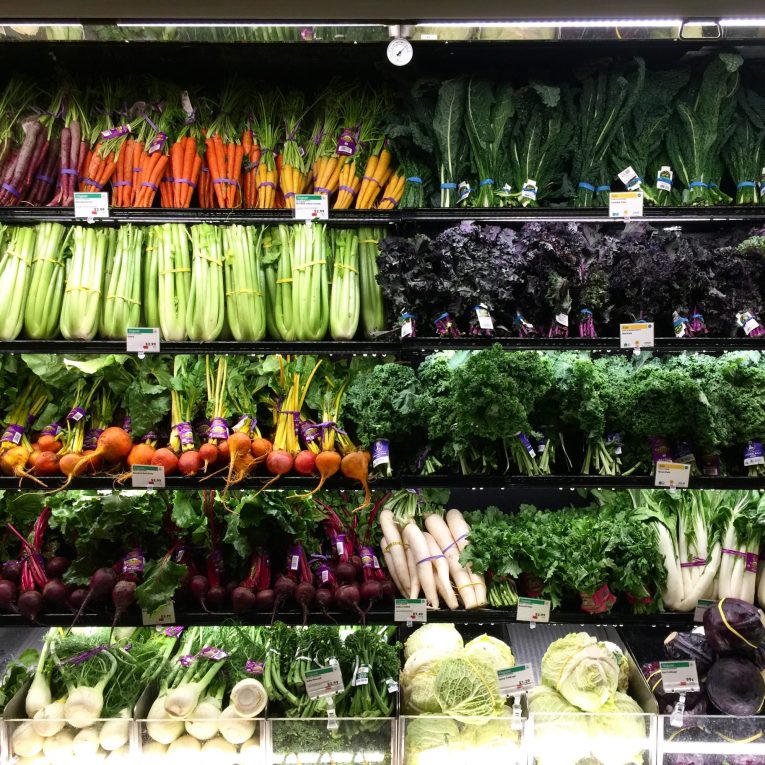 Do you eat quickly? Does eating feel chaotic? –> this causes bloating and gas and to an extent emotional distress
Are you eating past fullness? (this excludes those with eating disorder as your hunger cues are not fully reliable) –> eating large meals where you feel overly full can be hard on your digestive tract. Is it the end of the world if you do? NO, you're human and I am too. We will overshoot our fullness sometimes and that's okay. Become curious to figure out why it happened and what you can change next time instead of going into a rabbit hole of judgement, shame and guilt.
Are you eating more often for emotional reasons than physical reasons? Food is suppose to be pleasurable! And eating for emotional reasons is okay, we need to do that sometimes. You just don't want food to be your only coping mechanism because when it is, we completely numb out our feelings which only creates more emotional distress (again, your gut is your second brain) and we dissociate from our bodies so we don't listen to when our body says, "okay, that's enough."
Are you sleeping enough? Are you exercising too intensely in a way that doesn't leave your body feeling good? These are both huge sources of stress. And stress has a profound impact on your digestive health.
Based on the fast that I'm almost 2000 words into this post and could write a whole lot more, you can see that these things are complex. I think the thing I hope you remember is that it's okay if you feel bloated and gassy from time to time. And that GI discomfort during recovery from an eating disorder or disordered eating, most of the time, is a normal and expected part of the process. And while I know it sucks, hang in there. It will pass. <3
SaveSaveSaveSave