I bake a lot of banana bread. A LOT.
Because bananas make sweet and moist (yes, moist) bread almost every single time. Without banana in the batter, I find the result (at least for me) can become a little dicey.
Kind of like a morning without coffee. It's hard to predict the outcome. It gets dicey…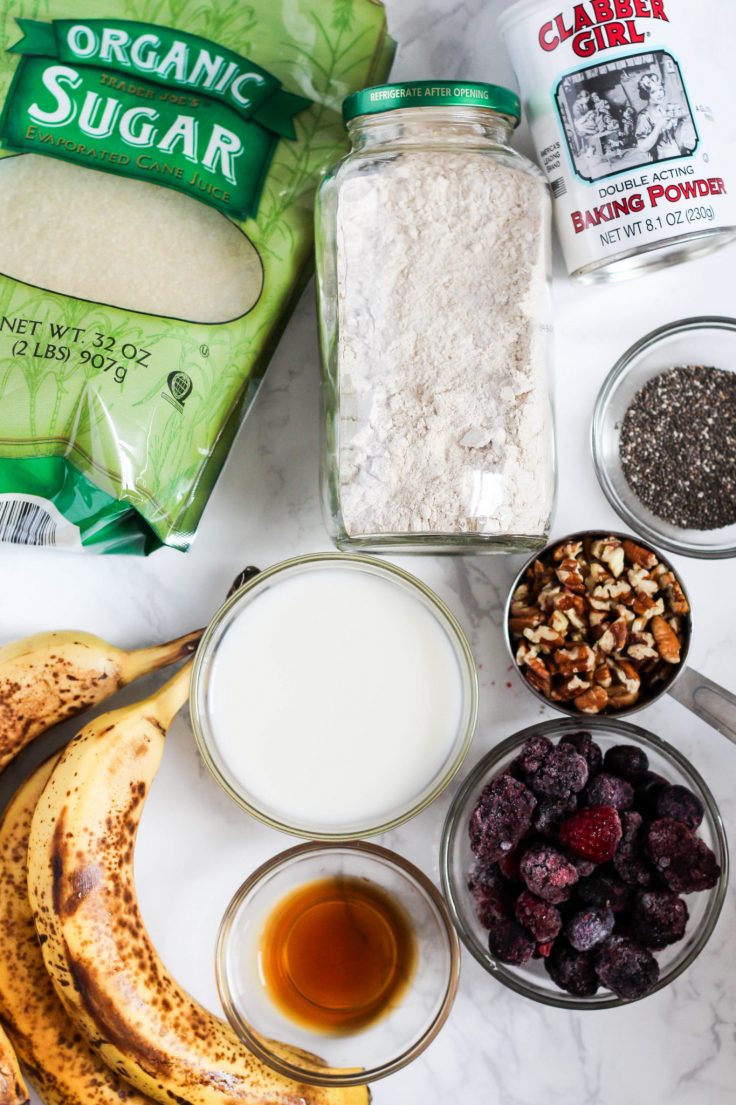 But sometimes I need a change up from the same old same old plain banana with some chocolate chips or peanut butter thrown in. I could eat the combination of peanut butter, bananas and chocolate all day (is that basic?) but sometimes I want something different. And anything that is small enough to pop into your mouth in one bite is always convenient. Talk about snacking on the go.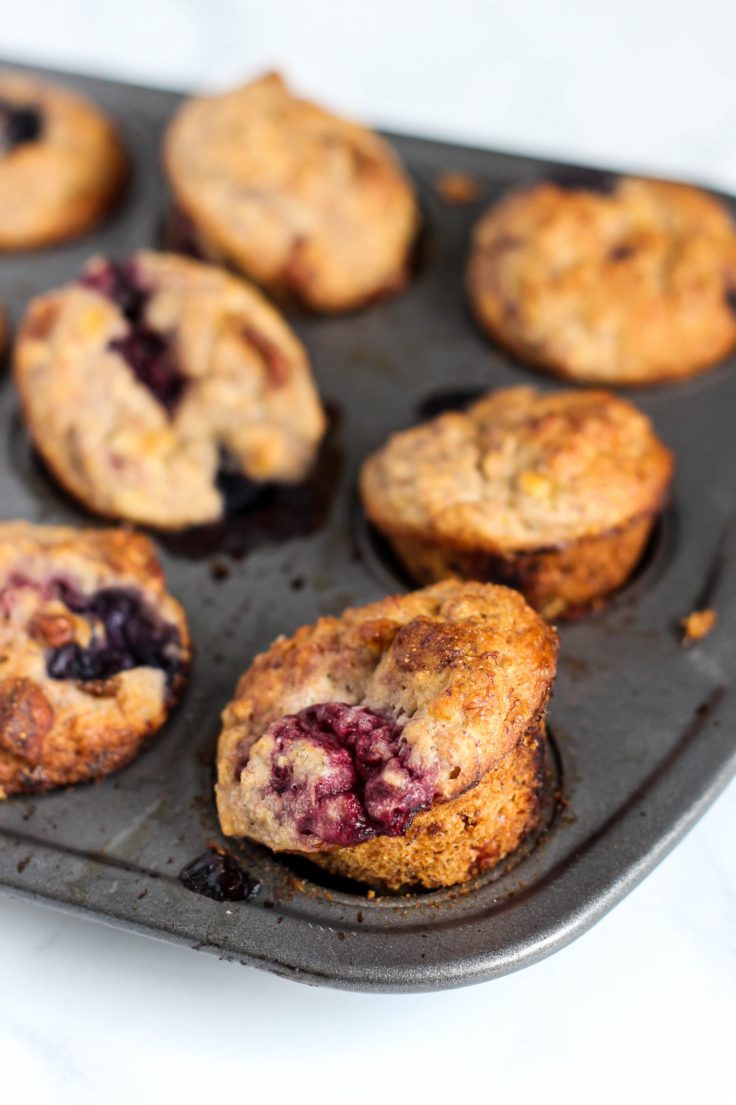 It's summer.  And summer is all about the seasonal berries that are perfectly sweet and plump and bright colored.
Can we talk about "self control" and baked goods for a sec?
I hear women say sometimes, "I can never have baked goods in the house, they would be gone in a day!" Or, "I can't eat carbs like bread because it makes me gain weight." And I have to push back a bit and ask….can you not eat these foods or have you let your mind lead you to believe that? Is your mind controlling your food choices or are you letting your body do that?
If you mentally tell yourself you cannot have something you will crave that food even more intensely. If I told you that you could never eat carrots again…I bet you might crave carrots like you never have before. Trust me, I've been there. From a physiological standpoint, if you "gain weight" by eating carbs or feel out of control around baked goods….maybe you aren't eating enough energy or enough carbs or fats. Maybe you're not "out of control"…maybe your body is just hungry.
Ok, end rant on food freedom. Back to the muffins!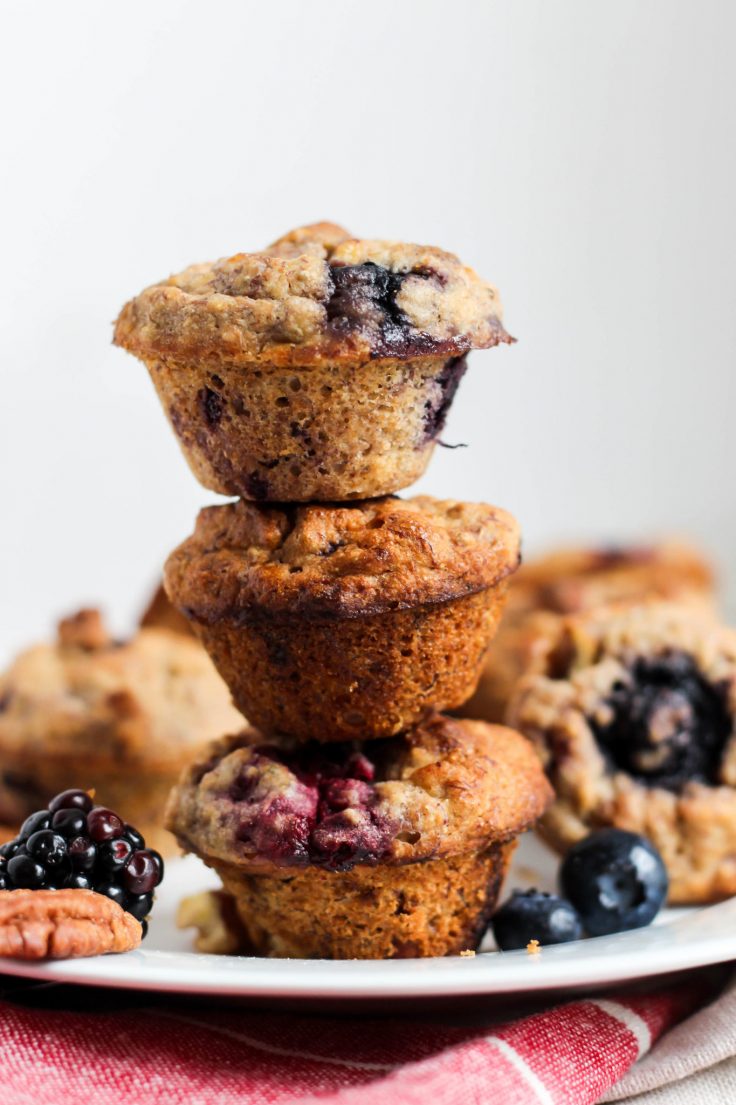 This muffin recipe isn't a new idea, I use to make this recipe when I lived in Charlottesville four years ago because there was always loads of local berries at the farmers market for like $2 a pound.
Can you use frozen berries? YES. Just know the muffins might turn out like a tie dye t-shirt since the color of frozen berries bleed into the batter. But they will still taste fab!
Muffins are one of my favorite snacks. Carby and sweet and sat.is.fy.ing. These are just that. Spread them with butter and honey. Or almond butter. Or cream cheese! They taste like a variation of a danish with a smear of cream cheese.
Or crumble them over some yogurt or hot oatmeal and eat them before bed with a cup of milk. You can't go wrong here.
I hope you love them!
Berry Pecan Muffins

Print recipe
| | |
| --- | --- |
| Serves | 24 mini or 12 regular sized muffins |
Ingredients
1 1/2 cup whole wheat pastry flour
2 teaspoons baking powder
1/2 teaspoon sea salt
1/3 cup cane sugar
1 egg
3 Large overly ripe bananas (mashed)
1 teaspoon vanilla extract
2/3 cups almond milk
1/2 cup chopped pecans
1 cup raspberries and blueberries
Directions
Step 1
Preheat the oven to 350 degrees and grease a mini or regular sized muffin tin. Mash up the bananas and set aside in a medium bowl.
Step 2
Mix all the dry ingredients (flour, sugar, baking powder, and salt) together in another large bowl and set aside.
Step 3
Whisk the egg and add to the bananas along with the almond milk and vanilla.
Step 4
Mix the banana mixture into the dry ingredients and fold the mixture gently. You don't want to overmix! It's okay to still have some clumps.
Step 5
Then gently fold in the berries and pecans until just combined.
Step 6
Scoop the mixture into a greased mini muffin tin (or 12 regular sized tins)
Step 7
Bake at 350 degrees for 12-15 minutes for mini muffins, 15-18 minutes for regular sized muffins. Let them cool for 5-10 minutes before taking them out of the tins. Smear with butter or cream cheese or peanut butter and enjoy!
SaveSave
SaveSave