It was so cool here this weekend! It felt more like April than nearly August. Loved it!
Friday night I got home from work around 7pm after staying a little later and Nick and I did what we do most Friday nights, make a good cocktail or pour a glass of wine and eat cheese and crackers as we wind down from the week. Last night, Nick made martinis. We're weren't messing around. 😉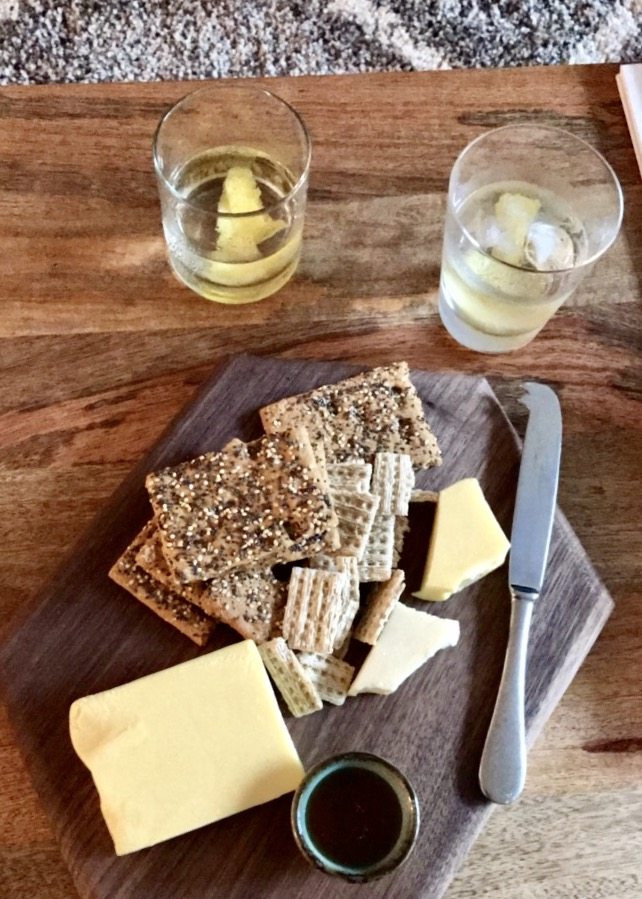 A little later we walked over to Brookfield place to grab dinner and then took it out near the water to eat while the sun set. There are so many fresh and fun food options inside Brookefield Place so it's nice that's its a 3 minute walk from our apartment. We decided on Umami Burger since we had never had it.
I went with the K-BBQ burger which has a korean bbq sauce, kimchi and other veggies. Nick went with the 'manly' which had onion rings, cheese and some special sauce. We split some sweet potato fries dipped in house made jalapeño ranch that were SO GOOD. I rarely order buns on burgers (another example from last weekend here) not because buns are "bad" or something, but because they just don't satisfy me. I'd rather taste the toppings and burger more, have more room in my stomach for sweet potato fries. Foods like bagels, crusty bread and donuts…that's super satisfying to me.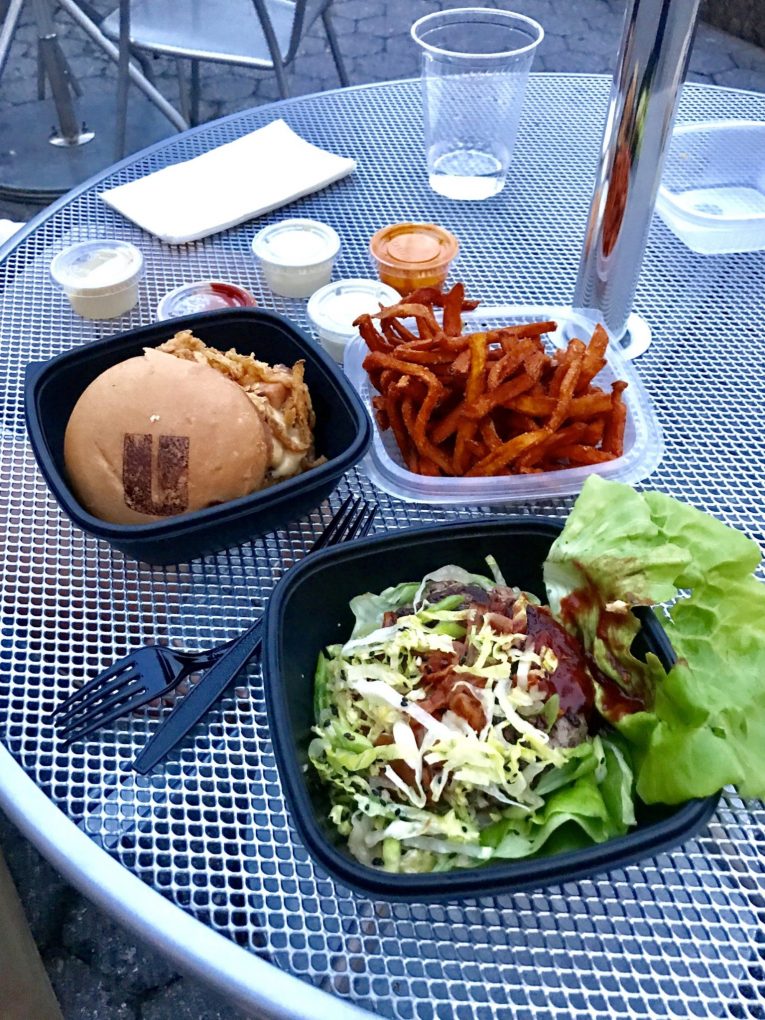 We watched the rest of Somm (and Nick and I found out that one of the Master Somms, Dustin Wilson, has a wine shop 5 minutes from our apt ha) and then were asleep by 11pm. We woke up naturally a little after 7am. There is nothing better than waking up naturally.
Over the past month or so I (and we) have stopped making perpetual weekend plans. I feel like every weekend use to be booked full and then I would get to Monday and want another weekend. There was little margin for spontaneity. We were either traveling or socializing the crap out of ourselves and running around the city on the weekends we were in town. Then I told Nick a while back that I wanted to stop making plans and see how things unfolded as the weekend neared. We usually have some potential friend meet ups loosely planned and then just go from there. And it is SO MUCH MORE FREEING.
So Saturday we woke up, Nick went to work out and I did a bunch of blog and business stuff. There is going to be so much change happening in the next few months with the private practice and the blog and I'm really, really excited about it. Over the past few weeks I feel like my gas tank of passion and ambition for the blog and business has been turbo charged so I'm riding that out right now. So look out for that coming in the fall 🙂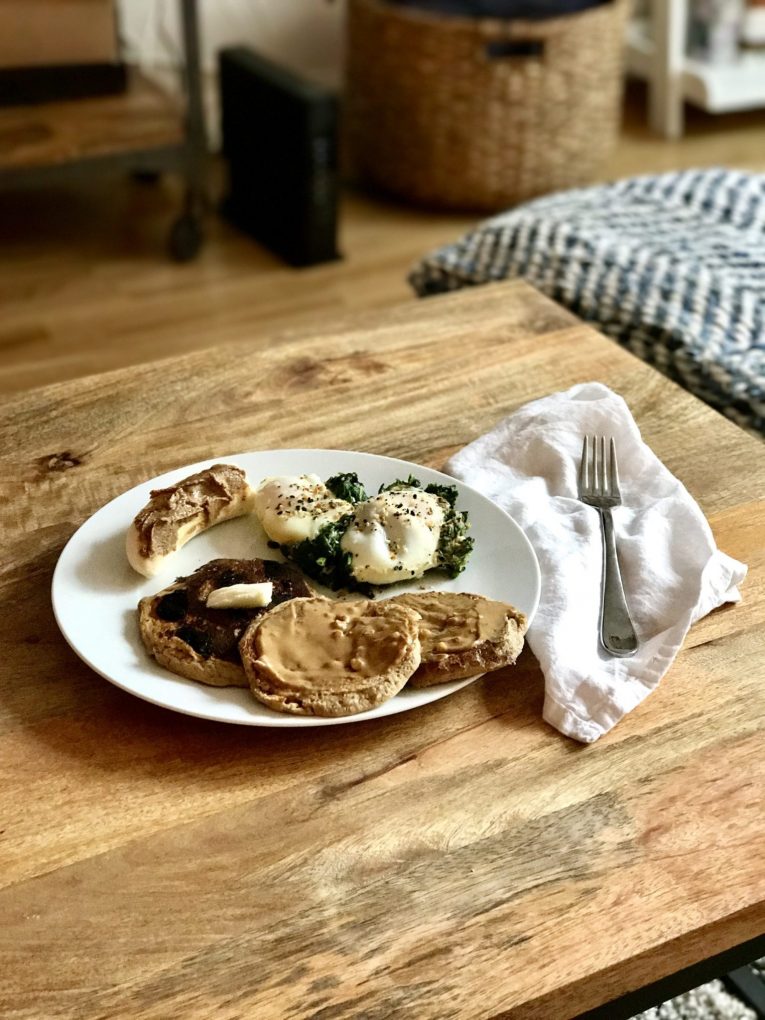 In between writing and working we made pancakes and eggs with spinach. Pancakes this time were Davida's blender banana oatmeal pancakes which were so easy and fluffy. I added chocolate chips to the batter.
And then I finished working on some things while Nick cleaned and did house stuff and ran errands. Around 1 or so I needed to move my body so I went down to our apartment gym and whirled on the elliptical while listening to a podcast.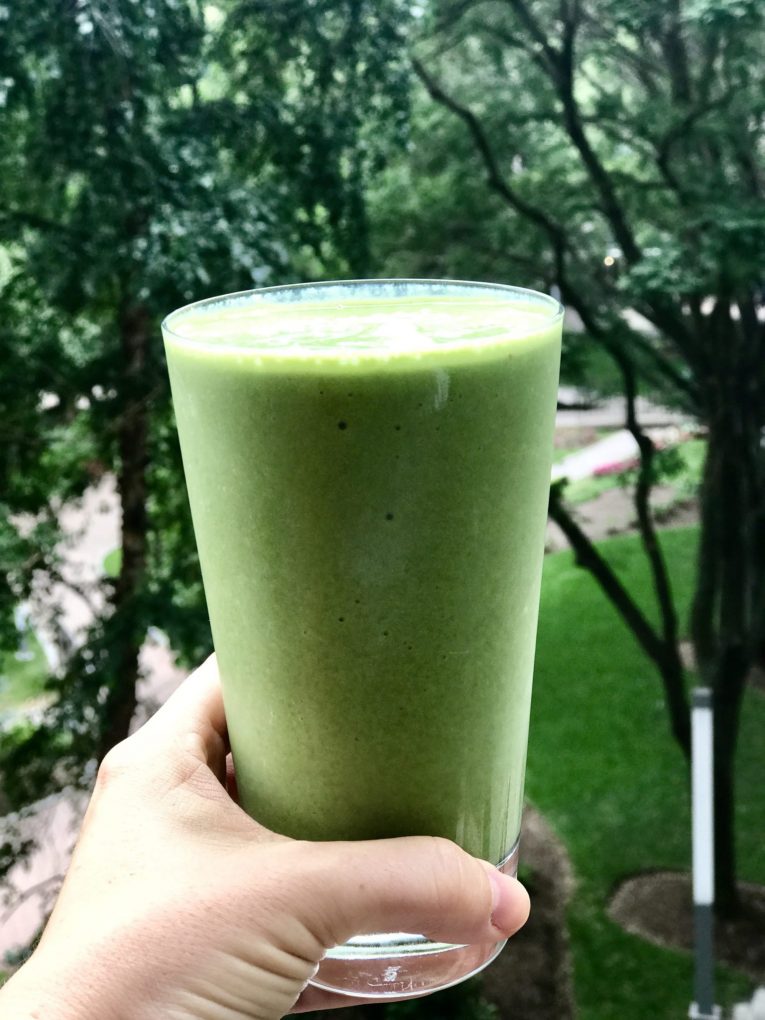 I rarely eat a formal sit down lunch on Saturdays because I snack a bit in the morning, make a big brunch and then in the afternoon I'll usually make a smoothie and some popcorn and that carries me through till happy hour. This Saturday was no different. I made a typical green smoothie (vega protein powder, frozen banana, frozen spinach, chia, almond milk and ice) and then we popped a huge bowl of popcorn. All you do is cover the bottom of the pan with popcorn kernels, add enough oil (we use coconut or canola) to barely cover the seeds and then add the lid and set on high until the kernels start popping. Then shake the pan back and forth until popping slows (or your lid starts to lift off). The best popcorn ever.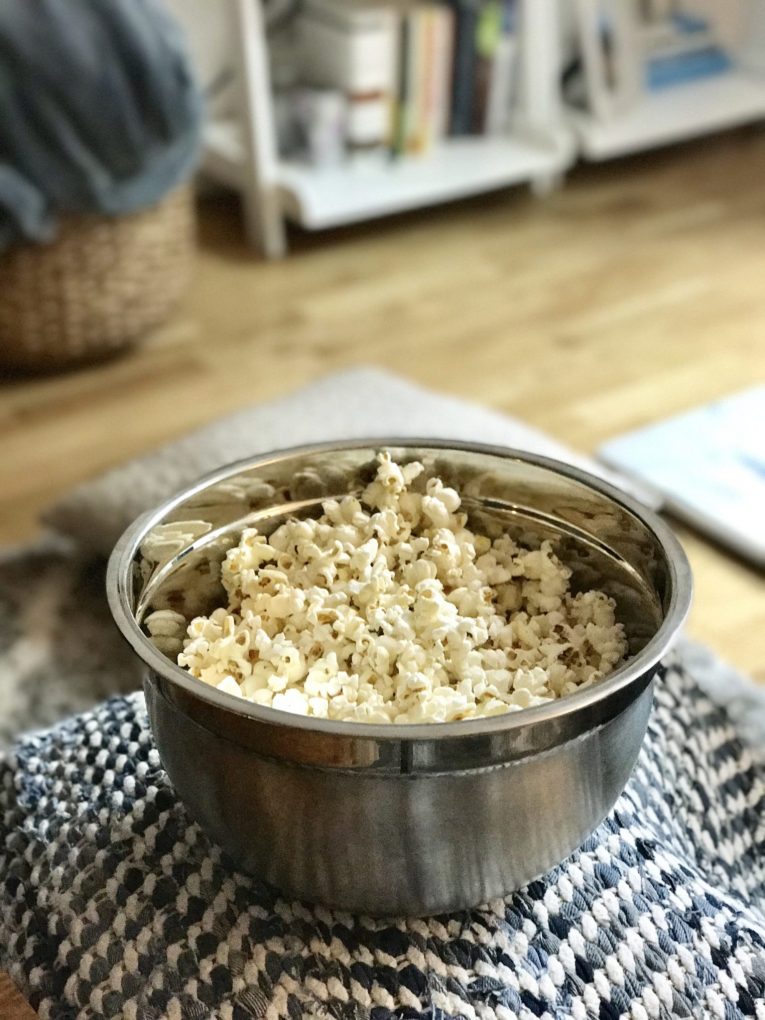 Around 5 or so we headed out in search of good wine and pizza with plans for a picnic by the pier.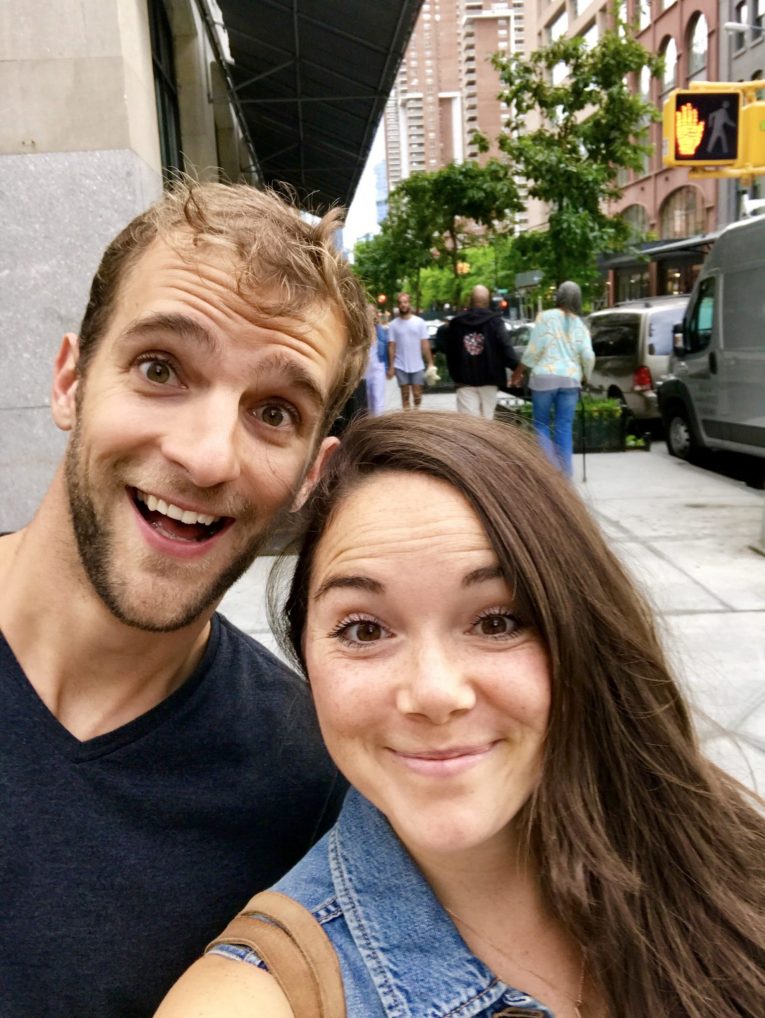 We walked over to Verve (the wine shop we discovered after watching Somm) and meandered around while one of the guys helped us pick out a good red to go with pizza. We ended up with a Barbera d' Alba that was perfect. Fruity and juicy and not too heavy. The cooler weather made red wine over white feel justttt right.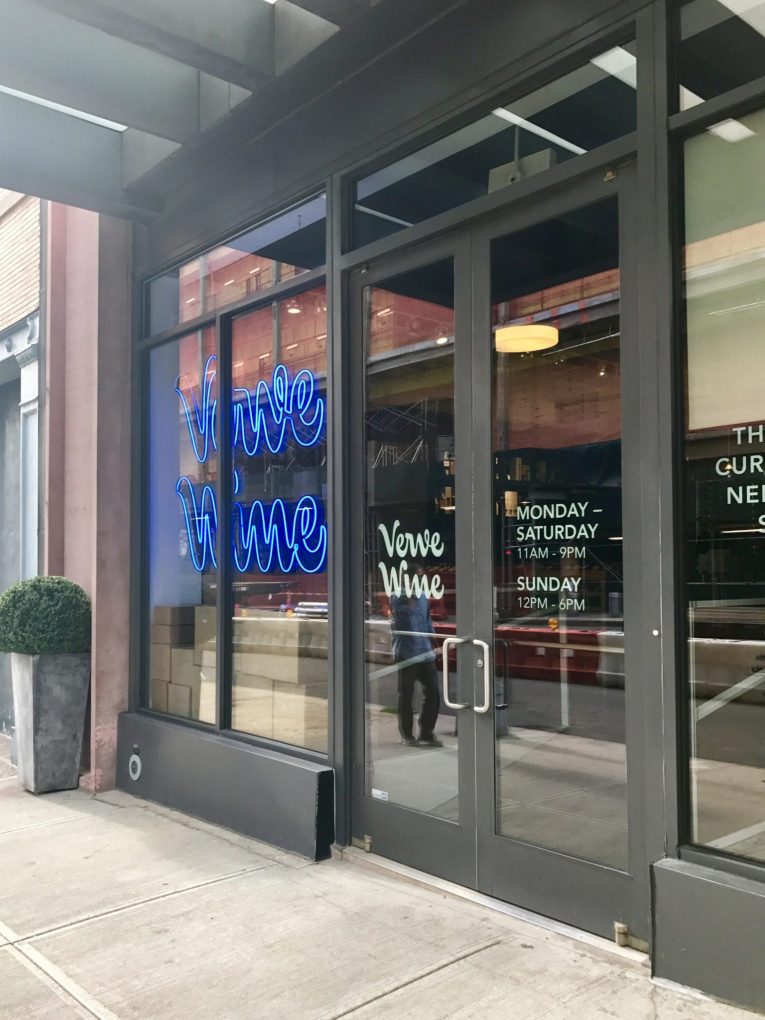 And then we called ahead to Spunto and ordered a pizza so by the time we walked there it was ready. We went with the parma which had arugula, apples, bacon, prosciutto and a balsamic glaze. We love their pizza because the crust is thin and light and the toppings are always fresh and unique.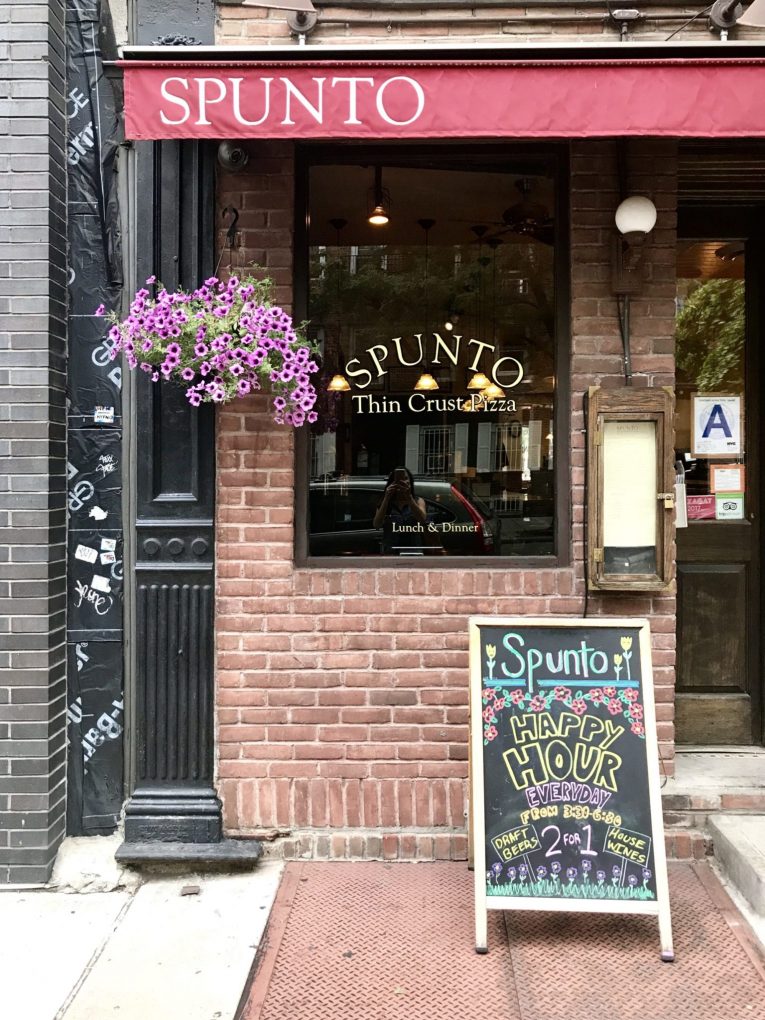 We took the pizza and wine over to Pier 40 to watch the sunset and threw out a blanket for a picnic while we watched the sunset. Our friends Brent and Chris came over to hang later and a blog reader was walking along the water and came over to say hello. Hi Jenny!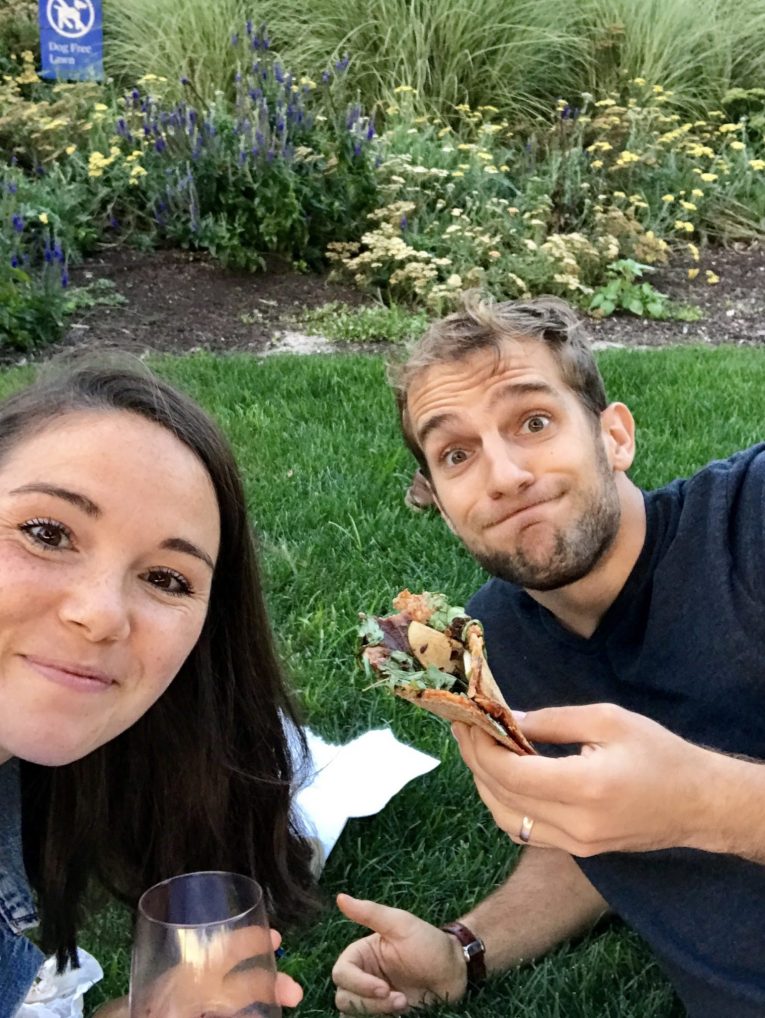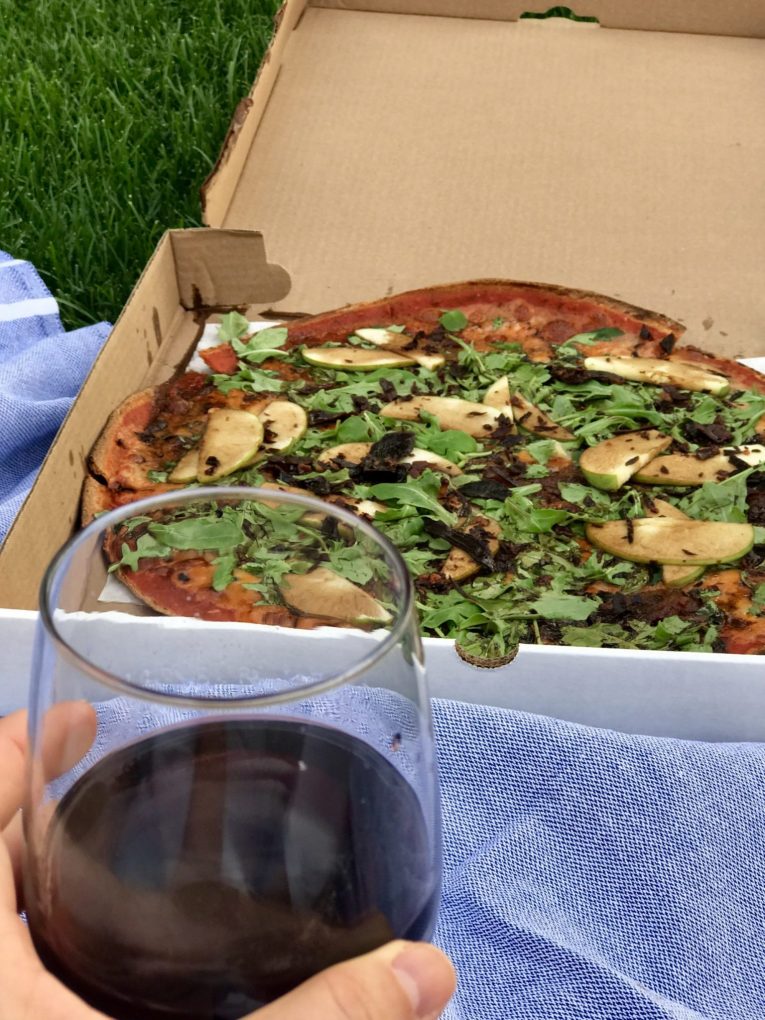 We laid there for a couple hours, I ate a few pieces of pizza and had a couple glasses of wine. We planned to go to a comedy show but tickets were sold out except for the midnight show and I can't hang that late… so when Chris came we all decided to walk to Van Leeuwens in the West Village instead for ice cream. Sounded like a great alternative to me.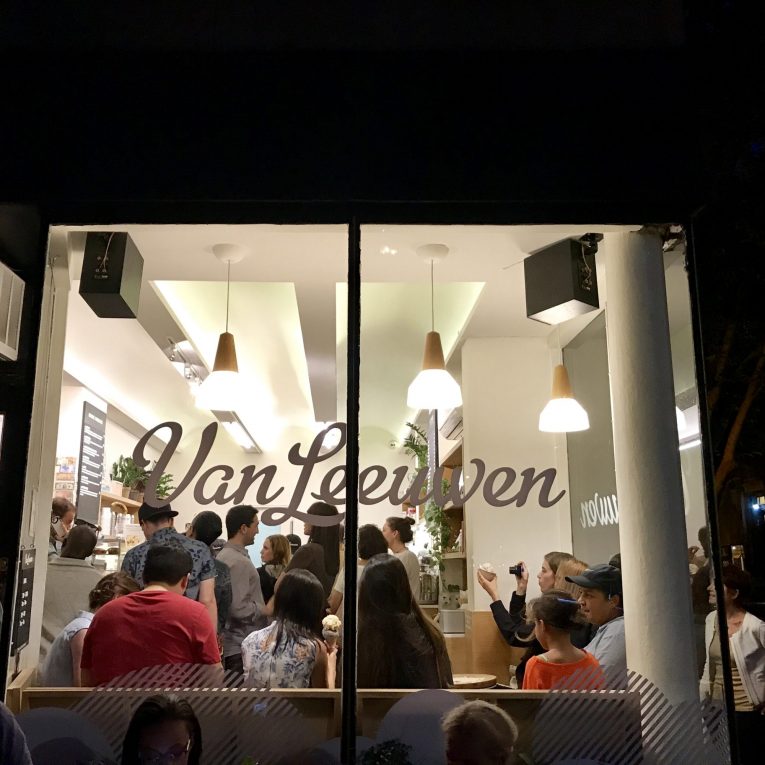 Nick and I split this respectable waffle cone filled with raspberry crumble and cookie dough ice cream. If you are in New York, you must go here. The creamiest, richest and most satisfying ice cream ever. And the time and craft they put into it cannot compare. The waffle cone was still warm for crying out loud.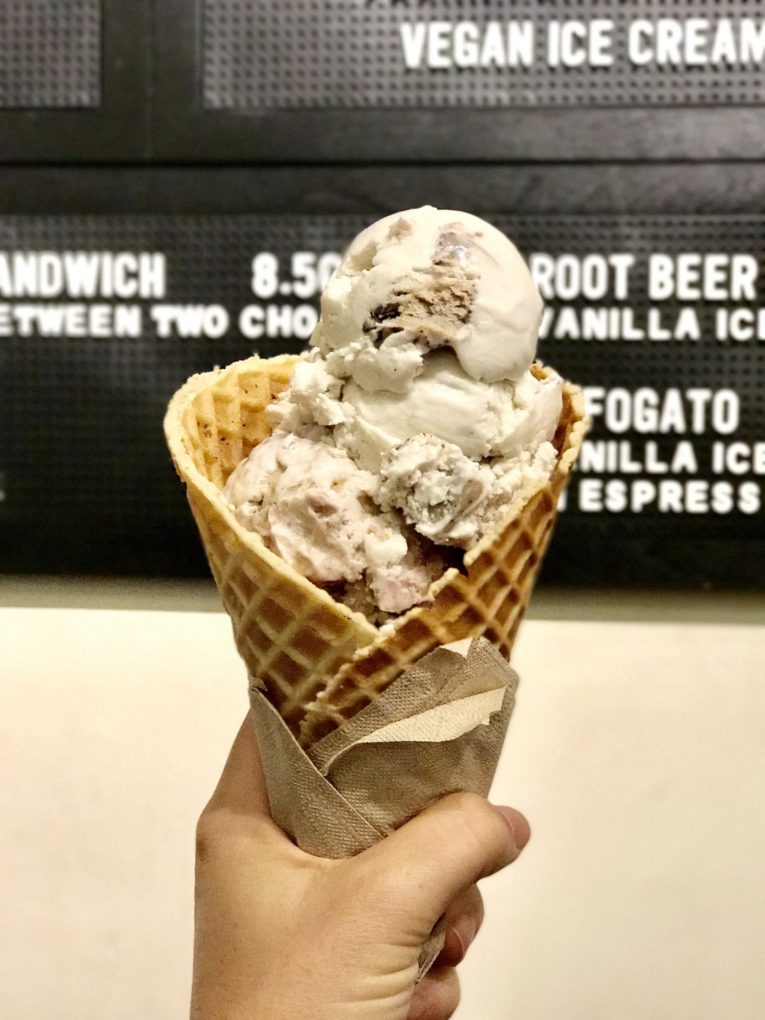 We biked home, watched an episode of Grey's and were asleep by 11. Woke up naturally around 8am and I ate a date with peanut butter before meeting Alexis for a walk along the river. She's in the city visiting a high school friend but we knew we had to see each other.
I love her. We chatted about everything, laughed at everything and strolled around for over an hour before hugging four times and saying goodbye. If you don't read her blog, you should. She's brutally honest and has gone through a recent change towards intuitive eating and overall wellness and living a purposeful life in both her blog content, her life and her practice as an RD and I think that's super brave. Plus she's hilarious and sarcastic and I could hang with her for hours so that was a really refreshing way to start Sunday.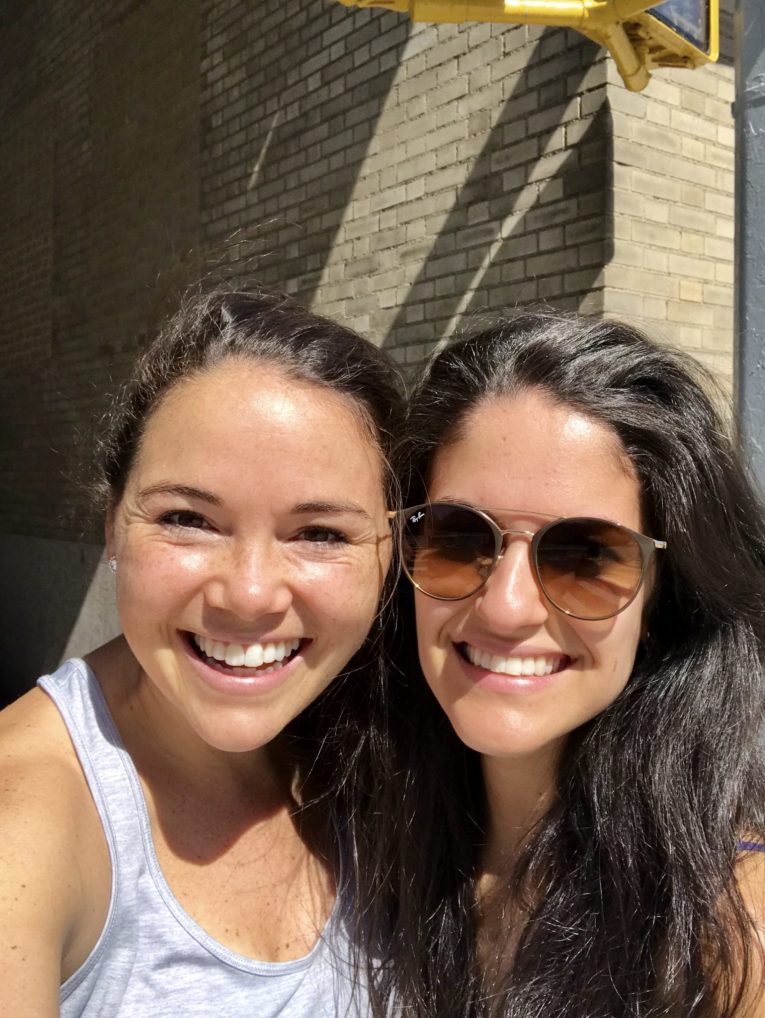 The rest of Sunday included making brunch (aka bacon, egg, cheese and avocado sandwiches) with Nick, laying out on the terrace, finishing some blog work and soaking up all the sunshine.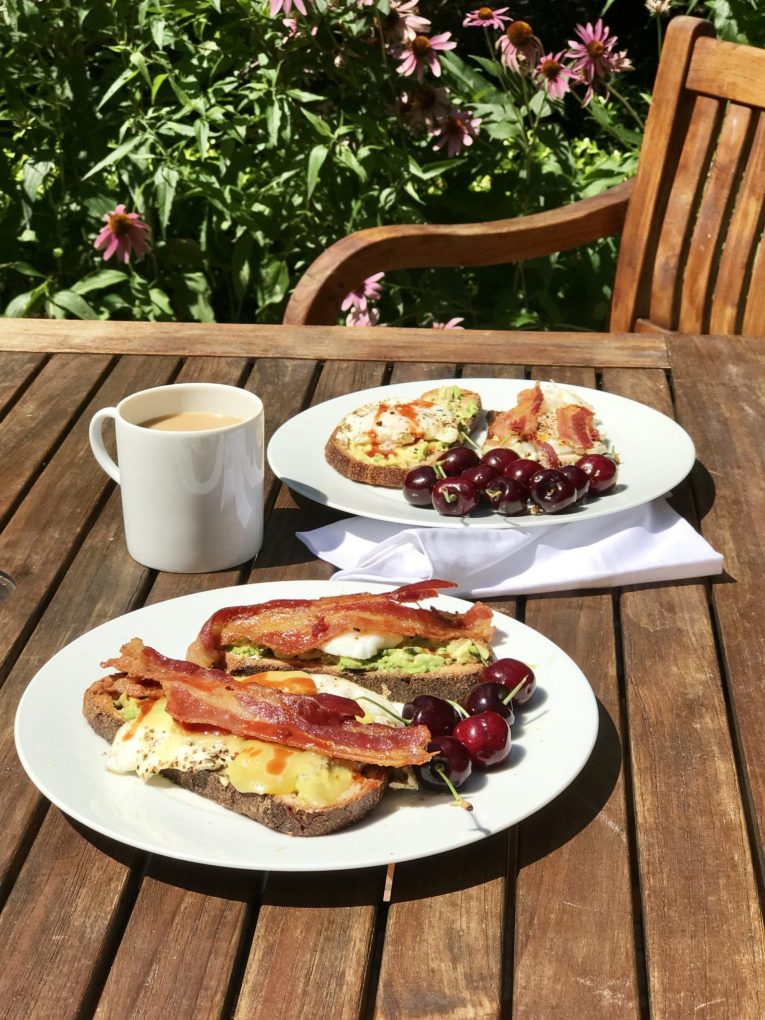 And then around 2:30 it was so freaking nice out that we decided to ride bikes across the Brooklyn Bridge and bike around Brooklyn for a bit. The weather was so perfect and refreshing all I wanted to do was be outside.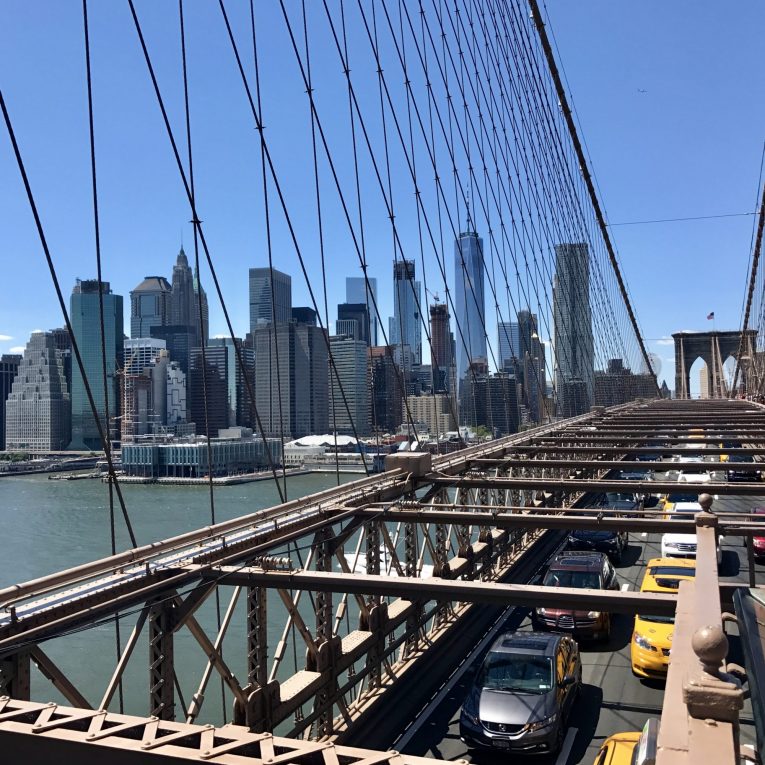 After biking, I met my friend Ann before church and we sat in the park and chatted. She's one of those friends who is so rooted and down to earth that she inspires you to live a more authentic life.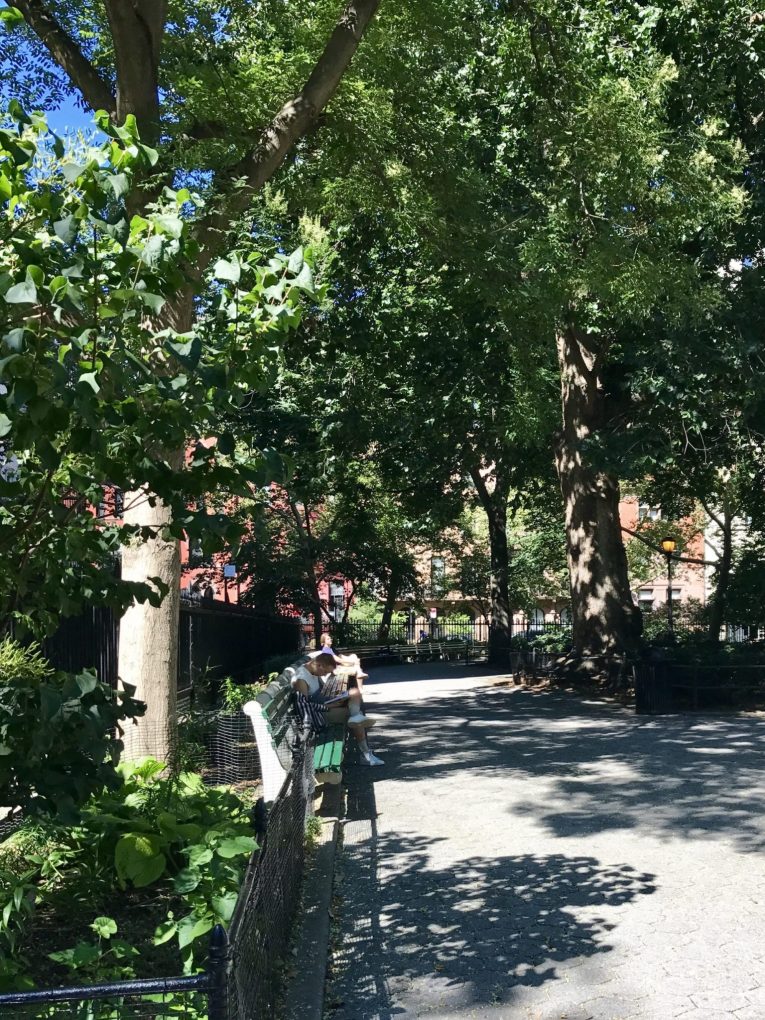 After church, cooking and doing dishes did not feel restful on a Sunday evening, so we picked up Chipotle, poured a glass of wine, ate dinner outside and spent the evening relaxing on the terrace. Then watching This Is Us before bopping into bed.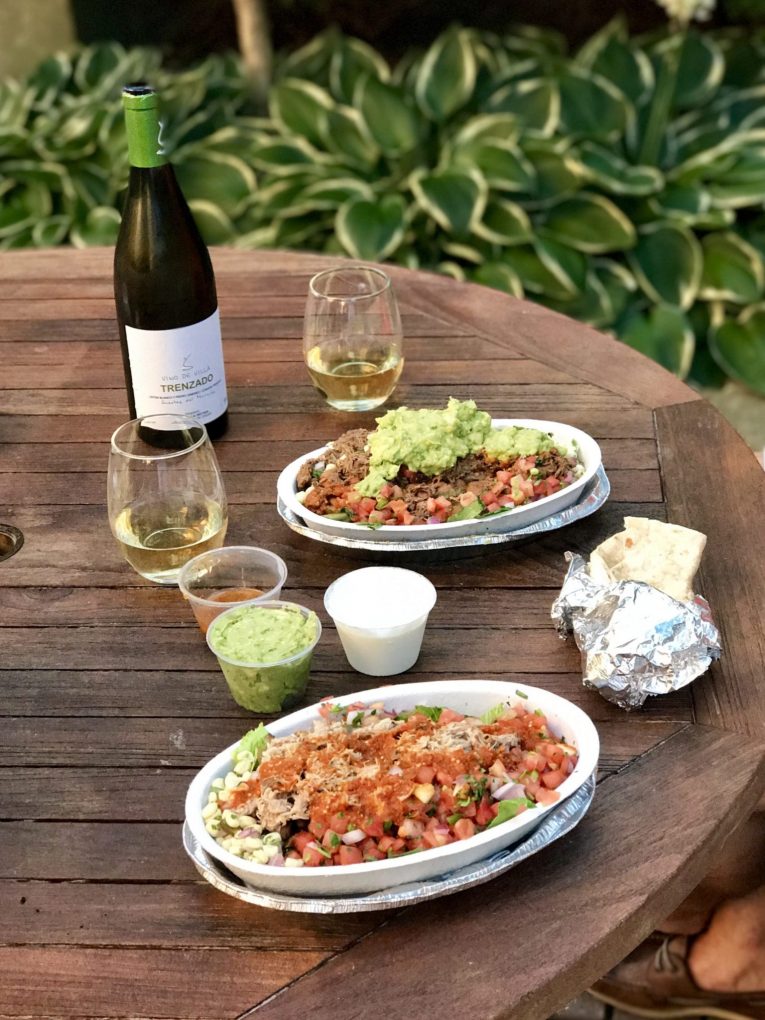 How was your weekend? Share some self care or something restful you did in the comments!