This WIAW, we're chatting about signs of hormonal imbalance.
But first, thank you so, so, SO much for the overwhelming support, love and encouragement. I am so grateful for every single one of you and have read and tried to respond to every comment and email. Thank YOU, my heart is so full and if I could, I would hug the bejesus out of all of you!
This Friday is my last day at the private practice where I've worked alongside two amazing physicians for the past two years. While it's really sad, I'm also really excited to be investing so much more time into Nutshell Nutrition. Over the past year or so I've become so passionate about women's health…particularly balancing hormones and metabolism. Aka helping women heal their bodies. Really though, that's it in a…nutshell. 🙂
I have patients with digestive issues and those that want to lose weight of course and those with PCOS and all kinds of issues, but what I've learned is that a lot of our health problems and concerns come back to reducing stress and balancing hormones.
The endocrine system is very complex, but I find it so fascinating. I've worked alongside an amazingly brilliant endocrinologist for the past two years and learned more than I ever imagined. He's who inspired me to go back to school. There's loads of information out there on hormonal balance and how to treat it and the cause of it and blah blah blah. But how do we know if our hormones are off and they need a little fixing?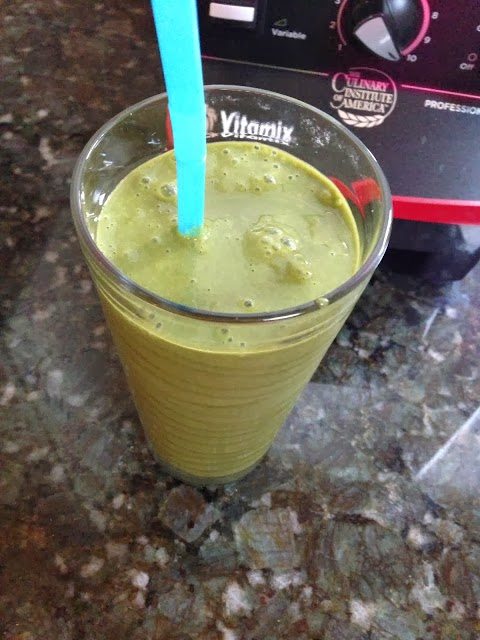 For one, if you're never hungry when you wake up despite eating a "normal" dinner [of course, everyone's normal is different!] then your appetite hormone called gherlin could be out of balance
Typically, your appetite should be soring and ready to down a breakfast of champs!
Today, I drank a green smoothie around 7am after getting back from a strength conditioning class and then when I got to work around 9ish I had this pumpkin breakfast bake I took with me with coconut oil and almond butter!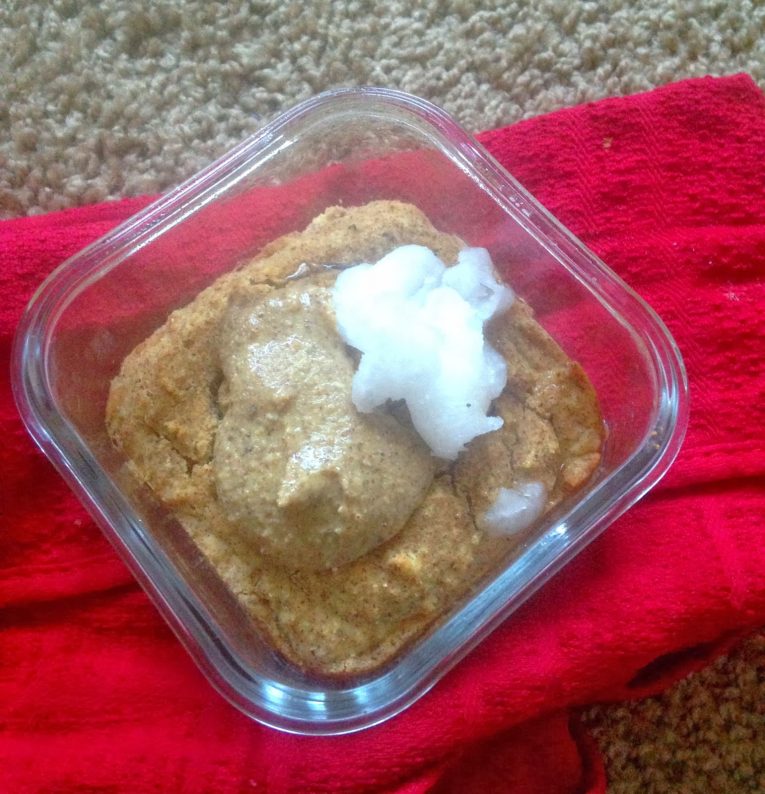 Two, if you don't experience hunger signals throughout the day, your appetite hormones ghrelin and leptin are probably off and your body might be conserving energy. We need to be eating enough for our bodies to be burning energy instead of storing it. So you should be feeling hunger cues throughout the day telling you your body needs fuel.
I had a midmorning snack of celery and PB which I eat probably almost everyday [reused picture too..boring, I know] and then dug into lunch around 1:30.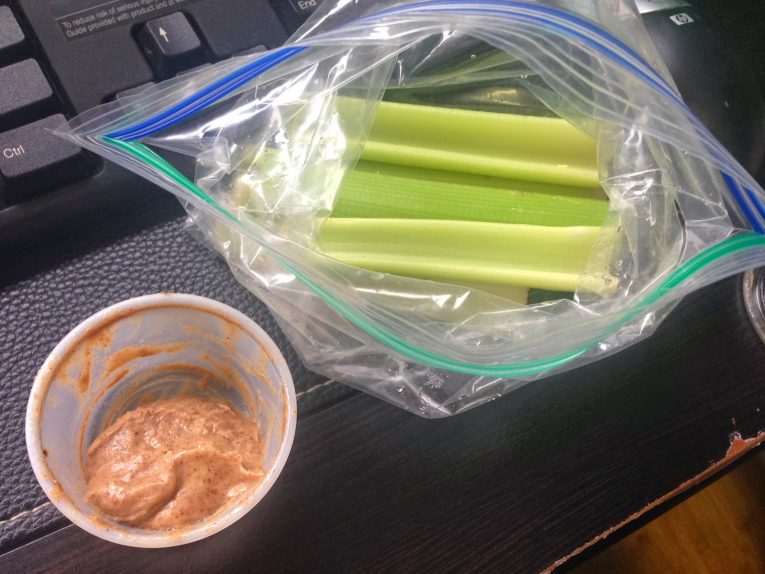 A huge salad with all kinds of toppings! Now that the weather is getting warmer, all I'm craving is big salads and cold stuff like wraps. My favorite easy lunch is a hummus and veggie wrap and this one had red pepper hummus with spinach, tomato, red pepper, and cucumber in a sprouted grain wrap. Then I roll it up in foil and throw it in the lunchbox. And some strawbs and a piece of coconut oil fudge too!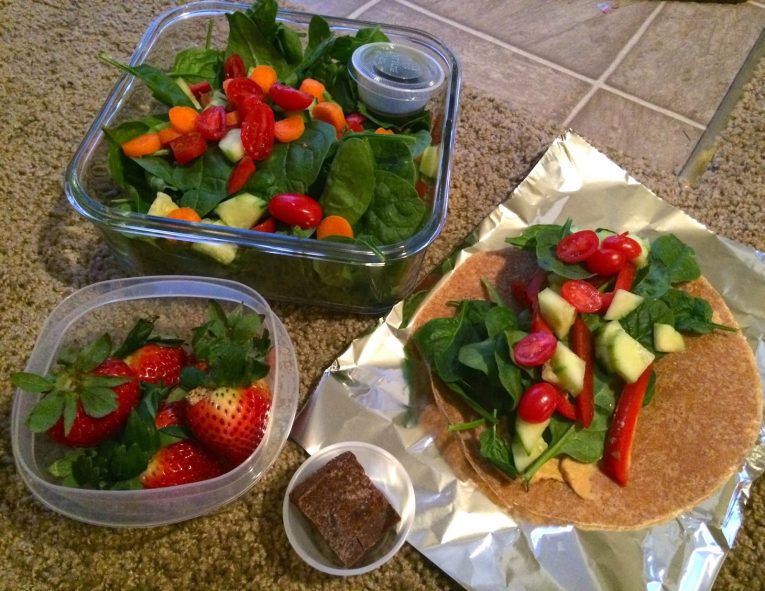 And some afternoon snackage included a couple Samosa cookie bites I made last week which is basically a combo of dates, pecans, coconut and cocoa powder. They're super good and based loosely off this recipe!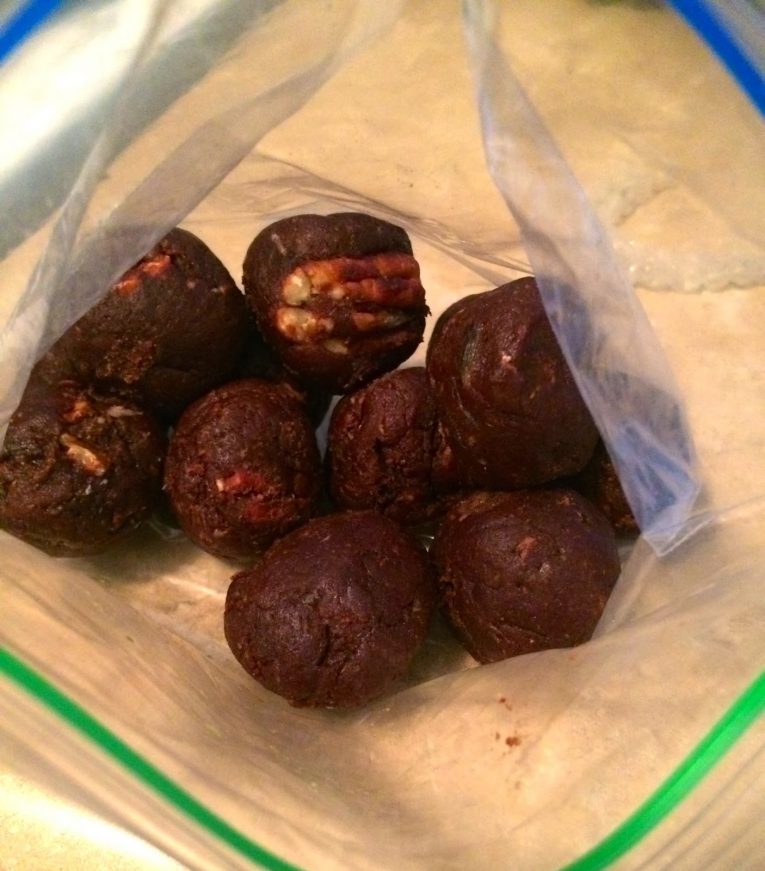 And I also ate bag of these chips after one of my Nutshell clients gave me a bag over the weekend when we met in NYC [she's from there] and now I am officially addicted.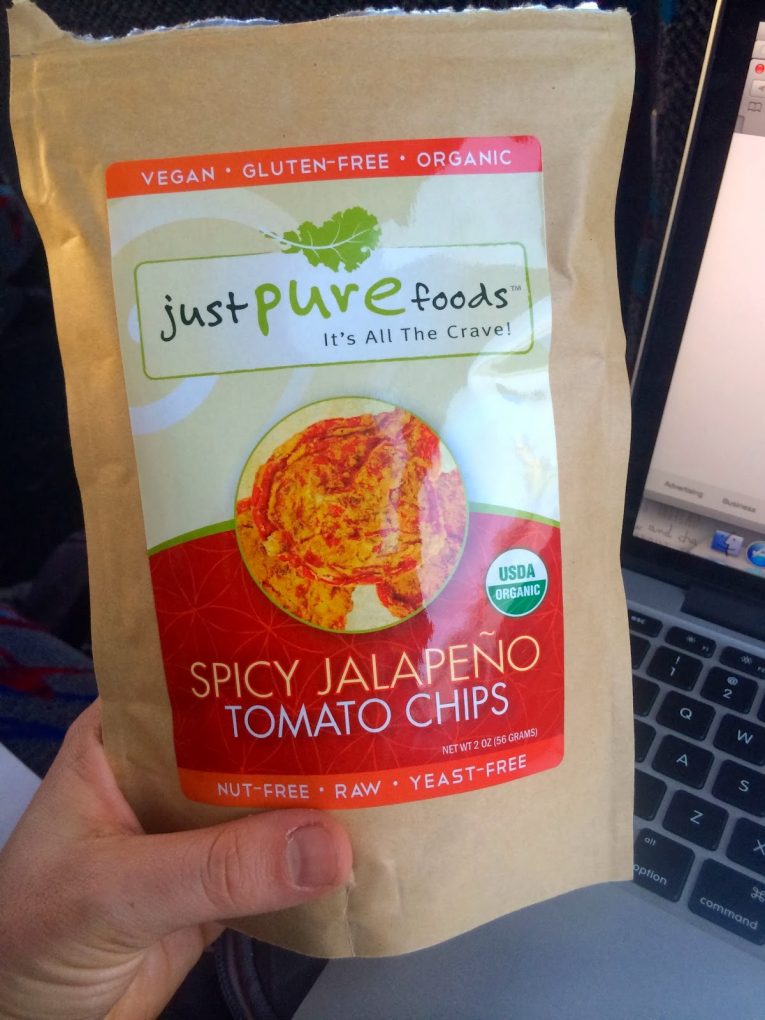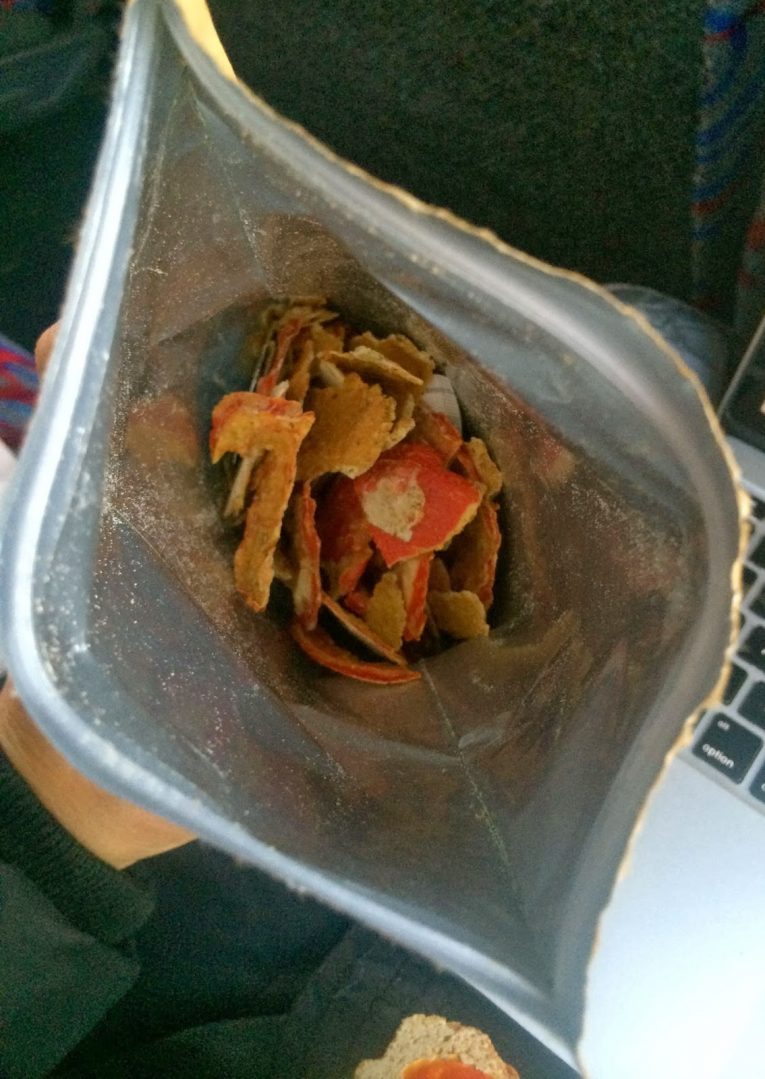 Snacking keeps us fueled throughout the afternoon and keeps our metabolisms humming along. Which brings me to my third point, if you're restricting your food intake and your weight either a) isn't budging or b) you're actually gaining weight, than you might have a lot of cortisol going on. Weight maintenance should be rather effortless and you certainly shouldn't be gaining weight while restricting your food intake.
And finally, if you're not getting your menstrual cycle, then your lady hormones could be off. We need enough fat to make enough estrogen and we need enough estrogen to get our cycles. For women, it's a delicate balance between working out, eating, sleep, and stress to ensure our reproductive lady parts are good and happy.
Nourishing dinners not only allow you to sleep more soundly, but they also replenish your muscles and to an extent help stabilize your blood sugar as you prep for sleep. A good mix of carbs, fat, and protein will do ya.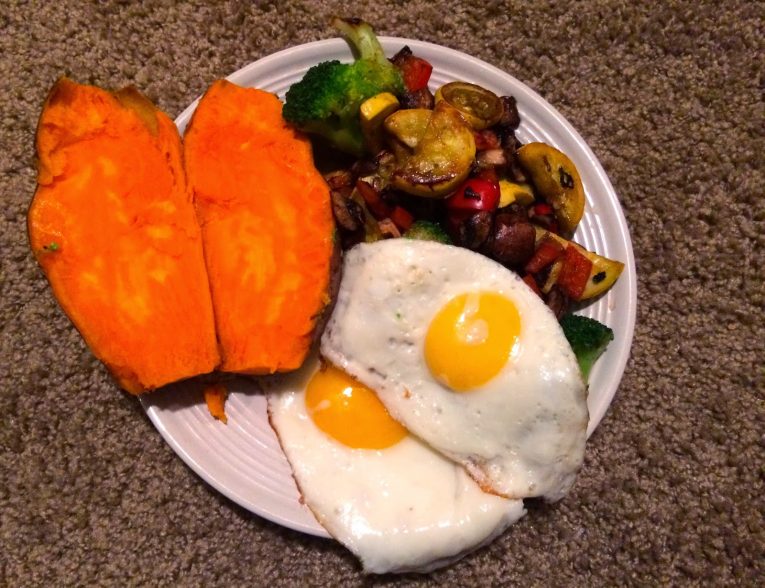 Last night's supper was really simple after a weekend of travel. A baked sweet potato with coconut oil, two fried eggs over sautéed mushrooms, zucchini and broccoli and a kale salad with avocado.
And to keep my soul happy and to make sure I'm eating enough, some dark chocolate and a banana smeared with almond butter alongside a glass of chilly almond milk.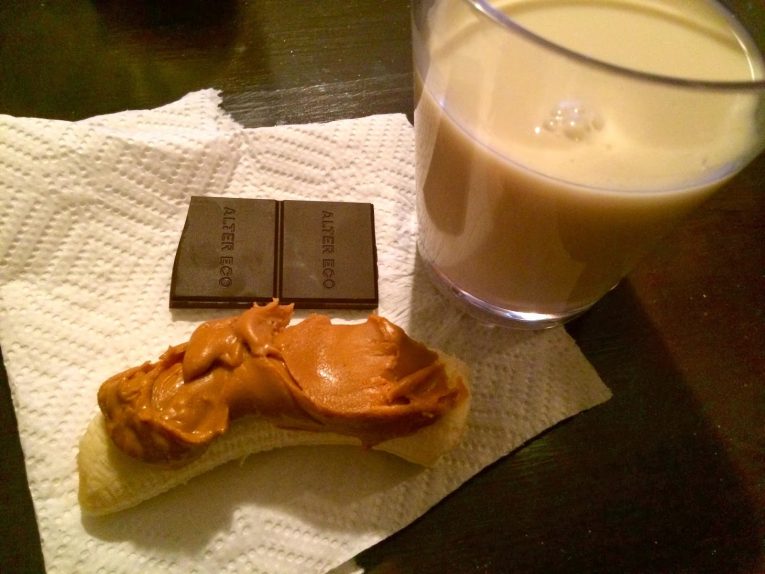 I think hormonal health is a tricky thing because, especially as woman, we want to do it all and be the best and push harder and take on more and perfect, perfect, perfect. And then that typically results in not enough rest, not enough food, and too much exercise. We place expectations on ourselves that we would never put on anyone else.
But we can slow down, and nourish our bodies better, and do less stuff and over time we can learn to take care of ourselves. I've seen it happen again and again with Nutshell clients and in myself! We just have to be in tune with our bodies to know something ain't right.