You may have heard that your gut is your second brain. Your mindset and the way you feel can affect the feelings in your gut.
It might sound a little hokey. But it's actually true. Like…it's well established in the literature kind of true.
Ever had a nauseous feeling in a certain situation or butterflies when you're nervous? Anxiety, anger, sadness, happiness, worry….all these feelings actually manifest themselves as physical sensations in your gut.
The brain has a direct affect on your gastrointestinal system because they are intimately connected by your vagus nerve – the longest cranial nerve in your body that travels from the brainstem to the lowest part of your intestines. Think of it like a highway of communication between your brain and gut. And the messaging goes two ways. If your GI system is impaired it can send signals to the brain. And if you brain is troubled it can send signals to the gut. So your GI issues can be the cause or the result of anxiety, stress, worry, depression, etc etc.
Since a large part of this space is devoted to eating disorders/disordered eating, we're going to focus how how your emotions before/during/after eating can affect the physical sensations you experience in your digestive tract and body.
I wrote a lot about digestive health is this post back in July and went into detail about how eating disorders and disordered eating can actually cause digestive pathology. The rest of this post is going to focus on the psychology of digestive health.
I also mentioned in the above post the concept of functional gut disorders (FGD) and I think it's important to note that a large majority of people with eating disorders or disordered eating have FGDs, which is a double whammy and makes the recovery process even harder. Sometimes it's a chicken or the egg question – did the disordered eating cause impaired gut integrity or did digestive issues make someone vulnerable to developing disordered eating or an eating disorder? I've definitely seen both. And I think one of the worst things we can do as health practitioners is not inquire about someone's relationship with food and their body when talking about digestive health – I've learned the hard way early on in my practice.
I'm not going to get into the nitty gritty details of digestive health here in this post because my take home point is really this….can we start to explore if it's our feelings around food that contribute to digestive symptoms versus the food itself?
It's something called psychosomatic symptoms. Essentially physical symptoms that occur for psychological reasons. So no, it's not all in your head. It's a true, physical feeling but what you're experiencing is rooted in a psychological process. It shouldn't be dismissed at all. But solving the issue might mean looking beyond the food.
Maybe you don't have a "full blown" FGD like irritable bowel syndrome or gastric reflux – but this also includes things like bloating, constipation, diarrhea etc. Some of these symptoms can be a normal bodily process. Sometimes they happen on occasion and that's your body doing its digestive thing. But sometimes these symptoms become frequent and begin to interfere with your life.
Often times those with FGDs and with disordered eating and eating disorders have similar underlying mental health challenges like anxiety, depression, high stress etc etc. These symptoms can also very much negatively impact body image, making the healing process that much more complicated.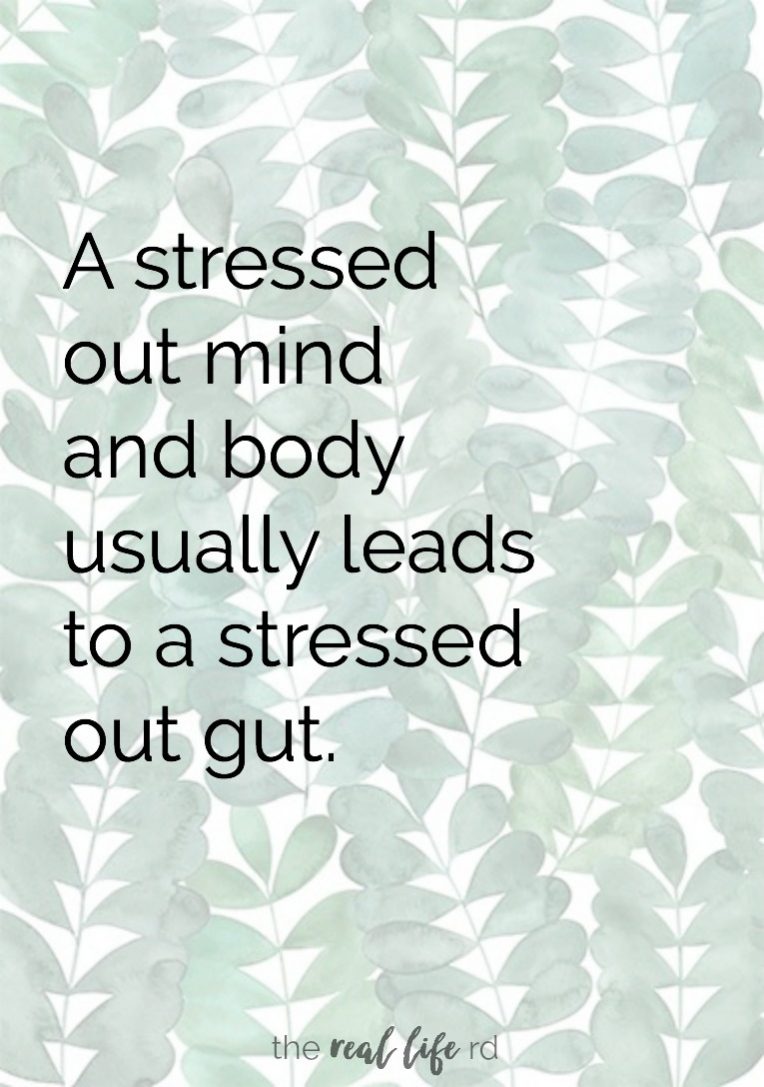 Sometimes it is a particular food that might be causing a symptom. I don't want to portray the message that it's never about the food. It can be. But a lot of times, there are multiple factors at play – most notably anxiety and stress.
A stressed out mind/body usually leads to a stressed out gut. I have a close friend who was diagnosed with a gluten intolerance about 10 years ago. During that time she was more focused on her body, had disordered thoughts and behaviors around food and was below her natural set point. Years later, she's now made a full recovery and has been living a very joyful life at peace with food and her body. Recently she began to question that gluten intolerance diagnosis (not that the original diagnosis wasn't valid, but was it still an issue for her) and wanted to try incorporating it back into her life again. She started in small amounts and what she found is that so far, she feels totally fine.
I give that example not to say her story is the same for everyone else, but to illustrate how, in her case, it wasn't really solely about the food. Her coming to peace with food diversified her diet – which we know improves gut integrity. She was far more relaxed and less anxious around the eating experience. And she learned, over time, a lot of healthy self care practices to help her live a less stressful life in general. All these things combined, over a long time, made for a more comfortable digestive process.
There is something called a nocebo effect. Meaning if you believe you will experience a certain feeling or sensation when xyz happens to you…you could very well feel/experience that even if whatever happened to you didn't exert that effect. So in the instance of food, if you believe diary or gluten or sugar or whatever other food causes you to bloat and feel like crap…even if it doesn't exert that effect on your body, you still might experience those sensations. Your mind is that powerful. Think about the gut brain connection we talked about in the beginning of this post.
Unfortunately, there's not a lot of research on how the power of the mindset has a physiological impact based on our assumptions of the food we are eating.
Imagine two different scenarios for a second.
You are with good friends on a perfect summer day, feeling carefree and relaxed. You see an ice cream truck and everyone agrees they want ice cream. As you receive your cone and begin eating, you have no hesitations or negative thoughts about this ice cream cone and you bask in sheer enjoyment as you eat this cone.
You are with good friends on a perfect summer day. You're having an enjoyable time, but every so often negative thoughts about your body come in. For the most part though you're able to stay present. Everyone suggests getting ice cream cones. You don't say much, hoping they'll decide against cones. Some anxiety hits about what this ice cream cone will do to your body. You push through, going along with the group and order a cone anyway. But the whole time you're eating the cone, thoughts are running through your head about what it's doing to your body, and how crappy you are going to feel afterward.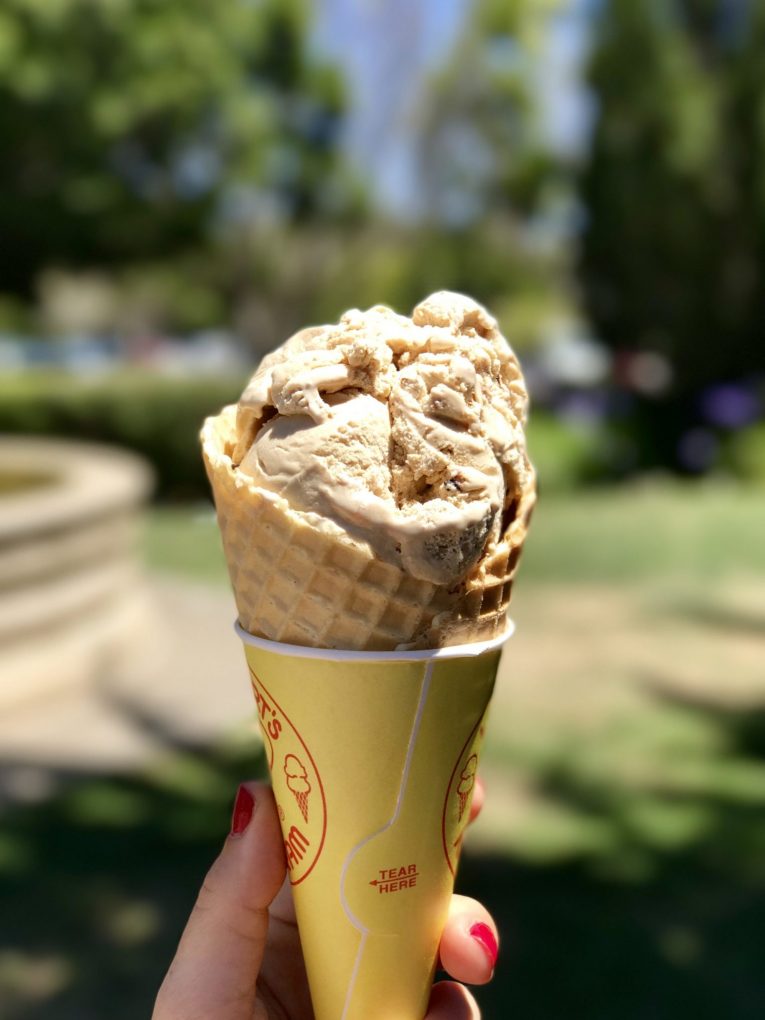 In both scenarios, you're still eating the same ice cream cone. But because of the gut/brain connection alone, the person in scenario one is most likely going to experience better digestion than the person in scenario two. On a very basic level, your sympathetic nervous system, aka your "fight or flight" system, pulls blood away from the digestive tract. Your parasympathetic system, aka your "rest and digest" system, delivers blood to your digestive tract. You will almost always experience better digestion when you are calm and relaxed.
I'm not saying how you feel physically during and after eating has everything to do with your mindset. But I am saying it plays a large role.
Maybe you do some exploring with foods and how they make you feel. If you think you've had a negative reaction to a food or meal, what about creating a more calm and mindful experience around that food and seeing how it makes you feel in a different environment. Do you feel the same? Do you feel different?
Some ways to shift your mindset and make for a more relaxing and enjoyable eating experience 
Eliminate distractions so you can focus on enjoying the food itself.
If you have anxiety/stress around certain foods or experiences, practicing visualization around that experience can be helpful. Visualize yourself having a positive experience.
Choose a soothing mantra and repeat it to yourself before, during and after the experience to counter condition potential negative thoughts.
Eat with a good friend or your significant other and focus on being present in the conversation.
Eat slowly and savor your food. What is the texture and taste and smell – these all add to the eating experience.
Take 5-10 deep breaths before, during and after eating. Deep breathing helps stimulate your vagus nerve which counteracts your sympathetic nervous system to decrease anxiety.
I know I myself have experienced the nocebo effect before and over time as I've walked my own path with finding peace with food, find that foods I once thought made me feel "bad" actually have no negative impact at all.
Some food for thought hopefully 🙂 Share your thoughts and experiences in the comments!