Coping with a changing body is hard. And I think a lot of the challenge comes because our society conditions us to think our bodies should always be the same size. Stagnant. We should be able to keep them the same size throughout our lives and if we don't ….somehow we aren't disciplined or devoted or put together or valuable or enough.
Maybe that resonates for you? I know it has for me.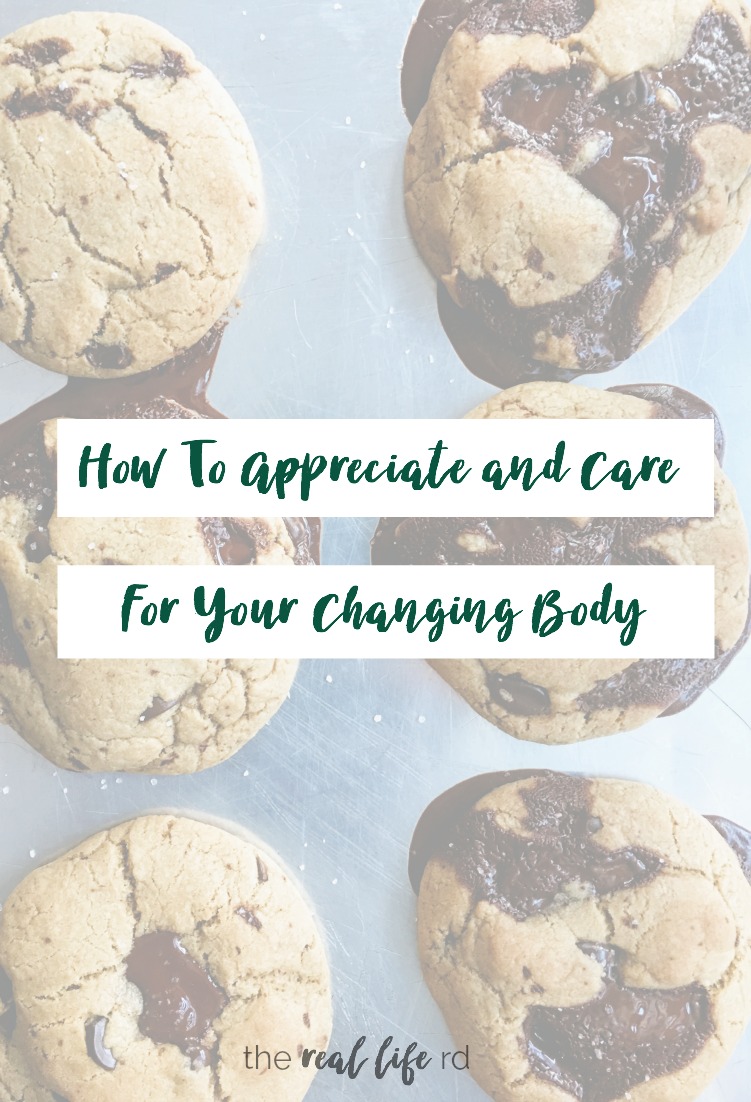 It's hard to appreciate and care for something that society tells us we should change. But to find peace with your body, body changes are inevitable at one point or another in your life. Maybe you're in recovery from an eating disorder or disordered eating, maybe you recently had a baby, maybe you're pregnant, maybe you're post menopausal. Maybe you're healing from hypothalamic amenorrhea. Maybe you're simply growing up and no longer 19 anymore and find your body is changing as you move through your twenties. And maybe there are a lot of other things you're experiencing that might cause your body to change.
It's okay. You can appreciate and care for your body without loving it. And I think it's okay to recognize that you might and probably will have negative thoughts about your body at one point or another even after you do accept your body. And you also might have thoughts about purposefully changing your body. The important thing is learning to listen to your healthy self and choose to continuously care for instead of micromanaging your body.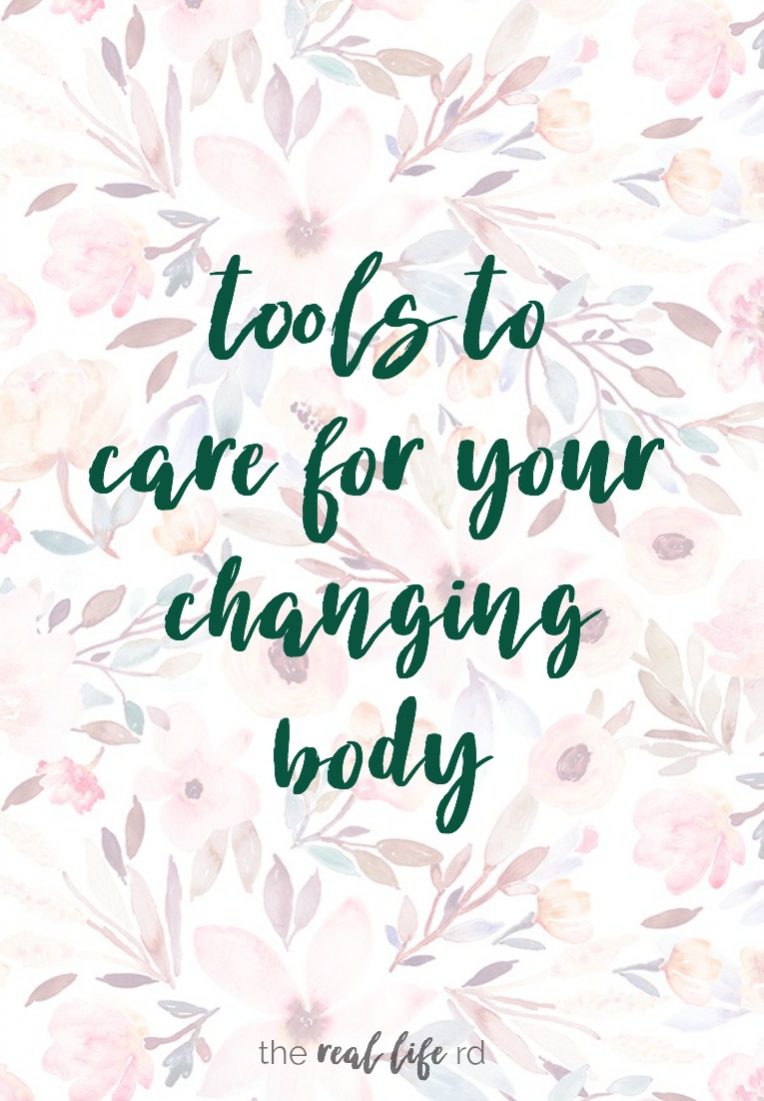 Buy new clothes.
Try to buy things that can fit your body at a range of sizes. Your set point is about a 10-20 lb range so purchasing clothes that fit your body at the bottom and top to its natural range can help you to accept that range is…in fact…natural. That it's okay for your body to ebb and flow and that your body is suppose to do that. Build a wardrobe that supports rather than controls this.
If you're in the process of finding your natural set point – whether you are currently below or above your natural set point – purchase clothes that can accommodate your changing body through multiple size changes. And choose clothes that don't touch and pull and tighten in places that will only cause you to think about your body more. I know when I'm wearing a pair of pants that hug around the waist in an awkward spot or fit too tightly, I feel less comfortable and negative in my body. Maybe find some stretchy pants, leggings/jeggings, flowy tops and big comfy sweaters that you make you feel good. I love Thred Up for second hand clothes and clearance racks and have found great pieces at Goodwill and other local thrift shops.
Practice daily gratitude for your body.
I know it might sound cheesy or therapist-y or be uncomfortable at first, but your body does A LOT for you every day. Make a list of all things your body DOES for you. Take some of those gratitudes and right them on sticky notes to post in noticeable places – maybe the dash of your car, your purse, inside your wallet or planner, on your bathroom mirror, etc. Remember, your body wants to work with you. It's been there all along waiting for you to stop working against it.
Soem examples of gratitudes might be…
my legs allow me to carry groceries up the stairs to my apartment
my immune system helped me to fight off infection
my body grew another human being
my arms allow me to hug my loved ones
my lungs allow me to enjoy a beautiful hike
my eyes allowed me to see that wonderful sunset
Make a Pinterest board that includes a variety of body sizes.
This might feel uncomfortable at first, but it can be extremely therapeutic and helpful as you learn to come to a neutral place with your body and with how you view all bodies. Exposing yourself to different body sizes and seeing them all together helps to shift your mindset around body diversity. And to accept that there are a variety of different body sizes that people can be healthy at and one isn't better than the other. They just are.
Cultivate a sense of embodiment.
Gentle yoga is a way to begin the settling and embodiment process if you are not use to relating to your body or connecting to your body. We might enjoy others forms of movement, but they can disconnect us more than connect us to our body. I enjoy running or an occasional bootcamp or spin class…but those don't make me more mindful of my body…at least not for me. Gentle yoga can and does. Other forms of yoga can be helpful too, but here we're talking about gentle stretching yoga like restorative or yin yoga. Here's a great 30 minute video I found on YouTube to get you started.
Also you can do body scan meditations. They only take 5 minutes or so, but can be really powerful in helping you connect to and feel your body. It also helps in engaging your parasympathetic nervous system (your rest in digest system) so you can calm your body and mind and learn to be more mindful. A helpful self care tool in just 5 minutes. I've linked to one below (source) so you can do it right now 🙂
Appreciating and learning to care for your body is hard work and it takes time and patience. If there's a part of you that resists working with your body instead of against it, know you're not alone. Often the behavior changes come before the heart change.
I hope you've found these helpful – share anything else that has helped you or any thoughts in the comments!