Happy Friday folks. I know I start over several posts gushing about good weather because man, an upswing in weather does wonders for my mood. It's been in the 80s and sunny the past couple of days, meaning it feels like summer and that makes me incredibly happy.
In other exciting news, we're hiring! We're looking for a dietitian to join the Real Life Women's Health team. Cody, the wonderful dietitian who's been working alongside me for over 2 years, is stepping back from work to focus on her family. So now, we are looking to fill her place with another passionate dietitian who is eager to help women heal their relationship with food and their body. This is heavy work, but so incredibly fulfilling. We're a small team of four so adding a new addition is always really exciting! I tell my people all the time, you have unique gifts and strengths that I do not. And that's why you're so important to the thriving of this organization and mission. So all that to say, we're excited to add some new gifts and strengths to our little crew.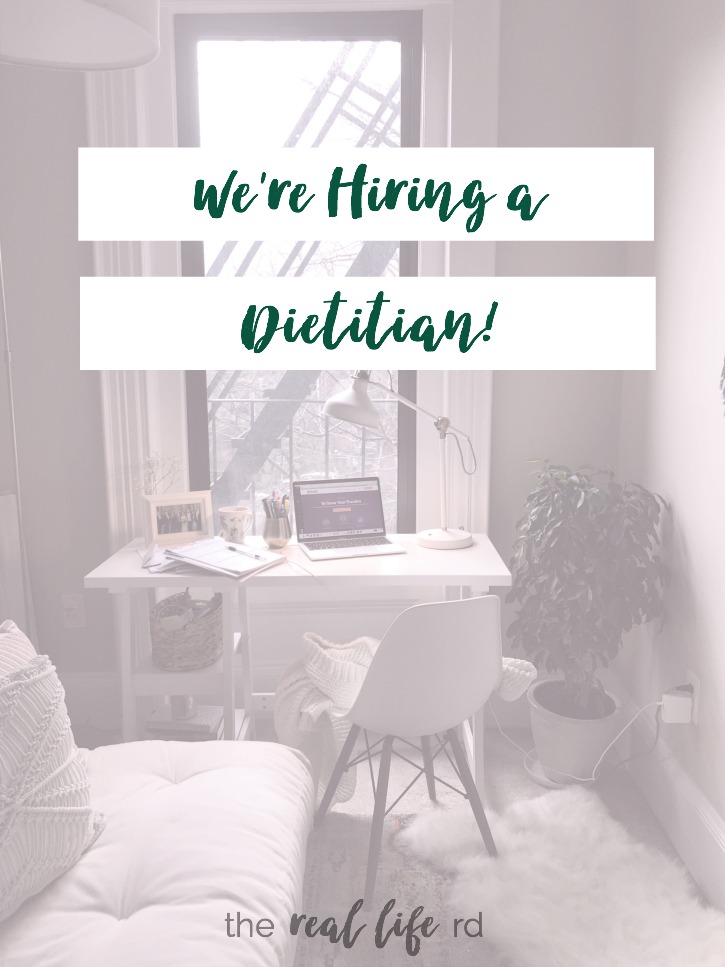 You'll be working alongside myself, our amazing therapist Liz and two very valuable interns – Connie and Hannah. Connie is completing her dietetic internship and helps with the private practice side of things. I tell her daily how she is my oxygen mask. I don't know how I survived without her. Hannah is studying at Northeastern and is a soon-to-be graduate nursing student. She helps with the blog + branding side of things. The blog and social media would not run smoothly without her and we certainly wouldn't be posting 4x a week without her amazing help. Liz runs our intuitive eating support groups and does 1:1 counseling which makes the work I do that much more effective and cohesive. I'm not a therapist, so it's been awesome to have that skill set on our team.
So if you're passionate about Health At Every Size and Intuitive Eating and would like to help women find peace with food, care for their bodies and live a meaningful life – this opportunity just might be your jam. If you're a new dietitian or perhaps will be finishing up your dietetic internship soon, apply! Being a good fit for this work is not about how much you know. It's about having an eagerness to learn and willingness to invest time, energy and resources to your learning and growth. And it's about having a heart that is dedicated to this work and the challenges that it brings. It surely is challenging, but also incredibly rewarding. I can't imagine a career doing anything else – engaging is this work has allowed me to grow personally in ways I never imagined.
Okay, so onto the details!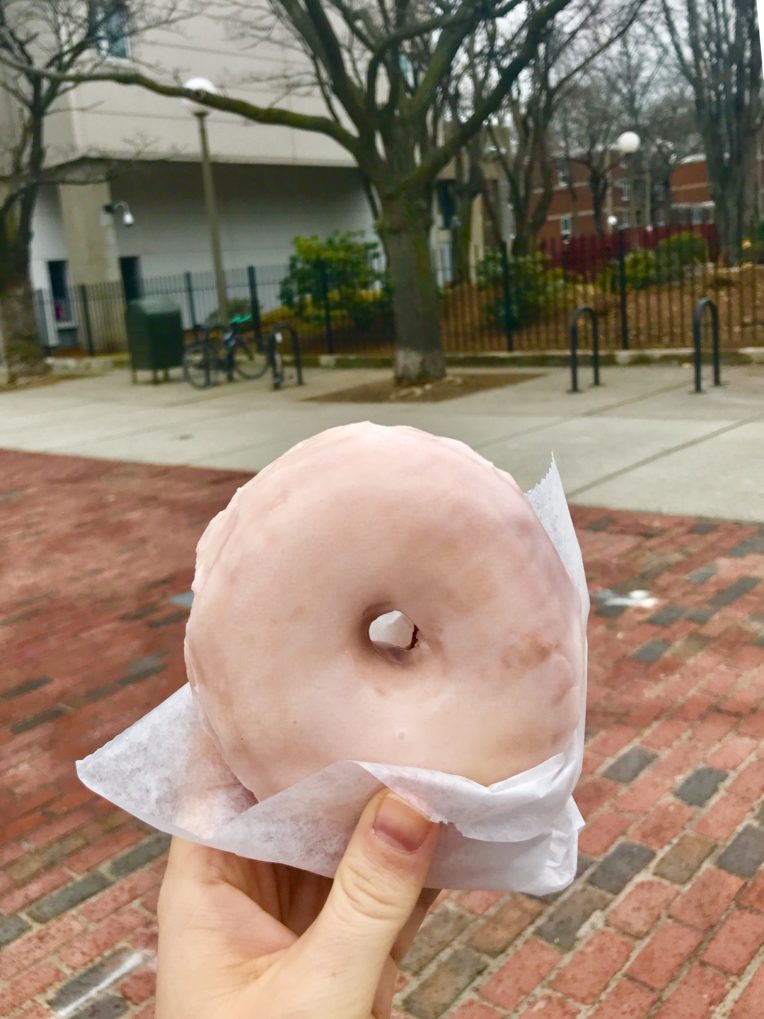 Position Title: Registered Dietitian
Primary Job Description: To provide nutrition counseling to clients with disordered eating and eating disorders.
Secondary Job Description: To collaborate with treatment teams, engage in continual professional education, assist with other creative and administrative tasks as needed (blog content, billing, scheduling etc) and serve as a resource and mentor to future interns if that interests you. We are a small team so there are multiple hats to be worn 🙂
Hours: 20-40 hours/week – depending on your capacity and client needs
Compensation: Dependent on qualifications
Starting Date: June 2018 with 4-8 weeks of shadowing before beginning with your own 1:1 counseling
Location: Preference will be given to applicants who live in the Boston area. WITH THAT SAID, if you're not local and you think you'd be a wonderful fit for this opportunity, please apply! Being a really good fit for this role is more important than location.
Roles and Responsibilities:
Provide evidence based, ethical nutrition counseling to women with disordered eating and eating disorders
Use sound judgment and critical thinking when making client assessments and providing counseling to clients
Collaborate with treatment teams and clients in an appropriate and effective way
Engage in and invest time + resources to ongoing professional learning, networking and growth
Keep open, frequent communication with all members of the RLWH team and participate in team meetings
Contribute to The Real Life RD blog 2x per month and help with administrative tasks as needed
Have fun! This work is serious, but there is a lot of fun and enjoyment to be had or we'll all burn out 🙂
Skills and Knowledge (at least a basic understanding)
Motivational Interviewing
Health at Every Size and Intuitive Eating philosophies and principles
Ethics of the dietetics profession
Read and interpret research studies
Nutrition counseling
Strong organizational and communication skills
Ability to prioritize independently
Attention to detail
Ability to think critically and problem solve in challenging and complex situations
Ability to work in a highly collaborative, multidisciplinary, team oriented environment
And the ability to create space from work for your own mental, emotional and physical wellbeing
Qualifications: This probably goes without saying, but you need to have a Bachelors or Masters degree and be a Registered Dietitian with the CDR.
We're Looking for a Person Who Is:
motivated and eager
hard working and independent
effective and able to multi task
empathetic, compassionate and patient
humble and understanding
self aware so you're able to learn, grow and take care of yourself
able to take initiative without direct supervision
friendly, people oriented and excited to be a part of this team!
To Apply:
Provide in written format, why you'd be a good fit for this position and how you could add to our team. 
Send your resume/CV in addition to any previous work/accomplishments pertinent to this position. 
Email the above to [email protected].
The application deadline is May 18th at 11:59pm EST
If the position sounds like the right fit for you, I want to hear from you! Please apply. If not, will you share this opportunity with people in your life who might be a good fit?
Thank you and have a happy weekend 🙂