As humans, we are inundated with nutritional information and how we should live – what we should eat, how we should exercise, how we should clean our house, what we should feed our kids, what beauty products to use – that we get stressed simply taking in all that information. We consume more media than ever before. But the thing is, we can only take in so much. And the amount of information we are presented with every day isn't decreasing anytime soon.
I have this conversation quite often with clients and with friends and also recently was asked this question from a few readers. When it feels like every food has been demonized, how do you know what is healthy? And when you know something is "bad" about a food, how do you enjoy that food? In essence, how do you go on with intuitive eating without getting overly focused on nutrient composition and ingredients in food.
The short answer is….nutritional minutiae doesn't really matter as much as we think it does. And there are far, far more important things that impact our health besides the ingredients in your ketchup. Like stress. This is simply my own clinical experience and not evidence based research, but I have never come across a client or patient who has become overall healthier by micromanaging every food that went into their mouth and living in fear of what ingredients might be in their food. Because living that way causes so much psychological distress that ultimately impacts your physical health (gastrointestinal symptoms being some of the most common..) that it doesn't matter how "healthy" you eat…you might not be healthy at all.
So I think to answer this question we have to address this in three parts and recognize that…
Diet culture wants us to believe that food has far more impact on our health than it actually does and that we can control our health and body size if we just eat the perfect diet.
Our health is so much more than the food on our plates – we have to take a step back, look at the big picture, and recognize what really matters.
You are not a sponge and I am not a sponge. The media loves to fear monger by taking research and manipulating what the research actually says in order to convince people to purchase certain things, eat a certain way, live a certain way etc…or make claims based on zero research.
Let's look at these three points together. Sure, food plays a role in our health and we want to honor our health with our food choices. But if your food choices are causing you more stress, isolating you from social situations, disconnecting you emotionally, not satisfying your tastebuds and cravings, or leaving you feeling chaotic and out of control around certain foods…your food choices are not healthy at all. To put if very simply, stress causes your body to release cortisol. And when your body is constantly producing cortisol, it can lead to negative effects on your physical health. Effects that include higher blood sugar and insulin resistance, appetite dysregulation, suppression of the immune system, gastrointestinal issues, damage to your vasculature and plaque buildup, fertility issues and problems with your thyroid hormones.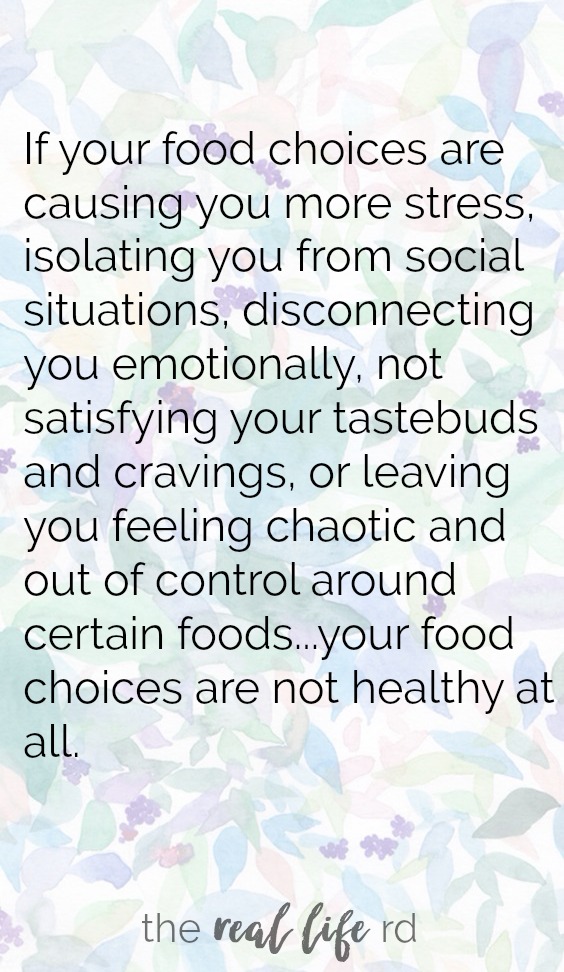 We put so much emphasis on food and hyper focus on nutritional minutiae that we do more harm than good to our physical health. I've worked with countless of clients and patients whose physical health actually improved when they became more flexible with food and worked on their emotional and mental health. The health and wellness industry makes a lot of money when they convince us we need to buy certain foods, follow xyz way of eating, partake in a certain fitness routine, and take particular supplements because that will lead to "optimal health." But what actually happens is we end up disappointed because it's either not sustainable or the promise we were made didn't hold true.
I say this all the time, but I think it's worth repeating as much as humanly possible…our health is so much more than the food on our plates or how many minutes we've exercised that day. I go into this concept with great detail and research in a course I'm creating, but we neglect the other really important (and I'll argue even more important) aspects of our health because it's easier to follow a set of food rules and an exercise plan. If we do that, we can ignore all the mental/emotional work. Investing in your mental and emotional wellbeing takes time and it's hard and it's painful at times and we don't like to feel hard things. And we surely aren't naturally drawn to things that don't give us instant gratification. Self esteem, self efficacy, genetics, socioeconomic status, oppression and your overall psychological health have far more impact on our physical health than the farm to table dinner we ate and the spin class we took that day. If eating or not eating a particular food is causing you more psychological distress than the health benefits of eating or not eating that particular food, than that food choice is no longer healthy. I say all this with so much empathy, because I've 100% been there. Neglecting my emotional and mental wellbeing in pursuit of the perfect diet that would protect me from disease and micromanage my body size. And I've been there professionally, putting so much emphasis on diet that I neglected the importance of all these all aspects of health.
You are not a sponge and I am not a sponge. Think of yourself as a brick and not a sponge. A sponge absorbs pretty much anything at a pretty rapid pace. And when a sponge becomes saturated, you just ring it out and absorb some more. A brick, not so much. It can only absorb so much paint or so much water before it needs a break and then be ready to absorb again. I don't know if that's the greatest analogy, but I hope it helps. The media loves to fear monger around food because that's how industries and people make money. Of course you want to work with a certain nutritionist or personal trainer or doctor or health coach if they claim the solution to your gut problems or your thyroid issues or your autoimmune disease lies in simply eating the right foods, avoiding the wrong foods and taking this perfectly formulated supplement. I've been enticed by that too, both personally and professionally.
And the media also loves to take published research and cherry pick information without taking into account the validity and biases of the research. We see this all. the. time. It's completely unrealistic to think the average consumer is going to spend time sifting through research or know how to properly read research. And it sucks that you can't rely on every health professional to deliver ethical and evidence based information. Given this reality, if it sounds extreme, unsustainable or too good to be true…that is very likely the case. In this post I wrote on sugar a few months ago, I walk you through how the media and people sharing information on social media often inaccurately share research and instead end up sharing pseudoscience. It's inaccurate to say drinking an amount of pure glucose syrup has the same metabolic effect on the body as eating a cookie that also has fat and protein in addition to sugar in it. Just like you can't claim that gluten is the cause of a particular disease. It's just not true.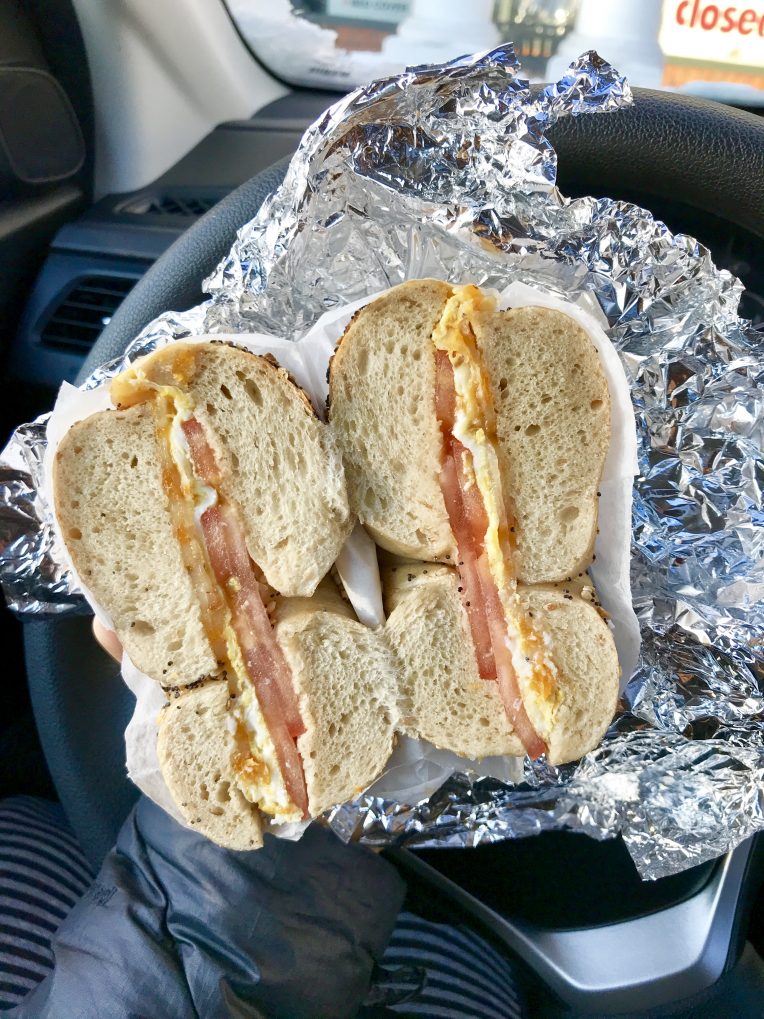 There is a whole lot of pseudoscience out there. Your body has amazing metabolic capacity and can tolerate a whole lot. That's why you have been gifted with kidneys and a liver which allow your body to get rid of toxins and waste that your body doesn't need. I think every health professional can agree that basic nutrition is good for our overall health – whole grains, fruits and vegetables, legumes, high quality animal protein, and healthy fats – and regular physical activity (for example 30 minutes of walking a day) is healthy too. But we often overcomplicate this. Eating some trans fat in a box of crackers, high fructose corn syrup in ketchup or preservatives in a jarred sauce or granola bar is not going to kill us. Our entire diet is not made up of those ingredients. The develop of chronic disease is a result of multiple factors, repeated again and again over a long period of time. 
We have to remember the big picture. Absolutely, I believe in the therapeutic effect of food and recognize there are health conditions that indicate certain evidence based dietary recommendations and supplements. There is a time and place for all of that. But for those of use who have been blessed with good health in our lives so far, I think we'd benefit from investing a lot more time and energy into our mental and emotional wellbeing than the nutritional minutiae of food.
I'd love to hear your thoughts in the comments!