Along with gluten and dairy, sugar seems to be one of those heavily demonized food ingredients. I say ingredient because as a culture, we tend to throw around the phrase, "addicted to sugar"…but when in reality, we aren't sitting on the couch with a 5 lb bag of sugar and a spoon. We are eating foods with sugar in them. We'll talk about that more in a bit.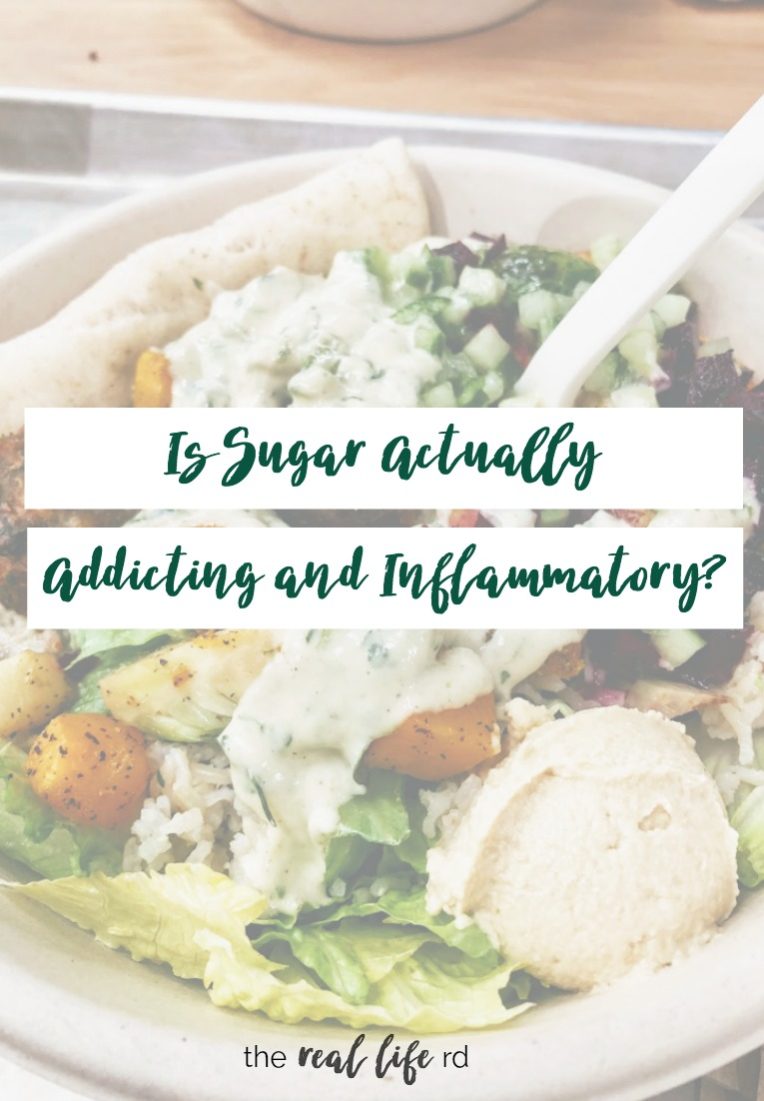 Sugar is one of the main foods that a client and I spend a lot of time decreasing anxiety around when working together. Sugar is one the main foods that you will hear intelligent health professionals tell people to eliminate because it's inflammatory. Because it causes acne and brain fog and other symptoms that we blame sugar for. As a culture, and health profession as whole, I think we've created a very extreme and unscientific view of sugar. The diet industry's success centers around pseudoscience, fear mongering, and low self esteem. And the conversation around sugar feels similar to the conversation around diets.
The word "diet" that we use when talking about diet culture doesn't just include the South Beach and Atkins diet, it also includes all the rigid ways of eating we've cloaked in the word "lifestyle." Any way of eating that applauds weight loss, tells you to count points or macros or calories, or labels certain foods/food groups as bad/damaging/off limits and other foods/food groups as good/allowed/permitted is a diet. Diet culture is a system of beliefs that equates thinness to health, encourages weight loss as means of success and demonizes certain ways of eating while glorifying others. So no matter what label you want to throw on eating, if it aligns with any of the above it's a diet. That includes a 21 day sugar detox, clean eating, a non-toxic lifestyle, Whole30, paleo, vegan (if it aligns with the above), keto, autoimmune diets, weight watchers, low carb….all of that. Most of us have been there, myself included, dipping our toes (or full on face diving) into the alluring world of diets. But food is not that black and white.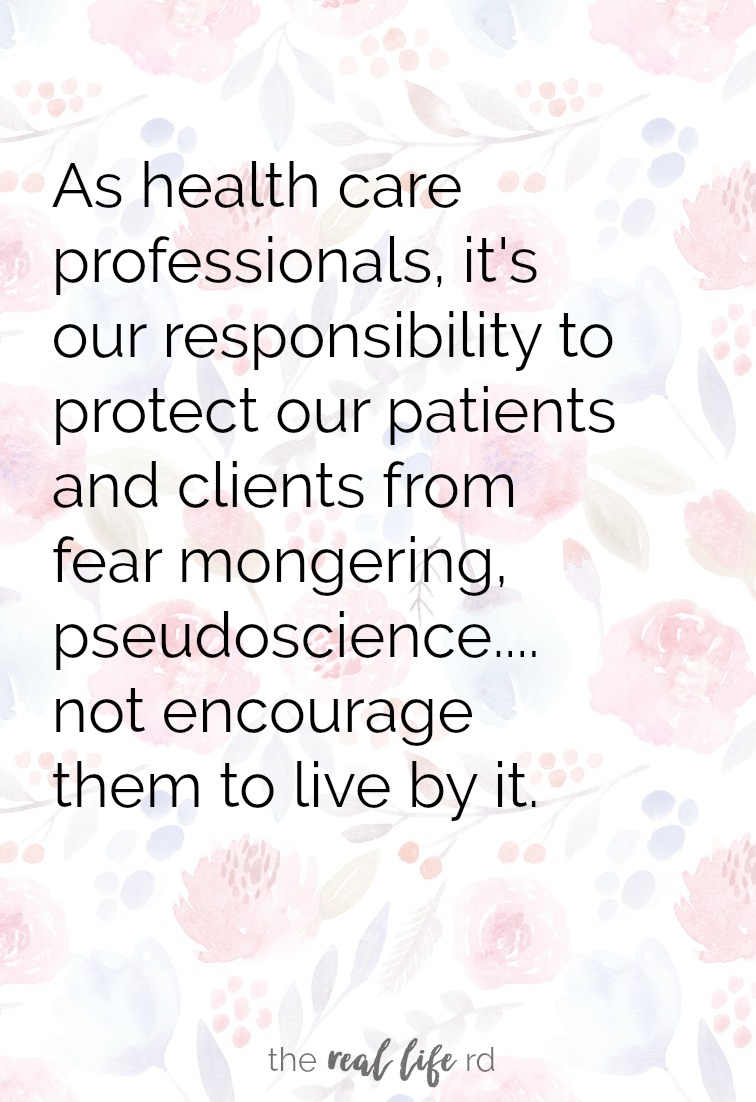 I think what is most frustrating is that either consciously or subconsciously, the diet and healthcare industries take advantage of the general public's vulnerability – people who don't know how to tease through the scientific literature, or don't care to take the time because how many people not in healthcare open up PubMed on a Saturday morning?? Not many. I wouldn't either. People trust their health care practitioners to give them evidenced based information and lead them to sustainable health. And I think those of us who are healthcare professionals need to recognize the trust and authoritative voice our patients and clients give to us – it's our responsibility to protect them from fear mongering pseudoscience….not encourage them to live by it.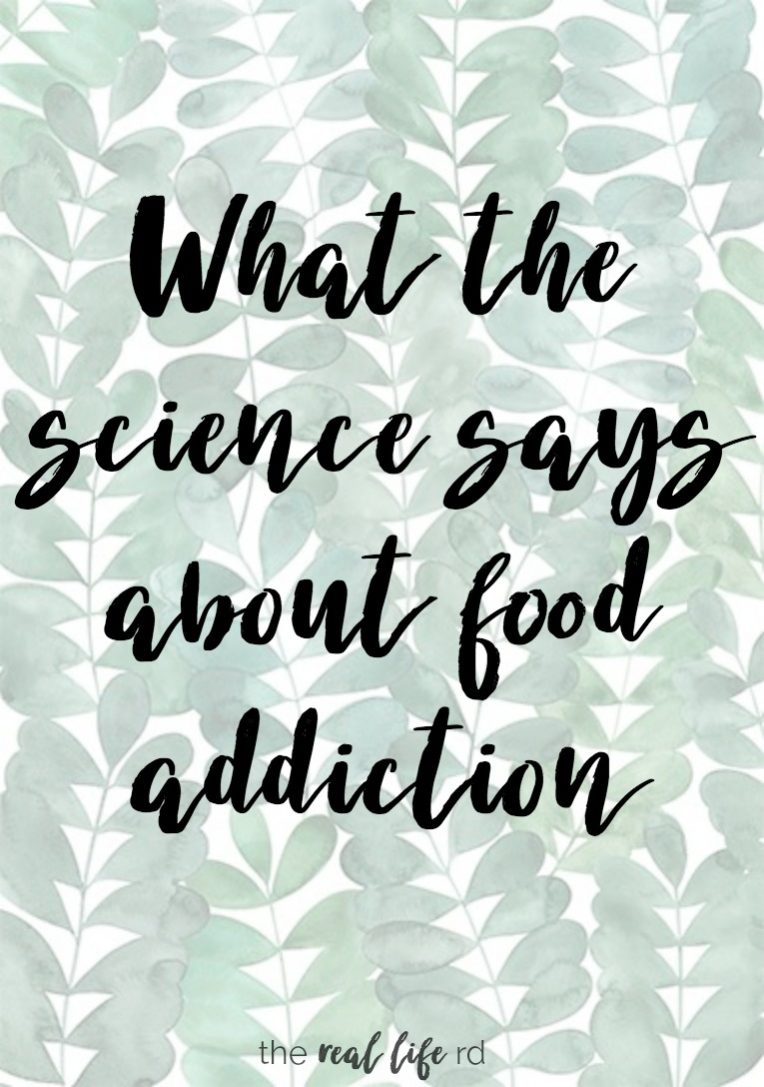 Marci Evans, a friend and colleague here in the Boston area, is beyond knowledgable in the area of food addiction (or lack thereof) and knows the scientific literature surrounding this topic very well. I've learned a ton from listening to her speak and by delving into the research myself. If you're interested, I highly recommend listening to some of the podcasts she's been on. Between listening to her speak and reading journal articles myself, there are a few things we can confidently conclude. First, the idea of a particular food being addictive has zero scientific evidence to back it up. The research that does argue for the idea of food addiction, utilizes the Yale Food Addiction Scale which is based on a person's own experience and doesn't take into account food restriction. We know based on the neuroscience that when a food or foods are restricted, the reward of that food or foods is increased. That's a biological survival mechanism! People feel they are "addicted" because they feel out of control and chaotic around certain foods, but that is very different than a food substance being physiologically addicting.
What I've also learned is that when people claim sugar lights up the same regions of the brain as cocaine or other drugs, that isn't fully true. In the studies done on rats, that only happens under forced deprivation aka dieting. Like we talked about above, under deprivation and restriction a person's reward response is heightened. We could go on and on about this for hours, but I think the take home point is that food has an enhanced reward response under conditions of restriction and deprivation either mentally or physically. Food and drugs do share neural pathways, but the brain does not develop a physiological dependency on food substances. Headlines and sweeping statements might seem compelling because as a society, we love to be able to control – food and exercise are areas we are really good at controlling – but the story is far more complex.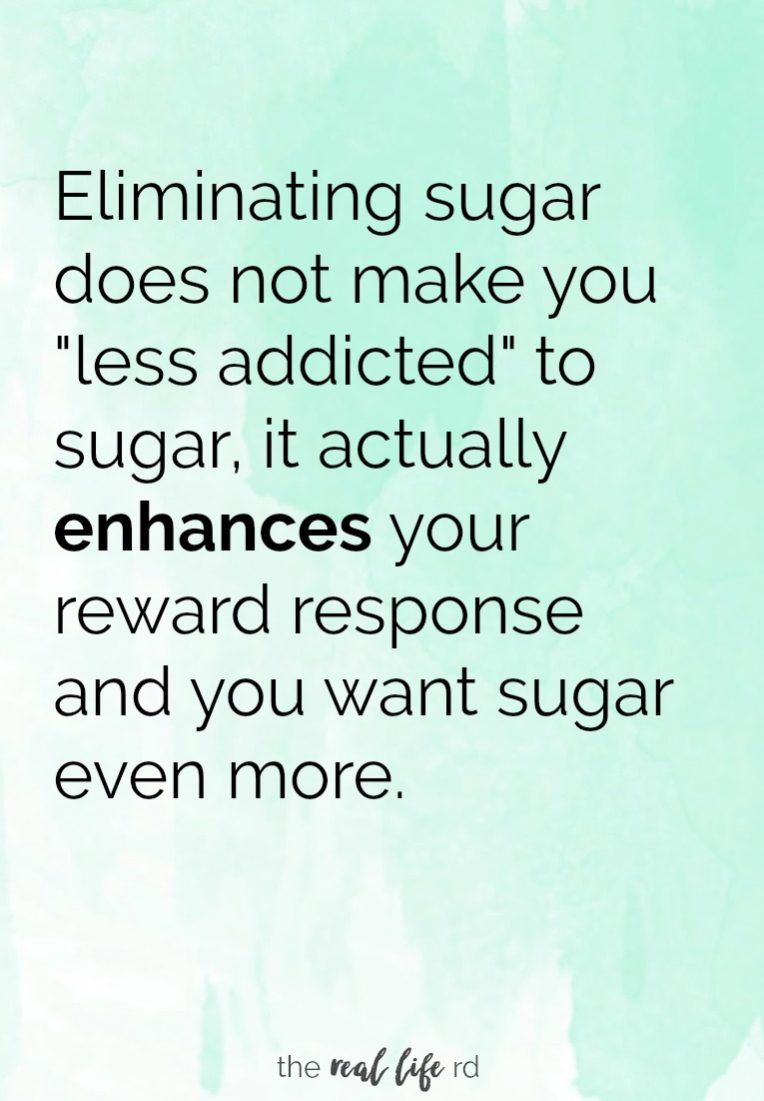 Based on everything we just talked about, we can see how eliminating sugar wouldn't make you "less addicted" to sugar. It actually ENHANCES your reward response and you want it more. Sure, you might be able to not eat sugar for a set amount of time in the short term, but eventually your biological primal drive to eat will win out over willpower (every time) and you will find yourself in a chaotic eating situation with sugar. Which then further solidifies the self fulfilling prophecy that you cannot be controlled around sugar…or any food that you restrict for that matter. Eliminating or telling yourself you can't have sugar or you can only have x amount of sugar doesn't make you more competent and in control around sugar, it makes you more crazy around sugar or any other food you restrict. Although the scientific evidence to support the idea of food addition is lacking, I do want to acknowledge that the lived experience of feeling out of control with food or feeling "addicted" to food that I myself and maybe many of you reading have experienced is real. But we are not powerless around food. Maybe you feel like that right now, but as you develop new eating skills and learn to decrease your vulnerabilities around certain foods, you can grow to feel fully competent and in control around all foods. I truly believe that.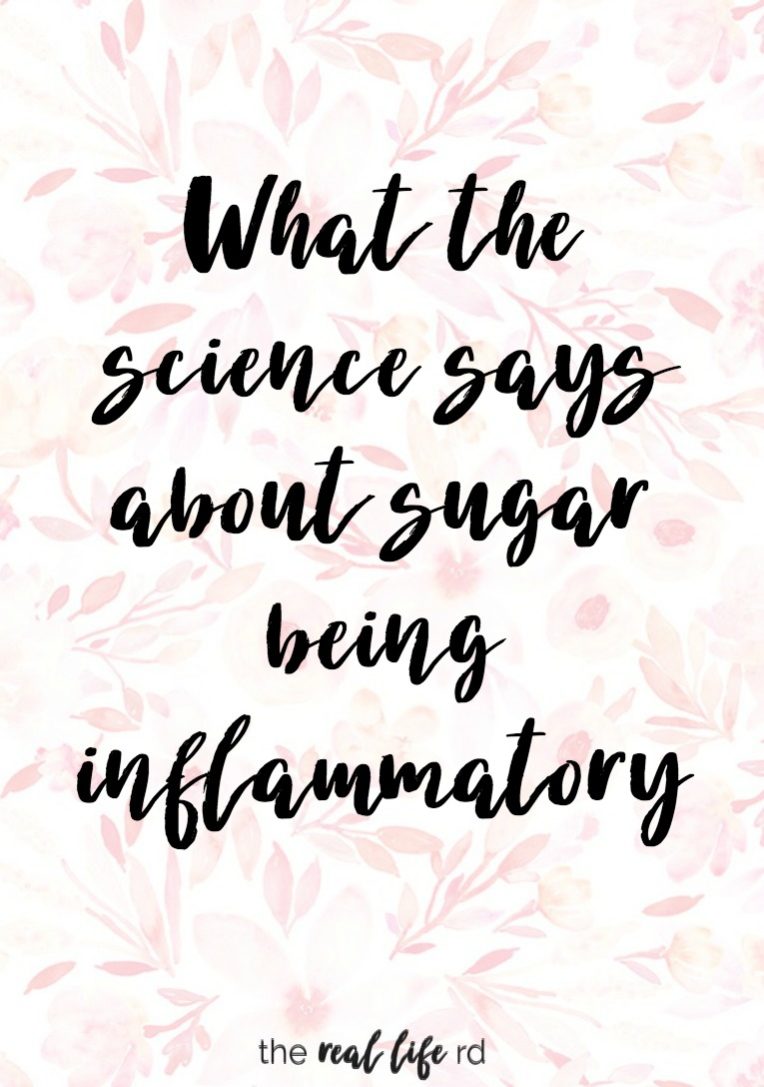 I want to touch on the claim about sugar being inflammatory here for a second. First, inflammation is seen as a bad thing, when inflammation is actually the the body's natural healing process. We need inflammation to survive in this world. The problem with these studies on sugar and inflammation is that they are isolating sugar in the form of fructose, glucose or sucrose (aka having subjects drink a pure sugar drink that equates to about a 1/4 cup of sugar) and then are drawing conclusions based on that. WHAT?! How many of us sit down and drink 1/4 cup of simple syrup without any other food? So taking a study result that found increased inflammatory biomarkers when people drank a drink resembling straight up sugar syrup and then saying the sugar in your cookie is inflammatory and will cause chronic disease is straight up bad science. Cookies have fat and protein and other nutrients in them as well that are going to alter the metabolism of the sugar itself. There is failure to acknowledge the limitations in these studies and to look at the totality of the evidence.
There are a lot of things that are inflammatory. Stress is inflammatory! And I'm going to step out on a limb and conclude that micromanaging sugar intake that closely or eliminating it all together creates a lot of psychological stress. The air I breathe in Boston is inflammatory. Smoking and alcohol are inflammatory. Lack of sleep is inflammatory. Our bodies can handle inflammation. In no way am I saying that sugar is a "health food" and that we should eat sugar all day without regard to how we physically feel. Not at all. And I'm also not saying that we should disregard our physical health and just go inflammatize (that's not a word :)) ourselves with cigarettes, loads of coffee, six hours of sleep and fast food three times a day. If the end goal is intuitive eating and honoring our physical health in addition to our mental and emotional health…you won't lead that life. Caring for and respecting your body won't lead you to that lifestyle. Just like restricting your calorie intake or food groups and exercising in a regimented way leads to dissociation from your body, eating very little, if any, physically nourishing foods every day and not getting sleep and waking up with coffee and going to bed with wine…that also happens when we dissociate from our body's needs. Almost everyone would agree that daily excessive sugar intake isn't necessarily adding to our physical health. But excessive is very, very different than enjoying a cookie or a glass or wine or maple syrup on your pancakes or a piece of fruit for heaven's sake. Claiming the metabolic effect of drinking pure sugar in liquid form is the same as eating sugar within a balanced diet (aka intuitive eating) that honors your physical and psychological health is irresponsible and unsupported by the literature.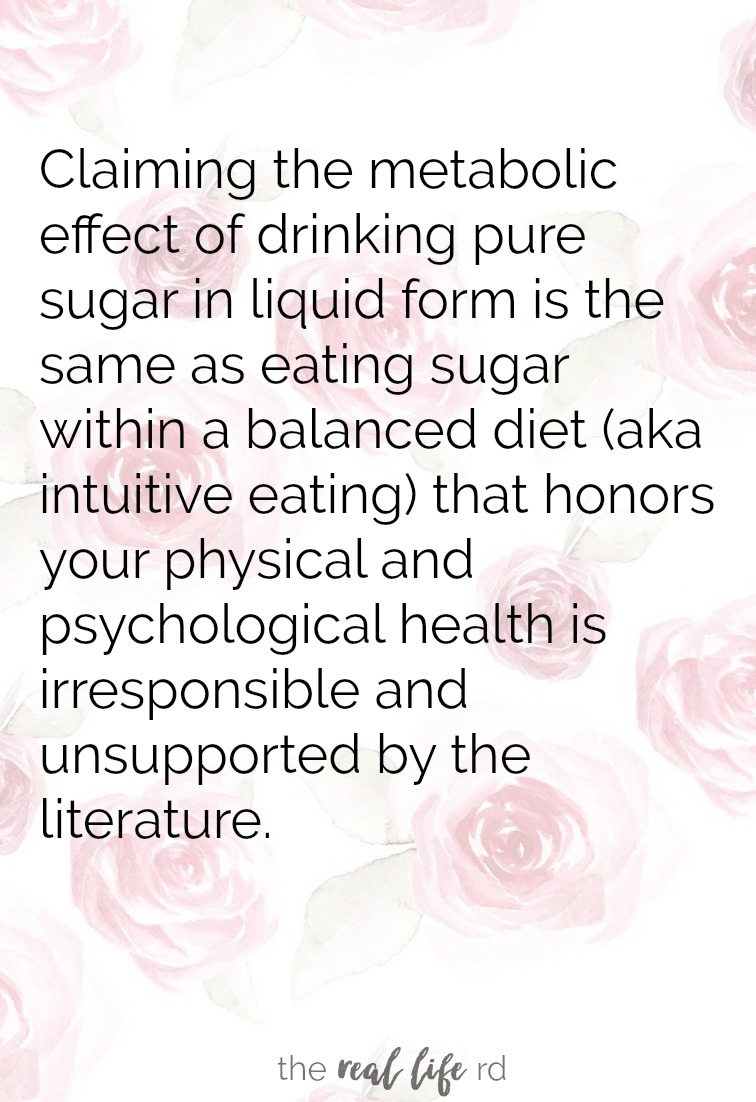 Lastly, if you're reading this and thinking….but I'm recovering from disordered eating or an eating disorder or I'm starting intuitive eating and I'm eating more sugary foods than ever before… THAT IS OKAY and normal and part of the recovery and IE process of coming to a peaceful and full permission place with all foods. Like we talked about in the beginning of this post, in the presence of restriction, we experience a heightened reward to those restricted foods. You won't always crave brownies, ice cream, cookies, donuts etc at this increased frequency, but you will continue to crave them all the time until you give yourself permission to eat them whenever you want them. Meaning you release that restriction that enhances your reward response to that food. In the beginning of your intuitive eating journey you may feel like all you want are these types of foods, but be patient and give yourself time. And if you find that you are highly distressed over incorporating these types of foods, I'd really encourage you to find a dietitian that has expertise in the area of eating disorders and intuitive eating – whether that's myself or many, many other amazing RD colleagues I know and am happy to refer you to.
I'd love to hear your comments and thoughts below! I enjoy having healthy and respectful discussion around these topics so please share!