I haven't done a roundup of eats in a long time, so today is the day. I scrolled through my camera roll yesterday and edited all the photos that I haven't already posted on the blog or instagram. There are lots of eats that go unpictured during the week – like the lunch I ate while standing in front of the fridge yesterday or the snack I shoved in my mouth as I raced out to a client appointment. But I hope these posts inspire you to eat nourishing + satisfying foods that excite your tastebuds. Because who wants tastebuds that are always bored?
Breakfasts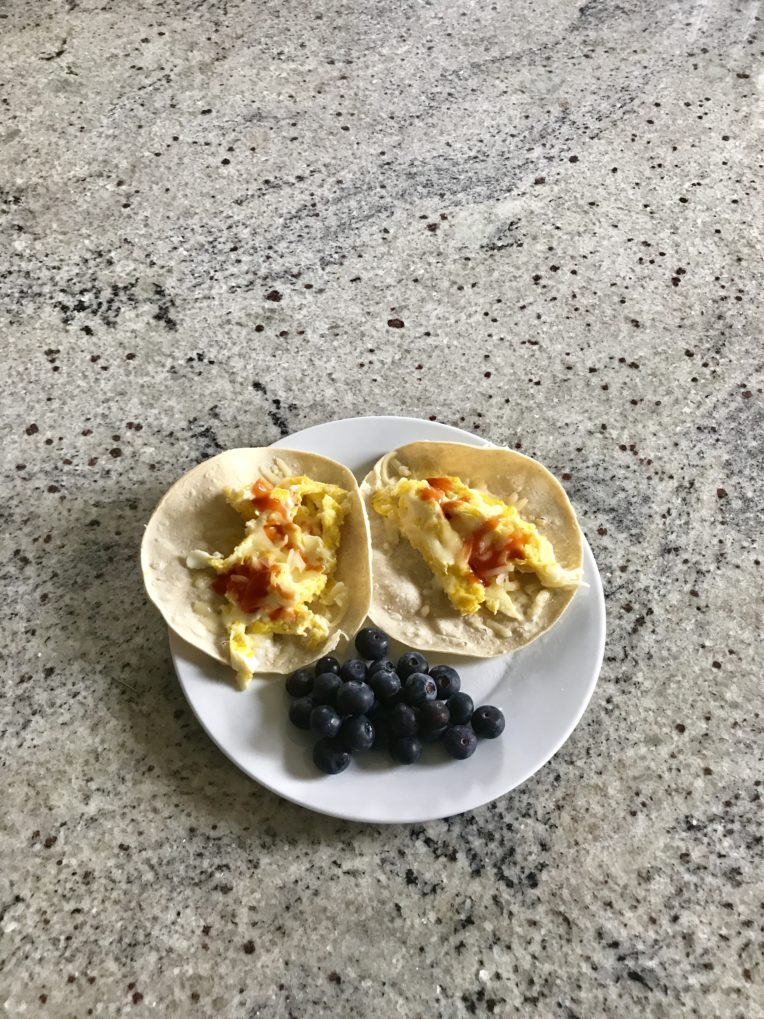 I shared on instagram stories that I was honing Kylie with breakfast tacos this week. We were out of toast and I hadn't been to the grocery yet, so I was digging around in the freezer and found some corn tortillas. Breakfast tacos! One morning I ate three with sharp cheddar and hot sauce. The other morning I was too lazy to grate the cheddar so I sprinkled on some mozzarella and extra hot sauce. Both tasted about the same.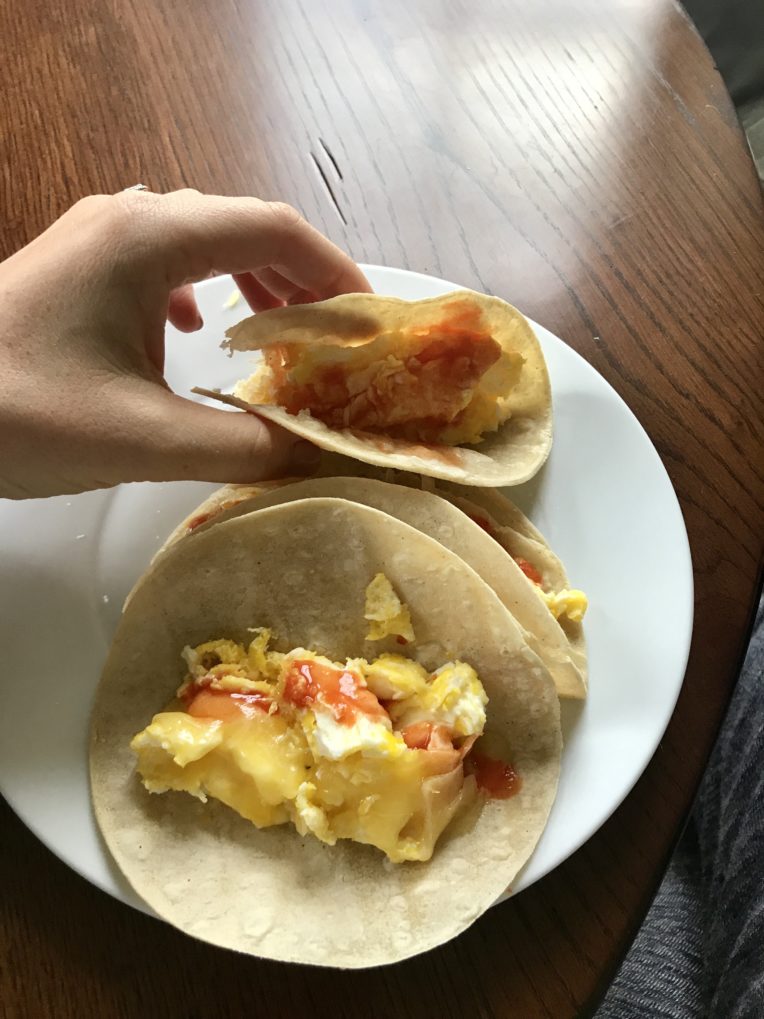 Why three tacos one morning and two the other? Because that's what my hunger and appetite was telling me. Also the secret to really good eggs –> cook them in butter, not spray.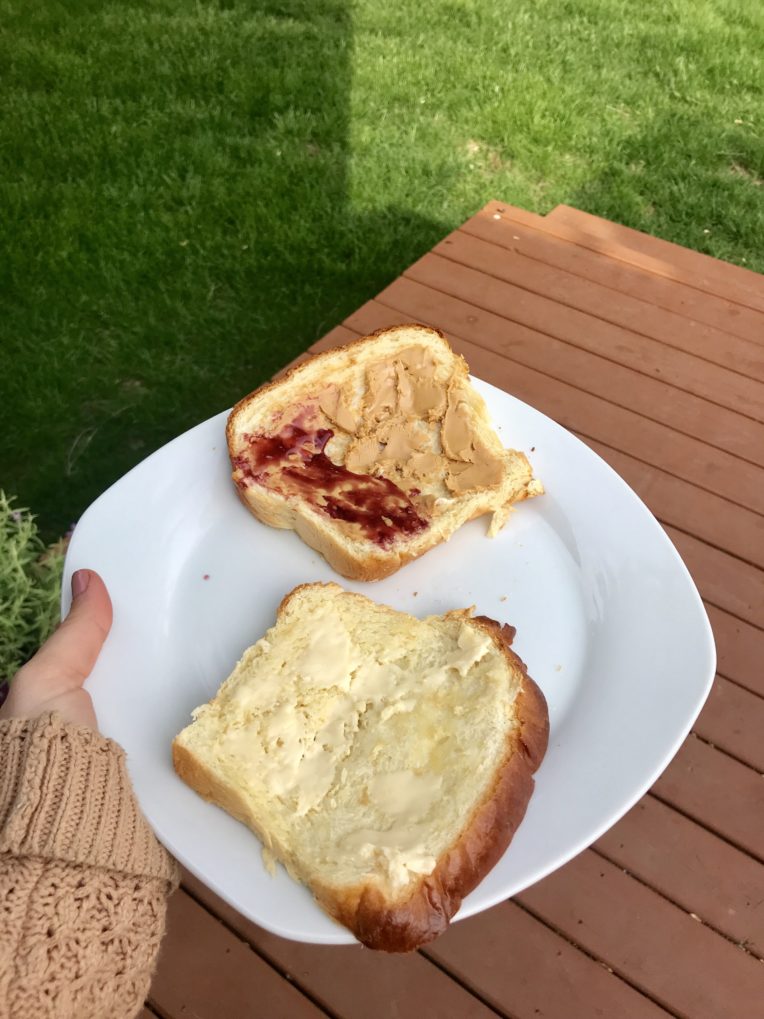 When we were home this weekend I was #blessed with my brother's homemade bread for breakfast each morning. Toast utopia. This wasn't crusty like Iggy's bread, but rather doughy and chewy and so so so good. I had a carton of yogurt with the toast most mornings too for some protein.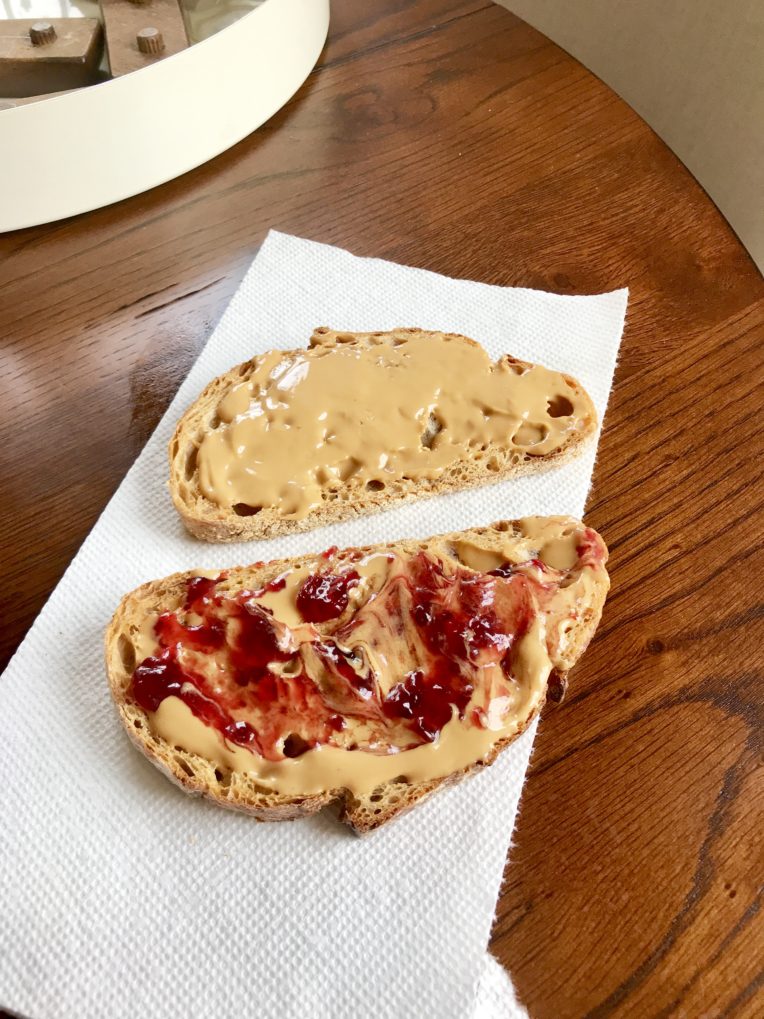 I have a place in my toasty heart (that sounds weird…) for both Iggy's and my brother's homemade white bread. This melty pb + j toast made with Iggy's sourdough hit the spot one morning when I needed breakfast fast.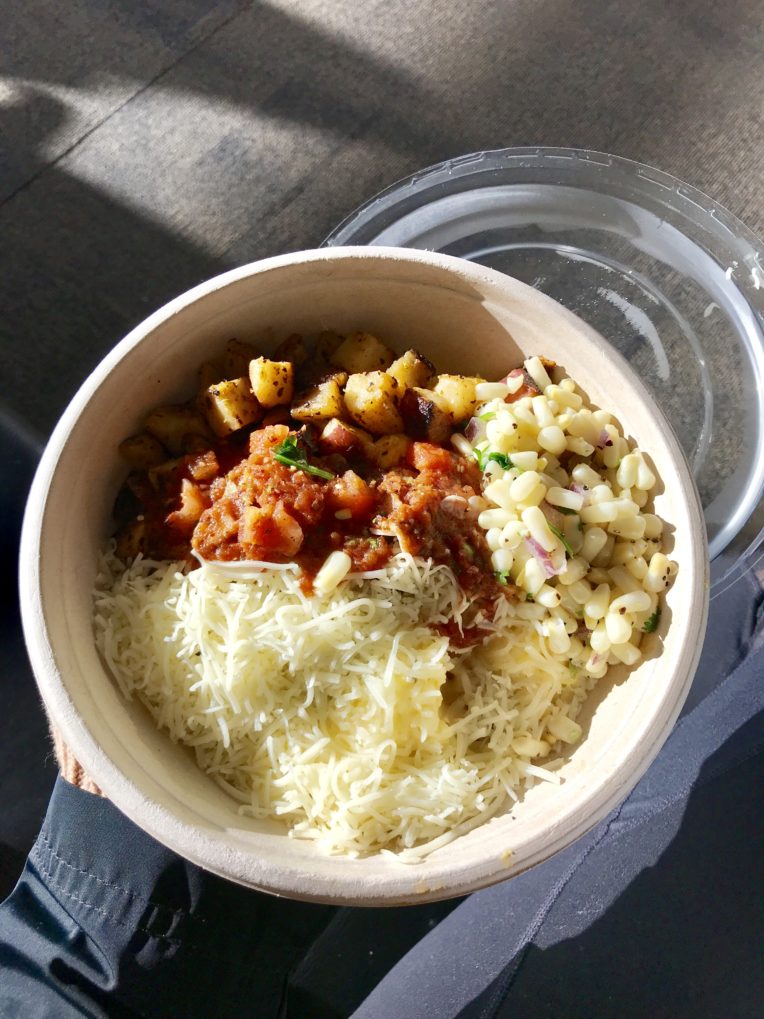 And let me take a second to give some major kudos to Logan Airport for decent breakfast options. Before our flight at 7am on Friday, Nick and I picked up these breakfast burrito bowls that had potatoes, black beans, eggs, salsa, corn and lots of cheese for $6 – not bad for airport food. I realize that's not a $2 bagel, but this was a hearty portion!
Lunches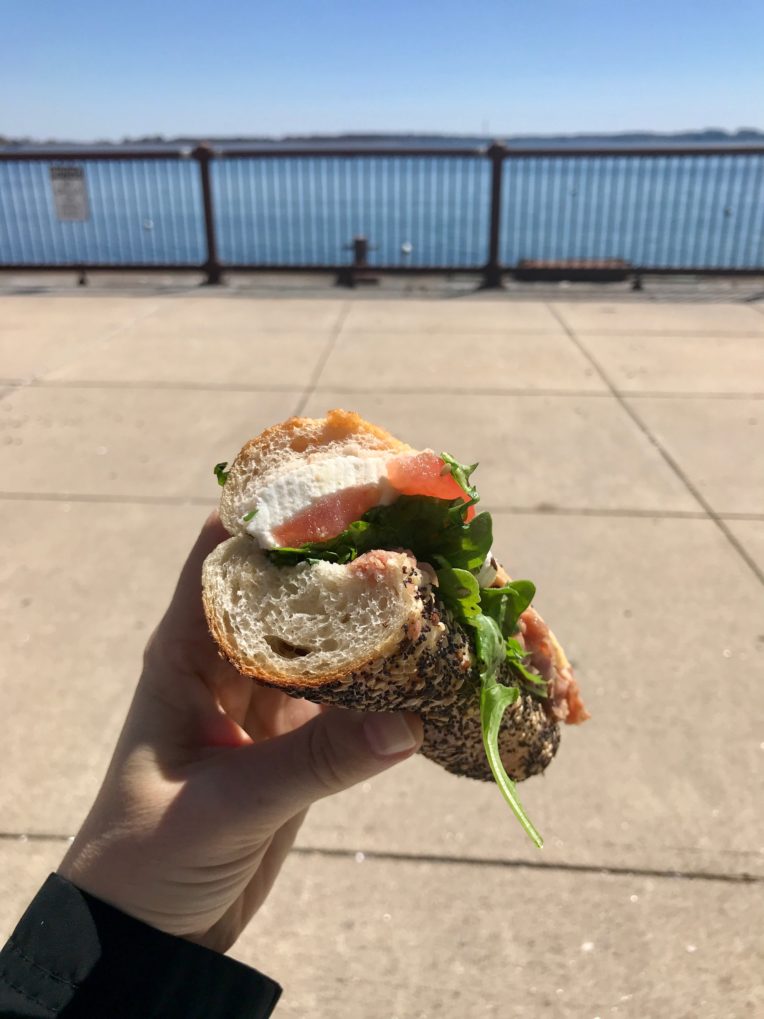 When we explored Southie one day, we found this italian deli and picked up sandwiches. I went with the mozzarella, basil, arugula, tomato and prosciutto baguette. Felt like I was back in Italy for half a second…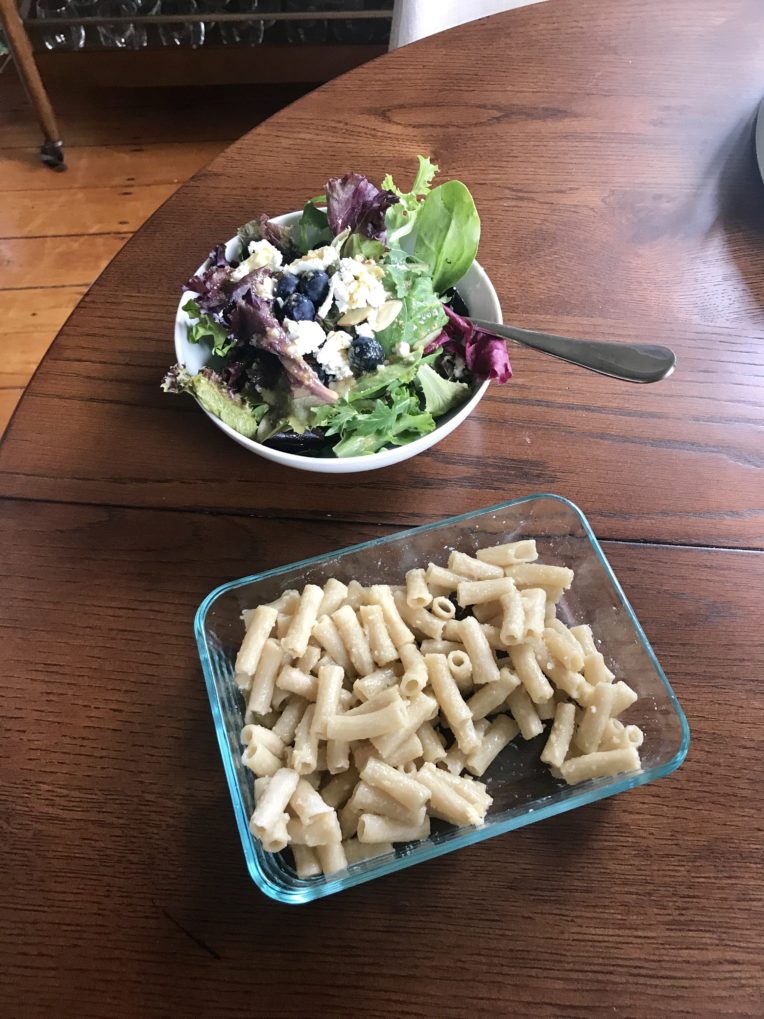 Ever since my mom made a mixed greens salad with goat cheese, strawberries, toasted almonds and honey dijon dressing over the weekend I can't stop eating this salad. So I picked up ingredients on Wednesday and made the same salad for lunch (using blueberries instead of strawberries because I was too lazy to slice) and boiled up some pasta with parmesan cheese + olive oil + sea salt for an easy lunch.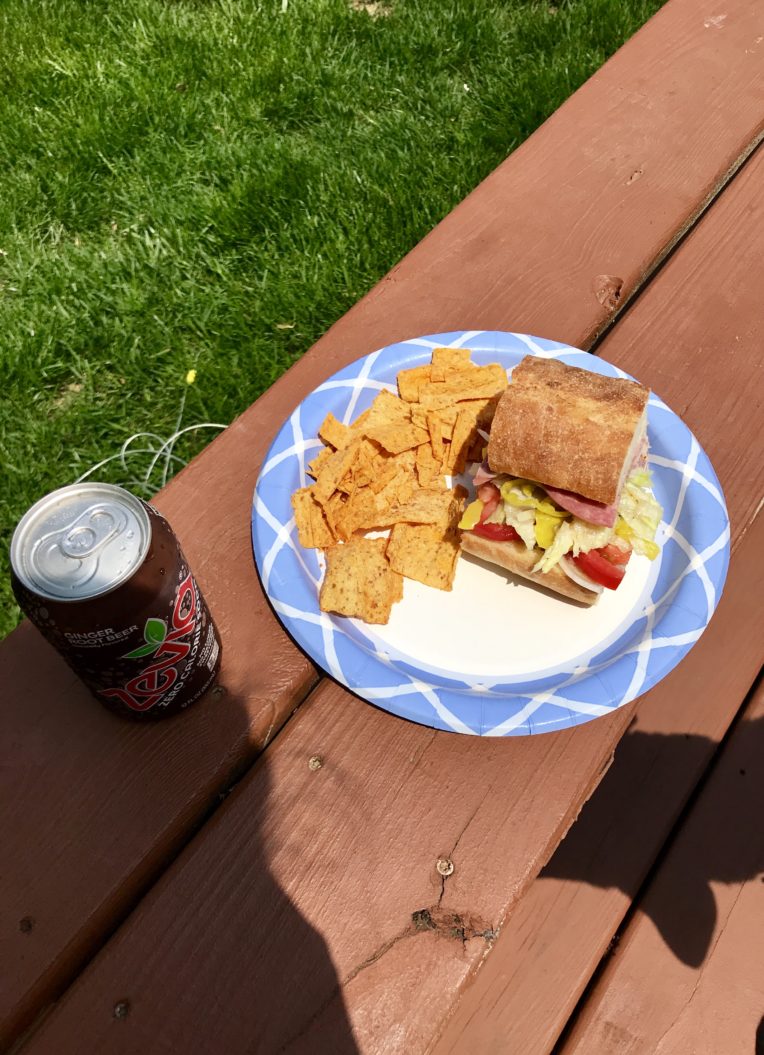 At home, we had italian subs on homemade french bread that was the BOMB. Salami, ham, capicola, hot peppers, lettuce, tomato, provolone and olive oil + red wine vinegar with cheddar sun chips. Plus a zevia my mom had in the cooler. Felt like summer.
Dinners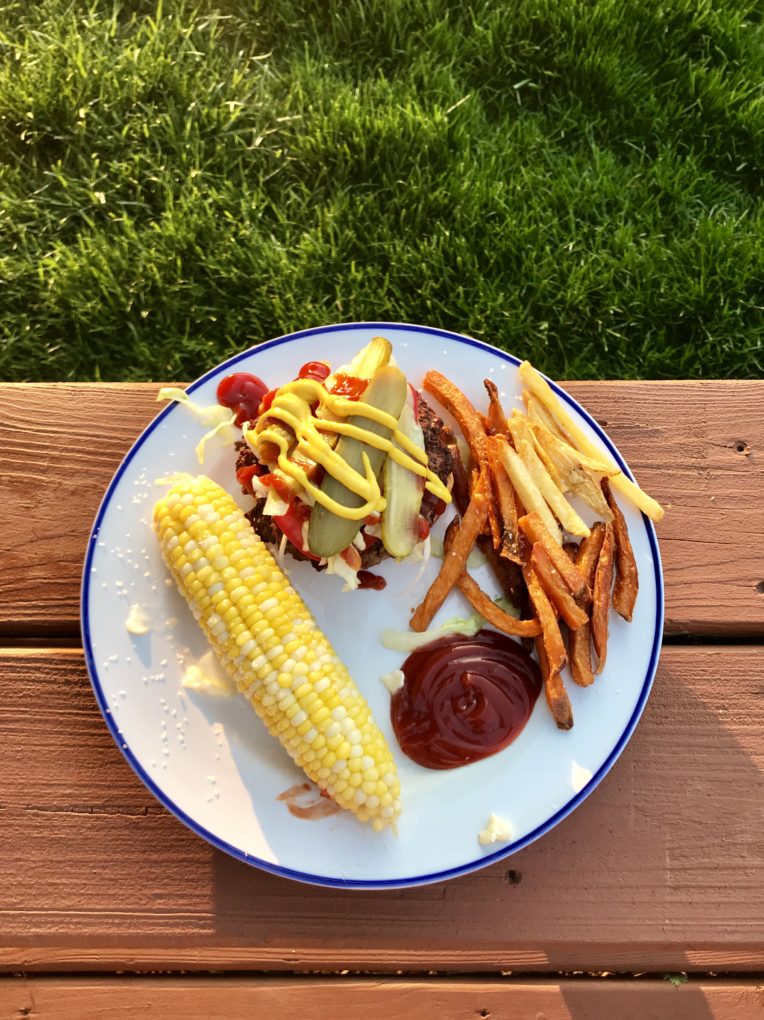 We also grilled out one night when we were home – burgers + corn on the cob + french fries. I did a half bun burger so I'd have more room for fries in my stomach, but the burger ended up so messy and the bun was soggy so I don't think I'll do that again. Burger buns don't really do it for my tastebuds – except I had a burger on a pretzel bun when we visited Nick's family and THAT did do it for me. Pretzel buns ftw. Eating corn on the cob reminds me of Indiana summers and my Grandpa.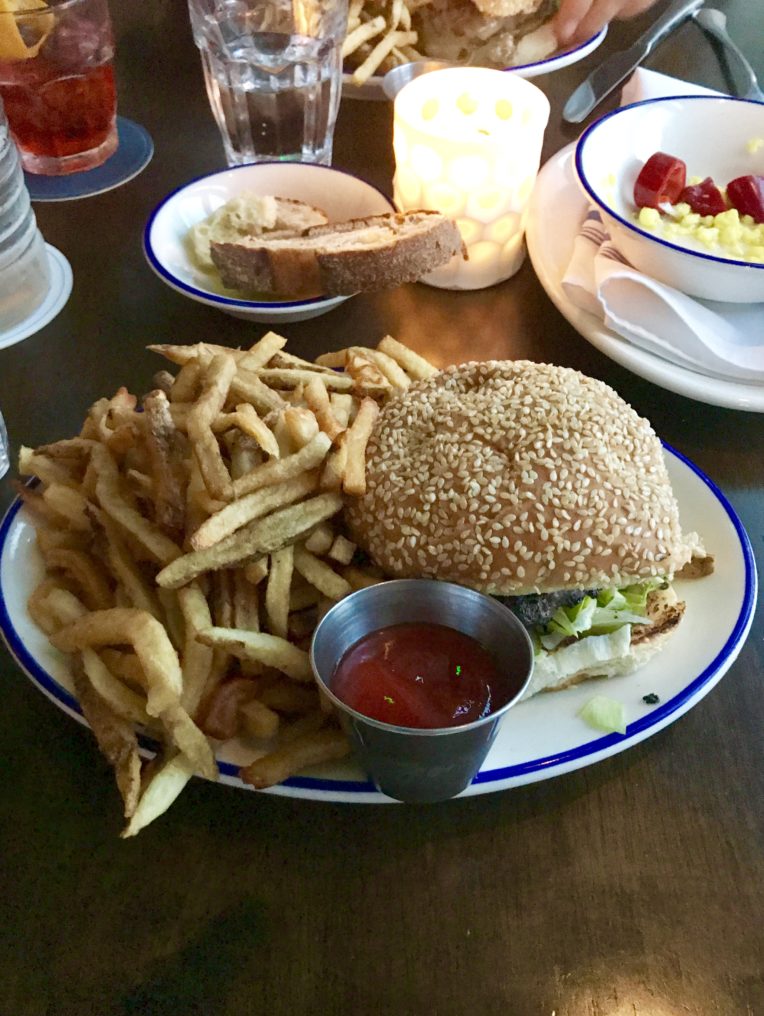 Keeping with the burger theme, Nick and I had dinner at Bar Mezzana one night in Boston because we heard their burger off the bar menu was legit. It was good, but it didn't blow my mind. I'd go back though!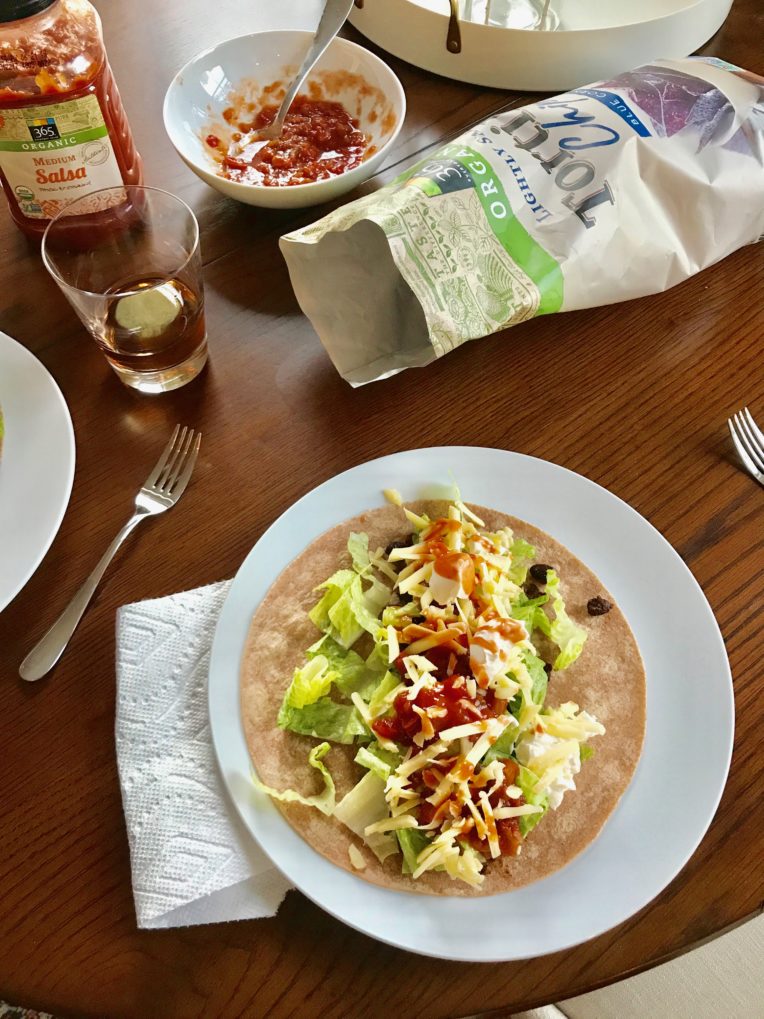 We made tacos one week for dinner and had that on repeat for several nights in a row because both Nick and I were really into them. I browned up some beef, added a can of black beans + taco seasoning and then we made burritos using whole wheat tortillas, lettuce, salsa, sour cream, cheddar and hot sauce. Plus chips + salsa on the side.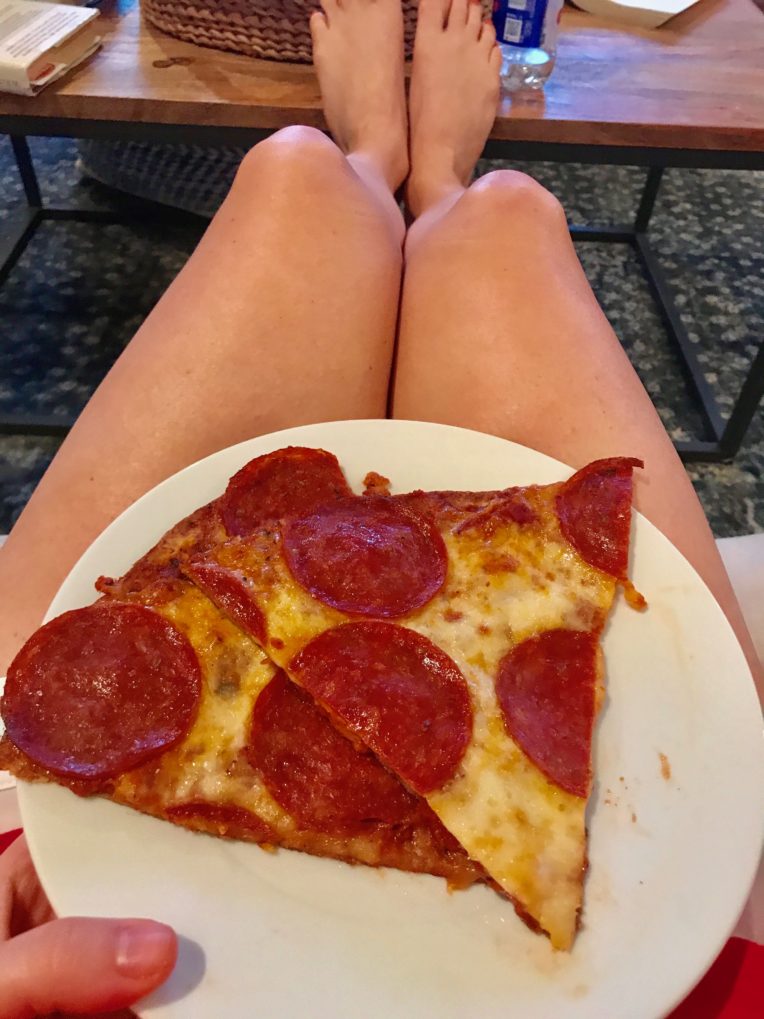 And then there were nights when total laziness set in and we made pizza using pre-packaged crust from TJs (which is so convenient btw) – tasty nonetheless.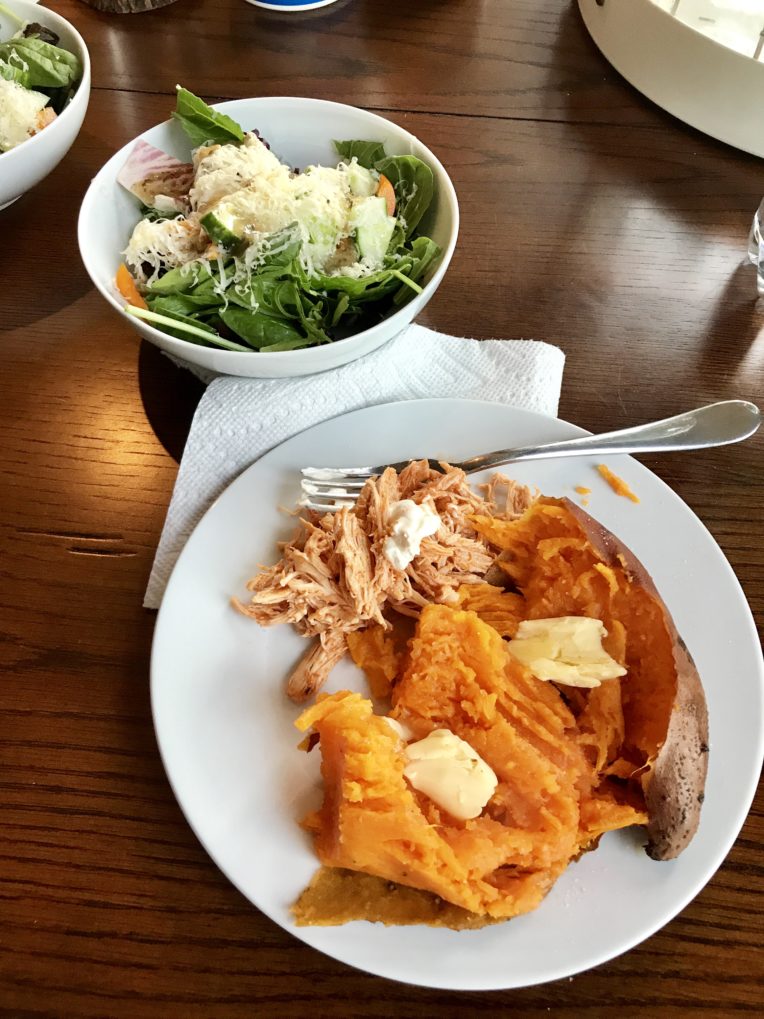 We also recently made buffalo chicken in the Instant Pot (you could totally just bake and shred the chicken too) by adding frozen chicken breasts and cooking for 12 minutes. Then I shredded the chicken and doused it with a lot of Frank's buffalo sauce. Topped with sour cream to cool it down and eaten with salad and baked sweet potatoes. I think the salad was just spring mix, bell pepper, cucumber, shredded cheese and balsamic + olive oil.
Snacks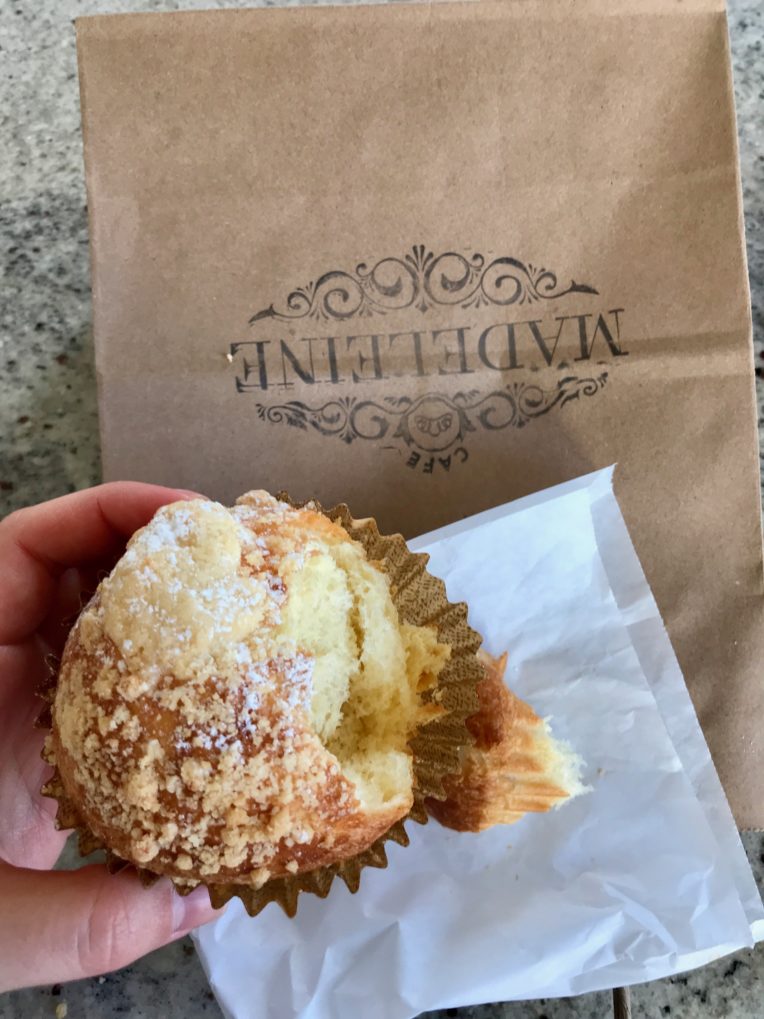 Nick brought me home this almond cream stuffed brioche from Cafe Madeliene one day – they were sadly out of croissants, but this was still tasty. If you're in the South End, go get a croissant from here. I've eaten a croissant in Paris and I promise these are better!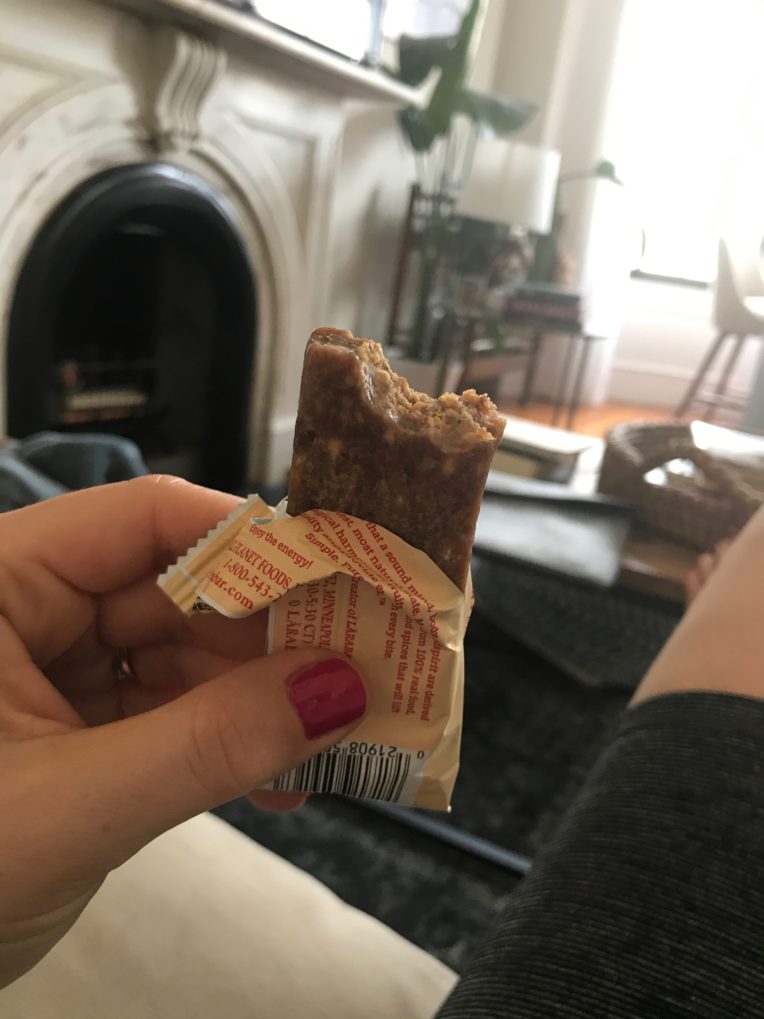 PB cookie Larabars. Always tasty. Favorite flavor along with PB chocolate chip and cookie dough. I love eating them after they've been in the freezer.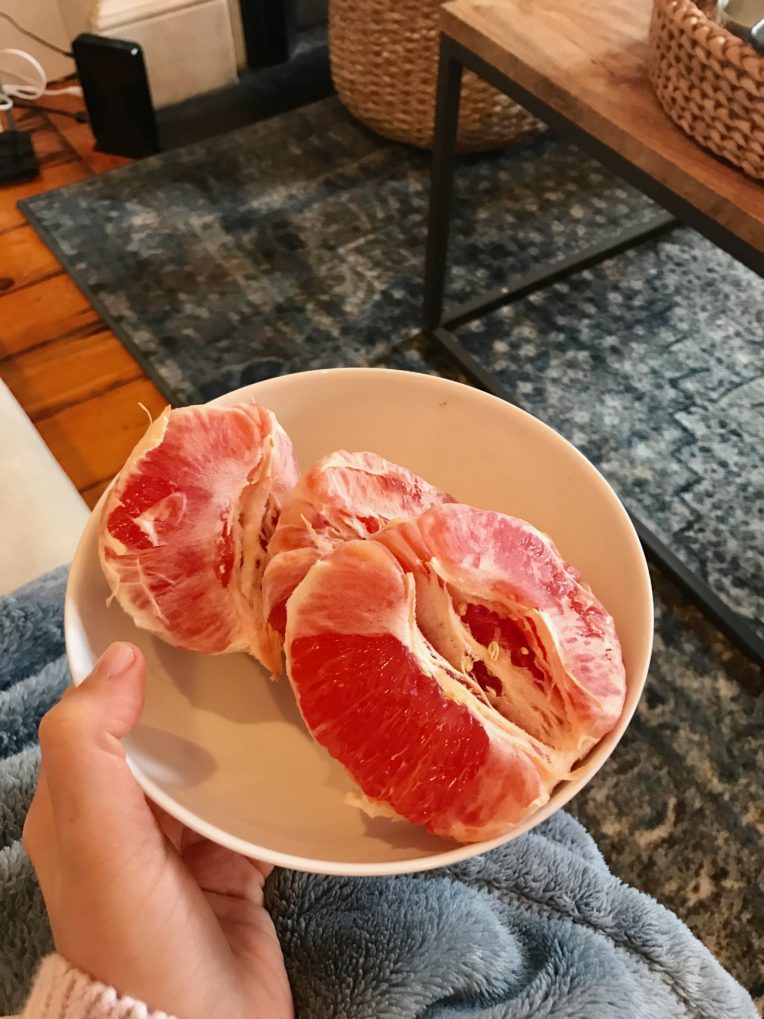 And juicy grapefruits! Perfect snack as the weather has gotten warmer..although I realize I'm sitting on the couch with a blanket here?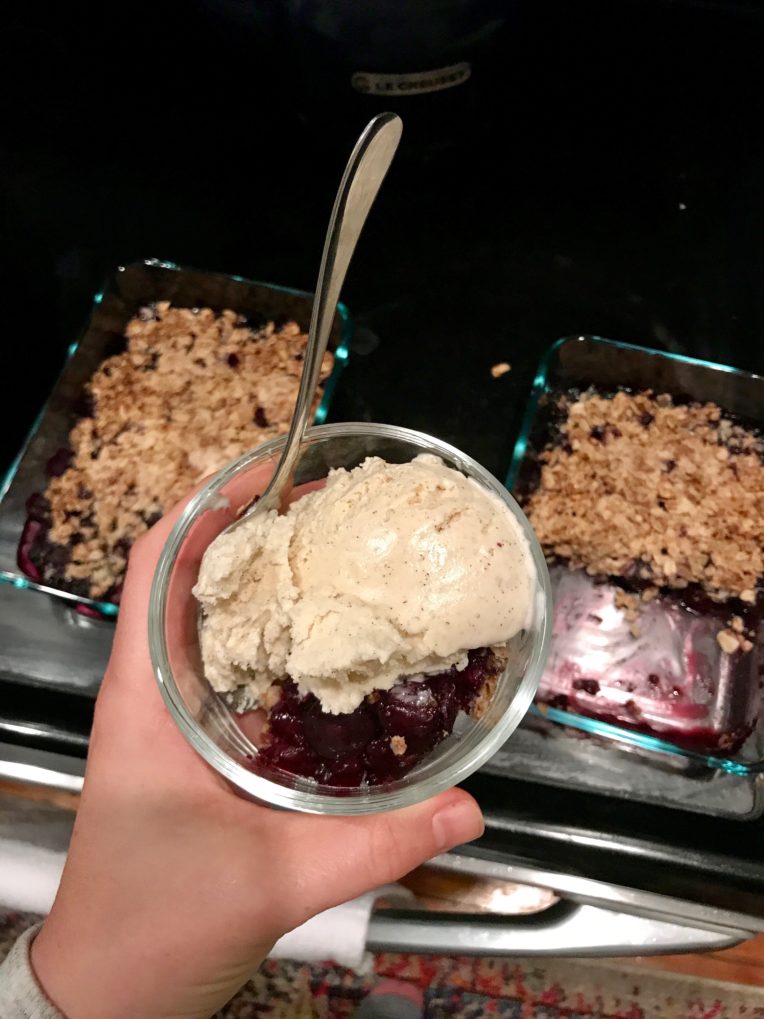 I made blueberry crisp a few weeks ago and I ate that with yogurt as a snack and ice cream as a bed time snack.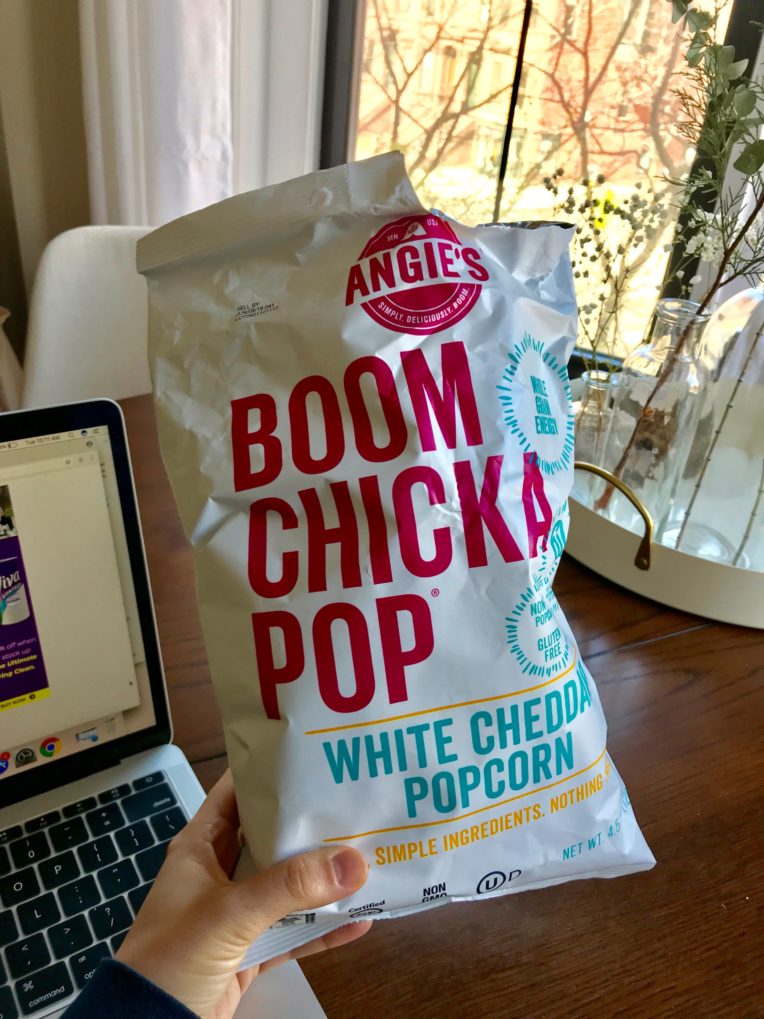 This popcorn is the jam. Reminds me of the SmartFood popcorn I ate all the time growing up and still do on road trips when we stop at gas stations.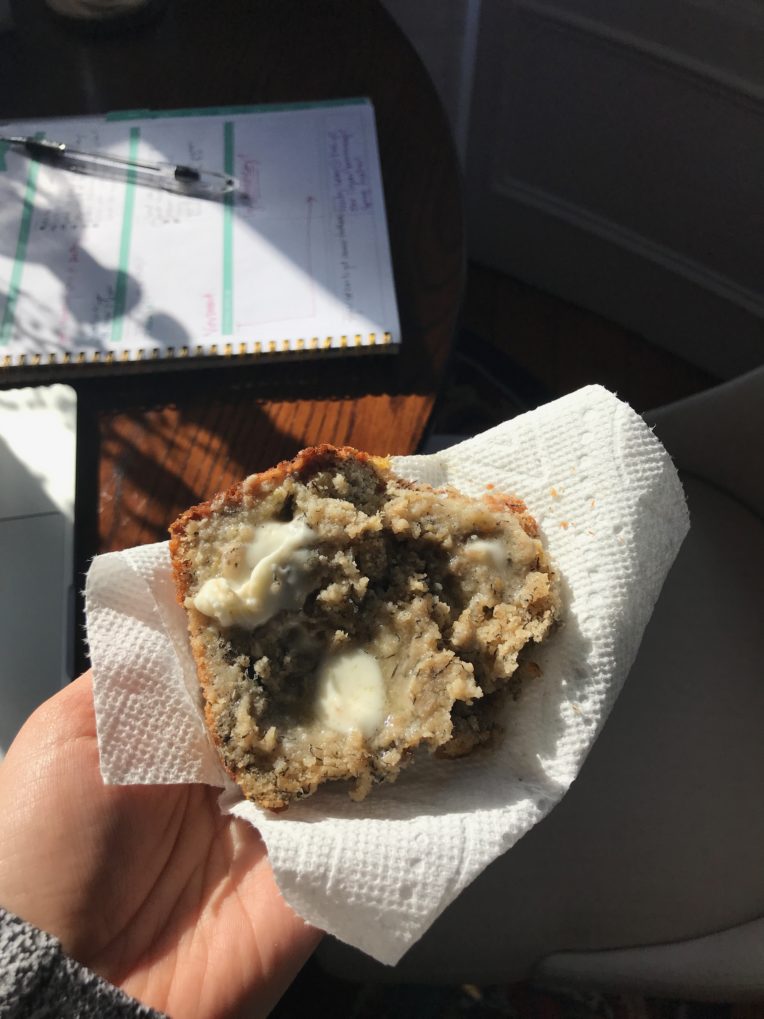 A slice of warm banana chocolate chip bread with melty butter.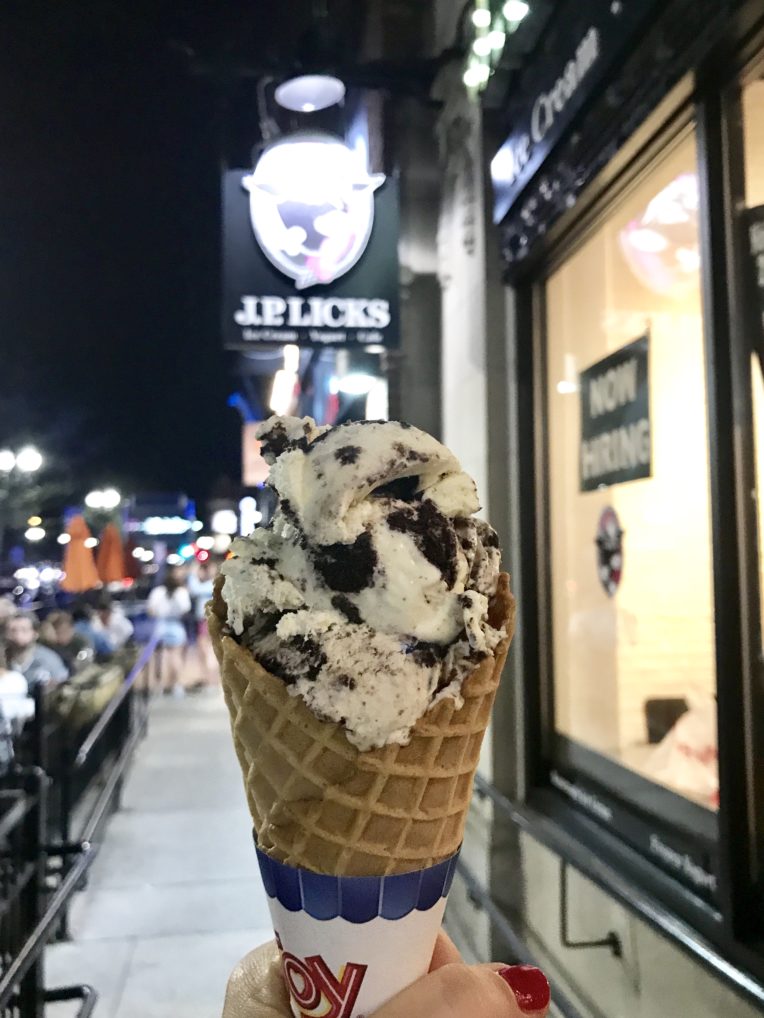 And I thought it was appropriate to end with this respectable waffle cone filled with birthday cake and cookies and cream ice cream. This was GOOD, but super rich. I made it about 1/2 way and still had a bit of a stomach ache even though I didn't feel "full" so I'd go with a smaller size next time.
Share something tasty you ate this week in the comments!