I hope you had a great weekend! This week I'll be posting on all three days (M, W, F) while we are in this transition of adding a new RD to our team which I'm very excited about. I'm planning on writing a women's health or intuitive eating content heavy post for Wednesday, I haven't written it yet, but have some ideas in mind. If you'd love to see a topic written about or a question answered – share in the comments! Onto today's 5 thoughts post.
1. Summer Reading List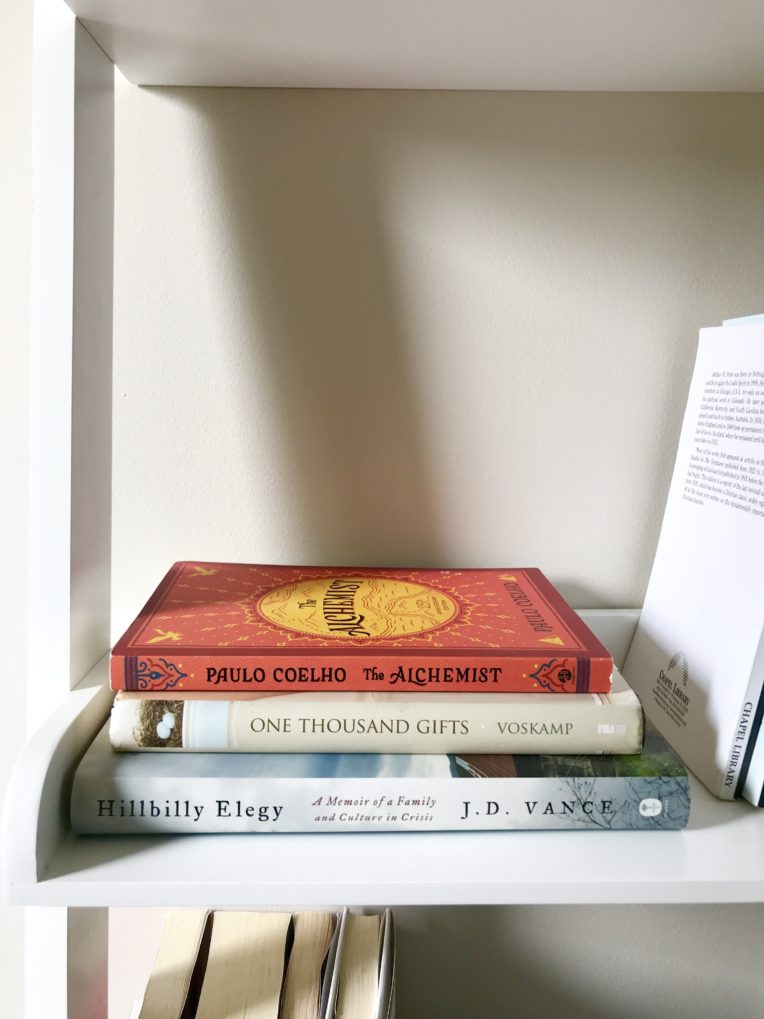 I spent Friday afternoon taking a 2 hour nap and then taking a couple hours to journal/reflect on how I'd like this summer to go. What I want to focus on, what non-obligatory things I can really let go of and how I want this summer to feel. I wrote out some intentions, some rhythms and some fun things I'd like to do. I function way better with rhythms vs structure. For me, structure feels really rigid and confining and if I'm told to have structure I don't want to do anything. As hard as I've tried, I can never stick to a structured day. And then I just feel guilty and frustrated with myself. Over the years I've learned to create rhythms instead. Rhythms are there to help with flow and direction, but they are totally flexible. A workday rhythm for me looks like: coffee + reading + walk outside + breakfast in the early morning, clients in the morning, writing/projects/meetings in the afternoon, and then chill time with Nick and/or friends and dinner in the evening. There is really no more structure to my day than that.
Part of this processing on Friday included picking out a few books I want to read this summer. I really want to scroll through the internet and social media less and instead read more this summer. I chose these three books: The Alchemist, One Thousand Gifts and Hillbilly Elegy. A client of mine gifted me the Alchemist a couple years ago and I started it, but didn't get too far so I want to give myself time to actually read it this summer. Same with One Thousand Gifts.  I started and got like 30 pages in and then decided, "I didn't have time" which isn't entirely true. Less social media = more time to read. And then Hillbilly Elegy I read a few pages of this January when a friend had it and loved it! So now I have a copy and can't wait to read.
2. Recipes I want to Make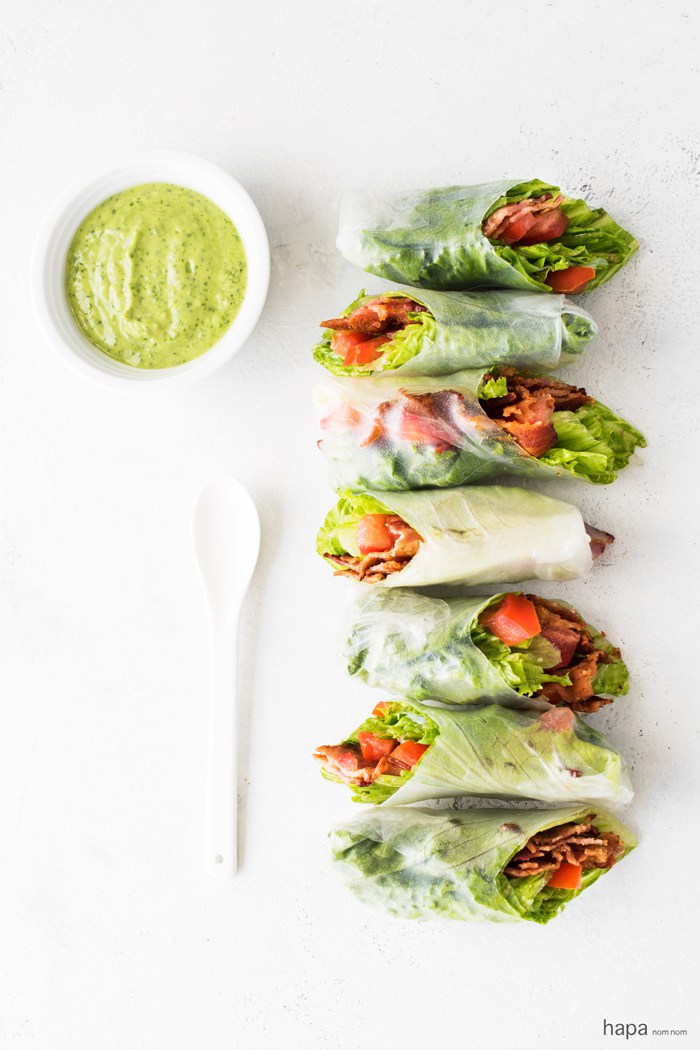 I've been pinning summer recipes that are super easy and require minimal cooking or turning on of the oven. We don't have central AC so keeping the oven off as much as possible helps so much with the summer heat. Plus I just don't want to spend my summer cooking. I want to spend it eating and being outside as much as possible 🙂
These BLT summer rolls pictured above look amazing.
As do these peanut butter chocolate banana popsicles. I want to eat these everyday for breakfast. And snacks. Maybe meals.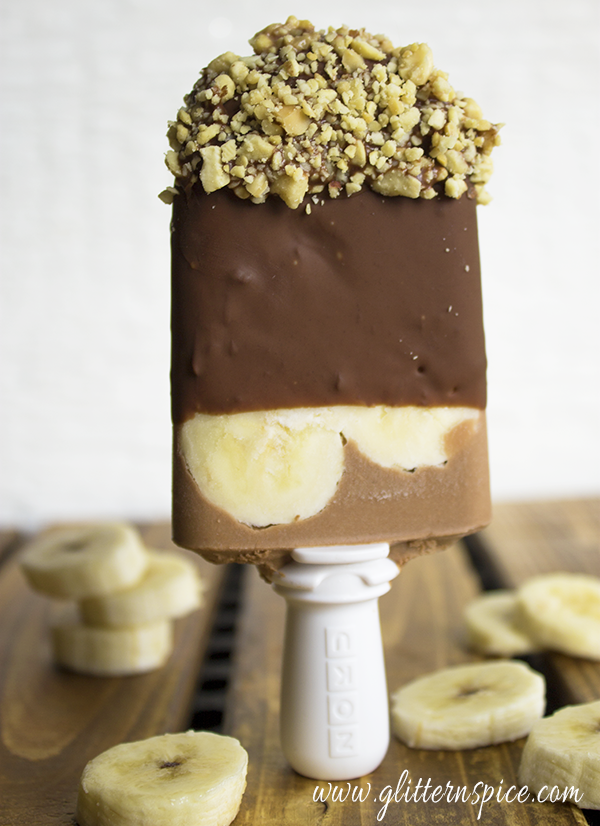 And this corn chowder is reminding me of home and the endless amount of Indiana corn consumed during the summer.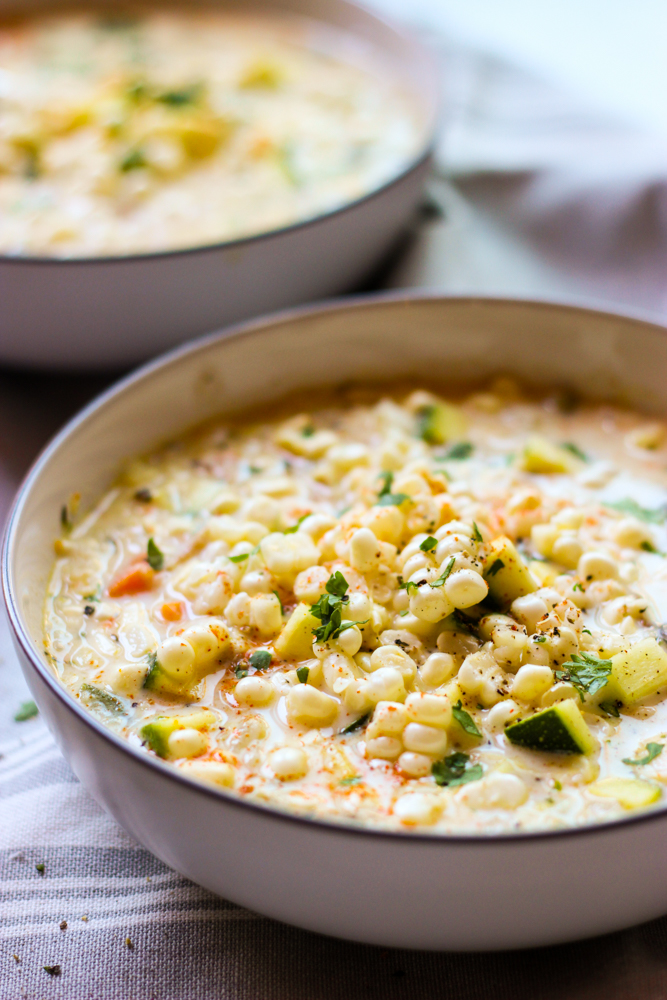 3. Goals for June
Along with structure, I also don't do well with clearly defined goals. I'm learning to reframe goals in a way that makes me want to do them and to keep goals loosely defined and written more as intentions. I like to think of them more as forward arrows, but not a black-or-white, you accomplished this or you didn't sort of thing. For some people I know that works well, but I tend to not work well under those circumstances.
This month I want to be intentional about reaching out to new people. We have a small, close group of friends here and I love spending time with them. But I do love meeting new people too, it just isn't my comfy default. So my goal is to reach out to some new people that friends have connected me with, new people at church and be open to social situations where I don't know a lot of people.
Finish Marci's online training course I'm currently taking and learning so much from. So much. I had heard so many people who have been practicing for years rave about her course so I knew I had to take it. I'm so glad I did.
Set aside some time to read for pleasure each day – even if it's just 10 minutes.
4. One of the best burgers I've had
On Saturday night we went over to our friend's house for a cookout and I had one of the best burgers I've ever had. Not kidding. Apparently, Pete bought pre-made burger patties at Whole Foods so I guess that's the secret. Or perhaps just the idea of putting a lot of cracked pepper and onions in a burger makes it awesome. Either way, it was awesome. I've had really good burgers out, but it's usually the toppings that make them so good. With this one, the meat itself was so good. We also had grilled corn on the cob and really good arugula salad with lemon olive oil dressing, grated parmesan, almonds and tomatoes.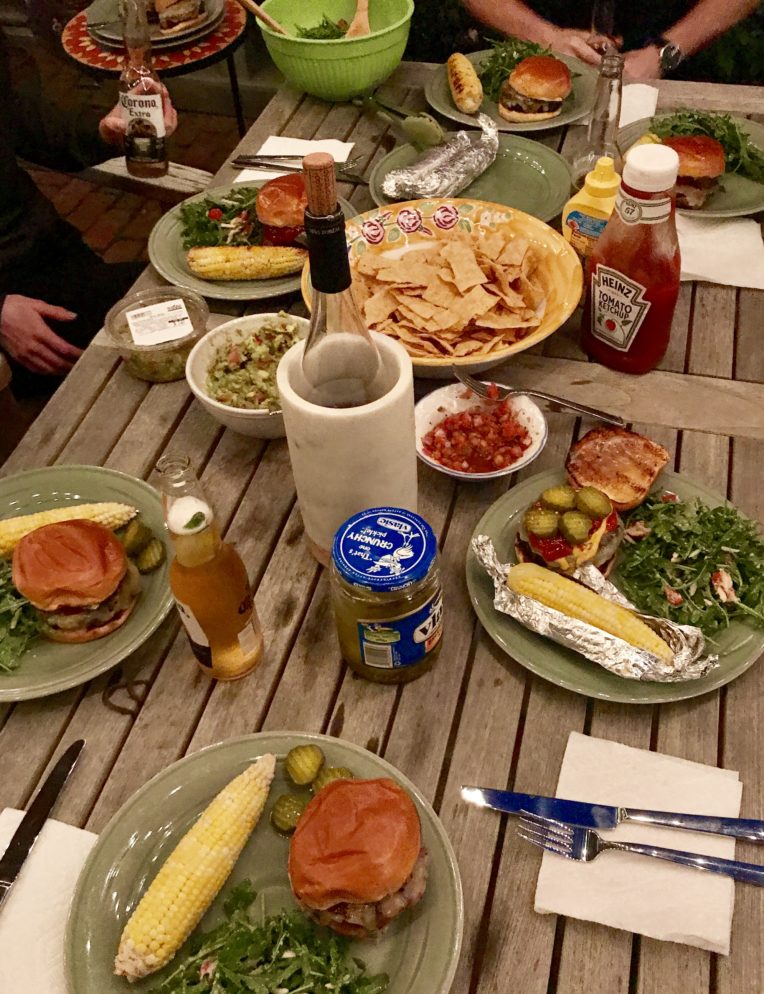 The weather was perfect. We sat around the bonfire eating ice cream sandwiches after dinner and even though it isn't officially summer yet, it sure felt like it. And it made me grateful for this little tight knit group of friends we have here.
5. How to Care for Yourself After Binge Eating
I had a reader email me asking about what to do after a binge episode. She's going through a hard loss and is finding herself binging for a day or sometimes a week. Many of you reading (and myself) have probably experienced a chaotic, out of control, stressful eating experience that left us feeling overly full and perhaps sick. And some of us may have experienced episodes of binge eating which are characterized by including at least three of the following… 1) eating more rapidly than normal 2) eating until feeling uncomfortably full 3) eating large amounts of food when not feeling physically hungry 4) eating alone due to feeling embarrassed eating around others 5) feeling disgusted, depressed or very guilty after eating.
The guidance that I'm sharing here is really just a starting point. Given your own experiences, emotions and situation these might resonate and they might not. And there are always many other things to take into consideration. But I hope this is helpful.
Practice self compassion – if that feels weird and awkward, that's okay. Can you shift your mindset from one of judgement to one of curiosity. What are you feeling right now? Can you identify what you're feeling and then recognize that you are human, those are hard feelings to feel and give yourself some compassion?
Don't get on the scale  – maybe you don't own a scale, but maybe you do and you're tempted to hop on there and get an objective value. Be kind to yourself, and don't do that. That isn't going to do anything for your physical or mental wellbeing. Our bodies are dynamic and they shift weight quite often. Your weight has no bearing on you as a person.
Recognize the impossibility of perfection – you are not perfect. You are human. A huge part of coming to peace with food and your body no matter what your history with food is learning to live in the gray instead of the black and white. You're human and sometimes you will make choices that don't serve you best. That's okay. Just because you made a decision that you wish you didn't, doesn't mean you're a failure. And it doesn't mean you need to self destruct and bully yourself. You're learning – there is no perfect way to eat or perfect body size to be and even though it feels true at times, eating a certain way or being a certain size have no attachment to your value as a person. And it is not the pathway to happiness. You're human and that means you're imperfect and messy and you don't have it all together – that's normal. Allow yourself to experience your humanness.
Continue nourishing your body – one of the most problematic things you can do after a binge eating episode is not eat. This puts your body in a really vulnerable place physiologically. By eating regular, balanced meals that include all the macronutrients you're sending the message to your body, "I will not deprive you of you food." which is a huge step in allowing your body to find equilibrium. From a metabolic and hormonal standpoint, regulating your eating patterns helps you become better attuned to your bodies needs and internal cues which in turn decreases your body's physiological vulnerability to binging. If your body isn't well nourished, no matter how much emotional work you do, your body is still going to be vulnerable to binging.
Process through your emotions – once you take care of the physiologic vulnerabilities then you have more space to work on the emotional piece. The emotional and physiological can certainly be worked on at the same time, but it's really helpful to make sure you're nourishing your body adequately first. Can you get curious and journal/process through what you feeling before/during/after a binge? What emotions are you trying to avoid with food? As you identify the precipitating events you can learn skills that help you better care for yourself and appropriately meet your body's needs. DBT skills learned in therapy are a really powerful part of this process.
Care for yourself the best you can – get good sleep, go on a walk in the fresh air to feel your body move, eat in a nourishing way, avoid other numbing mechanisms like drugs, alcohol, spending etc. Do the best you can in that moment.
Those are some starting points and certainly not the entirety of the story. I hope this is helpful. I think it's also really important to recognize that often we need support to work through these thing and that is okay. If you're feeling frustrated and stuck and lonely, I'd encourage you to reach out to a knowledgable RD and/or therapist to help you. We aren't suppose to be able to figure out this stuff on our own.
I hope you have a great week – share some thoughts in the comments!