I posted a day of eats back in March that gave a "behind the scenes" look at what I was thinking/feeling as I made food choices through the day and the feedback I received was that many of you found it really helpful in your own intuitive eating journey. I often hesitate to do a "daily eats" post (after doing them for a long time) because I don't want to sent the message that this is how you should eat. No two bodies are the same. So the way we eat, move and look will never be the same. All that to say, I hope reading about what went into making a food decision helps you in your own intuitive eating process. Or if you're unfamiliar with intuitive eating or new to intuitive eating, I hope this is resonates with you in a way that might spur you on to learn more. I'd love to hear your thoughts in the comments!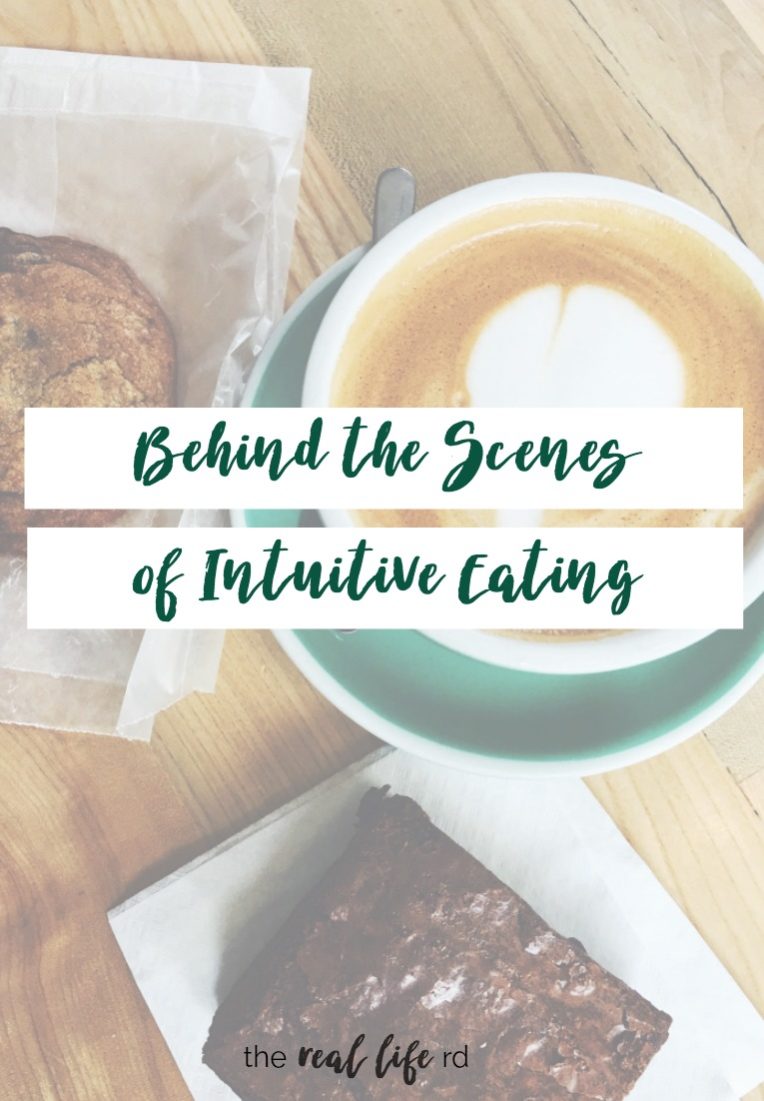 When I first began practicing IE, food decisions required a lot more thought and attention as I figured out my body and figured out what the heck intuitive eating even meant. That's normal in the beginning of this process. If it feels uncertain and shaky, you're in the right place. 🙂 In the beginning it feels hyper focused as you learn this new skill. Over time though, the decision making on what to eat becomes more subconscious and intuitive, where now years later it might take me 30 seconds to figure out what to eat. If it feels hyper focused for you right now, that's okay. You're right where you need to be in your journey.
Let's begin.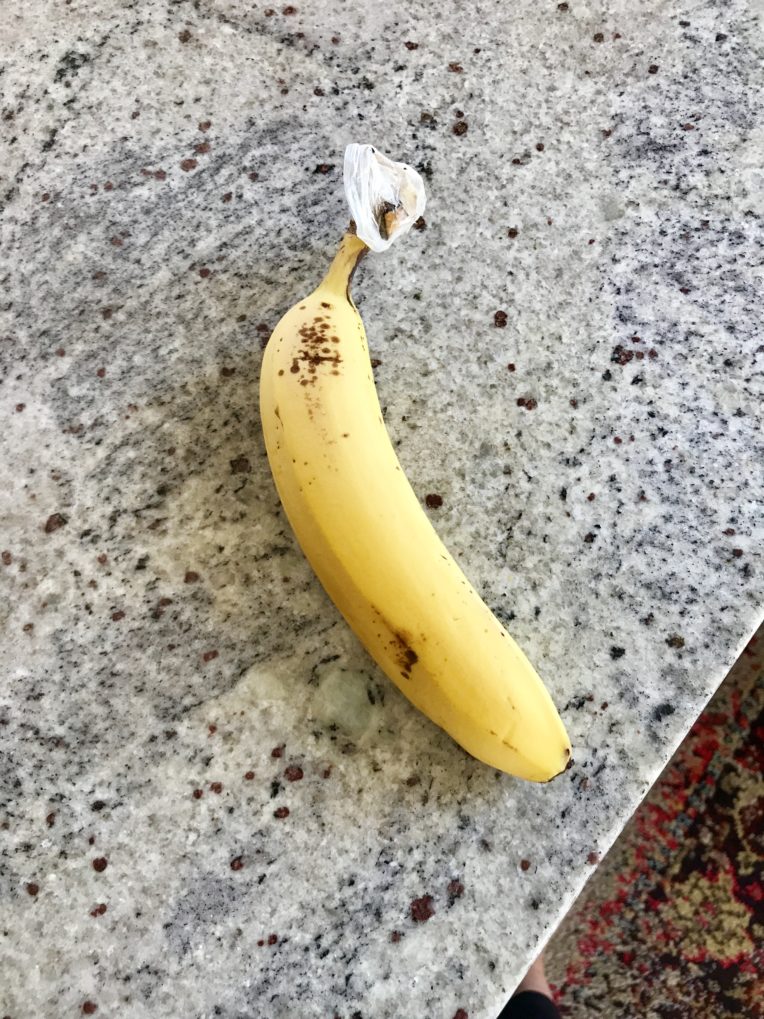 Lately, I've been waking up,  eating something and then most mornings going outside for some fresh air. The mornings have been so beautiful here. At least most mornings. It's not hot yet, the breeze is cool and not many people are out. I stroll the streets, listen to music, do some praying and try to clear my mind –> key work is try. This doesn't happen every morning, but I'm realizing when it does I feel way less frazzled going into the day. So yesterday I ate a banana, drank some coffee and headed out on a stroll. Sometimes I might eat yogurt. This isn't a "ohhh, I'm craving that" food decision – it's just more habitual to get something in my stomach. A banana or yogurt are convenient and enough to tide me over for 30-45 minutes.
While I was walking I had a mega craving for an egg and cheese sandwich. With the weather getting warmer, I feel like that's thrown off my morning appetite. Sometimes all I want is a bowl of cereal, but that never keeps me full for long. Today, I had a craving so I hopped on it. I wasn't craving anything sweet and all I wanted was savory. I almost stopped to pick up an egg sandwich because that's really convenient, but I knew we had eggs and really good cheddar at home so on my walk back I picked up a bagel from the local coffee shop for $1.60 and headed home to whip up a breakfast sandwich.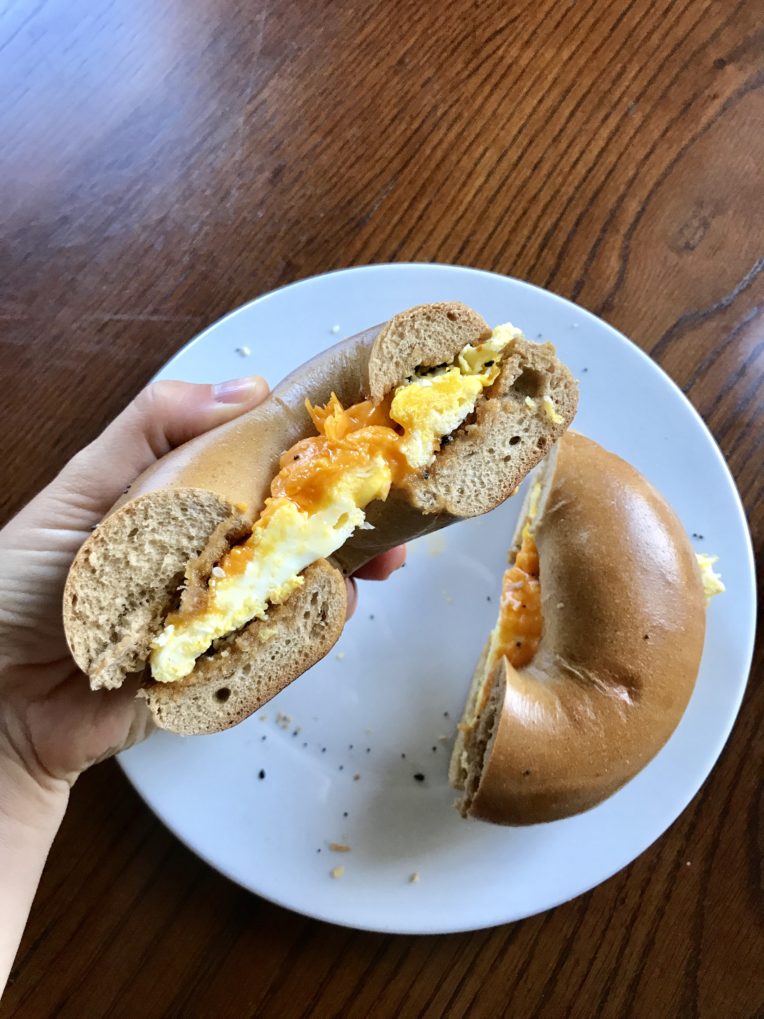 I was really hungry and hunger hit me fast so I knew I needed this to be hearty. So I toasted up the bagel, scrambled a couple eggs because I don't like runny yolks when I'm trying to eat a sandwich and grated lots of sharp cheddar. I wanted it to be really cheesy. And then since I was really craving savory, I buttered the bagel when it was done toasting and sprinkled on lots of TJs everything seasoning. HIGHLY recommend buttering the bagel – it made this egg sandwich 100x better. I think they do that at restaurants which is why egg sandwiches are so much better eaten out…maybe? Bagel = carbs. Eggs + cheese = protein + fat. Butter = fat. As I was eating this I got about 80% of the way through and felt myself feeling full but it was so freaking good that I wanted to finish it. Finishing the sandwich left me a teensy bit over optimal fullness, but that's fine – I knew that meant I probably wouldn't need a morning snack.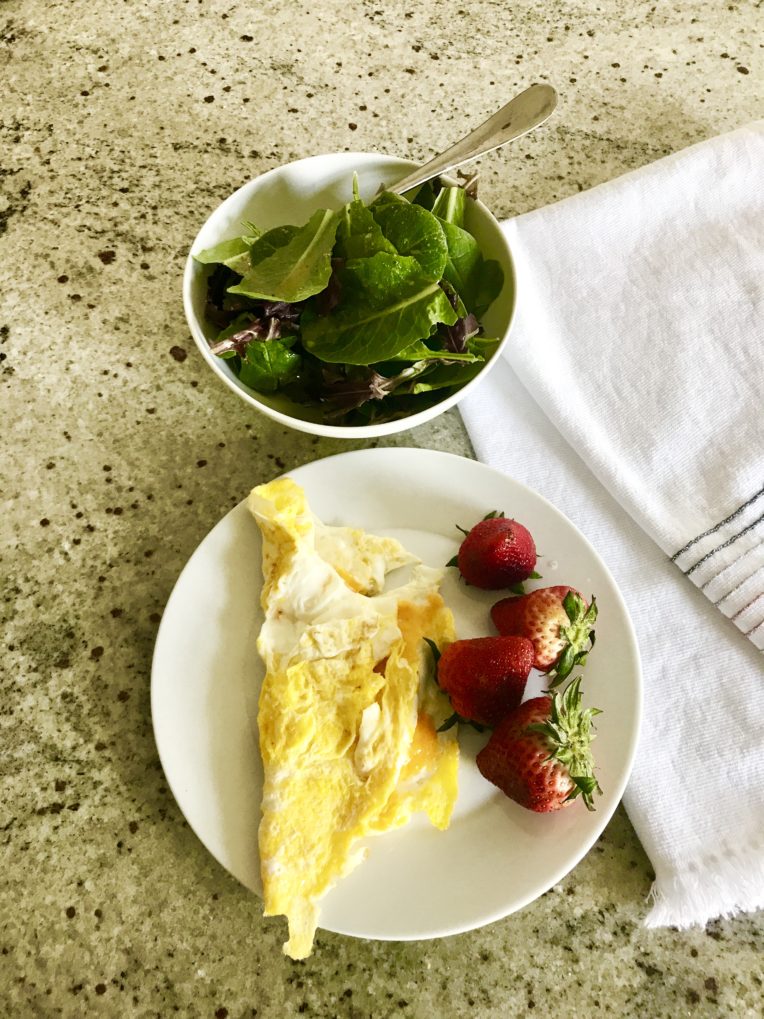 Breakfast held me over for a good 4 1/2 hours and then I took a break from seeing clients for lunch. We are low on groceries this week so meals have been a little unconventional. This is a situation where I'm probably not going to have the most satisfying food experience and that's okay. Intuitive eating isn't about always having the most epic meal. The cool part is that with IE, the next time you eat you get to having whatever you're craving so one meal isn't the end all be all. When I thought about what sounded good – the options where a salad with rotisserie chicken, cheddar, veggies, almonds, cranberries and dressing or eggs + cheese with salad. I didn't want a big salad. Usually I don't crave the same thing twice in a day, but yesterday I did so I rolled with it. If you're someone who thinks you can't eat the same foods twice in a day (common foods I hear are peanut butter, bread, pasta, cheese, etc) I'm going to encourage you to challenge that thought. What will happen if you do? Where do you think that belief originated from? What makes that belief true or untrue?
I scrambled up a couple eggs with sharp cheddar and made a really basic "salad" which was mixed greens + olive oil + balsamic + sea salt. Plus strawberries for some sweet flavor.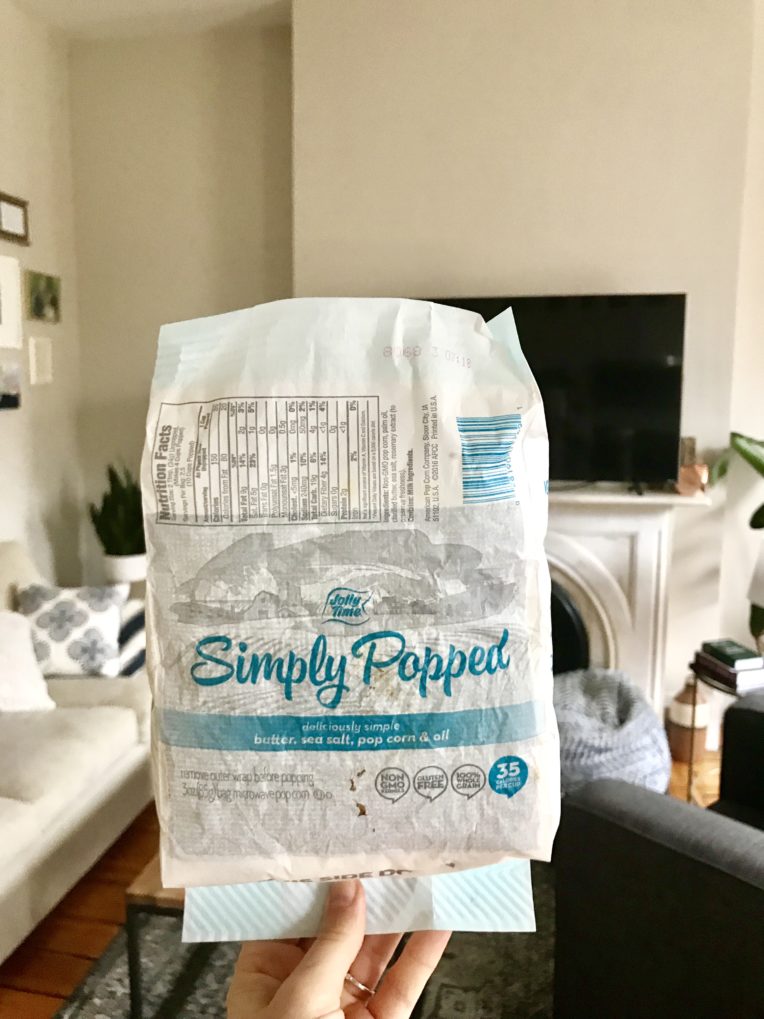 I knew that lunch wouldn't be enough. It had a good amount of protein + fat from the eggs, cheese and olive oil but was lacking in the carb department. A few strawberries doesn't cut it. And for me, I find that having fruit as a carb source in a meal usually doesn't satisfy me. I need a potato or a grain. After eating it I was probably a six on the fullness scale and only like 70% satisfied. I had a lot of writing to do that afternoon and whenever I have a lot of writing to do I like to munch on something. Popcorn it was. Salty + savory + carby which is exactly what I was craving. I ate this bag of popcorn over the course of a hour or so, minus the few handfuls Nick stole when he smelled it from my office.
If I eat a solid lunch, I usually don't get hungry or think about food for a good 4ish hours. If you find yourself still thinking about food after eating a meal where you feel full, take a look back and think about how satisfied you were. Or did you feel a bloated type of full from a lot of veggies/fiber or a sense of satiation from a well rounded meal with all the macronutrients? Often too, if you've been restricting food (even slight restriction) and not eating enough, your mind can often feel hungry even if you feel like you're nice and truly full. That's okay. In the journey towards becoming an intuitive eater, the body heals before the mind does.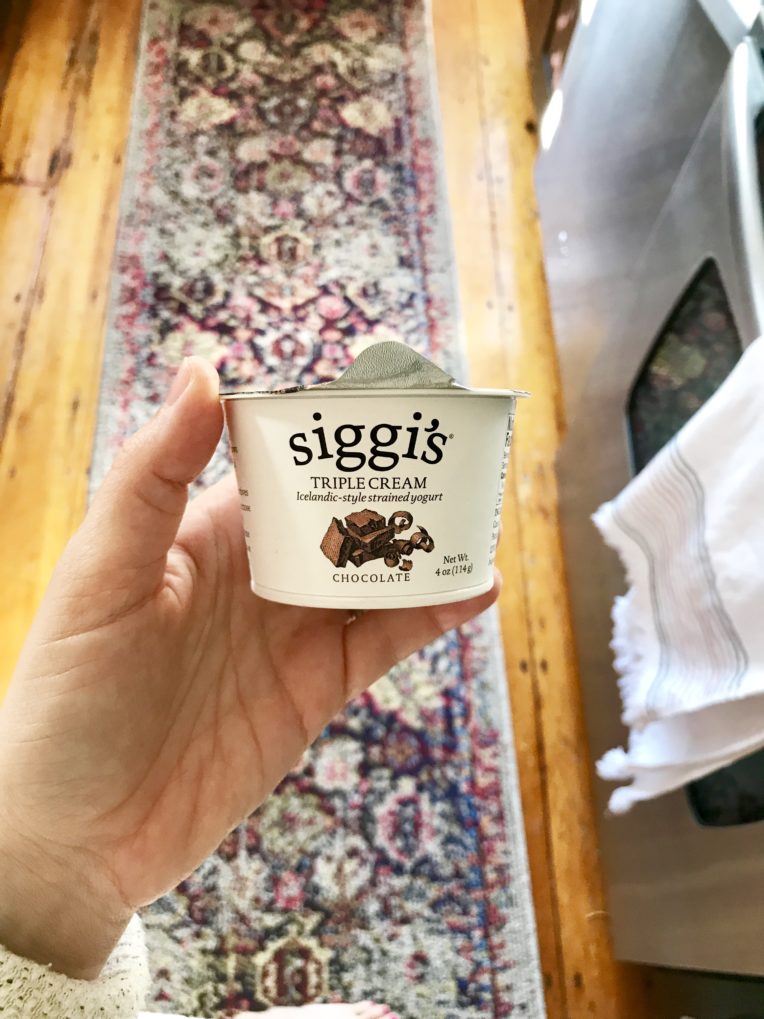 When I started to feel distracted with my work, I knew that was a sign of hunger and then my stomach felt empty. It was in the high 80s yesterday so cold + creamy is what I was craving. I grabbed a Siggi's triple cream yogurt from the fridge.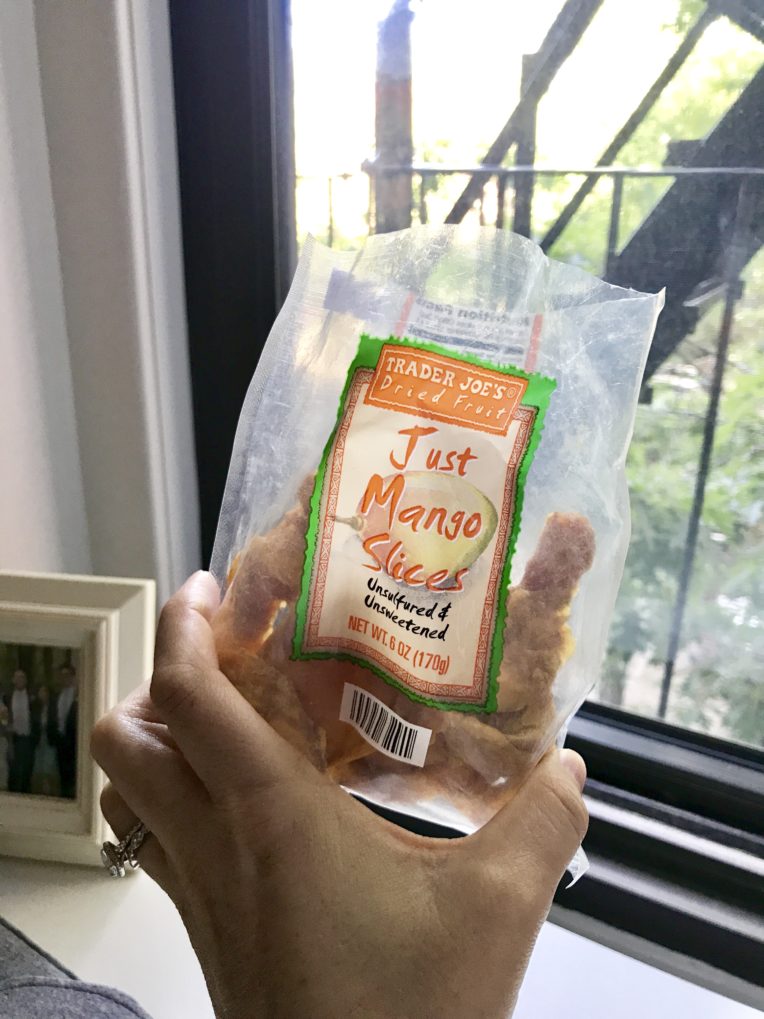 And then snacked on some dried mango in between the Thursday Instagram live Q&As I do and the Q&A sessions I do for my online course. In the afternoon, unless I have a good 3 hours before dinner I don't like to get "meal full" – so I usually snack in a way that keeps hunger at bay, but I also don't feel full and satisfied like I would after a meal. The yogurt is made with cream and whole milk so it has a good amount of fat + protein to hold me over. I usually wouldn't eat the mango by itself unless I was eating a meal in 30 minutes or so because although mango is super tasty and a good source of quick energy from the simple carbohydrates (my brain felt like it was dragging a bit yesterday so I thought some simple carbs would give me a little jolt ha) it's not going to really satisfy hunger for long. But pairing it with fat + protein, this snack held me over until dinner without getting me too full.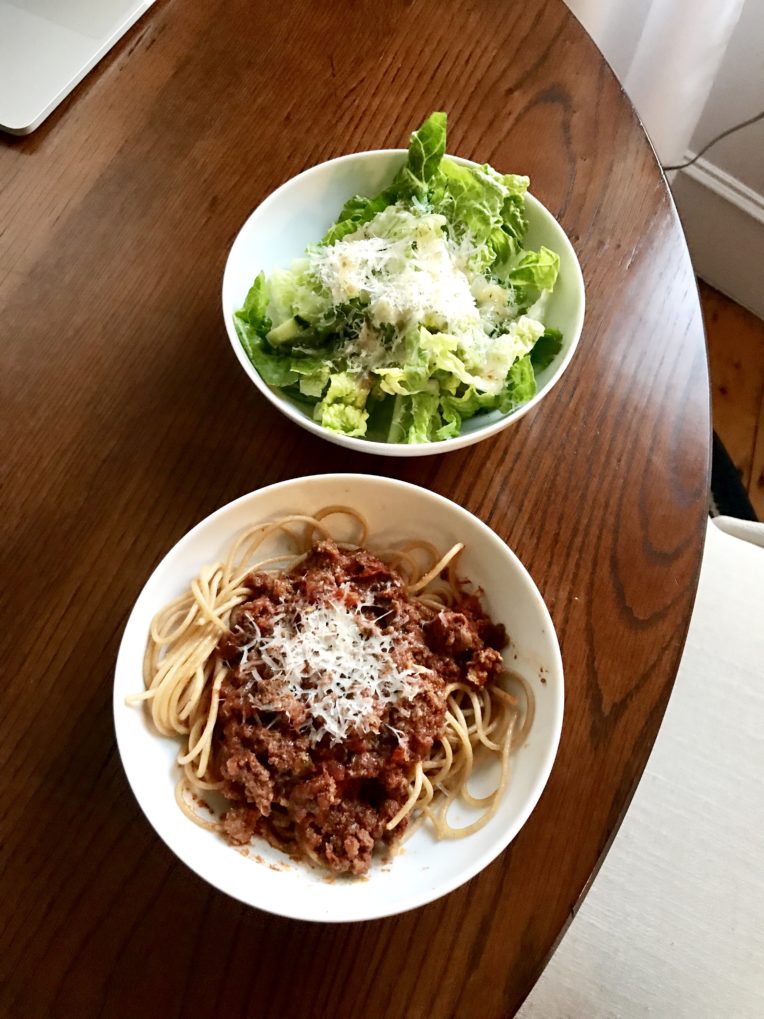 This week I made spaghetti with meat sauce for dinner so we reheated those leftovers. All I did was brown a pound of ground beef that I added a jar of marinara to and then doctored it up with italian seasoning, crushed red pepper and a hefty spoonful of brown sugar. My mom use to add brown sugar to meat sauce and it makes it extra tasty. We ate the sauce over whole wheat noodles with parmesan and had a super simple salad on the side – romaine, cucumbers, parmesan and greek dressing.
Meal planning and wanting to eat intuitively isn't perfect. I wrote a post on how I go about that here. I really enjoy the convenience of having something already made, but that doesn't mean that it's going to be 100% what I'm craving. This was probably 75% of what I was craving. To feel satisfied, I eat a nighttime snack that is 100% what I'm craving. I was pretty hungry before eating dinner (probably a 3ish on the hunger/fullness scale) and afterward was about a 7ish. Sometimes I overshoot at dinner and end up closer to an 8, but most of the time I try to be mindful and get to comfortable fullness. I say that because intuitive eating isn't about getting it right all the time. That's impossible. It's about doing the best you can to listen to, and therefore care for your body.
Usually about an hour or two after dinner is when I'll have a snack. Usually it's ice cream or a baked good or something like that. I'm not necessarily hungry for this snack but it serves two purposes 1) satisfaction and 2) tops me off so I don't wake up in the middle of the night hungry or wake up in the morning starving. I hate waking up and feeling like "I need a hearty breakfast right this second!" because I like to drink coffee and go on a walk before breakfast.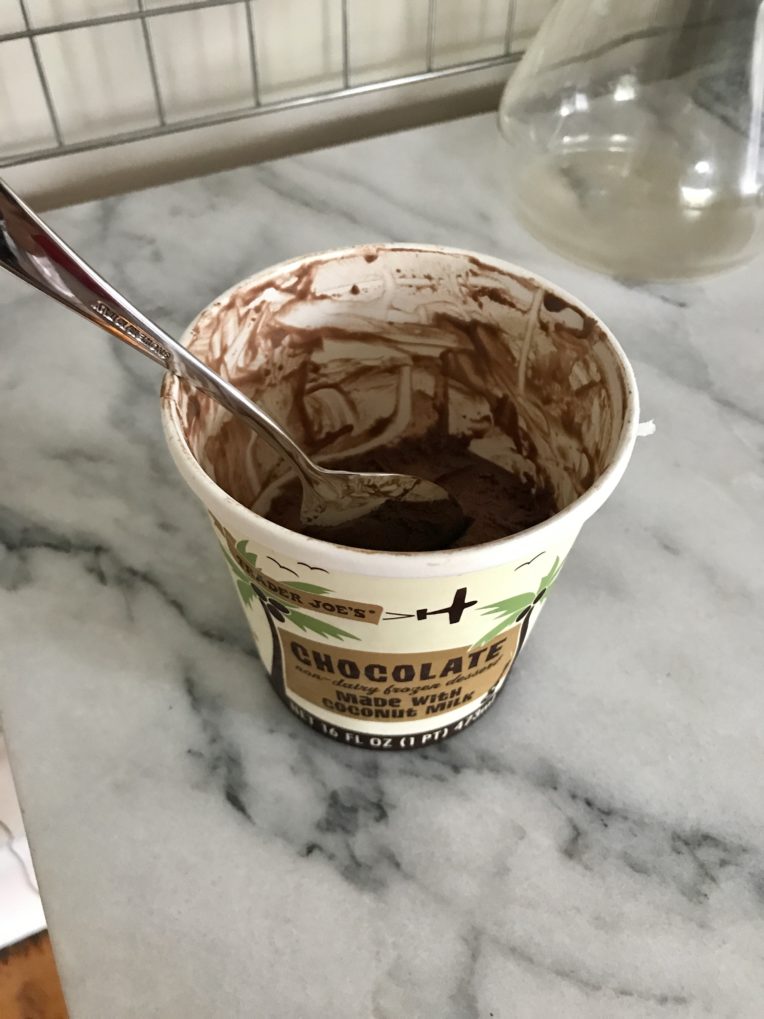 I most often eat ice cream. I use to feel insane around ice cream. It was one of those foods that I felt like I had no control around. It took a lot of time and plenty of times where I ate too much ice cream, but years later I find that incorporating it regularly into my eating has made me feel totally competent around ice cream – for me, ice cream now it the equivalent to a salad. I can say no or yes and eat it whenever. But that was a long time in the making so I hope that encourages you to stick with this journey. Sometimes I eat Breyer's, sometimes I eat this TJs coconut milk, sometimes I eat Ben and Jerry's and sometimes I eat Nada Moo. We keep a variety on hand in the freezer.
Remember, intuitive eating certainly isn't perfect, it doesn't look the same for everyone, and it's an ongoing process of learning to care for your body in different seasons of life and under different circumstances.
I'd love to hear in the comments where you're at with intuitive eating (maybe you're like, Robyn what the heck is intuitive eating?) and what you're learning. Happy weekend!