Being in a place where you want to learn intuitive eating and stop dieting, but also lose weight is pretty normal place to be in this journey. Desiring weight loss is mainstream in our culture, so if you desire to lose weight, that makes sense. In fact, expected. That doesn't mean intuitive eating is a means to weight loss – it is not at all and if you see it marketed as that, that's called a diet and not intuitive eating – but I think it's normal for someone to be grappling with wanting to change their body, but also wanting to find freedom with food. You can be in that tough, tense space and wrestle with these concepts…that's part of the process. And you can still want to change your body when you begin body image work. That's normal. The tough part is coming to a place where you're no longer actively pursuing weight loss or changing your body. Attempting to manipulate your body will get in the way of your IE journey and your ability to work towards body tolerance and acceptance. If you're not there yet, that is okay. You're right where you need to be and giving yourself time and space to wrestle through that is really important.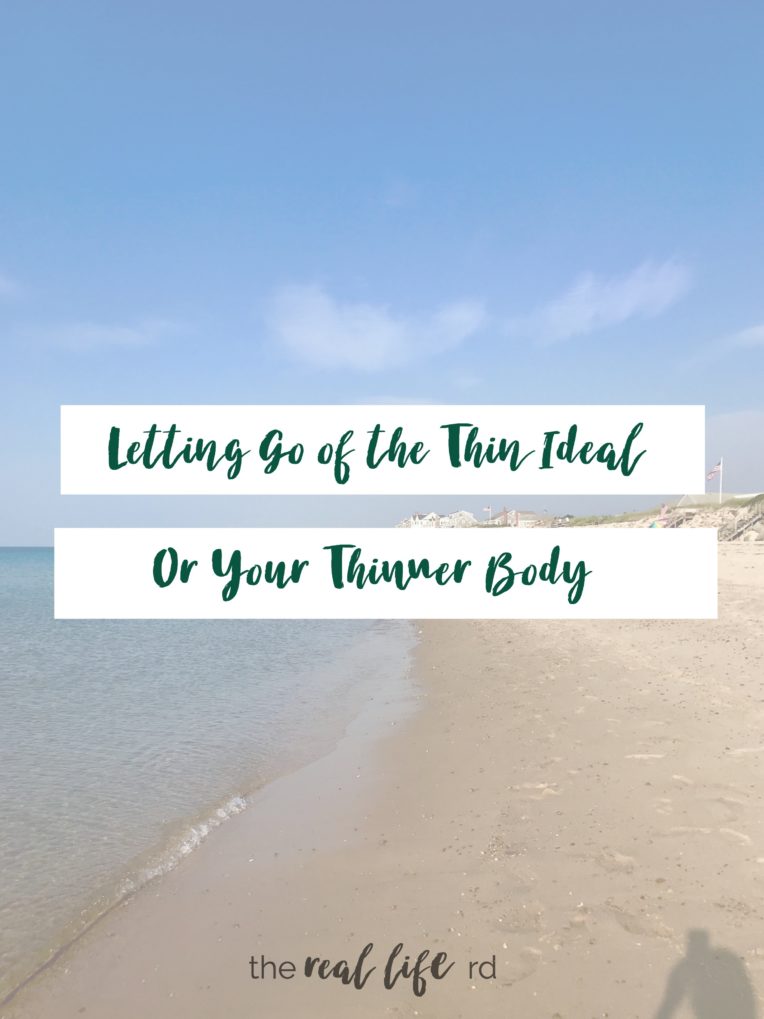 Body image work is hard. And it's far more complex than, "love yourself." It's messy and uncomfortable and at times scary and there's a large dose of uncertainty. In reality, many of us will never love our bodies. We can work towards acceptance and appreciation and caring of our bodies…but in order to have healthy body image you don't have to love your body. That's a high expectation that some will experience, but it isn't a requirement for healthy body image.
A big part of the intuitive eating and body acceptance journey is letting go of and grieving the thin ideal. Or if you already live or have lived in a small body, letting go of your "thinner" body that once way or that is currently unsustainable. In order to find acceptance, we often have to go through a grieving process.
You might grieve the social events, relationships or other things you missed out on while dieting and being consumed with your body and weight. You might grieve all the time and energy you spent working toward an ideal weight or body size that wasn't sustainable and that is now changing. You might feel grief over the possibility that yo-yo dieting increased your set point due to weight cycling. Maybe you're grieving the physical harm done to your body through dieting, over exercising, laxative abuse, or other harmful behaviors. It can be really hard to come to terms with a medical diagnosis caused by these behaviors. I've had several clients share with me that after they became pregnant without the help of fertility treatments because their fertility struggles were caused by nutrition/exercise choices, they were really sad and angry about what they had put their body through with diet and exercise. Perhaps you've dreamed off all the things you would do once you got to ___ weight or body size or how you would feel when you were ___ body size. Maybe you have fantasized about life simply being better or your problems going away once you lost the weight.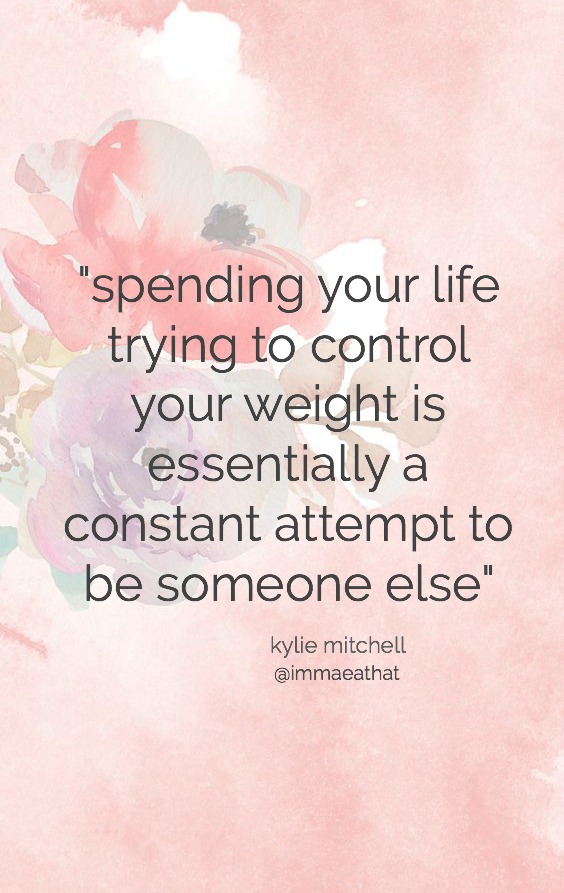 Letting go of the person you have dreamed of being can literally feel like losing a close person in your life. Accepting that no matter your body size, you are still you and you still have to deal with the mental and emotional problems in your life no matter what your body size can be really hard. But letting go of these things allows you to actually begin living your life. It allows you to begin showing up for yourself. Contrary to what we think, we actually have very little control over our bodies – unless we are willing to do extreme things which sometimes people are willing to do for a short time, but not for life. Genetics are powerful. And our socioeconomic status, ethnicity, and race are a few of many other factors that greatly affect our body size and health, but that we actually have very little or no control over at all.
There is a level of uncertainty to the journey towards intuitive eating. I tell my clients that there are 3 possibilities with your body when you embark on IE and letting go of dieting – your body can get smaller, stay the same, or your body will get larger. There are no guarantees in the journey and that can be terrifying. But what IS worthwhile is choosing to engage in behaviors that honor your health and help you care for your entire self – body, mind and soul – versus choosing behaviors to manipulate your body size. It might get better before it gets worse, but in the long run it is so worth it.
I read a post a few months ago by my RD friend and colleague, Rachel Hartley  on moving through the stages of grief when it comes to body acceptance that I would highly recommend reading. This process is an ebb and flow. This ebb and flow is why I say we never really arrive. There's no finish line. Life is always changing and there were be times in our lives when things happen that make us really vulnerable to negative thoughts about our body or make us want to go back to dieting or exercising unhealthily.
What I found to be really helpful in my journey and what many other women have found helpful is writing down all the things you lose by trying to control or being obsessed with your body size. Diet culture is really alluring and enticing. It shows you all the positives (that are often unrealistic and untrue) and none of the negative. That diet your friend is on sounds so good when you're feeling uncomfortable in your body. But what would you lose or what would you have to sacrifice to get there? What would you miss out on? How would your relationships be affected? What do you want to remember in the years to come – obsessing about food and your body or living your life in a meaningful and purposeful way?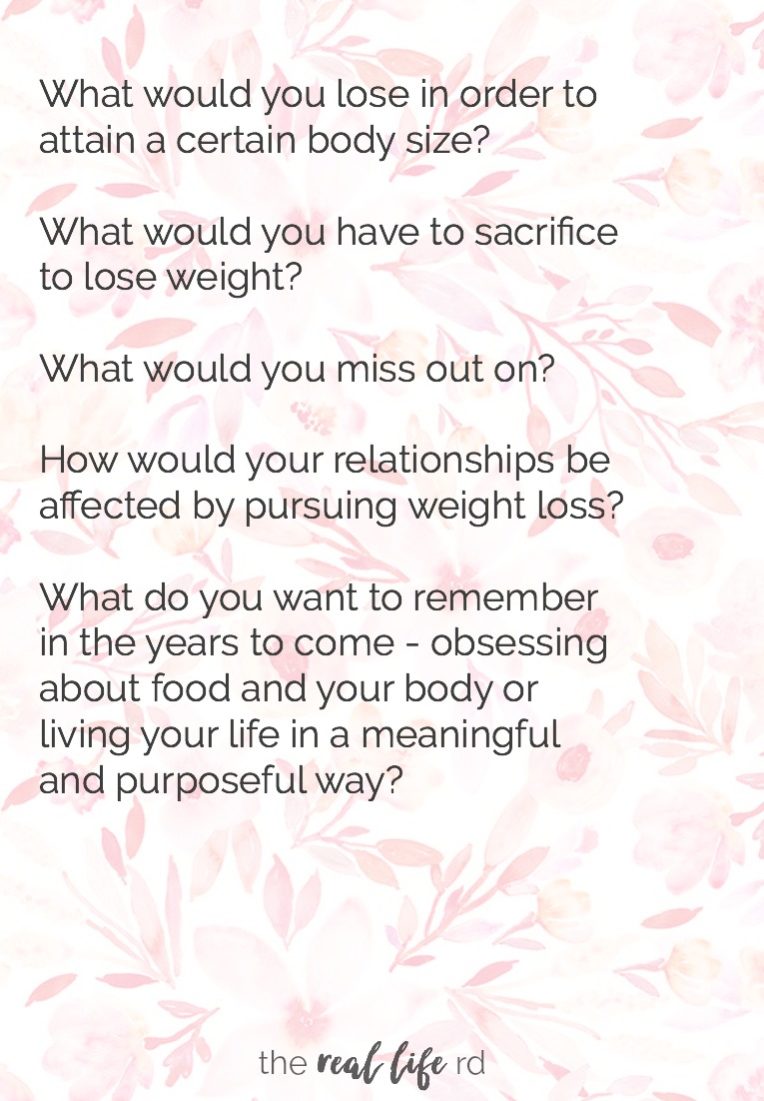 It's okay if you aesthetically prefer your former body or if you aesthetically prefer a fantasized thin body you've never had. I think you can prefer that body, but accept and appreciate the body you do have at the same time. We can hold them both. I prefer my smaller body, but the sacrifices I would have to make to get there are 1000% not worth it to me and I much prefer the whole person that I am in the body I live in today. Nothing is worth the feeling of truly and fully living.
Maybe you're on your intuitive eating journey, but deep down holding onto hope that one day you'll fit back into those shorts you once wore. Maybe you're eating more flexibly than you have in the past, so things are better, but you're still thinking about your body often and terrified of it changing. Maybe you're scared that you'll never be able to stop eating if you fully embrace intuitive eating and walk that path, or maybe you're terrified your body will never stop gaining if you truly let go of control. Those are real and honest feelings and you are not alone in that. I would really encourage you to dig deep into the Intuitive Eating and Health At Every Size (HAES) concepts.
The books, Intuitive Eating, Health At Every Size and Body Respect are great places to start. HAES and IE do not mean, "eat whatever you want and be happy" Both concepts are very concerned with physical health while also being concerned with one's mental and emotional wellbeing…which ultimately impact physical health. In the same breath, I recognize that embracing IE and HAES for me, in a culturally accepted thin body, didn't come with the added layer of stigma and oppression that it would have if I was living in a larger body. Embracing this concepts can be really hard so give yourself time and space and safe people to process this with.
Letting go is a key part of being able to come to peace with your body and food. It's hard and it's scary and it's uncertain, but you'll never know how full and meaningful life could be until you release the grip of diet culture and decide to give yourself the opportunity to experience what that life might look like.
I'd love to hear your thoughts and own experiences in the comments <3