1. Weekend with Alexis and Simi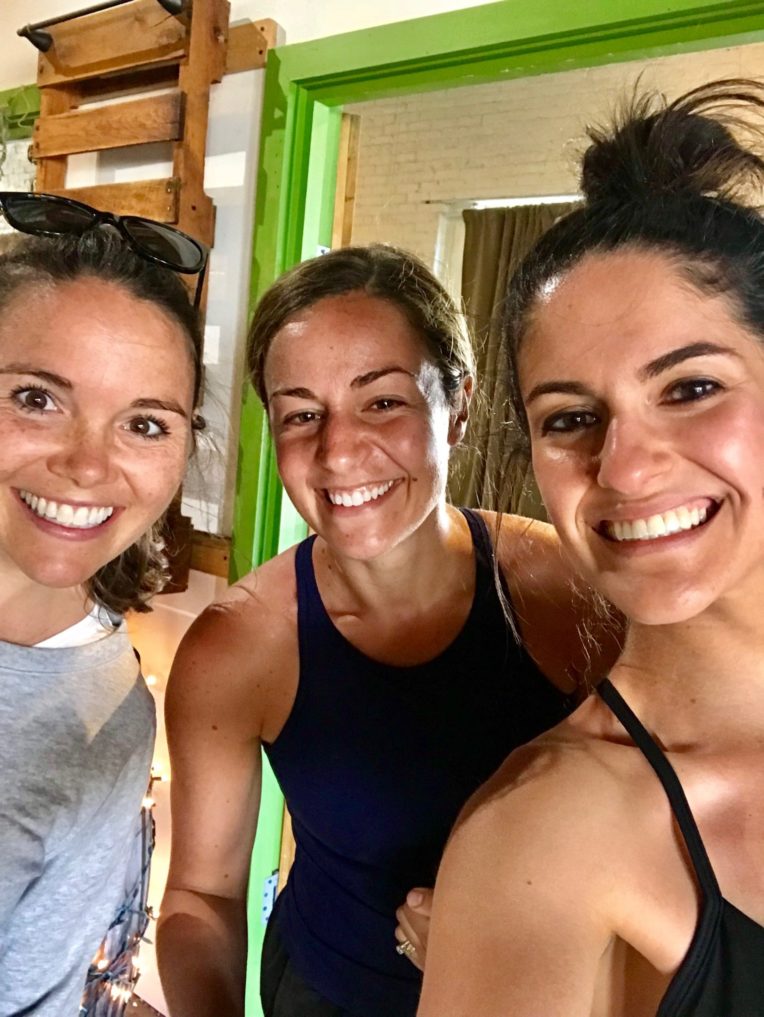 Alexis and Simi came to visit Boston this weekend and saying it was a blast is a complete understatement. Friday we had lunch at Dig Inn and then explored Boston on bike and then ate dinner at Kava – an amazing Greek restaurant in the South End I highly recommend. Saturday was the greatest – we took a day trip to Portland, Maine. I've been wanting to go forever! We picked up donuts from Holy Donut when we got there and planned to take a ferry ride but then the boat got too full and we couldn't get on which was a bummer. Oh well.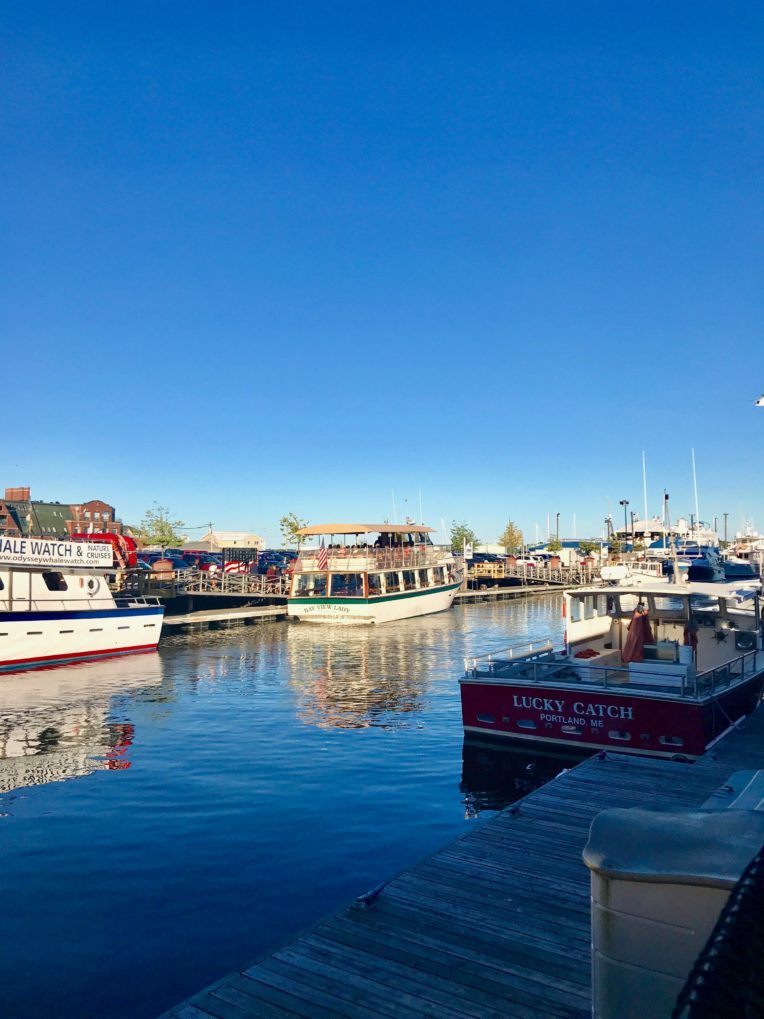 Instead we sat on the dock eating donuts and then spent the morning walking the Back Cove Trail along the water before stopping for lunch at Local Sprouts Cooperative. After lunch we went stand up paddle boarding (the water was choppy and the tide was strong – aka it was HARD) and then went to Urban Farm Fermentory – a really cool place that has all kinds of kombucha, hard cider and beer on tap.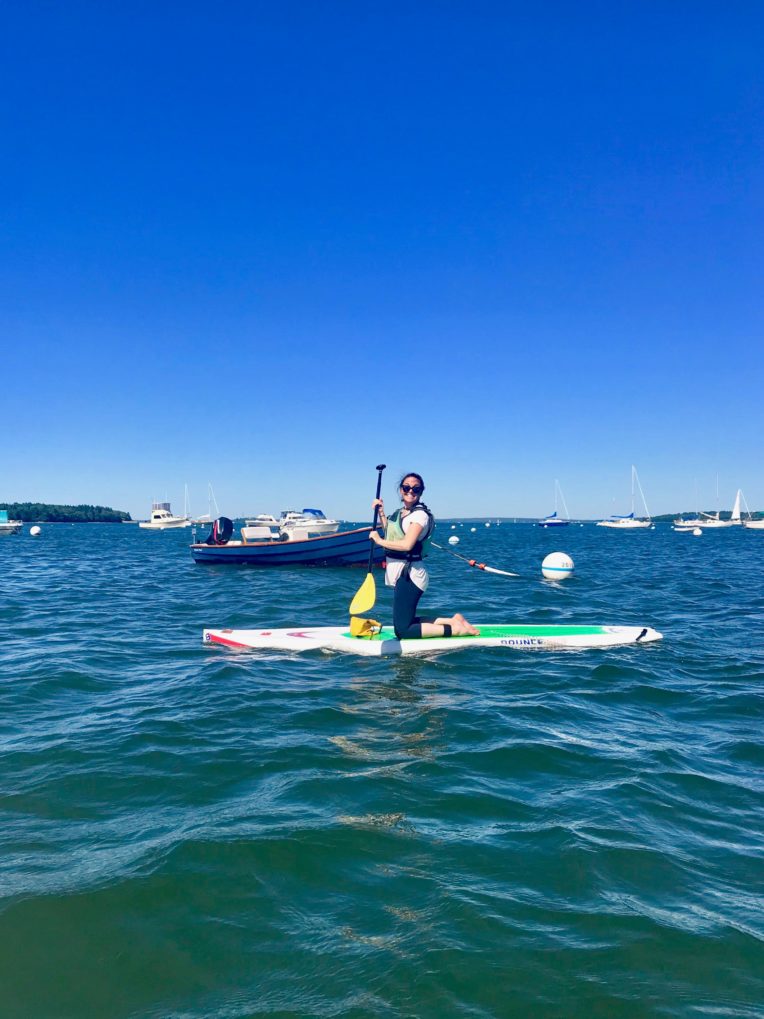 We ended the day with dinner on the water at Portland Lobster Co. where we listened to live music, sat outside, and ate lots of lobster. I've never eaten a whole lobster and probably never will again – give me lobster already cleaned and stuff. But it was delicious and the atmosphere was so fun.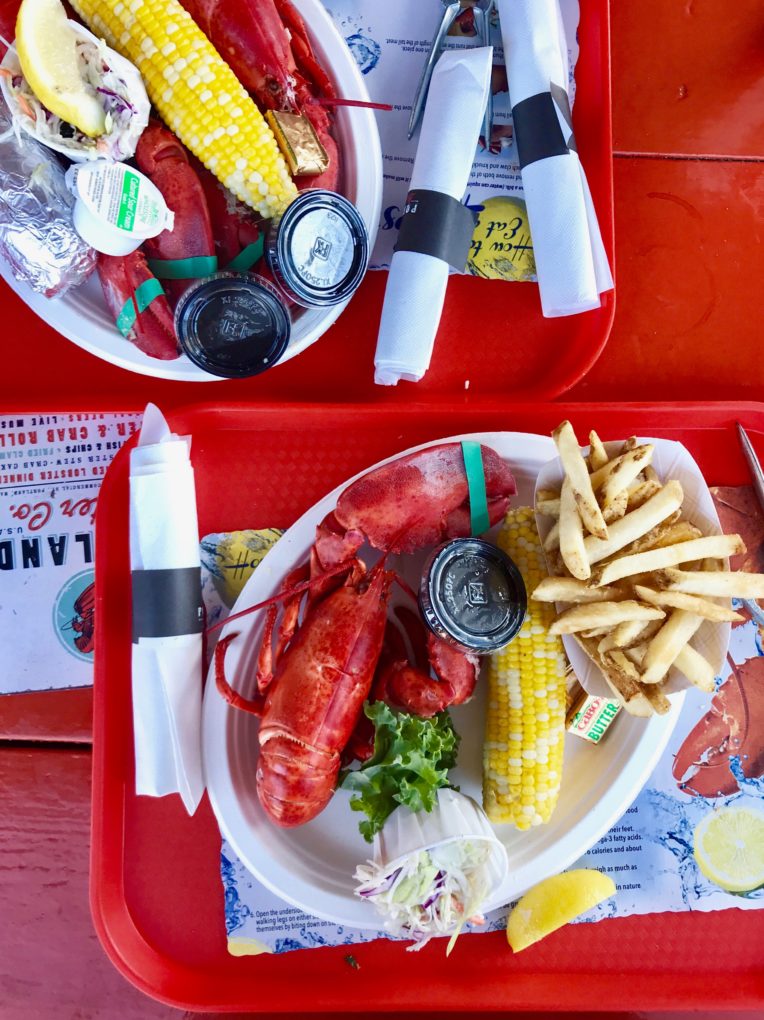 Sunday, we brunched over in Cambridge at Alden and Harlow and then strolled around Cambridge and then drove over to Jamaica Pond to walk and explore. We grabbed Whole Foods hot bar for a quick dinner on the way back and then sadly said goodbye. It was such a great weekend. I wish they lived here!
2. Pinterest Gem
I found this image on Pinterest and thought it hit the nail on the head. I love when you find words from someone else that articulate a thought so well. I hope this is encouraging or motivating or whatever you need it to be for some of you reading. <3
3. Update on my NP job
I had a few people ask for some updates on my NP job in one of last week's post and so I thought I'd share some. I'm not intentionally withholding, I just forget/didn't think about sharing. Oops! I mentioned back in May that I was starting a new NP job at an inpatient eating disorder hospital. For those of you that have stuck around long enough for the saga…essentially it took WAY longer for me to get licensed in Massachusetts than I ever anticipated (5 months vs what I naively thought would be 6-8 weeks) so the delay in job was partly my fault, some of MA Board of Nursing for being characteristically slower than normal, and quite honestly…finding a job in women's health and/or eating disorders was slim pickings. It made me realize how lucky I was for the quick job search process after graduating in New York!
I'm about a month in now and really enjoying this new job. The biggest adjustment for me has been 1) not being in the outpatient setting and 2) not have the responsibility of also being a patient's primary care provider. I have always worked outpatient as a nurse practitioner (and an RD) so being in the inpatient setting is a totally different environment and higher acuity (obviously) so that was an adjustment. I'm use to caring for people for months and months, but with inpatient it might be a few weeks to a couple months max. I do LOVE the collaboration, multidisciplinary environment and high quantity of clinicians and providers in this setting versus my old job where it was a primary care office with myself and the physician. There are A LOT of things I miss about my last job (the physician was amazing and thankfully we still collaborate since he medically manages some of my private practice clients, I loved being able to do a lot of eating disorder work but also bits and pieces of everything else – mainly women's health and then anything else that walked through the door, I loved the family like feel of the clinic, and much more) but I am finding myself enjoying the unpredictability of the inpatient setting and the acuity of patients and everyone at this new job has been so kind and welcoming.
Right now I do admissions on the inpatient unit and then also cover when the attending physician is out – I also see some patients in residential when they're admitted. One perk, the flexibility! In the outpatient setting it's normal business hours and you have to stay on time with patient appointments. I suck at staying on time, so I found that really stressful. In the inpatient setting, I can spend more than 15 minutes with a patient. Because there aren't "times" you meet with patients, you can spend as much time as you need. If a consult comes in, acuity is prioritized and I see the patient as soon as I can. All new admissions must have a history and physical and initial assessment within 24 hours. Before that, they are seeing other important people like the RD, therapist, nurse etc. So for me, not being on that "only 15 minutes for each patient" time crunch is less stressful and my work feels more thorough. I also really love the non conventional hours – sometimes I work 7am to 2pm and sometimes 10am to whenever all the patients are seen. Some people thrive in a structured, regular schedule. I've learned over the years that I really work best with a lot of flexibility. That's that for now!
4. Tips and strategies for eating foods once "off limits"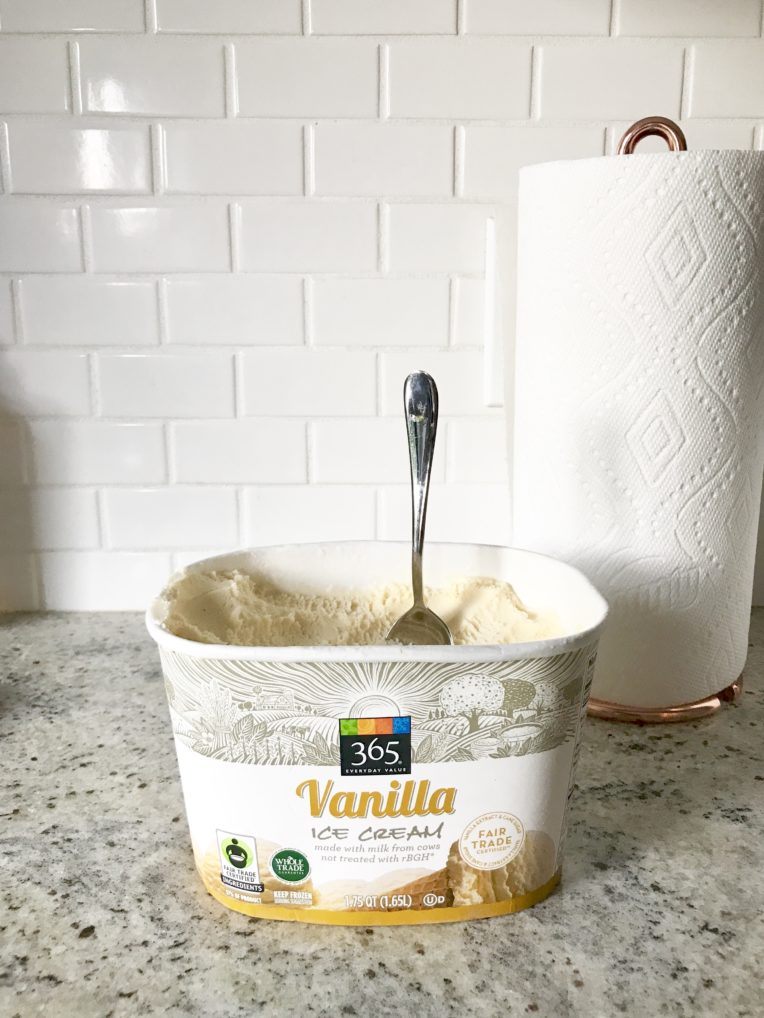 I think one of the most frustrating and misleading things when beginning your IE journey is this idea of "if you give yourself full permission to eat ____ food you'll stop binging, overeating or having negative experiences with that food." That idea is a lot of times false and can possibly make someone feel a lot of shame and like they've failed if they give themselves permission to eat a food, and then they aren't able to eat that food intuitively right off the bat. Maybe that resonates with you? If so, I 100% hear you and you aren't doing anything wrong. Think of intuitive eating as a skill. You have to learn the fundamental skills in order to move onto more advanced skills. If I came home tired and stressed from the workday and was feeling really hungry and there was a pizza leftover in the fridge and I was by myself that night…I'd probably overeat that pizza too. I'm really vulnerable in that situation! I'm having a human experience. So when we are working with clients, we get strategic about introducing previously "off limit" foods to bring down as many vulnerabilities as possible so you're in the best position to have a positive experience. Here are some things to consider that might bring down some of those vulnerabilities..
start with a low anxiety food not with a food that you feel most anxious about (for example, a homemade granola bar versus a cookie)
make sure you're not super hungry before eating – if you're eating ice cream or a cookie, maybe you eat that after a nourishing lunch or dinner, if it's pizza maybe you have a slice when you're about a 5 (neutral) on the hunger/fullness scale
eat with safe people – sometimes eating alone can make us more vulnerable to negative food experiences, but eating with a close person (parent, spouse, friend, etc) can make it easier
eat in a calm environment, not when you're feeling really stressed or highly emotional
plate the food and have a plan for what to do afterward finishing the portion – will you go on a walk, do deep breathing, journal or do some painting or coloring?
Then once you build some skills around that food you can move onto more vulnerable situations because you have more skills to deal with that.
5. We're having a baby boy!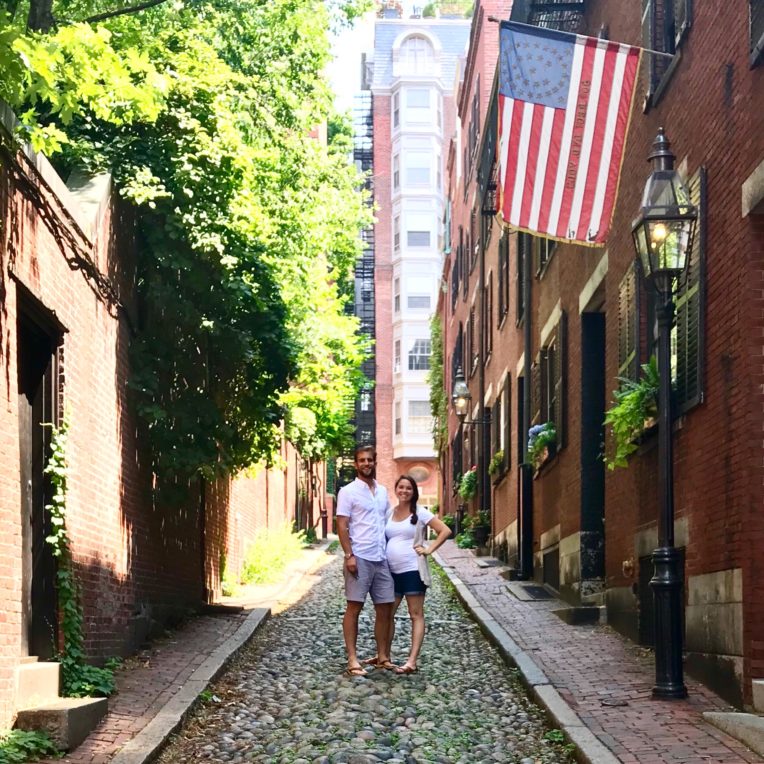 Saturday, I let the cat out of the bag on instagram that we are having a BABY. That feels nuts to type out. I didn't have a plan for when I'd share, but as the weeks went on it felt really special to be sharing in this with just our closest people and family for the first half of this pregnancy. We will be halfway to 40 weeks this weekend and now time is flying by! It's been a wild mix of emotions over the past several months – surprise, shock, deep gratitude, fear, sadness and guilt, excitement and anticipation all mixed into one. As we were planning to try for a family this summer, I was prepared to face fertility struggles. My mom had fertility challenges and I struggled with 10 years of hypothalamic amenorrhea. I also work with so many women who walk the painful path of infertility and have friends and family struggling to conceive right now and friends who have lost babies.
When we found out we were pregnant, knowing all that loss in the midst of our gift was really hard for me to process. I was excited we were pregnant, but also felt really sad and guilty that we had the gift of a baby when others wanted that gift too and had been through so much pain and heartache. It felt too good to be true, so for the first trimester I was terrified something would go wrong. I'm still fighting anxiety and fear which I think some of that is normal based on what other women have told me. I was all over the place emotionally. I was also nauseous most of the time, exhausted and just blahhhhh. Seeing human life form within my body though, has given me a deeply rooted sense of gratitude for pregnancy that I didn't have before hand. It is nothing short of a major miracle. If seeing baby announcement is hard for you, my heart is in both places and I'm thinking of you. And know that this will not be a space filled with pregnancy posts. If there are topics that people would like to hear about related to pregnancy, you can email me or share in the comments and I'll make a note of them, but I won't be posting regular updates. And lastly, THANK YOU SO SO MUCH for all the love you showed us on social media – I was BLOWN away by all your caring comments and read every single one. You are so incredibly kind. Thank you for celebrating with us in this new adventure!
Have a wonderful week!