1. Cheesy Zucchini Bites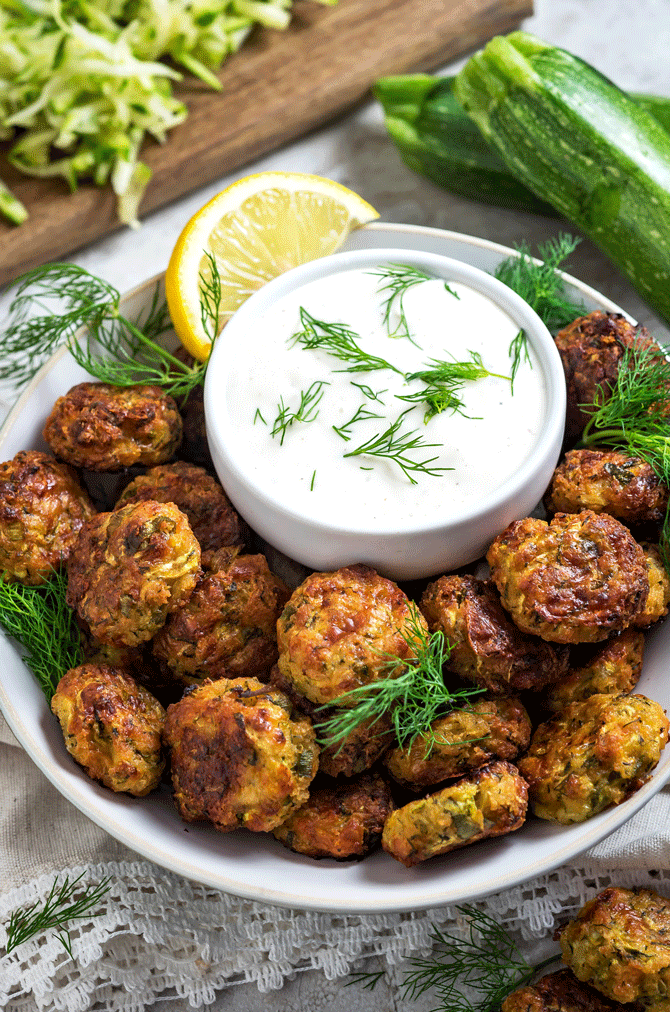 I'm not quite sure when I'll make these, but they are definitely on the top of my list. Tatte here in Boston has a summer breakfast dish that's sourdough toast topped with zucchini fritters, avocado, poached eggs and some sort of creamy Mediterranean cheese and it so good. In the winter the zucchini fritters change to sweet potato fritters but I have to say, I'm a bigger fan of the zucchini. These zucchini bites are reminding me of that dreamy breakfast and I can't wait to make these. They'd be great as an appetizer, but I also think they'd be awesome as dinner. Zucchini fritters, a salad and some chunks of bread dipped in olive oil. Sign me up. I also just realized the blog this recipe is from also has a recipe for southwest zucchini and corn fritters with avocado ranch AND zucchini, feta and spinach fritters with garlic tzatziki. Cheers to all the fried zucchini!
2. Structured Routine vs Flexible Rhythm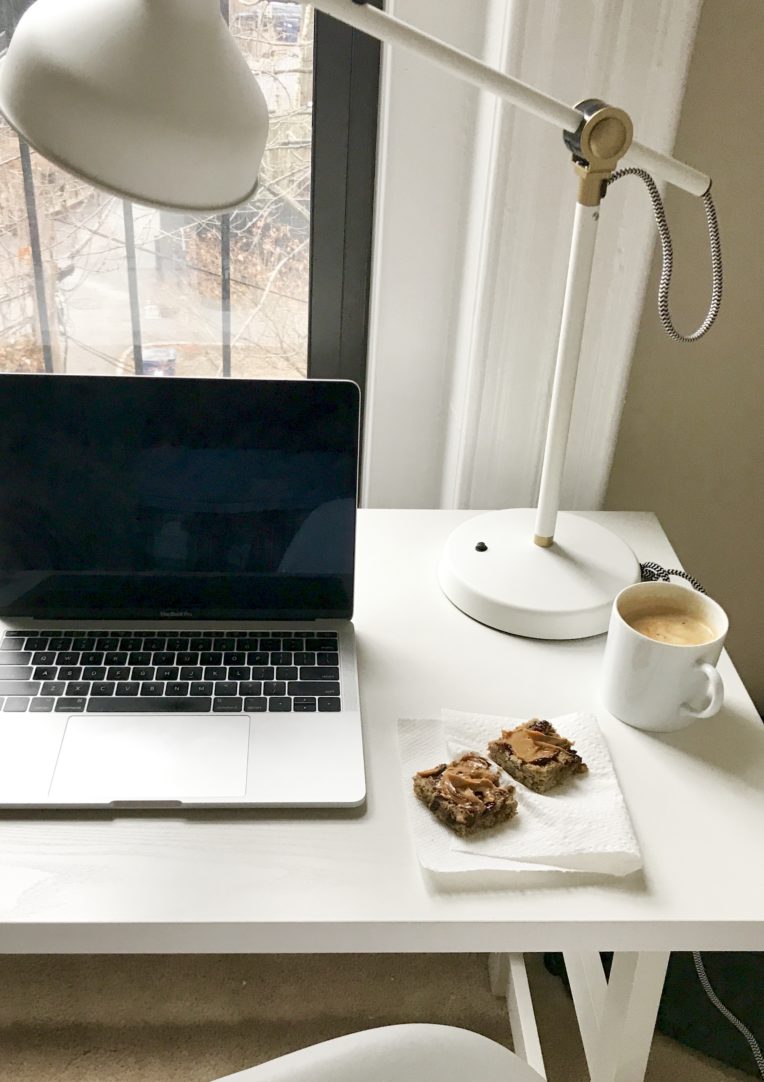 Hannah and I had a breakfast date on Tuesday morning. I meet with each of our lovely interns once a month for a mentor type of meeting where we can chat through anything they want and it's one of my favorite parts of the month. She started a co-op position at a local hospital and is really enjoying the structured schedule vs her student schedule. So we got to talking about people who thrive with more structure and routine and people who thrive with more flexibility and rhythm. I think of routine and rhythm as different. Routine is more specific and doesn't really change, while a rhythm isn't specific, but rather it's more of a flow that can vary based on the day. I love that some people thrive with routines and more structure and some people thrive with rhythms and less structure. How boring would it be if we were all the same?
I resisted being more of a rhythm person for years and I would attempt to make routine after routine after routine desperately hoping one would stick. They never did. And then about a year ago I realized, "this will never work for me" even though I wanted to be a routine person. Nick is a routine person through and through. I have friends that are routine people. Routine people usually work really well in a typical 9-5 work environment. The day is laid out, it rarely changes and that takes a lot of decision out of how the day will go and where to be when.
Then there's the other me including me, the rhythm people. I actually sense my body tensing up and resisting when I know I have to be somewhere at a certain time on one day, let alone M-F. I feel most productive when I have a blank slate that I get to fill in each day. My daily rhythms look like this –> wake up / bible / coffee + breakfast –> clients all morning and answer email/do small tasks in between sessions –> lunch break –> get some exercise in as a mind break –> lunch + shower –> writing/ projects/ meetings in the afternoon –> wrap up work between 6-6:30pm –> dinner + friend/Nick time –> read/watch tv + get ready for bed.
Depending on the day though, I might exercise in the morning (rarely, but I do love it when I do) or maybe I have a meeting in the morning, or maybe I have a friend date in the afternoon and then start work a bit earlier in the morning or wrap up things later in the evening. It's flexible, no day is the same and I can change things up based on what I feel like. I like that my current NP job fits this "rhythm" mentality since the days/times I work change and what I'm doing that day is always changing. After years of resisting being a rhythm person and wishing I was a routine person, I'm finally really enjoying working based on rhythms and I feel way more productive and less defeated since there's not a routine I'm trying to stick to but can't because routine simply aren't my thing. Are you a rhythm or routine person??
3. Working weekend
I came down sick with a nasty cold that started on Monday and reached it's peak Tuesday, Wednesday and Thursday. Woof. A cold sounds harmless, but man can they put you out. So that meant I spent most of the day on Tues/Wed/Thursday in bed watching Netflix and scrolling through Pinterest. I've never called off work at any of my NP jobs and had to on Thursday and I hated it. There was no way I was in a position to be working in a hospital, but I hate the idea of inconveniencing my co-workers. Thankfully I turned a corner on Thursday night and was able to work on Friday. Being out of it for most of the week meant I had a lot that went undone so I spend Saturday seeing a couple clients and then working from a coffee shop getting a lot of writing done. It actually rained for most of the day which was perfect – I find being in a coffee shop working away with other people while it pours outside to be so cozy. I haven't worked on a Saturday in a really long time, but it was really nice to have that day to do some catch up.
4. "If calories didn't exist, would you still do that exercise or eat that food?"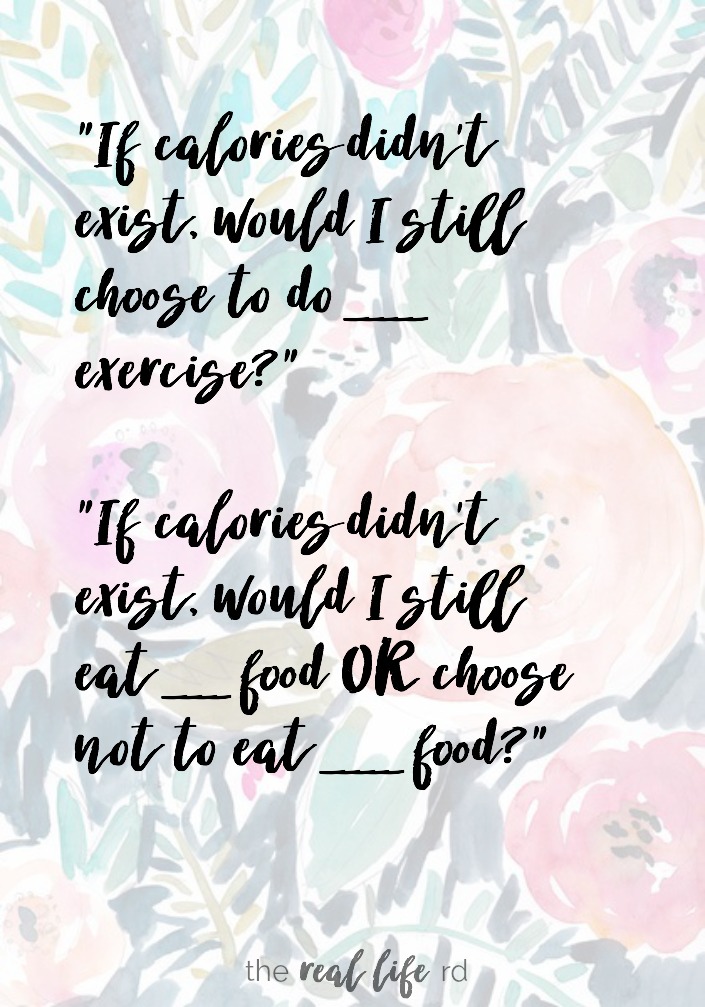 I often toss this question out to clients when we're processing through their thoughts/feelings/behaviors around exercise and food. I found it to be really helpful in my own journey and find that it's really helpful for clients. So maybe it will be helpful for you too. Try asking yourself, "If calories didn't exist, would I still choose to do _____ exercise?" when debating whether your motivations around exercise are for health vs body size. And you can ask yourself, "If calories didn't exist, would I still eat ____ food OR choose not to eat _____ food?" when working through factors that influence your food choices.
5. Phone background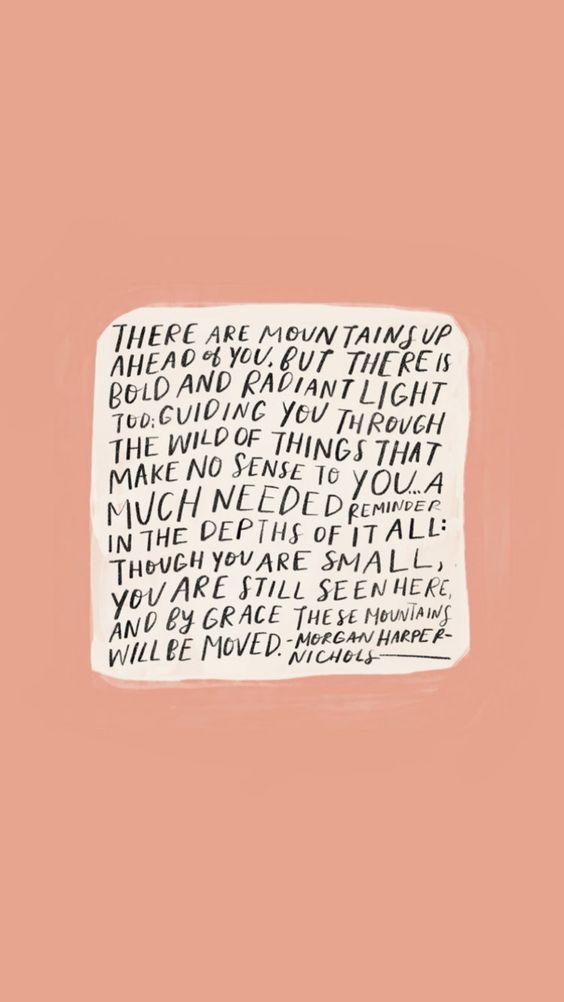 I find having a quote on my phone background to be really helpful. I recently came across this one and thought I'd share – maybe this one resonates with you.
Those are my thoughts. Share yours in the comments!
Have a great week!